July 24 - 30, 2022: Issue 547

2022 IRB Australian Championships: Avalon Beach, Newport, Queenscliff Head Back To Mollymook To Compete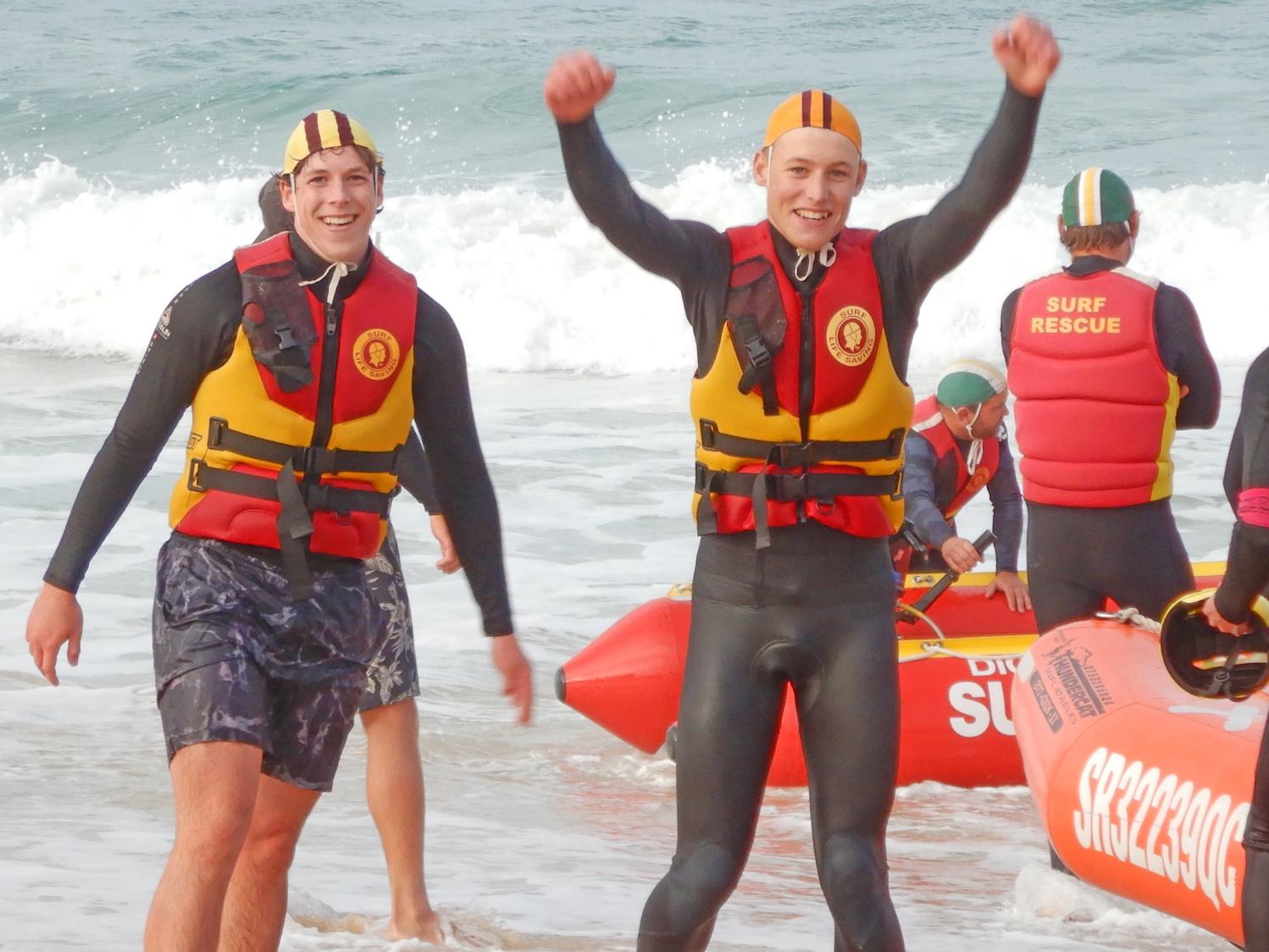 Local IRB Teams from Avalon Beach SLSC, Newport Surf Club and Queenslciff SLSC keen to notch up more results after the mid-July NSW Premiership and NSW State Championships. The local clubs all came home with medals and were keen to add to Winter swag.
The 2022 Australian IRB Championships began in challenging conditions at Mollymook on the South Coast of New South Wales with the heats of the open event held on Thursday July 21st.
All up 32 competing Surf Life Saving Clubs from across the country and one crew from New Zealand (Sunset Beach) hit the water in windy conditions and a two-foot swell.
"There were 81 races completed in tough challenging conditions and it was just so great to see racing back after a three-year absence due to COVID-19," said SLSA National Sport Manager, Wayne Druery. "Today was all open racing, males, and females across four disciplines: mass rescue, rescue, tube, and teams.
"Tomorrow we will start with the quarter finals and all medals will be decided in the open competition with the interstate competition scheduled to start after lunch".
On Friday, July 22, 59 races contested including eight of the nine Open finals and heats of the U23 and Masters competitions in tricky and choppy conditions fuelled by an easterly wind.
Queensland Clubs collected five of the eight gold medals on offer, with the Gold Coast's Kurrawa SLSC collecting three and Broadbeach SLSC and Kirra SLSC collecting one each. Caves Beach SLSC from the Central Coast of New South Wales and Victoria's Ocean Grove SLSC and Williamstown SLSC collected the other medals.
"It's been such a big day today, it's just been race after race and the surf has been massive, our bodies are getting hammered and it's just so awesome to get a race that went our way, and so cool to come home with the gold," said Kurrawa SLSC Open female tube rescue driver Taylor Shrimpton.
"It was good to just hold on and actually get through that one and to come away with a win is really cool," added Kurrawa SLSC Crew Person Abi Chapman.
"We were pretty hungry to bring gold back to NSW this year so we're pretty stoked," said Caves Beach SLSC's Oliver Kleyn after winning the open male tube rescue, "It was certainly tough conditions and it feels great to get the win".
Newport won a spot in the Open Male Tube Rescue Grand Final but didn't finish among the medallists. The crew for that event was; Keelan Smith IRB Driver, Thomas Doyle IRB Crewman and Geordie Smith IRB Patient.

The competition continued on Saturday, July23rd, with the Open Relay, the final event in the open competition, followed by the finals of the U23's and Masters competitions. Day three saw 90 races contested across Open, Masters and U23 competition in three-to-four-foot swells and a light off-shore breeze.
There were 17 finals in total contested throughout the day, won by nine clubs across three states, with Broadbeach SLSC from Queensland the most successful, collecting six of the nine gold medals.
The Gold Coast Club won the U23 Male Surf Rescue, Masters Male Teams and Mass Rescue, and the Masters Female Mass Rescue, Tube Rescue and Surf Rescue events.
"It's been great racing, we've got a great team here and the hard work has paid off," said Nathan Fife, Masters Mass Rescue Champion. "Ten years ago, at Ocean Beach I won the Opens Mass so it's good 10 years later to win the Masters Mass and my wife Chantelle has won more medals than me today, but at least I get one!"
The day stated with the blue-ribbon Open Mixed Relay which was won by the defending champions Kirra SLSC.
"We haven't won a Taplin all season, we have come second to Kurrawa all season up in Queensland and we were neck and neck with them the whole race so to get this win is fantastic," said Kirra SLSC driver Te'a Domeracki.
"We were working on strategy all season but unfortunately due to injury we had to swap out and change a fair few people, but we had some really great transitions and a great swim which was amazing, so we are all just so stoked to go back-to back and win this national title".
Caves Beach SLSC from the Central Coast of New South Wales claimed two gold medals and were the most successful New South Wales Club winning the U23 Female Tube Rescue and Masters Female Teams Rescue.
"This is our first time winning as an over 35 Masters team it's taken a lot to get here, we've had injuries and illness, but we made it," said Masters Female Teams Rescue champion Shann Mitchell. "It takes a lot for us old girls to keep racing – we've got a grandma in the team!"
"We're really happy to see the sport come so far with all these new up and comers who keep beating us in the opens," said Mitchell.
"I won my first gold medal in 1996, and thanks to these lovely ladies I've just won another one as a grandmother," added driver Kaye Norris.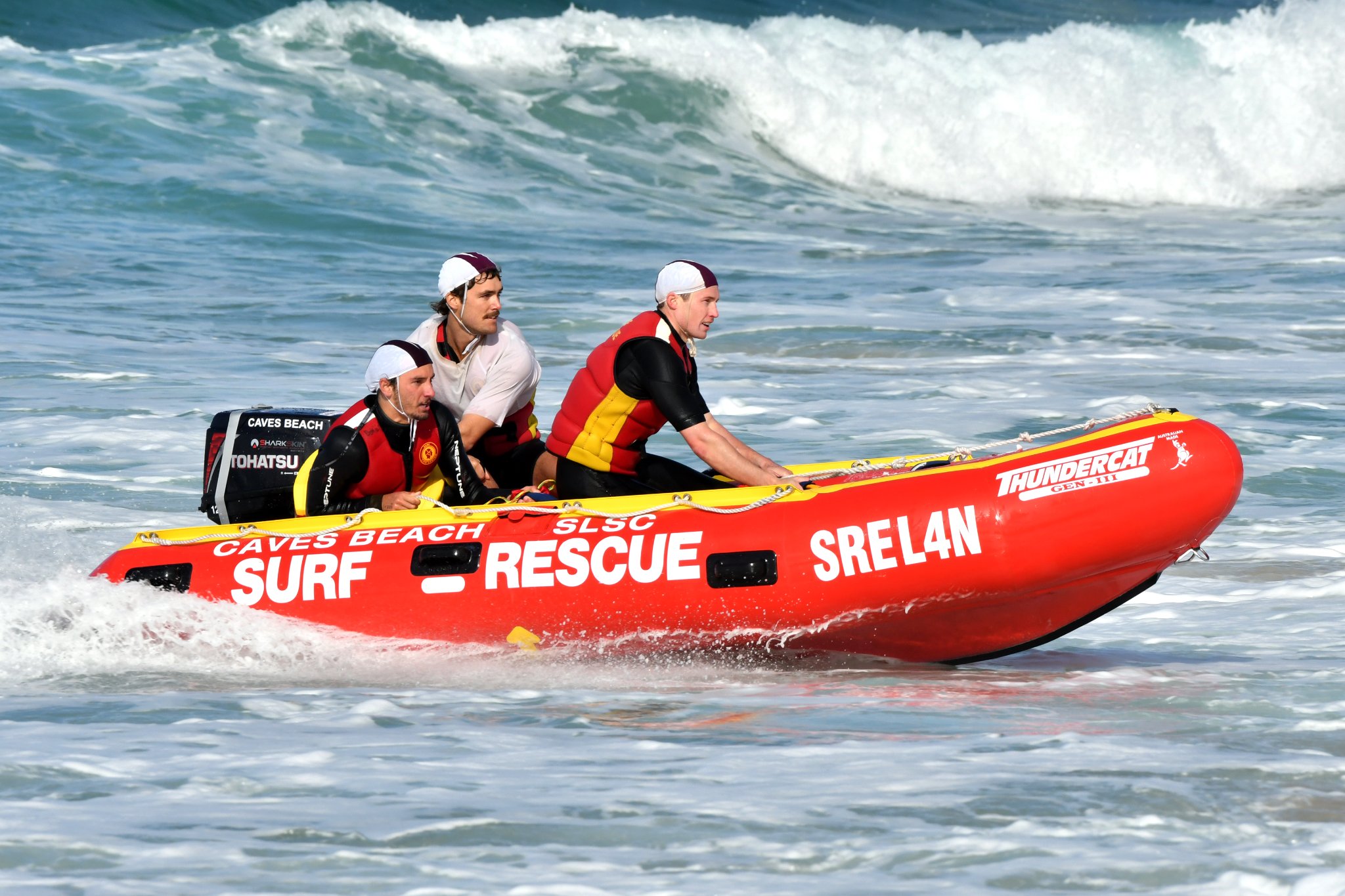 Victoria's Portsea, South Melbourne, and Elwood Surf Life Saving Clubs each collected a national title in the tricky conditions.
"This is our first ever Aussie Championships and as so I am pretty stoked with that and the weather gods blessed us on the way out," said Portsea's U23 Male Tube Rescue winner, crewman Andrew May.
"We'd like to thank Portsea SLSC, our IRB Captain Blair and team manager Sass, we couldn't have done it without them and thanks also to Brighton for their fantastic support this weekend," he added.
On Saturday Newport has picked up Bronze in the U23 Male Teams Rescue; Thomas Doyle IRB Driver, Oscar Smith IRB Crewman, Harry Capell IRB Crewman, Melisse Cooper IRB Patient, Bethany Pate (F) IRB Patient, Keelan Smith IRB Drive. Newport also placed 4th in the Grand Final of the U23 Male Tube Rescue; Thomas Doyle IRB Crewman, Geordie Smith IRB Patient, Keelan Smith IRB Driver.
Queenscliff SLSC, also competing in the Grand Final of this event, placed 7th - a feat in itself just to get to a Grand Final. The Queenscliff team comprised; Henry Sole IRB Driver, Luke Thornton IRB Crewman, and Rochelle Forsythe IRB Patient.
Newport's 'Stacks' crew made it through to the Grand Final of the U23 Male Mass Rescue, but came away without a medal. That crew was; Thomas Doyle IRB Driver, Harry Capell IRB Crewman, Nickolas Singh IRB Patient and Sabrina Warwar IRB Patient.

Queenscliff's 'Coffee' crew made it through to the Quarter Finals in this event; Henry Sole IRB Driver, Luke Thornton IRB Crewman, Jessica Way IRB Patient and Olivia Gwynne IRB Patient.

The event concluded Sunday July 24th, with the Interstates and announcements of the overall and age group point score winners:
Gold Coast Club's Clean-Up At 2022 Open Australian Championships
July 24, 2022
Gold Coast Clubs have won all categories of the 2022 Australian IRB Championships at Mollymook on the South Coast of New South Wales with Kurrawa SLSC taking out the Open competition, Broadbeach SLSC the Masters, and Miami Beach SLSC the U23 event.
Kurrawa SLSC (46) won three gold medals (Female Mass Rescue, Female Surf Rescue and Male Teams Rescue) and five overall to win the open competition convincingly ahead of Kirra SLSC (29) and Miami SLSC (18).
Club Coach and IRB Captain Scott Wheeler, was proud of his Club's effort and results throughout the competition and highlighted the important role his competitors play on the beaches as lifesavers.
"It has been a long time coming with COVID-19 meaning we couldn't compete for a couple of years, but this year so many people came forward to be involved and we had some competitors from New Zealand recently move over and join our Club and I'm just so proud of what we have achieved, there were 35 of us here for this event," said Wheeler.
"One of our main goals at Kurrawa is to put lifesavers on the beach and our Club really supports IRB Racing for that reason.
"All these young kids patrol every weekend, a lot of them are lifesavers and we have three board members on our team, so it is a great club effort and awesome to see that this sport helps keep young kids in the sport and lifesaving.
Broadbeach SLSC won five gold medals (Male and Female Mass Rescue, Female Tube Rescue, Male Teams and Female Surf Rescue) to win their first ever national title in the Masters competition ahead of New South Wales Clubs Kiama Downs SLSC and Caves Beach SLSC.
"Since February we have been training during the week and every weekend and the members just keep showing up and this really is for everyone at Broadbeach, we are a small club where everyone helps out, we fundraise to do what we love doing," said National Champion and Club President Nathan Fife. "This is awesome for our club; this is our first Australian title, and it means a lot to everyone at our Club.
"Broadbeach has always been about patrols and these members that have been racing and competing this weekend are the ones on patrol every weekend making sure that the public is safe so this is a great reward for the hours and hard work they put in working on their skills and keeping people safe," added Fife.
In the U23 competition, it was Queensland again with Miami Beach SLSC (28) finishing first ahead of Kirra SLSC (22) and Dicky Beach (15).
Miami Beach SLSC won the male teams rescue and placed in several other events to claim the title with gold medallist patient, Zach Henwood, attributing the Club's success to the great club culture.
"It's been a really great weekend and we have a great group of people here representing Miami and a lot of youth coming through which is great for our sport and club," said Henwood. "They've trained really hard all through the season, and our club has a great culture, we are a really good family friendly club which is great for the time we spend together training and at events like this so to get this result is really great for everyone at our Club.
The 2022 IRB Championships overall saw 240 events take place over four-days of racing involving 32 Clubs from across four states.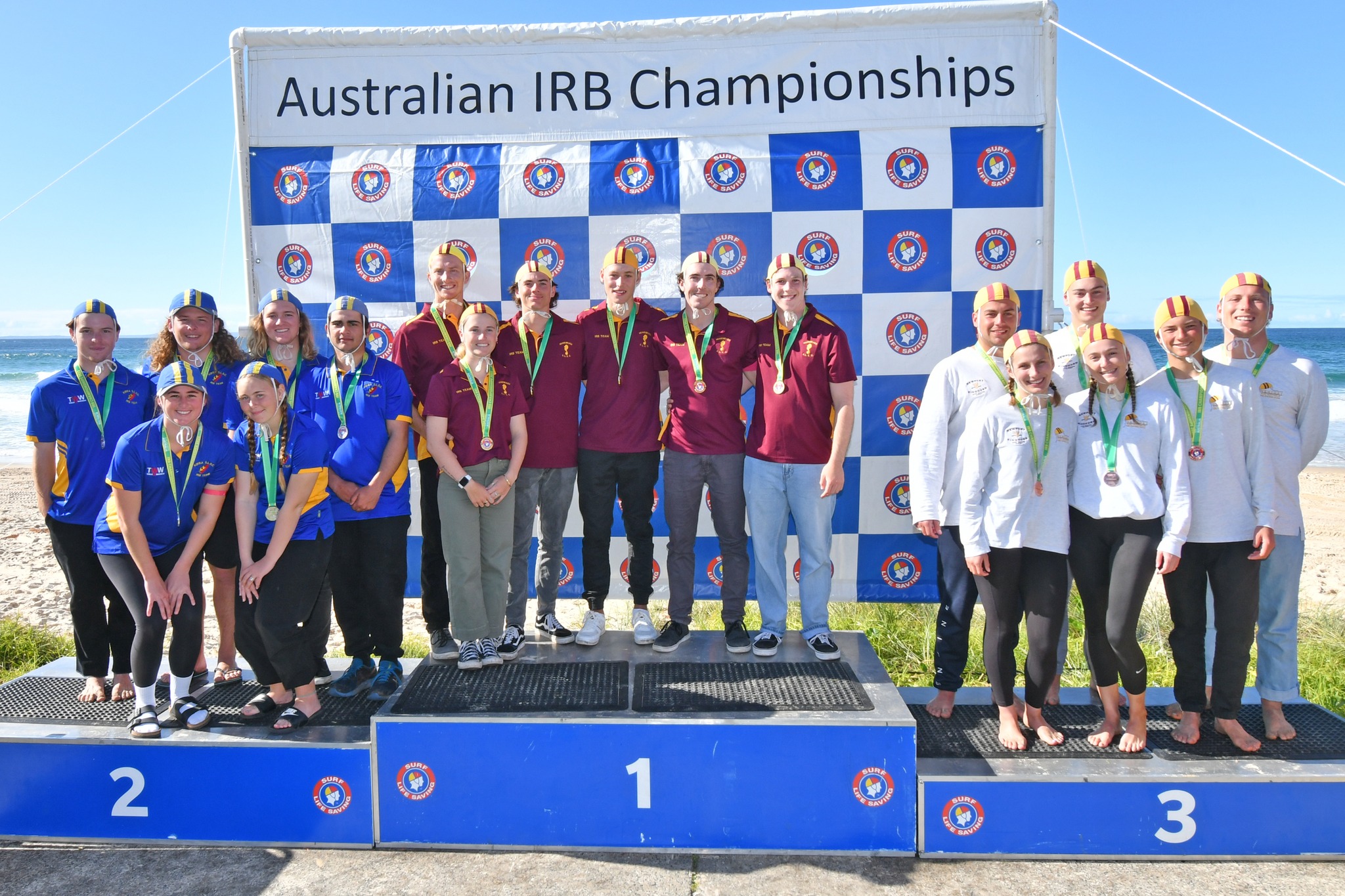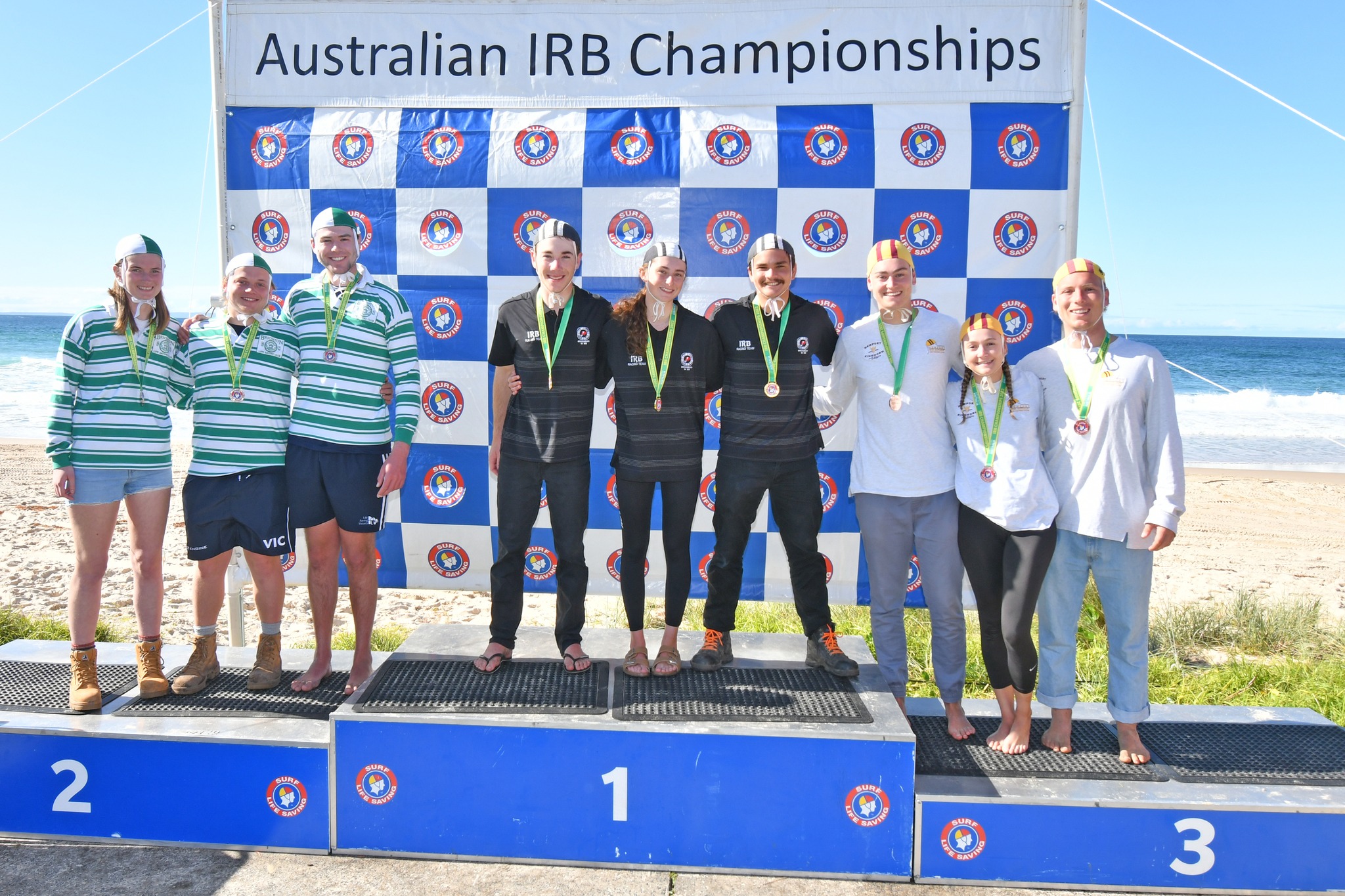 Newport SLSC did best among local clubs - bringing home some bronze in the 2022 IRB 'Aussies'.
To view results from the Opens carnival, click here.
To view results from the Masters and U23s carnivals, click here.
To view results from the Interstates carnival, click here.

For a gallery, click here
Competing Surf Life Saving Clubs
Avalon Beach
Barwon Heads 13th Beach
Bribie Island
Brighton
Broadbeach
Caves Beach
Currumbin
Dicky Beach
Elwood
Kiama Downs
Kirra
Kurrawa
Lorne
Maroubra
Miami Beach
Newport
Nobbys (NSW)
North Cronulla
Ocean Grove
Point Lonsdale
Point Lookout
Portsea
Queenscliff
Scarboro
Seaford
South Maroubra
South Melbourne
Sunset Beach (NZ)
Terrigal
Thirroul
Venus Bay
Williamstown Swimming and LSC (Inc.)
Report; SLSA/Images courtesy of Alan Freeman, Ken Banks and Malcolm Trees - Edit/Results: PON