February 20 - 26, 2022: Issue 527

The 2022 Australian Surf Rowers League Open (ASRL): NSW Retain Interstates Trophy, Avalon Beach SLSC's Pinkies Win!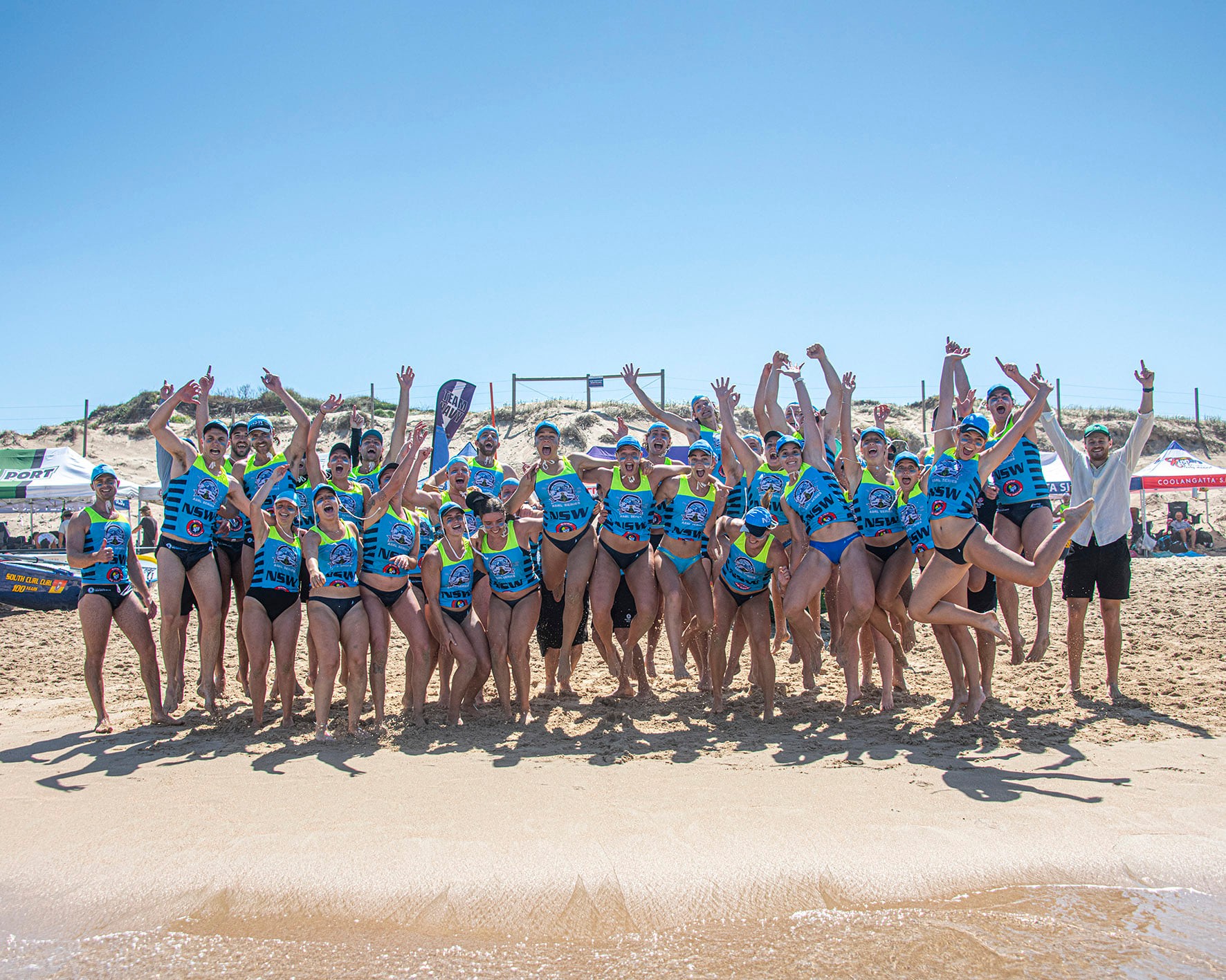 Photo by Malcolm Trees
The 2022 Australian Surf Rowers League (ASRL) Open being held at Cronulla's Elouera beach from 17 – 20 February 2022, is the biggest stand-alone surf boat racing event in Australia with divisions of surf boat racing being contested including Open Male, Open Female, Reserve Male, Reserve Female, Under 23 Male, Under 23 Female, Under 19 Male, Under 19 Female and Masters.
This Season the Australian Surf Rowers League celebrates Australia's indigenous heritage and culture. Artist Rheanna Lotter, a proud Yuin woman from the NSW South Coast, who grew up in the Southern Highlands worked in collaboration with ASRL to design a piece of symbolic art that would tell the story of Surf Boat Rowing, Surf Life Saving and the surf boat members connection to each other and the ocean.
The Australian Surf Rowers League Indigenous Design features on the new singlets. ASRL has provided the detailed meaning of this beautiful design:

The story begins in the centre of the artwork with the meeting place, which represents the surf boats sport and the surf boat carnivals we meet at. This is followed by the symbols of five men and five women, showing the gender equity we have achieved within our sport. Surrounding the members are five rings that are symbolic of the ASRL core values of respect, integrity, courage, solidarity, and determination. This is all held together by the half circles on the outer edge, which are representative of our Athletes, Officials, Volunteers and Supporters. If we break our values, we break the meeting place, if we do not have the Athletes, Officials, Volunteers and Supporters our sport and meeting place will break apart.

The footprints coming in towards the meeting place is symbolic of our current and emerging members, making the journey to our surfboat rowing events. The outgoing feet recognise our members who have passed on from our great sport and are no longer with us. Our feet are connected to the ocean and sand.

Surrounding the central artwork is a man and woman, these are the athletes who together with the boomerangs show our fighting spirit, hunger for success and resilience. Lastly, the turtles are symbolic of our connection and deep respect for the ocean.




All surf lifesavers and officials that participate in the sport of surf boat rowing will this season be taken on a journey of education and awareness of our indigenous heritage and culture.

More than two and a half thousand competitors and 200 Officials will wear this design across the nation from October through to April. In February 2022 we will come together for our main event the "ASRL Open" at the meeting place of Elouera Beach which also means "Beautiful Place" in the aboriginal language.
Tragically the death of Simon Nellist, who regularly swam at Sydney's Little Bay, who lost his life to a shark attack On Wednesday February 16th.
At about 4.45pm on 16 February, the SLSNSW State Operations Centre was advised by Police of a man missing after being observed by rock fishers in an encounter with a shark. SLS Duty Officers attended, along with Randwick Council lifeguards, SLS Sydney jetski and the Westpac Life Saver Rescue Helicopter.
Surf lifesavers were back on scene the next morning with two Surf Life Saving Sydney jetskis on the water and two UAVs in the air to assist Police and the Department of Primary Industries.
Randwick, Sutherland and Waverley Councils closed beaches for 24 hours after the incident occurred.
"This is a terrible tragedy and our thoughts are with the man's family and friends," said SLSNSW President George Shales.
"While these incidents are extremely rare, it is still shocking to comprehend and I want to thank our volunteers who responded to assist Police."
This was the first fatal shark incident in Sydney in almost 60 years.

Following the incident at Little Bay on Wednesday afternoon, the ASRL were instructed to suspend the carnival in line with Sutherland Shire Council beach closures. There was no racing at the ASRL Open on Thursday 17 February at Elouera.

During the evening the ASRL recognised three members and the host club for their continuous service and dedication to all aspects of the ASRL Open.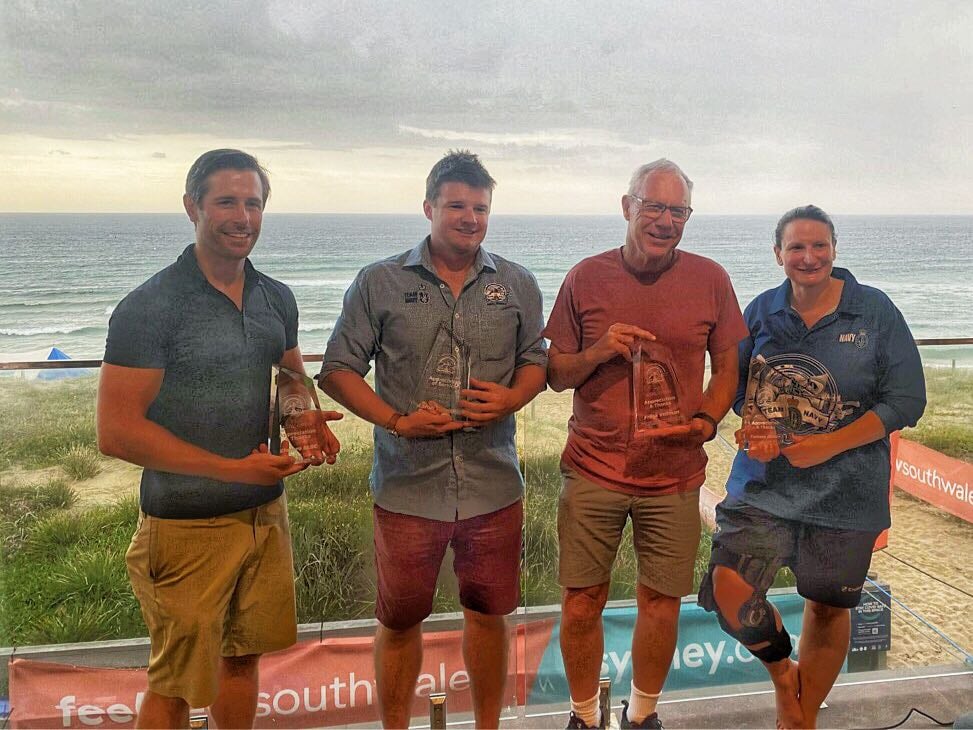 Left to right; Elouera SLSC, received by Cameron Simpson, Aaron Tannahill - numerous years as ASRL media/marketing representative, Frank Veltman - numerous years on ASRL Open Event Organising, Committee and Tamara Brawn - current ASRL Open Carnival Referee, and numerous years prior as Carnival Referee
This is the third time Elouera SLSC has hosted this event in five years.
On Friday the Welcome to Country and Smoking Ceremony was the key highlight of day 1 at ASRL Open.
Welcome to Country - Deanna Schreiber
Smoking Ceremony - Dean Kelly
Auntie Deanna Schreiber spoke about the boats coming back into shore reminded her of her ancestors bringing in the fish. She thanked the lifesavers for their service in looking after others. Dean Kelly's Smoking Ceremony introduced a calm reverence appreciated by those present.
The morning races included the Masters 180 Male Surf Boat Final
1st were Bronte
2nd Moorchydore
3rd Mordialloc LSC
4th: Jan Juc Rams
5th:Port Fairy
More Masters Happy Snaps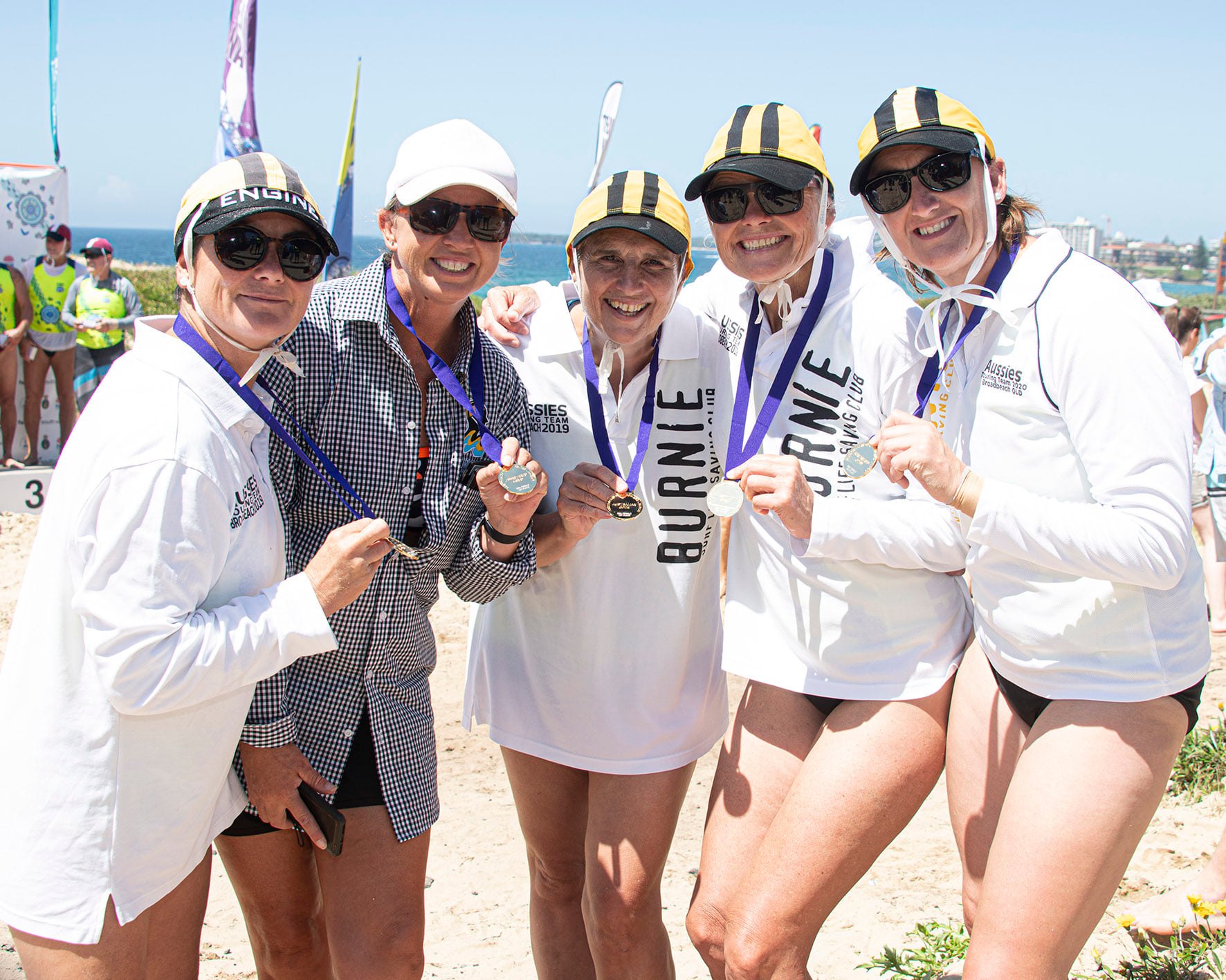 Photo by Malcolm Trees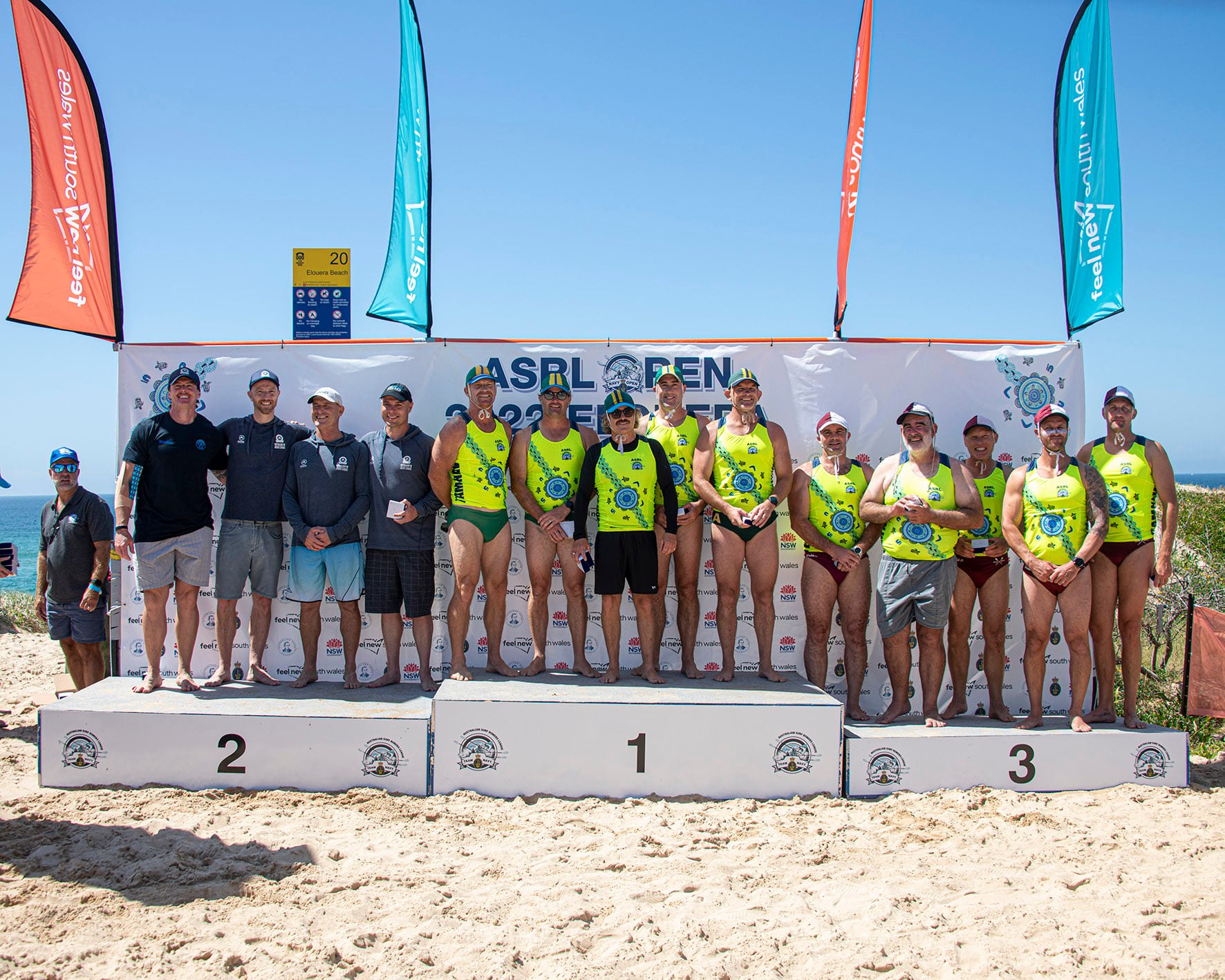 Photo by Malcolm Trees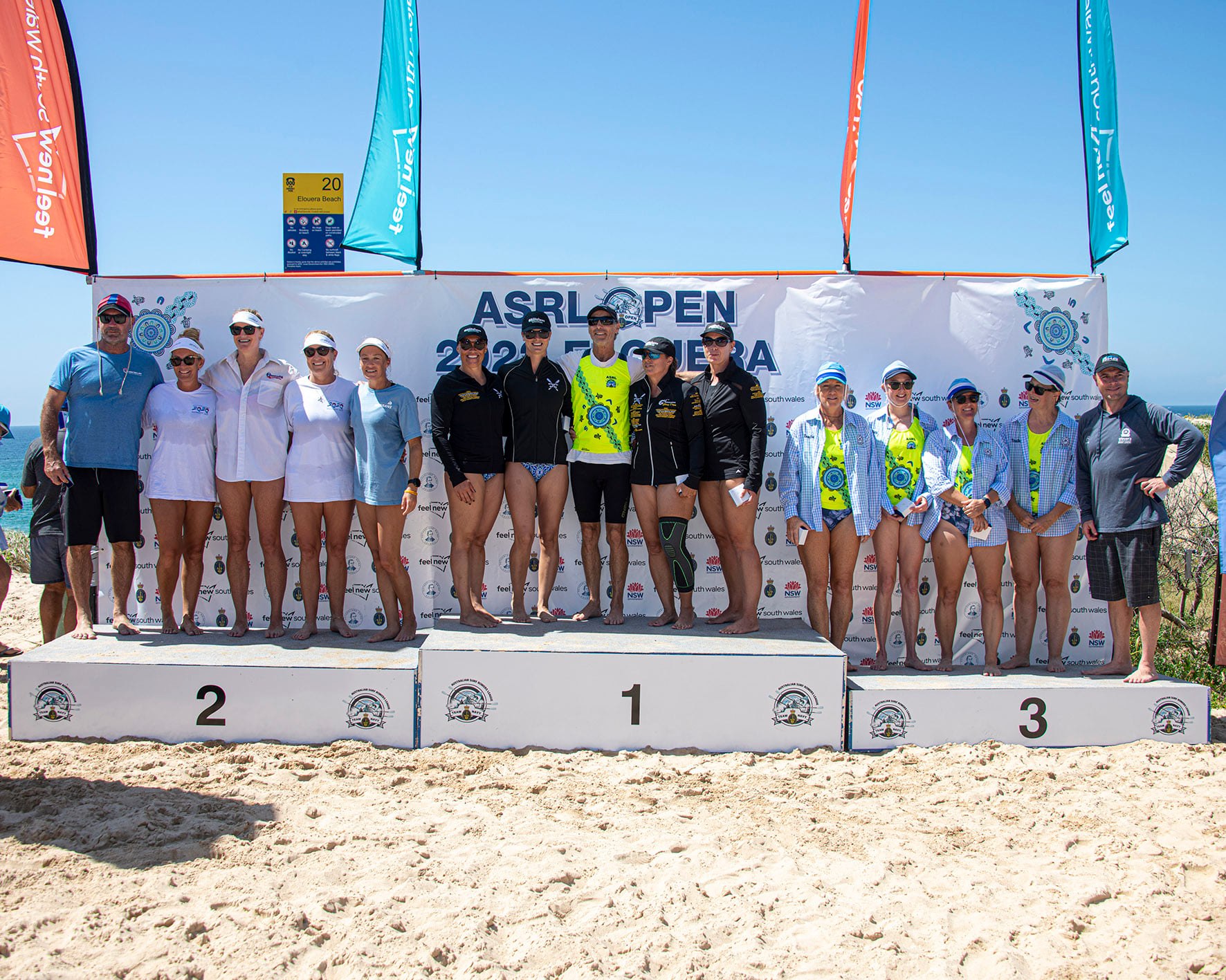 Photo by Malcolm Trees
Friday also saw the running of the 2022 Interstates competition and NSW retain the trophy with an exciting finish played out in the All Age Relay that came down to the last wave. The results are:
1st: NSW 114
2nd: QLD 112
3rd: SA 92
4th: VIC 90
U19 Male South Curl Curl Burley
Sweep Mark Spiteri
Alan Perry
Owen Saunders
Angus Campbell
Toby Skelton
U19 Female Collaroy Redbacks
Sweep Gavin Scott
Frankie Webster
Hannah Gilmartin
Abbie O'Sullivan
Lauren Deane
U23 Male South Curl Curl Sneaky Nuts
Sweep Mark Spiteri
Julian McKay
Tom Opie
Tyler Hyde
Bailey Skelton
U23 Female Palm Beach Panthers
Sweep Peter Spence
Meg Conlon
Elizabeth Anderson
Rachel Balcomb
Gabriela Chubb
Reserve Male North Bondi Blade Runners
Sweep Steven Larnach
Charlie Bodkin
Jake Cassell
Mathew Murray
Ben Celermajer
Reserve Female North Bondi Shredders
Sweep Steven Larnach
Koozee Huybers
Emma Hayes
Tilly Strain
Ellie Larnach
Open Male Palm Beach Projectors
Sweep Peter Spence
Campbell Watts
Scott Ellice-Flint
Angus Robinson
Angus Cooke
Open Female South Curl Curl Sharkers
Sweep Mark Spiteri
Braede Cox
Genevieve Horton
Michela Verwey
Lara Campbell
Greg Heard
Nick Sampson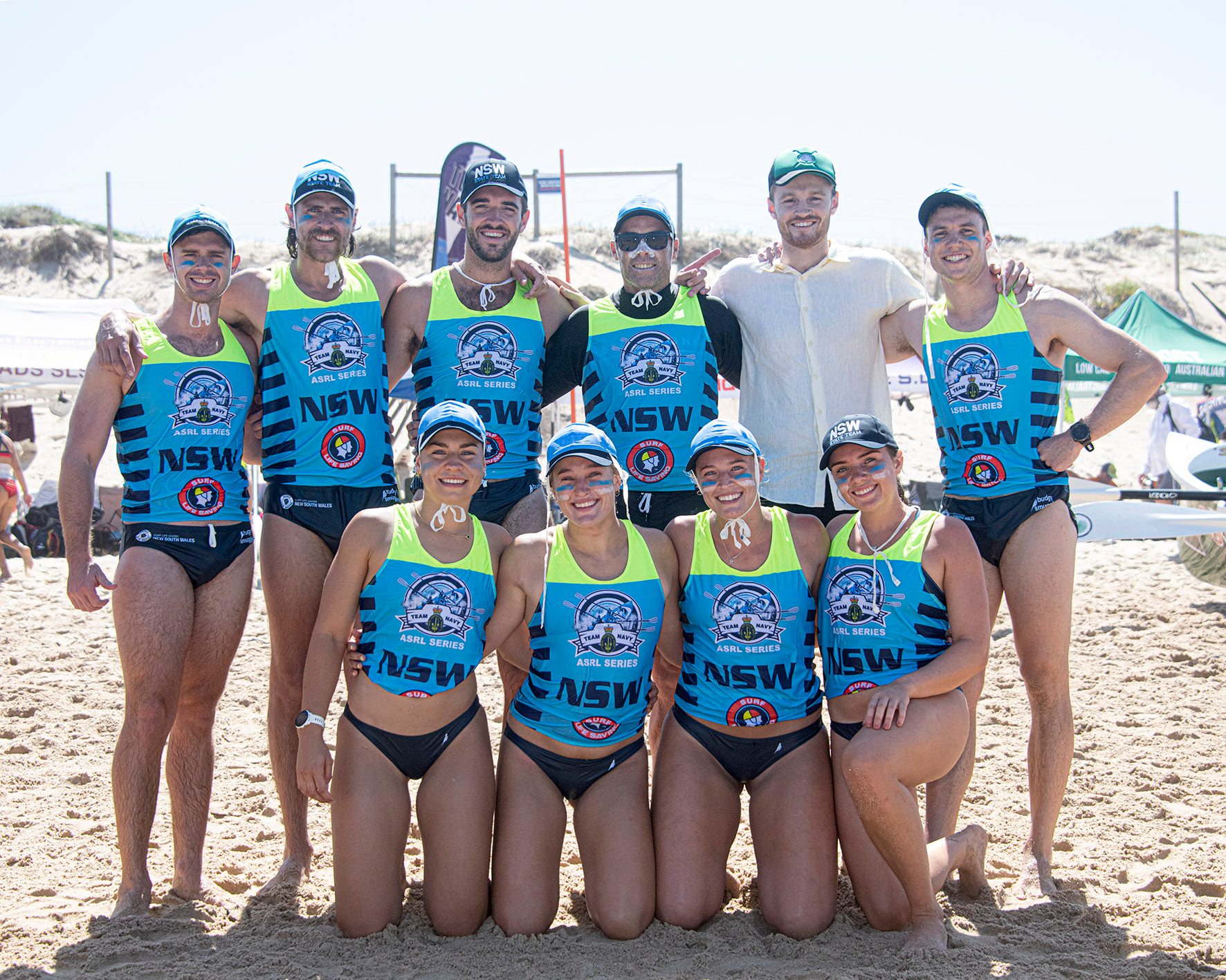 Palm Beach SLSC teams in 2022 Interstates; PB Projectors and PB Panthers. Photo by Malcolm Trees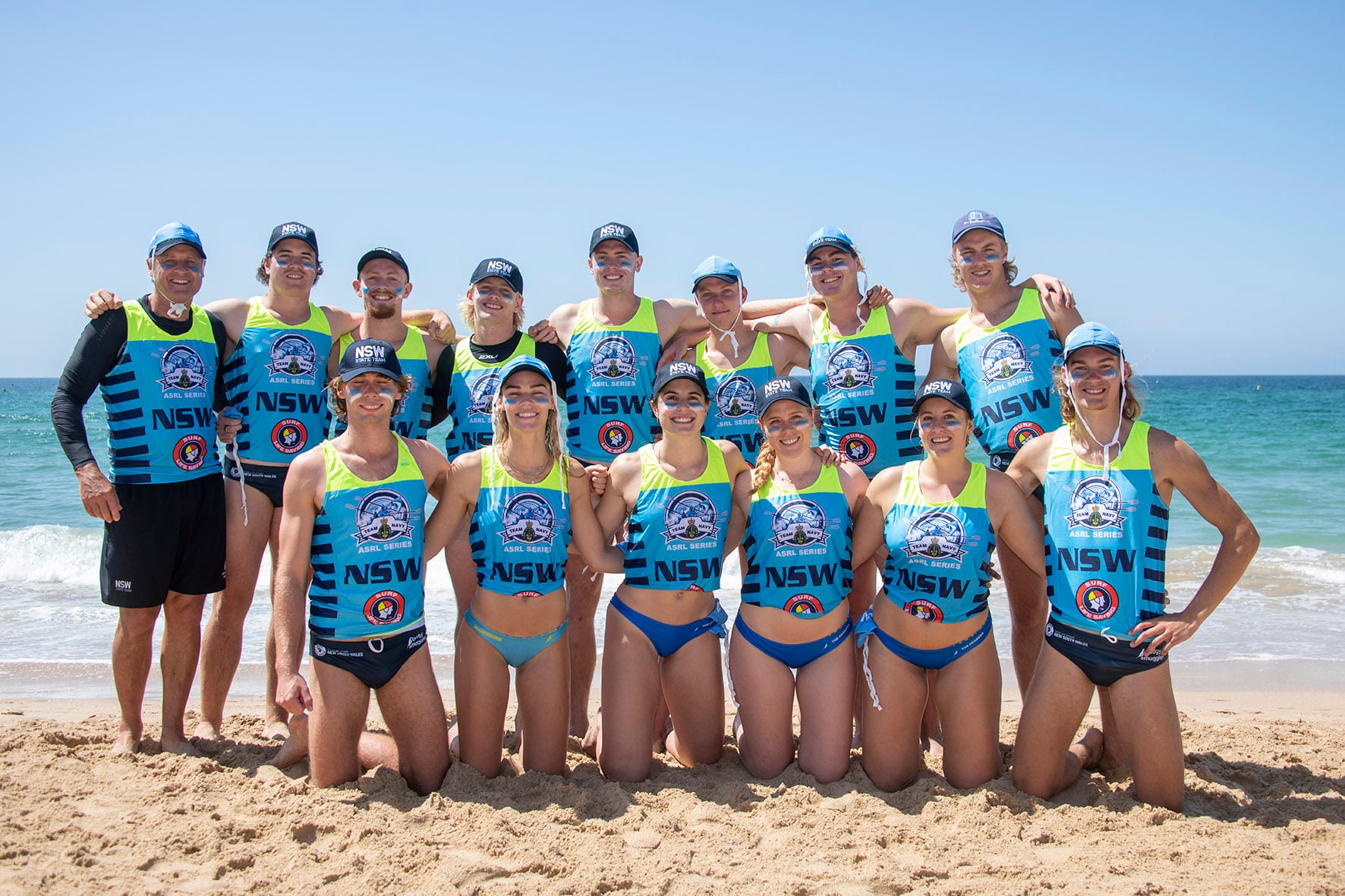 Photo by Malcolm Trees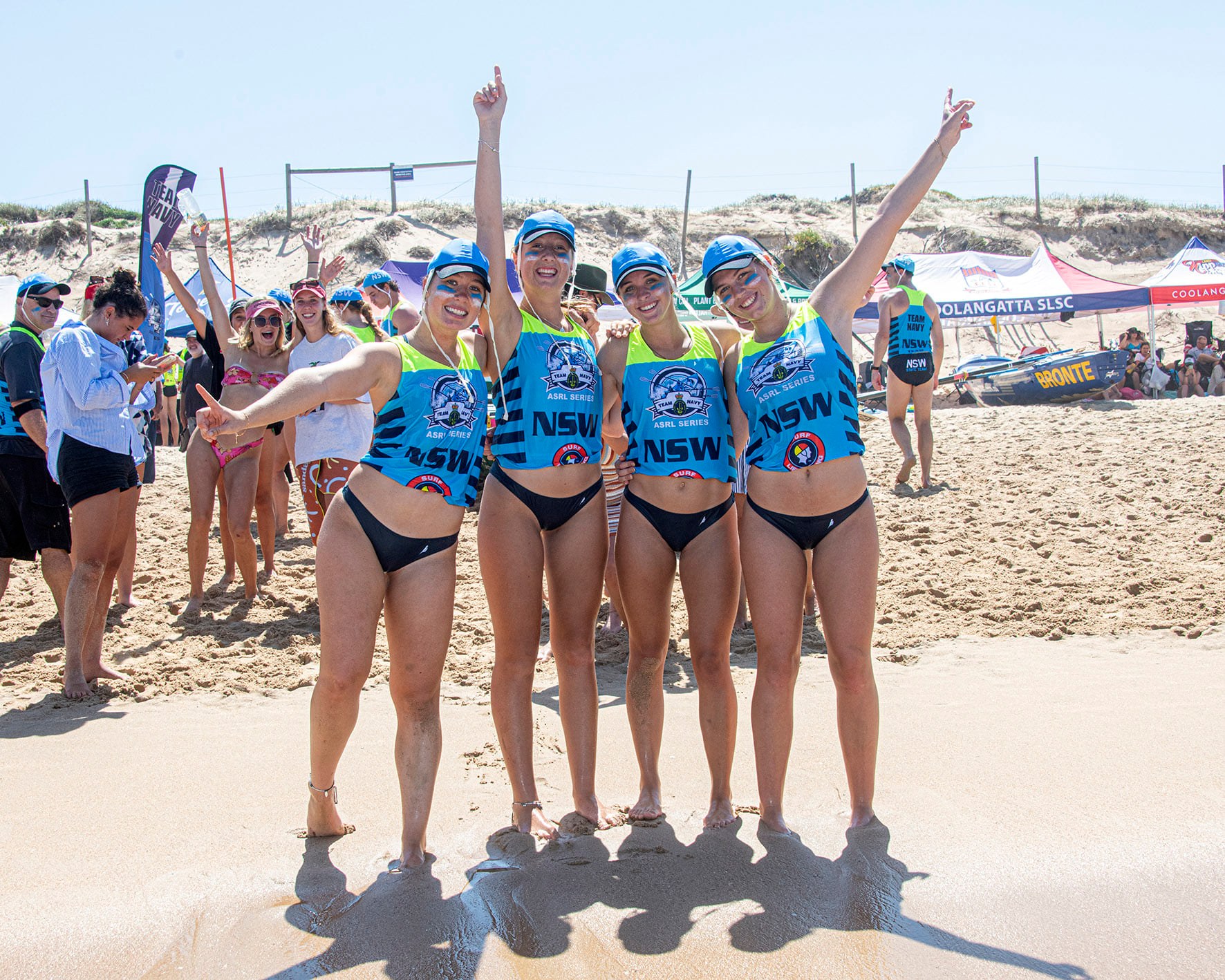 Photo by Malcolm Trees
Saturday's racing included the 2022 ASRL Open Reserve Grade Female Championships
Congratulations to Avoca Jotos for winning
2nd - Glenelg gunnel runners
3rd - Port Kembla surf club's Ruby Princesses
4th - Mermaid Mischief
5th - Maroochydore surf club Stingers
DNF - Queenscliff SLSC's Reality Queens
The BIG one for local rowers is the results for the 2022 ASRL Open Reserve Grade Male Championships, with Avalon Beach SLSC's Pinkies catching the 'wave of the day' to win the final.
1st: Avalon Beach SLSC Pinkies
2nd: Lorne SLSC's Cutlets
3rd: South Curl Curl Echidnas
4th: Maroochydore SLSC
Force
5th: Sty. Kilda SLSC's 1/2 a ton of meat
6th: Freshwater SLSC's Unknowns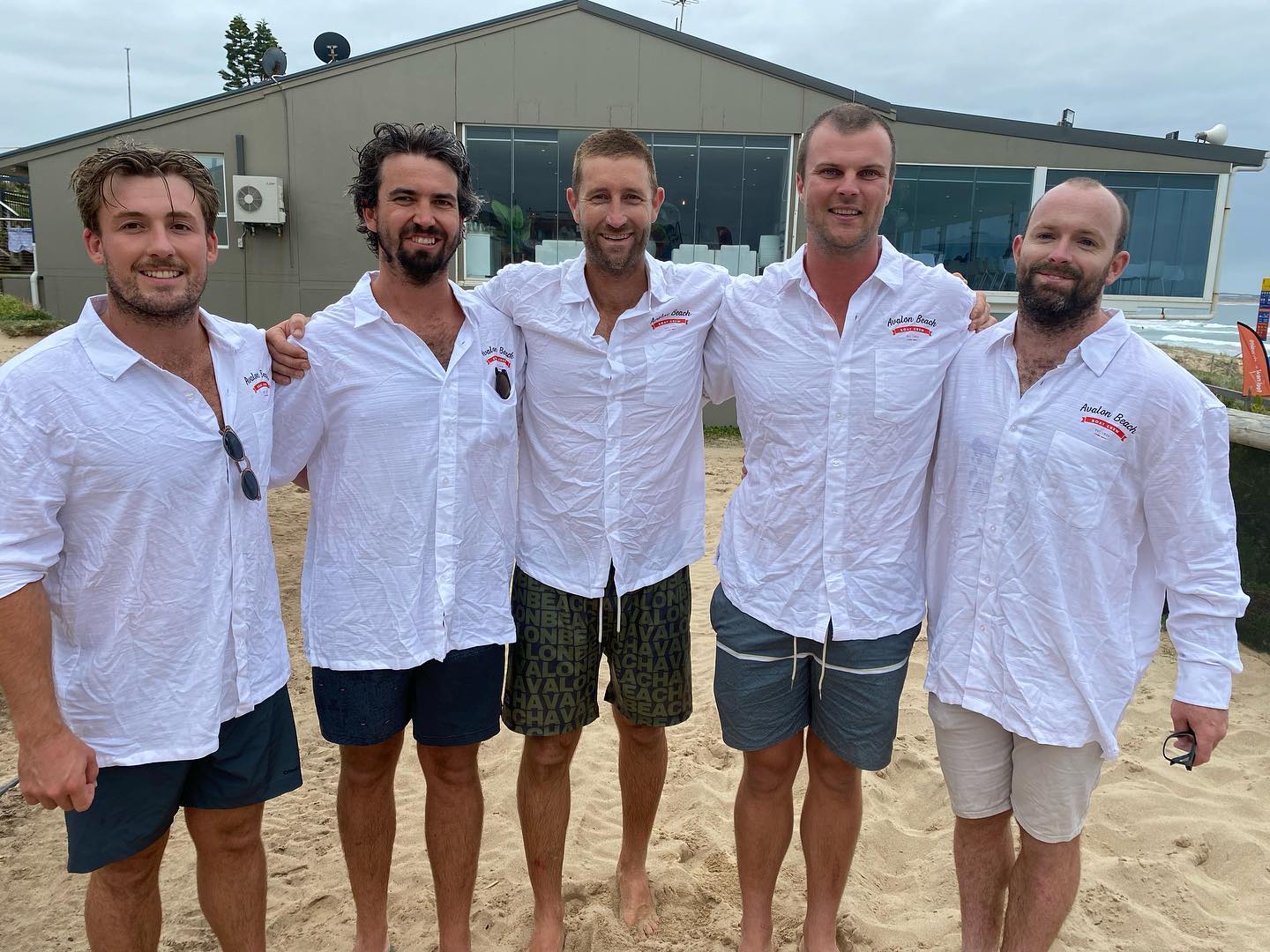 The Avalon Beach SLSC's Pinkies are
Andrew Bright, Nick Sampson (also current ASRL President), Matt Mayall and Tom Curnow, Sweep - Nathan Wellings.
2022 ASRL Open Results
RESERVE MALE
1 – Avalon Beach Pinkies
2 – Lorne Cutlets
3 – South Curl Curl Echidnas
4 – Maroochydore Force
5 – St Kilda ½ a Ton of Meat
6 – Freshie Unknown
RESERVE FEMALE
1 – Avoca Beach Jotos
2 – Glenelg Gunnel Runners
3 – Port Kembla Ruby Princesses
4 – Mermaid Beach Mischief
5 – Maroochydore Stingrays
DNF – Queenscliff Reality Queens
OPEN MALE
1 – Mermaid Beach Kennards
2 – Elouera Wilko
3 – St Kilda Angry Otters
4 – Wanda Weapons
5 – Avoca Beach Z Crew
DQ – Bulli Gold
OPEN FEMALE
1 – Coolum Thundercrackers
2 – Woolgoolga Whippets
3 – Collaroy Giants
4 – South Curl Curl Shakers
5 – Newport Thunder
6 – Somerton All Sorts
UNDER 23 MALE
1 – South Curl Curl Sneaky Nuts
2 – Palm Beach Plumbers
3 – Currumbin Wulfings
4 – Sth Curly Underdogs
5 – Maroochydore Force
6 – Coogee Suns
UNDER 23 FEMALE
1 – Palm Beach Panthers
2 – St Kilda Salamanders
3 – Dicky Beach Tooshies
4 – Glenelg Grenades
5 – Collaroy Timbertown
6 – Mona Vale Drifters
UNDER 19 MALE
1 – Queenscliff Blue Car Keys
2 – South Curl Curl Burley
3 – Palm Beach Pitbulls
4 – Collaroy Magnets
4 – Alexandra Headland Makos
6 – Collaroy Bruisers
UNDER 19 FEMALE
1 – Alexandra Headland ABA Wedgies
2 – Dicky Beach Drifters
3 – South Curl Curl Booties
4 – Noosa Heads Dodos
5 – Lorne Badgers
DNF – North Cronulla BOFs
Relive the racing from the weekend – Visit the ASRL YouTube account for daily coverage https://bit.ly/3p3tq2K
Presentations are made immediately following completion of racing.
Photos are from 2022 ASRL Open - Day 2 held on Saturday 19 February at Elouera Beach
Photos courtesy of Malcolm Trees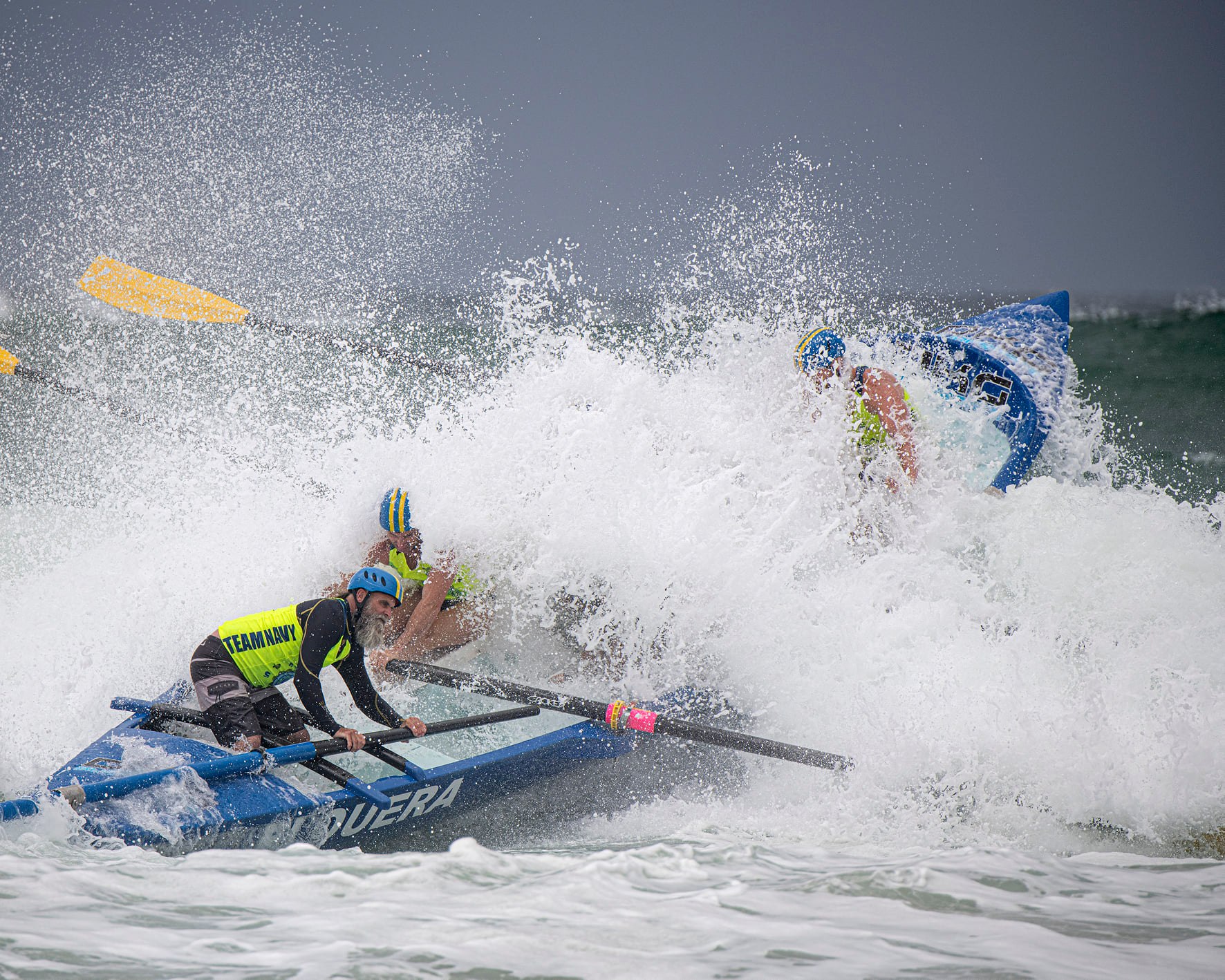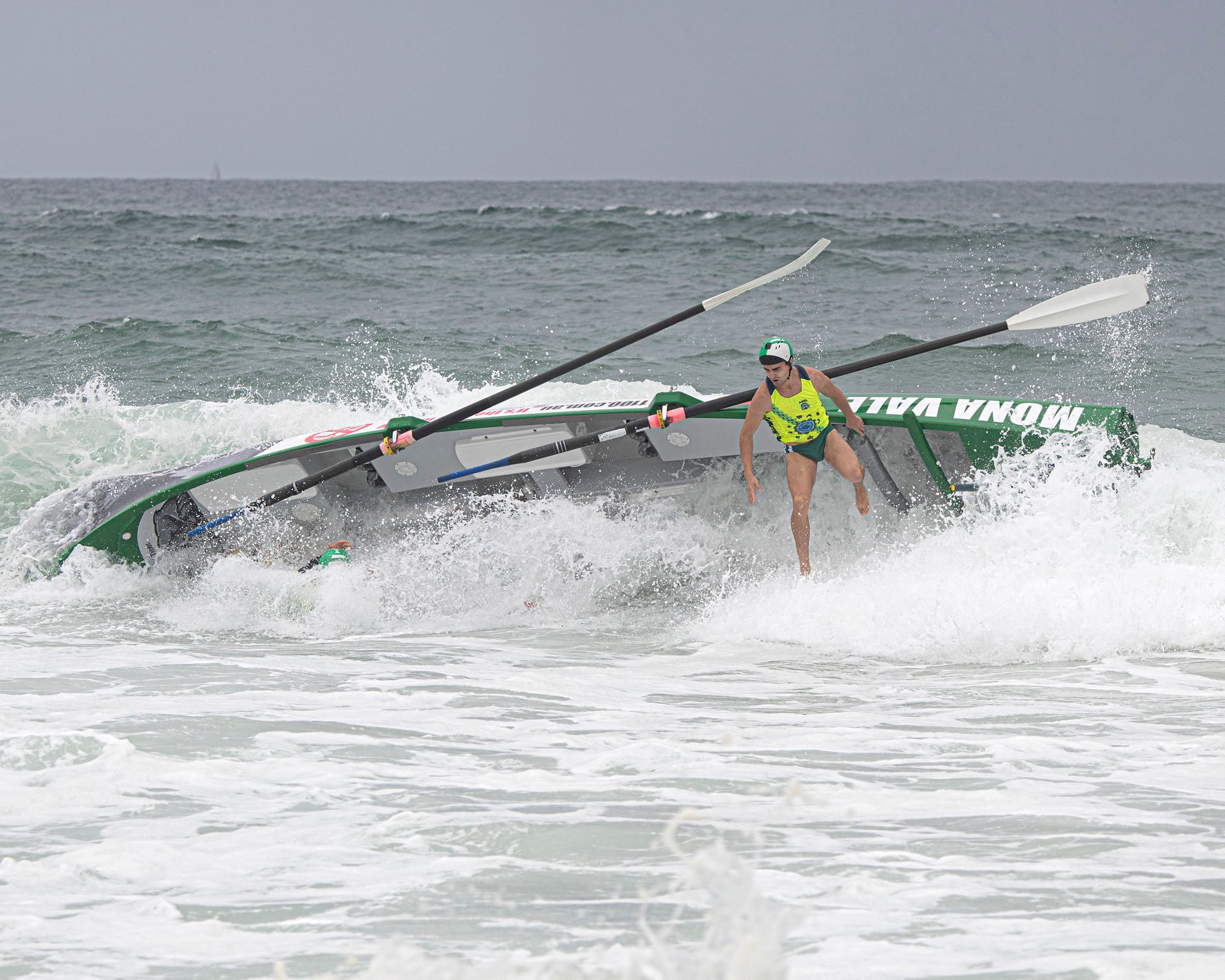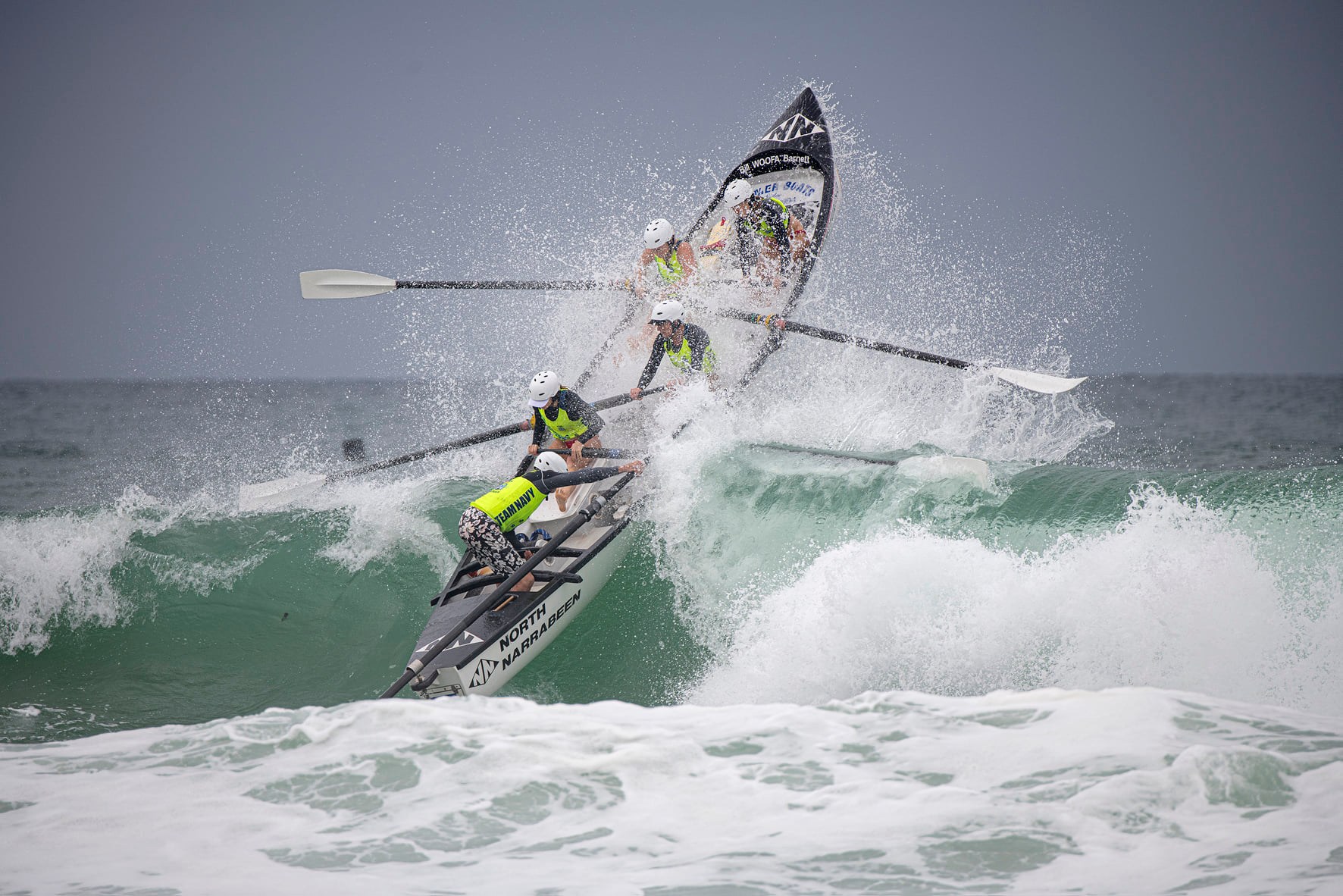 The NSW Boaties will then have a break before the NSW State Championships Surf Boat events commence on Friday March 11 and run through Sunday March 13th at Queenscliff SLSC and North Steyne SLSC.
Over 21,000 competitors, spectators and volunteer officials will descend on our area when the 2022 NSW Surf Life Saving Championships, proudly supported by Your local club, returns to metropolitan Sydney after five years based at Lake Macquarie.
Taking place from February 24th through to March 13th, the biggest event on the NSW surf sports calendar will see members from clubs across the state compete over an extended 12 days of fierce competition.
Queenscliff, North Steyne and Freshwater SLSCs will play host to what promises to be the biggest and best surf competition in years, starting with Junior Championships and moving through Lifesaving, Masters and Open Championships before closing with the always spectacular surf boat competition.
With State titles on the line, competitors aged 8 to 70-plus will contest the full range of events, from swim, ski, board and ironperson racing, through to beach sprints, flags, relays and surfboats. Other events include the Champion Lifesaver, first aid and rescue/resuscitation competition and of course the colourful and spectacular club March Past.