March 8 - 14, 2020: Issue 441

2020 NSW Masters Surf Life Saving Championships
SURF MASTER CLASS AT STATE CHAMPS
Thursday March 5, 2020
By Surf Life Saving NSW
Surf lifesavers from across the state have demonstrated that age is no issue when it comes to tough competition and camaraderie – hallmarks of the NSW Masters Surf Life Saving Championships just concluded at Swansea Belmont SLSC. Over two days more than 880 competitors between the age of 30 and 82 have shown they still have what it takes, racing in events including board, swim, ski, ironperson, beach sprints and beach flags.
At the end of competition, it was one of Surf Life Saving's foundation clubs, Bondi Surf Bathers, which emerged victorious again to take out the championships. A carbon-copy of last year's overall results, Bondi led the way, followed by Redhead and Manly clubs, making it three in a row for the blue and white quartered caps.
One of the carnival's oldest competitors, Cyril Baldock, led the charge for the club with wins in the 75+ division in the Surf Race, Rescue Tube Race and 1Km Beach Run. In the Female division, Jan McCloskey was first in the Surf Race and the Beach Sprint.
In the younger age divisions, Robyn Hill in the 40-44 Yrs was dominant, winning medals in her events including gold in the Board and the 130 yrs Surf Teams and Taplin Relay, while Dori Miller in the 45-49 collected medals in Rescue Tube and Board Rescue and 150+ Taplin Relay with Louise Santos and Laura Thurtell.
With the club strong in the swim events across the board, Dean Gladstone and Darrin Jones took gold in the 40-44 yrs and 50-54 yrs Surf Races respectively.
With just a short trip down the beach to the event, the Redhead contingent of masters competitors made light work of clocking up the points in water events on day two of the championships.
In the youngest age division, Ethan Whiteman showed great form, winning the Surf Race and Board Rescue with Jason Dwyer along with the 110 Yrs Taplin Relay with Dwyer and Brendon Ross. Ross got gold in the 40-44 Yrs Board Race and the Ironman. The 150 Yrs Taplin also went Redhead's way with a lucky wave bringing it home in the final swim leg for Shane Buggy, Matthew Kent and Stephen Chapman.
Matt Kent says it was less about the training and more about a lucky wave on the way in to catch Cronulla.
"We've always had a good Masters contingent at Redhead. We don't really train together but come together, put on the cap and race. Teams events are great, really good fun. You never know who's going to win because it's all age-group based and you can pull a lot of people into the field. It's not over until you cross the line," said Kent.
The girls were just as strong with the 110 Yrs Female Taplin going to Lisa Brown, Karlee Davidson and Regina Jensen, with Davidson taking out the 35-39 Yrs Surf Race and Jensen winning the Rescue Tube Race in the same division. Brown and Kylie Whitbread took gold in the 40-44 Yrs Double Ski race in the tricky conditions late on day two.
While host club Swansea Belmont ended up outside of the top 20, having fun was the name of the game.
Former Olympic swimmer Chris Fydler gave the Swansea masters men a boost across a range of events, teaming up with Josh Blair and Matthew Rees to win the 130 Yrs Taplin Relay and the Surf Teams with Blair and Sean Davis. Rees, Blair and Steve Masia then teamed up to take out the 130 Yrs Ski Relay.
"I was able to catch up with the guy in front and then managed to land a good wave on the way in to get us the win," said Fydler. "It's good fun being able to come to State Champs. It's like any masters sport, it's great to have people continuing the sport from when they were young all the way through and remaining within the club. It helps the Nippers coming through when you have guys who know the sport and help out," he said.
Team Manager for the winning club Bondi, Nick Nezval, said it was a great result to win for the third year in a row and the whole team had trained hard to get there.
"It's pretty satisfying. We've got a good bunch of men and women who've been coming up to compete and get involved. There's some great masters competition and the spirit of masters has been alive and well right across the beach the last couple of days.
"Our training program is open and inclusive. We now have former Ironman Champion Robert Chapman as our head coach so he's been a wonderful addition and we're seeing great results in masters and also in the Nippers. We've also got a great new Nippers coach too, Laura Thurtell and we work hard at doing well on and off the beach and being good sports.
"Whenever we go away we make sure we go to the host surf club after competition each day. It's important to support the club and the local community.
"We've had great results here winning the overall point score for the third time, just pipping Redhead and Manly, two really strong clubs. We've got the Australian titles coming up too, we'll have a crack there, we've won the point score there for the last three years too so we'll see what we can do up in Queensland," said Nezval.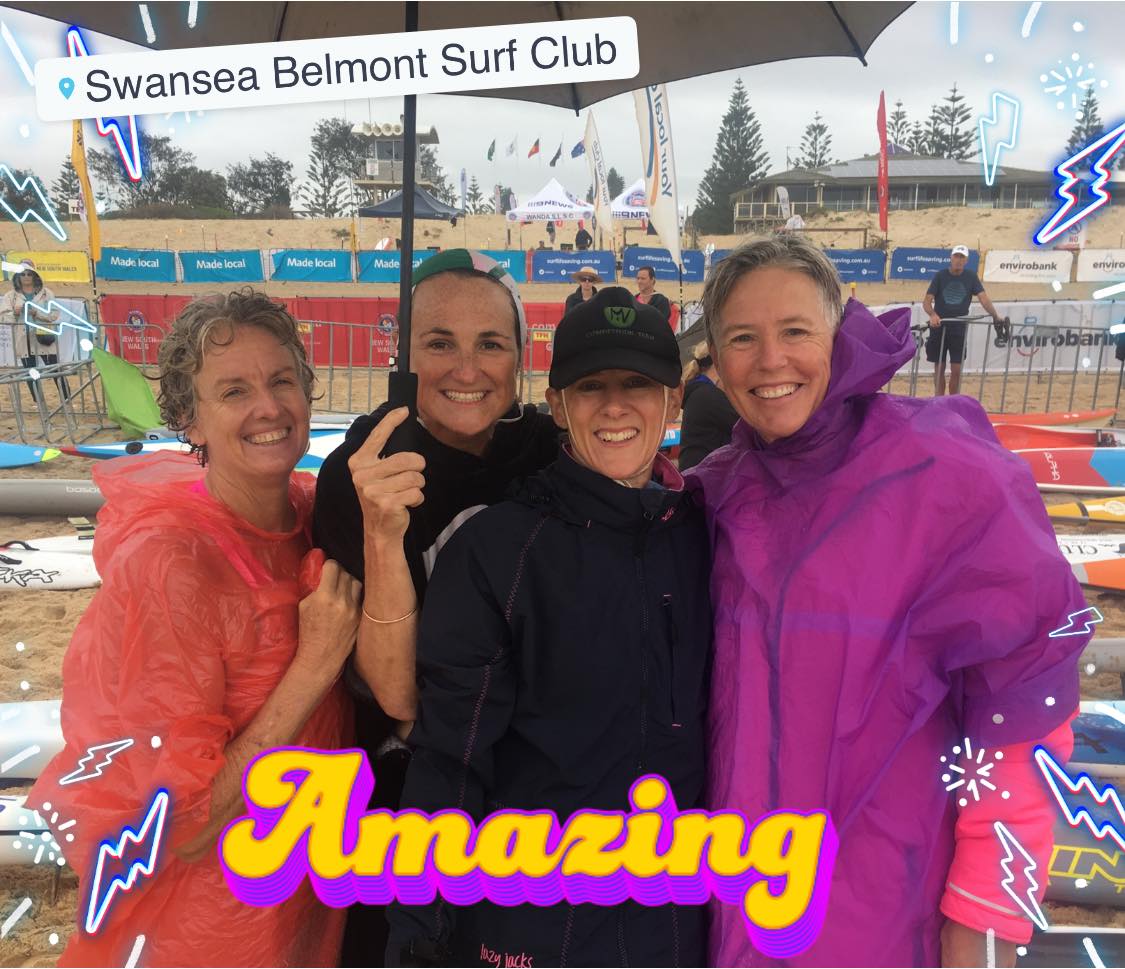 Mona Vale SLSC Women Masters 2020 SLS NSW State Championships: Lisa Critoph, Kristyn Monnock, Sophie Stokes and Lise Layard
Kris gold ski, gold board, gold ironwoman - Lisa gold swim, gold tube - Lise gold board, silver ski, bronze ironwoman
Gold ski relay, Gold board relay, bronze surf team, bronze taplin relay, bronze board rescue + more! MVSLSC photo.
OVERALL POINTSCORE – TOP 20
Bondi Surf Bathers LSC 396
Redhead SLSC 251
Manly LSC 242
North Bondi SLSC 184
Coogee SLSC 164
Queenscliff SLSC 149
Thirroul SLSC 134
North Avoca SLSC 128
Stockton SLSC 103
Mona Vale SLSC 90
Umina SLSC 87
Shelly Beach SLSC 87
Palm Beach SLSC 86
North Entrance SLSC 85
Terrigal SLSC 82
Shellharbour SLSC 79
Toowoon Bay SLSC 77
Wanda SLSC 76
Newport SLSC 72
Mollymook Surf Life Saving Club 72
Cronulla SLSC 71
The Lakes SLSC 70
*Note – final point score will not be available until Masters Surf Boat events have been completed on March 6th.
BEST OF THE MASTERS BEACH AND BOATS
Friday March 6, 2020
By Surf Life Saving NSW
Former World and Australian champions were on show as the Sand Dancers took to the beach track at the 2020 NSW Masters Surf Life Saving Championships at Swansea Belmont this week.
In the men's events, former two-time Australian Open Beach Sprint champion, Ocean Beach's Darren Peters won the hotly contested 55-59 Beach Sprint, in a field which included his brother former Open Sprint champion Warren, along with Steve Hoy a former Open Beach Sprint medallist.
Open Beach Sprinter, Michael Kember, won the 30-34 Beach Sprint and the Beach Flags double in his first outing at a NSW Masters Championships.
Queenscliff's Michael Gedz, a former four-time Australian Open Beach Relay champion, took out the 50-54 Yrs Sprint, Flags and the 200 Yrs Beach Relay with Ross Collins, Steve Hoy and Steve Nelson.
This is the 11th year in a row he has achieved the treble in his age group. Along with his 35 Australian gold medals, this is an outstanding achievement from an incredible athlete.
In the female divisions, Mollymook's three-time Open Female Beach Sprint winner Ashley Smart (formerly Cheney) returned with Armelie Muller, Tegan Davies and Sue Keough to win the 140 Yrs Relay, 14 years after they last won the Australian Open Beach Relay together.
From the Illawarra, World and Australian champ, Davina Strauss from Coledale, won the 40-44 Yrs Sprint and Flags double.
Dixon Park's Lisa Wright took gold in the 30-34 Yrs Sprint and Flags double with ease.
The team from Queenscliff were very strong on the beach as always, winning a total of 11 gold medals, including the women's 200 Yrs relay team of Merrilee Lineger, Annabel Nelson, Kelly Mcfadden and Kylie Stewart. Queensie also won both the men's and women's 230 Yrs Beach Relays.
Queenscliff's Helen Molloy was on fire in the 65-69 division, with gold in the Beach Flags, silver in the Beach Sprint and 1Km Beach Run and was part of the winning 230 Yrs Beach Relay team. She enjoys staying fit and healthy by competing in Masters events, however says it get harder to jump up in the Flags the older you get.
"I'm 66 and for 12 years I've been coming to State Champs and it's the camaraderie that keeps bringing me back. Runners don't get wet, that's why I love the beach events. It's great, coming back to Swansea.
"I run four times a week, train twice a week and do exercise bike twice a week and I'm still patrolling at Queenscliff beach. I'm going to keep coming back to State Champs until my body gives up.
"My great-nephews have started coming down to Queenscliff from Leichardt to Nippers and it's great. Our Masters runners are involved with coaching the Nippers and we love it," said Helen.
In the Masters Surf Boat events there was plenty of carnage in the challenging conditions.
In the youngest age division, Queenscliff won gold in the 120 Yrs Male Surf Boat and the legendary Long Reef Vets bookended as the oldest competitors, taking out the 260 Yrs division.
The virtually unbeatable Batemans Bay Phoenix did exactly that – to rise from the ashes of the recent bushfires which devastated their small community and from recent injuries to claim the 180 Yrs Female Surf Boat, while the all-female (including the sweep Bec Hamilton) Sth Maroubra crew narrowly beat the Warriewood Rustys across the line for gold in the 200 Yrs division.
In the largest Masters division of the championships, the 200 Yrs Male Surf Boat, the Bilgola Older crew came across the line first with Nth Cronulla Vets in second place.
With Masters competition wrapped up for another year, the Opens have taken centre stage with events running through to Sunday's finals action.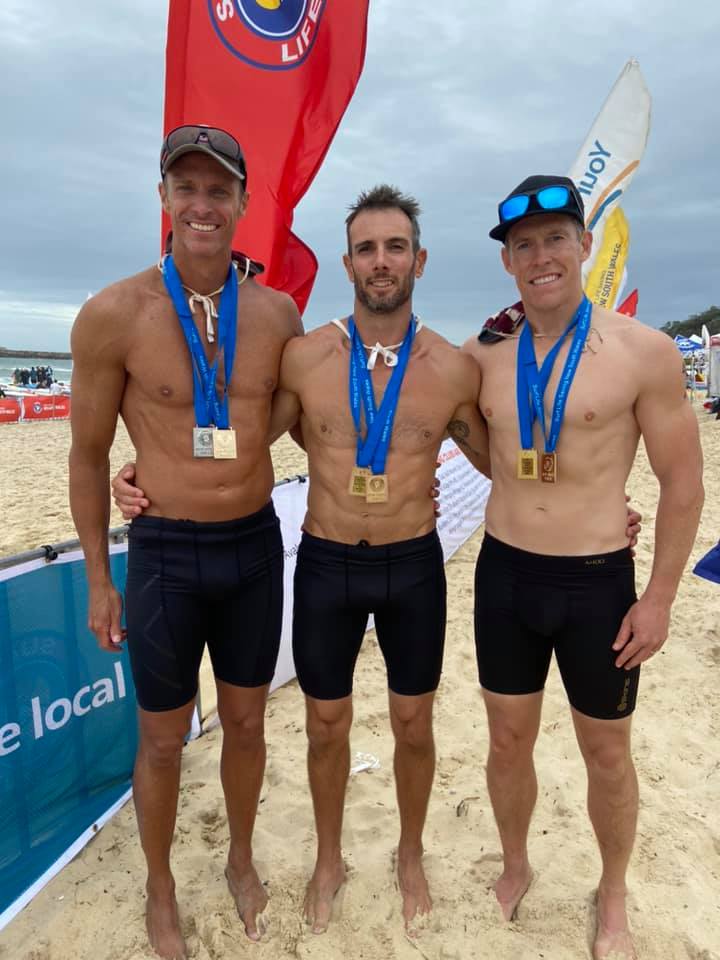 Warriewood SLSC: Gold 40-44 Male Beach Sprint to Iain Archer, Gold 45-49 Male Beach Sprint to Christopher Macdonald, Silver to Adam Gee. Gold for team relay (170).

Photos by Surf Life Saving NSW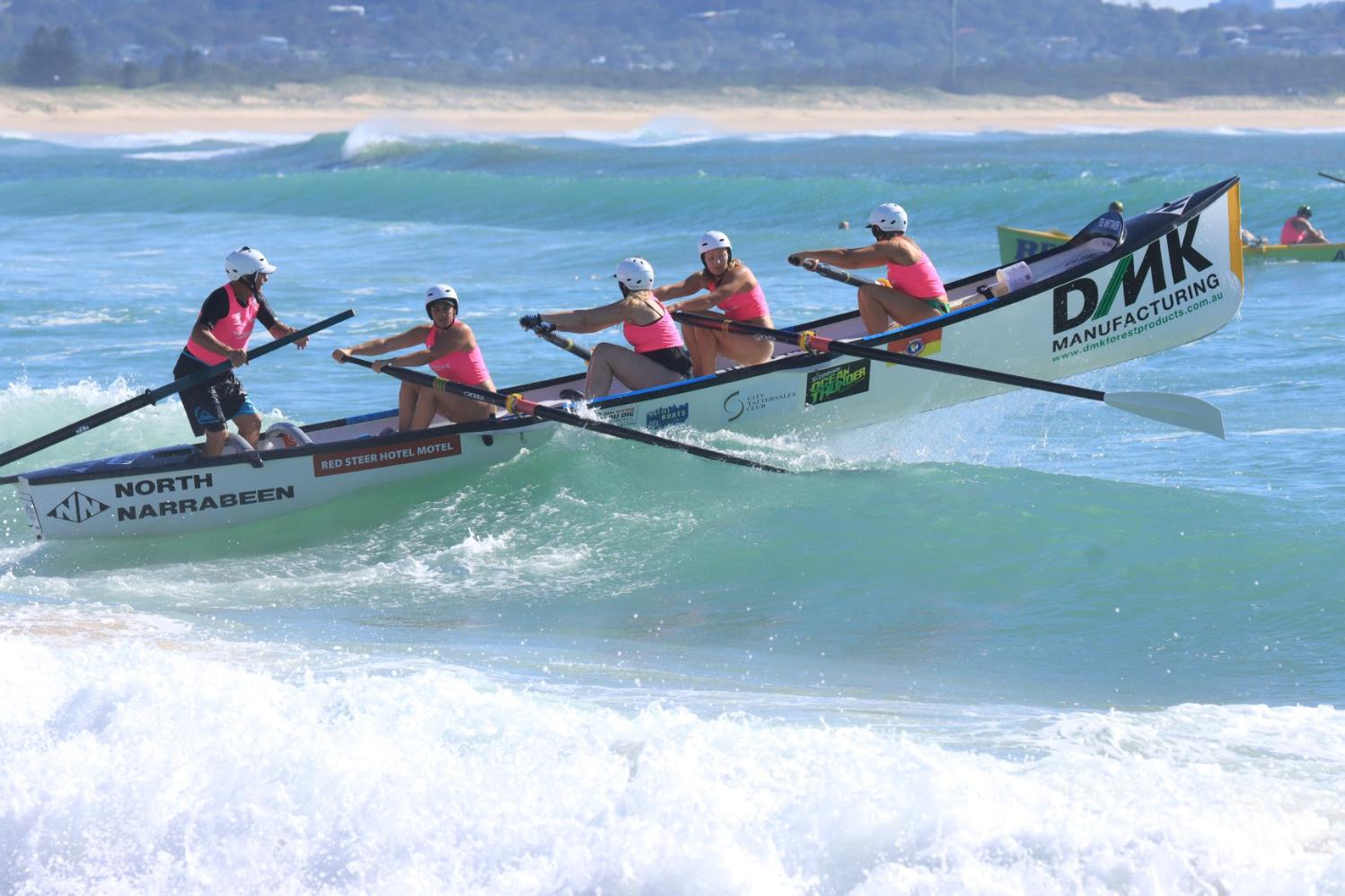 120 yrs min. Female Surf Boat
Gold: North Narrabeen SLSC Has Beens; Laini Collyer, Carla Ellis, Jacqueline Grimes and Aleisha Pollicina
Silver: North Narrabeen SLSC Jurassics; Gemma Eastwood, Katrina Evans, Katie Kirkpatrick, and Rebecca Timbs.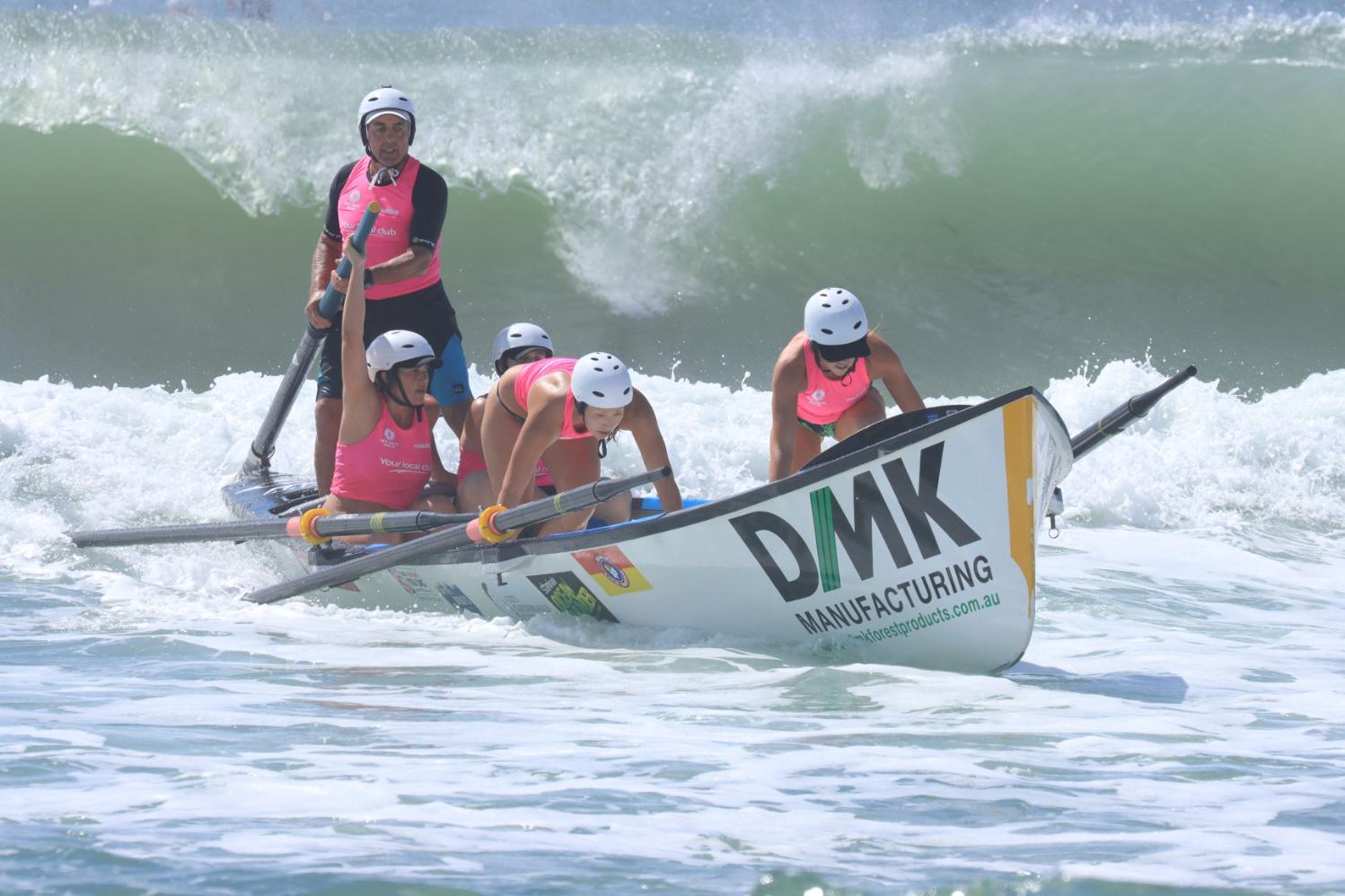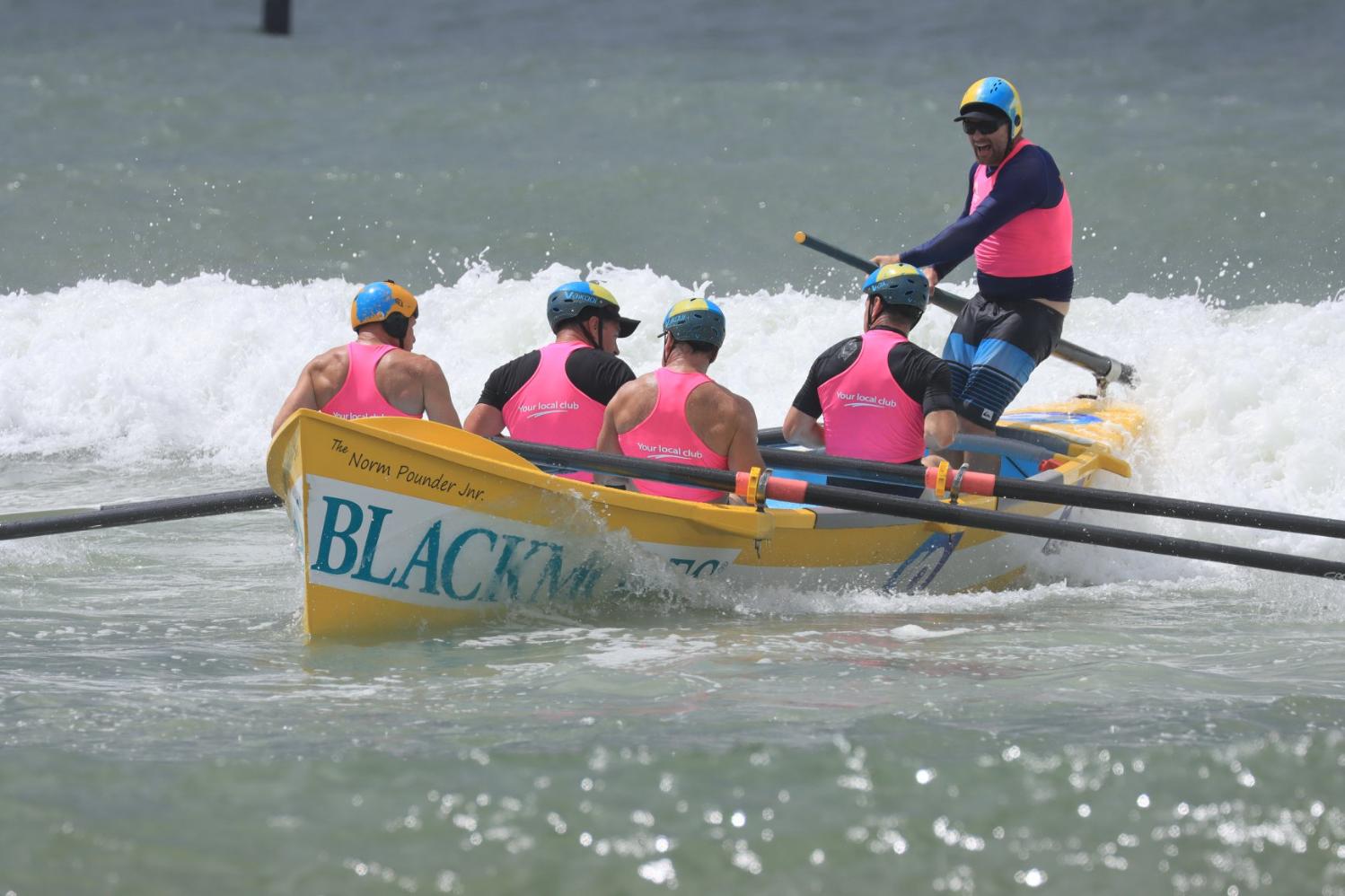 200yrs min Male Surf Boat
Gold: Bilgola SLSC Bilgola Older; Grant Jacobs, Mark Parsons, Norman Pounder, Garett Smith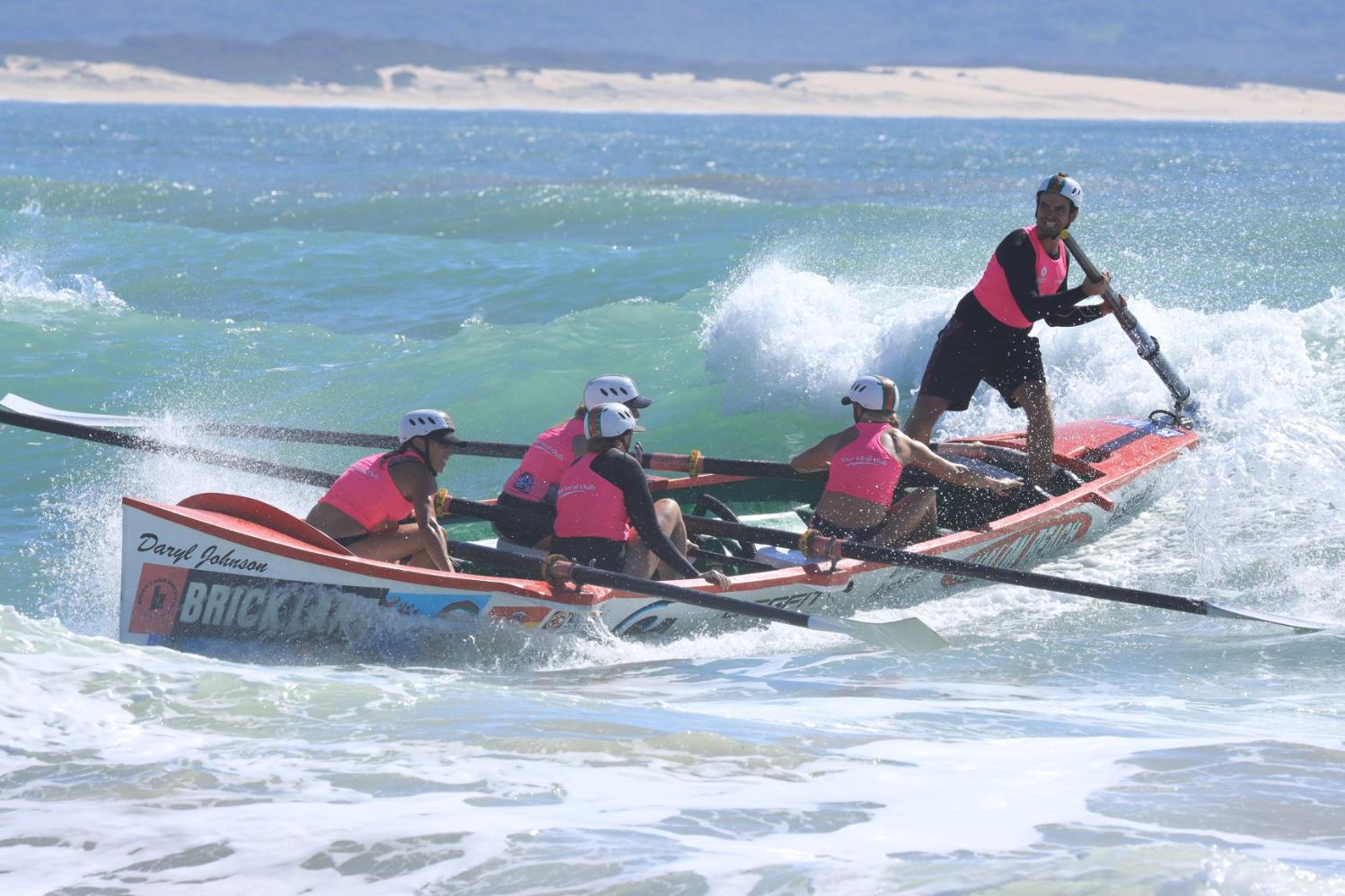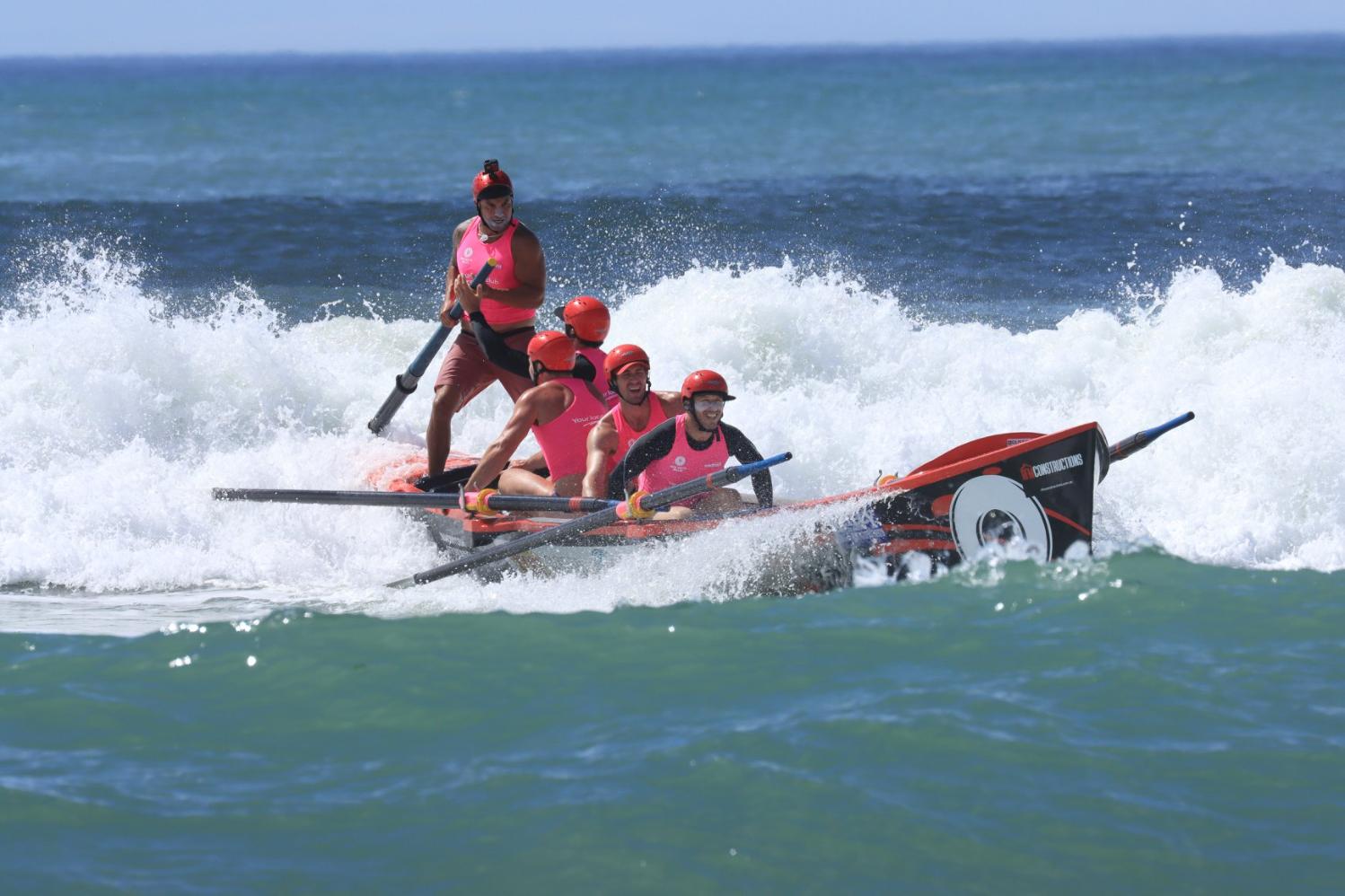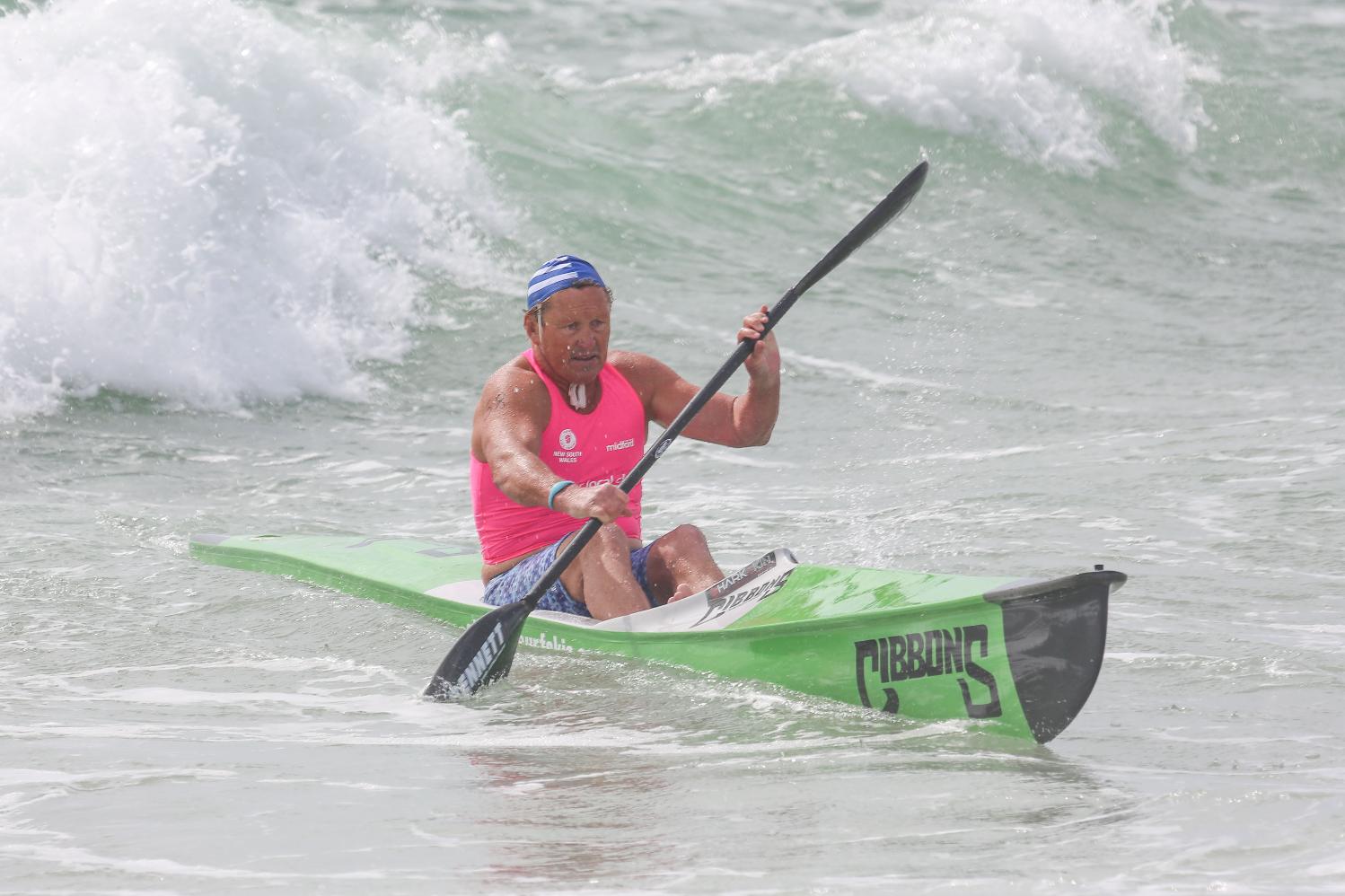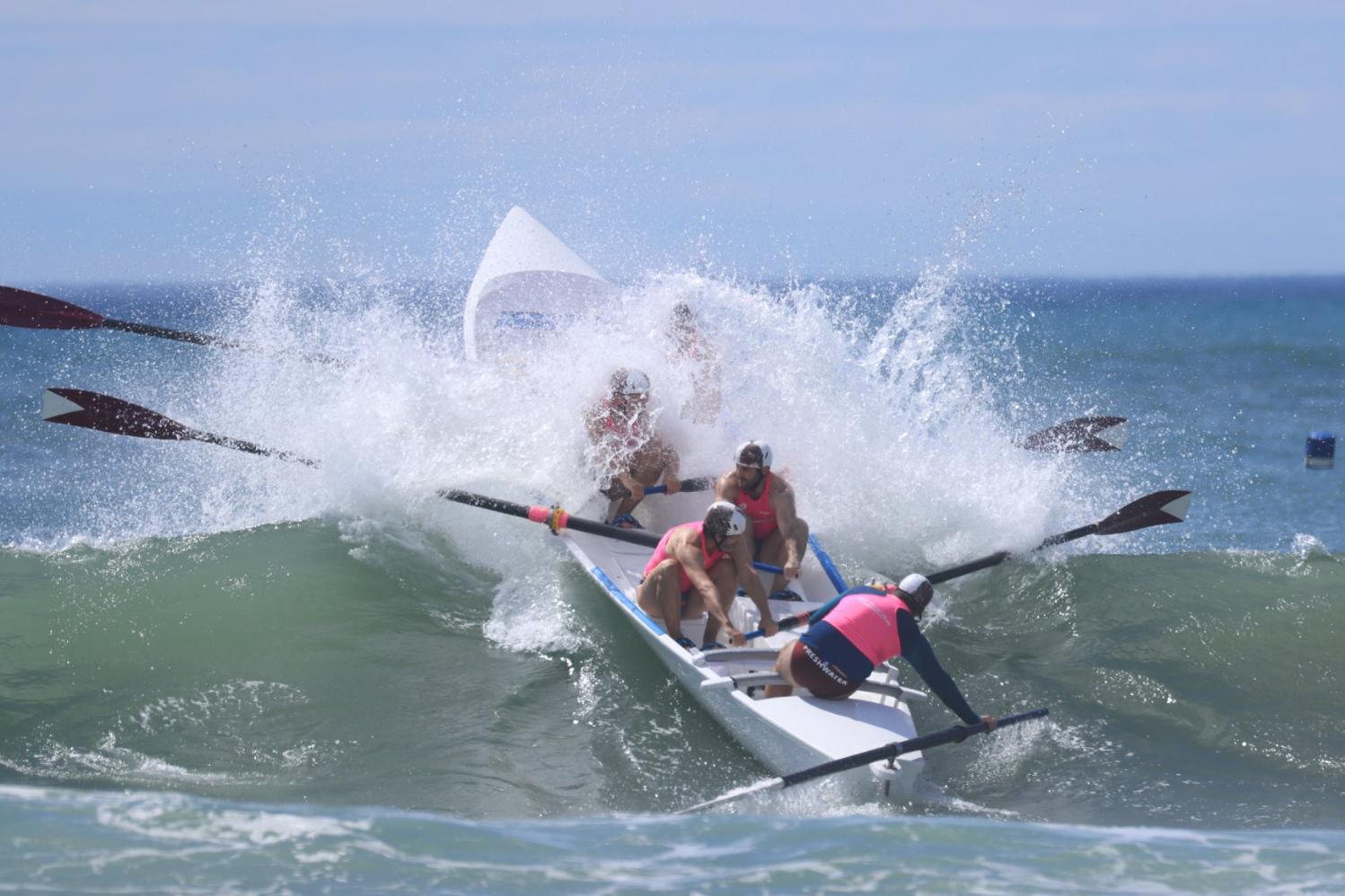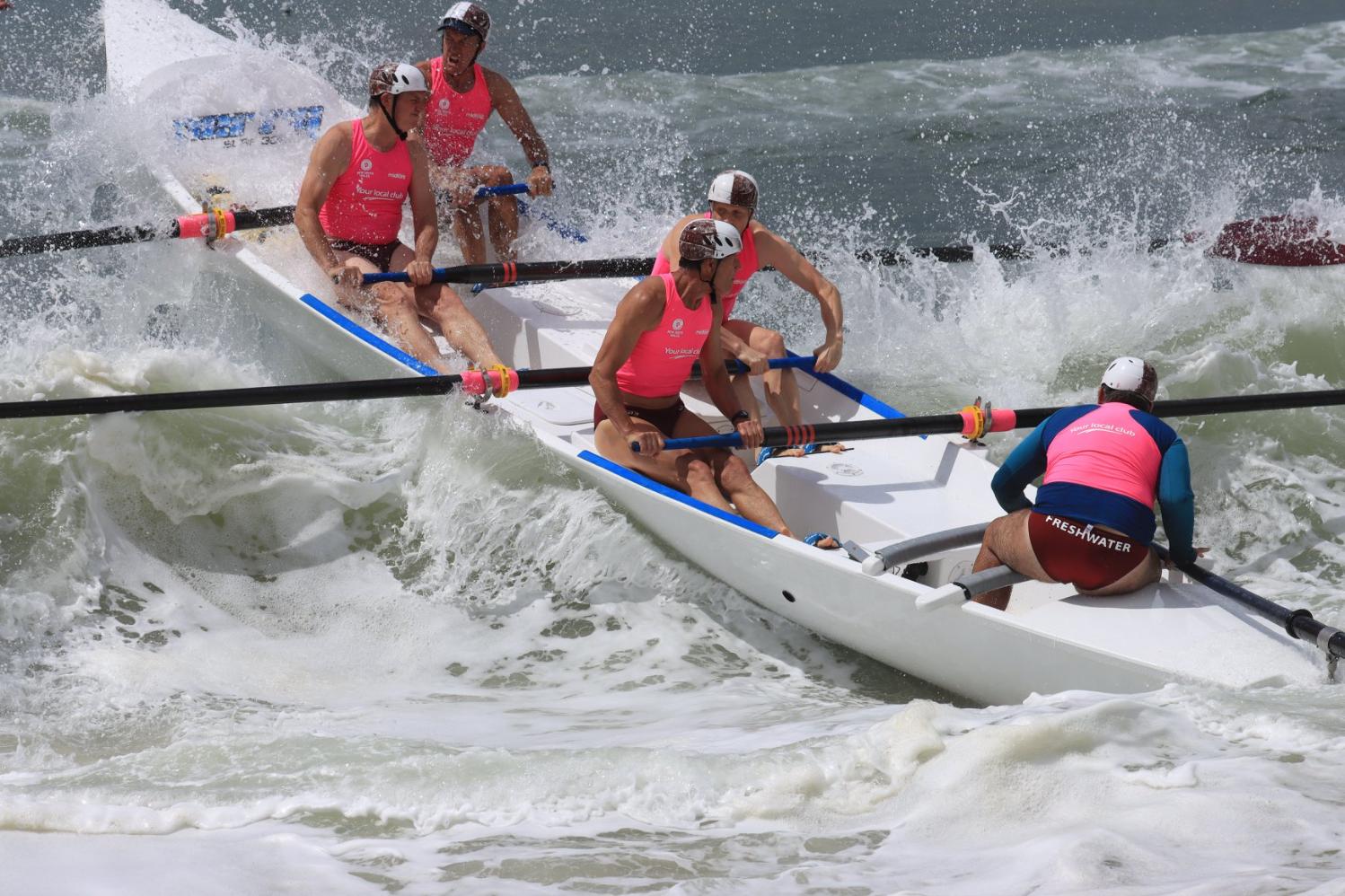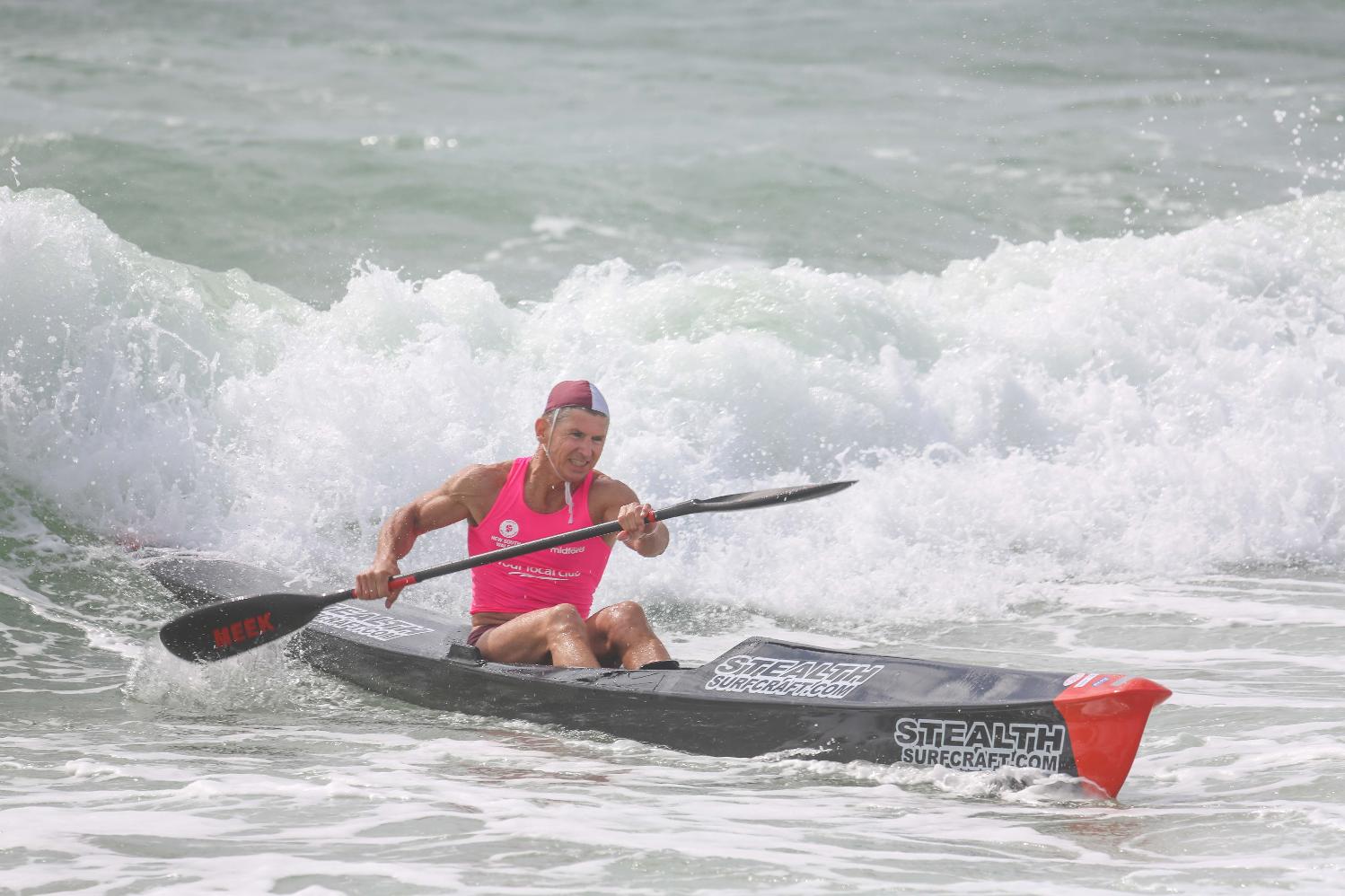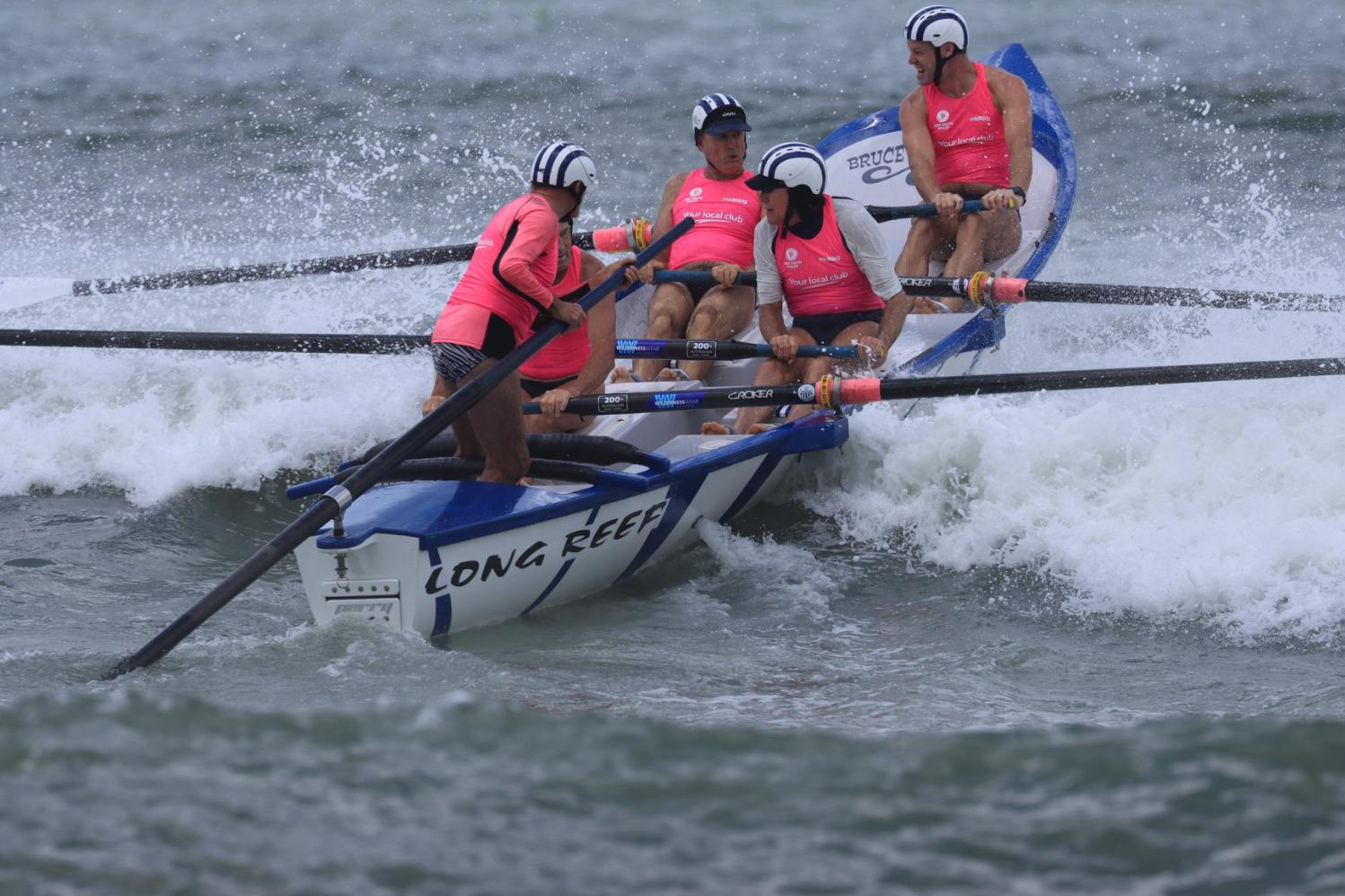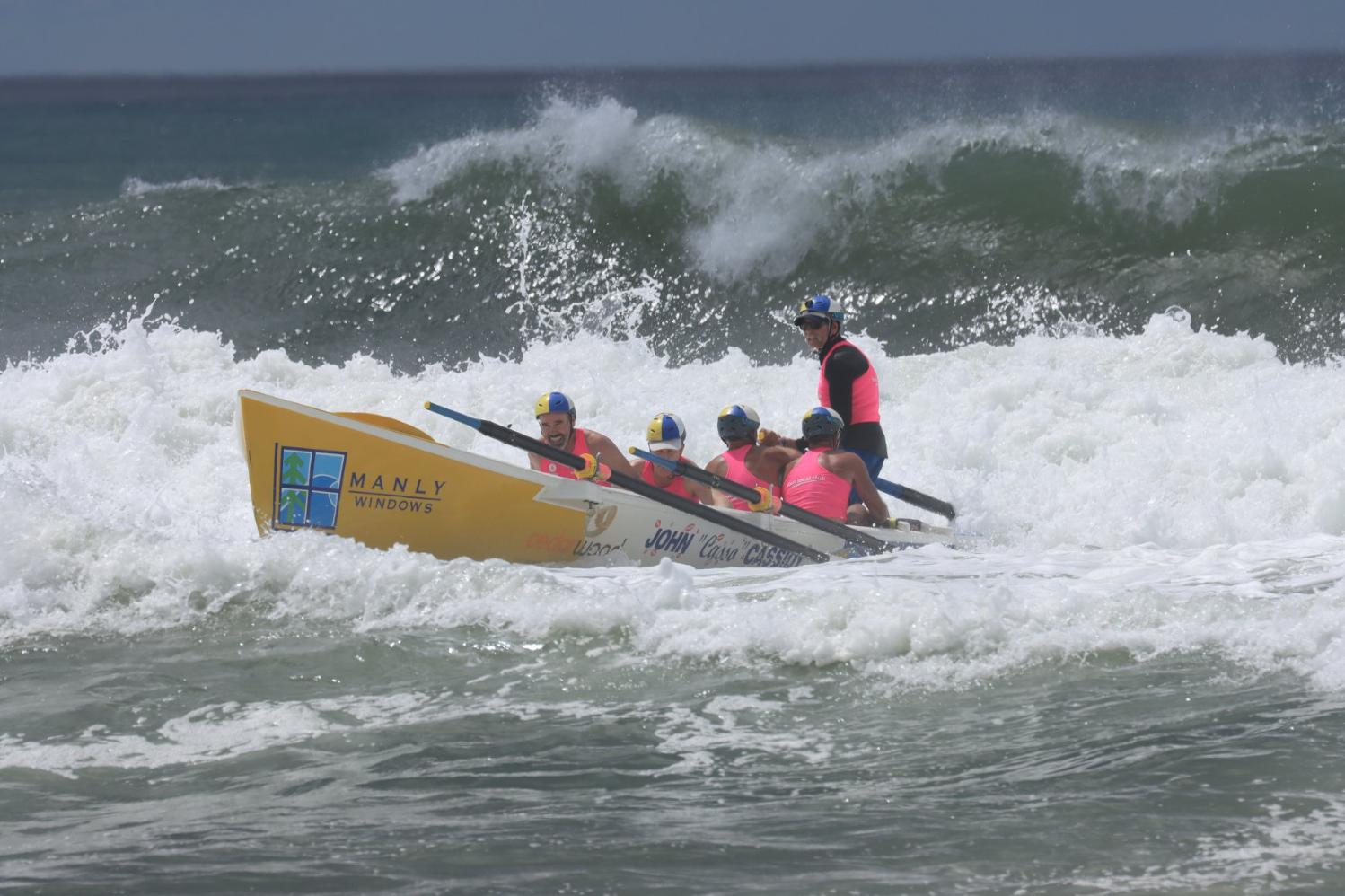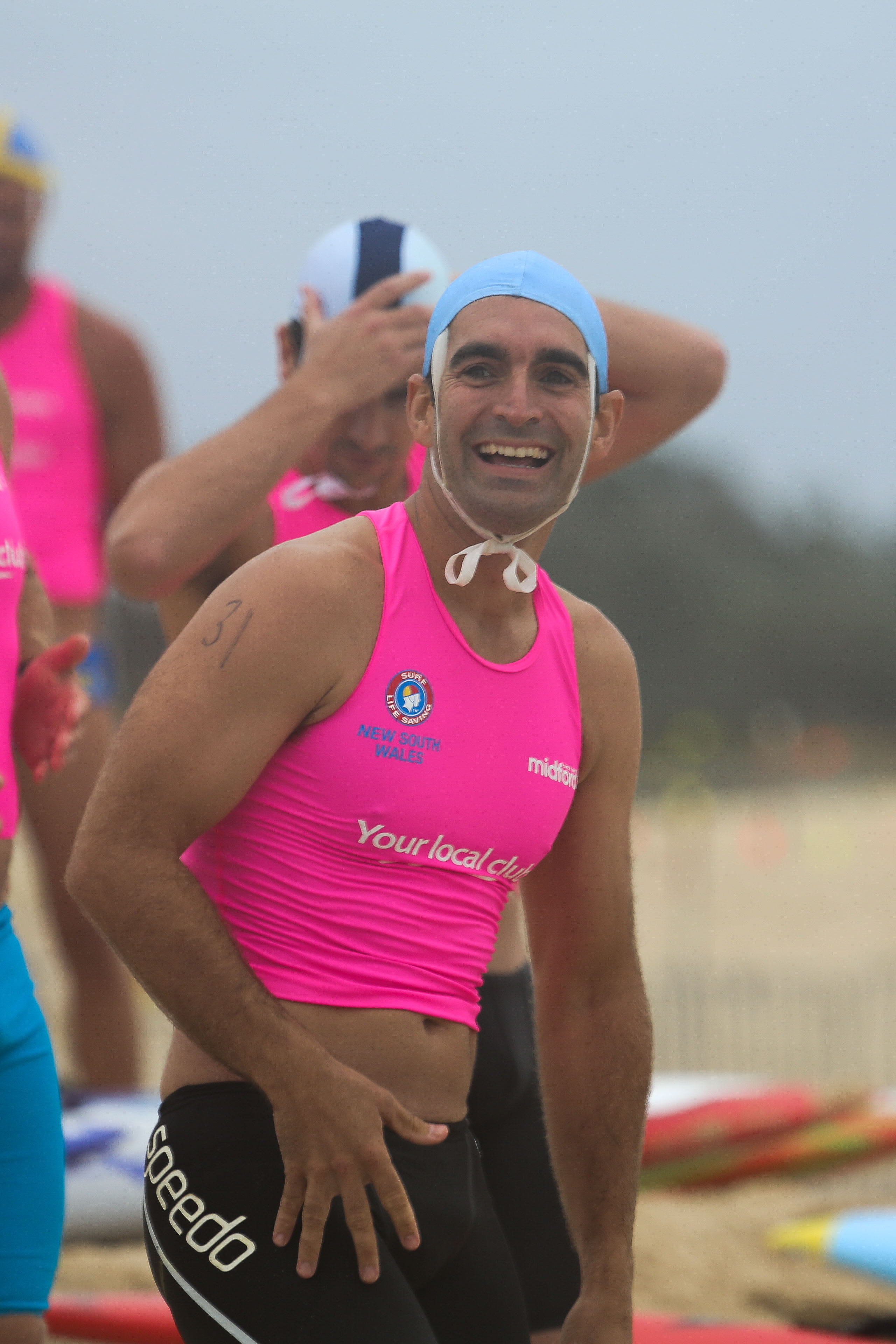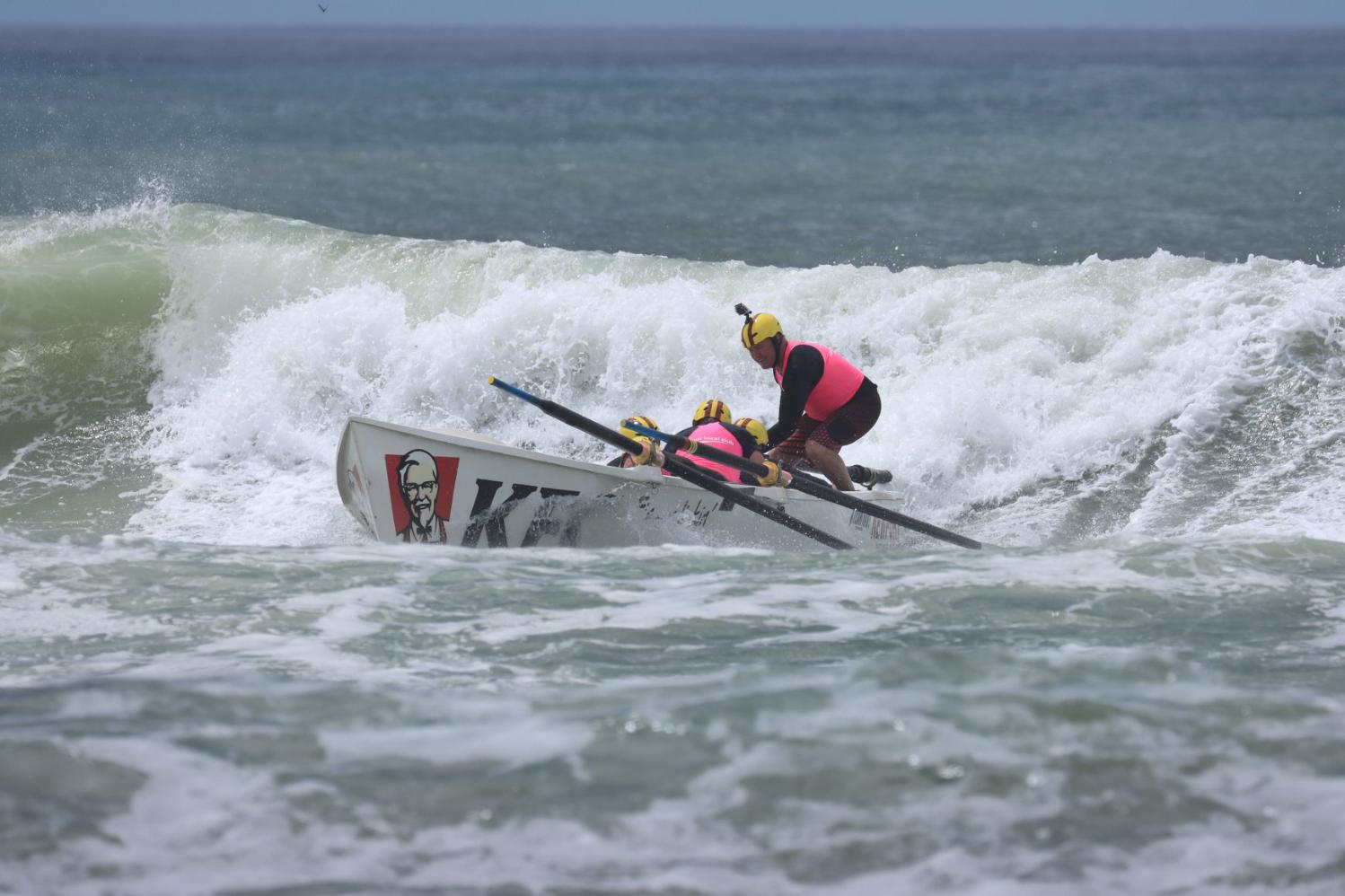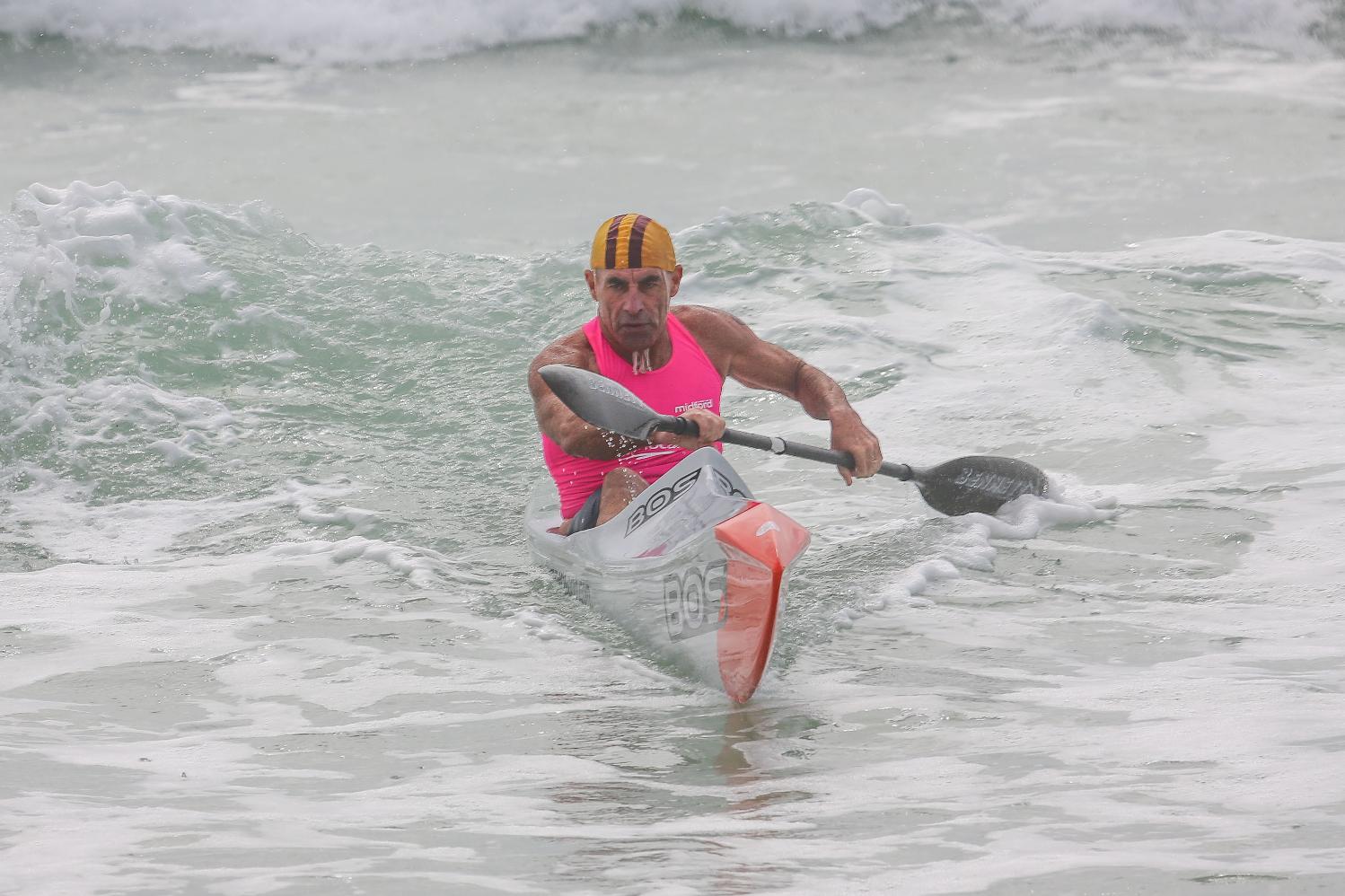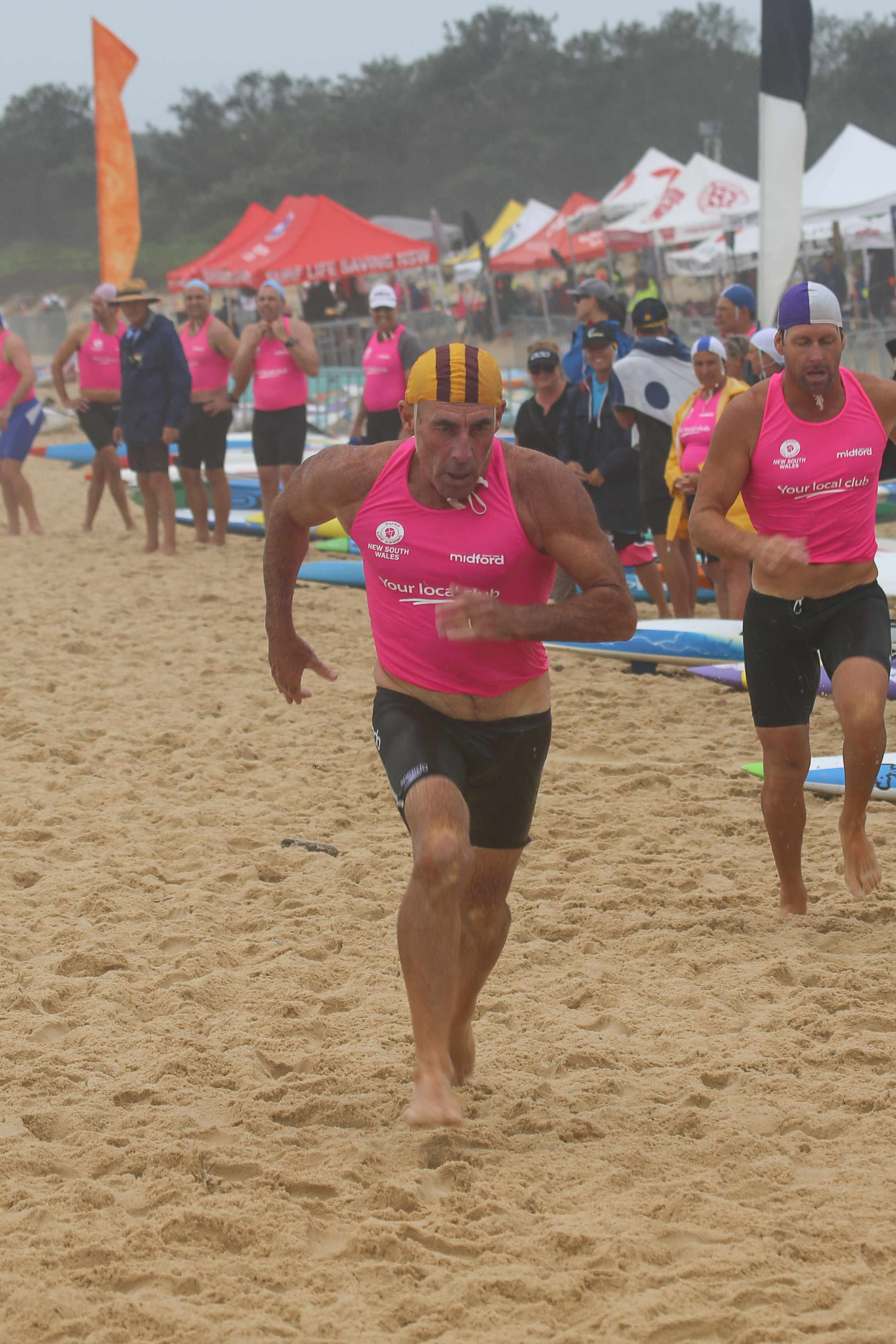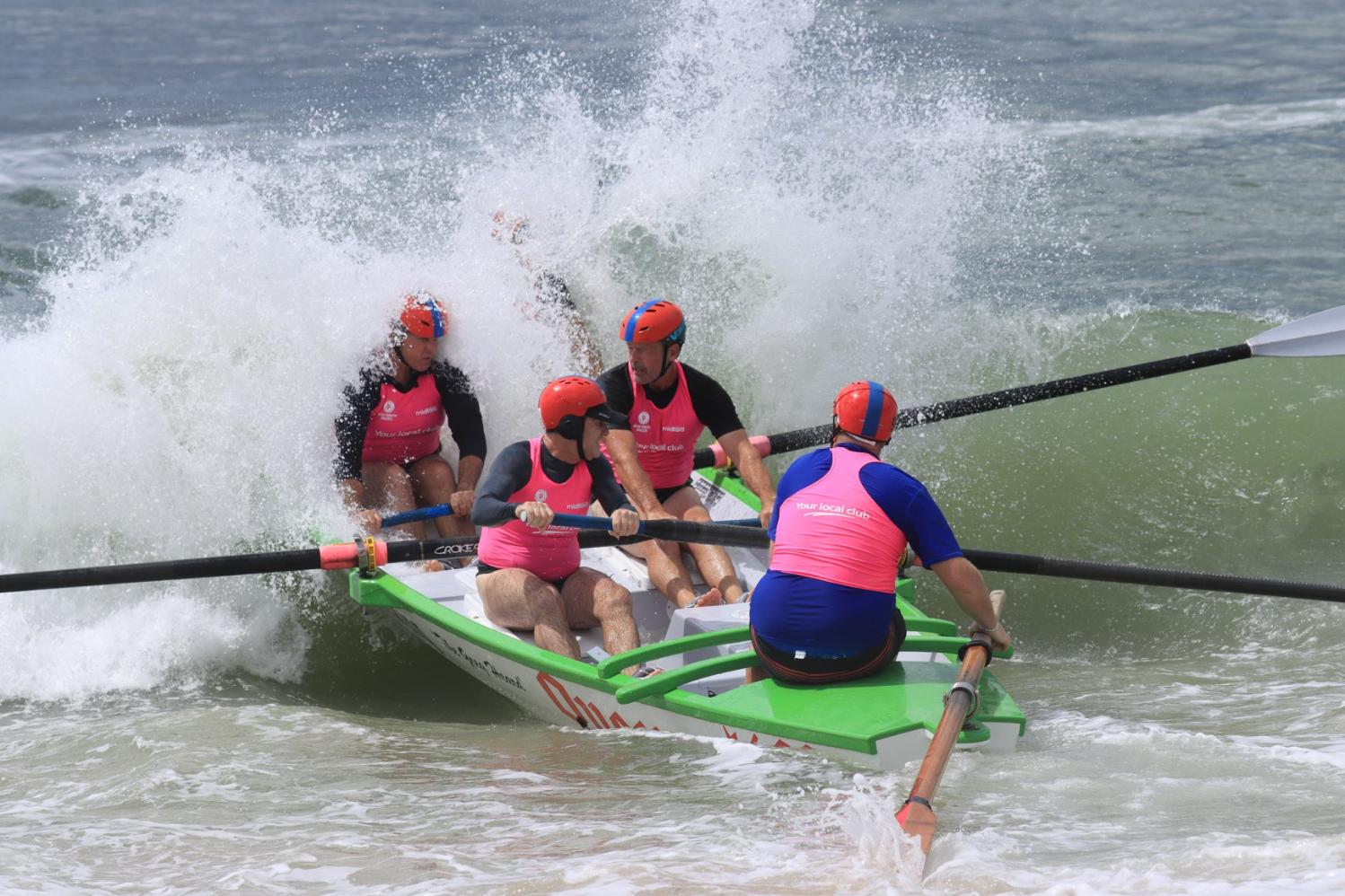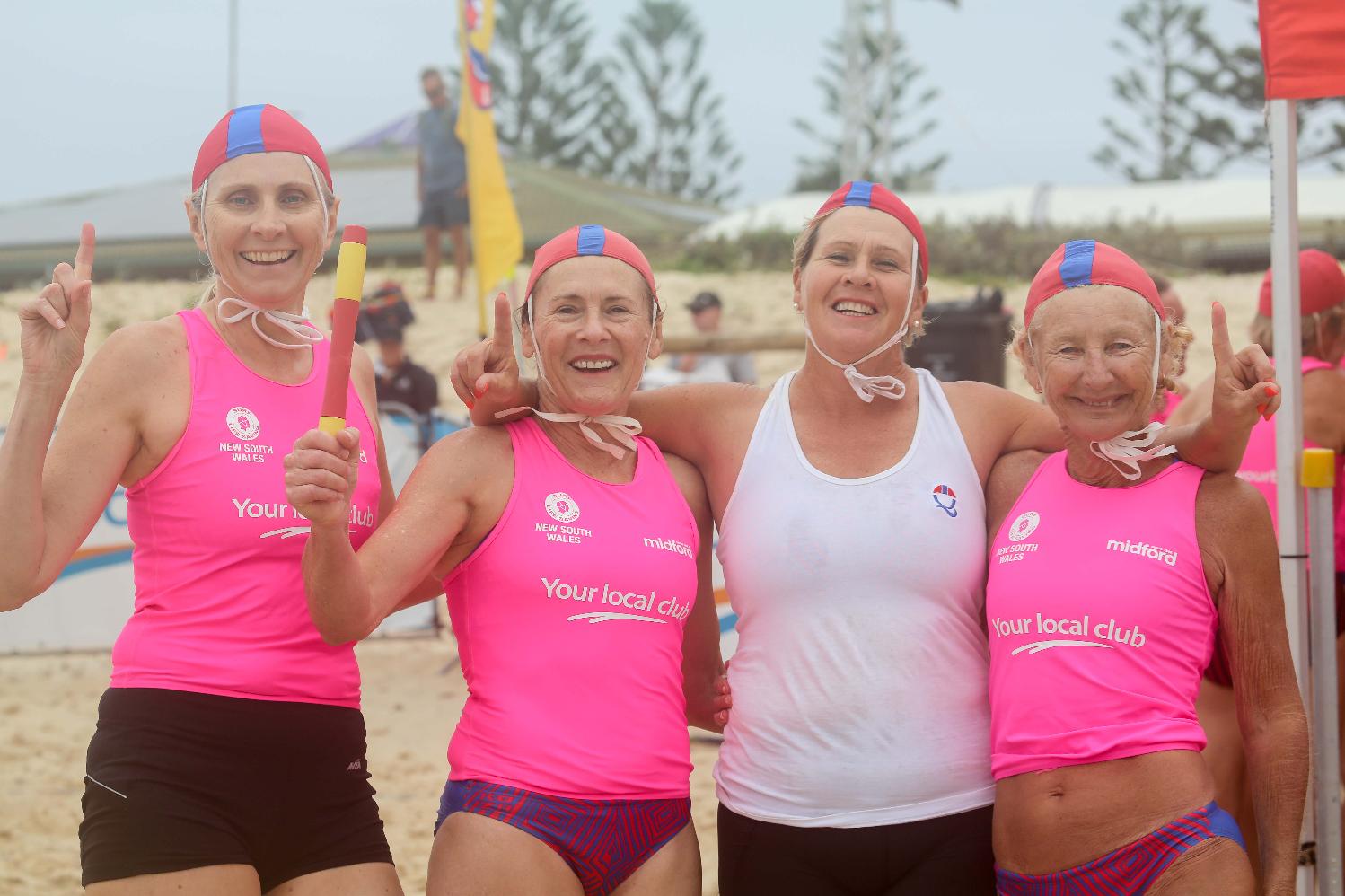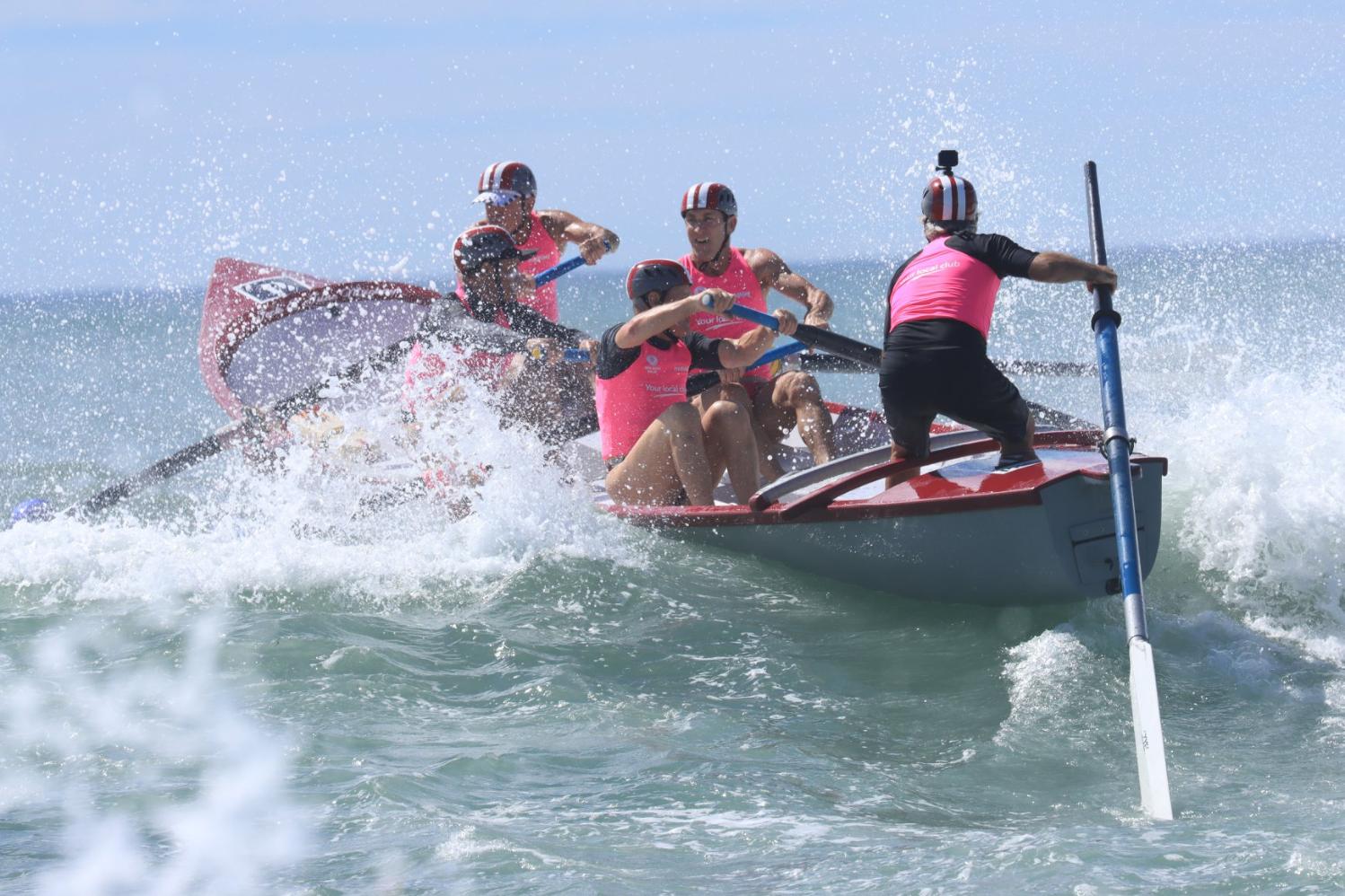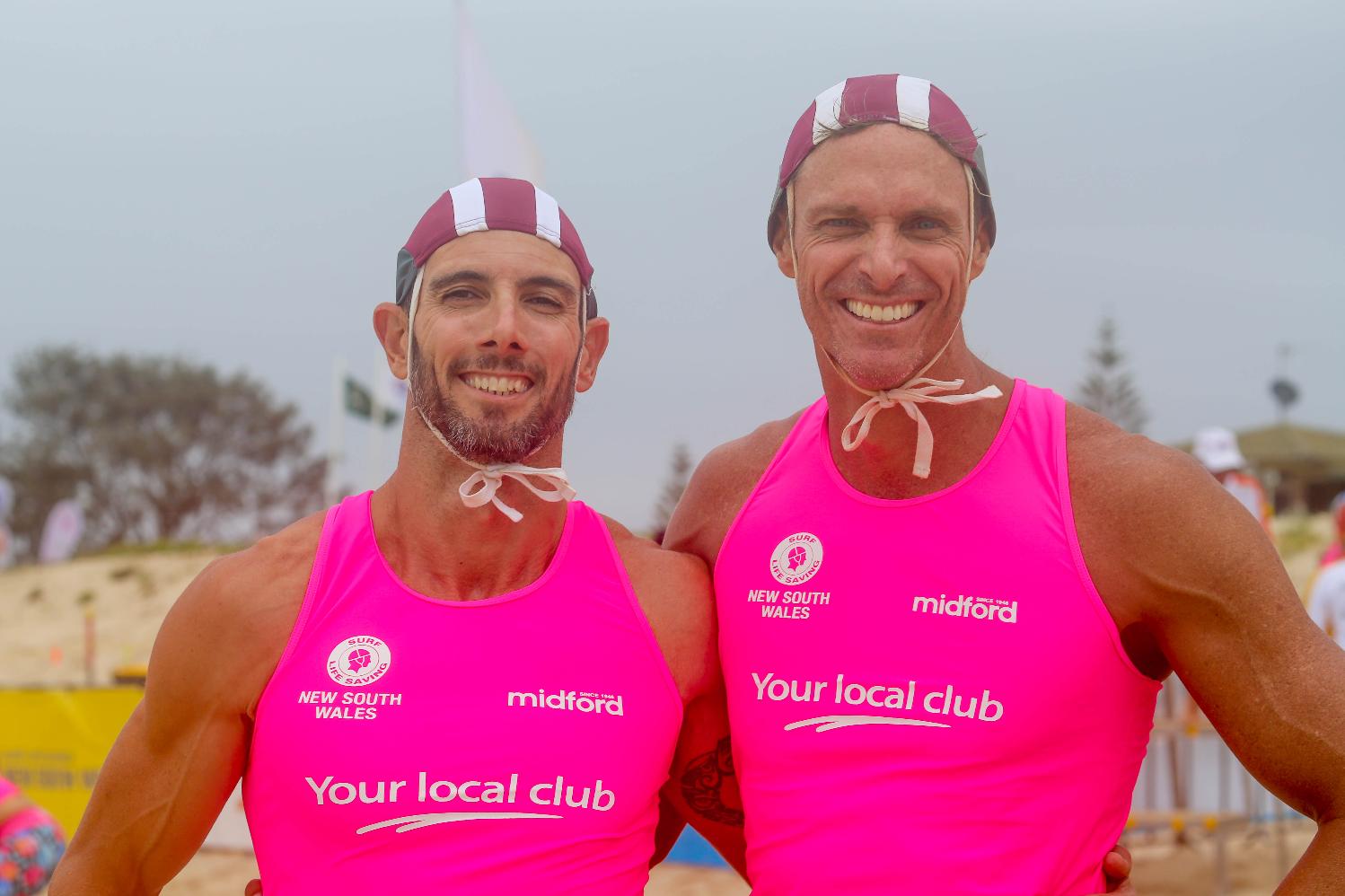 Warriewood SLSC: Gold 40-44 Male Beach Sprint to Iain Archer, Gold 45-49 Male Beach Sprint to Christopher Macdonald, Silver to Adam Gee. Gold for team relay (170).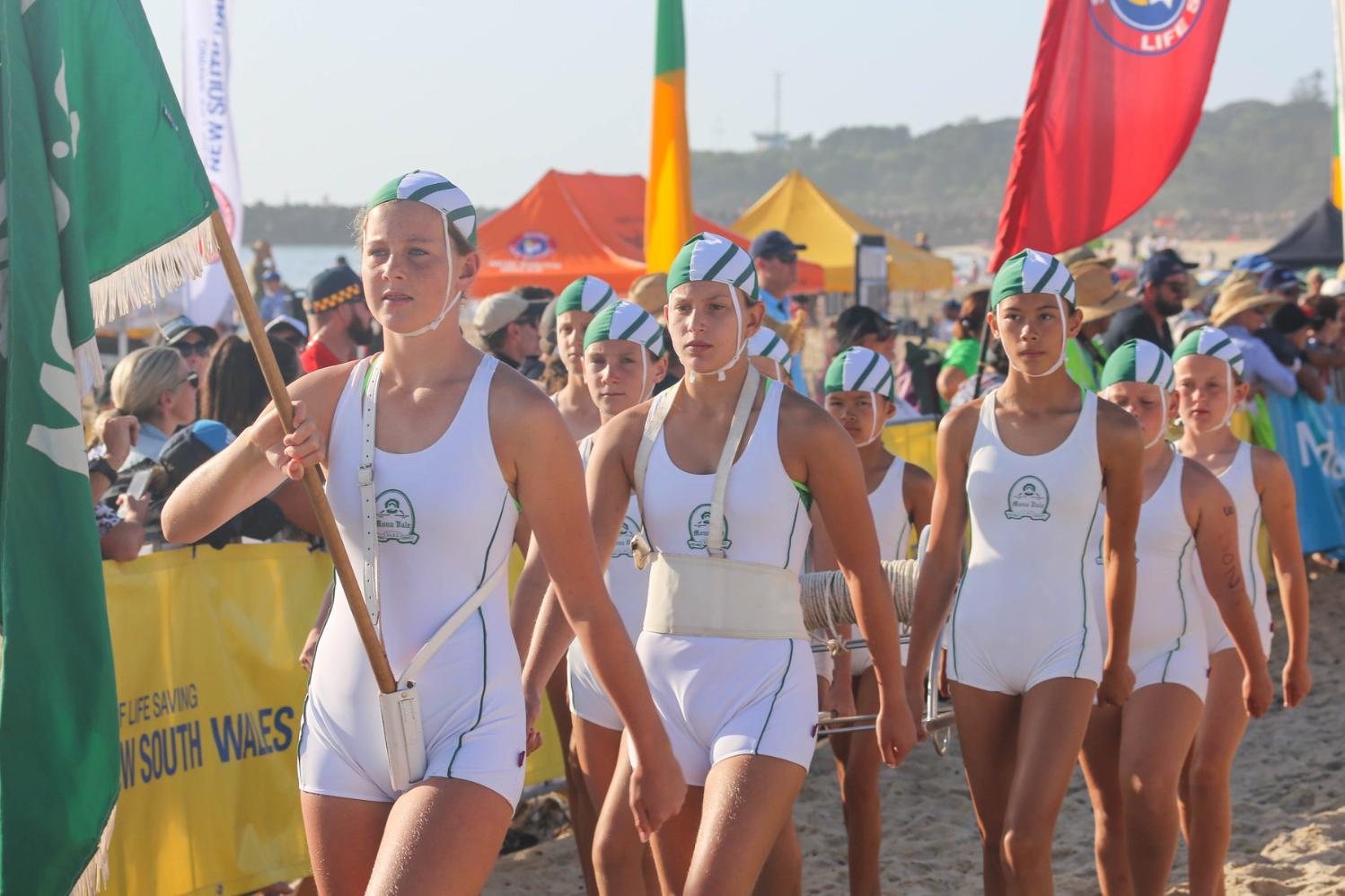 Mona Vale SLSC Team A March Past
NSW Surf Life Saving Championships 2020: The Age Championships (U9 - U14)
; Chloe Avedissian, Macy Beuzeville, Lexi Beuzeville, Zara Cunningham, Ruby Davies, Grace Davies, Jorja Fry, Ruby Halpin, Lily Halpin, Elissa Rich, Caitlin Rich, Abigail Wilson.