November 8 - 14, 2020: Issue 473

Rhys Williams Painting - June, 1942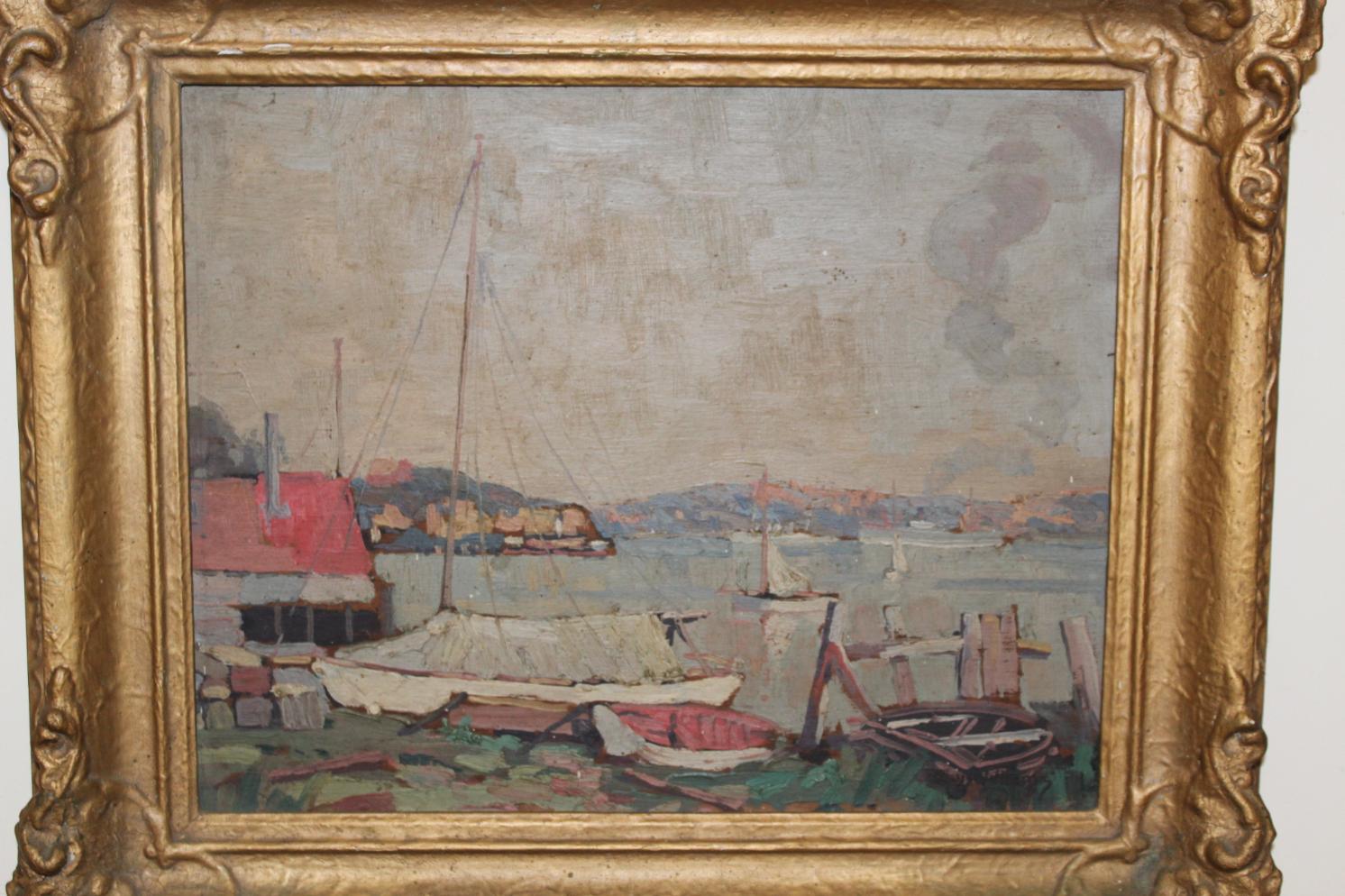 Born in New South Wales in 1894, Rhys Williams studied at the East Sydney Technical College and at the JS Watkins School. A painter, engraver, illustrator and commercial artist, he is best known for his landscapes, usually in oils.
He was appointed an official war artist to the Volunteer Defence Corps Division during World War II. He won several awards, and his work is represented in the Art Gallery of NSW. He was a Fellow of the Royal Art Society of NSW. He died in Sydney in 1976.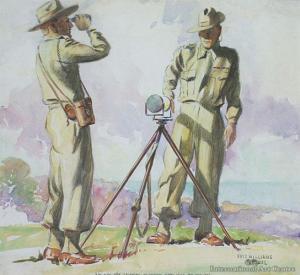 The Volunteer Defence Corps (VDC) was an Australian part time volunteer military force of World War II modelled on the British Home Guard. The VDC was established in July 1940 by the Returned and Services League of Australia (RSL) and was initially composed of ex-servicemen who had served in World War I.
The government took over control of the VDC in May 1941, and gave the organisation the role of training for guerrilla warfare, collecting local intelligence and providing static defence of each unit's home area. Following the outbreak of the Pacific War, the Government expanded the VDC in February 1942. Membership was open to men aged between 18 and 60, including those working in reserved occupations. As a result, the VDC reached a peak strength of almost 100,000 in units across Australia. As the perceived threat to Australia declined the VDC's role changed from static defence to operating anti-aircraft artillery, coastal artillery and searchlights.
The Art Society of New South Wales (To become The Royal Art Society of NSW in 1903) held its first exhibitions at the Garden Palace (in the Domain) as part of the International Exhibition staged in Sydney in 1879. The Art Society came into existence in Sydney in 1880 as a result of the drive and enthusiasm of two brothers, George and Arthur Collingridge and many other professional artists. The International Exhibition was a very important occasion for the developing colony, marking the start of new eras of culture, industry and commerce.
The oil painting at top here the owner says, according to family lore, is a representation of when Japanese submarines attacked and sunk HMAS Kuttabul in Sydney Harbour on May 31st/June 1st, 1942.
The smoke spiralling as part of the sky tells of how devastating this was to Sydney-siders. Nineteen naval men asleep on board at the time were killed. The Garden Island base is now named HMAS Kuttabul in commemoration of the event. Her wheelhouse is now on display at the parade ground of the base. This June marks seventy years since this vessel was lost. Her name is an aboriginal word for 'wonderful'.
One of these midget submarines remains in the waters off Pittwater.
Visit: Pittwater's Midget Submarine M24 War Grave Renews Memories Of 75 Years Ago and Traces Of WWII Coast Watchers (1942) Found On Bangalley Headland After Recent Fire
HMAS Kuttabul was a Royal Australian Navy (RAN) depot ship, and former Sydney harbour ferry. She originated as a steam-powered ferry, built in 1922 by the Walsh Island Dockyard and Engineering Works in Newcastle, New South Wales. Kuttabul was rated at 448 gross and 201 net tonnes (1269 and 569 m), was 183 feet (56 m) long, with a beam of 36 feet (11 m), and capable of seating approximately 2,250 passengers. Kuttabul and identical sister ship Koompartoo were the largest ferries ever operated on the inner harbour ferry routes. Her route included many suburban ferry wharves but her heaviest trade was between the Quay and Milson's Point. Following the opening of the Harbour Bridge (1932) she became redundant until requisitioned by the Royal Australian Navy at the outbreak of WWII. She was stationed at their Garden Island base.
This work has been painted on thin board rather then canvas, which he used fairly often. It was of many paintings this gentleman did of waterviews in and around our harbour. Rhys Williams was a Wynne prize finalist in 1936 for Shadowy Gums and Through the Trees, Middle Harbour, in 1948 for Berry's Bay and By the Wollondilly, Burragorang, in1950 for Cattle Country and The Spit, Middle Harbour.
The Wynne Prize, established in 1897 from the bequest of Richard Wynne of Mount Wilson, who died in 1895, is awarded annually for 'the best landscape painting of Australian scenery in oils or watercolours or for the best example of figure sculpture by Australian artists completed during the 12 months preceding the [closing] date. Seascapes and cityscapes are acceptable within the definition of landscape. A figure sculpture may be a work which is abstracted, but at the same time clearly derived from a figurative source, human or animal. It was first awarded in 1897, in honour of the official opening of the Art Gallery of New South Wales at its present site. (From Art Gallery of NSW)
213 works by Rhys Williams have been offered for sale by auction in Australia and New Zealand over the last thirty years, by Auction Houses including: Rushton Fine Arts, Lawsons, Leonard Joel's, Christies, Sotheby's and Lawson-Menzies. The Highest Price at auction so far for one of Rhys Williams paintings - $42,000 although watercolours (some on paper) sell from around $320.00. and oils average around $2000.00.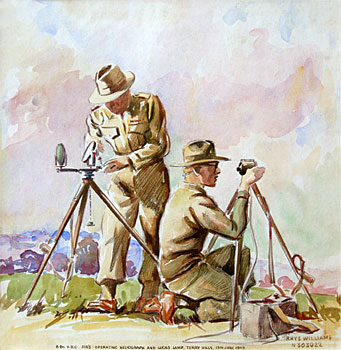 Rhys Williams: 8th Bn V.D.C Sigs Operating Heliograph and Lucas Lamp, Terrey Hills,13th June 1943 Watercolour 37.0 x 40.0 Signed, inscribed & dated 1943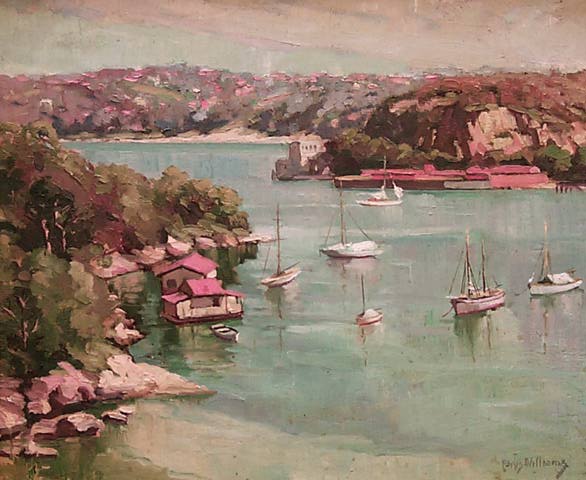 Rhys Williams: Middle Harbour, Oil on Canvas Board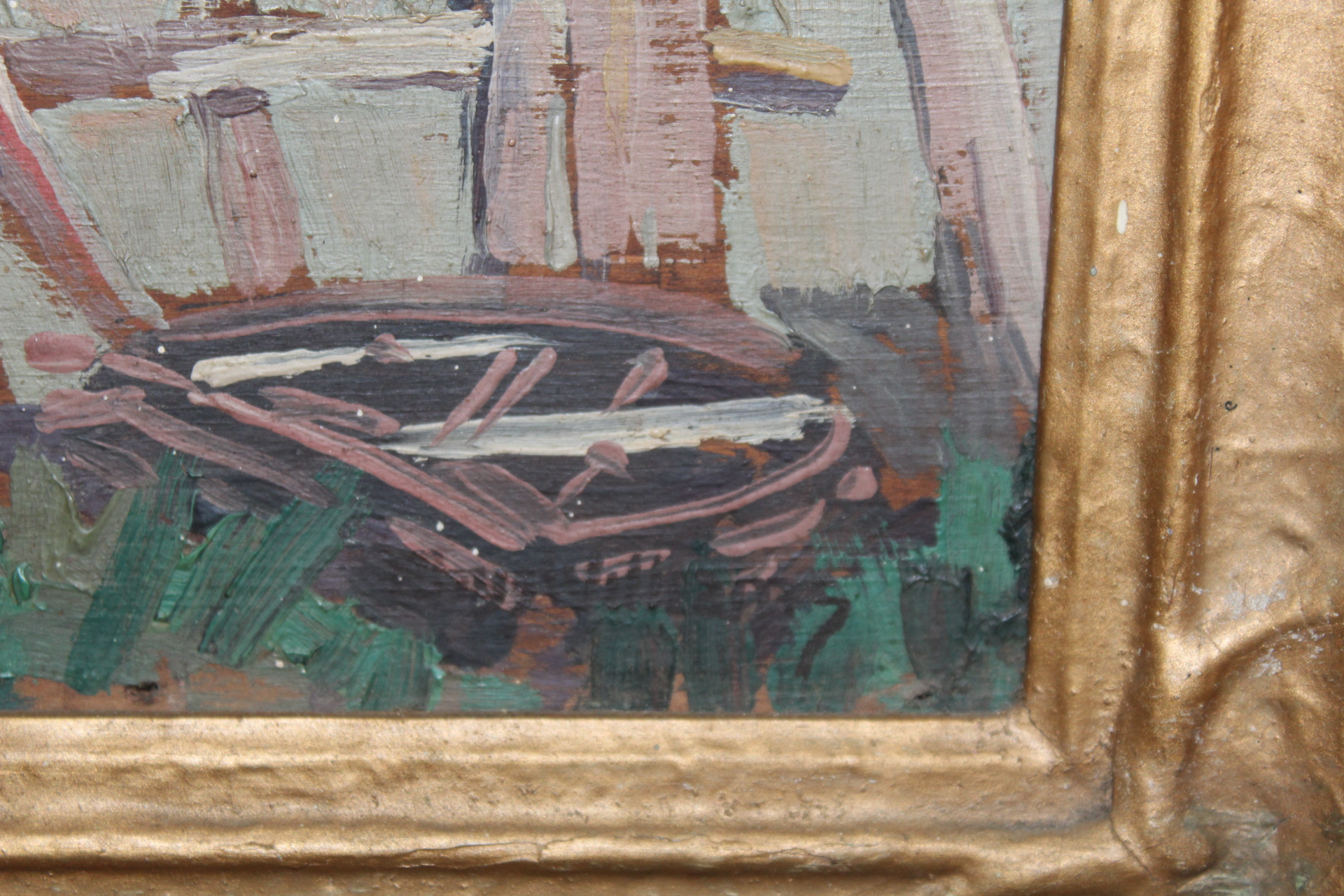 Signature in lower right corner

References and further:
Germaine, M, Artists and Galleries of Australia, 1990, 3rd ed, Craftsman Press
Rhys Williams Paintings (1894-1976)
Sydney Harbour under attack in WWII: http://www.ww2australia.gov.au/underattack/sydharbour.html
The Royal Art Society of NSW: http://www.royalart.com.au/index.htm
Volunteer Defence Corps (Australia). (2011, February 16). In Wikipedia, The Free Encyclopedia. Retrieved from http://en.wikipedia.org/w/index.php?title=Volunteer_Defence_Corps_(Australia)&oldid=414193798
Opportunity To Visit Submarine War Grave Renews Memories Of 75 Years Ago

Small picture in text: Rhys Williams 8th Bn V.D.C. Sig's Operating Heliograph Terrey Hills, 13th June 1943 Watercolour 37.0 x 40.0 Signed, inscribed & dated 1943