January 6 - 12, 2013: Issue 92
32nd Pittwater to Coff's Harbour Ocean Race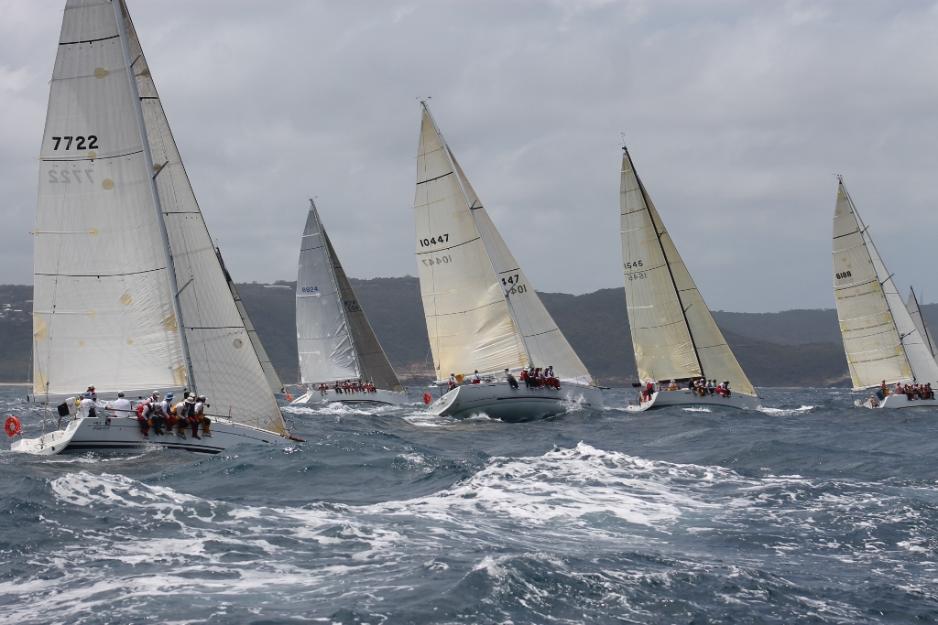 Known as the warm water classic, the Pittwater to Coff's Harbour Ocean Race, run in the first week of January, is an exhilarating 226 nautical mile dash up the coast. Bumpy seas and good winds ensured all participants had a good run. The Ocean Race opens the Pittwater to Coff's Harbour Regatta with four Solitary Island races being run yesterday and today (6.1.2012).
The 32nd Club Marine Pittwater to Coff's Harbour Ocean Race and Regatta- 2nd to 6th of January, 2013 - Wedgetail takes out line honours - Syd Fischer's TP52 Ragamuffin clean sweeps the handicap spoils on all fronts
From Reports by Damian Devine, Club Marine Pittwater to Coff's Harbour Regatta media

The Pittwater to Coffs Harbour Yacht Race has developed into one of the most popular of all ocean-racing events in Australia. The race offers competitors a strategic challenge as they race between the surfline and the current, past unsurpassed scenic coastlines, prior to arriving in one of Australia's most popular coastal cities. The 2013 regatta follows the same shape introduced a couple of years back with the Pittwater to Coffs race being the first race starting on 2 January 2013 followed by four races in Coffs Harbour over two consecutive days on 5-6 January. These Coffs Harbour regatta races consist of a 8nm sprint windward-leeward race followed immediately by a 20nm offshore race around the majestic South Solitary Islands making it a five race regatta.
Bill Wild's Queensland RP55 Wedgetail crossed the finish line at 8:53am on Thursday morning to take line honours in the 2013 Club Marine Pittwater to Coffs Harbour yacht race in a time of 19 hrs 53 min 3 secs, three and a half minutes in front of the TP52 Ragamuffin, in one of the closest finishes in the Coffs race. This was the second fastest time in the history of the race, an hour and a half outside the race record.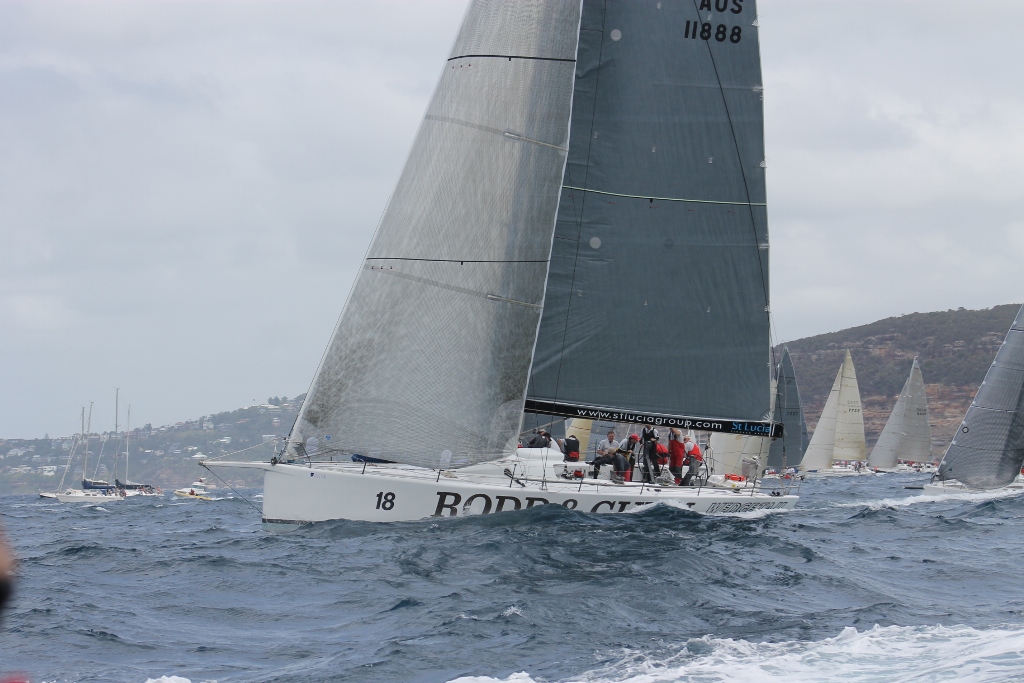 Both boats had an interesting battle throughout the race in what Syd Fischer, skipper of the TP52 Ragamuffin, described as "neck and neck all the way". At 6am Thursday morning as the boats passed Nambucca Heads for their final radio check, Ragamuffin held a 1.5 nautical mile lead with only 20 miles left to sail.
But Wedgetail managed to get the better of the wind angles to take the lead 45 minutes from the finish. Skipper Bill Wild said of the race, "it was a good race, not too demanding but we had a good battle with Syd. We led at the start then Syd took over, then we led for a little bit in the middle, then Syd got back on top. So, it kept us on our toes and luckily the breeze held in through the night which was pleasing. It was the outcome we were looking for."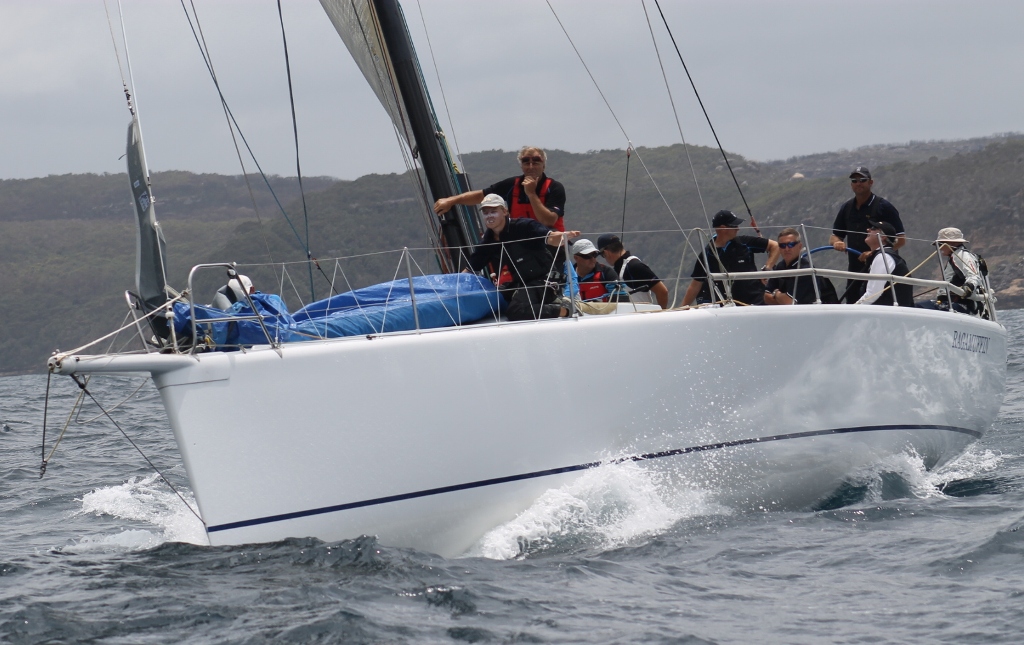 Syd Fischer, the 1996 line honours and handicap winner of this race, praised his crew aboard Ragamuffin, "who worked hard all the way and worked well together. There a great bunch of guys and unfortunately it wasn't to be in this race, but that's yacht racing. The race overall was enjoyable and not too difficult. The boat performed well."
The crews of both boats were met by a welcome party assembled on Mutton Bird Island and the breakwall on the opposite of the harbour as they crossed the finish line and then presented with the Line Honours Bell Trophy by CHYC Commodore Garry Ennis at the Coffs Harbour marina.
Syd Fischer's TP52 Ragamuffin, whilst taking another second in two weeks on line honours, has taken out an incredible feat by winning the triple handicap crown in all divisions on offer; IRC, ORCi and PHS in the 2013 Club Marine Pittwater to Coffs race hosted by the Royal Prince Alfred Yacht Club. In doing so, Ragamuffin has become the first boat to accomplish the achievement in the 32 year history of the race.
David Forbes Kaiko 52 'Merlin' replicated her 2012 result and reversed the line honours result against Steven Proud's Kernan 44 Swish to take the final podium handicap position in the end by some 14 minutes.
Merlin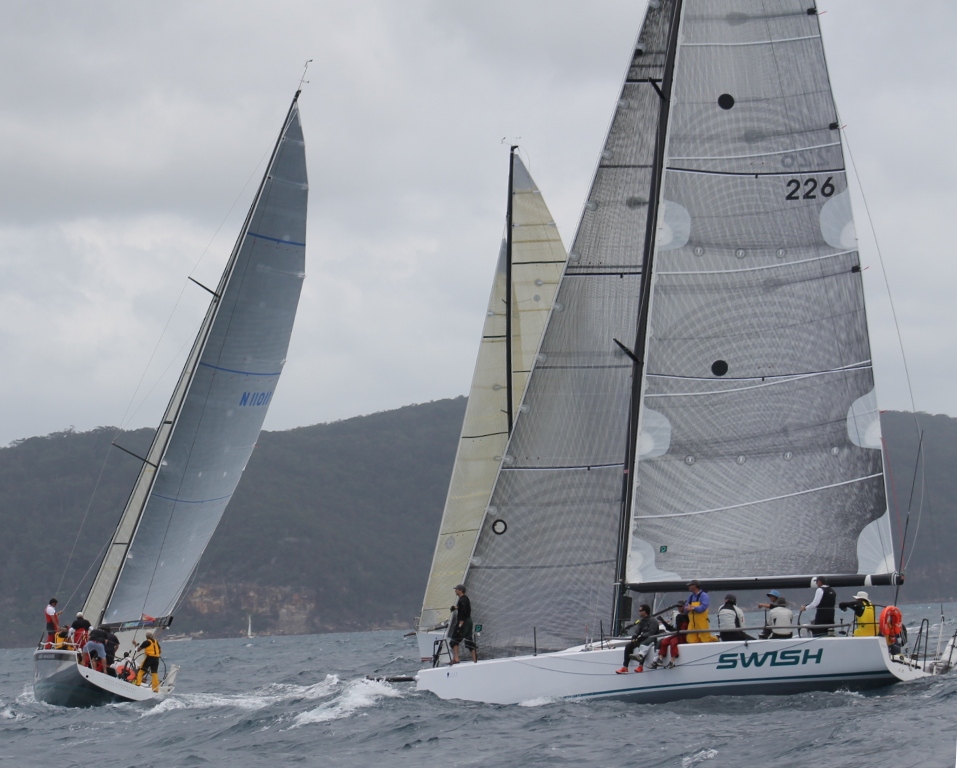 Swish and Great Xpectations
The PHS division replicated the IRC result with Ragamuffin recording a corrected time of 28hrs 30mins 44secs pipping Wedgetail by 40 minutes with Merlin third. In ORCi, Ragamuffin took the spoils in a corrected time of 26hrs 13mins 58secs with Swish six hours back in second whilst the Hudson/Murphy/Lockley Farr 45 Pretty Woman picked up a podium position in third.
Fischer, the 85 year old doyen of Australian ocean racing won the line honours/handicap double in this race in 1996 was proud of the effort saying, "it's not easy winning on handicap, so it's a good result. Wedgetail gave us a run for our money and we were unlucky not to get line honours but all credit to Wedgetail to get us in the end."
Wedgetail's navigator Peter Elkington was also pleased with the result particularly winning line honours commenting, "it was a very pleasant sail and a great battle with Syd's boat. They were too quick on those angles so we really enjoyed getting them in the end to take line honours and get our name etched on the line honours trophy. To get second on handicap in both divisions, it's not a bad thing so we're happy. The boat hasn't raced in 18 months so to get it out of mothballs and prepared for the race was hard work but rewarding. She's still going beautifully."

In IRC Division two, it was a trifecta for the Beneteau brand with Philip Dash's First 40 Justadash in its first season of racing taking the honours from the current Class 2 Audi IRC Australian Champion Darryl Hodgkinson's 45 footer Victoire whilst Le Billet, a Beneteau 44.7, now owned by Mark Tinworth and Mark Waterhouse was third.

In PHS Division two, Justadash picked up a double from the Sydney 41 Storage King Wallop skippered by Peter Hewson with the Inglis-Jones/Hart 39 She's the Culprit skippered by Michael McDonald placing third.
Perpetual Mocean was the first boat home for the host club the Royal Prince Alfred Yacht Club finishing. Crossing the line was made even more special as they had on board seven RPAYC youth development squad aged between 16 and 19 savouring their first blue water ocean race and posting another dimension to their sailing CV's.
Twelve months in the making it was the generosity of the owners Hogan and Clifton, who tasted success in this race with line honours victory in 2009, which allowed it to happen. The youth development boys and girls had plenty of experience to guide them being mentored by the likes of Peter Gregg, Mitch Watkins, Cameron Baillie and past youth development graduates Murray Gordon and 24 year old tactician Tom Spithill, brother of defending AC skipper James.
A tired and emotional Spithill said, "we had a good race and the YD kids performed exceptionally well in their first serious blue water race. Everyone is really happy, we had a pleasant trip and a good race within a race with Swish and Merlin pushing each other all the way and keeping our distance on the DK46 Nine Dragons and the Farr 45 Pretty Woman."
For the baby of the crew, 16 year old Seldon Coventry speaking on her first ocean race commented," it was so much fun, a good experience and I learnt a lot. Bruce and Tina are just legends and the other guys were fantastic. I would definitely do it again if I get the opportunity."
Line Honours Results:
1 Wedgetail RQYS Bill Wild
2 Ragamuffin RSYS Syd Fischer
3 Swish RSYS Steven Proud
4 Merlin RSYS David Forbes
5 Perpetual Mocean RPAYC Bruce Hogan
6 Nine Dragons MHYC Bob Cox
7 Pretty Woman RPAYC Richard Hudson
8 Anger Management NCYC Phil Arnall
9 Exile MHYC Rob Reynolds
10 Cruz Control BSC David Cutcliffe
11 Secretmensbusiness 1 RPAYC Robert Curtis
12 Witchcraft RPAYC Bruce Staples
13 Minerva RSYS William Cox
14 Victoire CYCA Darryl Hodgkinson
15 Wine-dark Sea RSYS Bill Wild
16 Storage King Wallop LMYC Peter Hewson
17 Justadash MHYC Philip Dash
18 Le Billet RPAYC M.Tinworth/ M.Waterhouse
19 Occ. Coarse Lang One RPAYC Robert Alder
20 The Goat CYCA Mitchell Gordon
21 The Real Thing RPAYC Garry Holder
22 She's The Culprit NCYC/LMYC Michael McDonald
23 Tailwind RPAYC Shaw Russett
24 Kaliber MHYC/RPAYC Rob Hoile
25 Great Xpectations CYCA Rod Wills
26 Cloud Nine RPAYC Ron Hayden
27 Mortgagechoice Rumba MHYC Rob Carr & Kerry Burke
28 King Billy RSYS Philip Bennett
29 Ticket Of Leave RSYS Max Prentice
30 Reverie RPAYC John Turnbull
31 Tensixty MYC Ian Green
32 Spindrift SASC Brendan Lyon
33 Katinka CYCA Paul Oconnell
Kerisma- RETIRED - Gear failure - now in Newcastle Harbour CYCA/MHYC Grant Dawson/ Brent Lawson
Full results at: http://www.pittwatertocoffs.com.au/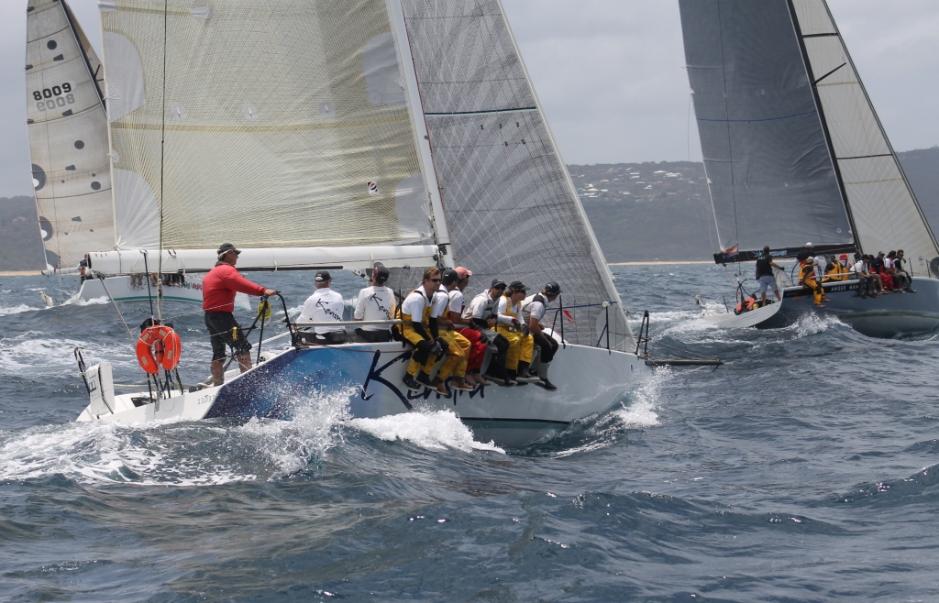 Photographs by A J Guesdon, 2013. All Rights reserved.