January 6 - 12, 2013: Issue 92
Victoire, IRC boat of the day in the 2013 Club Marine Pittwater & Coffs Harbour Regatta - Saturday 5 January 2013
By Damian Devine, Club Marine Pittwater Coffs Harbour Regatta media
Daryl Hodgkinson's Beneteau 45 Victoire took the IRC boat of the day honours to storm into IRC contention on day one of the two days of racing in Coffs Harbour as part of the 2013 Club Marine Pittwater & Coffs Harbour Regatta.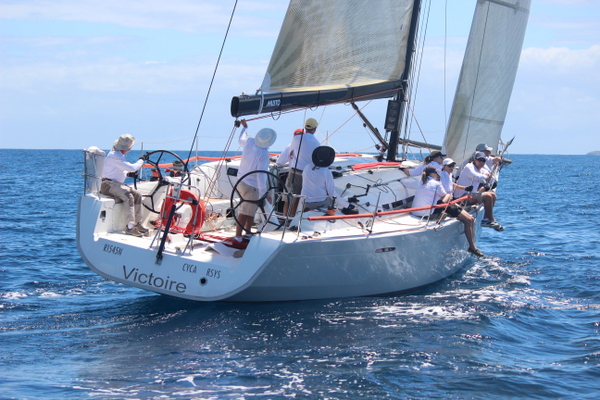 Left: Daryl Hodgkinson's Beneteau 45 Victoire IRC boat of the day - photo by Damian Devine
Hodgkinson showed just why he is the current Class 2 Audi IRC Australian Champion with a fourth and a first today to sit just five points shy of the leader, Philip Dash's Beneteau First 40 Justadash on 12 points and three points clear of the equal third placed, the Tinworth/Waterhouse Beneteau 44.7 Le Billet and Bruce Hogan's Marten 49 Perpetual Mocean, on the overall IRC leader board.
In the PHS division and parallel Australian PHS Championships it's Lake Macquarie's Peter Hewson and his Sydney 41 Storage king Wallop leading by a single point from Justadash with Perpetual Mocean four points back in third heading into the final day of the regatta. Boat of the day in PHS was shared by Shaw Russett's Beneteau First 40 cruiser racer Tailwind and Ron Hayden's Jeanneau Sunfast 43 Cloud Nine from the Royal Prince Alfred Yacht Club
Justadash also leads in ORCi with a five point lead on Le Billet and Richard Hudson's Farr 45 Pretty Woman on equal points.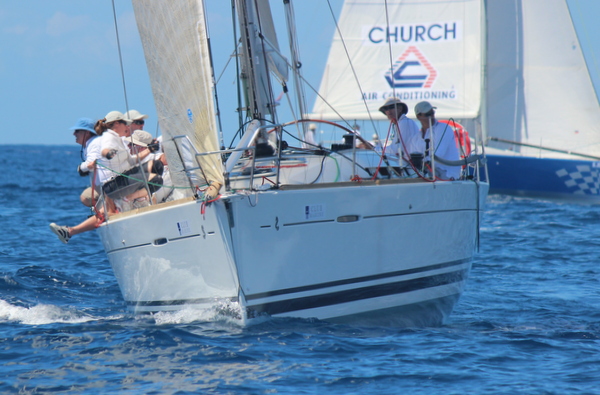 Right: Philip Bennett's Justadash holds a five point lead in IRC and ORCi heading into the final day of the regatta - photo by Damian Devine
Competitors woke to a warm and sultry day in Coffs Harbour, with a 10 knot NE forecast by Predict wind and clouds hovering over the mountains in the hinterland and blue skies over the sea.
The race committee got racing started on time at 1100hrs to begin the first of four races over two days in the 2013 Club Marine Pittwater & Coffs Harbour regatta. Race Officer Ted Anderson, wasted no time to get the fleet underway setting a five nautical mile windward/leeward course with the windward mark set 250m to the west of Split Solitary Island.
The fleet got away to a clean start in a 6-8 knot NW with Perpetual Mocean first off the line at the pin end and Victoire the best at the boat end. After a number of tacks, the first boat to reach the top mark was Le Billet after laying the mark with tactical precision. She was followed closely by Perpetual Mocean with Storage King Wallop next best.
With their kites set, the fleet made their way back to the finish line with the 49 footer Perpetual Mocean making the most of its waterline length to take line honours in a time of 49mins 16secs followed by Steven Proud's Kernan 44 Swish with Richard Hudson's Farr 45 Pretty Woman in third.
Le Billet took IRC handicap honours in a corrected time of 57mins 46secs from Storage King Wallop with Justadash placing third.
In PHS, it was a similar result with Le Billet followed by Storage King Wallop and Cloud Nine, picking up their first podium of the regatta in third. The ORCi division showed Le Billet from Cloud Nine and Justadash in third.
Race two started soon after the final boat crossed the finish line for race one. It was an 18 nautical mile reach to South Solitary Island with a spinnaker finish back in the Harbour. With the breeze clocking around to the North East, the race started in 11 knots with one boat receiving an individual recall, Coffs Harbour's Bush Telegraph for being OCS. The rest of the fleet got away to a clean start.
The breeze built to 12-15 knots as the boats rounded South Solitary with Perpetual Mocean leading the colourful parade to the delight of the locals for the spinnaker run home.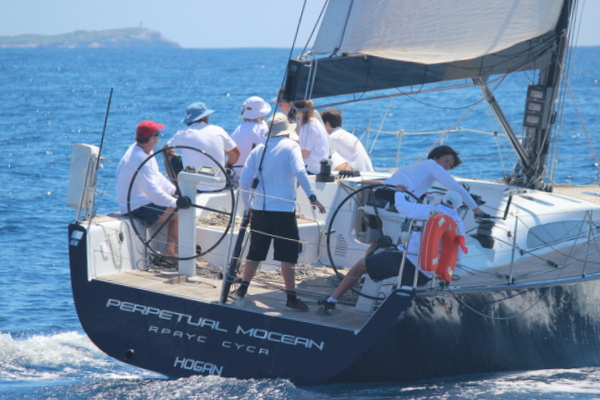 Left: Perpetual Mocean took line honours in both races on Day One - photo by Damian Devine
Perpetual Mocean held on to take line honour once again in a time of 2hrs 25mins 01secs with Rob Reynolds DK46 Exile in second and Swish third over the line. In IRC, Daryl Hodgkin's Beneteau 45 Victoire, won on handicap in a corrected time of 2hrs 51mins 37secs with a one second win over the Sydney 38 The Goat skippered by Mitchell Gordon whilst Justadash finished third.
The PHS fleet had The Goat on top with a 90 second corrected time win over Tailwind with She's the Culprit skippered by Newcastle's Michael McDonald, in third.
Victory in the ORCi division went to Justadash in front of Le Billet with Rob Alder's Cookson 12 Occasional Coarse Language in third.
So with two more races scheduled tomorrow to finalise the 2013 Club Marine Pittwater & Coffs Harbour regatta, Justadash leads IRC on 12 points from Victoire on 17 points with Le Billet and Perpetual Mocean on 20 points. But in such an open fleet it's still very much anybody's regatta amongst the top eight competitors.
In the Australian PHS Championships being run in parallel to the regatta, Storage King Wallop leads by one point on 25 from Justadash with Perpetual Mocean a further five points back on 30. There are a further nine points boats within striking distance of a podium finish also.
If the crew of Storage King Wallop can hold their nerve and sail well tomorrow, they are a big chance to be crowned the 2013 Australian PHS champion. So it all comes down to the wire for competitor's in tomorrow's final day of the 2013 Club Marine Pittwater & Coffs Harbour regatta.
Predictwind.com forecast light 8-10 knot winds from the East South East for the final day of the regatta. Racing is scheduled to start at 1100hrs.
Finally, the last boat in the 2013 Club Marine Pittwater to Coffs race, Paul O'Connell's Cole 35 Katinka has retired just past Smokey Cape and is sailing back to Sydney after their massive three day 200nm journey. We wish them safe passage.
For the regatta results visit http://www.rpayc.com.au/results/2013/coffs/coffsseries/series.html
Club Marine, Australia's largest provider of pleasure craft insurance, is proud to be the naming rights sponsor of the 2013 Pittwater & Coffs Harbour Regatta.
Words and Photos by Damian Devine, Club Marine Pittwater Coffs Harbour Regatta media.