March 24 - 30, 2013: Issue 103
Palm Beach Sailing Club's 2013 Bullets Regatta Regatta Summary
By Peter Salter
Saturday - Racing kicked off at 12:30pm after waiting 30min for the breeze to settle in from the ENE with a solid 10-12knts. The race officials set a standard Hobie course with top mark placed off the jetty at Palm Beach with a 200m offset mark and the starts was laid off Currawong Beach. The conditions allowed for four races to be conducted for both divisions. Division 1 was the Hobie 16 class and division 2 was the mixed class of F18's, Hobie 18's and an A Class.
We were privileged to have in our midst Jason Waterhouse who has just returned from the US where he and his team mates with TEAM OBJECTIVE had just been selected to compete in the Americas Youth Cup on the AC45 series catamarans in September this year. Jason teamed up with Lisa Darmanin to show that he still hasn't lost his touch with the Hobie 16 class to win all 4 races and show why he is the current National Hobie 16 Champion.
The decent breeze made for some close racing and the top mark was always a spectacle for those fortunate enough to have a close view. Fortunately there were no incidents and all racing was concluded with all craft and crew in tact.
Saturday was wrapped up with a Regatta Dinner held at Club Palm Beach where Jason Waterhouse spoke to the competitors about his experiences with Team Objective and sailing on the AC45's.
Sunday was always forecast to blow and from the moment we arrived at Sand Point at 9am it was apparent that the Southerly would rule the day. Thank goodness for the sun which at least made the conditions bearable and for those that braved the winds made for some spectacular sailing. The Southerly was hitting 20knts at the start of racing at approx 10am with the officials keen to kick of racing before it built to speeds that would be unsafe to go on.
Some chose not to sail due to other commitments and there were some crew changes allowed for the heavier conditions for some of the less experienced sailors, however despite the conditions 2 races were held before gusts in excess of 30knts called a halt to racing only moments into the start sequence for race 3.
Club Commodore Anthony Duchatel and Evelyn Curtis (current World Grand Masters Champions) dominated the heavy conditions with some of the less experienced crews battling just to keep upright. Great performances by Andrew Nelson who decided to go single handed on the day and still managed good places in both races. Upu and Vaughan were always neck and neck showing that consistency gets results. Big thanks to those who travelled down to compete on the weekend and those F18 who also joined us on the weekend to expand the fleet - its always a spectacle to see the bigger boats in the stronger conditions.
With the Southerly wiping out racing early all boats were off the water early and the presentations were held in the grounds of the PBSC clubhouse over a traditional BBQ. There were certainly plenty of tails to be told after today's racing.
Speed was the theme of the day on Sunday and this shot of Peter Salter and Brendan Southey taken from the front of their Hobie 16 shows the starboard hull almost totally underwater as they punch through the conditions reaching speeds in excess of 21knts. Pity this was taken before racing started and despite a couple of capsizes they still managed a solid mid field place at the end of the regatta.
Overall a very successful regatta for the club. One that would not be possible without the support of our sponsors and volunteers. Big thank you to Paddle Pedal Sail Mona Vale and BOAB boat hire for their continued support of the club and to all who helped make the day the success that it was. Also thanks to the residents along Sand Beach for their understanding on these bigger sailing weekends.

Results
Hobie 16's
Skipper Crew
Anthony Duchatel Evelyn Curtis
Upu Kila Lucy / Sara Copeland
Vaughan Price Nial Powers / L.Renouf
Ryan Wilmot Annie Wilmot
Peter Salter Teri Salter / B.Southey
John McCormick Rachel Bower
Andrew Nelson Maria Nelson
Mike Henman Sam Henman
Hobie 16 Crews who competed only on Sat or Sun
Jason Waterhouse Lisa Darmanin
Rod Waterhouse Bridget Waterhouse
Sophie Renouf David Renouf
Richard Lacey Regina Henman
Mixed Class
Skipper Crew
Kyle Amadio (F18) Andrew Driver
Darren Schmidt (H18) Brad Robertson
Stuart Morton (F18) Andrew Wilson
Mixed Crews who competed only Sat
John Kersch (H18) Matt Kersch
Dick Clarke (A Class) "Mullet" notably absent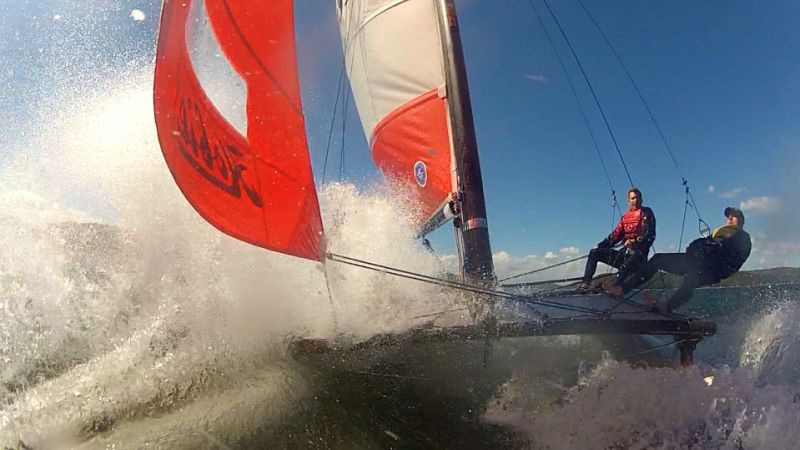 Report, Photo and Video by Peter Salter, Palm Beach Sailing Club, 2013.