August 7 - 13, 2011: Issue 18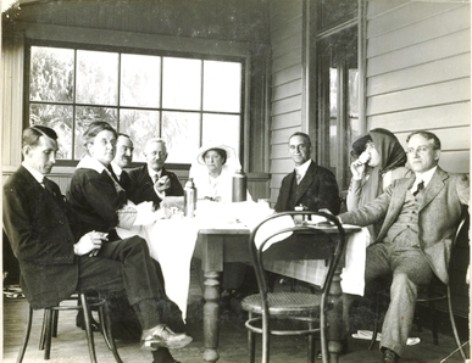 Above: Balcony photo of(from left): George Armstrong, Mrs Hugh Ward, Mr Chalmers, AW Allen, Madame Melba, John Lemmone, Mrs Armstrong, Hugh J Ward. Pic No: a3293014h Album 64: Photographs of the Allen family, 23 August 1914 - 7 March 1915 , courtesy State Library of NSW.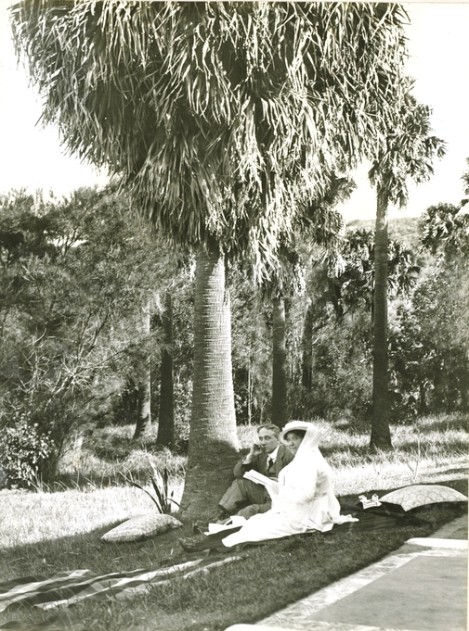 Above: Melba with H J Ward in the grounds Pic: a3293016h . Below; 'Bilgola Cottage' in 1913 taken from headland by A W Allen, 11th of May, Pic a3291037 and below this 'Within the Grounds', a3293016h , Dec 1913 all courtesy of State Library of NSW.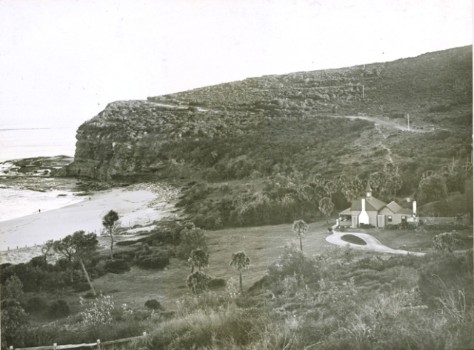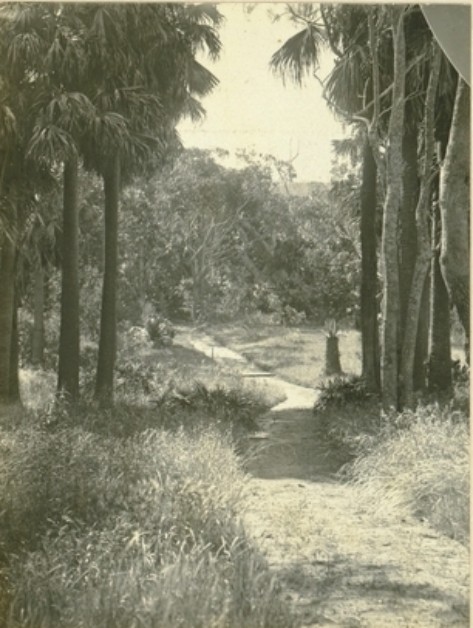 Below Pic:a3293015h BIG ONE: Below: 'Bilgola Cottage' Pic No: a105043r, by A W Allen, 1913, both courtesy State Library of NSW.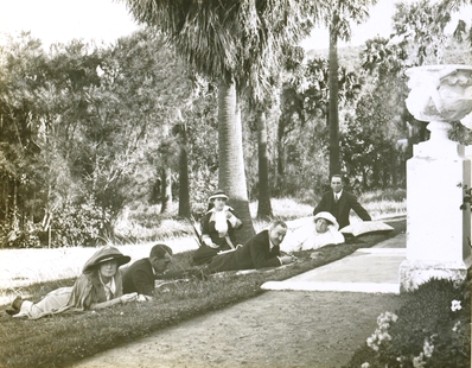 Dame Nellie Melba Lunches at Bilgola Cottage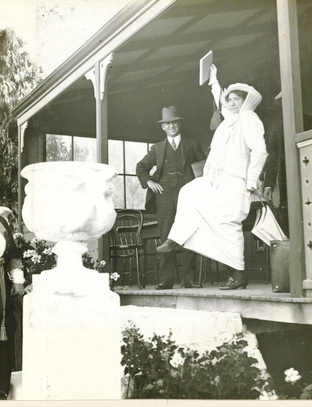 'Madame Melba with John Lemmone' Picture a3293015, Courtesy State Library of NSW
Called Australia's First Diva, Dame Nellie Melba, had a long association with the Allen Family of Sydney who were highly cultured and enjoyed cultivating and entertaining the who's who of Sydney Society. Many in the family became lawyers. On Wednesday 23rd of September, 1914 'Madame' Melba as she was referred to by Arthur Wigram Allen, went with the family and others to visit and explore Bilgola beach. They were entertained 'at lunch' lavishly and spent the afternoon exploring the grounds and beach. Dame Nellie was accompanied by Mr and Mrs H Ward, (H J Ward had taken over the management of J C Williamson's entrepreneurial entertainment firm on that man's death in 1913. Melba had established the Melba-Williamson Opera Company in 1910), and her business manager, flautist John Lemmone. It would have certainly been an august party given whom attended.
As AW Allen states beneath one of the photographs: 'a number of us went up to Bilgola today to show the place to Madame Melba. We had a very successful afternoon'.
In the party were Mr and Mrs George Armstrong, H J Ward and his wife, John Lemmone, Mr Chalmers, Denis and AW Allen.
Early Spring is beautiful in Pittwater and considering Dame Nellie Melba had sung the role of Mimi in La Boheme at the Royal Opera Convent Gardens in London at the request of King George V on May 11th of 1914, the visit probably formed part of a well deserved day off. You cannot tell from the black and white images here that this lady had auburn hair nor that she was highly spirited with sparkling eyes but the way she is pictured stepping off the veranda gives us some insight to a sprite spirit. Given that she was 53 years of age on this day, born May 19th, 1861, it seems that the blithe aspect of her hard worker nature was well and truly intact.
What was called 'Bilgola Cottage' was built in 1870 by William Bede Dalley (1831-1888), orator and politician, a gent who was born in George street to Irish convict parents. The Hon. W B Dalley, called to the Bar in 1856 is described as being highly educated, refined, articulate and with an open, warm and magnetic personality. In 1878 his second son, John Bede Dalley, was born. Educated in England and called to the Bar in London in 1901 John practised in Sydney until 1906 at Wigram Chambers in Phillip Street, Sydney until a fall from a horse deafened him and he turned to journalism and writing. John was described as a bit of a character, always immaculately dressed and perfectly mannered, who satirised the upper echelons of Sydney society, even though a part of this crowd, in all his books. He was known as a 'man about town' from an early age and named as co-respondent in his older brother's divorce proceedings in 1905.
John Bede Dalley continued to live in the lovely house built in 1919 after Bilgola Cottage was demolished, 'Bilgola House'. He is purported to have drowned rock fishing at Bilgola, although some sources state it was Avalon, on 6th of September, 1935.
The weekender Bilgola Cottage was the scene of many Allen Family lunches and picnics through the Springs and Summers of 1913 to 1914 . They seem to have come and gone as though they owned the cottage and notes in the family photo albums seem to infer a stronger link then merely having access through their association with John Dalley. Dalley does not appear in any of their Bilgola visits photos. Dalley did eventually get to serve in the AIF, despite his deafness, in 1915 so perhaps he was too busy elsewhere during the years the Allen's frequented Bilgola. It is interesting to note that there is an Allen Avenue in Bilgola. Named for this family?; we will wonder until someone who knows can tell us.
Further Reading:
John Bede Dalley Biography from ADB Online: here
In 1928 he published two novels, No Armour and Max Flambard. Back in Sydney and on the Bulletin, at St Stephen's Presbyterian Church, Macquarie Street on 8 November, he married an artist Claire Campbell Scott, who had designed the dust-jackets for his books.
John Lemmone Biography from ADB Online: here
Dame Nellie Melba Biography from ADB Online: here
Hugh J Ward Biography from ADB Online: here
JC Williamson Biography from ADB Online: here
Silk program for opera excerpts which featured Nellie Melba as Mimì in La bohème, State Performance by command of King George V in honour of the visit of the King and Queen of Denmark, Royal Opera Covent Garden, London, 11 May 1914 Performing Arts Collection
From: here
In 1882 Hon. W B Dalley, returned to Sydney. He bought the area of 'Manly Heights' and decided to build a castle-like building in the Gothic Revival style on his new property, out of the beautiful local sandstone. He named it Marinella (meaning 'home by the sea') and took up residency in the magnificent castle in 1884.
From: http://www.ourmanly.com.au/Travel/dalleys-castle-history.aspx
Short stories
Dalley, John Bede Polding (Lieutenant, 2 Division Artillery, AIF b. 1882 d. 1935) [ Unpublished : 1918 ] At Aus War Memorial
John Dalley.
The Queenslander (Brisbane, Qld. : 1866 - 1939) Thursday 11 December 1930 p 56 Article
... John Dalley. IN "Only the Morning" (John Long), Mr. John Dalley, a Sydney writer, has produced a ... story. Apart from the way in which the interest of the reader is sustained, Mr. Dalley has achieved a ... travel along the years. But the task seems to have troubled Mr. Dalley not - at all, for he has ... 327 words
Mr. Dalley on Sir John Robertson.
The Maitland Mercury & Hunter River General Advertiser (NSW : 1843 - 1893) Saturday 31 July 1886 p 3 Article
... Mr. Dalley on (Sir John Robertson. Following is the Herald's report of the speech of the Right Hon. W. B. Dalley in the Legislative Council on the second reading of the Sir John Robertson grant bill ... he (Mr. Dalley) thought it was, for the sake of the country, deeply to bo regretted that the grace ... 2511 words
Copyright Pittwater Online News, 2011. All Rights Reserved.
Images are from the Allen Family Albums 1913-1914 and appear courtesy of the State Library of NSW.