June 24 - 30, 2012: Issue 64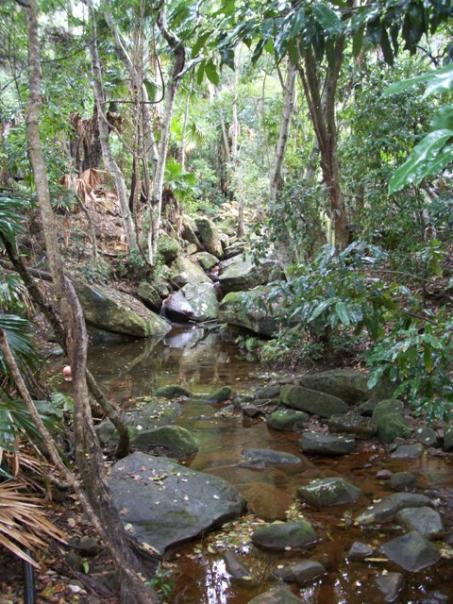 Creek at Currawong where valley begins to rise west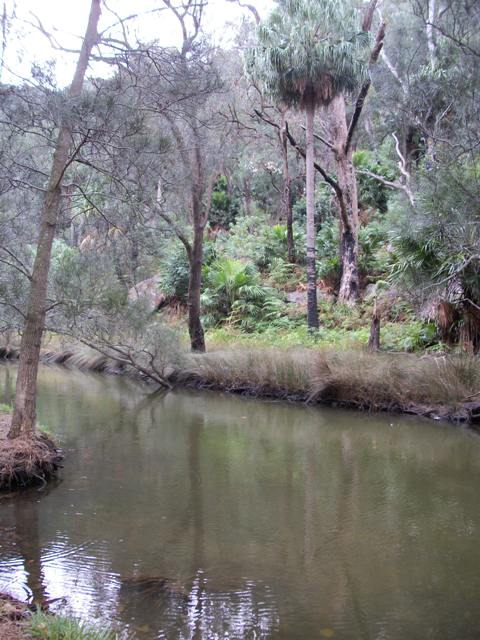 Creek at Currawong at beach end of its flow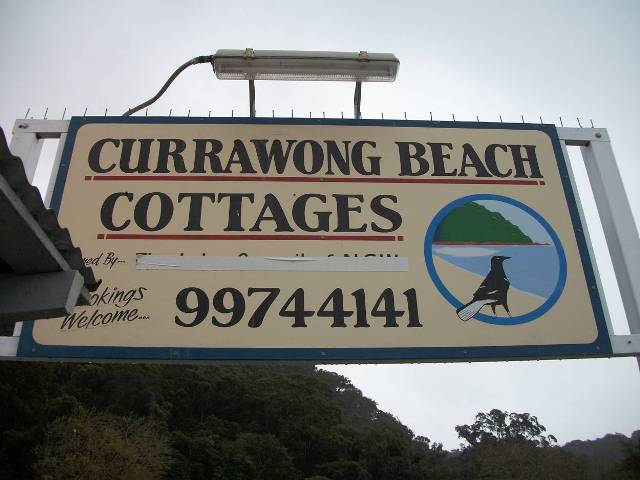 Currawong's Creek
It's just over a year since we Celebrated Currawong Day, and to close our June celebration of Pittwater creeks, this pristine wending of water and its surrounds of original remnant vegetation is the song we would leave sounding to your ears.
Named for the holiday camp established in 1949, Currawong Beach was formally called Little Mackerel or Mackeral due to the abundance of this fish being caught here. Currawong's unnamed creek extends from the sandstone plateau in the northern section of the amiptheatre through the rocky gully and down onto the lower clearing. It discharges into Pittwater during significant rain events and flood tides.
The eastern portion of the creek is estuarine in nature, supporting small stands of remnant mangrove and saltmarsh vegetation. What is called the Northholme Midden is located on the northern side of the creek mouth, in the northern part of the site, and is under threat of erosion. Northolme (some sources state this was called 'Northend') is the name of a structure that was once on the north side of the creek. Patricia Nolan shared some memories and wonderful pictures of family holidays in Northolme last year. Her family picture below shows her and her siblings standing on the bridge that stretched across the creek.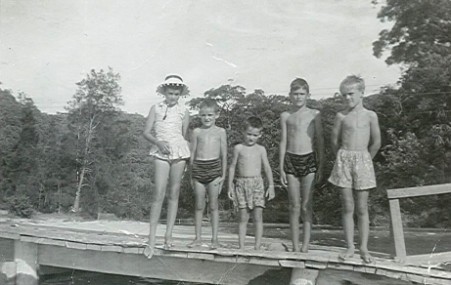 The landscape of the rocky escarpment above the creek is in the Watagan Colluvial Soil Landscape Grouping, characterised by rolling to very steep hills on fine-grained Narrabeen Group sediments. The flatter area is classified in the Warriewood Swamp Soil Landscape Grouping. A photographic record of Currawong shows frequent swampy areas on the flats
The first recorded European settlement of this land states it was promised in a land grant to William Booth, who made no improvements to the land (Clearing was a condition of these grants). Martin Burke, an ex-convict, then applied for the land and farmed there for decades with John Clarke, a fellow Irishman he was transported with.
9. Cumberland, fifty acres, parish of Broken Bay, situated at the basin at Pitt-water, commencing at a marked tree in a small bay, and bounded on the west by a line north 22 chains ; on the north by a line east 25 chains to Pitt-water; and on the south east and all other sides by that water to the marked tree. Applied for by Martin Burke. Price five shillings per acre.
Colonial Secretary's Office, Sydney, 5th Nov. 1833. SALE OF LAND. (1833, November 11). The Sydney Herald (NSW : 1831 - 1842), p. 4. Retrieved November 9, 2011, from http://nla.gov.au/nla.news-article12848144
Subsequent families also farmed the flats, a record for another history page. The historic record for Currawong states that in the 19th century and during the Stiles period of occupation the flats area was used for grazing of dairy cattle and growing of some food crops for domestic consumption. The Stiles family supplied dairy products and poultry to nearby Great Mackerel residents. Farmland and celebration of all the wildlfowers that grew and grow alongside this watercourse are a catalogue of waratahs, flannel flowers, the native rose and all that comes in each season.
The northern end of this creek, as can be seen in the lower left hand of the top picture, is currently tapped and piped to supply fresh water for visitors. From farmland to holiday camp to the newest reserve named as Pittwater Park, this creek, and its lands, bring joy and its echo to all who visit;
A former manager at Currawong offered this memory of the place: 'A very small child once urged my wife and me to "Come and see the gods". He was very insistent so we accompanied him to the creek that runs through the property. Excitedly he said "Look at them - can you see them". Floating on the creek were spiky grass balls being gently driven in different directions by the breeze. We rather unconvincingly said "Oh yes we see them". The little boy who was only about four years old looked disappointed and said "Well they are not really gods - they're more like symbols of God". I have never forgotten that moment. Currawong is a very special spiritual kind of place that deserves to be retained for all people
Since becoming our newest State Park thanks to the
Friends of Currawong
, our local Council, MP Hon. Robert Stokes and so many in the community or those who had once holidayed here, this lovely place and its creek shall remain as they have been, a place for holiday makers, a small pocket of bush and old farmland with a creek wending its way to the estuary...
and you shall be like a watered garden, and like a spring of water, whose waters fail not. Isaiah 58:11