August 6 - 12, 2017: Issue 324
Pittwater Yachting Legend: Jack Gale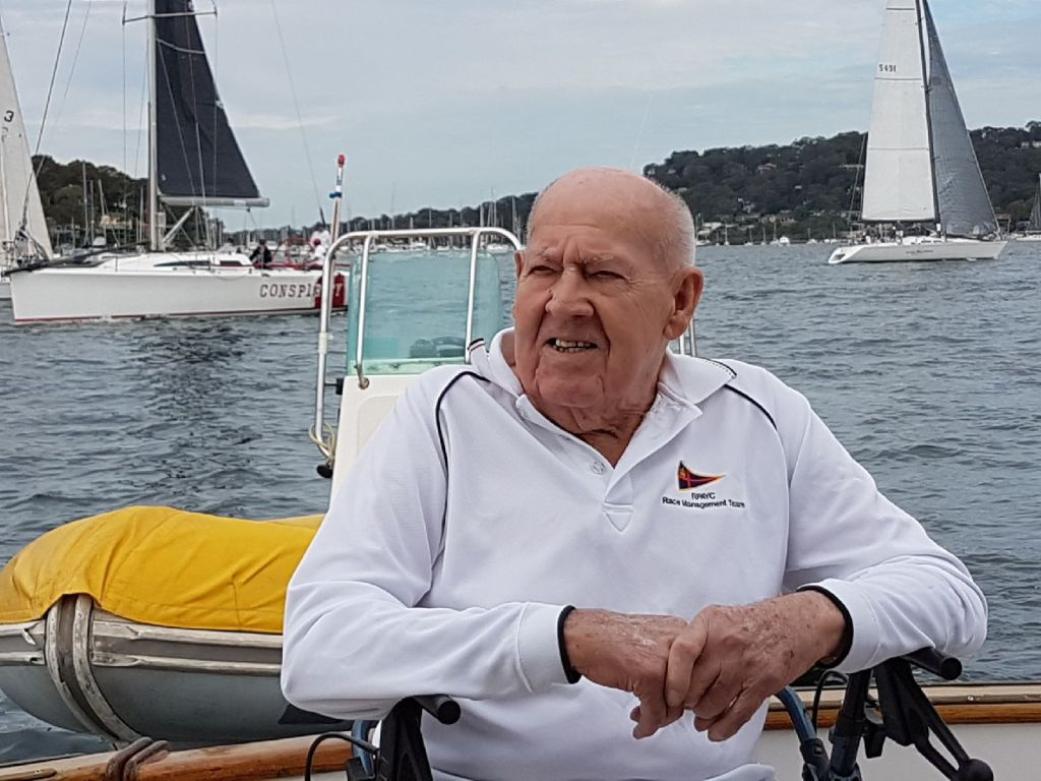 Jack Gale at 2017 Old Timers Race on Pittwater - photo courtesy RPAYC

Pittwater Yachting Legend Passes
VALE JOHN LINCOLN (JACK) GALE
1926- 2017

Pittwater Yachting Legend
Yachting on Pittwater and Sydney has lost a pioneer with the recent death of Jack Gale at the age of 91. Coincidentally, Jack died exactly two years after his beloved wife, Joan. Jack is survived by his two sons Geoff and Rob.
The youngest of five children, Jack had an idyllic childhood growing up in North Narrabeen and it was at this time he developed his love of the water. Following his education Jack was employed as a telegraph operator. He enlisted during WWII at the age of eighteen and was posted to the Z force in communications.
Following his war service, Jack worked as a delivery driver until 1956 when he accepted a position as caretaker and boatyard manager at The Royal Prince Alfred Yacht Club (Pittwater Division). At that time the Club facilities at Pittwater were quite basic, consisting of a boatshed, rudimentary slipway and the two bedroom cottage which the Club erected for Jack, Joan and their young son Geoff to occupy.
Jack was dedicated to the Club, taking part enthusiastically, methodically and comprehensively in the many and varied building programmes and other projects which shaped the current wonderful facilities enjoyed to-day by The Royal Prince Alfred Yacht Club.
Over the years Jack held many positions with the Club including Boatyard Manager, Yachting Secretary and, ultimately, Secretary/Manager.
It was during his years as Yachting Manager that Jack achieved a reputation not first in Sydney but in Australia and world-wide as an innovative, dedicated and skillful yacht race manager and administrator.
Jack pioneered the use of what became known as the Barrenjoey Circle racecourse which gained a reputation for its challenging sea conditions, its fair winds, and relative lack of tidal influence. A winning crew on the Barrenjoey Circle could justly be proud of their efforts!!
Jack's skill and competence as a race manager resulted in the Club gaining a stellar reputation for conducting yachting championships. Assisted by his wonderful team, Jack and the Club conducted many World, Australian and State Championships on "the Circle" in 5.5's, Solings, E22's, 6 metres and other classes.
In addition, Jack conducted the Club's busy schedule of inshore and offshore yachting. It was not unusual for Jack to start an offshore race at 8.00pm on a Friday night and then be out laying the offshore marks for the Saturday events at 6.00am.
Prior to his assuming the position of Yachting Manager Jack sailed with the late Tony Carr in the 5.5 "Altair", finishing runner up to Sir William Northam in the 1964 Olympic Trials. Jack also sailed several Montague Island races on various boats but he never professed a love for offshore sailing, preferring one design racing.
Jack also sailed aboard Gretel II in the 1977 Americas Cup challenger trials. He had previously commentated on radio at earlier Americas Cup events and did so again in 1983 at which time he resumed his on-air rivalry with American Yachting commentator Norrie Hoyt. Their on-air banter was legendary for its critical insights and humour.
After retiring from The RPAYC in 1988, Jack continued running RPAYC races and regattas as the Club's race officer and in 1994 was made a Life Member of the Club. In 2014 the Club named its new training facility
The Jack Gale Centre
, in honour of Jack and the significant contributions he made to the Club and the sport on Pittwater.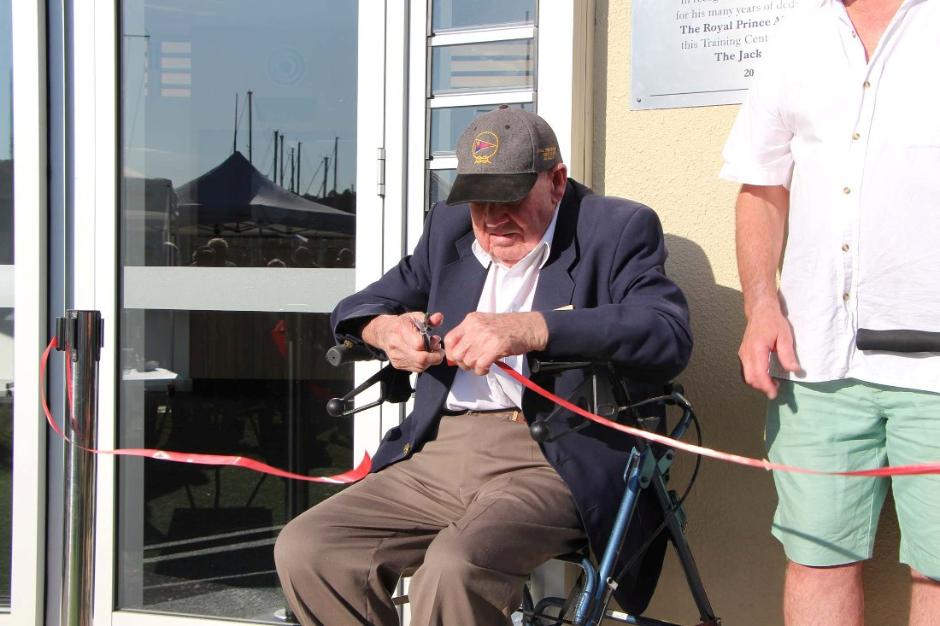 Jack Gale cutting the ribbon.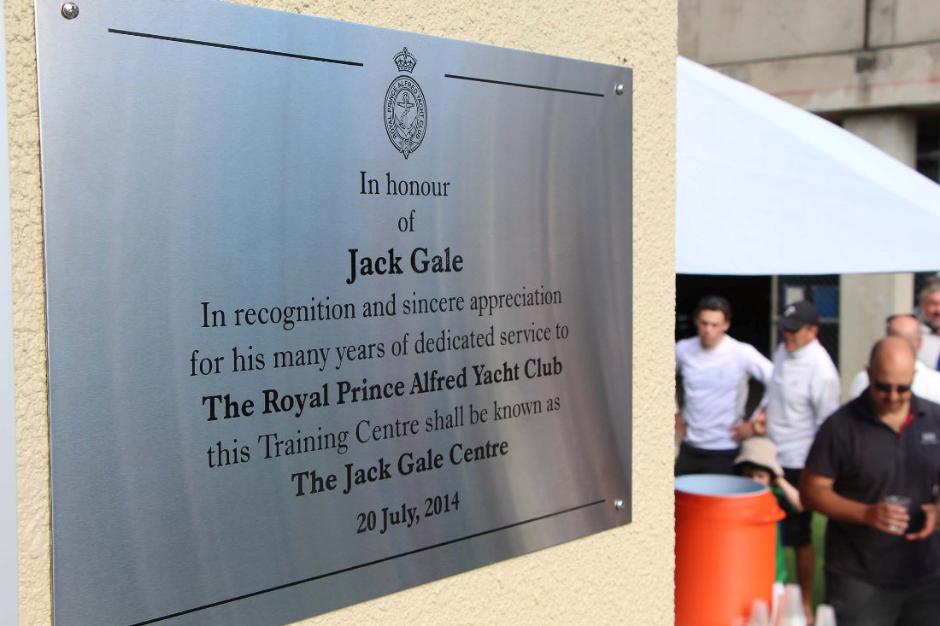 Jack enjoyed life, especially yacht racing and golf. He possessed a wonderful sense of humour and was a great raconteur with an encyclopaedic knowledge of sail numbers, yachts, their skippers and crews.
Jack and Joan were extremely hospitable and visitors to their home were genuinely most welcome. Following Joan's passing Jack liked nothing better than providing advice to anyone who asked provided that he could indulge in a glass of his favourite Sauvignon Blanc.
He will be sadly missed by The RPAYC, its members, the entire yachting community and all those who remember him.

Obituary for Jack Gale written by Peter Kennett.