July 23 - 29, 2017: Issue 322

Some Recollections Of
Early
Bayview
Recently the privilege of being able to listen to early summertime visitors to Bayview, Don Taylor, youngest son of W. D. M. Taylor, who was eldest son of P. T. Taylor and brother to P. G. 'Bill' Taylor, and Margaret Tink (nee Andrews, whose mother was a Snow) provided an opportunity to see into a world many of us would not have visited or heard a lot about.
Both families kindly shared some family album photographs to illustrate these places. Our thanks to Barbara Tink for tirelessly working on and contributing to this work.
Our thanks to the wonderful recall of Don Taylor and Margaret Tink for their generosity in taking the time to place these records where the community may access them.
Their recollections open a whole new field of records that must be sought in fuller measure and this first small insight should be considered an opening and a few verses from Summers past to warm the depths of the current Winter.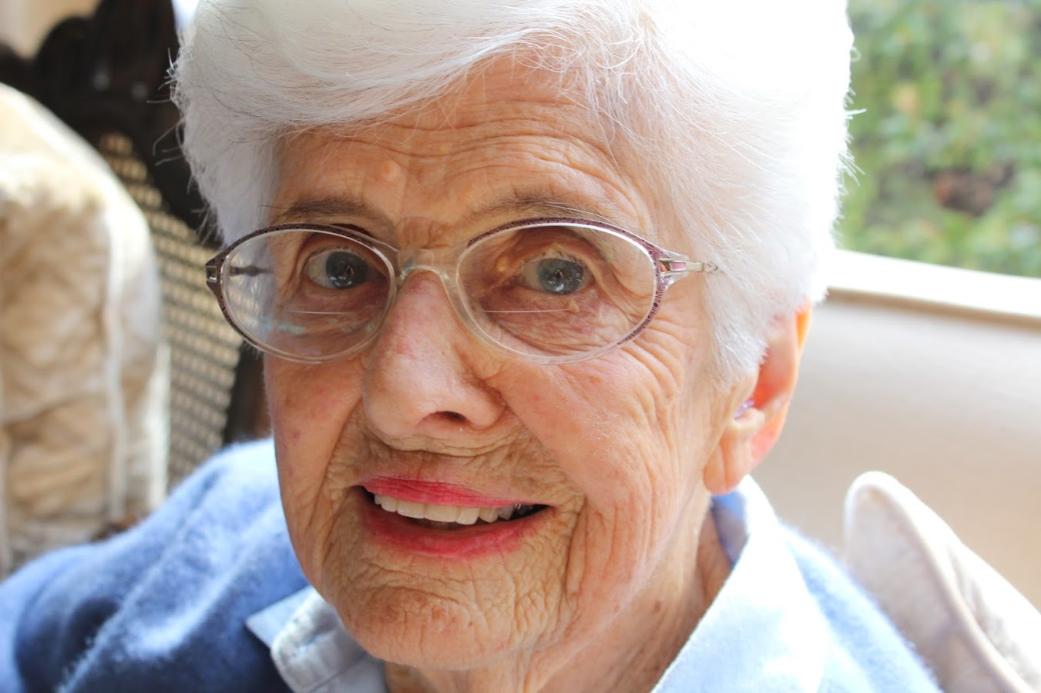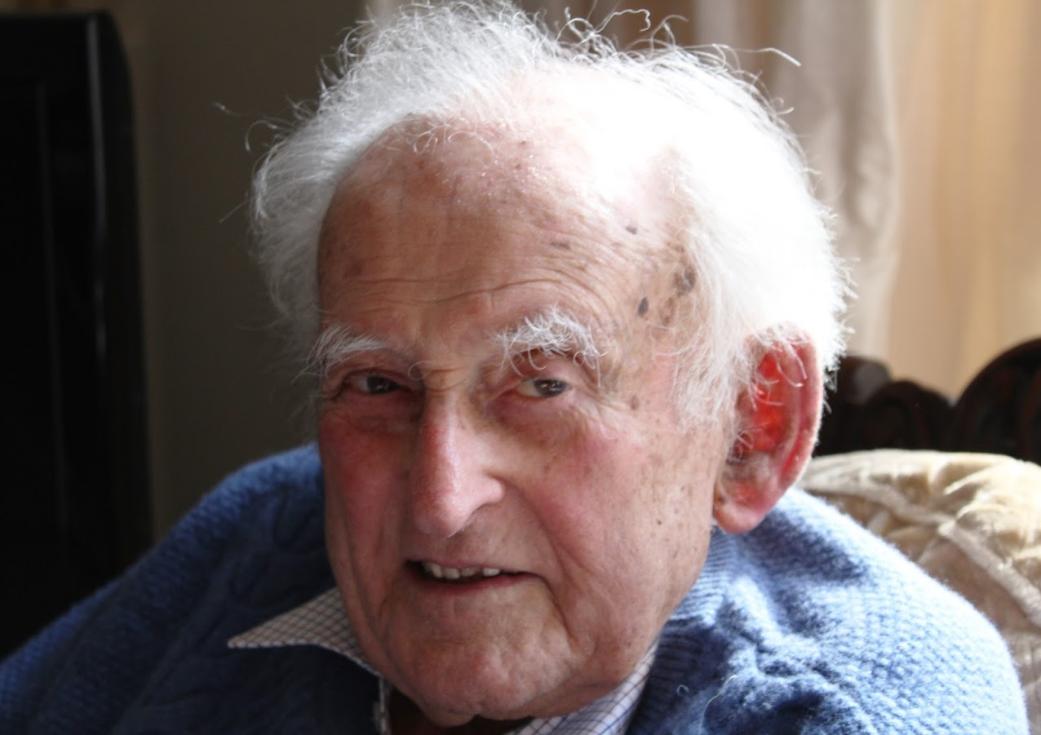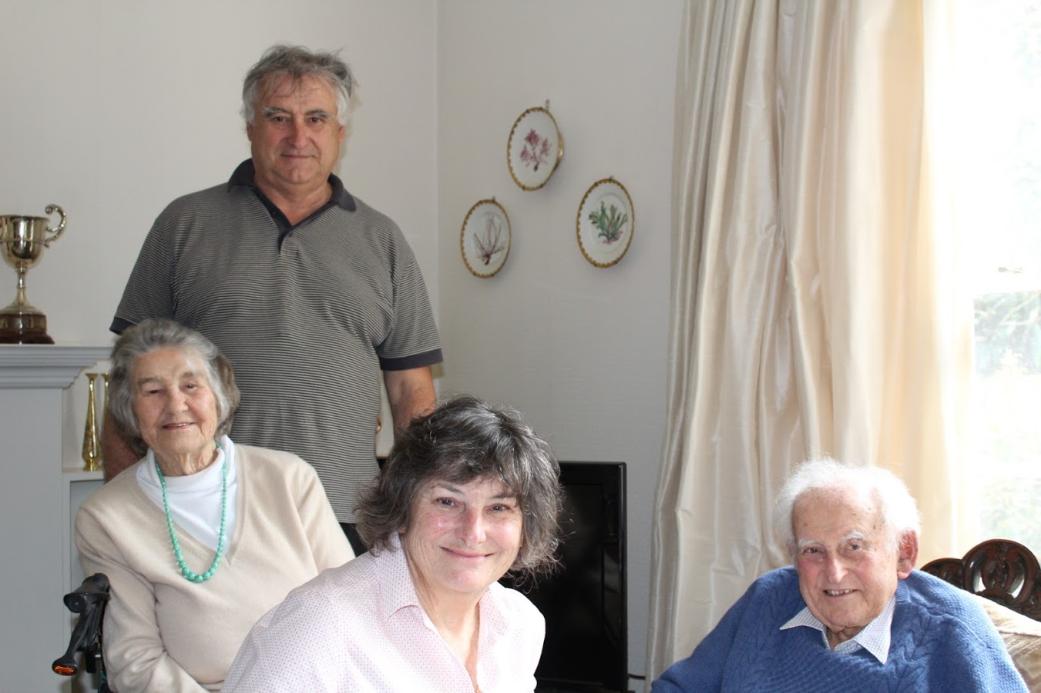 Pamela and Don Taylor and two of their three children
Don is your father the W.D.M. Taylor who was a great sailor here on Pittwater and on the harbour?
Yes. My father was W. D. M. Taylor.
That Corella model we have here is the 21 footer, 25 feet overall, the Governor's yacht. I had a jubilee, which is much smaller, but gave it the same name.
He was a pretty good sailor apparently.
William Donald Mawney Taylor (known as 'Don' – born 1884), was the eldest son of Patrick Thomson Taylor. The 'Mawney'comes from hois mother's family:

TAYLOR— SAYERS.— November 29,1883, at Broombee, by the Rev. Roger M'Kinnon, Presbyterian Manse. St. Leonards
Patrick Thomson Taylor, youngest son of William Taylor, of Glenlee, Dalmuir, Dumbartonshire, Scotland, to Alice Maude, fifth daughter of Edwin Mawney Sayers, of Broombee, Kirribilli Point
, St. Leonards. Family Notices (
1883, December 15
).
The Sydney Mail and New South Wales Advertiser
(NSW : 1871 - 1912), p. 1146. Retrieved from
http://nla.gov.au/nla.news-article162027380
What are your memories of your father?
Well, I was only very young when he passed away. I remember him being a competitive sailor and when he was racing everything had to be done right. We lived at Kirribilli, on the waterfront and he had his boat on the water there. On the weekend, a Saturday, he would go out racing. I don't remember a lot about him, he was just there, as fathers are I suppose. He passed away when I was still very young so I don't have the store of memories my older brother had.
I do recall one story related to me where I was out on the boat when it was moored. Apparently I was on the deck, and he below, when he heard a splash. He rushed up on deck where my brother Pat, then about 8 or 9 was, and asked him 'where's the baby?'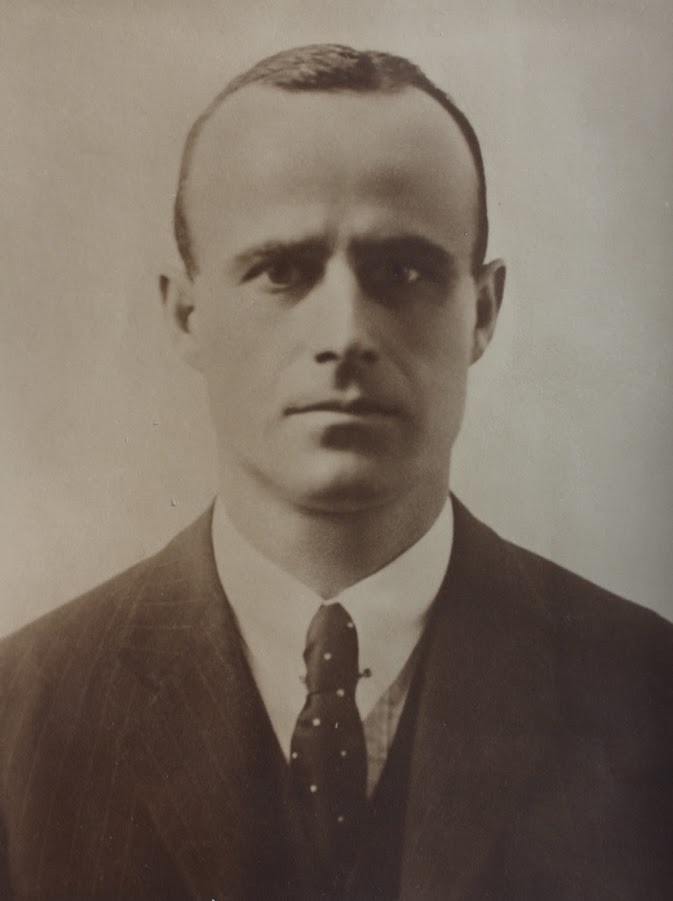 William Donald Mawney Taylor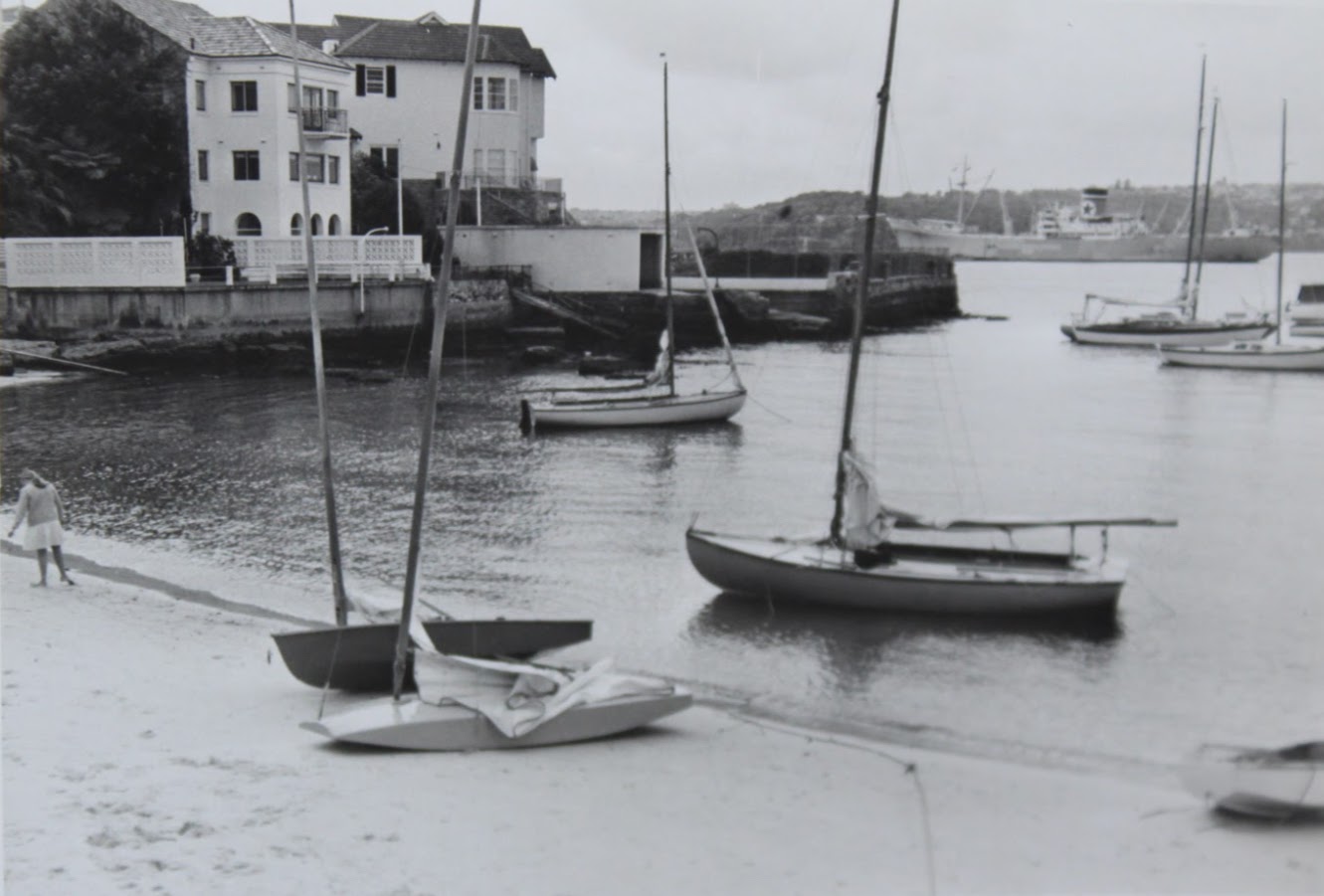 View at Kirribilli - photo by Don, taken with his Box Brownie
Did you ever meet John Roche? They were great mates and started the Pittwater Regattas together… they built a boat together at Bayview which they raced against the Crouch brothers of QLD. in 1906 – they went out around Lion Island and back again, and that became the first instance from which all those Pittwater Regattas began.
They were great mates, yes. I remember Johnny Roche quite well and still have an original photo of him here. I remember Johnny Roche because he taught my brother how to drive. He was a personality down at Bayview that everyone knew. He was working in Real Estate at one stage down there, with John Williams, and they had land opposite the swimming baths and the wharf. His younger brother, Frank Roche, was good friends with P.G. Taylor, uncle Bill – they used to spend time together at Bayview too.
We knew the Williams quite well; John had two sons, Jack and Cedric, and we knew the sons more I would say.
That little bit of a bay there was also where Maybanke was. She married Professor Anderson, and she too was down there, next door to the Roche's. She was before my time though, or I was too young to have memory of her.
There was also the De Burgh family, whom we knew quite well, particularly Patrick De Burgh. His father had married a Wilson. Their house was directly opposite the entrance to the wharf and there was a narrow entrance way all the way up to the house. They had a wonderful view from that house. I remember that house because Jeanie Wilson, whom my mother knew, was the daughter of Professor Wilson, they were all academics.
We always refer to it as the de Burgh house but really it was Professor Wilson who bought it.
There was a great scandal around the place which happened long before I came along – apparently he decided to take off, packed a bag of clothes and left it on Newport Beach and then disappeared, everybody assuming he had drowned. It took them a while to sort it out and eventually it was and they were divorced.
Jeanie had Patrick in the meantime, who would have been a small child at this stage.
Jeanie then married a chap called Allan Clunies Ross, who was a pleasant chap.
Later, when I used to go and visit Patrick at his house, his mother and stepfather were there and his mother would be busy organising everyone and he, Allan, would just sit on the verandah reading books, perfectly polite and easy going and easy to talk to – a contrast between the two I guess.
These families, particularly the Andersons and the de Burgh's were quite significant figures at Bayview.
Patrick had five children of his own, some of whom had little interest in the place and wanted to sell it, and another who wanted to retain it. The house itself, unchanged, was deemed to be of historical significance and listed as a heritage property. It had been built in 1908 and was, apparently, one of Australia's first fibro houses. Called ''Sheoks'' it had had a heritage order placed on it a few days prior to it going to auction.
All of a sudden, when negotiations had reached a stalemate, the place suddenly burnt down one night.
Can you tell us about the Taylor house at Bayview?
I think that property was bought around the turn of the century (1900). I remember a map that showed the actual subdivisions and it used to run right to the waterfront and right to the top of the hill and actually went over the hill a bit. To me that was the best bit of real estate in Bayview.
The employees of Mr. P T Taylor, merchant, of 33 York-street, were entertained by Mr. Taylor on Saturday at his picturesque residence, Bayview, Pittwater.
Mr. Taylor has decided to take a trip to Europe, and will sail by the R.M. S. Austral on the 13th instant. Prior to leaving he invited the members of his staff to spend a day with him at Bayview and enjoy the attractions of the Hawkesbury. The company which numbered about 30, left Sydney by an early boat to Manly, where a drag was in waiting to convey them to their destination. Bay view was reached about 1 o'clock, and the party was received by Mr. and Mrs. Taylor who extended to all a very cordial welcome. At luncheon Mr. P. T. Taylor occupied the chair, and had on his right hand his manager, Mr. G N Nicholls. The health of the host was honoured. MR. P. T. TAYLOR. (
1901, March 4
).
The Sydney Morning Herald
(NSW : 1842 - 1954), p. 9. Retrieved from
http://nla.gov.au/nla.news-article14364525
Where they built the house there was an L shaped verandah and you could see right down to Lion Island and across Pittwater. You couldn't see Church Point, that is tucked over the hill, but it was a spectacular view just the same.
Photos Don took from the Taylor family grounds
I don't remember the house before around 1931. Patrick T Taylor had bought all this land there and he built two houses, one that would be the more recent one, and another one on the other side of the road. They were identical houses apparently. I suppose they put all the young people in one and the elders in the other, in the good one.
Within 5 minutes of Post Office and Bayview Wharf, with EXCELLENT VIEWS,
opposite the property of P. T. Taylor, Esq.
"ROTHESAY," BAYVIEW ROAD, W.B. Cottage; verandahs, dining-room, 4 bedrooms, kitchen, together with FURNITURE contained therein.
Land within fence, about 70ft to Bayview Road, depth of about 130ft. Title Torrens. Advertising (
1916, January 22
).
The Daily Telegraph
(Sydney, NSW : 1883 - 1923), p. 16. Retrieved from
http://nla.gov.au/nla.news-article238782336
The name ''Glen Sannox'', the name for the property at Pittwater – now where on earth would that name have come from?
I do know that there was a Glen Sannox on the island of Arran which is an island in the estuary of the Clyde river. I understand from some reading that it was a bit like going to Manly and when a trip to Aram would be quite an event. I'm sure that is where the name came from. I always think that P. T. Taylor, in his younger days, would have been on that island and in that place.
During one of our trips to the U.K. we ferreted this place out and had a look. What was interesting about this was when you drive to Glen Sannox you drive along the eastern edge of the island of Arran and the approach to this place is so like Bayview. The glen goes up in a westerly direction with a creek in it and it's just like Bayview, too similar for this not to be the place he named the Bayview weekender after.
He was always calling his various pieces of real estate after place where he'd lived when younger – I was staggered at the similarity between these two places. The place at Kirribilli, for example, was called 'Eversfield' for example.
I think he was interested in maintaining his contact with his earlier days. One of P G Taylor's daughters had a property at Moree which they called 'Glen Sannox', so they kept the name as part of their lives, having grown up in the house at Bayview.
The Taylors were all at that place from a very early age, my father and his brother's generation. I have a photograph of the whole family lined up at the front gate of Glen Sannox.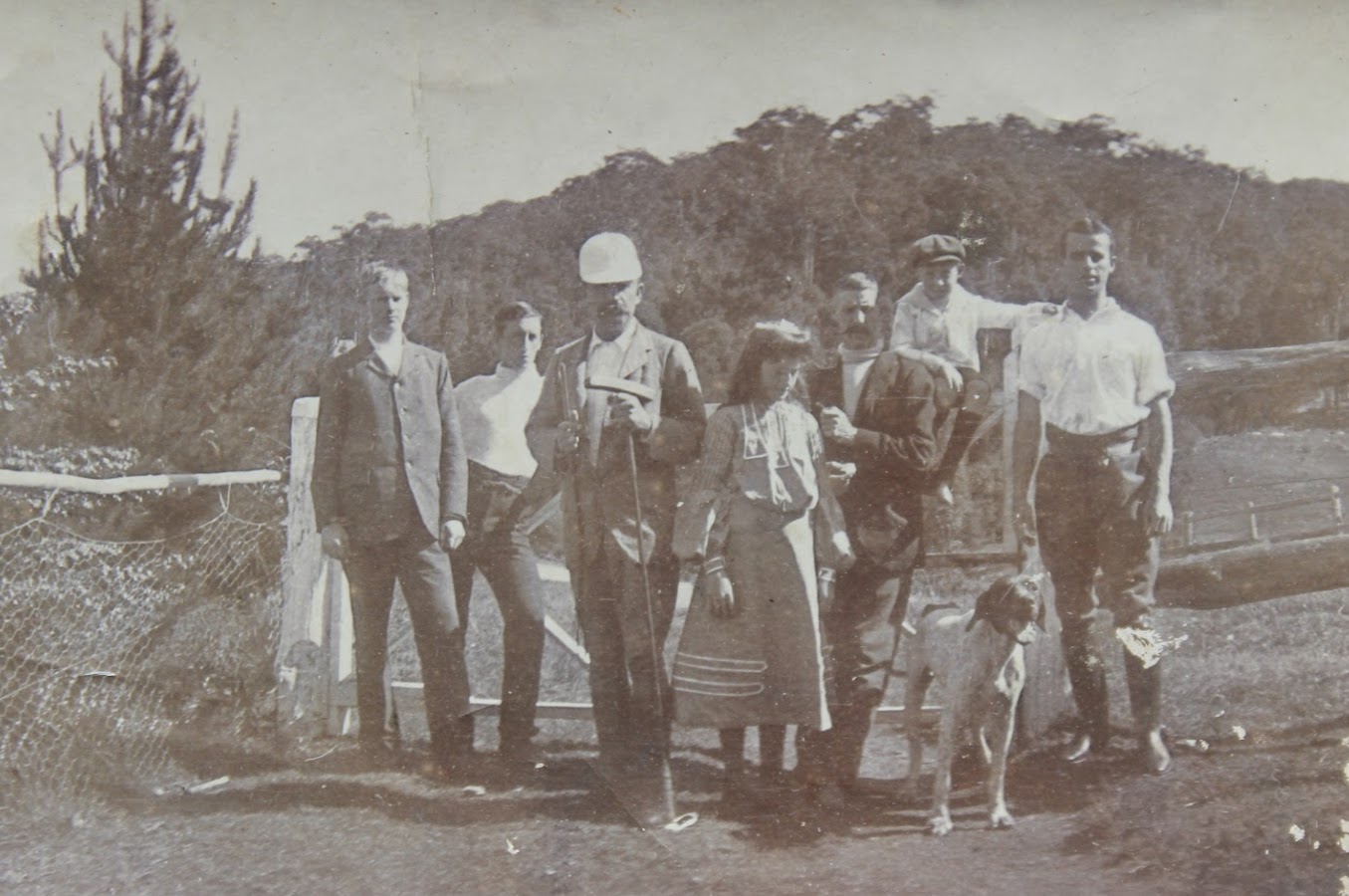 I can tell you who most of them are: it's the Taylor family without their mother. From the right is W. D.M., my father, sitting on the fence is Patrick Gordon, who preferred to be called 'Bill', that's an unknown, the girl is Norah, their sister, who looks like she's about 13 or 14 there, the man in the white cap is P. T. Taylor their father, he was keen on polo, then another unknown and the one on the extreme left is probably Ken.
You can see this is quite early. Those pine trees I remember as being huge trees when I was growing up.
You can also see my grandfather is wearing jodhpurs. He used to play polo at Brock's mansions, at the polo field there. He kept some of his ponies at Bayview. There was a building he placed there which we always called 'the stables' which later became a car garage.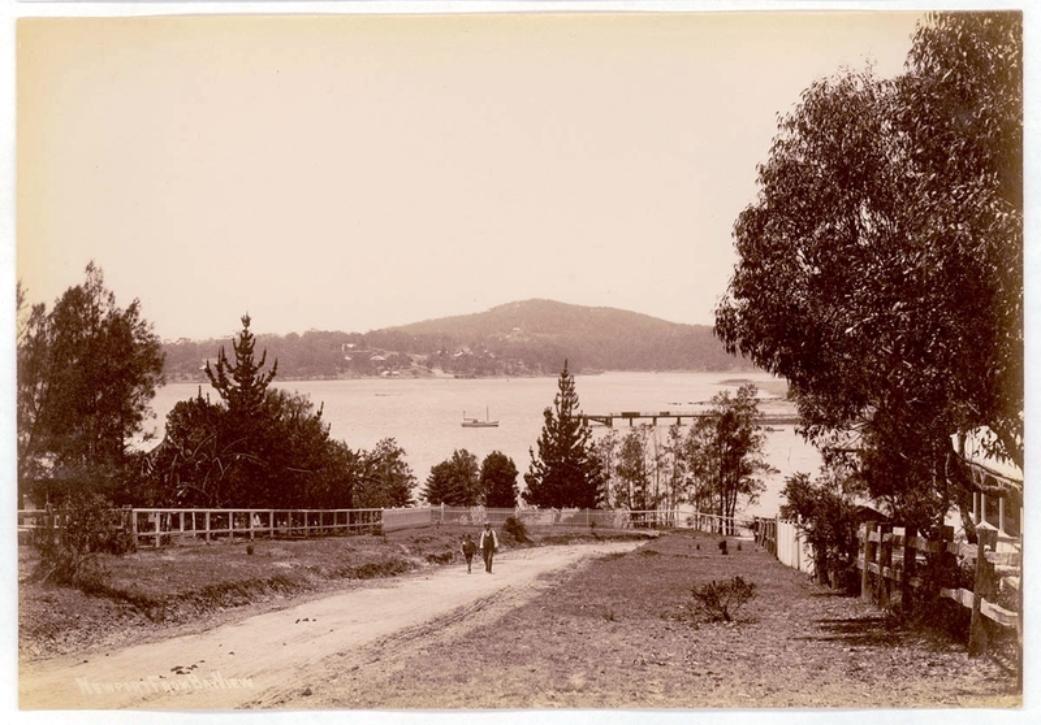 Above: 'Newport from Bayview', ca. 1900-1910, Image No.: a116491, courtesy State Library of NSW.
P T Taylor died in 1922, at the relatively young age of 60. My grandmother actually then owned that property, the whole of that was in her name, including the land.
Mrs. P. T. Taylor is giving an American tea at her home at Bayview, Pittwater, in aid of the Red Cross Appeal on Saturday afternoon. The hostess will entertain her guests on the verandah overlooking the bay. FOR WOMEN (
1926, July 22
).
Evening News
(Sydney, NSW : 1869 - 1931), p. 22. Retrieved from
http://nla.gov.au/nla.news-article114386843
Not long after he died they renovated the place, extending it considerably, adding sections to the back while my grandmother's bedroom overlooked the bay the side and this gave her a bit of privacy and comfort. The rest of the place was given to everybody to have the run of as a weekender.
There were several bedrooms and nooks and crannies where people could have some time alone.
My first recollections of the house is that there was no electricity, it was all tank water, although they'd had the foresight to have a good quantity of these and there was ample water considering how many people used to be there. I recall we ran out of water once.
Gradually the services came along; electricity in the 1930's.
It was then that I begin to remember, and just prior to, living in that house with kerosene lights, an old fuel stove.
Margaret Tink:
the lights in the street they would come along and light with a flame – these were gas lights.
Don:
Everybody immediately changed over from the fuel stoves to electric ones and this made a hue difference to the convenience of the place. I remember in the living area there was a great big kerosene lamp which took about half an hour to get alight here were that many little outlets.
Nothing changed too much though, nobody lived there apart from a handful of tradespeople and a few others. There was no farming going on anymore at Bayview, only at Mona Vale and Warriewood where they had built a lot of tomato glasshouses.
What is the Scotland Island story; did they own the whole of it?
Don: Part of that may be true. First of all I know they ran horses on it. I remember my grandmother telling me about sitting on the verandah there once and John Williams walked up, who ran an estate agency among other things, and said 'I've got somebody who wants to buy Scotland Island'. That determines to me that P T Taylor did own it at one stage, although perhaps not for very long. I know they used to run horses on there, so perhaps he owned a portion of it.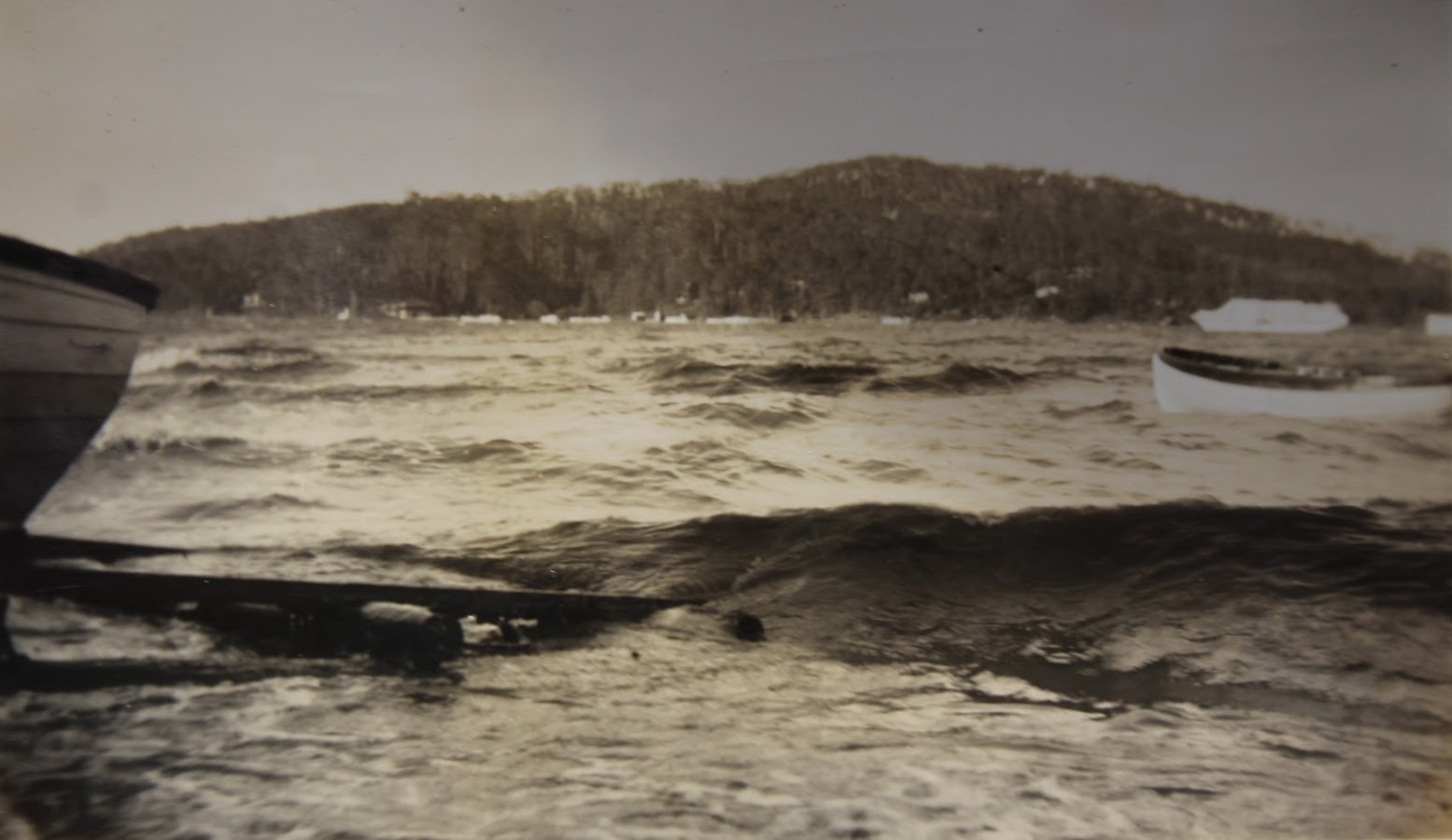 View to Scotland Island taken by Don with his box Brownie - the island could be seen from the Taylor's verandah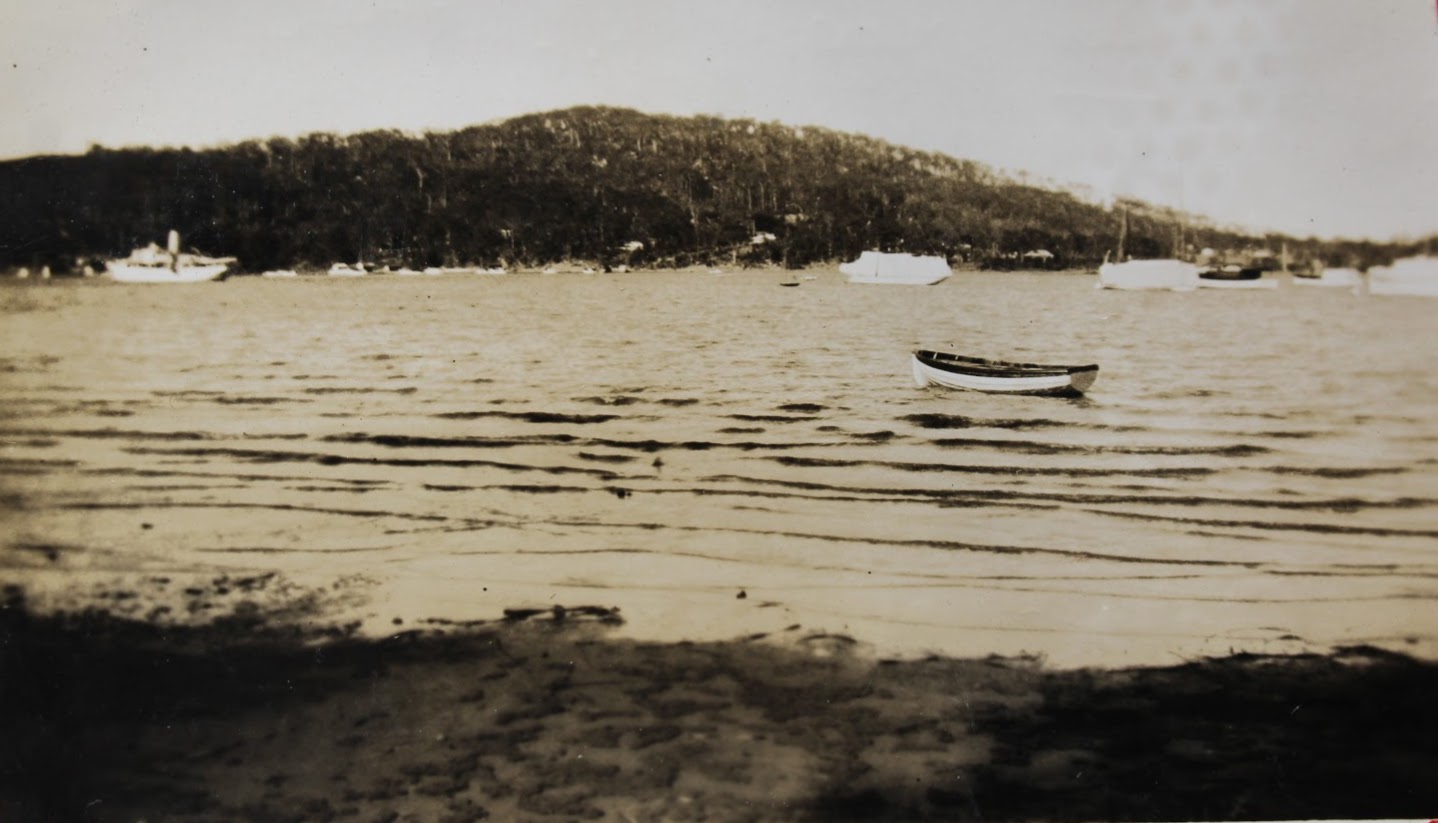 Don, could you please describe a typical Summer at Bayview for you?
When the cycle of the moon came around and you had a nice high tides in the early morning we'd go down and swim, usually before breakfast. Occasionally we used to go across to Avalon or Newport for a surf.
Mainly we'd spend our time just messing about in boats. It was a typical holiday place really – we'd play in the bush sometimes.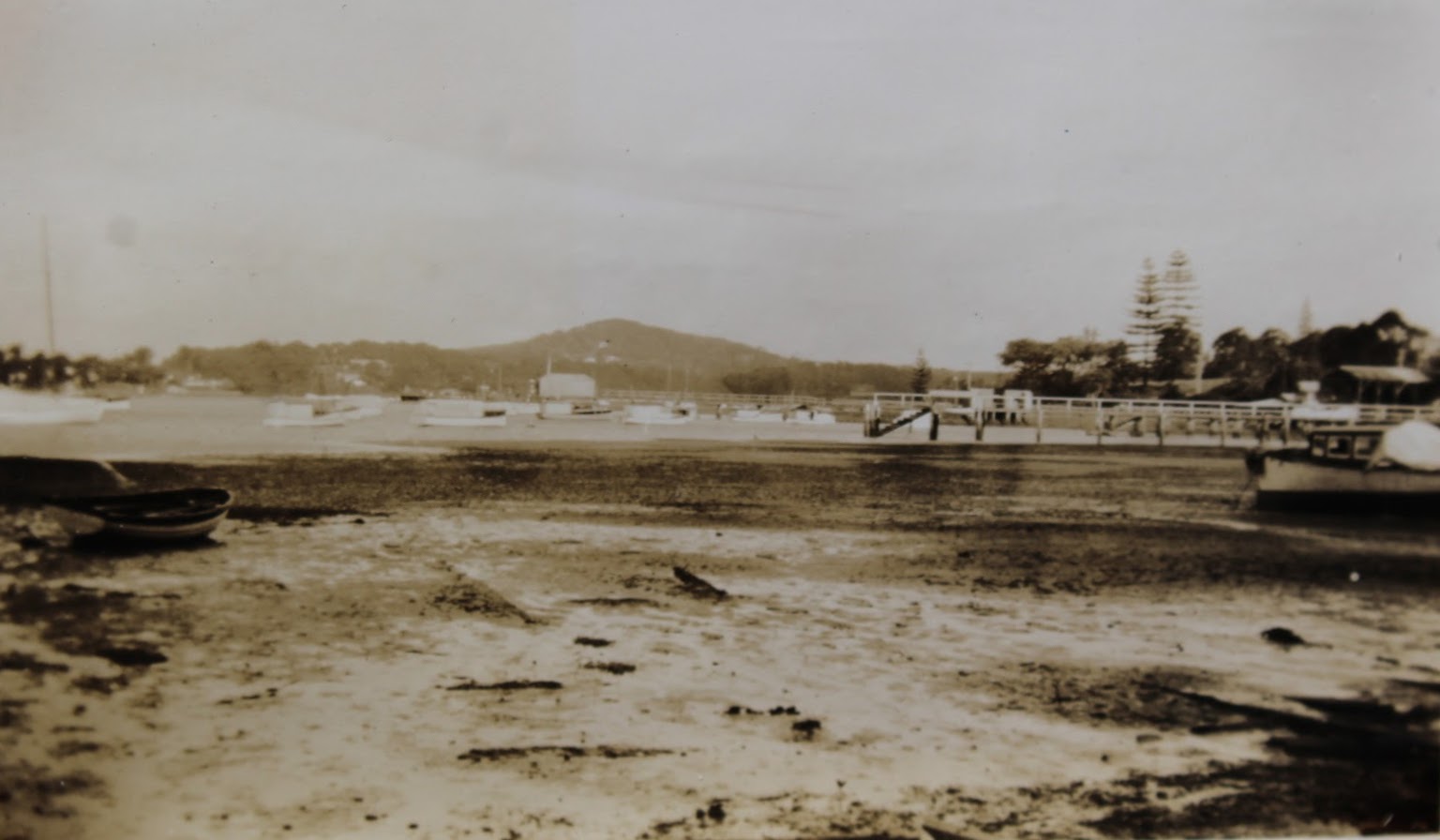 View to Newport
taken by Don with his box Brownie; "'
This is a General view taken from the boatshed site at Bayview looking across to Newport this one was taken just near where the little bridge used to go across the creek."
How did you get to Bayview from Kirribilli?
Well, it could be done by public transport. I remember doing this one time. We caught the ferry from Kirribilli across to the quay, catch the Manly ferry to Manly then the tram to Narrabeen and then a bus from there on – it took us five hours to get there.
My grandmother, who was fairly well-heeled, wouldn't have any of that and although she didn't own a car she did have a car service that would take her down there when she wanted.
Were there lots of loquats?
There were some, not as many as people may think via the name. That was a bit of a concoction of my uncles, he had a fairly vivid imagination. There were loquat trees around, just not an orchard of them. P. T. Taylor, I think, may have been a bit of a frustrated farmer. He had this huge strip of land going up over the hill, that wasn't terribly fertile, but he established things; he had a cow there for a bit and they had a kitchen garden and grew quite a lot of their own produce. When we were down there we'd live off the land. There were plenty of blackberry bushes all around.
Do you recall seeing your uncles seaplanes while there?
Oh yes, there were quite a lot of those coming and going. He bought this thing, a de Havilland Gypsy Moth, which was very similar to the Tiger Moth which they used during war. He flew it from Mascot to Narrabeen Lagoon. Narrabeen Lagoon was not quite what it is today and on this occasion it was during a dry spell when there were quite a lot of exposed flats, and really where the lagoon would normally be.
He landed it there. He had a system where he could fold the wings back to put it in a shed. He had this done, folded them back, and towed it from there on the back of his car all the way to Bayview.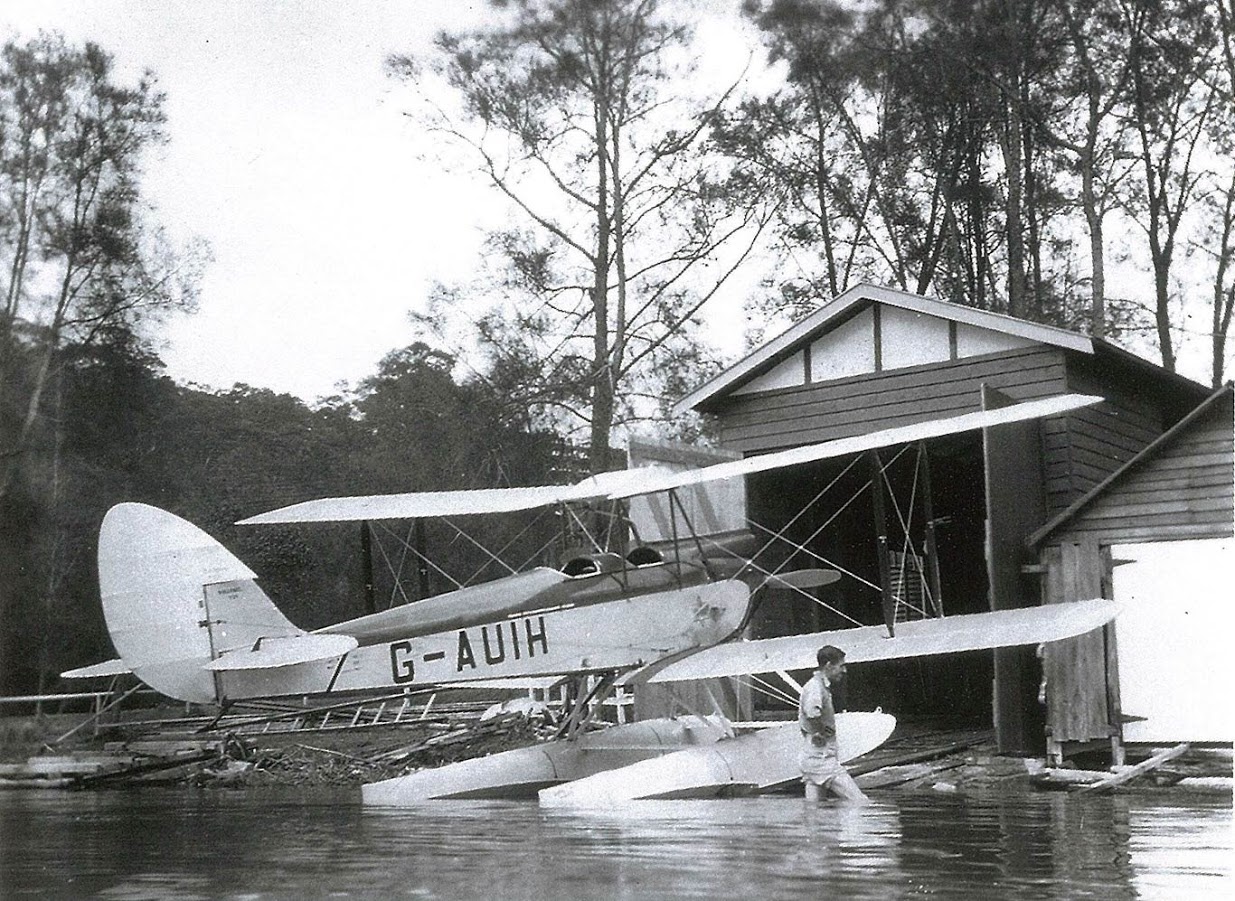 Taylor's de Havilland Moth outside his boatshed at Bayview, 1927. The wings could be folded to enable the aircraft to be winched inside. Image: Taylor family via Sarah Taylor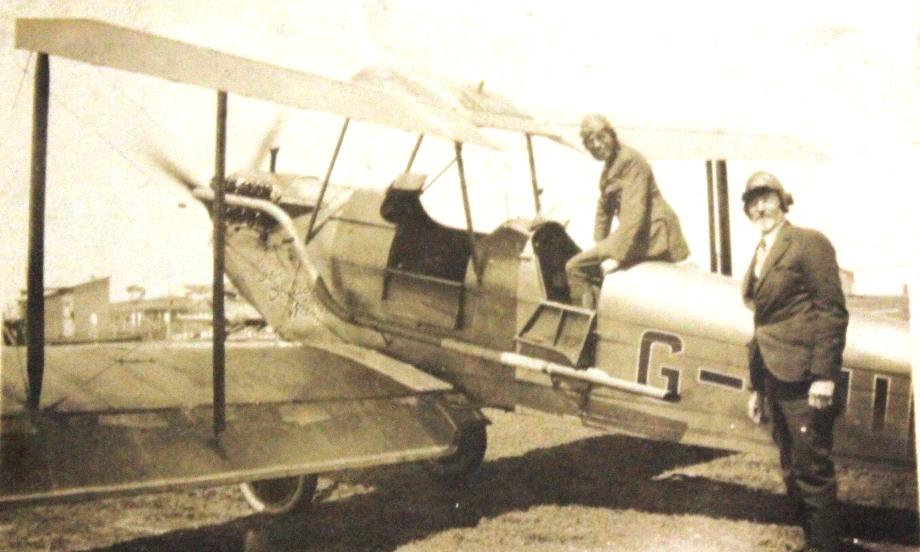 Above: John Williams (Father of John L and Cedric M Williams) about to go for a flight at Narrabeen - circa 1930's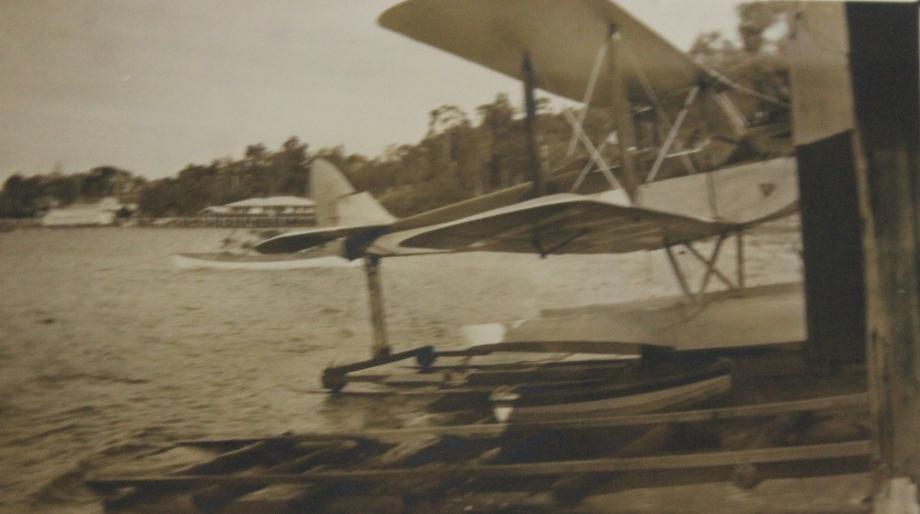 Above: on back of photo 'Plane built by our father" - Cedric M Williams - at Bayview - courtesy Elizabeth Hird/Williams family
A NEW VEHICLE ON THE ROADS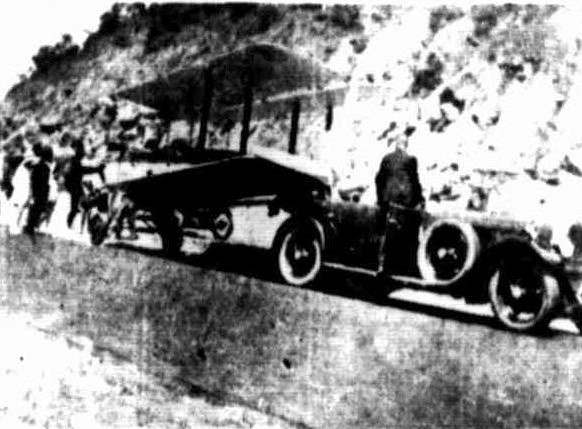 With the increasing popularity of the light aeroplane, this spectacle is likely to be seen more often on the highway: The picture shows Mr. W. Taylor' s plane being towed to Palm Beach after he had landed at Narrabeen, following a flight from Cootamundra. Hitched on to the back of the car, with its wings folded, the plane presented no difficulties in transport. A NEW VEHICLE ON THE ROADS. (1929, January 15).Evening News (Sydney, NSW : 1869 - 1931), p. 1. Retrieved from http://nla.gov.au/nla.news-article115697905
He brought a few of these out and sold a few when he became a contractor himself. One was sold to Dick Casey who at that time was the Treasurer, he got to know him pretty well. these were a bit a diversion at Bayview of course. He had a special shed built at Bayview to accommodate the thing alongside the old boatshed, and this had a little slipway going down into the water.
Cedric Williams was his mechanic, he used to come and service the engine every so often, made sure it had plenty of petrol in it, that sort of thing.
I don't think I ever saw it take off or land as he always did it when we weren't there.
Margaret Tink:
We used to see it, I loved seeing it.
Where was your Bayview house Margaret?
We were just around the corner a little further, towards Church Point. We lived next door to the Saunders, Don's relatives on his mother's side.
My mother and father bought the house prior to my being born in 1924.
The place at Bayview was a big old house of stone and brick called 'Waiwera'. Mum and dad bought that place and the Snow family bought the place next door. Mum was a Snow.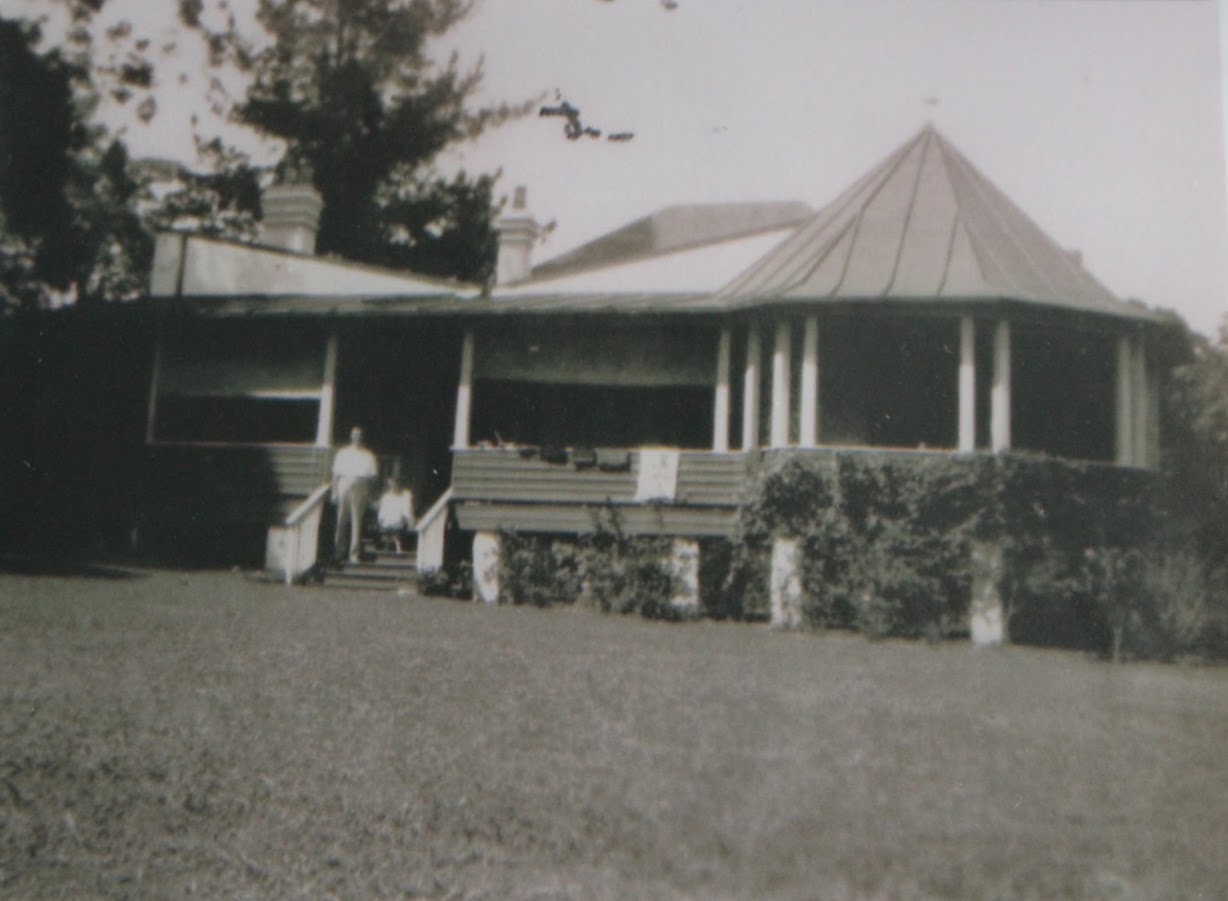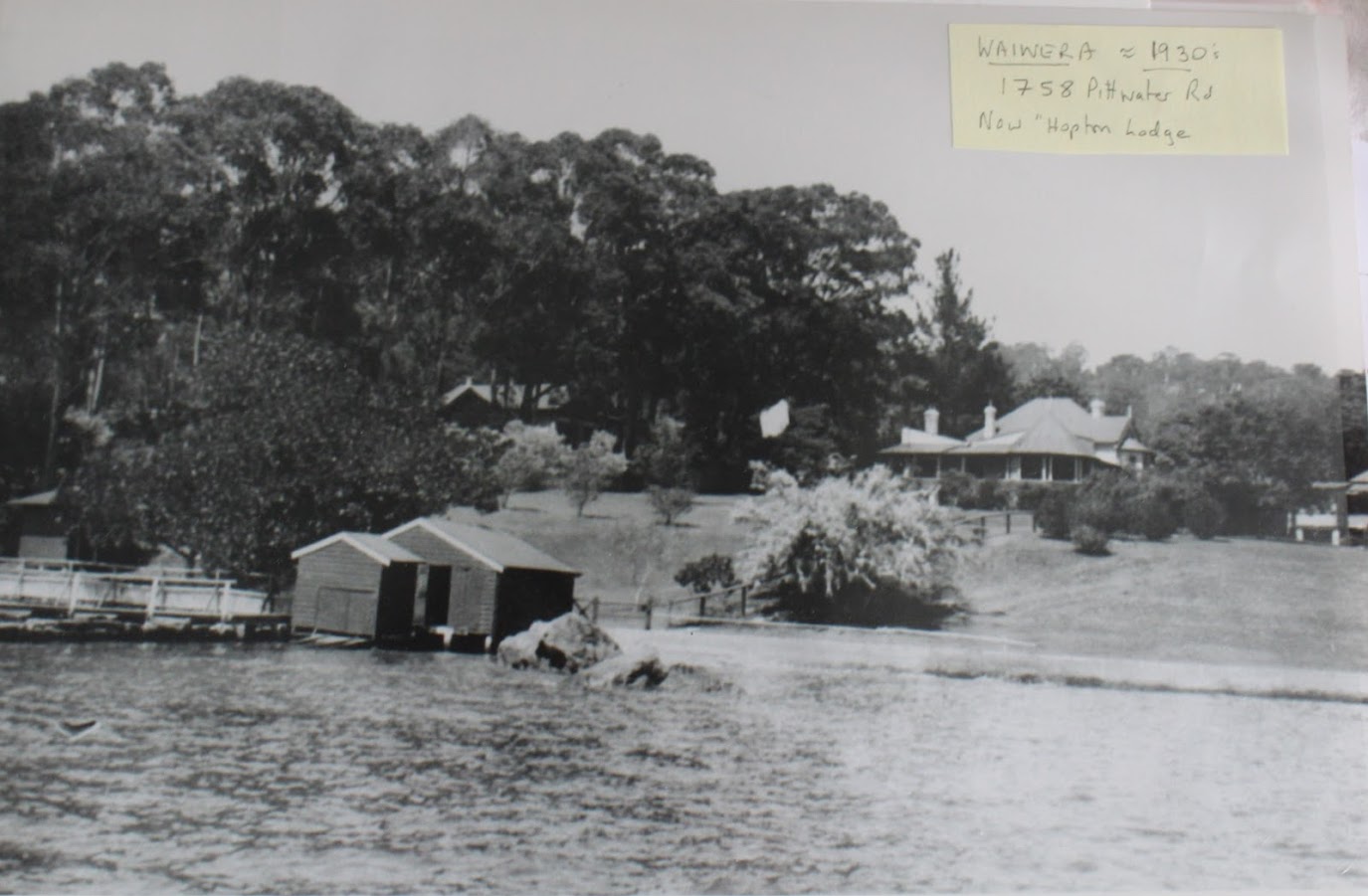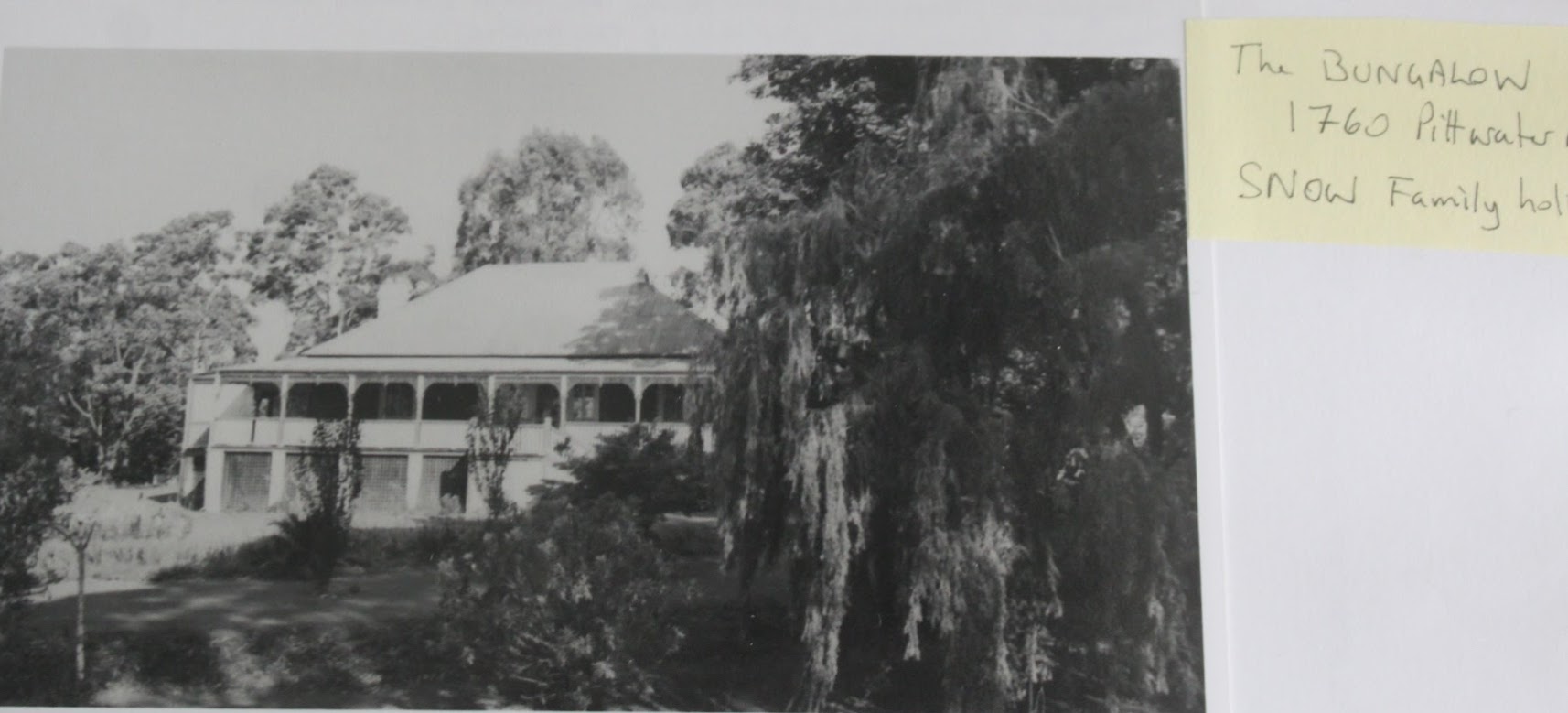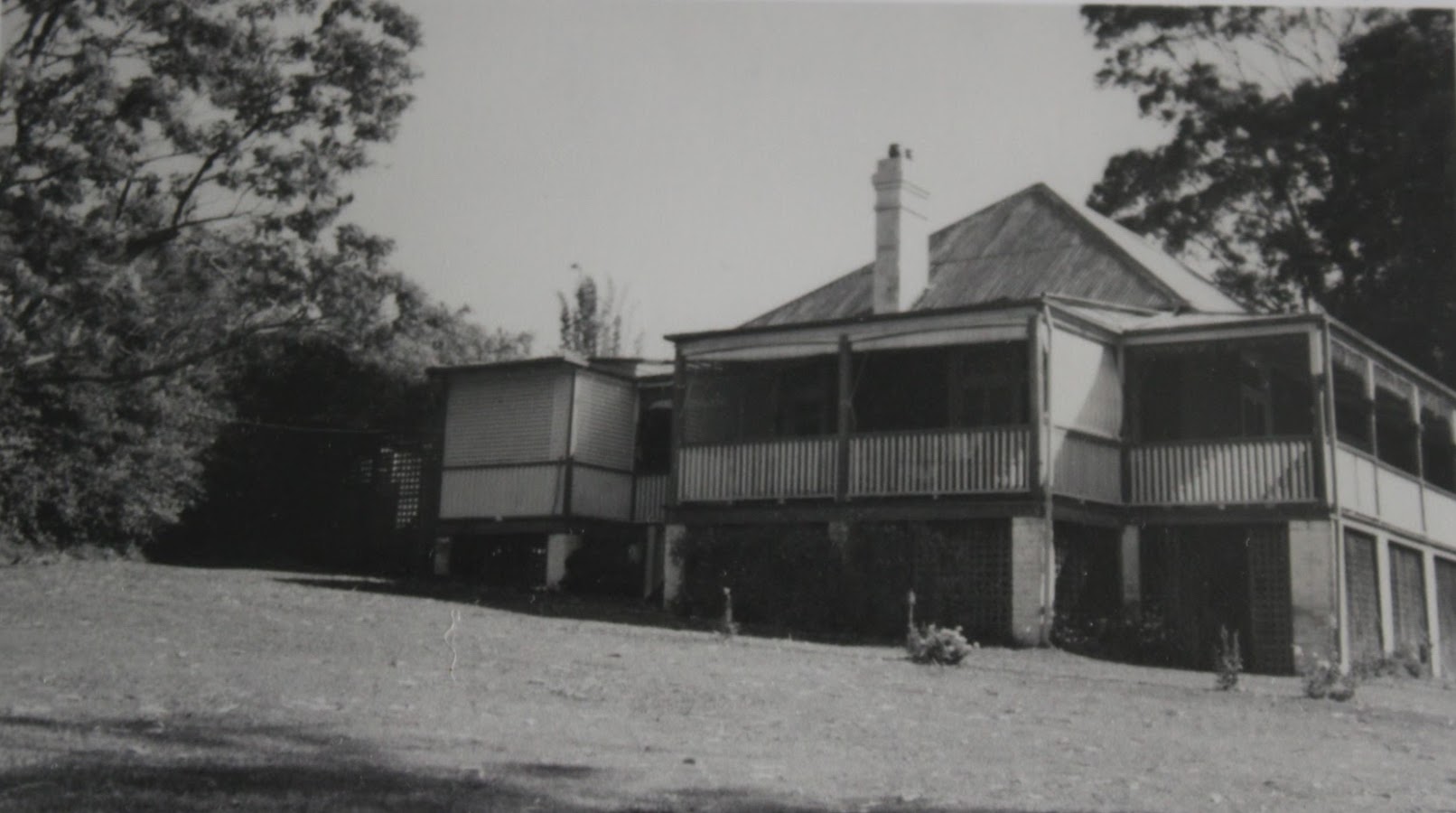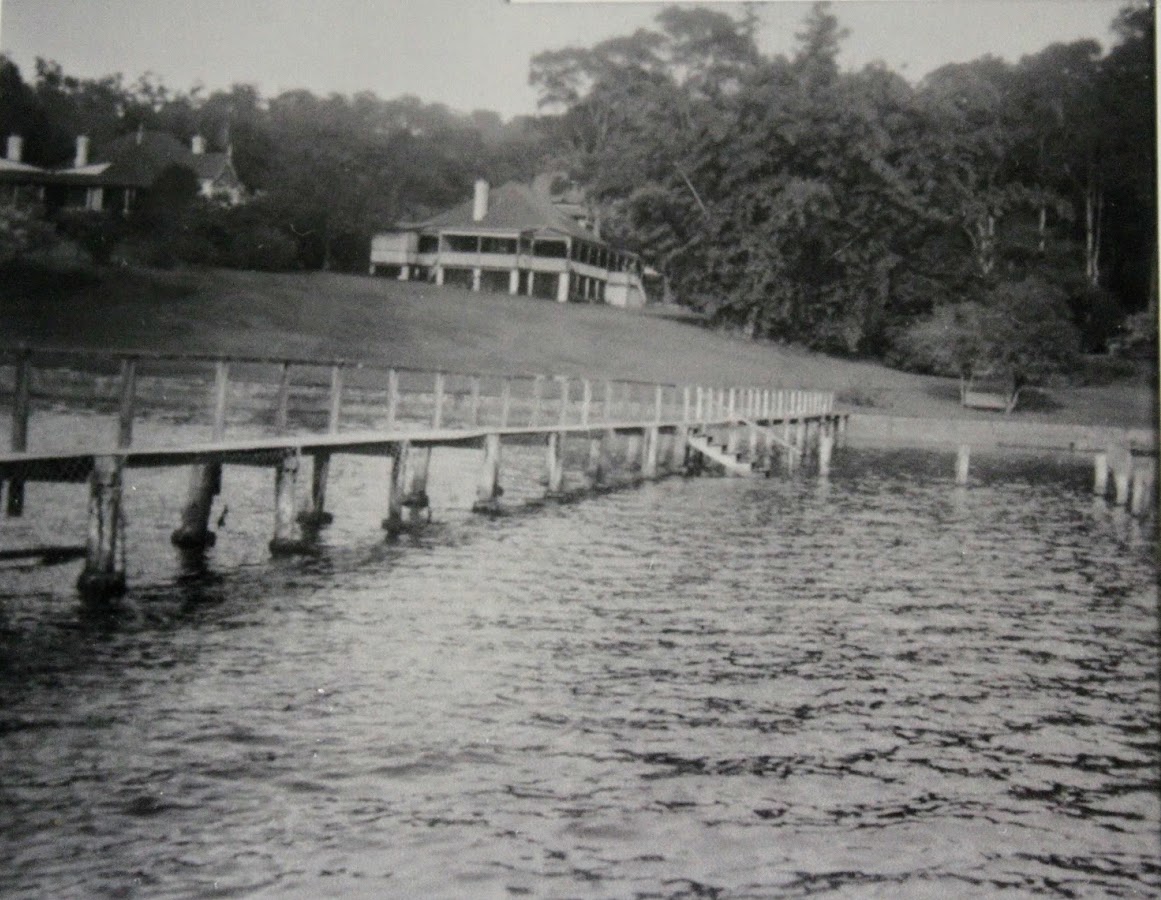 We used to go down there for all our school holidays.
Dad was very worried about sharks and Mona Vale beach as a swimming place as the old man who used to bring the wood, Alex Slater on his horse Creamy, was a lifesaver at Mona Vale and used to say to dad 'don't let the girls go swimming there, it's a dreadful beach, very dangerous.'
Don:
I remember
Alex, he used to do all sorts of things. He was one of the few people who actually lived at Bayview, a bit further around towards Mona Vale.
What was the house like Margaret?
It was a big old house built, I think, by Germans. It had a verandah and has sort of two stories in that you went in on one level and then down three stairs to the second level. There were five or six bedrooms and a big dining room and a big sitting room. The dining room is gone but the sitting room is still there.
We had an ice chest, the ice used to be delivered every day by the NSW Food and Ice Company.
Don:
There was a fair bit of trade there in the summertime. My grandfather had been a Director of that company (the NSW Food and Ice Company), and so we got pretty good service from them. They were there from fairly early on. Water was the name of the butcher
Margaret:
They were very good, you never had any problem with getting food.
We had a big underground tank for water. Usually, because we were allowed to have people staying with us and there would be about 8 people staying in the house all the time, we would have to go home around the end of the Christmas school holidays because we'd run out of water.
Margaret: What was a typical summer's day for you there?
We used to swim and we used to play down on the beach, climb on the rocks. We'd walk one way or the other, either down to Church Point or to Bayview. We had a very big old wooden rowing boat that held about 6 or 7 people which we'd row a lot. As we got a bit older we had canoes. We'd canoe down to Church Point to get the paper.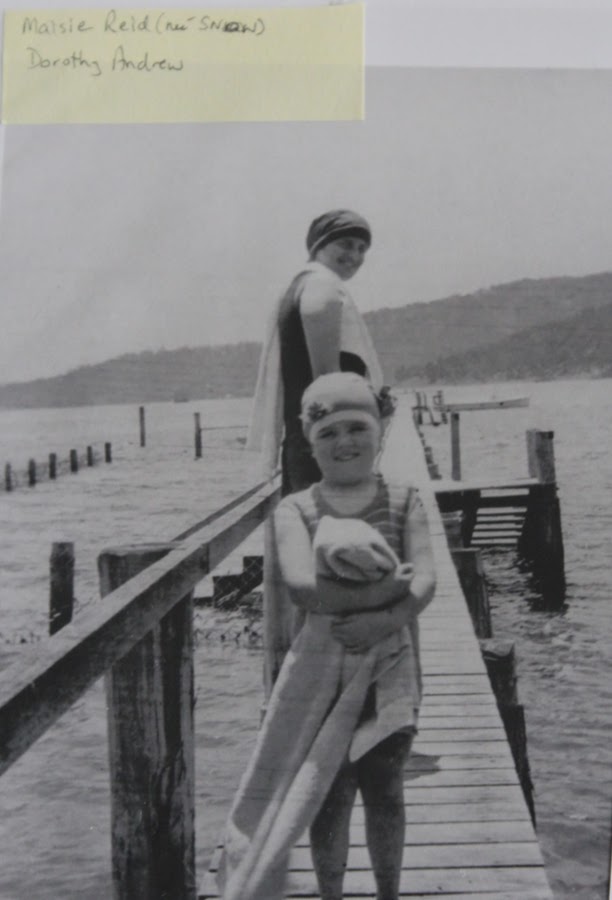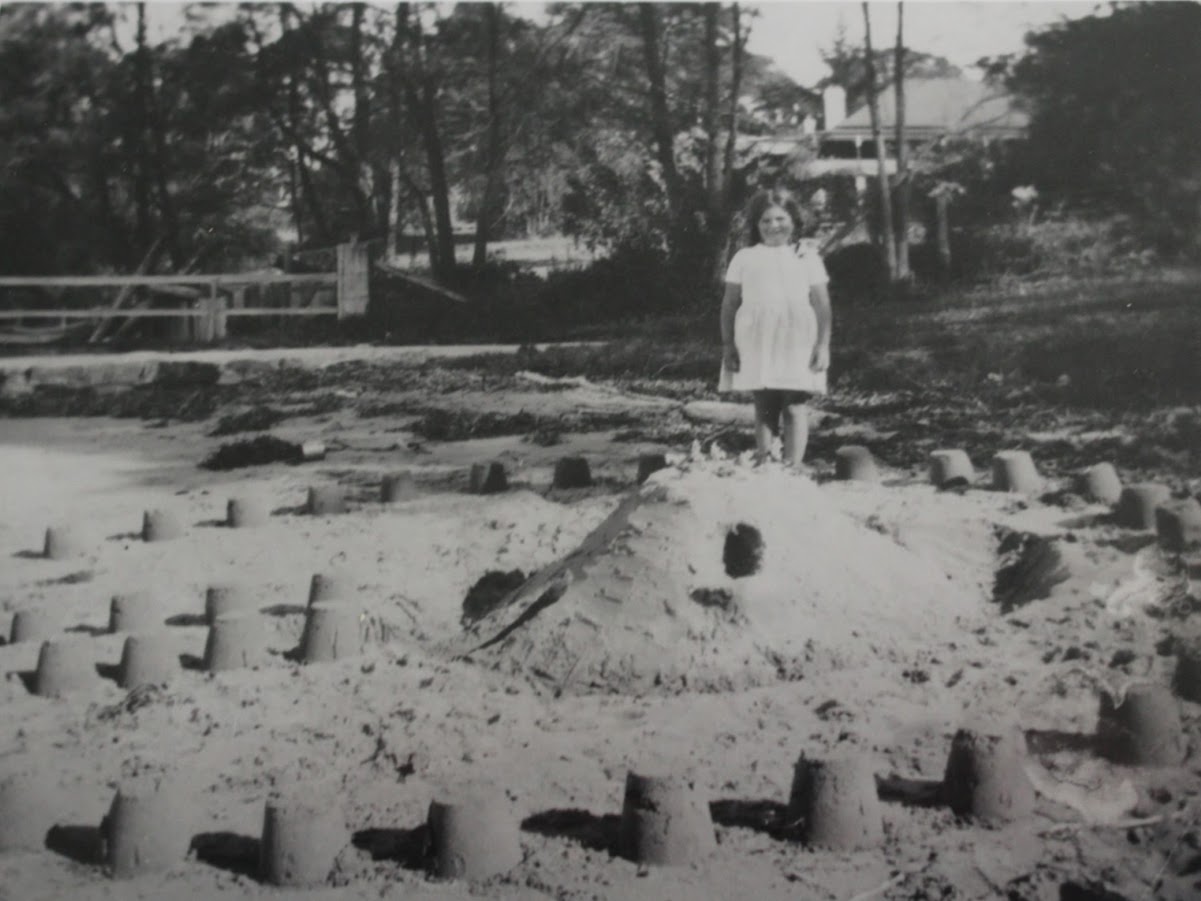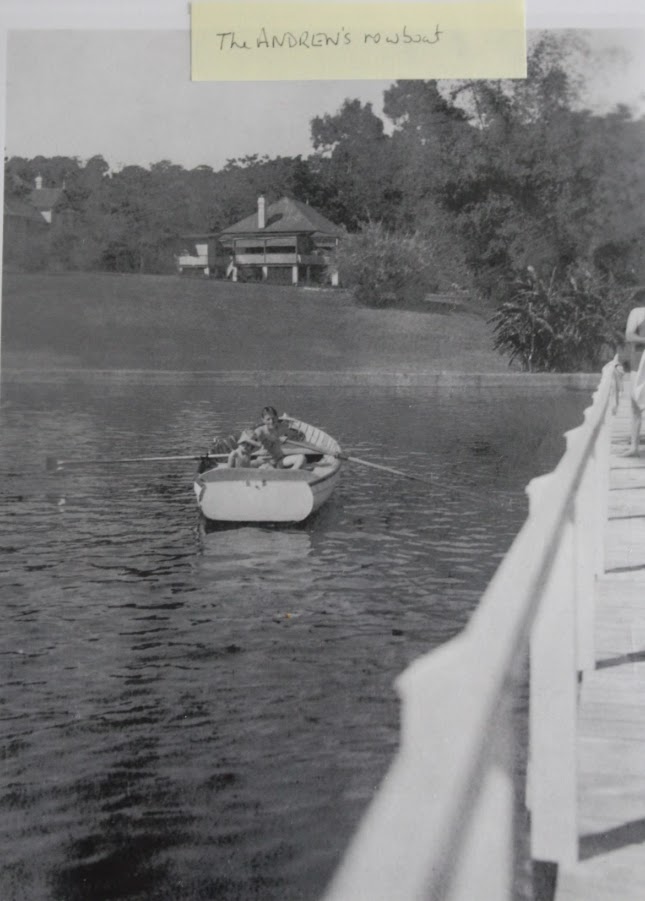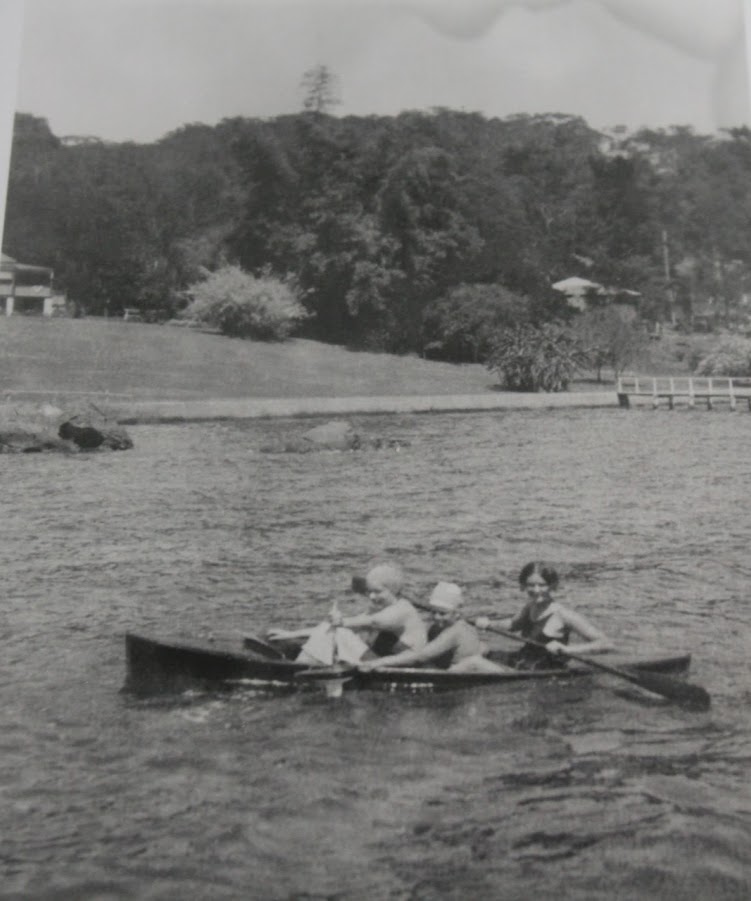 There were three girls in my family. Mum died when I was 11. Dad married again and married a lady with three daughters also.
I remember when they decided to build the
Pasadena
and the dreadful fuss that went on then. Nobody wanted all those cars going up and down and back and forth.
What was Bayview like then?
Don:
It was a dirt road into the place and very few houses until after the Second World War.
I remember they hired a bloke called Jack O'Brien after WWI, a former British army man now on a pension, and he lived there as a caretaker and looked after the place, kept the grass down, that sort of thing.
I think P T Taylor wanted to keep a bit of land there for a rural setting. His father had been a grain merchant and very much involved with landowners and farmers and I think P T got a liking for having land set aside from that. if he had lived another ten years I think he would have done all sorts of things at Bayview.
The whole atmosphere of Bayview in those early days was one of freedom and space and not too many people around – far different from what it is now.
Margaret:
when we were kids we used to be able to walk from Bayview to Mona Vale quite easily. On the way you would be picking mushrooms or blackberries. I remember being chased by a bull, the de Burgh's bull possibly – it was just around the corner from their house. They owned all that land from where the tennis courts are now up until the top of Bayview. That was once a big paddock.
Patrick de Burgh became a bacteriologist.
The Duffy's house was another old one there – Mrs. Duffy lived there. They had been there for a long time too.
Don:
Yes, de Burgh and Jeannie's father, both were brilliant men. My mother had the very unfortunate task of delivering a message to Mrs. Duffy that her husband had just died in a Manly hospital. The Duffy's didn't have a telephone, the Taylors, having everything, had a telephone, and at that tie as the only contact between the Manly hospital and the Duffy family at Bayview. My mother took the message and had to go along the road and up to the Duffy house to tell the poor lady.
Margaret:
The Duffy home as right opposite us.
Don to Margaret – did you know the Love's?
Margaret:
Yes, very well. The Love's were next door to the Duffys. They had one son and two daughters. The Loves had a house there and owned all the land on the other side of the road down to the waterfront. We used to climb up into the bush behind the Love's place.
They had a big wharf, and a boat, which I think was a Halverson, one of the original ones. They used to spend their whole time going up and down the estuary. They may go away for one night and we'd see them going up and down the wharf putting stuff in the boat, go away for a night and then they were back and going up and down the wharf again.
We decided we didn't really want a boat after seeing all that.
Don:
There was a Nigel Love who had one of the big boats in Sydney after the Second World War and his ketch, that boat, used to be down there. He kept this boat on one of the moorings over near the Royal Prince Alfred Yacht Club. This was a spectacular boat (The Cirrus), a very big yacht.
Don: we too thought the small sailing boats we had were more than adequate for sailing around to places on Pittwater too. We would go down to The Basin quite a bit. My grandfather Saunders, my mother's father, he was in the Lands Department at the time when the Ku Ring Gai Chase was being formed. I don't remember this but mum told me they had access to a house at The Basin there and that we'd sometimes go down there for a weekend. That must have been a little like going to the end of the world in those days – it was a fair hike to get to Bayview but then to go beyond that.
Margaret, how long did your family have the home at Bayview?
Until after the Second World War, after dad died, which was 1945. Mum's elder brother, a Snow, had the place next door, the bungalow, and this was not as old as our house. This was a wooden house with a verandah right round.
Mum and dad were married just after the First World War and I think they bought Bayview fairly soon after that.
ANDREW—SNOW.—August 27, at the residence of the brides's parents, Goodwood, Wahroonga, by the Rev. C. E. James, Lieut. William P. C. Andrew, second son of Mr. and Mrs. John Andrew, Boorock, Wahroonga to Ethel Margaret (Evie), second daughter of Mr. and Mrs. John Snow, late of Ballarat. Family Notices (
1919, October 4
).
The Sydney Morning Herald
(NSW : 1842 - 1954), p. 12. Retrieved from
http://nla.gov.au/nla.news-article15850449
The boats you both had there – were they built locally, by the Williams?
Margaret:
no, ours weren't.
Don:
My uncle Bill had a 16 foot boat called the
Query
, which was built by Goddard at Palm Beach. He had that for a very long time. That was specially built for him as his older brothers were doing their own sailing and so there was one built specially for him as well, out of Cedar. He often used to sail to Lion Island in that when younger although he didn't use it much by the time I was at Bayview – it used to sit in a shed.
I have a photo of my father, mother and uncle Bill sitting on what I'm pretty sure is Lion Island.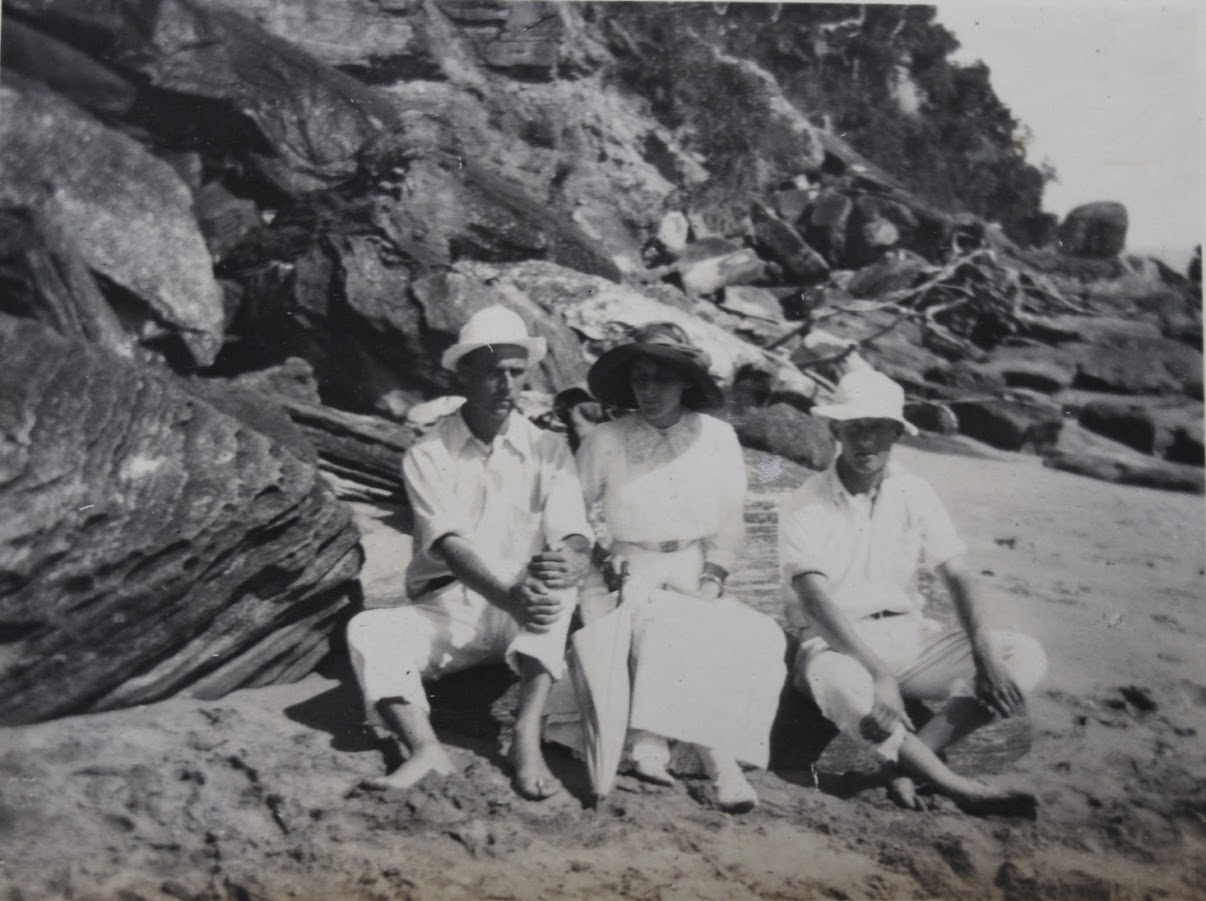 Left to right: W. D. M. Taylor, Ada Taylor (nee Saunders) and P G 'Bill' Taylor on Lion Island - circa 1912
This photo with Scotland Island, is taken from the verandah of Glen Sannox
You can also see the old boatshed down the front there. These old photos were taken with a Box Brownie.
Who are these black and white cats?
Don:
They're the two cats that owned Bayview.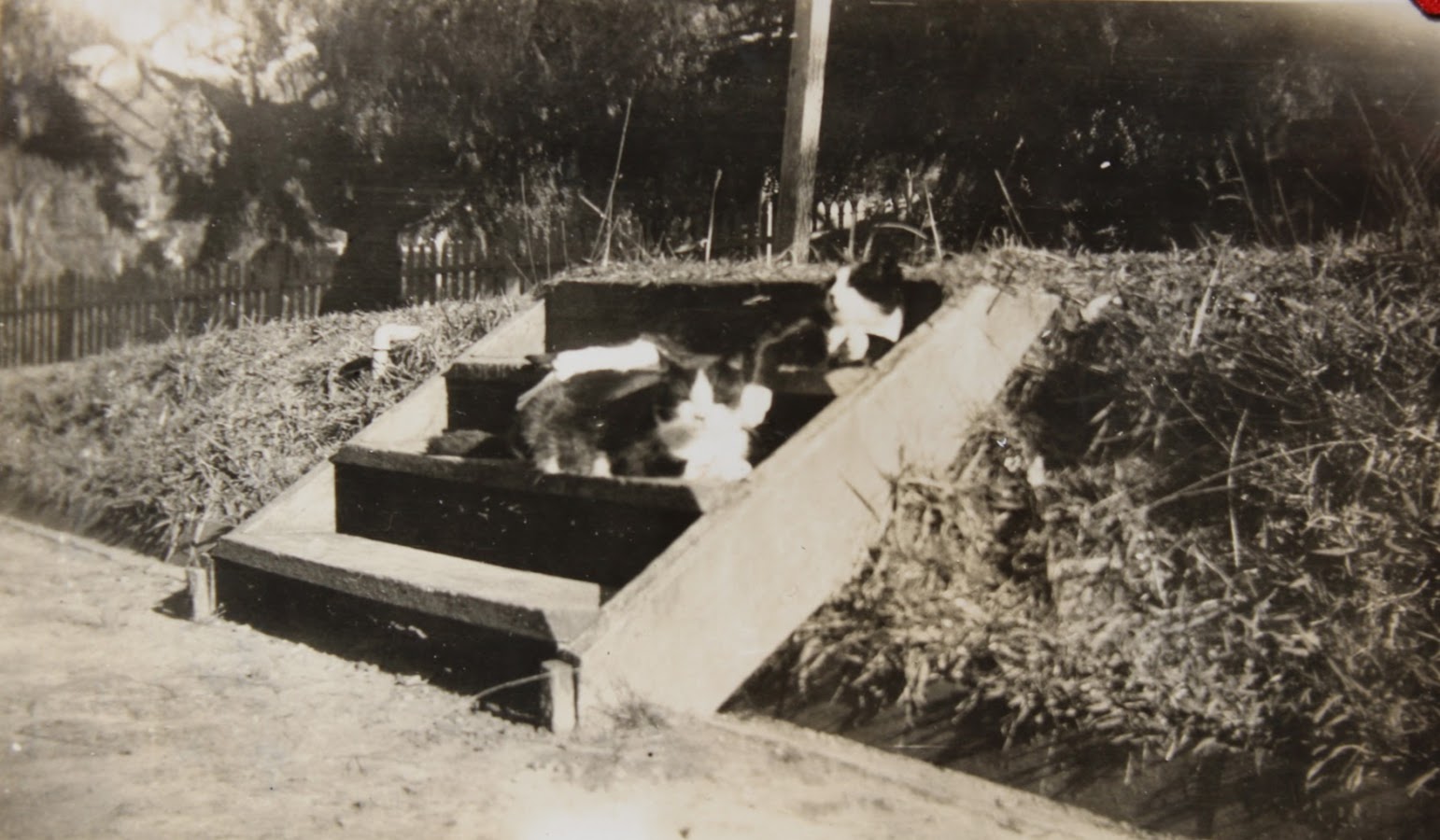 This is The Merlin - that's a fellow called John Moore, that's Don and this is a fellow called Jimmy McCarthy, that's Jimmy on the tiller –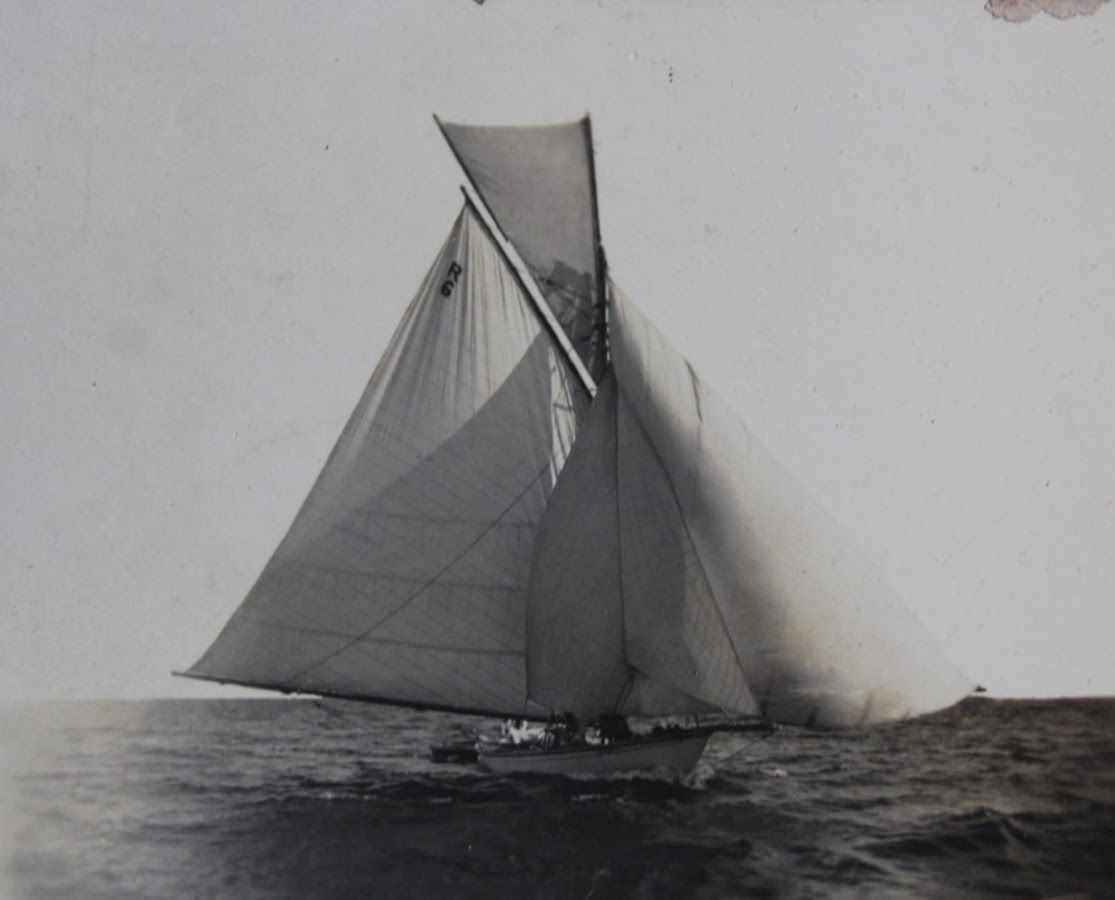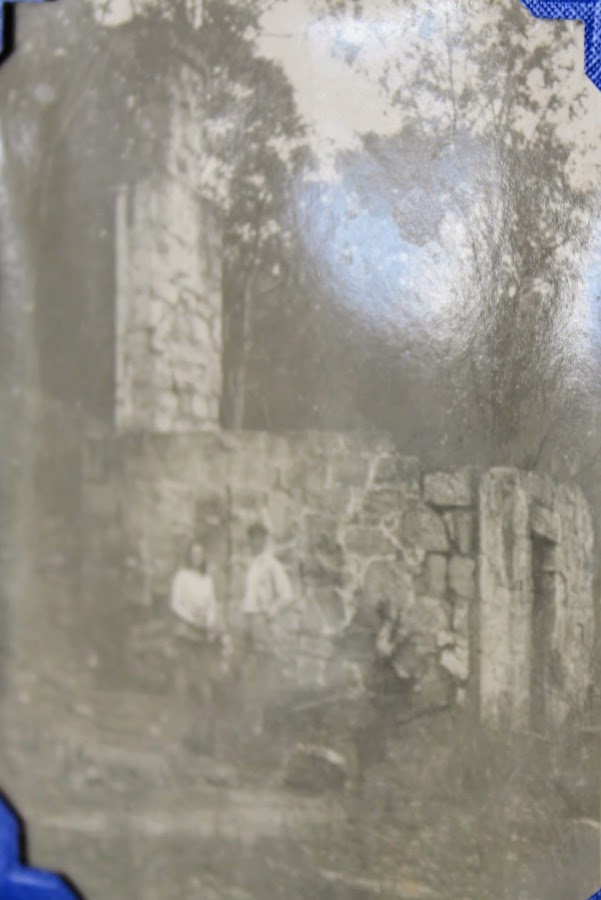 This Stone chimney – I never knew whose house this was that burnt down but just came across this in the bush one day. We were over were this picture was taken -
this was the sweep of the bay between Salt Pan and Taylors Point.
That's a Steam yacht, built, I believe, about 1914, the idea being the Kaiser would use it to tour his newly won possessions in the Pacific but when the war went against them it was owned by various people and then ended up in the Navy in the Second World War and ended up being wrecked down at Port Kembla on the breakwater.

This one is my brother and myself – palm trees were fashionable then, everyone used to have one and as we had a very small area of land we decided to get rid of them.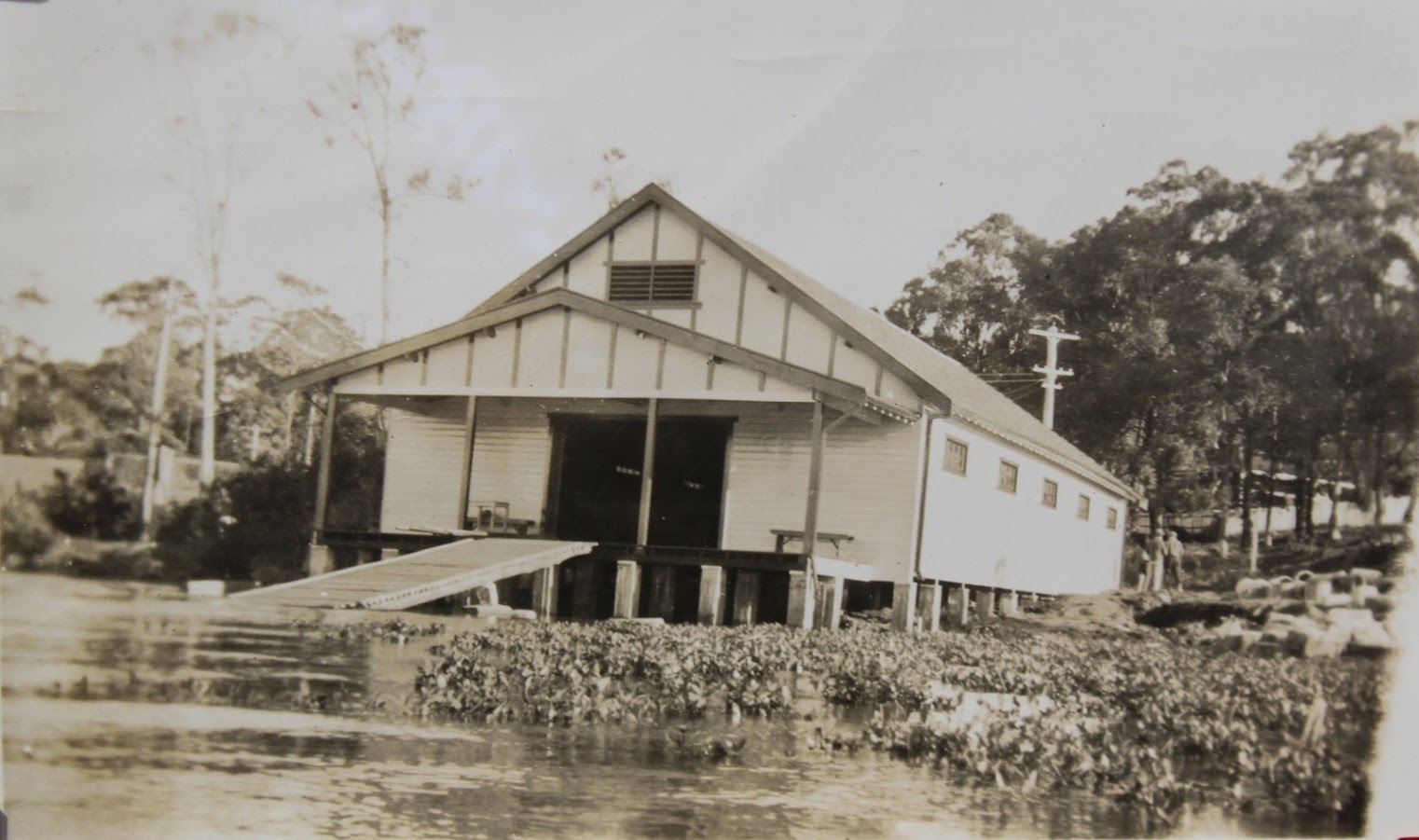 This was the Aquatic club originally, the Williams family were responsible for getting this built. The Sea Scouts are in there now.
See this photo with the white post – I'm aware of three other photographs similar to this, and have a copy of one, think that whole area there, prior to them building the road, was more estuary then what shows now. This is where the stream used to come down from the valley. They put a lot of fill in there for the road and then built a bridge and it changed the whole look of the place.
That bit there on the right-hand side is where the tank trap obstacles were form the war (WWII).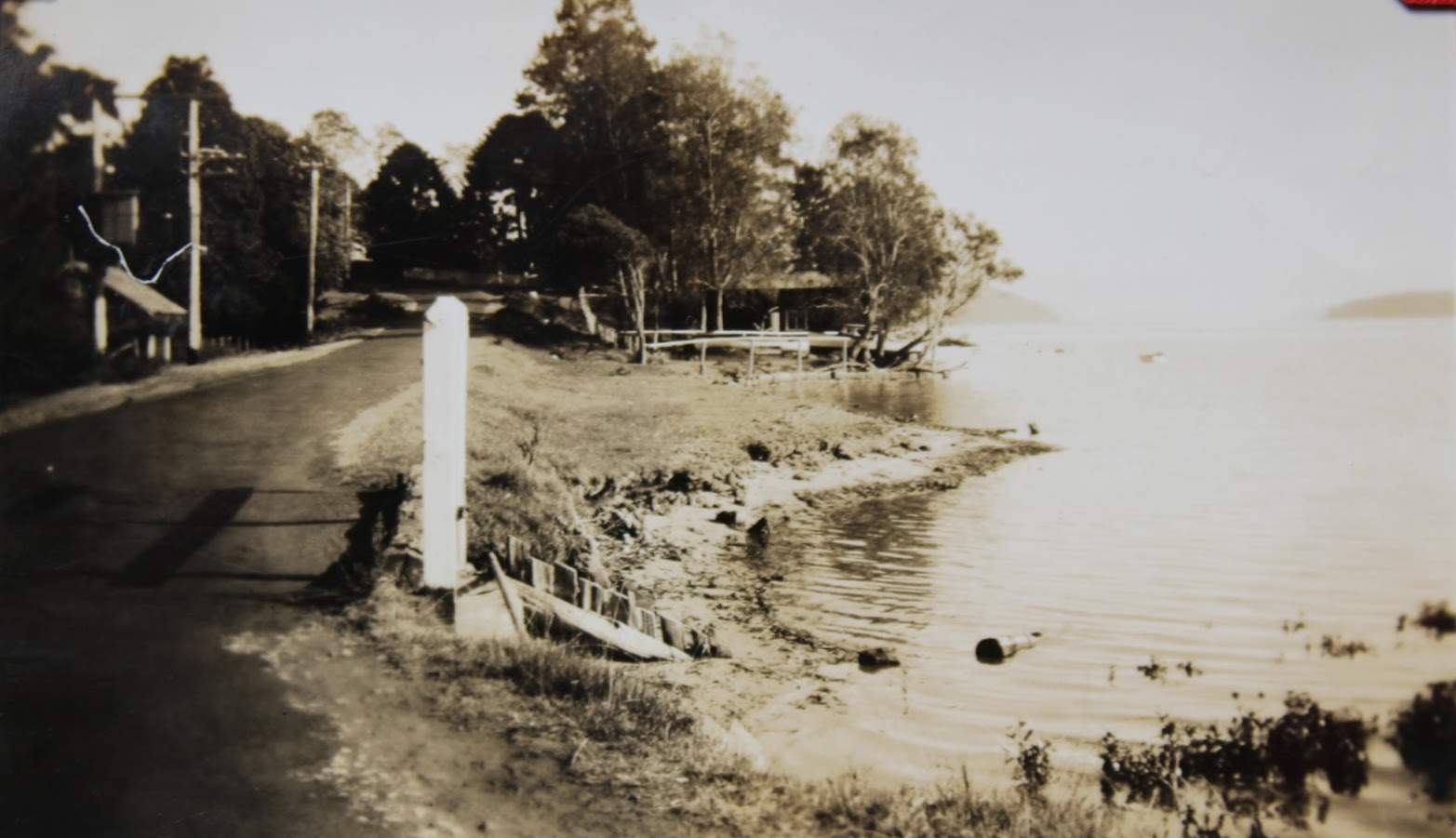 Did you go out to Lion Island too Margaret?
Margaret:
Often. Uncle Bob had a Chris-Craft and he used to take us up, dump us on Lion Island, go and do whatever he wanted to do, and then come back for us. There were penguins there then.
I remember seeing your grandfather Saunders going down to sail Don, and he had Parkinson's pretty badly by then. He used to wobble along the wharf, wobble down, get on the boat, and go sailing with no problem at all – he was absolutely fantastic.
He'd come back and everybody would be watching for him to get back up.
Was there a shop at Bayview wharf?
Don:
Yes, Johnny Oliver had a shop there. That was on the land side of the road and it was burnt down, that was before my time, but I recall he was involved there somehow.
Then they built a new place over the water and alongside the wharf; this was a much bigger shop. He lived there and was there for a long time. Various people leased it from him until a family named Cowell who were real shopkeepers, they knew how to run a shop and they ran it beautifully.
They bought the business just before the war, so when WWII commenced they had it well established. In the Cowell family there were two brothers and a sister. One brother and the sister ran the shop and the other brother spent most of his time fishing. He was a very good fisherman and would go out at night and catch the fish, would come back with a boat full of fish, which I think they probably sold through the shop.
They really made a very good business out of it.
Margaret:
Oh yes, they ran that place very well.
Don:
I remember the brother used to walk all around delivering things in a big basket. He'd do anything to make it do well.
They were the first ones since John Oliver that ran it properly.
Do either of you remember the Green Frog – the boarding house?
Margaret: Yes, I remember that. There was a track with steps leading up to the place. It was quite easy to get to. We often used to have afternoon tea there, I remember the cupcakes. They had a verandah out the front so you had the view while enjoying yourself.
Don:
It was where the marina is today, the one now called The Quays – I think that was just up there as you go around the point towards Church Point.
Was there anywhere else you could go and eat locally?
Don: Fish and chips at Bryce's at Narrabeen – they had a good reputation for fish and chips. I don't know that we ever availed ourselves of it, but it was certainly there, just on the right of the bridge as you're coming down from Manly to Church Point.
Margaret
: there were very good fish and chips there.
Do either of you recall Edward Hallstrom – he had a koala sanctuary on the edge of Bayview, opposite where the golf course is now – do you remember him?
What are your memories of him?
Don:
Not too many – you see he was a bit of an outsider. We'd been there since year dot. P. T. Taylor and Charlie Saunders, my mother's father, they both bought their land down there around 1900.
Do you recall the Aldridge's?
Margaret:
Johnny Oliver used to look after our place and Harry Aldrich used to look after the Snow house next door. They would make sure they were alright, mow the lawn, that sort of thing.
Don:
They came out here after the war. Harry had been a batman in the British army for a Sir Rupert Clarke. This gentleman paid for Harry and his wife to come to Sydney and be a caretaker and look after their property, which was the house on the eastern side of Ironbarks, the Saunders place, which was on the waterfront.
Don:
The Wilkes family bought the original Sunnyridge.
Margaret:
Yes, he was above where the BYRA clubhouse is now, that had been where the Riddle shop was, only it was a little further south.
The Granowski's house
looked towards Lion Island and Mr. Sulman used to rent a place above Mark Foy's.
Mark Foy had a bit of a zoo there with lions and tigers. He didn't have a terribly big lot of land but it ran down to where the BYRA club is now. He also had a tennis court and house on Scotland Island too, a big one. We were actually staying down at Bayview when the ambulance went down to get him after he fell while there. Getting an ambulance down there then was quite something.
How did you get there Margaret?
We used to drive down there, along Mona vale road, through what they called 'Devil's Elbow, down Tumbledown dick hill. We had an old Buick, first of all an open red one and then a very smart green one which was closed in with wind down windows.
Did you ever see any sharks while there Margaret?
Yes we did, because everybody used to put their rubbish into the end of the wharf. We were never allowed to go in the water, except in the baths.
What was the best part about having that childhood time at Bayview for you?
Margaret:
It was just wonderful. We were always allowed to have whatever friends we wanted there and we had cousins next door the same age as me. We just had a great time. We'd row and canoe and walk.
I missed it after it was sold, but the snow family still had their place next door. After I married my mother and father-in-law, who lived at Manly, was where we would go.
Don:
Getting out of Kirribilli and being able to shoot off and do a lot of things – walks in the bush, the water. Jimmy McCarthy used to come and stay with us during the holidays, he was the same year as me at school and I knew him well at school. He was a sailing fanatic and all his time would be spent sailing.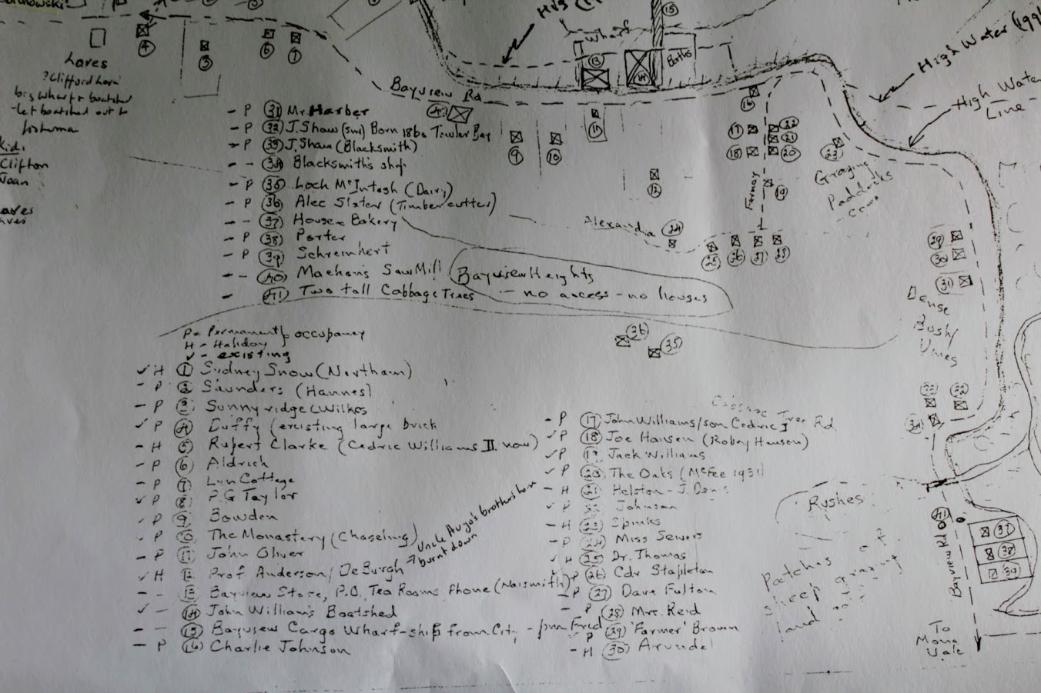 Notes And Extras
BAY VIEW PUBLIC CENTRAL SCHOOL.
The report of Mr. Lobban senior Inspector, was read at the annual distribution in connection with the Bay View Public … School This showed that good work had been accomplished and reference was made to the satisfactory working of the school launch the first experiment of the kind. Short addresses were delivered by Mrs. V Anderson, Miss E Pye (Education … The prizes were handed out…
by Mesdames Anderson and Taylor.
The principal prizewinners were -L Morrison H Newman H Howlett R Howlett J Morrison S Lloyd and M Booth …. BAY VIEW PUBLIC CENTRAL SCHOOL. (
1905, December 20
).
The Sydney Morning Herald
(NSW : 1842 - 1954), p. 12. Retrieved from
http://nla.gov.au/nla.news-article14735150
The little ships of Bayview they are bravely slim and small,
They go out by Barrenjoey, where they shouldn't go at all;
You may watch their bowsprits tossing, where the coastal steamers go
These little ships of Bayview, with their sails as white as snow.
The little ships of Bayview, they come sailing In at night,
With a silver path behind them, and the moon to mark their flight;
There are shaky lights at Newport, and an arch of stars that know
The little ships of Bayview, with their sails as white as snow.
There are songs across the water, as the little ships go by,
To their anchor-buoys at Bayview, where the sleepy houses lie;
Faint and drowsy nod their anchors, and the stars lean very low,
On the little ships of Bayview, with their sails as white as snow.
Mr. Griffith, Minister for Works, accompanied by Colonel Ryrie, M.P., and Dr. Arthur, M.L.A.. visited
the proposed naval site at Barrenjoey and Mona Vale.
At Bayview the party were received and welcomed by Mr. Wilson.
Subsequently Alderman Quirk, of Manly, and Professor Wilson joined the party,
which proceeded by launch to the mouth of the Hawkesbury. The Journey being resumed to Barrenjoey, the lighthouse was also inspected, a magnificent view being obtained from the heights.
A call was made at Brock's mansion, Mona Vale, on the return Journey. Colonel Ryrie was greatly impressed with the site, and agreed that the authorities would have difficulty in obtaining a better one
. He favored the site In preference to any he had seen. NAVAL COLLEGE SITE. (
1911, July 12
).
The Sydney Morning Herald
(NSW : 1842 - 1954), p. 16. Retrieved from
http://nla.gov.au/nla.news-article15259528
WILSON.-September 2, at Cambridge, Professor James Thomas Wilson, F.R.S., in his 85th year. Family Notices (

1945, September 4

). The Sydney Morning Herald (NSW : 1842 - 1954), p. 12. Retrieved from http://nla.gov.au/nla.news-article27921671
TO THE EDITOR OF THE HERALD Sir,--Friends of childhood are glad to know that occasionally the question of playgrounds for children is considered by those in authority. We hear now that the municipal council of Sydney will soon carry out a long-discussed plan, and will set aside a portion of the Flag-staff Hill for the use of boys--a third area for this large city--and we are thankful for small concessions. But if you will allow me I would call the attention of the general public, and especially of women, to the fact that such play areas, particularly when without superintendents, have little value except for big boys, and are of no use at all to small children or to girls
ANDERSON.-On Good Friday, at Paris,
Maybanke Susannah Anderson,
wife of Emeritus Professor Anderson, University of Sydney,
aged 82 years
. Family Notices (
1927, April 19
).
The Sydney Morning Herald
(NSW : 1842 - 1954), p. 8. Retrieved from
http://nla.gov.au/nla.news-article16385934
Captain and Mrs. Patrick de Burgh
have returned from their honeymoon, spent at their house, Bayview, Pittwater, and have taken a flat In Wallaroy Road, Woollahra. Mrs. de Burgh was formerly Miss Elizabeth Rowland, daughter of Commander and Mrs. L. C. Rowland, of Newcastle. — SOCIAL AND PERSONAL. — (
1941, February 13
). The Sydney Morning Herald (NSW : 1842 - 1954), p. 16. Retrieved from
http://nla.gov.au/nla.news-article17738398
A quiet wedding took place at the Woollahra Presbyterian Church on Saturday, when Miss Jean Wilson, eldest daughter of Professor and Mrs. Wilson, of Edgecliff, Sydney, was married, to .Mr. Thomas de Burgh, eldest son of Mr. and Mrs. E. M. de Burgh, of Vaucluse. Rev. Mr. Reid officiated, and the bride wore a simple frock of embroidered muslin and a white satin hat adorned with roses and tulle. ' She carried a bouquet of white carnations and maiden hair fern. Miss Una de Burgh", the bridesmaid, had a dainty frock of palest "pink crepe de chine, showing a tiered tunic, and a black tulle hat mounted with pink ribbon and sprays of tiny flowers, and she carried a bouquet of pink tea roses. Mr. Hugo de Burgh-acted as best man. A reception was held at the Queen's Club, where the gilest9' were received by Mrs. Wilson, who wore b, gown of nattier crepe de sole and a hat wreathed and mounted with nattier plumes, arid she carried a posy of stocks , and asparagus ferns; ' Mrs; de Burgh .had., a gown of black crepe de" chine made en turiique,- and a black velvet hat' lined with pale pink and mounted with two great 1 pink popples, with which tho corsage of her gown was also adorned. Her bouquet was of pink sweet peas and maidenhair fern.

Later Mr. and Mrs. Thomas de Burgh left for Bayview, where the honeymoon is to be spent.

IN SOCIETY AND OUT. (

1914, September 2

). The Sun (Sydney, NSW : 1910 - 1954), p. 3. Retrieved from http://nla.gov.au/nla.news-article229861762
HAD SCHOOL IN YELLOW BUNGALOW
MRS. ALLAN CLUNIES-ROSS, tutorial lecturer in pyschology at Sydney University
, was a passenger on the Orford to-day. During her several months' stay in England she did research work in pyschology at Cambridge University.
While in England she stayed with her father, Professor J. T. Wilson of Cambridge, formerly Professor of Anatomy at Sydney University.
Mrs. Clunies-Ross, who specialised in sense training while abroad, also studied the methods employed at the Various kindergartens and day nursery schools. "Australia Is very up-to-date In this respect, and can show other countries much that Is helpful," she said. "In Glasgow I saw one of the best day nurseries. It consisted of two beautiful bungalows of pale yellow, and all the children were dressed in red and white, 'which was a delightful thing to see; in one of the worst slum areas in' Scotland. Tills gives children such a wonderful start in life." While in London, Mrs. Clunies-Ross met Miss E. Town, formerly superintendent' of the Day Nurseries here.
MRS. ALLAN CLUNIES-ROSS, of Woollahra, who during her stay abroad studied psychology at Cambridge University. She was met today by Mr. Clunies-Ross and her son Mr. Patrick de Burg. HAD SCHOOL IN YELLOW BUNGALOW (
1939, April 5
).
The Sun
(Sydney, NSW : 1910 - 1954), p. 28 (LAST RACE ALL DETAILS). Retrieved from
http://nla.gov.au/nla.news-article231102616
Mr. Duffy, with no labor but his own, obtained £43.-for peas from an acre and a quarter, which, less than a year before, was bush land. Even then the land is available for one or two crops of something else during the same year, according to what may be planted. The main requirement to obtain this result is health and strength, for the expense outside labor is exceedingly small.
Another grower right
on the Warriewood boundary
has actually received £22 from about a quarter of an acre of peas, and other crops have given exceedingly good returns. ON THE LAND. (
1906, October 7
).
Sunday Times
(Sydney, NSW : 1895 - 1930), p. 2. Retrieved from
http://nla.gov.au/nla.news-article126562172
DUFFY-March 30 1934 at a private hospital Sydney,
Daniel Joseph DUFFY, cherished husband of Florence Camilla Duffy of Bayview Pittwater
Privately interred. Family Notices (
1934, April 3
).
The Sydney Morning Herald
(NSW : 1842 - 1954), p. 8. Retrieved from
http://nla.gov.au/nla.news-article17077441
Bayview is steadily rising in Importance. Thousands who visit the locality gush over its lovely scenery, and its residents regard it as one of the most favored spots oil earth; and If any suggestion be made to the contrary, they are ready with numerous arguments to support that opinion. The present Government, acting upon the sagacious suggestion of the member for the district, Mr. Dugald Thomson, has caused to be constructed there a new pier, which will be appreciated not only by the frequent callers who make the journey thither by water, and whose yachts, during the season lend an additional charm- to the seascape, but by the settlers in the place, who receive and send away many tons of produce in the year. The official opening of the pier took place on Saturday, and a small party left Sydney in the early morning to take part in the proceedings. Among the visitors were: Messrs. Dugald Thomson, Millard, arid Cohen, M.L.A., Dr. Cullen. M.L.C., the Mayor of Manly (Alderman Fletcher), the Mayor of North Sydney (Alderman Purves),and Alderman T. J. West (Mayor of Paddington). Although somewhat threatening in the early part of the day, there was no rain, for which the party appeared thankful.
The journey over the road from Manly acted like a good tonic, and all were in good spirits when they arrived
at Bayview, where they received a cordial welcome from Mr. P. T. Taylor, president of the local progress association, Mr. J. J. Roche, and other residents.
After a pleasant chat about the weather, the fruit-producing powers of the district, the poultry, and suchlike matters of importance, the visitors were conducted under a gaily-decorated arch down the approach to the wharf. The latter is strongly built, is 140ft long, and there is a good depth of water alongside.
Mr. Thomson mounted a portion of a recently-discharged cargo, and was requested by Mr. Taylor to perform the interesting ceremony. In giving expression to that desire, Mr. Taylor intimated
that the residents were very much indebted to the Minister for Works (Mr. O'Sullivan), and to Mr. Thomson, for the erection of the wharf. Successive Ministers had promised that it should be done before, but their promises had been of pie-crust frailty. However, when the Minister visited the place with the member for the district a little while ago, he was impressed with its necessity, and tenders were called a few weeks later. That, of course, spoke volumes for the energy of the present Government, and particularly for Mr. O'Sullivan. Mr. Thomson, in that spirit of modesty which becomes a member of Parliament so well, declined to take all the credit for the work. 'There were, he said, the strongest grounds for carrying it out Those of you who have been living here for so many ears will remember the difficulties that have been experienced in landing goods. Men were obliged to wade through mud, and women and children to be carried. The work was certainly warranted. You will also remember that Mr. Roche, with commendable energy and enterprise, constructed a wharf himself, which the waves, with equal energy and enterprise, quickly destroyed, and it became necessary to have some better and more substantial means of approach. The Minister saw that necessity, and could not resist fulfilling his promise. I am glad you have the wharf, which will be of immense use to the district, and I hope that this ceremony will be a happy omen for the future.
The ceremony over, the party boarded the steam launch Surprise, and were conveyed round Pittwater, and a delightful hour was spent viewing' the glorious scenery which meets the eye on all sides.
They were landed opposite the establishment of Mr. Buist, at which they enjoyed an excellent luncheon
. The toast of 'The Queen' having been honored, Mr. L. Hopkins proposed the 'Ministry and Parliament.' ,In responding, Dr. Cullen referred to the importance of the Bayview district. Its claims would, he said, be recognised in the future, and (although they might have to wait for it, the tramway would come at last. With reference to the second Chamber of Parliament, the members of that body were abused and ridiculed a great deal; but they had to ask themselves if they had any business there unless they had to exercise their judgment upon the measures submitted to them — to act fairly and squarely to the whole of the people of the colony. He claimed that, with all its faults, the Legislative Council had tried to do so. He claimed that the second Chamber had rendered many services to the country during the present session. Over and over again the representatives of the other branch of the Legislature, who were elected by the people, were tempted by the least thoughtful to forget the duties, which thy owed to the sober-minded, hard-working members of the community, who were not so well represented in the other Chamber; and measures that were passed by representatives who sat night and day needed the close attention of a revising Chamber. He appealed to the people of New South Wales to remember that while they had a second Chamber it was entitled to respect. If they did not respect it, let them sweep it out of existence at once. Although he was not in favor of a nominee Chamber, with life tenure, still that was better than having only one Chamber, but if it was not worthy of respect it should not be there. If the people wished for faithful service, and a court of appeal that would try fairly and squarely to serve the interests, not of any one class, but of the whole population, let them show the press of the country that they respected the Legislative Council and appreciated the work of its members. Mr. Millard, M.L.A, also responded. Mr. Cohen, M.L.A., proposed 'Success to the District,' and during his remarks made reference to the fact that its member would be a candidate for a seat in the Federal Parliament, expressing a hope that he would be found among its members. Mr. Mr. Purves supported the toast, and in doing so said he believed it was the Minister's intention to construct a tram lino from Manly to Bayview. The toast was also responded to by Messrs, Taylor, J. Symonds (hon. sec), and Joseph Waterhouse. Mr. W. H. Vivian proposed 'The Member for the District,' which was cordially honored. Mr. Thomson spoke at 6ome length in reply. Mr. C. Bennett proposed 'The Visitors,' which was responded to by Alderman Fleischer and Alderman West. A VISIT TO BAYVIEW. (
1900, December 3
).
Evening News
(Sydney, NSW : 1869 - 1931), p. 4. Retrieved from
http://nla.gov.au/nla.news-article114014867
TAYLOR-SAUNDERS.-February 22, at St. Philip's Church, by the Rev. Canon Bellingham, Donald, eldest son of P.T. Taylor, to Ada May, eldest daughter of C.J. Saunders. Family Notices (
1913, March 12
).
The Sydney Morning Herald
(NSW : 1842 - 1954), p. 12. Retrieved from
http://nla.gov.au/nla.news-article15404402
TAYLOR - September 16 1933, at a private hospital, North Sydney, William Donald Mawney, beloved husband of Ada May Taylor, of Broombee, Elamang avenue, Kirribilli. Family Notices (

1933, September 18

). The Sydney Morning Herald (NSW : 1842 - 1954), p. 8. Retrieved from http://nla.gov.au/nla.news-article17008068
The funeral of Mr. W. D. M. Taylor, a director of the firm of Messrs. P. T. Taylor, Ltd., merchants, of York-street, took place yesterday from the chapel of the Church of England Grammar School. The remains were cremated at Rookwood. The chaplain of the school (the Rev. Nigel Beckett T. Backhouse) took the service and the head-master (Mr. L. C. Robson) read the lesson. Chief mourners were Mrs. Taylor (widow), Mrs. P. T. Taylor (mother), Mr. P. Taylor (son), and Mr. W. R. Sayers (uncle). There was a large representation of business and yachting Interests. MR. W. D. M. TAYLOR. (
1933, September 19
).
The Sydney Morning Herald
(NSW : 1842 - 1954), p. 7. Retrieved from
http://nla.gov.au/nla.news-article17008399
Mr. W. D. M. Taylor, a director of the firm of Messrs. P. T. Taylor, Ltd., merchants, of York-street, city, died in a private hospital on Saturday, aged 49 years. He was a son of the late Mr. P. T. Taylor, M.L.C, and was educated at the Church of England Grammar School, North Sydney.
Mr. Taylor, who is survived by a widow and two sons, one of whom was a distinguished athlete at North Sydney Church of England Grammar School some years ago, was an enthusiastic yachtsman, and was regarded as one of the ablest skippers on the harbour. He attended a navigation school, and obtained a master mariner's ticket so that he could carry out deep-water cruises. For 28 years he was a member of the Royal Sydney Yacht Squadron, was also a member of the committee, and was a member of the Union Club When Lord Forster was Governor-General Mr. Taylor sailed with his Excellency on the Governor-General's yacht Corella Mr. Taylor owned the yacht Triton.
Death of Well-Known Yachtsman
The death to-day of Mr. W. D. M. Taylor has removed a figure as well known and respected in yachting circles as the late Keith Harrison was in the world of golf.
Don Taylor was one of the ablest skippers on the Harbor. He was a member of the committee of the Royal Sydney Yacht Squadron. When Lord Forster was Governor-General Mr. Taylor sailed with his Excellency on the latter's yacht Corella. Mr. Taylor became ill last Saturday, and died in a private hospital early this morning. He was a son of the late P. T. Taylor, M.L.C., of the firm of P. T Taylor. Ltd., merchants, York-street. He leaves a widow and two sons, one of whom, Mr. Pat. Taylor, was a distinguished athlete at North Shore Grammar School a few years ago.
Airman's Brother
The late Mr. Taylor's brother. Captain P. G. Taylor, is now In England with Flight-Lieutenant Ulm, whom he is accompanying in the aeroplane "Faith in Australia." The late Mr. Taylor owned the yacht Triton. He was a member of the Union Club. The funeral will take place on Monday, following a service to be held at the Sydney Church of England Grammar School chapel, at 10.30 a.m. Mr. O. A. Meyer, who had been associated with Mr. Taylor in the Royal Sydney Yacht Squadron, said that extreme regret would he felt by all who had come into contact with Mr. Taylor during the 28 years in which he had been a member. "He was held in very high esteem by local yachtsmen, and was recognised as a leading character in the sport." said Mr. Meyer. "He was an acknowledged boat expert and feelings of sorrow at his death will extend to many Australian clubs, as Mr. Taylor had been prominent in the competitions of other States."
Keen Sportsman
"Mr. Taylor enjoyed extreme popularity with all his friends in and out of sporting circles," said Mr. J. L. Milson, Rear-Commodore of the Royal Sydney Yacht Squadron. "He had been actively associated with the squadron up to the time of his death, and besides being a yachtsman of the highest standing, took a very keen interest; in an social activities.
"An illustration of Mr. Taylor's keenness at the sport is provided by the fact that he attended a navigation school, and took a master mariner's ticket to enable him to carry out deep-water cruises." MR. W. D.M. TAYLOR (
1933, September 16
).
The Sun
(Sydney, NSW : 1910 - 1954), p. 7 (LAST RACE FOOTBALL). Retrieved from
http://nla.gov.au/nla.news-article229157985
I can see him now; always neat and well dressed. Always neat would, perhaps, be his best epitome. You never saw any sheets or runners dragging overboard on his boat, and it was characteristic of him to have every-thing in good order.
My earliest recollection of "Don" is playing where the school now stands. The school had not been started in those days, but he afterwards attended it, where he was a prefect, and added to its fame in the field of sport. He stroked the 1901 crew, and played with the first fifteen. On leaving school he entered his father's business as a merchant and was a director of P. T. Taylor, Ltd. He was a member of the Union Club, of the S.C.E.G.S. Old Boys' Club, Royal Sydney Yacht Squadron, and Sydney Amateur Sailing Club.
Though he was interested in most sports, his love was for yachting, and Sydney has lost one of her best yachtsmen. What he did not know about a boat was hardly worth knowing. He was one of the few yachts-men to hold a certificate as master of a sea-going pleasure yacht. I think I will not be challenged when I say that he was the father of the 21ft class boats, in the Inauguration of which he had the hearty co-operation of Lord Forster, whose boat, Corella, he sailed with much success, and afterwards the same boat for Lord Stonehaven. He was for 28 years a member of the Royal Sydney Yacht Squadron and an active committeeman for many years, besides being the club's representative on the Sydney Yacht Racing Association. He was also a member of the Sydney Amateur Sailing Club, in which he took a keen Interest.
But it was away from the bustle of the harbour that Don shone. He was at home on the water, and whilst members of his crew went ashore as opportunity offered he was content to stay aboard for a week or more at a time doing odd jobs about his boat, which he rigged himself, even doing the wire-splicing, and those who know what it is to work steel wire will appreciate this. He was one of the few skippers with whom I would go anywhere - he took no undue risks, but if the weather caught him he had an uncanny instinct, and never, so far as I know, did he have any serious mishap. He knew the New South Wales coast, and he knew his boat.
One of his sons, Pat,
or, Percy, as he was known at the school, completed his education there, and is a chip off the old block in a boat. His younger son,
Donald, is still at the school, and treats the water as though he were a fish. "
DON" TAYLOR. (
1933, September 19
).
The Sydney Morning Herald
(NSW : 1842 - 1954), p. 10. Retrieved from
http://nla.gov.au/nla.news-article17008171
Representatives from Sydney's business community and aquatic circles were among the large crowd in the chapel of the Church of England Grammar School, North Sydney, today, when the burial service was read before the funeral of the late Mr. W. D. M Taylor. "He was an Old Boy of this school," said the school chaplain (Rev. N. a'B. T. Backhouse), in a short eulogy. "A former prefect, a member of the crew, and 15, he was a skilled and enthusiastic yachtsman in later life. Your presence in this chapel to-day is a wonderful tribute to his memory." Mr. L. C. Robson (headmaster) read the lesson. The school flag was flown at half-mast from the tower as the funeral moved off for Rook-wood. The chief mourners were Mrs. Ada Taylor (widow), Mrs. P. T. Taylor (mother), Mr. Pat Taylor (son), and Mr. W. R. Sayers (uncle). Others present were: — Mr. George Nicholls (director), Mr. D. J. Ryan (manager), and Messrs. A. Demur, C. Hall, W. Knight, and R. Knight (employees, Messrs. P. T. Taylor. Ltd.). Messrs. R. I. Sayers. G. P. Sayers, R. A. Frevost. K. N. Larkin, Dr. J. L. T. Iblster, Mr. F. F. Whyte. Mr S. D. Wenborn (Sydney Yacht Racing Association). Messrs. J. McKinley, J. C. Davlcs. C. B. Westmacott, F. W. Htckson, Frank Buchanan (R.P.A.Y.C.) Mr. and Mrs. W. Paul. Messrs. \V. J. Oliver, T. Blades. Sir John Peden. Messrs. O. Prendergast. R. R. H. Moore, R. T. McKay (Harbor Trust). J. Gosling (president. Law Institute), A. B. 8. White, H. H. Massle, H. H. I. Massie. C. H. Pearson, F. Doran, H. L. McDonald (R.P.Y.C.), W. J. Creagh, J. McLaughlin, J. D. Banks, Peter MacDonald, Lex Buckle. F. B. Langley, E. Falrall, D. M. Dixon, F. and D. Morrison. E. P. Andrews. T. M. Banks, W. R. Watson, R. T. Smyth-King, O. H. Harding, Trenham Old, Harold Snxton, Syd. and Roy Leigh, Dr. H. C. Fitzhardinge, Dr. E. D. Clark, Dr. Stuart Studdy, Dr. Howard Bullock. Messrs J. B. Thompson, A. W. Wedder-burn (manager, Sydney Ferries), C. E. Cameron, Col. E. H. Reynolds. Col. J. Trovers., Col. A. Spain (chairman. Anniversary Regatta), Messrs. Paul Ross (commodore), James L. Milson (rear-commodore), E. J. B. MacArthur (vice-commodore), Walter J. Morson (secretary). Charles p. Bartholomew (R.S.Y.S.), H. S. Archibald, Arthur Muston, (representing Prince Edward Y.C.), R. L. Patrick, C. Milburne Marsh. Gordon C. Turnbull (president. C.E.Q.S. Old Boys' Union), Chas. Trebcck, John M. Hordern. Wm. Tomalln (secretary, Union Club), George Snow. W. A. Taylor, Frank Buchanan. Hans Fav (Consul-General, Norway). Cuthbert W. Robson (vice-commodore Sydney Amateur Sailing Club), P. Usher, S, Wenborn (Sydney Yacht Racing Association). Messrs. Ivo Clarke, Edwin T. Pentold, Percy S. Arnott, John Buchanan (R.P.A.Y.C.)1 L. V. Turner (W H. Paling, Ltd.), H. B. Allard, E. G. Allard. L. L McCarthy, J. M. Goddard, M. N. Goddard, T. W. Bremner, O A. Meyer. A Travers Black, J. Murray. K. Anderson, R. A. Wilson, Horace Muston, J. T. Wright (rcoresentlng Mr. Arthur H. Davles). Messrs. R. J. Puflett, D. F. Roberts (SC.E.G.S. Old Boys' Club), Walter L. Dendy (general manager, Port Jackson and Manly S.S Co.), James W. Bragg, E. Hungerford, G. B. Humphreys, Mr. Halse Millett. Messrs. Alexis F Albert, M. F. Albert, Selwyn F. Betts, V. V. Nathan, Roystone Davey, R. L. Massie, W. Morrell Mackenzie, C. U. B. Gurnett, Waiter Linton, W. Parkhurst, J. II. Bevan, G. T. Uther, S. Spain (Pittwater Regatta), H. J. Fitzpatrick, W M. Paul, A. C. Fletcher, P. O. Smith, F. Dodds, A. D. Fisher, R. E. Millard. H. R. McWilliam O. H. Harding. W. R. Sayers, Dr. D. Kelly. Messrs. J. C. Hlngston, Harry Wrst, F. A. Lomer. Messrs. Randal W. Carey, G. E. Browne, B. i. Black, F. P. Cooper, K. McKinlay Fletcher H. L. McDonald. Orwell Phillips, R. H Goddr.rd. C Steuart Christie (Royal Sydney Yacht Squadron), R. W. Lenchan. Lt.uglas L. Do.'vdei: (Orient Co.). C. H. Hughes (Union SB. Co.), James Hogarth, S. A. Grace. H. Nossiter, H. R. Osborne. H. Hurk. Messrs. Richard H. C. Down (Commodore, S.A 3 C.), F. C. S. Sandeman, H. J. Fltz-. Patrick (Roval Motor Yacht Club. Broken Bay). P E. Browne. W. H. Linton. Wilfrid R Browne, R. Bennett, Jame Wilson. John Duncan (Sydney Ferries), Harold C. Thompson. Gilbert Coles, 8. S. Cohen. Gordon 0. Turnbull (president, Shore Old Boys' Union), Remington Shetliffe T. Ferris. BIG FUNERAL (
1933, September 18
).
The Sun
(Sydney, NSW : 1910 - 1954), p. 8 (FINAL EXTRA). Retrieved from
http://nla.gov.au/nla.news-article229156709
The old-time Sydney Amateurs provided some excellent racing during the season Just: over.
In A class Lina, which, by the bye, has just changed hands, having been purchased by Mr. Don Taylor, leads the list, and secured Mr. J. M. Shelley's trophy.
SAILING. (
1911, April 15
). The Arrow (Sydney, NSW : 1896 - 1912), p. 10. Retrieved from
http://nla.gov.au/nla.news-article122140751
THREE OF THE COMPETITORS IN THE W. D. M. ('DON') TAYLOR MEMORIAL HANDICAP.
Left to Right : June Bird (A.I9), H. M. Aspinall; Nyria (A.23), W. Whiddon; and Mischief (A.2), B. Spain. There were 20 starters in this race, which was won by Sapphire (T. M. Wayland). The vessel in the distance — on the left — is not a competitor.
The Pittwater Regatta (1935, January 2)
.
Sydney Mail
(NSW : 1912 - 1938), p. 42. Retrieved from
http://nla.gov.au/nla.news-article166110802
LIEUT. KENNETH TAYLOR'S

DEATH.
The friends of Mr. P. T. Taylor, M L C, will regret to learn of the death, on June 17, of his son, Lieut. Kenneth Taylor, as the result of wounds received in action in France.
Deceased left Sydney at the end of 1915, and upon his arrival in England enlisted as a private in the Royal Field Artillery. Later he was transferred to the Royal Siege Artillery, and quickly won a commission. He had been mentioned in despatches on more than one occasion. He was with the firm of Messrs David Fell and Co., accountants. He was 28 years of age. He received his early education at the Church of England Grammar School, North Sydney, completing it in England. The flags on the steamers belonging to the Sydney Ferries, Limited, of which Mr. P. T. Taylor is a director, were yesterday hoisted half-mast. Mr. Taylor's youngest son, Gordon is with the Aviation Corps in France, and also holds the rank of lieutenant. LIEUT. KENNETH TAYLOR'S DEATH. (
1917, June 21
).
The Sydney Morning Herald
(NSW : 1842 - 1954), p. 6. Retrieved from
http://nla.gov.au/nla.news-article15719774
The Great Public Schools are still losing some of their finest representatives at the front. Among the latest of Sydney are Lieutenant Kenneth Taylor and Lieutenant Brendon Lane Mullins. The former, the second son of the Hon. P. T. Taylor, M.L.C., was educated at Church of England Grammar School, North Sydney. He was a brilliant student, and a fine all round athlete, being stroke of the Shore eight in the Head of the River contest. In addition he was a leading footballer. He left Sydney in December, 1915, and enlisted as a private in the Royal Field Artillery. He was transferred to the Royal Siege Artillery, received his commission in the field, and was mentioned in despatches. His father is one of the best known men in Sydney commercial circles. A brother is with the aviation corps in France. MORE OLD BOYS KILLED. (
1917, June 27
).
Referee
(Sydney, NSW : 1886 - 1939), p. 11. Retrieved from
http://nla.gov.au/nla.news-article120292055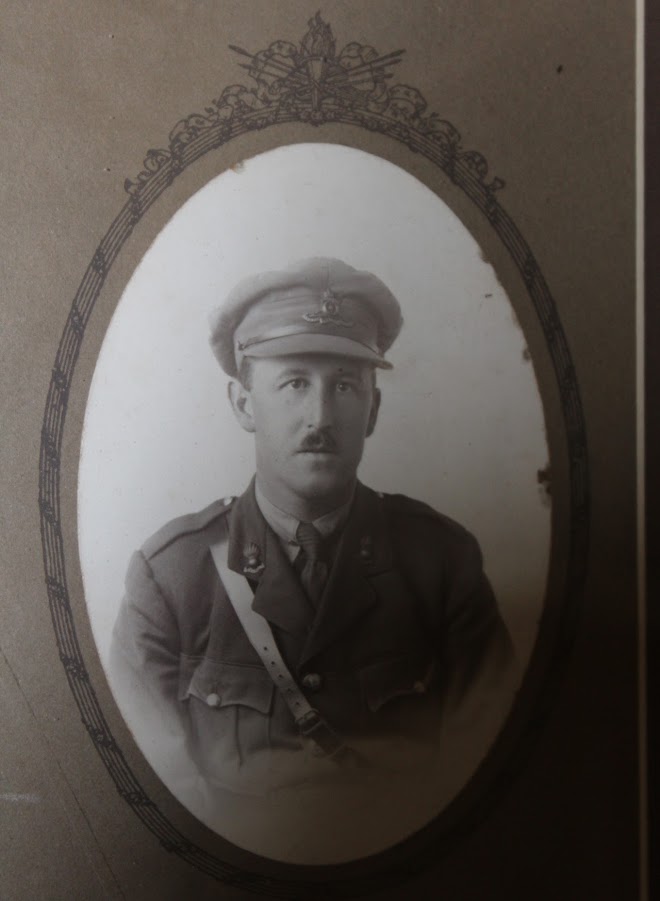 P. G. ("Bill") Taylor is so enthusiastic about living at Bayview that he has become the "un- official" real estate man for the district. He has persuaded a number of his friends to live there, or buy land to build houses. At the moment the Taylors are having school trouble. Their elder daughter, Jenny, is six, and they feel it is time she was educated. So instead of moving to a suburb with a school. Bill is bringing a school to Bayview.
A number of other parents are interested in the school project. Already a former Army hut has been commandeered as a school-house; but so far there is no teacher. However, they are hoping to find a teacher and start school after Christmas.
Newport, on the other hand, has two teachers and no school-house. Temporarily, lessons are being held in the church hall. Mothers on the committee are organising a fete to raise funds to buy an Army hut for a schoolhouse. The fete is to be held at the surf club on November 30. [?]'s Column (
1946, October 31
).
The Sun
(Sydney, NSW : 1910 - 1954), p. 13 (STUMPS EDITION). Retrieved from
http://nla.gov.au/nla.news-article229542318
Lady Taylor, wife of the distinguished airman Sir Patrick Taylor, news of whose knighthood was received today, is delighted at the honor conferred on her husband. The couple received many congratulations at their Bayview home where they spent the day. Lady Taylor was founder-teacher at the Loquat Valley private school at Bayview, which her husband founded in 1947 and the Taylors still take a great deal of interest in the school, although Sir Patrick no longer owns it. People Parties and Plans (
1954, June 10
).The Sun (Sydney, NSW : 1910 - 1954), p. 41 (LATE FINAL EXTRA). Retrieved from
http://nla.gov.au/nla.news-article230777705
Mrs. P. T. Taylor, of Bayview, Pittwater, is one of the many ladies who are engaged helping the Red Cross appeal. Next Saturday, July 31, a large number of guests, will be present at an American tea she is giving. RED CROSS DAY, AUGUST 6 (
1926, July 25
).
Sunday Times
(Sydney, NSW : 1895 - 1930), p. 16. Retrieved from
http://nla.gov.au/nla.news-article128125985
Patrick Thomson Taylor
WELL-KNOWN BUSINESS MAN'S DEATH.
Mr P. T Taylor, MLC, governing direct-or P. T. Taylor, Ltd , merchants, died at his residence, Chesterton, Rosemount street, Woollahra, on Thursday night Mr Taylor who was 60 years of age, had been In failing health for the last two years. Mr Taylor was born in Renfrewshire, Scotland, and, after a period of private tutorship, proceeded to the Glasgow High School, where he completed his education. On leaving school he was articled to a firm of accountants in his native city, but before the completion of the indentures ill health led him, at the ago of 19 years to visit Australia. Twelve months on a Liver pool Plains station brought about a restoration of health, and he entered the office of Alfred Lamb and Co. He next joined the Australian Kerosene Oil and Mineral Company at Joadja Creek, near Mittagong, as an accountant, Soon afterwards he was appointed manager by Mr. T. F. Knox, and, though only 22 years of age at the time, he had under his control between three and four hundred men. In this position he remained two or three years, and shortly afterwards founded the business that bears his name. The late Mr. Taylor was appointed to the directorate of the Sydney Ferries, Ltd., about 25 years ago, and for a considerable portion of that time he was chair man of directors, a position he took when Mr. W. C. Goddard relinquished the post. He had a profound faith in the future of North Sydney, and the strength and remarkable efficiency of that company are largely due to his energy and foresight. Mr. Taylor was also chairman of directors of the New South Wales Fresh Food and Ice Company, Ltd., and a number of other companies, positions which he relinquished comparatively recently owing to ill-health. At the time of his death he was a director of the North Shore Gas Company the Australian Gaslight Company, J. Meloy Ltd., the Newcastle and Hunter River S.S. Company, Ltd., the Norwich Union Fire Insurance Society, Ltd., the Norwich and London Accident Insurance Association, Toohey's Ltd, and the Royal Sydney Exchange
In April. 1917 Mr. Taylor was appointed a member of the Legislative Council, and during the war he was selected by the Federal Government as a member of the Royal Commission to inquire into the organisation of the Australian navy. Mr. Taylor assisted in the formation of the present State National party which brought together the expelled Labour members and the Liberals of the day. He was one of the first aldermen of Mosman and the second Mayor, a position he held for a number of years. He was, in fact, largely instrumental in bringing about the separation of Mosman from the municipality of
Sydney.
One of the heaviest commercial undertakings of his career was that of representing the Sydney Gaslight Company in the famous arbitration case over the company's claim against the Government relating to the resumption of the Kent-street works. A condition of the submission of this matter to arbitration was that there should be no representation by barristers or solicitors on either side. Many intricate questions were involved in the case and the outcome was that the company was awarded compensation totalling £535,000, a sum materially in advance of the Government's original offer.
Mr. Taylor is survived by his wife, two sons and a daughter (Mrs. Greville Bell, of Ceylon) His eldest son, Mr W. D. M. Taylor, is engaged in the business of the firm. Captain P. G. Taylor, M.C.. R.F.C. served in the war, while a third son, Lieutenant Kenneth Taylor., of the R.F.A. was killed in action in France.
The late Mr. Taylor found relief from business cares in farming pursuits, and most of his spare time was spent at 'Moyne Farm," a property he acquired in the Little Hartley Valley some years ago. He as always been interested, too, in the welfare of Pittwater, and was one of the first to appreciate the attractions there He had a week-end retreat at Pittwater for many years and Scotland Island was formerly owned by him.
The funeral will take place today, leaving his late residence for the South Head Cemetery at 10 o'clock.
MOTION IN LEGISLATIVE COUNCIL
Sir Joseph Carruthers moved, and it was agreed by the Legislative Council yesterday,
-"That the House place on record its deep sense of the loss sustained by the death of
Mr P. T. Taylor, and tenders its condolences to the relatives of the deceased." The mover said that Mr Taylor was a man was too little known to members of the House, by reason of the fact that he had taken no active part In their debated, but they all appreciated the high reputation associated with his name. Mr Taylor's high business probity was an example to others in this country. Mr R. J. Black, in seconding the motion, said he looked upon Mr Taylor's death not only as a loss to the House but to the general community. MR. P. T. TAYLOR (
1922, November 18
).The Sydney Morning Herald (NSW : 1842 - 1954), p. 12. Retrieved from
http://nla.gov.au/nla.news-article16044952
On Saturday morning, after an impressive service, conducted by the Rev. E. Ferguson, the funeral of Mr. Patrick Thomson Taylor, M.L.C., moved from his home, Chesterford, Rosemount-avenue, Edgecliff, to South Head Cemetery. Business and political circles of Sydney were represented by a large following of mourners, amongst whom were Mr. W. D. M. Taylor (eldest son), Captain P. G. Taylor (youngest son), and Mr. W. R. Sayers (brother-in-law), Messrs. A. W. Allen, R. J. Black, M.L.C., G. E. Browne, P. E. Browne, W. H. Brett, W. N. Cuthbertson, G. J. Cohen, C. H. Crammond, S. H. Cary, W. E. Clapin (Usher of the Black Rod, representing the President and Officers of the Legislative Coun-cil), E. Covell, F. Cutts, E. R. Dibbs, F. Dodds, F. Dodds, jnr., John Duncan, R. M. Farran, R. Fletcher, C. U. B. Gurnett, John Givins, W. J. Gallott, J. M. D. Goddard, Sir Thomas Hughes, M.L.C., Messrs. A. M. Hems-ley, J. Higgins, W. A. Holman, C. H. G. Henty, G. A. Hodson, R. C. Holmes Hunt, J. W. Jones, E. O. Jones, F. A. Kidd, Peter M'Donald, W. A. M'Kenzie, H. D. M'lntosh, M.L.C., H. M'Donald, S. Murray, H. Maxwell, G. S. Mackellar, H. L. Macdonald, H. H. Massie (representing the Commercial Banking Company of Sydney), G. Merivale (representing Messrs. Gibbs, Bright, and Co.), A. G. Milson, James Moir, T. O. Moriand, R. M. Moore, J. Meloy, H. R. Martin, J. W. Nicholls, R. W. Nelson, B. B. O'Conor, M.L.C., S. Partridge, W. Redmond, R. B. Randall, John Roche, E. V. Saddington, G. P. Sayers, C. J. Saunders, Dr. Spillar-Brandon, Messrs. G. E. S. Sande-man, D. Sheehan, J. T. Sheehan, F. Shercliffe, H. J. Thompson, F. J. Thomas, C. H. Tailby, Venour Nathan, F. E. Williams, Andrew Wilson, Robert Wood, J. W. Watt, F. Walker, F. N. Yarwood. There were also present representatives of the following companies, among others: P. T. Taylor, Limited, Australian Gaslight Company, Ltd., North Shore Gas Company, Ltd., Sydney Ferries, Ltd., N.S.W. Fresh Food and Ice Company, Ltd., Newcastle and Hunter River Steamship Company, Ltd.
Amongst the many wreaths were those bearing the cards of the deceased's family, the crew of the yacht Corella, the Pittwater Regatta Committee, Royal Exchange, and the Norwich Union Fire Insurance Company.
TAYLOR- SAYERS.-November 29, 1883, at Broombee, by the Rev. Roger McKinnon Presbyterian Manse St. Leonards,
Patrick Thomson Taylor, youngest son of William Taylor, of Glenlee, Dalmuir, Dumbartonshire, Scotland, to Alice Maude, fifth daughter to Edwin Mawney Sayers
, of Broombee, Kirribilli Point, St. Leonards. Family Notices (
1883, December 8
).
The Sydney Morning Herald
(NSW : 1842 - 1954), p. 1. Retrieved from
http://nla.gov.au/nla.news-article28372678
DEATH OF MR. E. M. SAYERS.
There died in his 91st year at his residence Melrose, Mosman, on Tuesday, Mr. Edwin Mawney Sayers a very old and highly respected resident. A native of England, he came to Australia in 1834
and took up his residence successively in Tasmania and Victoria. But about 60 years ago he came to Sydney, engaged in the shipping trade and soon became the owner of several vessels trading between Sydney and the neighbouring colonies. He was the first to establish a regular line of vessels to Melbourne and had the misfortune to have a brig named the Harp driven ashore. Mr. Sayers nothing daunted travelled with a number of men overland to the scene of the accident - Broken Bay - and after considerable trouble refloated the vessel. During this period Mr. Sayers resided at Lavender Bay and was to be seen daily rowing himself to and from the city. He took a lively interest in all that made for the advancement of the district in which he lived and was one of the founders of the North Sydney School of Arts. Mr. Sayers was also a warden of St Thomas Church, North Sydney, for many years.
From June 17, 1859, to April 16, 1860, Mr Sayers represented the old constituency of St Leonards in the Legislative Assembly. Mr Sayers left two sons and five daughters, one of his sons being Mr. W. R. Sayers, inspector of the Commercial Banking Company of Sydney, and one daughter the wife of Mr P. T. Taylor.
His interment took place yesterday at St Thomas Church of England Cemetery the officiating clergymen being the Revs E C Beck S Hungerford and C T L Yarrington.
In addition to the relatives of the deceased there were present-The Revs Joseph Best J II Chaseling G North Ash, Messrs T A Dibbs (general manager of the Commercial Banking Company of Sydney) T B Dibbs H H Massie C M Palmer M AA S Clarke W C Goddard J M D Goddard AS' A Dixon A B Sedgeley H P Brindle) J Quinn A C Laman I Smith H W Horning R L Sciutton W C Willis J Crowley J Dolton (secretary North Sydney School of Arts) Dr Doako Messis W H Nicholls II Bellett R Harnett G Larkin G N Larkin J Keane R Little T J Paige, F Blakeman
The death of Mr Sayers leaves only one living member of the first parliament of New South Wales under the Electoral Act of 1858. This is Mr S Lyons of Leura who represented Canterbury, and afterwards Central Cumberland. Mr Lyons who has been a resident of this locality for many years is hale and hearty and despite his weight of years goes regularly to Sydney to attend his business matters. DEATH OF MR. E. M. SAYERS. (
1909, December 9
).
The Sydney Morning Herald
(NSW : 1842 - 1954), p. 8. Retrieved from
http://nla.gov.au/nla.news-article15074381
MR. W. R. SAYERS TO RETIRE.
After more than half a century of service with the Commercial Banking Company of Sydney, Ltd Mr W. H Sayers who is manager of the head office of the bank, is to retire next month.
In 1867 Mr Sayers had the honour of being the first boy appointed by Sir Thomas Dibbs whose association with the Commercial Bank as general manager is inseparably associated with the history of the institution. Mr Sayers attributes his knowledge of banking and finance to the excellent opportunities which he enjoyed under the tutelage of Sir Thomas Dibbs. With the exception of a few months in country districts and some ten years occupancy of junior positions at the head office, Mr Sayers has been under the eye and in close touch with the management throughout the whole of his career. He has had the somewhat unique distinction of having received practically, the whole of his promotions while a member of the head office staff. Mr Sayers was appointed to his present important position in May 1918 upon the retirement of Mr A J Soutar.
Mr Sayers was born at Lavender Bay, Sydney on August 11 1852 and was educated at Calder House, Eveleigh, and Camden College. Newtown. His father Mr Edwin Mawney Sayers, represented North Sydney (then called St Leonards) in the first Parliament under responsible government and played a conspicuous part in the early public affairs of the State. In 1882 Mr Sayers was mar-ried to Miss Hime, daughter of Mr T W Hime of Liverpool ,England, and his family consists of two sons, Messrs George Sayers managing director of Wilcox, Mofflin Ltd, and Raleigh Sayers who served with distinction during the war, gaining the Military Cross; and two daughters, Mrs G. N. Larkin and Mrs A. A. Wilson.
An out of-doors man Mr Sayers has engaged in most field and aquatic sports, being especially prominent in rowing and cricket. For many years past he has devoted himself with enthusiasm to horticulture and floriculture. Together with his wife he has made a close study of hybridising and the production of new flowers and has been a successful exhibitor at flower shows for many years. Mr Sayers is an enthusiastic churchman and is regarded as something in the nature of the business manager of St Peter's Neutral Bay.
Mr Sayers has expressed himself as feeling keenly the prospect of officially parting from his present chief, Mr H H Massie, with whom he has been associated for a lifetime, and from his staff. He intends to enjoy a rest from the strenuous work attached to the duties of the present day responsible bank officer which will not, however, be accompanied by inactivity. VETERAN BANKER. (
1922, September 12
).
The Sydney Morning Herald
(NSW : 1842 - 1954), p. 8. Retrieved from
http://nla.gov.au/nla.news-article16024420
Of the Royal Flying Corps, who has been awarded the Military Cross. He is the youngest son of Mr. P. T. Taylor, M.L.C. He was educated at the Armidale Grammar School, N.S.W. Upon leaving school he enlisted in the A.I.F., and later received a Commission in the Royal Flying Corps in England, and has been in France for some time. He is 20 years of age. LIEUT GORDON TAYLOR, (
1917, July 8
).
Sunday Times
(Sydney, NSW : 1895 - 1930), p. 3. Retrieved from
http://nla.gov.au/nla.news-article122795669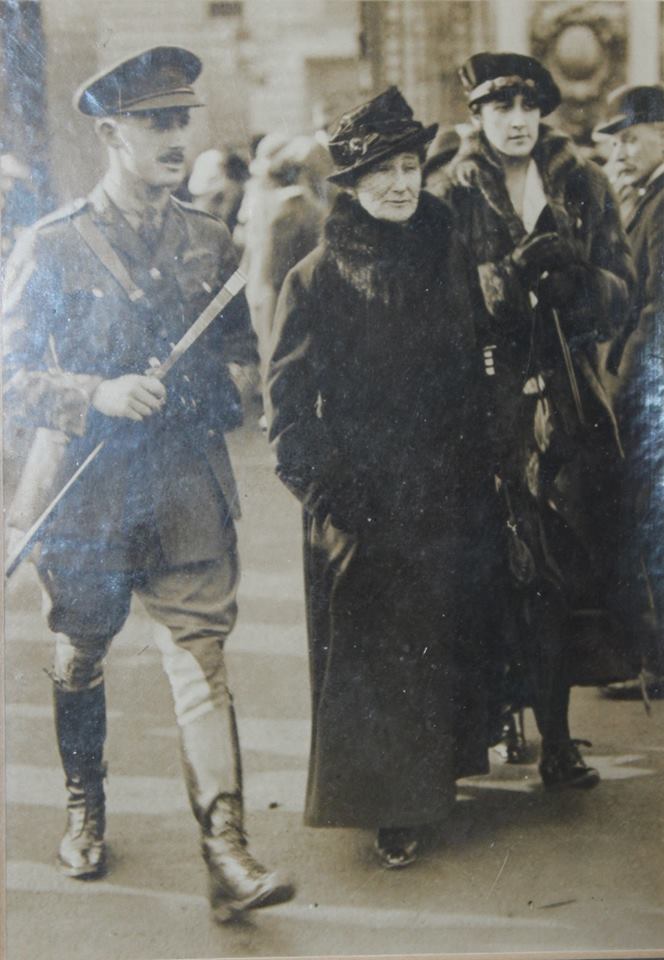 P G Taylor in London with his mother (Alice) and aunt Dorothy Saunders (known as 'Dolly') in 1916 - long prior to becoming 'Sir'.

Sydney yachtsmen yesterday gave sailing instruction to 150 boys of the Air Training Corps.
Prominent owners placed their yachts at the disposal of the corps to give the cadets an opportunity to gain expert instruction in navigation.
Wing-Commander Nigel Love,
who was in charge of the contingent, said last night that knowledge of sailing would be of great assistance in the handling of aircraft, particularly flying-boats,
(Pictures, page fl.)
R.A.A.F. AIR TRAINING CORPS'CADETS LEARN YACHTING
More than 140 cadets of the R.A.A.F. Air Training Corps manned 15 yachts on the Harbour yesterday for instruction in sailing.
Wing-Commander Nigel Love, owner of the Cirrus
, who is in charge of the cadets, has included yachting in the schedule of training to accustom the future airmen to the "feel" of the wind and the response to the tiller. Left: One of the cadets up the mast. Right: Cadets learning to set a sail. AIR CADETS SAIL YACHTS (
1942, May 11
).
The Sydney Morning Herald
(NSW : 1842 - 1954), p. 4. Retrieved from
http://nla.gov.au/nla.news-article17824416
Bride and sisters Waaaf corporals
LUXURY YACHTS FOR A.T.C. SAILING PARTY
EIGHT of Sydney's best-known and biggest yachts took relays of guests for short cruises in home waters yesterday at a novel garden and sailing party given by No. 2 Wing Headquarters of the Air Training Corps at the Royal Sydney Yacht Squadron, Kirribilli.
Though yachtsmen were not Impressed with the day's sailing weather the visitors thoroughly enjoyed the experience of being on board the yachts In the still, sunny afternoon. The party was given as a finale to the season's yachting activities of the ATC. More than 1000 cadets have received instruction this season at the Squadron,- which has been responsible for 400 Instructional sorties. Members of the squadron have made their yachts and skippers available for the batches of boys taken out of the Harbor each Saturday to gain knowledge of wind sense, the art of sailing and navigation. The sailing party will probably become an annual affair. Tea in garden A large marquee was erected . on the lawn- for afternoon tea; 'which was served after the sailing parties came ashore. Wing-Commander Nigel Love, of No. 2 Wing ATC Headquarters, spent a busy afternoon with parties of visitors on his yacht Cirrus, while Squadron-Leader Norman Woods, assistant wing commander of the Wing, received the guests as they arrived. Mrs. Love and Mrs. Woods were among the hostesses. ATC cadets saluted arrivals at the gates and escorted them to the jetty to go aboard the yachts.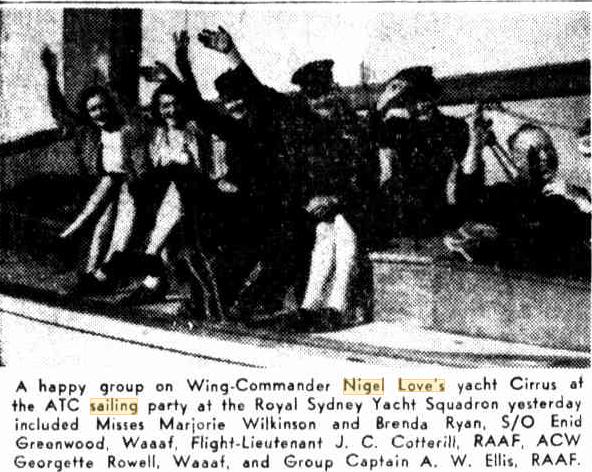 A happy group on Wing-Commander Nigel Love's yacht Cirrus
at the ATC sailing party at the Royal Sydney Yacht Squadron yesterday included Misses Marjorie Wilkinson and Brenda Ryan, S/O Enid Greenwood, Waaaf, Flight-Lieutenant J. C. Cotterill, RAAF, ACW Georgette Rowell, Waaaf, and Group Captain A. W. Ellis, RAAF.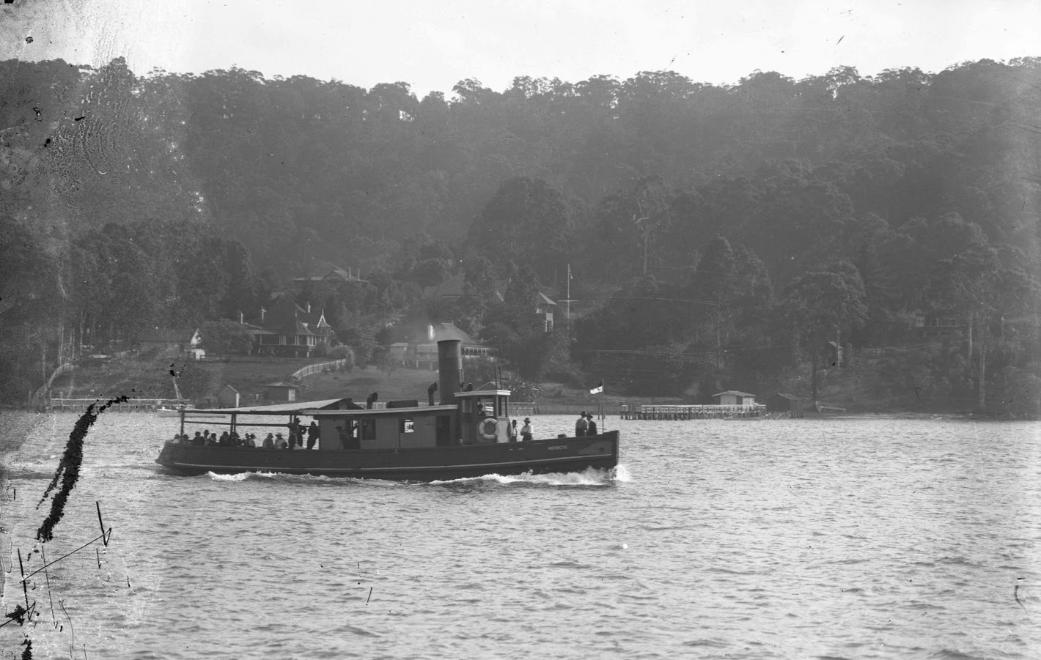 Tugboat ANTARCTIC during the 1924 Pittwater Regatta, courtesy Australian National Maritime Museum, Image no.: 10670, photo taken by William J Hall or his father William Frederick Hall - Andrews and Snow Families houses in background.