January 24 - 30, 2016: Issue 248
The Boarder Kontrol Innovation Makes This the World's Safest Skateboard
Tony Haddleton's son James testing out the brake innovation this week
The Boarder Kontrol Skateboard by StreetBoardz is the World's Safest Skateboard
Fear the downhill slope no more.
Kids learn SAFELY and adults skate downhill with control - just a normal skateboard with attachable features, including a brake!
We had a note from BL about this great new idea a few days ago:
Hi Al - We are all good in Hawaii and loving it. The waves have been all time - super consistent, really big and light winds.
Wanted to let you know about my good mates at Streetboardz Kickstarter campaign for their Boarder Kontrol skateboard product.
The skateboard has a brake and there is a retro fit kit so anyone could put a brake on their own skateboard - check it out.
It is a local Northern Beaches innovation by Tony Haddleton and a product revolution to skateboards, this is for everyone.
The deal is these boards will be available in stores from July for $320 but anyone can secure a board on Kickstarter now for $155, you'll get it at half normal price and be the first* in the world to have it - it's such a cool concept!
Here is the link to the Kickstarter campaign: www.kickstarter.com/projects/boarder-kontrol-skateboards
We had to know more of course, and were sent this information:
Australian-based StreetBoardz has introduced the world's safest entry-level skateboard. The lack of brakes and balancing system has always made the prospect of learning to skateboard a daunting one; StreetBoardz has solved all of those problems with their innovative 'Boarder Kontrol.'
Boarder Kontrol is a simple two-part system. The skater pulls the leash cable which in turn pulls the brake levers. From there, the brake levers push pads against steel discs on the back of the rear wheels. The harder the user pulls, the quicker the board stops. The leash enables the rider to brace and balance during braking.
Streetboardz has been manufacturing skateboards and distributing internationally since 2009 but it was only recently during a product meeting, that the team became curious when they noted that skateboards were the only wheeled vehicles not Kitted with standardized brakes. Further exploration and research conKirmed that this is for a good reason.
Bikes, cars and scooters have practical braking systems because handlebars, seats and seat belts brace the operator but a skateboard rider (standing upright) is vulnerable to the forward forces created if a board slowed suddenly with a rider standing on top.
Subsequent research indicated that this lack of control was a major deterrent for many people from ever considering to ride a skateboard. So the company experimented with bracing options and the Boarder Kontrol braking concept was born.
Boarder Kontrol is truly the world's greatest entry level skateboard. It takes away all the general fear and safety issues usually associated with skateboarding while still enabling riders the same enthralling experience of riding down a hill at controlled speeds on their board.
The Boarder Kontrol has an 8-ply deck, weighs 3.75 kg (8.3lb) and is 37.5 inches (95.25 cm) in length. Backers can also pledge to order a retrofit system, transforming traditional skateboards into the leash-enabled, braking Boarder Kontrol system.
Boarder Kontrol boards start at $155 AUD on Kickstarter with multiple quantities available at an additional cost.
Boarder Kontrol by StreetBoardz is now live and available for purchase on Kickstarter: www.kickstarter.com/projects/1008703715/boarder-kontrolskateboards-brace-yourself/description
Some Specifications:
Boarder Kontrol - the most practical skateboard for commuting
Ride the board normally - The board is a normal high-performance cruiser board for commuting.
Brake with control on hills - You will stop just like a car, bike or scooter.
Carry your board - You will always have a free hand to carry a phone, tablet, laptop or briefcase. Perfect for a busy city life.
Pack the leash away - Packs down to fit in your hand, clip to your belt or go in your pocket.
How the brakes work
The leash pulls a cable.
The cable pulls on brake levers.
Brake levers push pads against steel discs.
The harder you pull, the quicker the board stops.
The rider is simultaneously braced by the leash.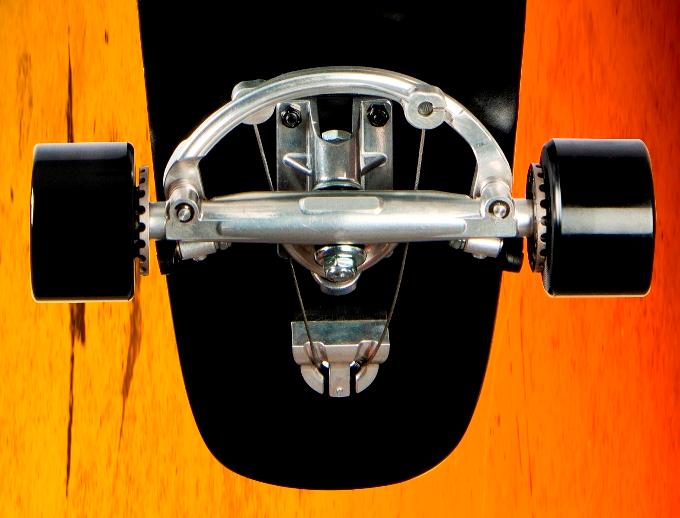 The board specs
Weight: 3.75 kilograms
8 ply deck suitable for all weights
Length: 37.5 inches long
Wheels: Diameter - 70 mm, Hardness - 83A
Bearings: ABEC 7
Board Performance: It goes well! - it has been set up by professionals.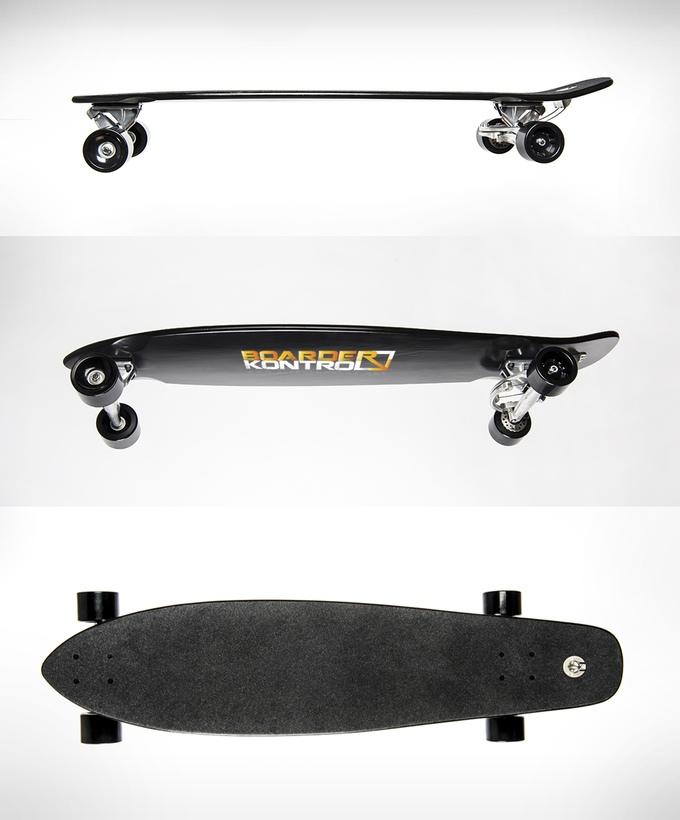 Replaceable brake pads
The brake pads ($4 per set x 2) are replaceable presenting a sensible option in comparison to $100 skate-shoes.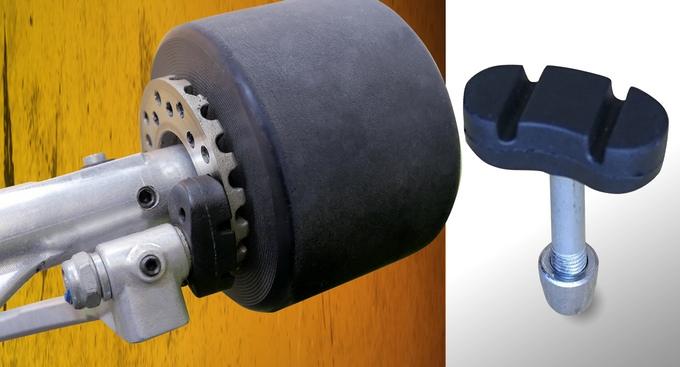 The Leash/Carry Strap
The leash simultaneously engages the brake and braces the rider.
The leash is a one-time adjustable strap. It can be set for a person of any height; both adults and children.
The leash converts to carry strap. First clip to the rear cable, then slip handle over either front wheel.
The leash pack inside the handle creating a small velcro case to conveniently fit in a pocket, attach to a belt or slip over your hand.
Safety
We recommend riders to always wear a helmet and protective gear.
We recommend to not allow a board to roll faster than the rider can run.
Always check parts for wear and tear and check for loose nuts, bolts or screws.
Avoid riding near traffic and/or obstacles.
Observe all local traffic laws, rules and regulations. Those for NSW may be accessed on the
Transport NSW page here
The steel brake disc can become very hot after extensive braking, do not touch the steel disc within 10 minutes of use.
Skateboard riding is an extreme activity, we are attempting to make it safer but people who choose to ride a skateboard do so at their own risk.
Maintenance checks
Always check parts for wear and tear and regularly check all adjustable parts; nuts, bolts, screws, cables and leash.
Skidding the rear wheels by braking hard will create flat-spots which then quickly deteriorate - one skid will begin the deterioration.
There is no warranty against flat-spots, this is recognised as fair wear and tear.
Defective parts or workmanship are covered under a 6 month warranty.
First time riders
Most skate coaches will tell you that the greatest problem first-time skateboard riders experience is the skateboard rolling out from under them.
Boarder Kontrol helps to prevent this problem, now beginners can more safely learn 'balance while in motion.'
The Retro-fitted kit
Please note that the Retro-fitted rear truck will only match a longboard with a reverse angle King-pin truck set (which is how most longboards are set up).
The Retro-fitted kit comes complete with the parts pictured below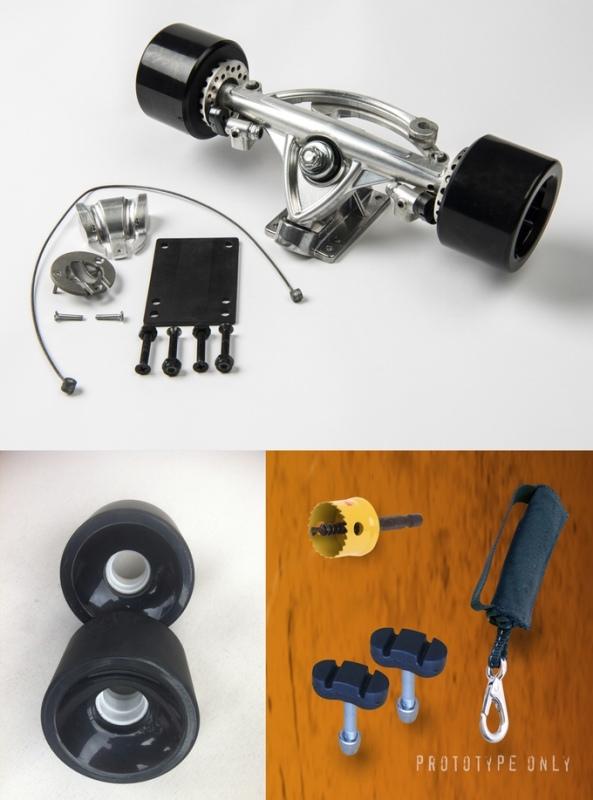 Adjustable Leash/Carry Strap
Front wheels to fit to your existing front truck (so that you have a full set of 4 matching wheels).
An extra set of 2 x replacement brake pads.
A 20mm hole-saw drill-bit to drill a hole in your existing skateboard deck.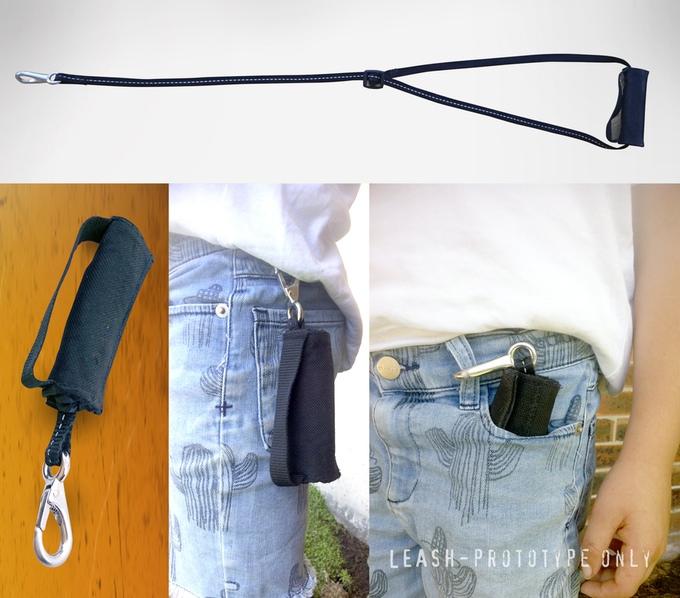 The Parts
All replacement parts will be available on the Streetboardz website
www.streetboardz.net
from May 2016.
Standard bicycle brake cables can be used to replace the brake cable.
Our rear wheels are unique, they have a moulded core that slots 'male to female' over the stainless steel brake discs.
Regular replacement parts
Outward thrust roller pin bearings (for outer rear wheels).
Replacement brake pads.
Wheels (front and back) of varying colours and hardnesses.
Brake cables (rarely required).
Abec 7 inner wheel bearings.
Replacement leashes.
Supply Risks
*
Estimated Delivery is May 2016
At Streetboardz, we have been manufacturing skateboards and distributing internationally since 2009. Our core product range have been specialised skateboards which are used for surf training.
We use a world-leading skateboard manufacturer to produce our products. We have cemented a strong and trusted relationship with this manufacturer over the past five years in which their services have consistently met our standards.
Our manufacturer has always delivered our products on time and their quality control measures have been very satisfactory.
Our manufacturer is excited about the Boarder Kontrol concept and shares a strong interest to make sure our first production run is a success and that our customers (backers) receive quality products on time.
90% of our project costs have already been paid for. We will use money forwarded from Kickstarter backers to pay for the remaining costs and to pay for the first production run of Boarder Kontrol skateboards.
If we achieve our small target of $50,000 we will easily have product delivered to backers by the end of May 2016 (give or take 2 weeks), this is even allowing for all holiday-season interruptions.