February 10 - 16, 2013: Issue 97
Woody Point Yacht Club 2013 Putt Putt Regatta
Another Classic Woody Point Yacht Club function, the annual Woody Point Yacht Club Putt Putt Regatta and Gentleman's Launch race, was run on Sunday 3rd of Februay! In having the luxury of flexibility, the WPYC Putt Putt Regatta was postponed by a week, due to the torrential rain of the previous Sunday. So last weekend, about 80 people gathered a Treharne Cove to embrace the 36th Putt Putt Regatta Day and faced the "salty sea" we all love so much. With an incoming tide the Committee set up the support Camp on a very fast disappearing Beach.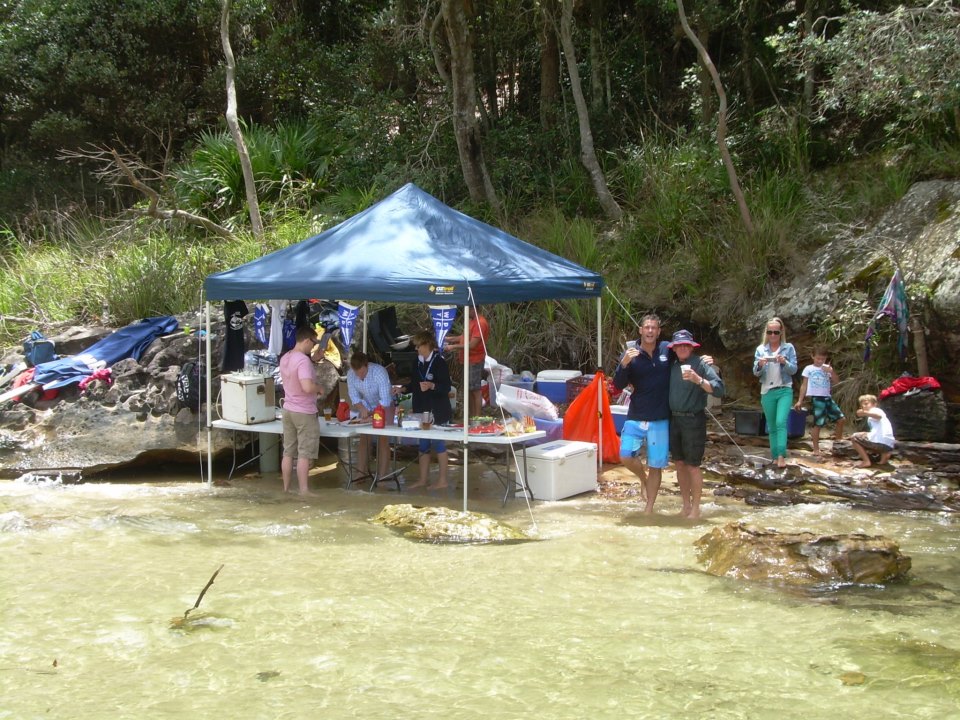 The Club provided tasty sausages, Balsamic Onion & Red Pepper Salsa, and many sorts of refreshments to all Skippers, Crew and friends of the WPYC - all while standing in up to a foot of water. This tidal condition and commitment will be a talking point in Pittwater for some years to come. The numbers of boats which attended the Regatta was the smallest on Club Records, but brought much joy to others. The Gentleman's Launch Division started first and ran into a 15 knots headwind before rounding Scotland Island to gain some advantages from the 25 knots gust pushing the Launches even faster back to the finishing line. Skipper Mark Farrell with MV Reliance won the Gentleman's Launch Trophy in front of Bliss and followed by Escort.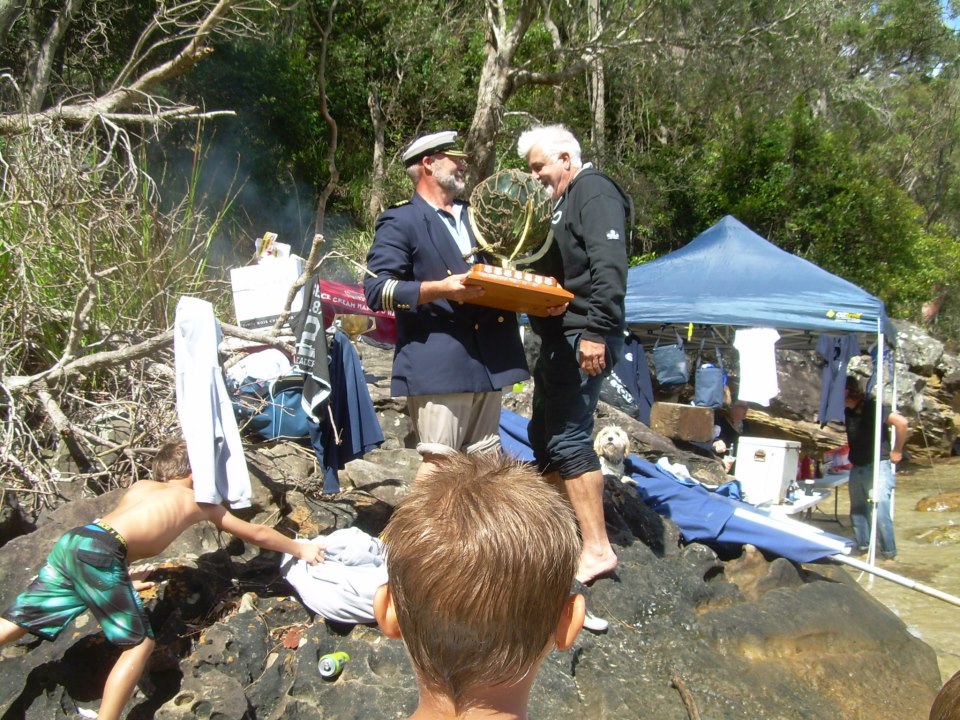 Mark Farrell, Skipper MV Reliance - Winner !
The Putter's selected the winner before the Race was even started. One competitor had to pull out of the Race with engine problems before they made it to the Start Line! Another Putt Putt ran out of fuel and therefore Skipper Mike Cardiff of Anue had just to complete the course to claim first place. We were informed by Mike that the motor started to overheat around Scotland Island and after reducing to idle speed he certainly broke the record for the slowest time to win the Putt Putt Trophy!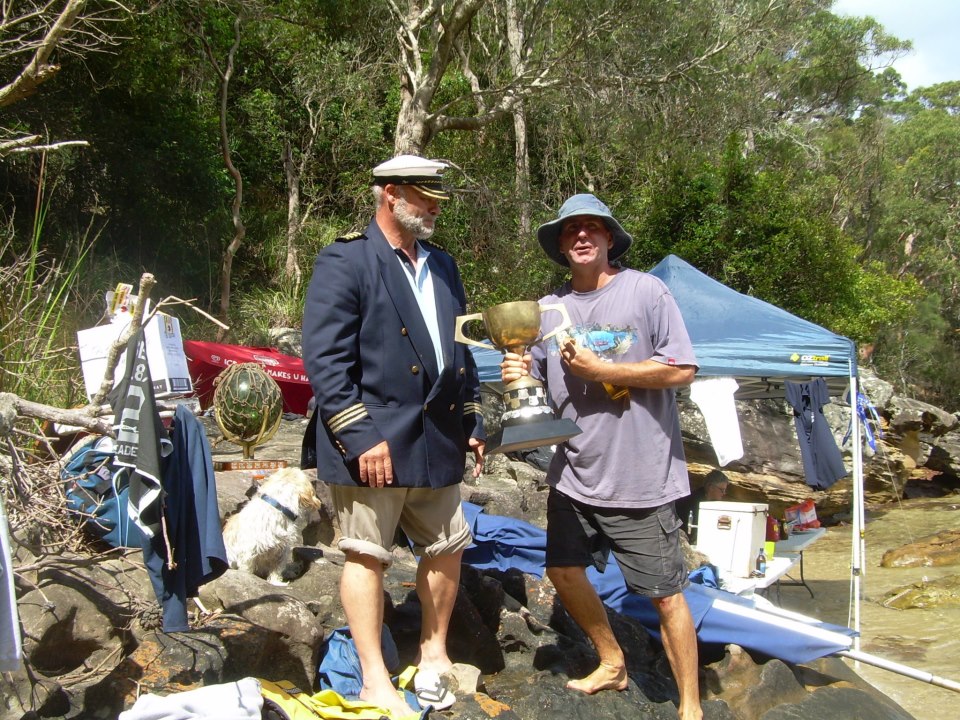 Mike Cardiff and Putt Putts Trophy - 2013 Putt Putts - winner!
The Woody Point Yacht Club, which has a long standing tradition of 'having fun on the water', also includes a Best Presented Crew Trophy and Best Presented Boat Trophy as part of its annual Summer Putt Putt Regatta Day.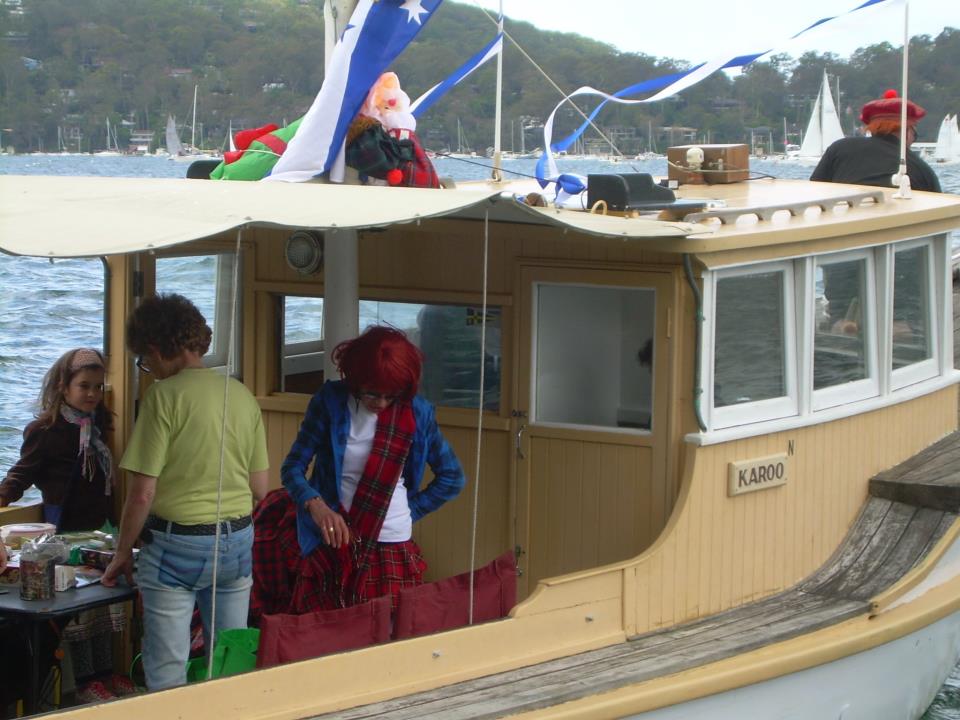 Karoo Crew - Winners !
Skipper Paul Burchall on Karoo led his Raiding Party to win the "Best Presented Crew" Trophy! The Scots, dressed in Traditional Costume, including Battle Gear, were ready to raid the shores of Pittwater. However we noticed that they had some problems finding a secure anchorage point before they could disembark to loot the Camp. I guess they are more used to anchoring on rockier grounds than those of our beautiful sandy beaches.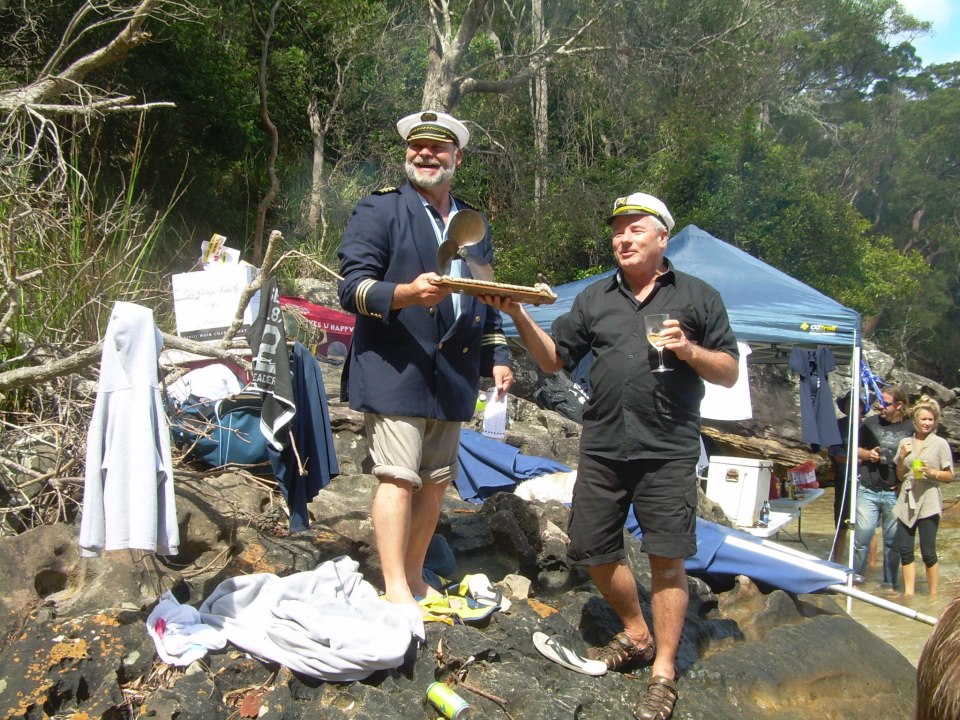 Ian Major and Major Perseverance - Winners !
Past Commodore and Skipper Ian Major on Major Perseverance disguised his boat and his crew as Black Sabbath! Wrapping the boat with black plastic and all the crew wearing the customary preferred apparel of heavy metal musicians; nothing but black, was the winning combination to win "Best Presented Boat Trophy". I never knew that this Rock Band had twenty Band Members, including a large number of female musicians?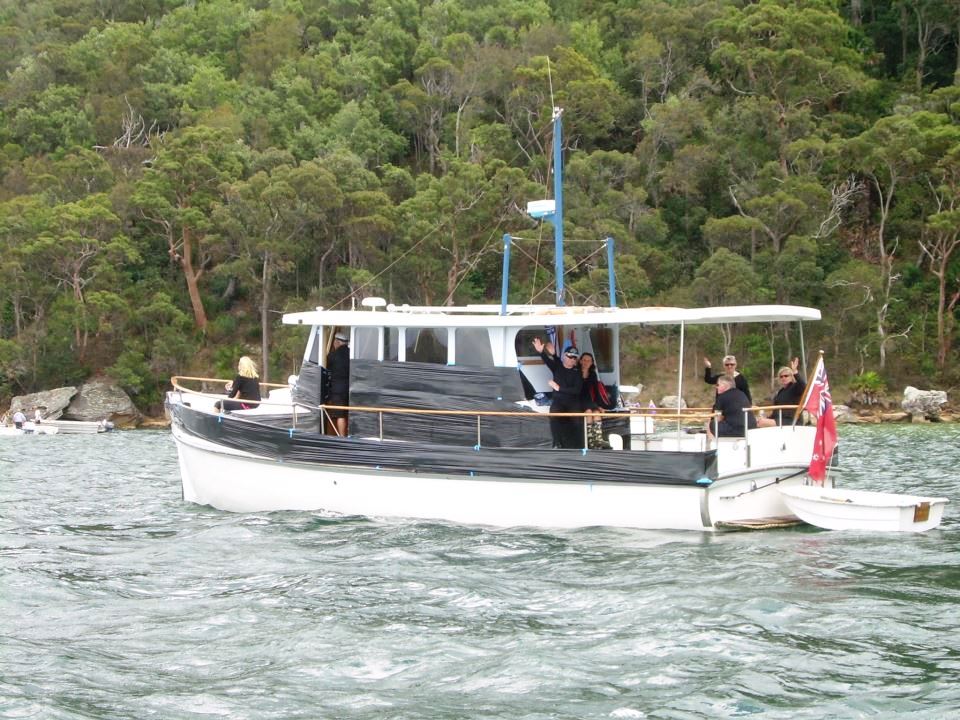 Congratulation to all Winners, a BIG thank you to everyone for helping out, supporting the Club and making this again a Classic WPYC event!
Volker Aebischer
WPYC Commodore
"Believe me, my young friend, there is nothing - absolutely nothing - half so much worth doing as simply messing about in boats." ― Kenneth Grahame, The Wind in the Willows, 1908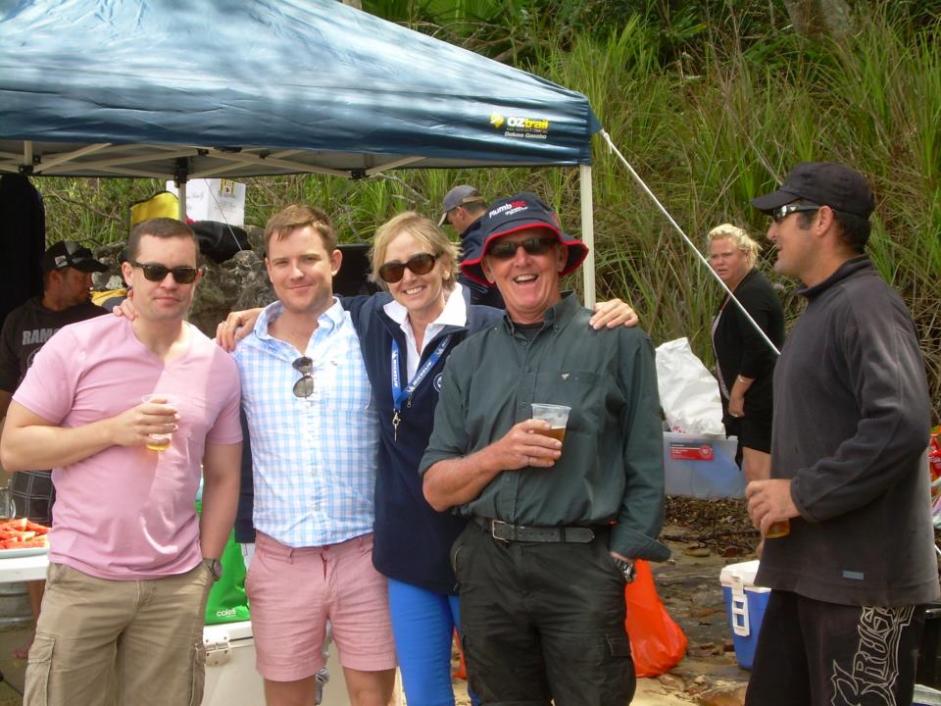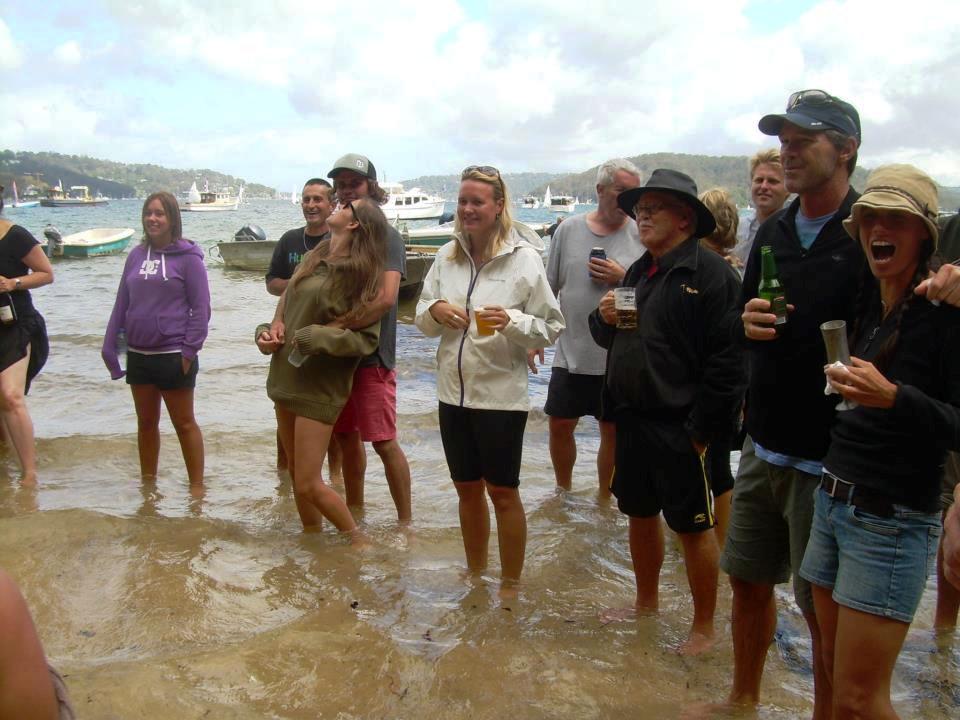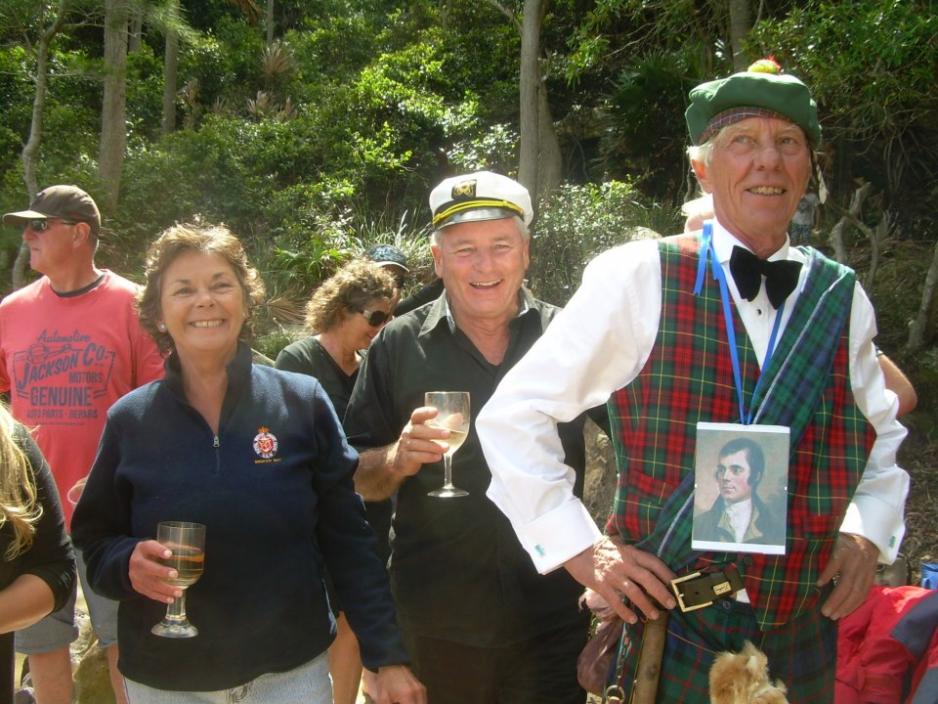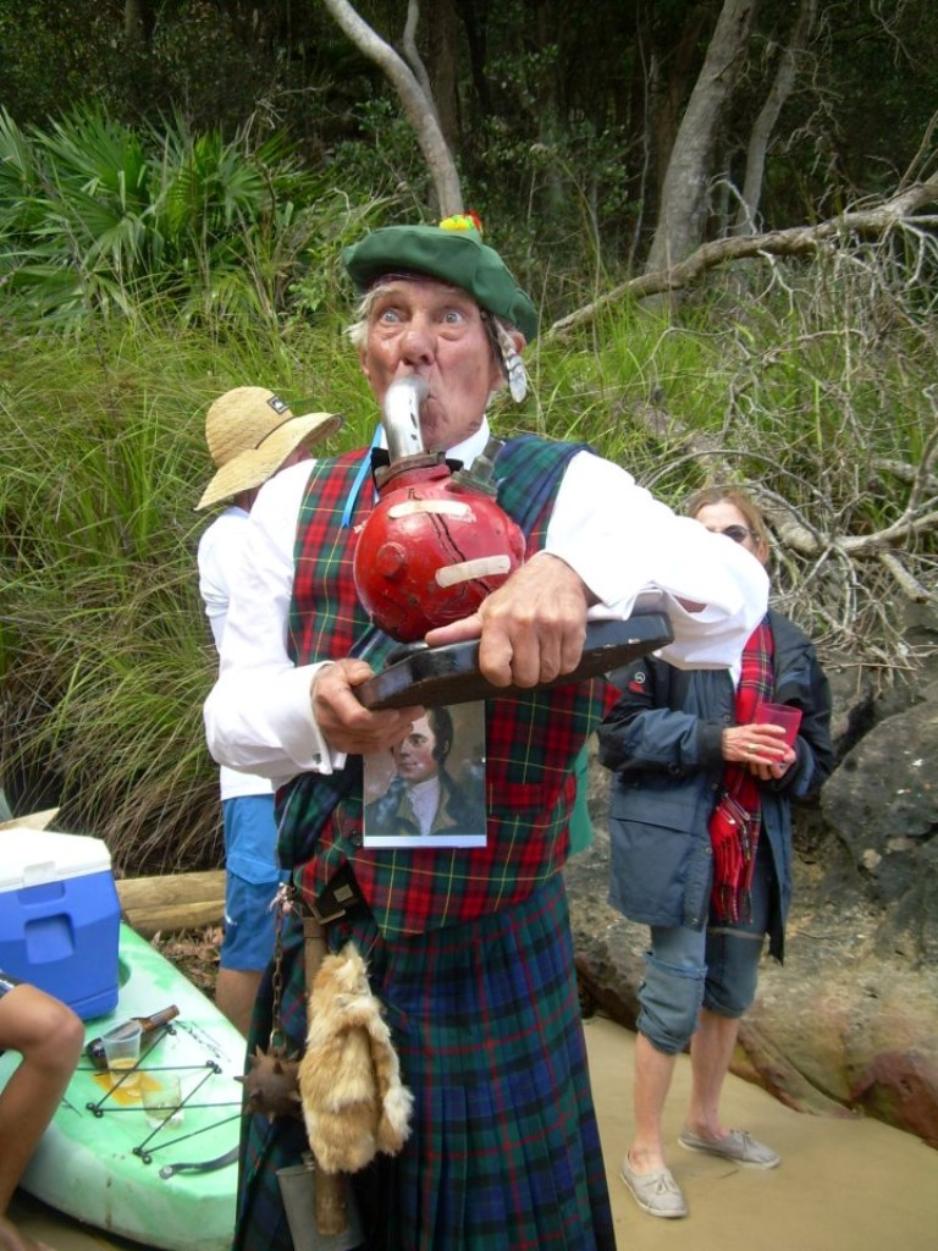 Copyright Volker Aebischer and Woody Point Yacht Club, 2013. All Rights Reserved.