November 9 - 15, 2014: Issue 188
Warringah Rugby Club Signs Up To United We Stand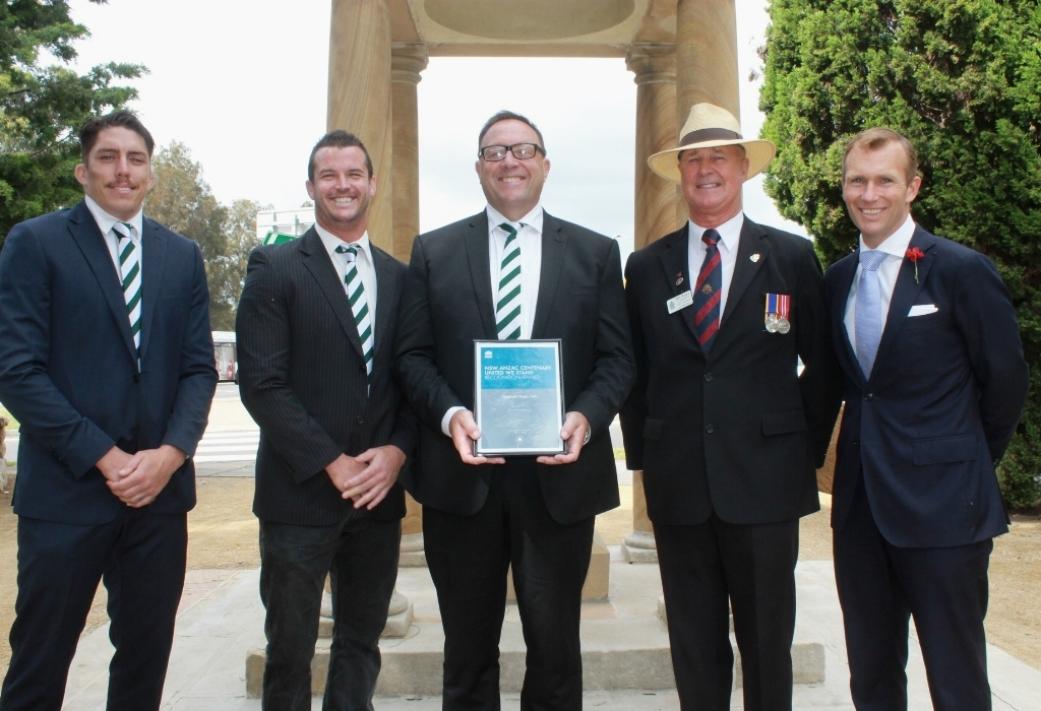 Left to Right - Luke Holmes (General Manager and Captain), Haig Sare (Head Coach), Phillip Parsons (Club President), Michael Carrodus (Pittwater RSL Sub-Branch Vice President) and Rob Stokes MP - Picture A J Guesdon.
Warringah Rugby Club Signs Up To United We Stand
Member for Pittwater Rob Stokes commended Warringah Rugby Club for signing up to United We Stand, a NSW Government initiative which encourages sporting clubs to participate in local Centenary of Anzac activities.
Mr Stokes, who presented the Club's President Phillip Parsons with a recognition certificate at the Mona Vale War Memorial on Thursday, November 6th, commended the club for its commitment to honouring local diggers.
The Warringah Rugby Club is affectionately known as the 'Rats' in honour of the WW2 Rats of Tobruk Army Unit, and the club believes that, similar to the Army Unit, to give up in the face of adversity is never an option. The club maintains a friendship with the 'Rats of Tobruk Veterans Association' and their legacy is honoured by a memorial at the southern end of Pittwater Rugby Park.
"Our local sports clubs, through members past and present, hold an enduring connection to the stories of our diggers," Rob Stokes said today.
"Their stories live on through club honour boards, local history books and personal mementos preserved by club members and relatives.
"United We Stand encourages clubs to use the Centenary period to learn more about local men and women who served during the Great War.
"It also encourages clubs to become more involved in commemorations and acknowledge the enormous sacrifices that were made.
"It's fantastic the Rats are helping lead the way with this really important initiative", Rob Stokes said.
Minister for Veterans' Affairs Victor Dominello said he welcomed Warringah Rugby Club to the initiative which now has support from more over 100 sports clubs across NSW.
"It comes down to the observance of the three R's – Respect, Research and Remembrance – and Warringah Rugby Club has committed to each of these important aspects," Mr Dominello said.
As part of its commitment to United We Stand, the club has agreed to:
• Respect – Lay a wreath at a local Anzac Day Service in 2015;
• Research – Forge a partnership with Pittwater RSL Sub Branch so they can learn more about their club's service history; and
• Remembrance – dedicate a game in April each year (to coincide with Anzac Day) to commemorate the Centenary of the First World War as well as veterans who have served Australia in other overseas conflicts.
"Whether it's Warringah Rugby Club, Clarence River Junior Cricket Association, or Southern Beaches Rugby – the members of all these organisations have something unique to add to our Centenary of Anzac commemorations. They are all invaluable local ambassadors," Mr Dominello said.
Further Information about United We Stand and can be found at: veterans.nsw.gov.au/centenary/
_______________________________________
The ANZAC Centenary will be commemorated in the Warringah and Mackellar Federal Electorates on Sunday 19th April 2015 with a march from Boondah Reserve, Warriewood at 11.00am and finishing at Pittwater Rugby Park for a Commemorative Service. This will then be followed by a Manly v Warringah rugby match.
This Commemoration is in cooperation with the Davidson, Manly, Pittwater and Wakehurst State Electorates; the Manly, Mosman, Pittwater and Warringah Councils and ex service groups including the RSL, Vietnam Veterans and National Service organisations.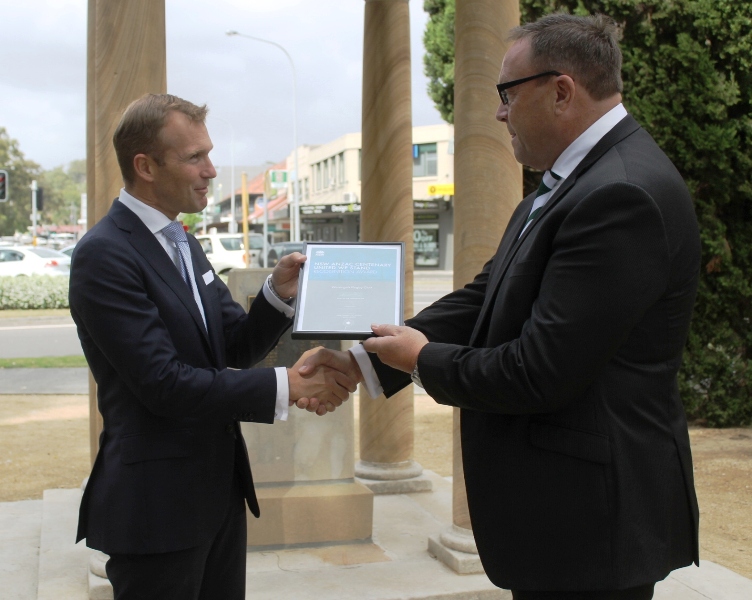 Rob Stokes, MP and
Phillip Parsons (Club President of Warringah Rugby)