December 1 - 7, 2013: Issue 139
Warriewood SLSC Club Launches the Allan Collins Surf Boat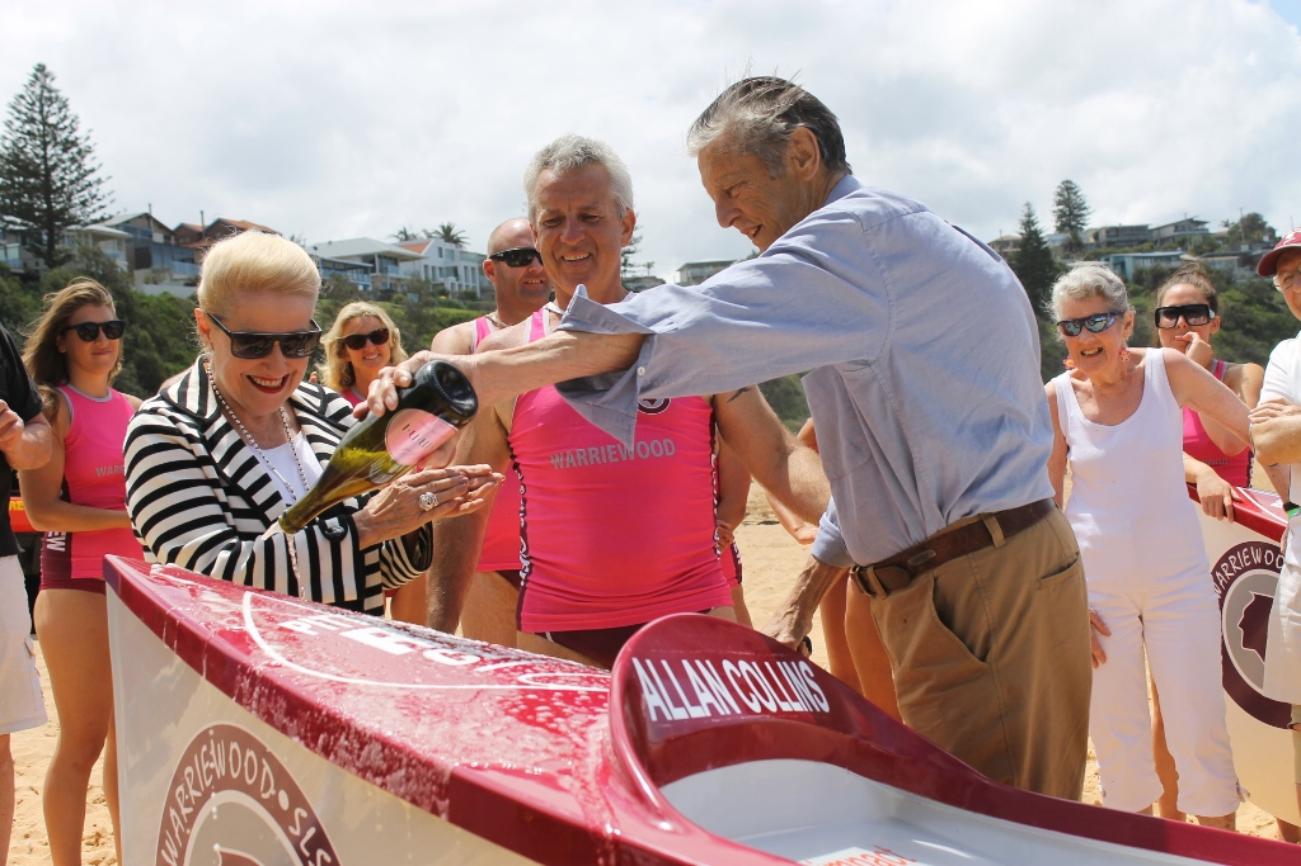 Hon. Bronwyn Bishop, Rusell Lamb and Allan Collins christening the Allan Collins.
Warriewood SLSC Club Launches the Allan Collins Surf Boat
A gentleman who has had sixty five years as part of Surf Life Saving was recognised yesterday with a fitting tribute - the launch of a surfboat named in his honour. Known as 'The Master' to many in surfboat racing, Allan Collins led Warriewood to victory at local, State and National championships throughout the 1950's and 1960's as one of the best sweeps ever.
Warriewood SLSC hosted Round Three of the SLSSNB Surfboat Premierships, Saturday 30th of November, a carnival of spectacular rowing and a few just as spectacular spills. The day was a triple celebration - a great and well run carnival, the launch of the Allan Collins, the ongoing commitment of Pittwater RSL as sponsors and six years of sponsorship by Key-Sun Laboratories now adding surf boats to their focus for the club.
President of Warriewood SLSC, Matt Sheridan welcomed V.I.P.'s Hon Brownwyn Bishop, sponsors representatives from Pittwater RSL, directors Michael Carrodous and Brin Franklin, and Maryanne Logan, current Secretary at Warriewood and from Key-Sun Laboratories – who with husband Chris are now major sponsors of surf boats at the club. Mr. Sheridan also thanked the Life Members of Warriewood Surf Club who were attending.
Matt also thanked all club members for their effort in putting on such a great Carnival this year. Excerpts from his address:
Warriewood has been able to secure this new boat thanks to key sponsors – Pittwater RSL, who have been long term sponsors of Surf Life Saving at Warriewood and of the club from whom we received a part $5000 sponsorship grant toward the purchase of the new boat. Our Sponsor Key-Sun, a Local Pharmaceutical company in Warriewood, have been generous sponsors of Warriewood SLSC over the last 6 years, and they have proudly taken on the sponsorship of our new boat. We'd also like to thank Double Impact Signage who have worked hard this week in working on the boats this week to ensure they all look exactly the same – thank you to Greg and Jen for all your hard work.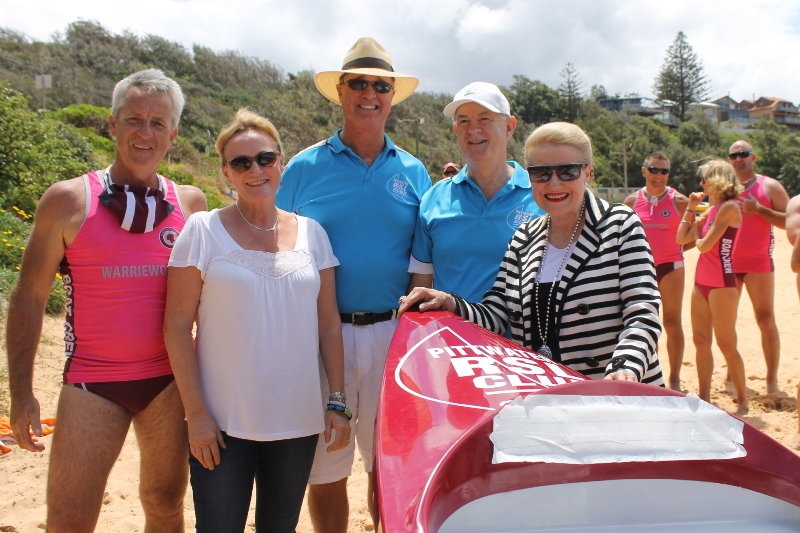 Left to right: Russell Lamb (Warriewood Boat Captain) Maryanne Logan, Michael Carrodus and Brin Franklin (Pittwater RSL), Hon. Bronwyn Bishop.
We're here today to christen and launch our new Warriewood SLSC boat. This boat has been named in honour of a Warriewood member who has been instrumental in establishing Warriewood surf club when it was a dominant surf boat club in the early 1950's when the club had only just started. The Warriewood SLSC started in 1949 and this gentleman put Warriewood on the map for surf boat rowing.
This member steered Warriewood crews to National, State, Metropolitan and Branch titles from 1956 to 1964, securing several National titles. Without the success of this gentleman and the members that he drew to the club, Warriewood would have struggled to survive. Bringing the boaties into the club meant that he could help steer Warriewood through to where we are today. This is a monumental effort of this one gentleman who was often referred to in the boating arena as 'The Master'. This was in the company of Keith Hurst known to all boaties as "Sir Keith" & "Spaz" and then went on to create another superior sweep in Ross Jorgenson.
I'd proudly like to announce that our new Warriewood surf club boat is the 'Allan Collins'.
Our local Federal member, Hon. Bronwyn Bishop was invited to say a few words at this great occasion:
As we stood here waiting for the announcement of the name of this new boat Allan Collins and I were having a discussion about how it was when he was rowing wooden boats and the strength required that he described as the 'iron men' of then. I think that the difference between these and the fibreglass boats we have today, the difference between the way the boats sit in the water or can be opened instead of bailed out signifies how different the world of boat rowing has become.
It was people such as Allan who came from Dee Why to Warriewood to establish boating competition in Warriewood that has set such a fantastic foundation. That nexus between the RSL's and Surf Life Saving is a tradition that we absolutely have to maintain. Going back to the war period it was the same people who served then who formed those RSL's and that were the essence and foundation of our Surf Life Saving movement and Clubs. To see that continue we must say 'Well done Pittwater RSL and well done to Maryanne and her husband Chris for the support they are giving to this essential club as well.
In seeing Allan have the joy of pouring champagne over this new boat – may it prosper, may it move well and fast through the water, may your reputation Allan and all you have given to this club be remembered by all who row in. I know that all who row in her should have good following wins.
We spoke to Allan briefly yesterday about how he felt to have a boat named for him and all this represented. 'Overwhelmed' was the response. When Allan Collins joined Dee Why SLS he was fifteen years old. On Saturday afternoon he said he is 80 years and two months – that's sixty five years of involvement in Surf Life Saving.
Mr. Collins is a quiet spoken humble man, descrying all the praise he received yesterday. He recalls during his years as a sweep with fondness and the responsibility placed on a 'sweep' in surf boats – it is the 'sweep' who controls the boat by use of a sweep oar and commands to the rowers. We hope to bring you more of his story in 2014, but for the record, part of his record:
1956/57 – International Championship – Avalon Beach – 1st, Junior Boat
Australian Championships – Medals one 1st and two 2nds (Juniors).
Interstate Championships - two 1sts, one 2nd (Juniors), one 1st, one 3rd (Seniors).
N.S.W. Championships – two 1sts (Juniors), one 2nd (Seniors).
Branch Championships – four 1sts (Juniors), three 1sts (Seniors).
Metropolitan Championships – three 1sts (juniors), three 1sts (Seniors).
Coached – North Cronulla Junior Crew – 1st. Australian Championship – Perth 1957/58
Zone 8, 9, and 10 Carnivals – Juniors undefeated for six years. Seniors undefeated for five years.
Heat, Semi-final or Final.
Junior Crews – 132 races – 54 Final Wins.
Seniors Crews – 100 races – 45 Final Wins.
___________________________________
WarriewoodSLSC – Facebook: www.facebook.com/pages/Warriewood-SLSC/113972351986166
Website: www.warriewoodslsc.com.au/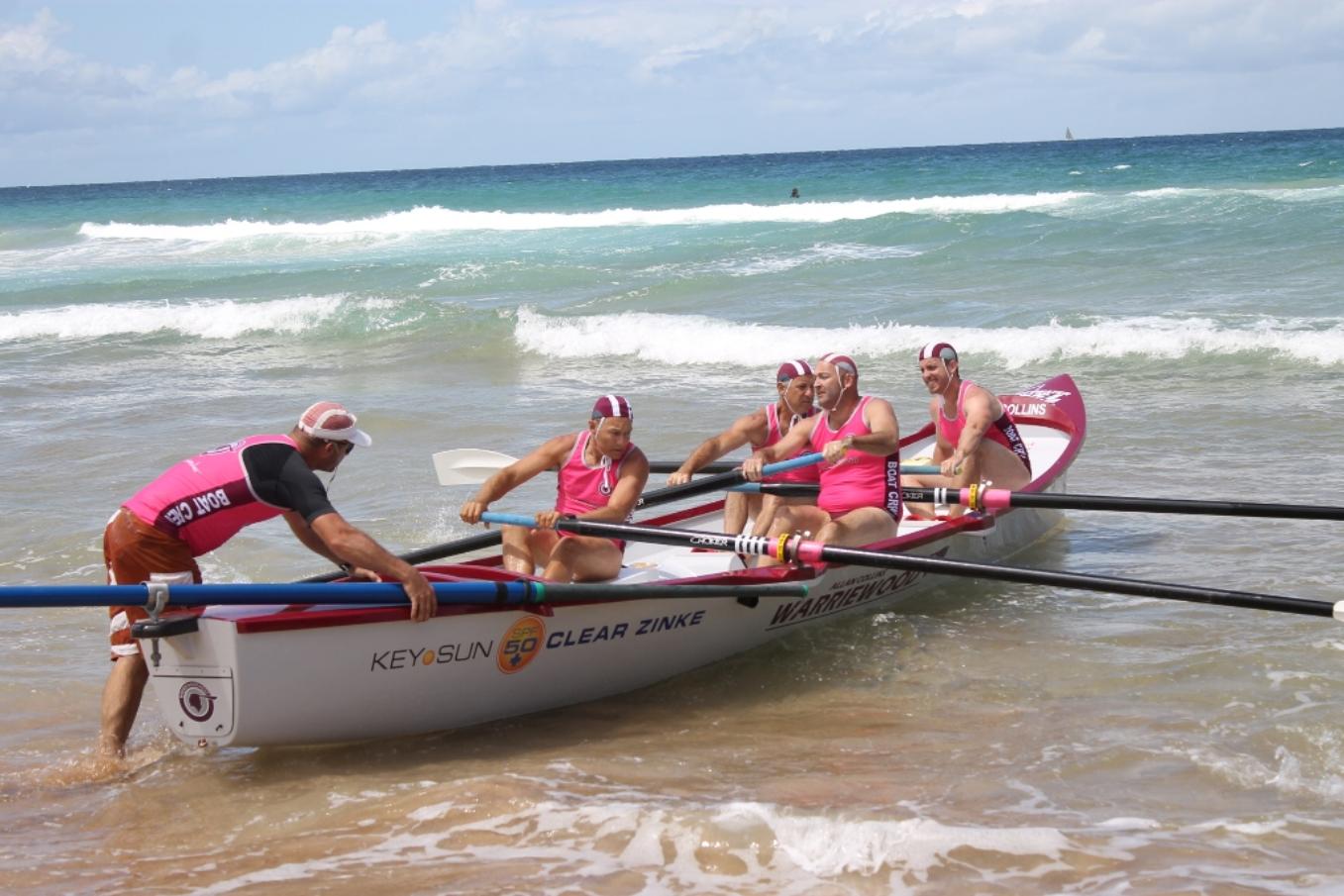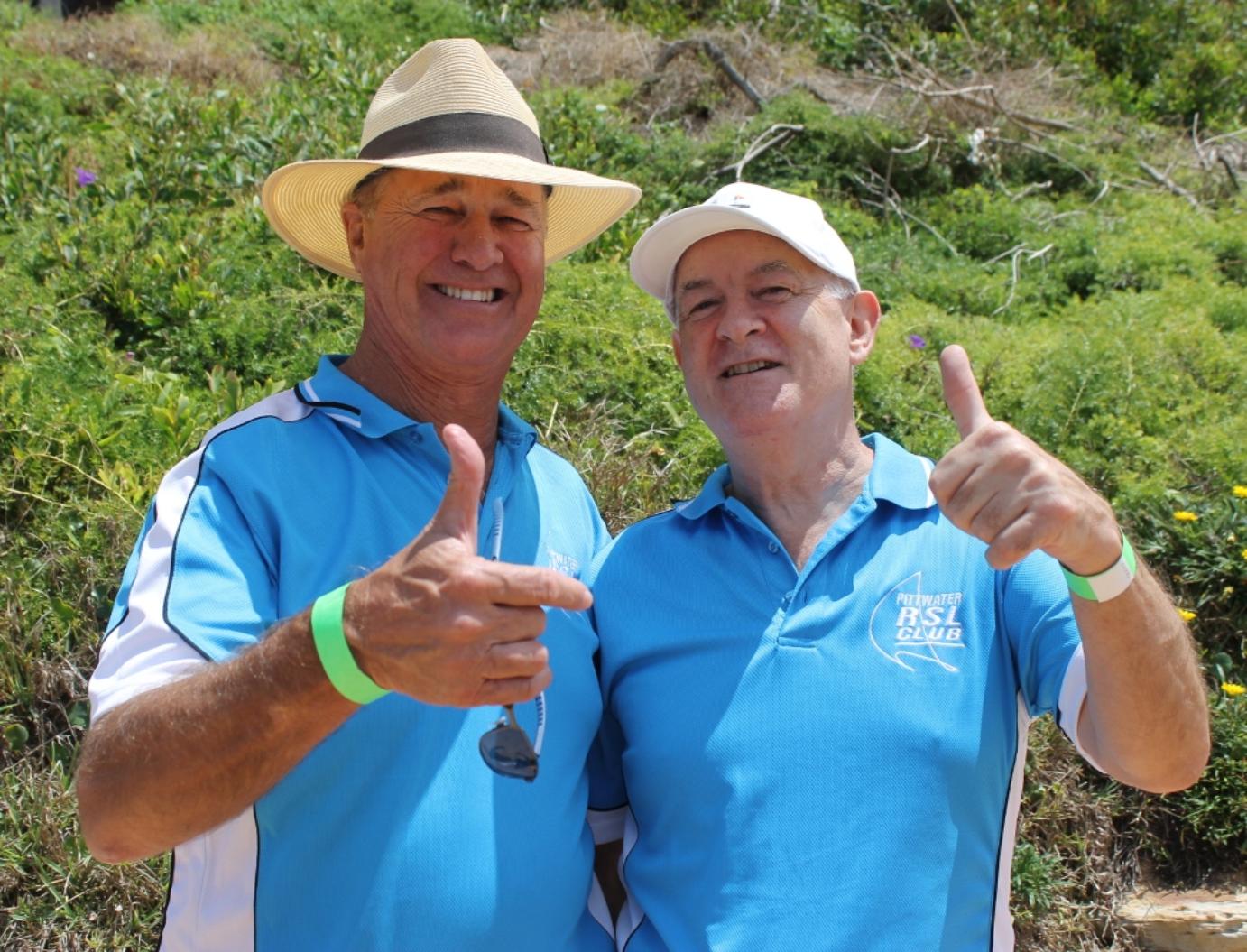 Michael Carrodus and Brin Franklin Pittwater RSL.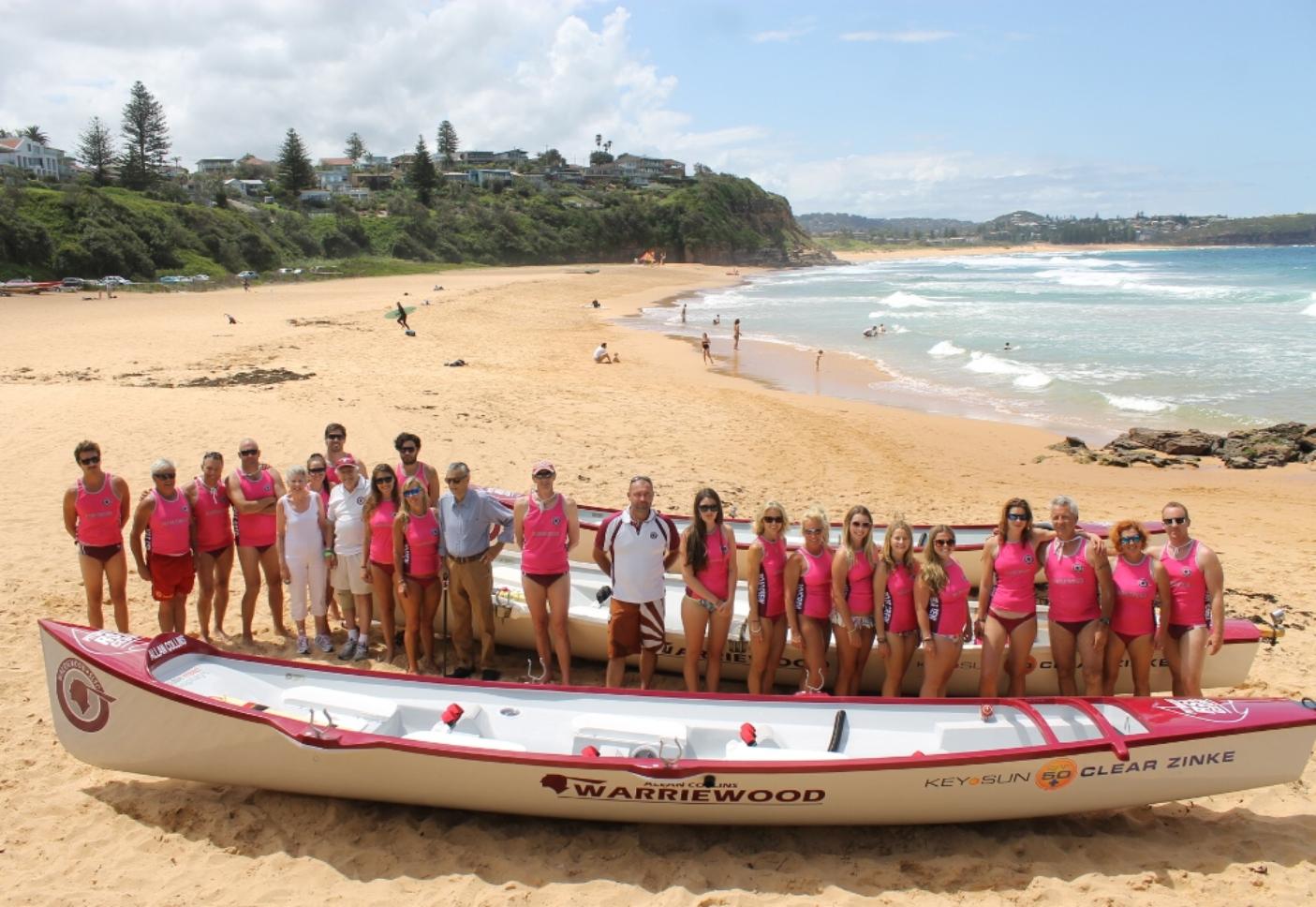 Report and Pictures by A J Guesdon, 2013.