March 11 -17, 2012: Issue 49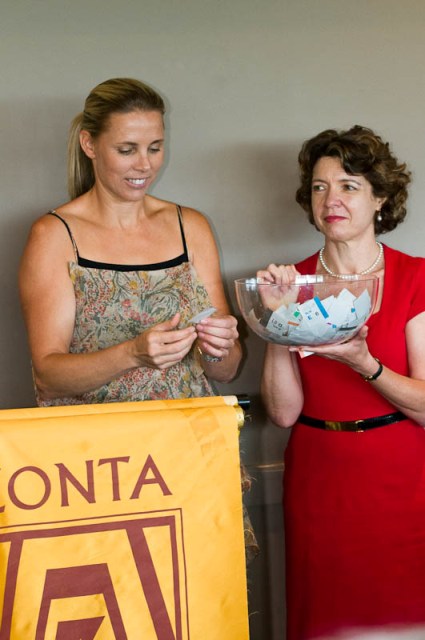 Above: Guest Speaker Nici Andronicus and Yvette Blount, Vice President of the Zonta Club of the Northern Beaches
Above: Superintendent Doreen Cruickshank
Above: Hon. Bronwyn Bishop with Zonta ladies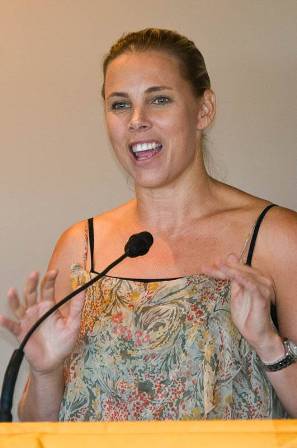 Nici Andronicus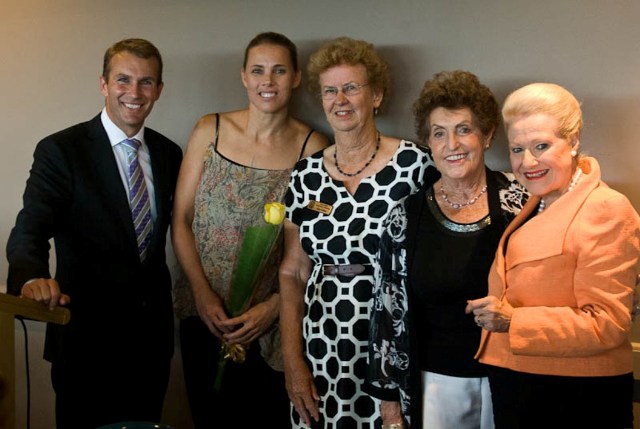 Above: Hon. Rob stokes, Nici Andronicus, Ann Asker, Cr. Patricia Giles AO, Hon. Bronwyn Bishop
Tribute to Patricia Giles
By Reverend Dr Gordon Moyes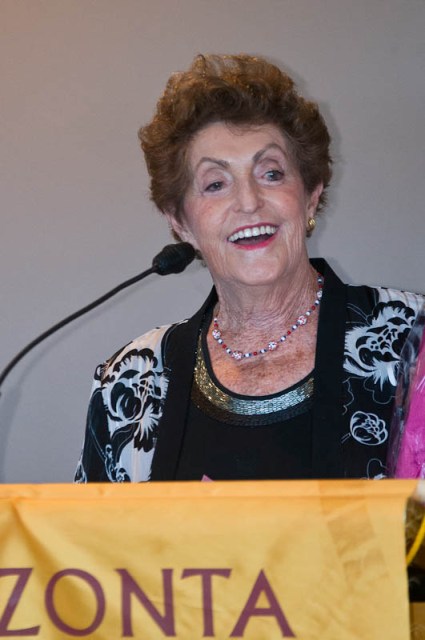 Patricia Giles is the longest serving mayor of Pittwater Council, having served seven terms from 1997 to 2004. She also served as deputy mayor for four terms from 2005 to 2009. Patricia will retire, after more than 25 years of fighting for Pittwater, at the next local government elections in 2012. Patricia Giles played an important part of the Pittwater Municipality Committee in 1985 that began the fight to secede from its giant southern cousin, Warringah Council. In 1991 then Minister for Local Government, David Hay, announced that Pittwater would be legally divorced from Warringah. A provisional council was installed and at the first election in 1992 Patricia Giles was elected to represent central ward and she has been re-elected ever since, easily outlasting every other councillor on Pittwater Council.
Since the 1980s Patricia has been involved in many resident action groups—in particular, the Pittwater Grove Residents Committee. Patricia led the fight to retain and upgrade Mona Vale Hospital from 1997, along with the saving of the Warriewood-Ingleside escarpment. She also led the fight to create a regional park at Winnererremy Bay, which resulted in the saving of the area from development. It was subsequently turned into a large reserve which, to this day, is a highly popular area of open space used by the local community and visitors to the area. She was also active in saving Bicentennial Park at Mona Vale, raising $14,000 for playground equipment.
Patricia has held positions on numerous committees and taskforces including chairperson on the National Parks and Wildlife Advisory Committee, member of the Bicentennial Environment Committee, the Local Government Association Land and Environment Taskforce, the Ministers Migration Taskforce and the New South Wales Local Government Advisory Group. She is a patron of the Newport Surf Life Saving Club Disabled Nippers Program and has been awarded the Distinguished Service Award by Surf Life Saving Northern Beaches. She has also donated and sponsored the Mayors Award for Courage in Lifesaving and is patron of the Mona Vale Girl Guides.
On Australia Day in 2006 Patricia Giles was awarded the Order for Australia Medal for service to her local government and to the community of Pittwater. In 2007 she received the Emeritus Award at the Local Government Council as well as the Manly Daily Centenary Medal for service to the community.
Patricia will leave Pittwater Council in 2012 with a sense of great pride at having been a part of a new council that took a few years to find its feet but has since achieved the sort of functionality other councils and ratepayers can only envy. Patricia has never changed her goal, which is to conserve, protect and enhance Pittwater's natural and built environment for current and future generations. She has always used her Christian beliefs as a platform for her decision-making and firmly believes that councillors must reflect the view of the majority of its residents and be prepared to make the tough decisions. I conclude with a recent quote from Patricia Giles that is indicative of the way we should all act in representing the people of New South Wales. She stated:
I've always believed in trying to do what is best for the future of Pittwater. I'm from the community for the community—that has always been my mantra. (Former Warringah Federal MP) Edward St John once told me to always vote with your heart, be true to yourself, and to never blindly follow the party line. I took his advice to heart. I always tried not to be political but to do what was best for Pittwater, not what was best for political gain.
Patricia thanks God for directing her pathway. She is always proclaiming, "If God is for you, who can be against you?" She thanks her wonderful family of six children, their spouses, a large number of grandchildren and her husband, Ian Giles, who have walked with her the long miles each step of the way. Finally, she thanks the fantastic people with community spirit in Pittwater who have always encouraged and supported her to continue to fight and who regularly make her life a piece of paradise. Rise up and praise her. They call her blessed.
Copyright Rev. Dr Gordon Moyes 2012. All Rights Reserved.
Republished with permission from Rev. Dr Gordon Moyes and originally from; http://www.gordonmoyes.com/2010/11/09/tribute-to-patricia-giles/
On hearing of Patricia's being named the Pittwater Woman of the Year Rev. Dr Moyes responded "Well deserved."
Cr. Patricia Giles, when contacted, stated, "It's an absolute thrill and was a real surprise. "
This highly respected and much loved lady of Pittwater expressed feeling a little daunted at joining the band of women who have been recognised for their contribution to Pittwater in being honoured with this award, stating so many others have provided such a legacy for all in Pittwater. Cr. Giles was appreciative of how the results of 20 years hard work have all been wonderful and was delighted that Hon. Rob Stokes, someone she admires so much, and Mayor Harvey Rose conferred this honour on her. Patricia Giles AO is most definitely From the Community and For the Community.
Patricia was named Pittwater Woman of the Year at the Annual Zonta Club of the Northern Beaches International Women's Day Breakfast at Mona Vale Golf Club. District 24, Northern Beaches, was charted in 1975. Zonta was begun in Buffalo, New York in 1919, by Marian de Forest, a journalist and playwright who envisioned a network of women who would help each other reach their rightful places in all professions. This came at a time when women were beginning to enter the professional workforce and also had recently been given the right to vote in the US. The members of Zonta clubs 'voluntarily apply their time and talents to working locally and globally, on a variety of service projects and advocacy initiatives that are designed to advance the economic, professional, educational, health, legal and political status of women.'
All images by Michael Mannington. Zonta Public Gallery in Volunteer Photography: HERE