April 14 - 20, 2013: Issue 106
Tony Carr
"Cardigan, slippers, TV – no thanks!"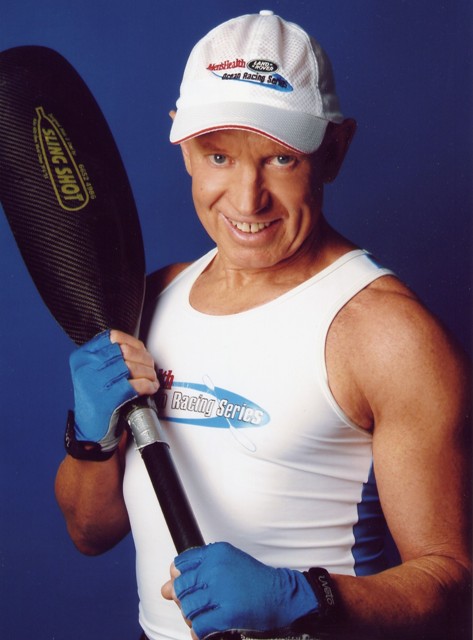 After a career in advertising, Tony can't sit still. He now spends his time pursuing many passions.
He runs the kayak training, touring and racing company Freedom Outdoors, which does over 70 day, weekend and international trips a year. The company has 1,600 paddlers on its books and takes people to 30 locations around Sydney and up and down the coast as well as overseas. You'll often see the company's distinctive yellow boats on Pittwater and Narrabeen Lagoon. A great believer in the value of personal fitness, he competes in weekly kayak races and has completed the gruelling 111km Hawkesbury Classic four times, most recently scoring 10th place in his category out of 127 paddlers of all ages. He weight trains four times a week with former Mr NSW Mark Patience at Animal Kingdom in Cromer.
Tony heads the Edwin Carr Foundation, a charitable trust set up by his family in memory of his late brother Edwin Carr, one of New Zealand's most celebrated composers. It provides funding to aspiring New Zealand composers who wish to study in Europe. The Foundation currently has eight students studying at music schools in London, France and Germany. A committed environmentalist, Tony is celebrating his seventh year as President of Friends of Narrabeen Lagoon Catchment. With over a thousand members and supporters, Friends is one of the largest and most admired volunteer community groups on the Peninsula. He received the Prudence Tucker Award from National Parks Association for his work in the environment.
Until recently he was also a committee chair with the State paddling authority, Paddle NSW and is an active member of several other environmental and sporting groups including National Parks Association of New South Wales, Lane Cove River Kayakers, Manly Warringah Kayaking Club, Pittwater Natural Heritage Association and Friends of Lane Cove River National Park.
Pittwater Online News met with Tony just after he celebrated his 70th birthday and asked him about his frenetic lifestyle.
Isn't it about time you slowed the pace?
I love my lifestyle and want to continue to contribute to society. I have found that if I maintain a high level of fitness I can carry on pretty much as I did when I was 30. It's not just about physical fitness though – you have to stay engaged and stretch yourself mentally too. I have a strong competitive streak – a leftover from my advertising days – and that's very much a driving force. I have always enjoyed being involved in the strategic side of business and still have a modest consultancy arrangement with one advertising agency. I don't get paid but I am on a promise that they'll invite me to all their parties!
You worked for two of the world's biggest ad agencies in four countries before opening your own agency in Sydney. What did that teach you?
I think advertising is a wonderful career because you are involved with a lot of different client companies and their successes and failures. I was very lucky to have spent 18 years with Ogilvy & Mather during the golden era of advertising – checkout Madmen and you'll get a glimpse! Ogilvy was led by a true genius who believed in learning from everything the company did. Rarely a day goes by when I don't consciously do something "in the Ogilvy style". If you are not in a learning environment, get another job.
What gives you a buzz these days?
Anyone with passion and enthusiasm. Government is so involved in our lives the expectation is we'll all be looked after and nobody has to try very hard. I like people with determination to make things work and the energy and persistence to carry it through. These are our future leaders. I think hard work and hard play is good for you – I'm a bit old fashioned about that.
Sydney has the world's most stunning waterways and I love taking people into wild places and watching their faces as they realise just how lucky we are. We do Kayak Cleanups with companies – take the boats and bags and remove the rubbish. Makes a real difference.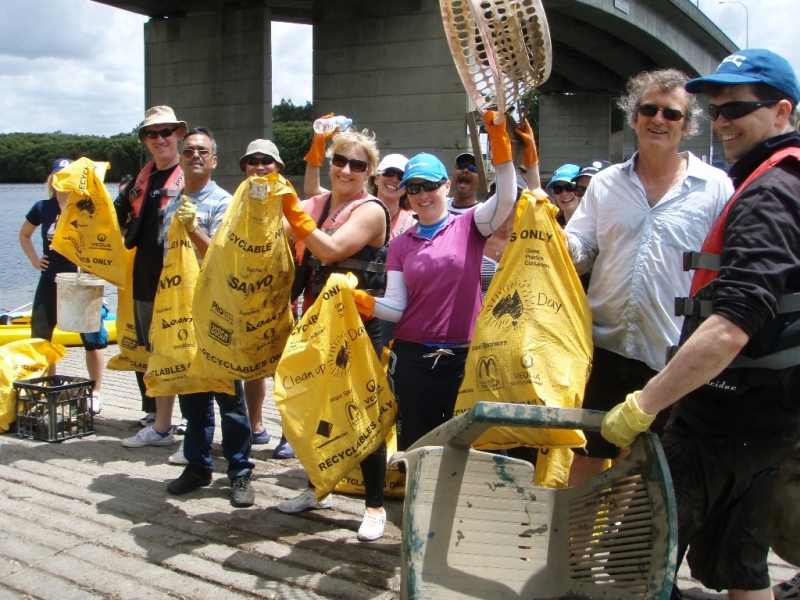 Landcare Cleanup - Duck Creek - Grab a bag and a boat and let's go! Businesses are only too willing to have their staff devote a few hours to cleaning up a waterway.
Tell us about some of your sporting achievements over the last ten years – and would you really recommend older people compete in races?
Well briefly, in 2002 I won the Australian Prime Time Category of the International Body for Life Fitness Challenge. I was in the top 2,000 of over 500,000 entrants worldwide. I've competed and won gold medals in many of the Masters Games held in Australia and New Zealand. I scored a Silver Medal in the Kayak Marathon in the World Masters Games in 2009. I was the overall winner of the 2005/6 Men's Health Ocean Racing series – picked up a Landrover Discovery for my efforts in that one. In 2010 I was Lane Cove River Kayaking Club Champion. Best of all I walked the Kokoda track in 2008. All great experiences. I am training now for the 2013 Hawkesbury Classic – trying for a PB of under 11 hours 36 minutes for the 111kms.
Older people can stay competitive in their chosen field of sport. There are plenty of training opportunities and many people around with helpful advice. In many instances it comes down to technique. This is very true of competitive kayaking where older people tend to do very well. We're driven by technique and strategy. Younger people think it's all about brute force. One thing older people can do to level the playing field is get into a gym and start weight training. From age 25 muscle wastage starts to occur. You can reverse that by lifting weights at any age. One of my pet projects is to get more seniors into weight training.
Have you had any significant health challenges?
I had my first bout of cancer and three years later a second, when I developed non-Hodgkin's lymphoma, which required chemotherapy and radiotherapy. The doctors said my high level of fitness made all the difference.
What is your favourite place in Pittwater and why?
I love Narrabeen Lagoon and recently moved house there. My Aboriginal friends tell me it's their Sistine chapel and I believe that. Nothing beats gazing out onto the water from Bilarong Reserve, an oasis of calm in a rowdy, commercial world.
What's your motto for life or favourite phrase you try to live by?
No concession for age.
Enquire about Friends of Narrabeen Lagoon Catchment by going to their website – www.narrabeenlagoon.org.au
Checkout Freedom Outdoors Kayak tours by phoning 0417 502 056 or going to their website and clicking on Upcoming Paddles – www.freedomoutdoors.com.au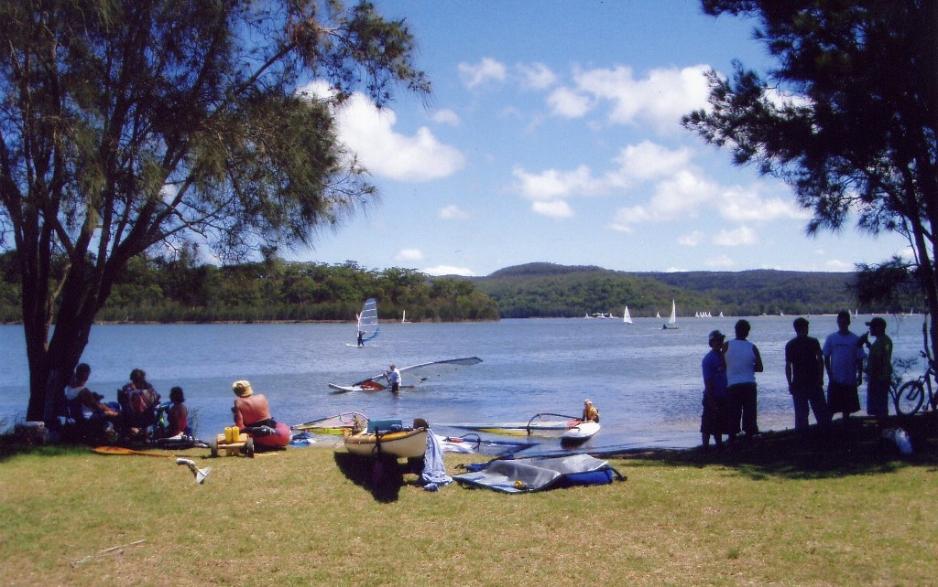 Narrabeen Lagoon at its best! - Bilarong Reserve on Narrabeen Lagoon (Pittwater side) - an oasis of peace and calm amid the commercial intensity of today's world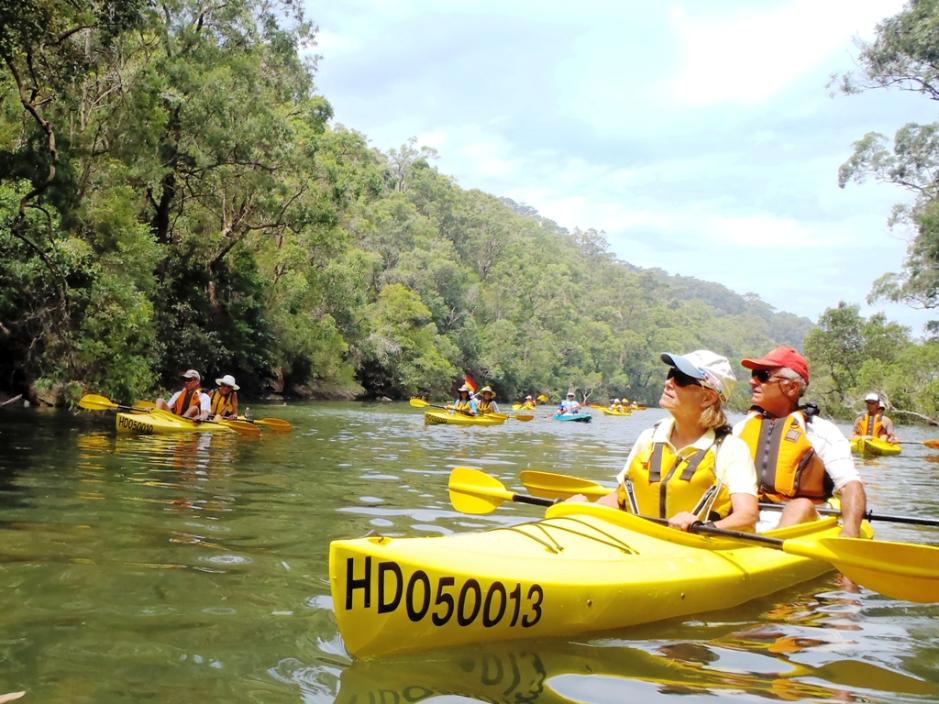 Tony: "My favourite Pittwater shot. Taken on Salvation Creek."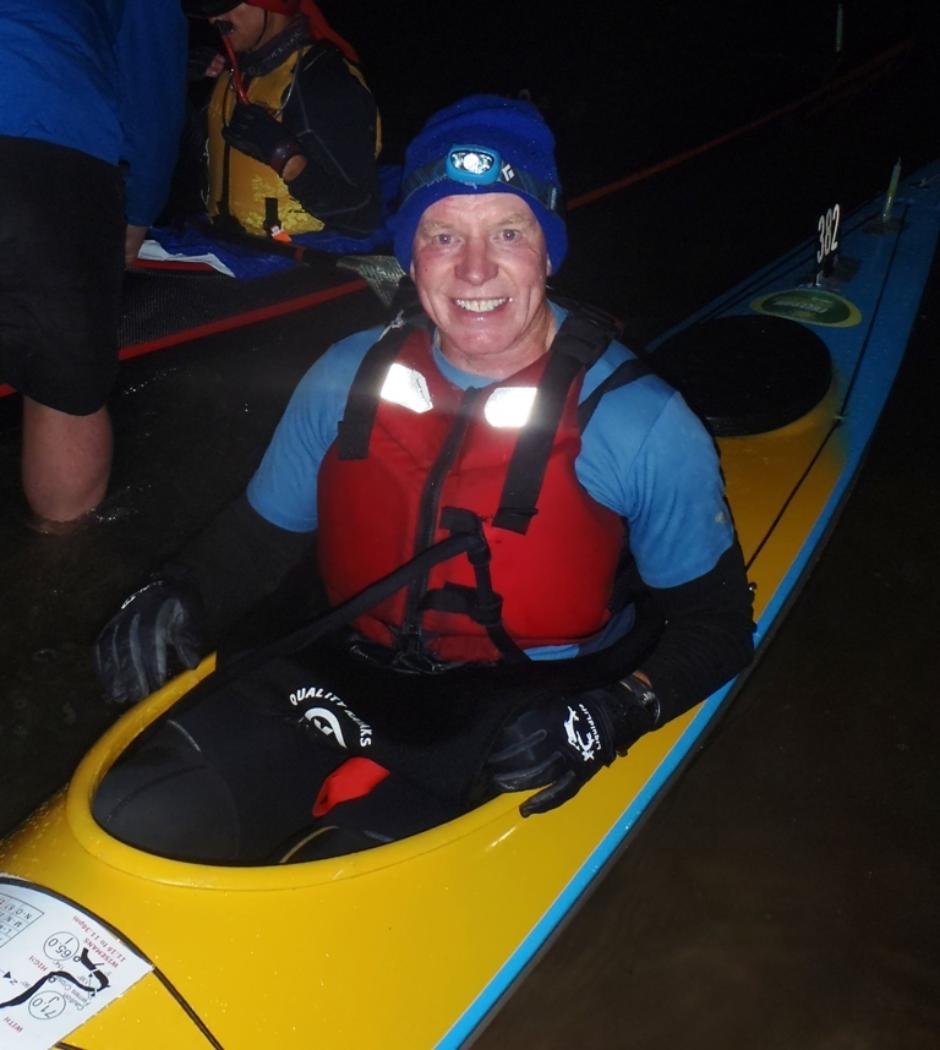 Copyright Tony Carr 2013. All Rights Reserved.