October 18 - 24, 2015: Issue 236
The Man Who Saved Smithy
Fighter pilot, pioneer aviator, hero: the life of Sir Gordon Taylor MC, GC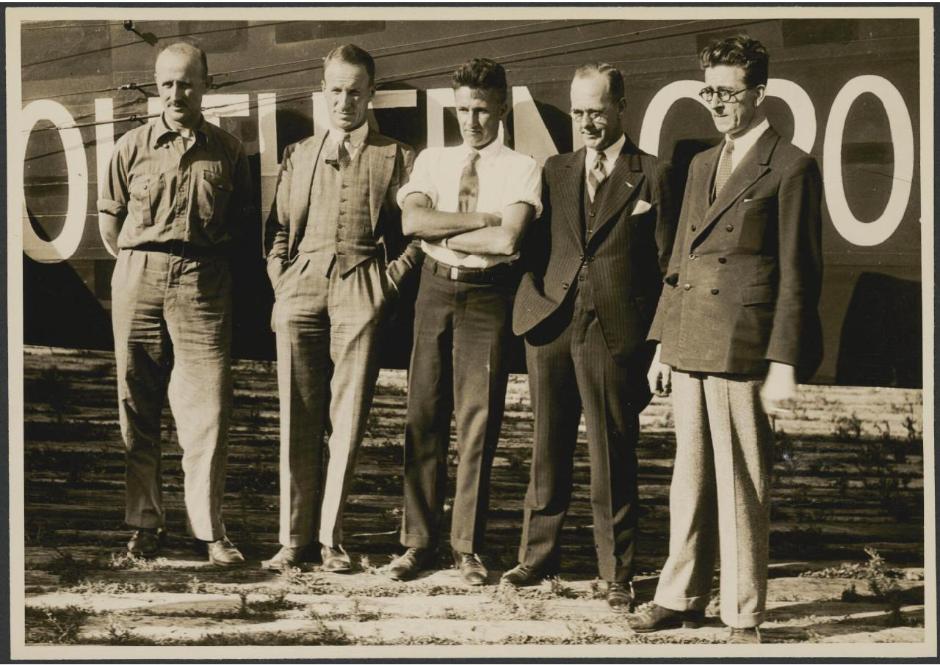 Left to right, P.G. Taylor, Smithy [i.e. Charles Kingsford Smith], John Stannage, Stan Nielson and Jack Percival, before Australia-New Zealand flight to Gerringong, Mascot Aerodrome, 1933 [picture] / Sydney Morning Herald and Sydney Mail, Sydney 1933. Photo courtesy National Library of Australia, Image No.: PIC/3394/938
The Man Who Saved Smithy
Fighter pilot, pioneer aviator, hero: the life of Sir Gordon Taylor MC, GC
Rick Searle's new book 'The Man Who Saved Smithy' is the most extensive biography on the gentleman who founded the Loquat Valley School we have yet read.
Mr Searle's genuine interest in this aviator has produced a work for those who love the world of flight and knowing more about one of its Australian pioneers, which also shares insights about the man's love of Bayview and the ethos behind his life's works.
The birthday of Sir Patrick Gordon Taylor (1896-1966), aviator and writer, falls this week, and would have been his 119th. Born on the 21st of October 1896 at Mosman, Sydney, third son of Patrick Thomson Taylor and his wife Alice Maud(e), née Sayers, his family's long term investing in all things Pittwater, his elder brother W.D.M. 'Don' Taylor being one of the two sailing in the race that began Pittwater Regattas, while his father, prior to then, being among those who tried to get the tram to run all the way to Pittwater, among other memories from those mark this as a work that may interest many here.
Rick Searle has done extensive research to write this book, accessing boxes and boxes of material held in the National Library of Australia and the Powerhouse Museum of Captain P. G. Taylor's own papers. Mr. Searle, as he states in his 'Author's note', has chosen to quote directly from his works where it counts.
As a child Sir Taylor so disliked his Christian names that he called himself 'Bill'. In his dinghy, Query, and later in the yacht Triton, he frequented many places in Pittwater throughout his life and competed in Pittwater Regattas. He acquired a lifelong love of the sea which, coupled with his love of flight coalesced to produce a new stage for 'flying boats', as it was from Pittwater, too, that he took his first flight in a seaplane, one he himself had converted from a landplane.
On page 70 of 'The Man Who Saved Smithy' is one of our favourite passages in this book, recounting this experience in his own words, prefaced by this little notice and picture:
A NEW VEHICLE ON THE ROADS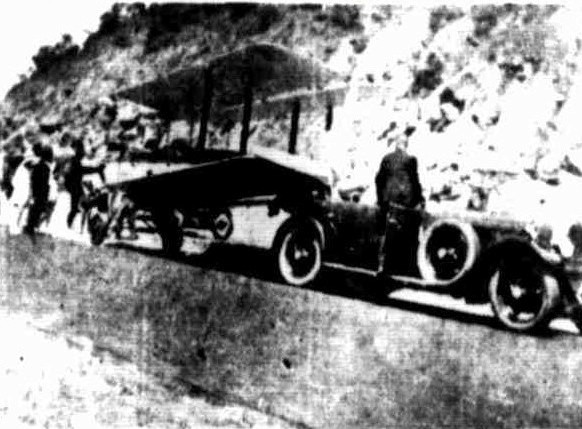 With the increasing popularity of the light aeroplane, this spectacle is likely to be seen more often on the highway: The picture shows Mr. W. Taylor' s plane being towed to Palm Beach after he had landed at Narrabeen, following a flight from Cootamundra. Hitched on to the back of the car, with its wings folded, the plane presented no difficulties in transport. A NEW VEHICLE ON THE ROADS. (1929, January 15).Evening News (Sydney, NSW : 1869 - 1931), p. 1. Retrieved from http://nla.gov.au/nla.news-article115697905
The first few sentences from Page 70:
" I looked down the bay. It was a morning with a light northerly, one of those early morning breezes that drift off the bay as though the sea were breathing, upon its awakening with the sunrise. There was a straight run of 5 miles, into the wind and with not a boat or any distraction in the way. I looked back at the aeroplane and suddenly made the decision to fly her. This was the moment. I didn't wait to get clothes and helmet and goggles and all the trimmings. In the freedom of nothing but a pair of shorts I hauled in the light anchor, stowed it in the front seat and, standing in the shallow water, guided the seaplane out into a clear position heading up the wind…."
We recently spoke to the author about this book.
Your Biography of Sir Gordon Taylor - The Man Who Saved Smithy is dedicated to his daughter Gennie Kirton - why?
Gennie Taylor was Bill's first-born child, from his second marriage, to Joan. She was a young adult when he died, and consequently had many memories of her father, I made several visits to Sydney to interview her, and grew to like her very much. Sadly, shortly before the first draft of the manuscript was finished, she passed away suddenly from a stroke. I therefore decided to dedicate the book to her, in acknowledgement of her friendship and help.
This wonderfully detailed biography takes us inside Sir Taylor's head in many ways. Did access to his papers confirm or dispel rumours about his character/nature - and after reading these, what were your impressions of this man?
Access to Bill Taylor's papers at both the Powerhouse Museum and the National Library, together with conversations with members of his family, allowed me greater insight into his character, and provided documentary evidence which helped confirm my initial impressions of him. In a nutshell I guess you could say that he was a rugged individualist as well as a romantic with spiritual insights, great courage and an iron will.
You unfold his mapping an alternate Trans-Pacific route during WWII after the pathway to the north was closed by Japanese invasion - how key was this route and why hasn't he received more recognition for this particular contribution?
Unfortunately Bill's survey of the alternative trans-Pacific air route through Clipperton Island did not lead to the development of a regular air route, in my opinion for two reasons:
Firstly, as the war in the Pacific progressed and the Japanese were driven back through the islands, the regular air route through Fiji and Hawaii was not cut.
Secondly, Bill believed that the Americans put a stop to any further flying through the South Pacific because Pan American and other US airline interests wanted to develop the post war trans-Pacific air routes for themselves.
Of Recognition: our key aviators, first generation then second, never list or refer to Sir Taylor, he is not listed among them - why/what would your research indicate is the reason for this?
Bill Taylor was a fairly high profile figure in the thirties, but he was not comfortable when speaking in public, and was usually overshadowed by Kingsford Smith, who was completely at ease when dealing with the media. Even though Taylor wrote a number of books which were well received, since his death in 1966 he has disappeared from the public consciousness, unlike Smithy, who is still a household name.
You have passages in The Man Who Saved Smithy ... detailing his conversion of a Moth to a seaplane. What was the attraction between the water and the sky for him?
Bill Taylor was born into a family with a house at Pittwater, so he grew up with boats and sailing. However, in all my research I never found anything to indicate that he was ever interested in flying as a boy. His interest was kindled in WW1 when he saw an illustrated magazine article about a Royal Naval Air Service bombing raid on some German airship sheds in Europe. Like many young Australians at the time, he was looking for excitement, so he decided to go to England, join the RNAS and learn to fly. As things turned out he ended up as a captain in the Royal Flying Corps with a Military Cross, and the sure knowledge that his future lay in the air. But a desire for action, not a passion for flying, had been the initial impetus that set him on his life's course.
The later combination boats and flying was a happy coincidence.
What was the best part of finally placing in our records this wonderful biography?
The best part of the writing of this biography is that I have made friends with the Taylor family. I am happy to have been able to provide them with a detailed exposition of the life of a remarkable man.
________________________
The why of one of Pittwater's premier schools, his flights with 'Smithy', an evolved spirituality, decades of adventures and two World Wars are just some of the materials chronicled in The Man Who Saved Smithy.
Available now, Mr. Searle and publishers Allen and Unwin have produced a work that is long overdue and belongs in every Pittwater, and Australian home.
The Man Who Saved Smithy
Fighter pilot, pioneer aviator, hero: the life of Sir Gordon Taylor MC, GC
Rick Searle
AUD $32.99 - Allen & Unwin - 400 pages
The incredible true story of a largely unsung Australian aviation hero.
Patrick Gordon 'Bill' Taylor was a pioneer of Australian aviation. As a fighter pilot during the First World War, he was awarded the Military Cross and discovered a life-long passion for flight and air navigation. Returning to Australia after the war, he became a close friend of Charles Kingsford Smith; they went on to form an incredible flying partnership, setting records around the globe.
It was on a flight across the Tasman in Smithy's famous Southern Cross that Taylor earned the Empire's highest award for civilian bravery, the George Cross. With one engine out of action and another fast running out of oil, Taylor repeatedly climbed out of the cockpit to transfer oil to the stricken engine and keep the Southern Cross flying - all this while suspended over the sea in a howling slipstream.
After the deaths of his friends Charles Ulm and Kingsford Smith in separate accidents, Taylor became Australia's greatest surviving aviator, pioneering vital new trans-oceanic air routes during the Second World War and receiving a knighthood in honour of his services to flight. The Man Who Saved Smithy is the enthralling account of his remarkable life and achievements.
About the Author
Rick Searle has been a full-time freelance writer and film maker for almost forty years. He has worked in radio, television and film, and lectured in television writing at the Queensland University of Technology. Rick has had a lifelong interest in aviation, and a long-standing fascination with the life of Australian flyer and navigator Sir Gordon Taylor.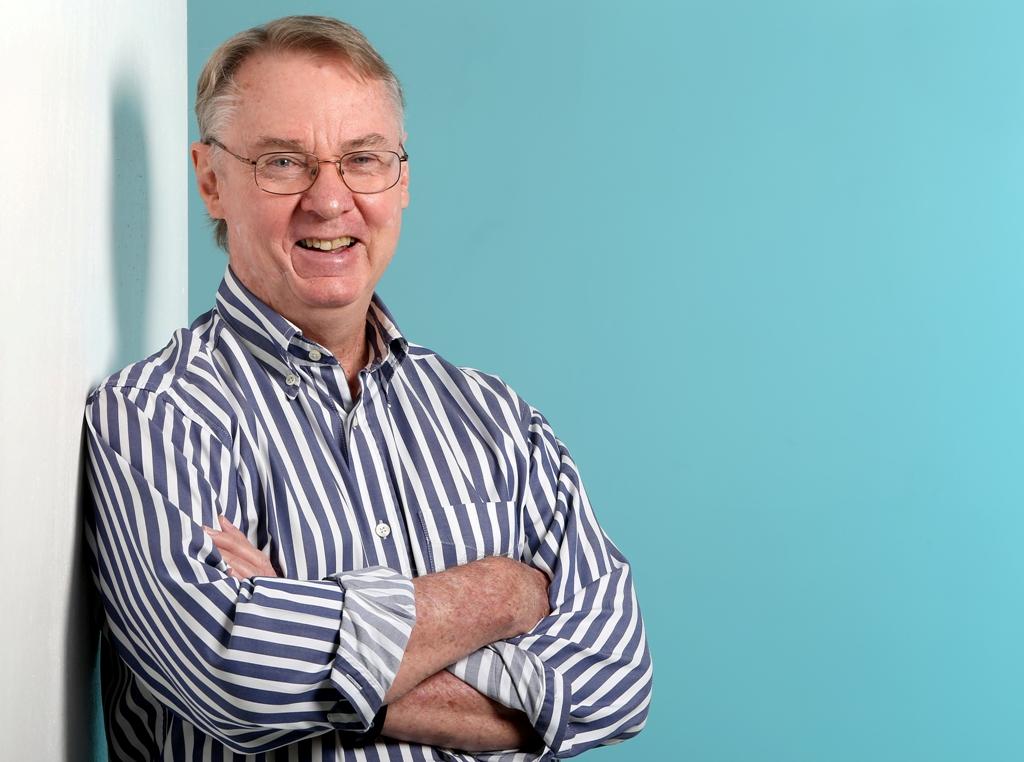 Rick Searle - photo by Jono Searle