November 29 - December 5, 2015: Issue 242
The Beach: An Australian Passion
by Robert Drewe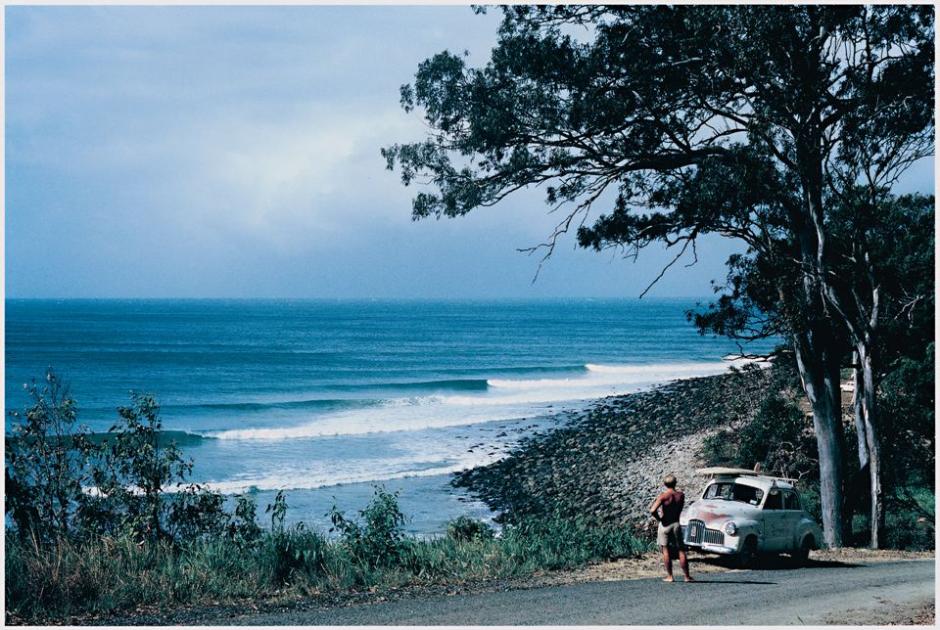 From The Beach: An Australian Passion- pages 74- 75: photo taken by John Witzig: Bob McTavish Standing Next to a 1948 Holden Complete with Surfboard on the Roof Racks, National Park, Noosa Heads, Queensland 1966.
The beautiful, the quirky, the historical, cultural and social aspects of everything 'Beach' is visited and celebrated in a new book from publishers the National Library of Australia - The Beach: An Australian Passion.
The author is Robert Drewe, a gentleman who has long been associated with the beach. Born in Melbourne, his writing has been shaped by the Swan River and the Indian Ocean coast, where he learned to swim and surf after his family's relocation to Western Australia.
An Award Winning writer, Drewe's widely acclaimed novels, non-fiction and memoirs include The Bodysurfers, The Drowner, The Bay of Contented Men, The Rip and The Shark Net. A common thread through his work is the Australian coast, which he has sought to reclaim as an Australian literary backdrop against the primacy of the bush.
In this new work, The Beach: An Australian Passion, Mr. Drewe turns his attention to a favourite coastal theme, but in a new way: a mix of history, reminiscence and lyrical description, complemented by photographs from the National Library of Australia's penultimate collection.
Asked by an American publisher, 'What do you Australians do at the beach?', Drewe spoke about the beach as a place for gathering shells, performing teenage mating rituals and gazing out to sea.
In The Beach: An Australian Passion Mr. Drewe begins by establishing the Australian coastline in regions met by three oceans while a final note offers an insight into Killcare Beach on the Central Coast being carpeted with green capsicums – something familiar to Pittwater people who have heard the tales of the day a tide of melons washed up on Avalon Beach or snow covered Palm Beach - or were there!
Surf Full Of Melons - Hundreds of big jam melons that had been carried out to sea by the Hawkesbury River flood, were washed up in the surf at Avalon Beach yesterday. Most of them were in sound condition despite their long journey - possibly 50 miles. They were quickly snapped up by scores of local residents and visitors. Mr. Ronald Hogg, who lives nearby, said that people went to the beach on foot and in cars and trucks, which they loaded with melons. Others staggered away with chaff bags full. Apparently the melons had been swept by floodwaters from farms along the upper parts of the Hawkesbury. Surf Full Of Melons. (1949, June 20). The Sydney Morning Herald(NSW : 1842 - 1954), p. 4. Retrieved from http://nla.gov.au/nla.news-article18119781
Our beaches, those north, those south, in fact the whole of the 35,877 kilometres of the Australian coastline features in materials and glorious images both old and new that unfold every aspect of our obsession with our watery perimeters.
Chapter 7: 'Mr Gocher goes surfing' announces a shift in our Australian cultural history as a day 'the myth of the outback region began to give way to the coast..' which began at our own Manly Beach.
Chapter 12: 'The big beach questions, unsatisfactorily answered' poses questions such as "Why does beach sand squeak underfoot?" a salty riddle from time immemorial, where you can almost see the author standing among lilting dunes, chin cupped in hand, peering, pondering…squeaking....
While enjoying this wonderful new tome we asked Mr. Drewe about his favourite beaches:
What is your favourite Beach among those featured for its History?
My favourite beaches are Little Parakeet Bay on Rottnest Island, WA, then Byron Bay and Broome.
What is your favourite Beach of all time and why?
The beaches of Rottnest, where I spent adolescent holidays.
Which image among all those featured in this book do you like best?
That on page 74- 75: photo taken by John Witzig: Bob McTavish Standing Next to a 1948 Holden Complete with Surfboard on the Roof Racks, National Park, Noosa Heads, Queensland 1966.
Page 1 of Robert's wonderful book, The Beach: An Australian Passion, sets the tone:
'What is it with Australians and the beach? Is there another nation so in love with its shoreline? To me—and I'm sure I'm not alone—that mysterious, sensuous zone where the bush meets the sea is the real Australia.
Of course locating the real Australia in a particular part of the country is a myth. You might just as easily find it in the outback; some traditionalists still think the bush is the centre of our culture. And what about the suburbs? After all, they're where most people live.
These are reasonable alternatives. But consider these basic questions. When do you feel most Australian? What does that mean anyway? Perhaps for most of us it means feeling secure, contented, in harmony, at peace—maybe even happy. In this country, this is where the beach comes into its own.
I feel most Australian when I turn a corner on a bush track on the north coast of New South Wales and spot a patch of ocean framed in the branches of a eucalypt. Or I face a wild surf breaking against the cliff face on Victoria's Great Ocean Road. Or, on an early morning bike ride, I catch my first glimpse of Little Parakeet Bay on Rottnest Island, Western Australia.
Ah, the beach. To go a step further, as well as the beach being the real Australia, for many of us this real Australia has no other season but summer. The first hint of a summer breeze and the sweet scent of 30+ sunscreen can arouse certain feelings—and a theory about beaches that will surprise no-one raised in this country in the last century.
How shall I put this delicately? There's an overwhelming reason why a great many adult Australians regard the beach in a sensual and nostalgic light. It's because it was the place where they first made love.
For the rest of their lives, therefore, the beach, the coast, are not only a regular pleasure and inspiration but an idée fixe, one that resurfaces at each of the four or five critical physical and emotional stages in our lives: as new lovers, as honeymooners, as holiday-makers, and as the retired elderly.
From an Indigenous food source to a hedonistic playground, the beach has long been a national obsession. Robert Drewe's lyrical examination of Australian beach culture combines imagery from some of Australia's most celebrated photographers with his personal anecdotes of a favourite boat, a summer holiday with teenagers and an unwelcome great white. '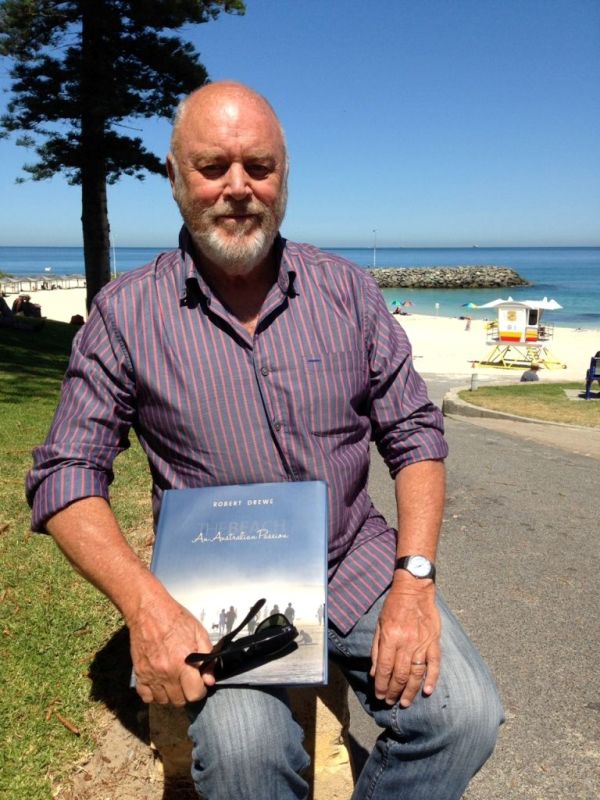 Robert Drewe - at the beach.
The Beach: An Australian Passion, is perfect to open your Summer sojourn of everything wet, salty and sandy and perfect as a unique Christmas Gift for those who love the beach - and who does not?
See you on The Beach Pittwater!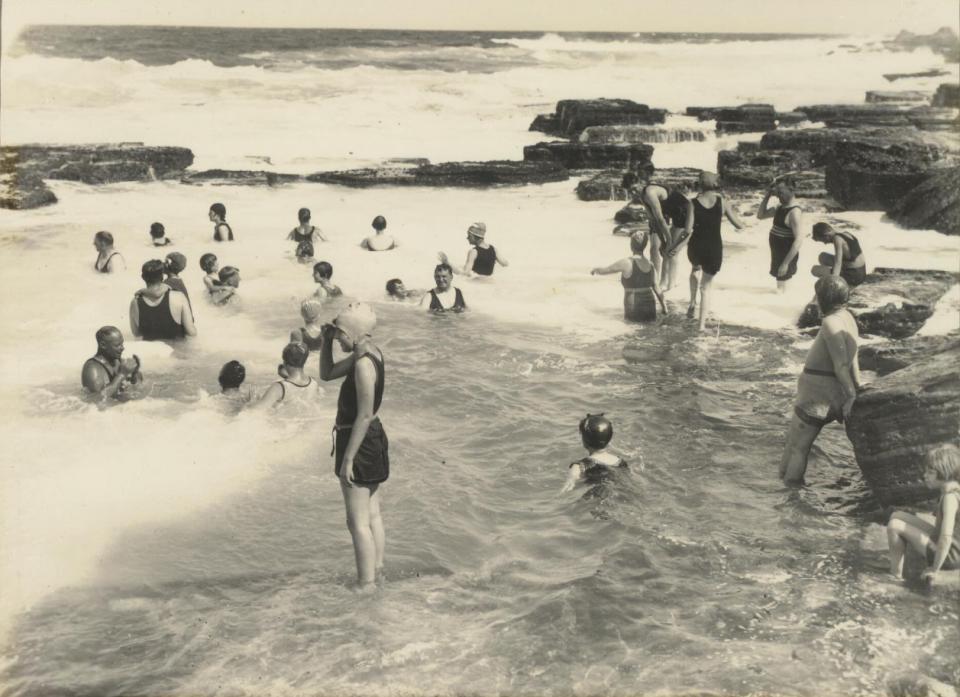 From The Beach: An Australian Passion- page 85 - Unidentified People Swimming in Rockpool, Avalon Beach, New South Wales, 1930 (Pittwater Online has recently spoken with members of the Williams/Fox Family and one of these girls is Sophie Iris Williams).
The Beach: An Australian Passion
Author: Drewe, Robert
Publisher: National Library of Australia
Edition: 1st Edition, Pages: 244, Publication Date: 01 November 2015, Price $39.99
Mr. Drewe looks at the sunny, salty sexiness of the beach that first enticed the crusading Mr William Gocher into the ocean at Manley in 1903, defying authorities in his neck-to-knee bathing costume. We've come a long way from sunbathing in stockings and pantaloons to the unabashed display of sun-kissed bodies of all shapes and sizes at any beach in the country today. The beach also has a dark side as a place of tragedy, violence and danger, a place where sharks attack prone surfers and prime ministers disappear. It is a place where we can see ourselves change from timid colonists who were slightly afraid of the sea to a nationa of volunteers who Patrol the beaches every Summer Season.
This is a book for the weary wage-slave who has felt the revitalising power of plunging into the water on a Summer evening or the seachanger dodging Dobermans and stingers on a morning beach walk. And it's a book for Australians dreaming of the beach—that is, those of us not there right now.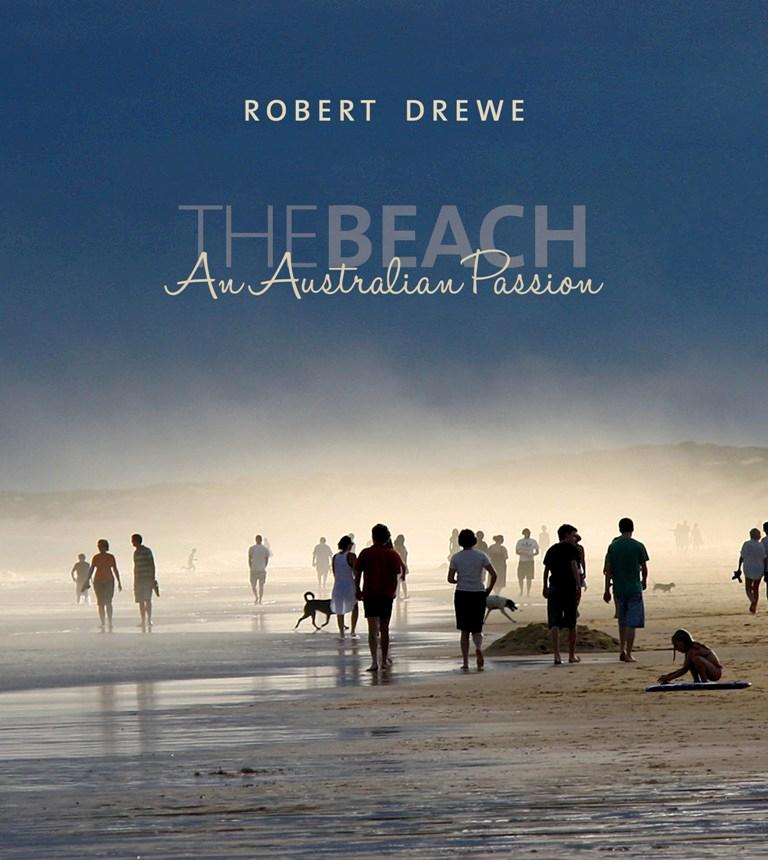 About the Author
Robert Drewe was born in Melbourne on January 9, 1943, but from the age of six, when his father moved the family west to a better job in Perth, he grew up and was educated on the West Australian coast.
The Swan River and Indian Ocean coast, where he learned to swim and surf, made an immediate and lasting impression on him. At Hale School he was captain of the school swimming team and editor of the school magazine, the 'Cygnet'. Swimming and publishing have remained interests all his life On his 18th birthday, already wishing to be a writer but unsure 'who was in charge of Writing', he joined 'The West Australian' as a cadet reporter. Three years later he was recruited by 'The Age' in Melbourne, and was made chief of that newspaper's Sydney bureau a year later, at 22. Sydney became home for him and his growing family, mostly in a small sandstone terrace in Euroka Street, North Sydney, where Henry Lawson had once lived.
Robert Drewe became, variously, a well-known columnist, features editor, literary editor and special writer on 'The Australian' and the 'Bulletin'. During this time he travelled widely throughout Asia and North America, won two Walkley Awards for journalism and was awarded a Leader Grant travel scholarship by the United States Government.
While still in his twenties, he turned from journalism to writing fiction. Beginning with 'The Savage Crows' in 1976, his books include the widely translated and acclaimed 'A Cry in the Jungle Bar', 'The Bodysurfers', 'Fortune', 'The Bay of Contented Men', 'Our Sunshine','The Drowner', 'Grace' and 'The Rip', as well as a prize-winning memoir, 'The Shark Net', and the non-fiction 'Walking Ella'.
'Fortune' won the fiction category of the National Book Council Award, 'The Bay of Contented Men' won a Commonwealth Writers' Prize for the best book in Australasia and South-East Asia, and 'The Drowner' made Australian literary history by becoming the first novel to win the Premier's Literary Prize in every State. It also won the Australian Book of the Year Prize, the Adelaide Festival Prize for literature and was voted one of the ten best international novels of the decade. 'The Shark Net' won the Western Australian Premier's Prize for Non-Fiction, the Courier Mail Book of the Year Prize and the Vision Australia Award.
'Our Sunshine' was made into an international film, retitled Ned Kelly, directed by Gregor Jordan and starring Heath Ledger, Orlando Bloom and Naomi Watts. 'The Shark Net' was adapted for an ABC-BBC-produced international television mini-series and a BBC radio drama. 'The Bodysurfers', also became a successful ABC and BBC TV mini-series and was adapted for radio and the theatre.
The Bodysurfers and Our Sunshine have been republished internationally as Penguin Modern Classics. More recently he has published a second memoir, Montebello, and two books of humorous sketches, The Local Wildlife and Swimming to the Moon. His new novel, Whipbird will be published in 2016.
Robert Drewe is also the editor of two international short-story anthologies, The Penguin Book of the Beach and The Penguin Book of the City, and edited 'Best Australian Stories' in 2006 and 2007 and 'Best Australian Essays' in 2010. He has been a 'Sydney Morning Herald' film critic, and his play, 'South American Barbecue', was first performed at Sydney's Belvoir Street Theatre in 1991.
Awarded a special Australian Artists' Creative Fellowship by the then Prime Minister, Paul Keating, he has also received an honorary doctorate in literature from the University of Queensland, and an honorary doctorate of letters from the University of Western Australia. He has lived and worked in San Francisco and London and been writer-in-residence at the University of Western Australia, LaTrobe University in Melbourne, the South Bank Centre at Royal Festival Hall, London, and at Brixton Prison in London.