July 6 - 12, 2014: Issue 170
TEDxPittwater 2014
John Illingsworth, one of the speakers at this year's Inaugural TedX Pittwater, dropped us a quick line late last night on yesterday's (July 5th, 2014) events and speakers:
Pittwater TEDx conference today was successful and stimulating. All speakers were good, several were terrific including Fred Watson on space tourism, Peter Rutherford on soils, and Tamara Sloper Harding on Timor Leste.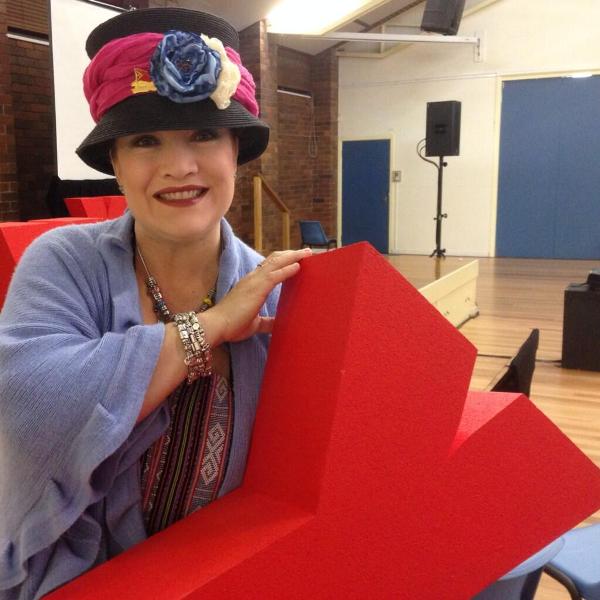 Tamara Sloper Harding at TedX Pittwater - picture courtesy Selena Griffith
By the time my presentation came up the sun was in the west and there was a lot of light coming into the building (Mona Vale Memorial Hall) from the high windows so the projection was a bit washed out. Nevertheless the film got a good reception.
About
We have chosen the theme BLUE SKIES for TEDxPittwater. It references the innovative ideas that members of our local community contribute to the broader global community.
ORGANISER / CURATOR : SELENA GRIFFITH
Selena is a designer and academic at COFA, UNSW. She believes design thinking is an excellent problem solving model for global sustainability in concert with an open exchange of ideas. She is involved in many community groups in Pittwater and is a Pittwater Councilor.
Selena has found TEDxPittwater a great project to unearth some of the many great idea smiths on the insular peninsular and share their thoughts with a broader community.
MC : DALE COHEN
Dale Cohen has spent his life in Pittwater. He helped create Australia's Internet industry, working for online pioneer CompuServe since the early 90's before joining ninemsn as a founding staff member in 1997. He currently works for Telstra. He previously ran BigPond.com and now manages new digital platforms building websites for the NRL and Sky News and working with new businesses at Telstra's start up accelerator, muru-D. A board member of Australia's peak digital industry body AIMIA, Dale wants to secure Australia's digital future and loves big ideas.
Speakers 2014
NEIL EVERS - WELCOME TO COUNTRY
Neil is one of only 5 known Guringai men in this area from the Garigal Clan. He only recently, in 2008 found out he has Aboriginal heritage. He is proud of his heritage, is a member of the Aboriginal Support Group – Manly Warringah Pittwater and is involved in many local activities that help to give us all a better understanding and acceptance of the Aboriginal culture and life.
FRED WATSON - BEYOND THE BLUE - TOURISM'S FINAL FRONTIER
The turn of the millennium has brought a new dimension to the Space Age -one that was undreamed of only a few years ago. Thanks to a heady mix of new technology and visionary entrepreneurs, space tourism is now a reality that is set to take off dramatically in the near future. In this entertaining and fully-illustrated presentation, Newport's Fred Watson outlines what we might see as space tourism evolves into a mainstream branch of the industry. He argues that the new venture is not merely a fashionable diversion for the very rich, but a necessary step in humankind's emergence as a spacefaring species. He also sees environmental benefits for our own planet.
PETER RUTHERFORD - DIRTY SECRETS OF HEALTHY SOIL
Everything we eat comes from soil! What is it? What is healthy soil? How does the life in soil, (ie microbes and worms etc), impact on the way food plants grow? Is our human health related to the type of soil that our food is grown in? How do we create a truly healthy society? Ingleside's Peter Ruthrford will share his life's journey from 20 years of 'chemical farming' to 20 years of 'organic growing and teaching', answering these questions and giving us insights into the relationship between 'healthy soils' and healthy humans.
JESS ROSMAN AND NETTIE LODGE - PLAY WITH YOUR FOOD
Today, children face a health crisis like never before. Obesity and its associated disorders have reached epic proportions, and there are predictions that children will have a shorter life expectancy if trends continue. Teaching children to love their fruit and vegetables is now crucial for children's long-term happiness and well-being. Scotland Island based teacher/writer Jess Rosman and artist/illustrator Nettie Lodge talk about what led them to create their book series, Kindy Kitchen, and the importance of collaborating on something that could benefit the world.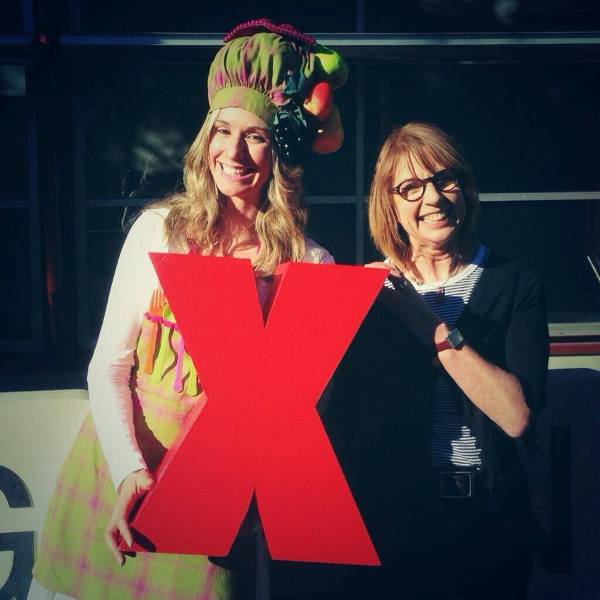 Jess and Nettie - picture courtesy Selena Griffith
TAMARA SLOPER HARDING - COLLABORATION OF COMMUNITIES
Tamara has had a long standing relationship with East Timor starting from her days there with the Australian Defence Force. She will be talking about her experiences working with communities in East Timor to rebuild and how they are doing through collaboration with people in Pittwater.
SAJEELA CORMACK - THE REAL DEAL ON RAW FOOD
Newport based Sajeela is a raw cuisine chef, author, natural therapist and permaculturist. She is committed to sharing how to make raw food a way of life through simple and fun approaches to healthy living. Sajeela will be discussing the science of the unique raw cuisine in which she specializes. The extra bonus this event offers TEDxPittwater attendees is the opportunity to enjoy her raw cuisine at the special catered lunch included.
GREG STONEHOUSE - ERAMBOO - CREATING PLACES FOR CREATIVITY
Greg Greg Stonehouse and his partner Susan Milne are established creators of Public Art and Directors of Eramboo Artist environment. Greg will be presenting their vision for Eramboo, its role in creating constructive conversations and its initiation of change within communities.
ROBIN GRILLE - THE PEACE CODE IN THE HUMAN BRAIN
Ground-breaking discoveries about early childhood and the human brain have offered vital clues about the roots of human violence and social disharmony. Our brains' empathy centres grow – or fail to grow – according to how we are nurtured. Avalon's Robin Grille will cite several examples of startling advances in democracy, peace and social harmony that have resulted from child-rearing reforms around the world. What are the specific implications for parents, teachers and social policy makers? Discover your personal role in this unfolding global movement!
JOHN ILLINGSWORTH - PURSUING PITTWATER'S PAST
John Illingsworth was born and bred in Newport, Pittwater. A passionate film maker and historian he as been piecing together fragments of Pittwater's past part time for years. John will be showing a film of his latest finds on West Head and what a film maker needs to do to get the great shots.
John Illingsowrth at TedX Pittwater - picture courtesy Selena Griffith
John Illingsworth shares his wonderful 2014 TEDxPittwater video presentation 'WEST HEAD FORTRESS - A WORK IN PROGRESS. Drilling down into our local history, aspects of film making by W.H.A.T. volunteers - published July 5, 2014' this week, which we're running as big as possible so you may appreciate the beautiful drone footage.