March 25 -31, 2012: Issue 51 ___________________________________________________________________________________________________________________
Tarrangaua Open House at Lovett Bay
L to R: Larraine Hall, Noela Elsworth, Doug Elliott, Susan Duncan, Bob Story, Gail Carew, and Jean Beveridge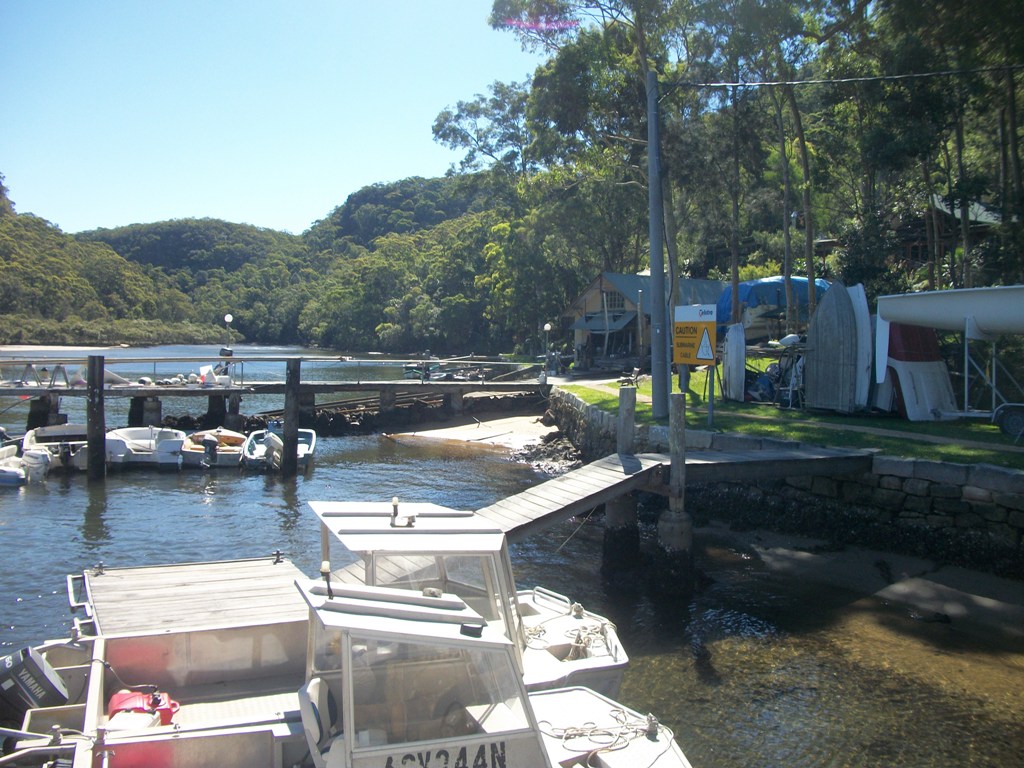 Lovett Bay in Autumn Sunshine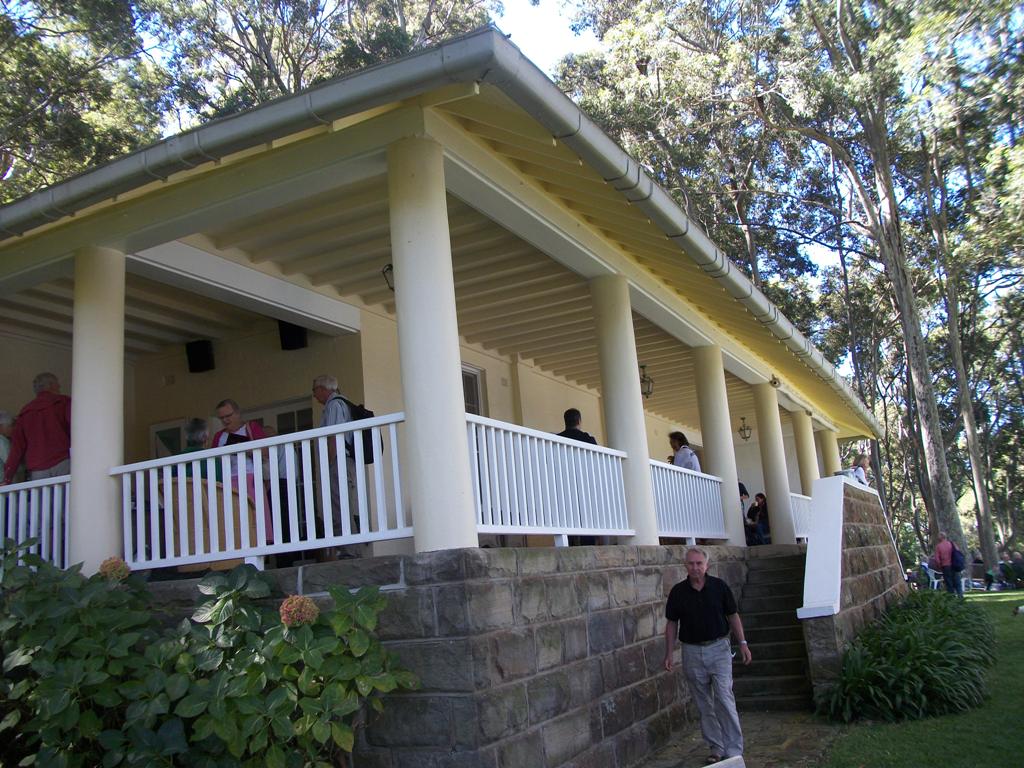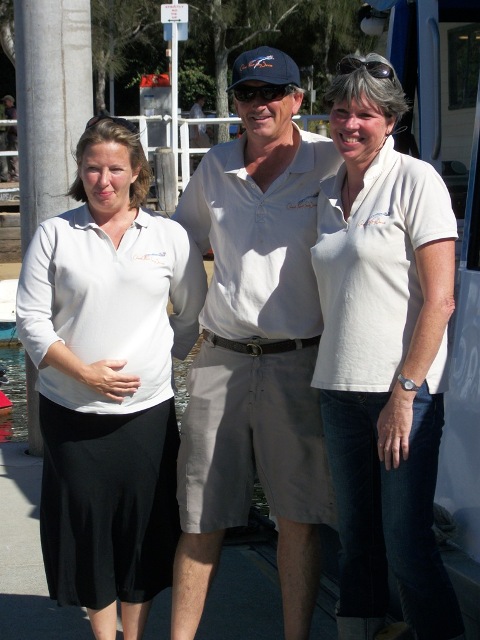 Penny, Tim and Roz of Church Point Ferry Service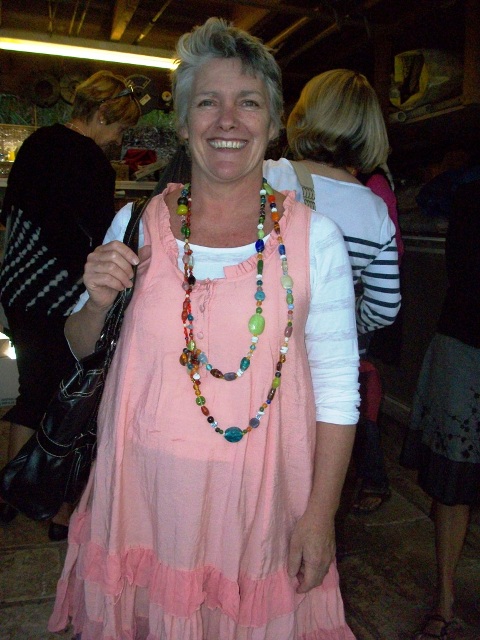 Tracy Smith, Artist, and Gone Fishing Gallery lady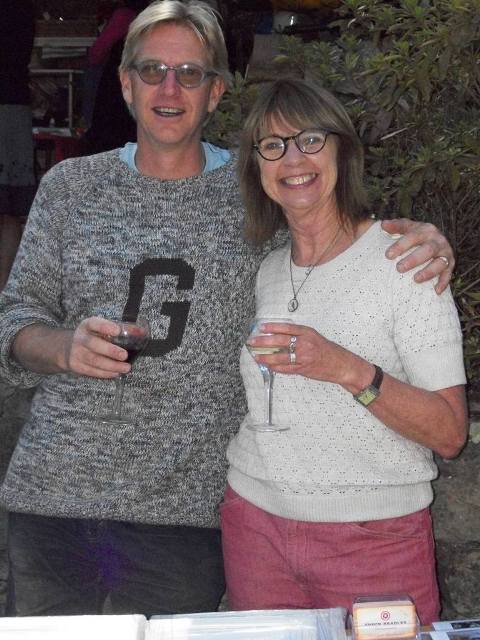 Chuck Bradley and Nettie Lodge, Gone Fishing Gallery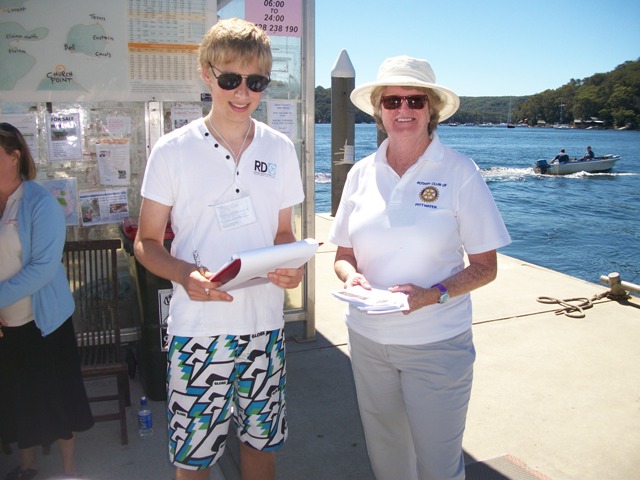 Alex Linfield and Dianne Elliott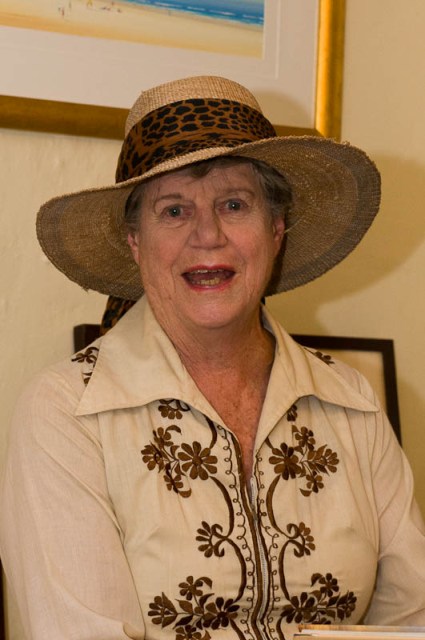 Margaret Molloy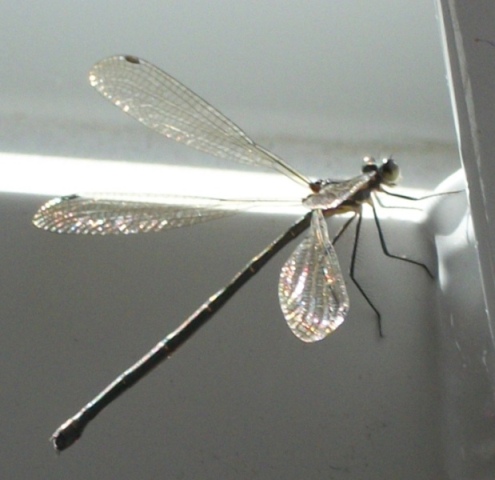 Dragonfly on the Ferry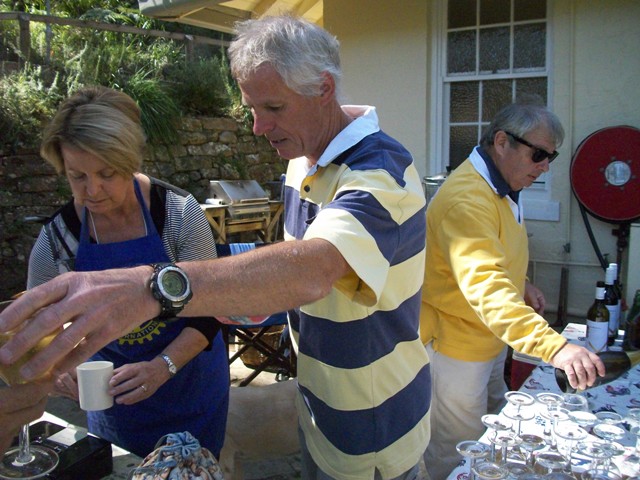 Food and Wine Volunteers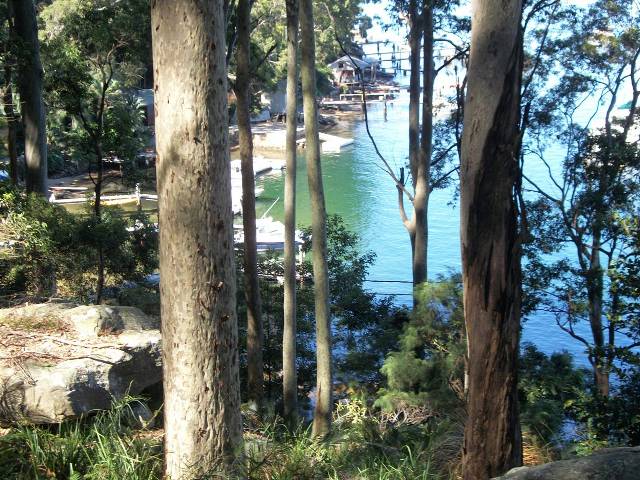 Lovett Bay through the front yard's trees
Tarrangaua Open House by Susan Duncan, Rotary Club of Pittwater and Church Point Ferry Service for Palliative Care at Mona Vale Hospital
March 24th 2012, Lovett Bay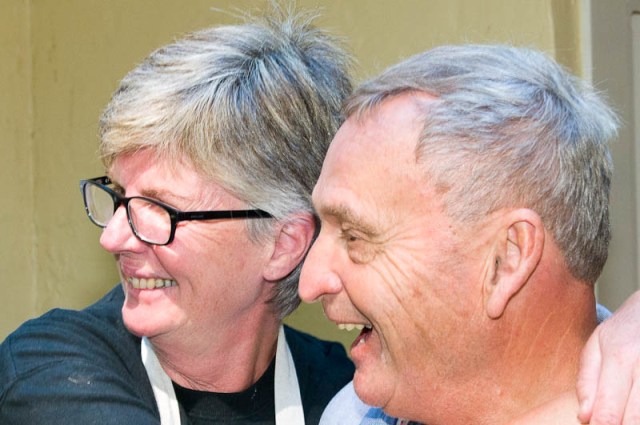 Susan Duncan and Bob Story have experienced, like so many Australians, losing loved ones through the horrendous ordeals of cancer. Every second year they affirm their commitment to do their bit towards helping others by having an open house to raise funds for worthwhile projects. This year they nominated the Palliative Care center at Mona Vale Hospital as what they would support and the Rotary Club of Pittwater, who have an ongoing project to raise funds for MVH Palliative Care's 'The Cottage' as the volunteers and co-presenters thanks to Dianne Elliott, wife of Rotarian Doug, asking Susan to at a recent book signing.
Tarrangaua, the home they open to visitors, holds a special place in the hearts of many as it is the classic house built by poet Dorothea Mackellar in 1925 as a summer retreat. Mackellar, author of the iconic poem "My Country", became locally famous as an occasional resident, reclusive and eccentric.
Situated above the clear green waters of Lovett Bay, its name is no accident. The words "high, rough hill" translate into the Aboriginal language as Tarrangaua, the name given to this home by Dorothea Mackellar. Tarrangaua has recently become famous in Susan Duncan's award-winning memoirs - Salvation Creek (2006) and The House at Salvation Creek (2008) - and her gorgeous pictorial book A Life on Pittwater (2010). To visit this wonderful residence and its beautiful grounds was a little like going for a romp with this Australian poet over soft green lawns beneath tall gum trees in what is Autumn splendour.
There is a house on a high, rough hill that overlooks the tawny green waters of Lovett Bay. It is pale yellow, with three chimneys and a red tiled roof spattered with lichen. An elegant verandah, with stately columns and polished wooden floors, stretches from end to end and on a still summer evening it is quite magical to dine there, watching the light fade and the birds fly home.
- Susan Duncan, Salvation Creek: An Unexpected Life
On the ferry over deckhand Roz pointed out the points, landscapes and homes of more iconic Australians such as Chips Rafferty's old home, whom Dorothea is said to have visited on occasion, swimming across the bay. Those on board look one way then another as old buildings, old ferries and water courses are described. We disembarked at a blue boatshed and climbed the stone steps to the lawns surrounding Tarrangaua and went looking for Dorothea… Susan and Bob.
The current lady of the house was busy in the kitchen. Susan has gained a reputation for excellent food with offshore folk and would brook not one toe over the doorway. Tall, bubbly, with keen eyes behind her glasses, this lady was clearly enjoying speaking with and feeding all who came and willingly autographed books that had been brought and posed for photographs. Her generous spirit is palpable. Husband Bob had thrown open his men's shed so the great artists from Gone Fishing Gallery could contribute to the day by displaying paintings, prints, photographs and more with a portion of all sales going towards the Palliative Care Centre at Mona Vale Hospital. Bob, like all volunteers on the grounds, was working hard to ensure all who came felt at home and comfortable in the building and grounds. Those we saw seemed quite settled on chairs, benches and the grass, glasses of wine and food in hand.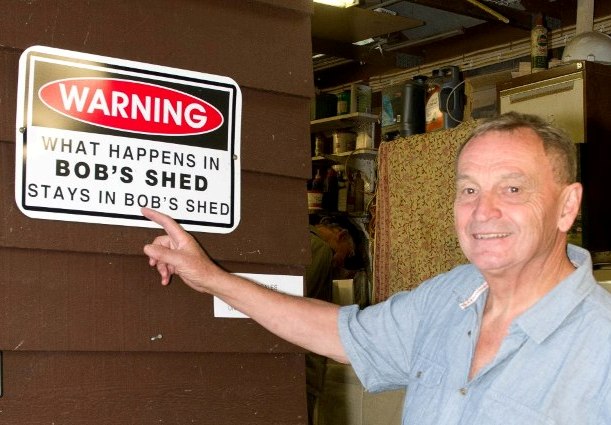 In a study off behind the kitchen Margaret Molloy, offshore lady for more then four decades, was reading some of Dorothea's works and giving insights into their creation. Some of Mackeller's personal possessions could be seen, including Dorothea's lovely flowing handwriting.
At the top of the stairs from the Lovett Bay jetty the magnificent view back across the bay past Rocky Point towards Church Point gave visitors pure Pittwater at its sunshine best. Behind the house rises the unspoilt Ku-ring-gal Chase National Park, a magnificent 154 sq km expanse of wilderness encompassing diverse vegetation, sandstone escarpments and picturesque waterways. First inhabited by the Garigal people, it became a national park in 1894.
It would be a waking vision to return to another Tarrangaua Open House and flit with Dorothea across the lawn, dwell under the towering gums and hear her voice, and the wordsmith who breathes there now, murmuring among the brilliant eucalypts shimmering leaves. This place is special. You feel it as soon as your foot touches its earth. To be able to visit for such a great cause doubles your happiness.
Special thanks are due to the following who all gave their time, selves, services and products to support this great day; Susan Duncan and Bob Story, Rotary Club of Pittwater members, volunteers and supporters, Church Point Ferry Service (Amelia K and L.Duck were running; Penny on shore, Roz and Tim were on ours as deckhand and Ferry Master respectively), HammondCare (Stewart James, CEO), Kennards Hire, Mona Vale, Max Value Pharmacy, Centro Warriewood, MyShuttle Pty Ltd Avalon, (David Cosgrave) Pittwater Council, Pittwater High School, Pittwater YHA, Broken Bay Lighterage (Toby Jay and Dave Shirley) Waterfront Cafe, Church Point, Lisa Atkins, the Gone Fishing Gallery Artists and all the offshore community that gave of their time and themselves with such joyful generosity. Wild mushroom, garlic and beef sausages were from Janet at the Wingham Butchery.
Michael Mannington's Volunteer Photography's Public Gallery: HERE
Further:
Susan Duncan: http://www.susanduncan.com.au/
Church Point Ferry Service: www.churchpointferrys4ervice.com
Rotary Club of Pittwater: www.rotarypittwater.com
Gone fishing Gallery: www.gonefishinggallery.com.au.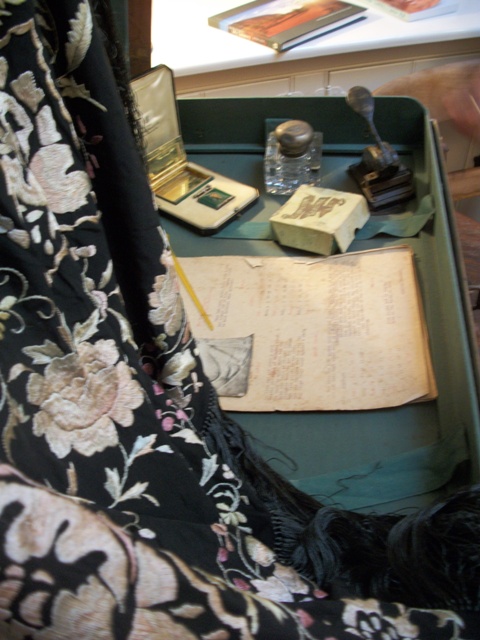 Dorothea's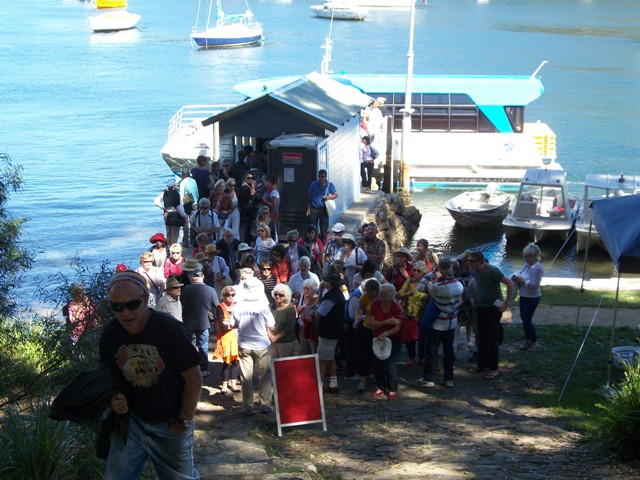 Lovett Bay Wharf
National Park Marker
Report and Pictures by A J Guesdon, 2012