May 22 – 28, 2011: Issue 7
Rarely do we meet someone with such a keen awareness of other's challenges and the compassion, energy and drive to do something about it. Tamara Sloper Harding proves it is not just the beauty we wear as skin and smiles, it is the beauty inside that shines kind light into other's lives and the strength to go the distance, however far, however long. Quietly, steadily, humbly.
"While I know myself as a creation of God, I am also obligated to realize and remember that everyone else and everything else are also God's creation."
Maya Angelou
American poet
Tamara A. Sloper Harding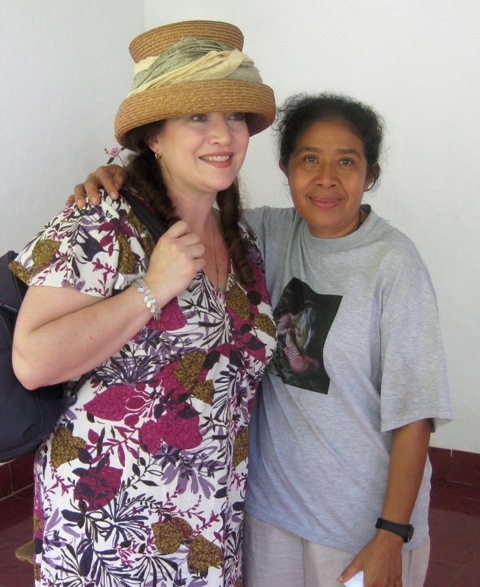 As the daughter of a Royal Australian Naval Officer and being one herself, Tamara has lived at many different places and travelled extensively. She was born at Liss in England but also lived overseas in Hawaii and again in the United Kingdom during postings for her father. She commenced her education at St Kevin's, Dee Why, continued at Haslemere in England before returning to St. Kevin's and then Mater Maria, Warriewood. Tamara completed secondary schooling at St. Clare's in Canberra before commencing a BA at Canberra University and then joining the RAN in January 1987 at the Australian Defence Force Academy, completing her training at HMAS CRESWELL, Jervis Bay in 1988.
Tamara has an extensive personal and family association with the Northern Beaches of Sydney. Her grandparents owned property in Trappers Way, Avalon before moving to Collaroy for over 40 years. Her parents did the reverse, owning at Collaroy before retiring to Avalon. Her mother was a very active supporter of the Long Reef Surf Club before her marriage. Of her two younger siblings, both born at Mona Vale hospital, her sister is a special needs teacher at Barker College while her brother, a lawyer, and his family live at Freshwater.
Her initial postings in the Navy were as an Administration Officer, generally in personnel management and community support areas, including Public Relations and media. This included time at sea onboard HMAS STALWART and HMAS TOBRUK. After qualifying as an Intelligence Officer, Tamara had operational postings in Maritime Headquarters, Headquarters Australia Theatre, at sea in USS CORONADO, Bougainville, Papua New Guinea, and finally as a member of the Interfet peacekeeping force under General Cosgrove in September 1999 in Timor Leste (East Timor). Her exposure to the sufferings of the civilian population following the atrocities during the Timorese struggle for independence, lead to her passionate involvement and desire to provide assistance. She became involved with orphanages and schools, organising food and aid packages to be sent to her for distribution while there and has continued this since then. (Picture: Tamara with her personal hero, Mana Lou (Sister Lourdes).)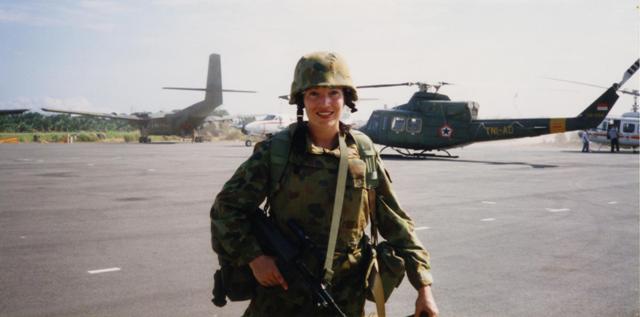 She married Adrian Harding, an Army officer, in September 1999, again keeping the Northern Beaches association, at St. Patrick's, Manly. (She received the phone call about the deployment to Timor Leste during the wedding reception.) They have four children and, on settling in Avalon, Tamara transferred to the RAN Reserve (Inactive) as a Lieutenant Commander after almost 19 years in the RAN. Adrian working in a civilian defence support capacity, remains an active Army Reservist Lieutenant Colonel. Her children, aged 5, 6, 8 and 9 attend Maria Regina School at Avalon.
At Avalon she became very committed to community engagement, setting up, over the last five years, the Pittwater Friends of Soibada and being elected its inaugural Chairperson at their September 2010 AGM. Tamara is an active participant in the Alola Foundation, involved in fundraising since 2005. She has supported the Cancer Council with Daffodil Day for 3 years and has held a "Girls' Night In" for women's cancers at her house for the last 5 years with up to 200 attendees as well as being involved in the Blood Bank since 1990, coordinating buses, publicity and volunteers. She is a member of the Northern Beaches Social Justice Network – Meeting of the Minds and runs the Social Justice Ministry for the Catholic Pittwater Parish.
In March, 2011 she was honoured with the award of Pittwater Woman of the Year. She also recently received The Rotary International Service Award in recognition of outstanding human endeavour contributing to international peace and goodwill.
Could you tell us about the Friends of Soibada, what was the impetus and inspiration behind setting up this organisation?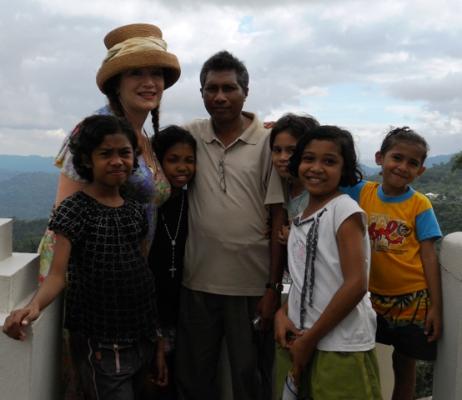 Pittwater Friends of Soibada is a community group who have joined Pittwater Council in signing a Friendship Agreement with the people of Soibada, a remote village community in Timor Leste (East Timor)
I was one of the group from Pittwater that visited Soibada last year to formalize our friendship agreement. This was my third visit to Timor Leste. I served there in 1999 with INTERFET as a Naval Officer attached to the ground force. Conditions were extremely basic and the environment was high threat. I witnessed the results of the years of occupation and violence in Timor Leste and felt the true courage and strength of the Timorese spirit. However, I did not truly understand the full impact upon the women and children until I had children of my own. I also did not fully comprehend the journey of friendship I was embarking on in 1999, nor did I anticipate the love I would grow to feel for the East Timorese people. It has been a life changing experience that has influenced every aspect of my existence.
As an older mother, and having spent so much time in the Navy, I found it difficult to settle into life at home with (initially) 3 children under 3(The fourth came about 20mths later.) with my husband away a lot with the army and living in Army Married Quarters in Brisbane far from family and friends. (I was on mat Leave.)Even though it was what I had always wanted it was a huge culture shock.
I couldn't let go of Timor Leste. I heard about Kirsty Sword Gusmao's Alola Foundation (www.alolafoundation.org) and contacted her to see if I could assist at all to improve the lives of the women and children of Timor Leste. We corresponded regularly via email and when I returned to Sydney (after a brief detour to Canberra for a year) we met and I began organizing fundraising events. She came and spoke at Avalon and it was then that the Consul General of the time, Abel Guterres (now Ambassador) and I discussed approaching Pittwater Council to link us with a village in Timor Leste.
Australia has had ties to East Timor for far longer than most people are aware. – In WW2 over 40,000 East Timorese died as a result of assisting Australia. We promised them friendship and protection ……. And we let them down.
Please outline what you wish to achieve.
The purpose of this agreement is to provide a basis for the Pittwater Community to support and assist the people of Soibada to improve their daily lives. By helping to provide that support for local projects and to build skills that will contribute to the long term independence and sustainability of the community. In this way we will also teach our youth about the difference we can make in our world, even with small acts.
Why do they need our help? The people of Soibada have been rebuilding their small community of 3,000. However, our support is needed to increase the health, well-being and capacity of the village. We can provide that support for local projects and build skills that will contribute to the long term independence and sustainability of the community. Lack of sanitation, food, health care and poor education are the major problems.
Here in Pittwater we have had a link with Timor Leste for at least the last 11 years. Pittwater parish supported me in my efforts to ease the suffering of the locals whilst I was there. I was sent items for distribution including food, clothing, toys, books, pens, sewing material, equipment and daily essentials. The Pittwater Community's interest in and commitment to assisting Timor Leste began a couple of years ago at Maria Regina Primary School. With the support of the Parish and that of Pittwater Council it has since grown to encompass the wider community. It will be a sustainable lasting connection and to be successful it needs community support.
How do we achieve this? Any projects will be determined by the Soibada community and the Pittwater Friends of Soibada Group. Priorities include: constructing classroom floors and toilets at the local school, a building for 3-6 year olds, a youth centre and a women's centre.
Education is very important as it is the means by which Timor Leste can grow as a nation. Our initial focus will be on education and restoring the school. There are very few resources. There is no electricity or computers.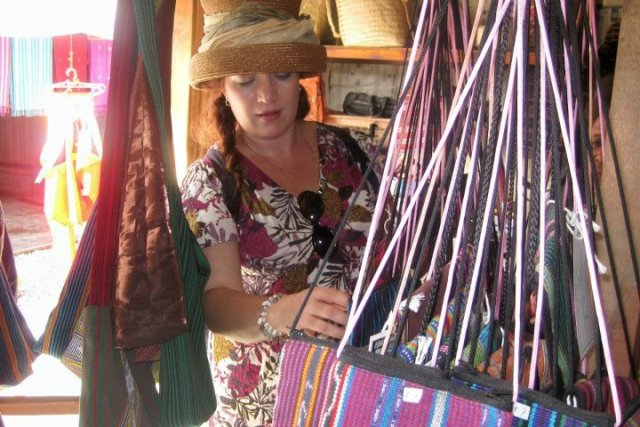 How can you help? The community of Soibada has access to resources and tradesmen qualified to restore the old damaged buildings of the school yet no money. Fundraising is the place to start.
It is a much better use of resources to employ local tradesmen and use local products. This way we assist in stimulating the local economy by providing jobs and giving people the means to help themselves.
The development of the relationship with the village of Soibada in Timor Leste has been very much a team effort. The people of the Northern Beaches have got behind this project with enthusiasm and determination.
I am very grateful to Pittwater Council, Mayor Harvey Rose, and particularly Mark Ferguson and Jane Mulroney (who recently visited Soibada with me) for formalizing our community's relationship with Timor Leste.
I am so fortunate to have a fabulous support network of family and friends. My husband Adrian and my four beautiful children, are more than happy to accommodate my projects into their daily lives – putting up with the phone calls and emails during dinner, the piles of donated items that take up space in the playroom and my lack of time for the housework! Dad and Mum are always there to assist. Especially with caring for the children when I visit Soibada.
My mother Dannie has backed me in my varied endeavours, even the ones that terrify her as a mother and those that she says sent her grey! This project would not have got off the ground without Kathy Gee and The Maria Regina School Community - this small Catholic school in Avalon is where the friendship between Pittwater and Timor Leste truly began. Kathy and her staff embraced Timor with such contagious enthusiasm that it soon spread to the entire Pittwater Parish.
I must thank The Pittwater Friends of Soibada Committee and their supporters. They and the "Soibada Knitters are a wonderful group of volunteers from varied backgrounds all drawn to the project by a common desire for social justice and a wish to assist our neighbours in Timor Leste.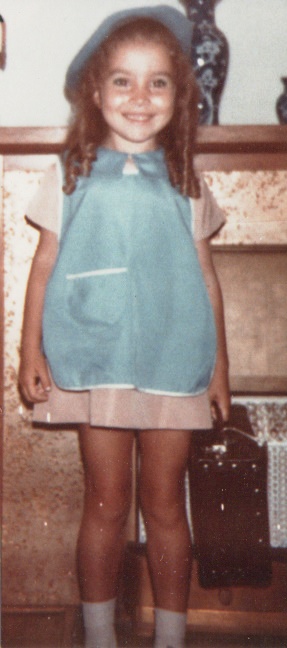 How long have you lived in Pittwater ?
I have lived in Avalon for the last 5 years. Originally from the Northern Beaches the Navy drew me away, both through my Father's postings and then my own. It was a fantastic life of adventure. However, after marriage and babies my priorities changed and I knew I wanted to raise my children here. After 22 moves I felt I needed to settle permanently. I have lived in many places all over the world and my choice was Pittwater. It did help that my family were already here.

What is your favourite memory or place here?
I love the village atmosphere of Avalon and the vibe on the Northern Beaches in general. Most of the time I love that everyone knows each other, that Dave (local coffee shop) knows my coffee without me asking, and there will always be a friendly face and someone to have a chat with. Dave's is almost like an extension of my house!
I love the smell of the ocean, the Norfolk Pines. It all feels like home.
The strong sense of community and social justice is really evident up here. We are very privileged but there are people everywhere striving to make a difference in the wider global community.
The best parts of my childhood were up this way. One of my favourite memories from my childhood is of long days at the beach digging paddling pools and making sandcastles. Life didn't seem as frantic then – or perhaps it was just childhood.

What are your plans for the future ?
I am still in the Navy Reserve as a Lieutenant Commander, so one day I would like to go back and do some part time work. At the moment though, raising my children to be happy, healthy and globally aware is my priority.
Now that Pittwater Friends of Soibada is incorporated I would like to see the project registered as a charity soon. It must be sustainable. It is a very long term project for me. I would like to assist in furthering the education of children about Timor Leste and Soibada. I would like to go some way towards fulfilling the promises that we Australians made to the Timorese in WW2. My list goes on and on!
I hope never to leave Avalon. Whenever I worry about outgrowing our small house I remember my friends in Soibada and the conditions in which they live and our lives seem luxurious. (Adrian loves it when I come back from over there and don't hassle him about renovating anymore!)
What is your 'motto' or creed for life ?
I consider that the obligation of social justice does fall upon each of us as individuals. Sister Lourdes, (Mana Lou) is the most inspirational person I have ever met. One person can make the world a better place even through small acts of kindness. There are so many problems in our world at the moment. It can be overwhelming and difficult to know where to start - or if to try at all.
Mother Theresa said, "If you can't feed a hundred people, then feed just one."
The greatest thing I have learnt from my experiences is that an ordinary person really can make the world a better place, if not for many, but for at least one other person.
I/You/We can make a difference
To a child
To a family
To a village
Our sister village Soibada
As a child my favourite poem, and something I tried to live by, was by Emily Dickinson,
If I can stop one heart from breaking,
I shall not live in vain;
If I can ease one life the aching,
Or cool one pain,
Or help one fainting robin
Unto his nest again,
I shall not live in vain
Do not wait for leaders; do it alone, person to person.
Mother Teresa
Further Reading
Friends of Soibada at: http://pittwaterfriendsofsoibada.org/?p=46
Interfet
East Timor - INTERFET/Operation Tanager
Following a democratic election voting for independence, East Timor was subjected to violence and heavy reprisal from the Indonesian Armed Forces (TNI) and pro-Indonesia militia groups. The violence began on 30 August, 1999. The Indonesian government was initially reluctant to accept outside help but relented on 12 September. On 15 September the United Nations (UN) authorised the establishment of a multinational peace enforcement force. It was named the International Force East Timor (Interfet) and was led by Australia. Its role was to restore peace and security, support other UN forces, and facilitate humanitarian assistance, where possible.
Books at: http://regimental-books.com.au/shop/east-timor-interfetop-tanager-c-14_37
Australian Forces led INTERFET: http://www.aph.gov.au/library/pubs/cib/1999-2000/2000cib03.htm
INTERFET: http://en.wikipedia.org/wiki/International_Force_for_East_Timor
Copyright Tamara Sloper Harding 2011. All Rights Reserved. Images copyright Tamara Sloper Harding.
Reservist's aid continues - By LCDR Mick Gallagher 2009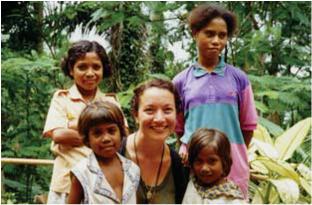 LADY ROSARIO: LCDR Tamara Sloper with East Timor orphans in 1999.
LCDR Tamara Sloper has a passion for the people of East Timor, which has been reflected in her involvement in organising a fundraising event at Avalon on Sydney's northern beaches on May 14. And she's planning a formal arrangement to provide more profound help to the East Timorese. LCDR Sloper joined the PNF in 1987 and transferred to the RANR/ANR in 2005. Her deployment to Timor in 1999 was quite unexpected. "I received the telephone call about the deployment during my wedding reception," she said. She then joined the Deployable Joint Force Headquarters – Maritime Element. "Based ashore in Dili my experience was very different to a regular naval deployment. I lived in Obrigado Barracks near the INTERFET HQ which was set up in the old Dili library. I worked with mostly Army. Personnel conditions were extremely basic and the environment was high threat at that time," she said. She became involved with the local community and spent any time off at an orphanage run by well known Sister Lourdes at Dare in the hills above Dili. "Many organisations, including Maria Regina Parish at Avalon and St Canice's Parish, at Elizabeth Bay sent me items for distribution to the locals while I was there. This included food, clothing, toys, books, pens, sewing material, equipment and daily essentials. Some items arrived in Dili by HMAS Tobruk. "The Timorese are predominantly Catholic. The rosary beads sent to me by the Australian nuns proved extremely popular. In fact I eventually became known as Lady Rosario among the children."
LCDR Sloper says that through Alola there is a way that schools and communities in Australia can make a difference to the lives and education of the children in East Timor. "In doing this we are educating our own children about the wider global community and the impact they can have on it," she said. More than 50 per cent of the population is under 15 years of age. It is a nation of children. "Avalon's Maria Regina Catholic Primary School's association with East Timor has been steadily growing. I speak often to the children about different subjects in relation to life in Timor," LCDR Sloper. Later this year, and 10 years since her time in Timor with INTERFET, she will be revisiting East Timor to establish formal arrangement between Maria Regina School/Parish, and the village of Soibada, the home village of PM Xanana Gusmao, in Manatuto, the home district of President Dr Jose Ramos Horta. "I feel strongly that it is important when we help people to do more than merely give them handouts. While this is good and solves the problem in the short term, the problem is intrinsically deeper than that," said LCDR Sloper who is a now a mother of four . She thanks her husband, Adrian, for his support. He is a LTCOL in the Army Reserve with 21 years service as a Regular. He served with the UN in Iraq as part of the chemical weapons and bomb disposal group. LCDR Sloper has many military connections on both sides of the family. Her father is Navy Reservist CDRE Graham Sloper, who as president of the Avalon Beach RSL Sub-Branch will coordinate the Avalon Cadet and Military Expo on Saturday, June 13, 2009. "To really assist people in need, in crisis, we need to give them the means to help themselves. We need to educate our own children about this." LCDR Sloper has also been involved in many other charity works including the Cancer Council and the 2009 Victorian bushfire victims appeal.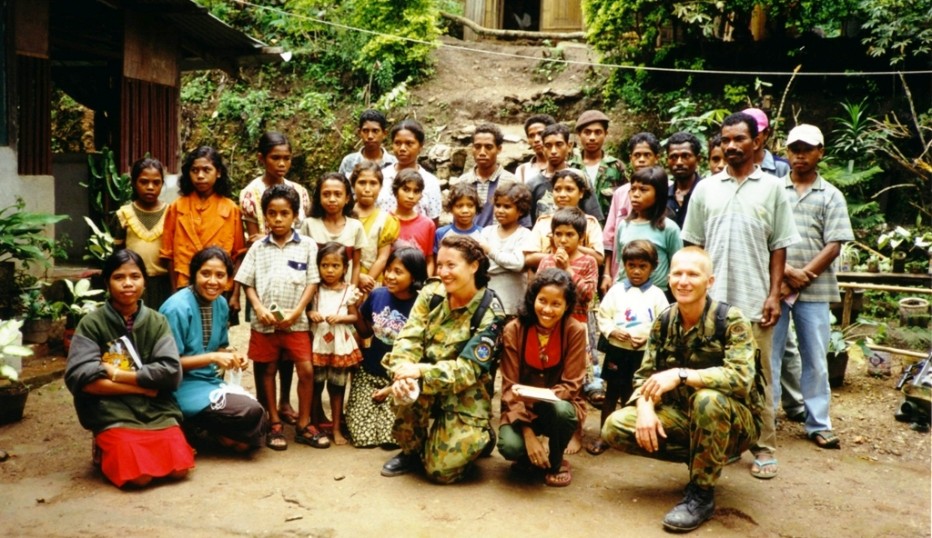 Lieutenant Tamara Sloper with Corporal Jason Hewerdine (now Captain) at the orphange in Dare, East Timor, INTERFET, 1999.