March 6 - 12, 2016: Issue 254
Taking Flight: Lores Bonney's Extraordinary Flying Career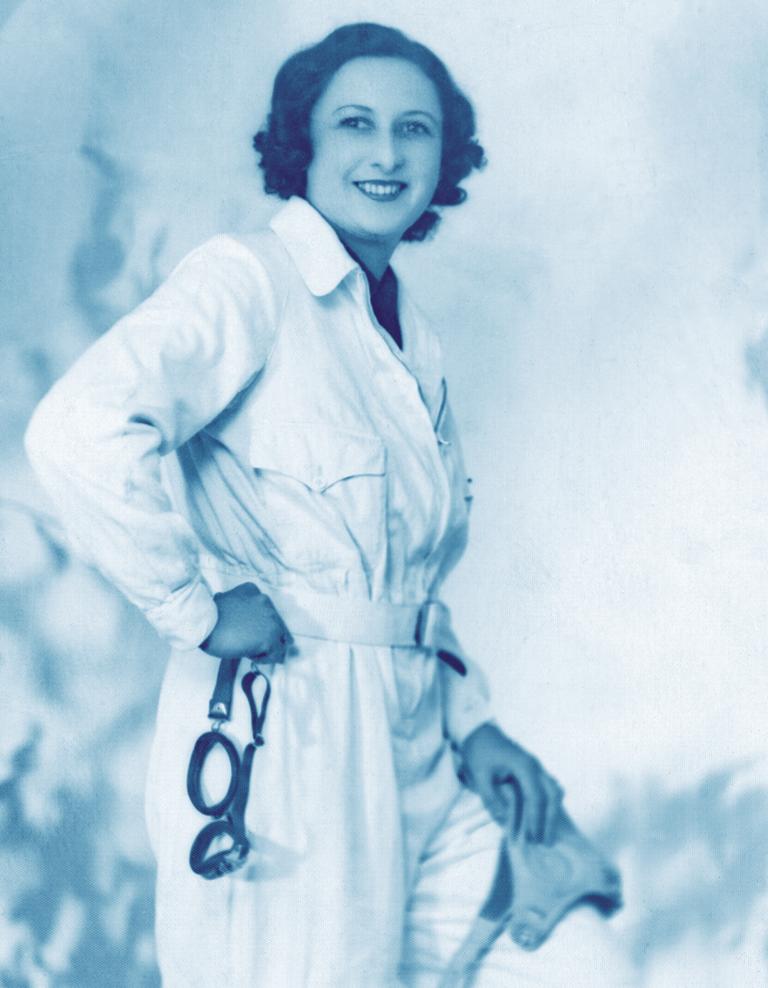 Lores in her flying suit - from page p232 - courtesy National Library of Australia
Taking Flight: Lores Bonney's Extraordinary Flying Career
'I wanted to fly and fly I would or die in the attempt.' Lores Bonney
'The Great War may have relaxed conventions so women could enjoy more freedom, but those who indulged in unfeminine pursuits were largely frowned upon; Lores banged her head against the glass ceiling (or enclosed cockpit) just like any other woman attempting to win respect in a man's world. She succeeded in fracturing it and, at the same time, cemented her reputation as a pioneering Australian aviatrix.' Biographer and aviation writer Kristen Alexander
On the 7th of September 1928 Lores Bonney, wife of Harry Bonney (a cousin of Bert Hinkler) was taken for a joyflight by this pioneer Australian aviator (dubbed "Australian Lone Eagle") and inventor. This first taste of being amongst the blue was, Lores said later, 'the answer to my dreams, I have always adored birds... and there I was literally feeling like a bird.' - page 13,
Lores Bonney's accomplishments were remarkable. In 1931, she set a new Australian record for a one-day flight by a woman and, in the following year, she was the first female to circumnavigate mainland Australia by air. in 1933, she was acknowledged as the first woman to fly from Australia to England, and in 1937 she became the first person to fly solo from Australia to Cape Town, South Africa. She was regarded as perhaps Australia's most competent aviatrix.
These formidable achievements are celebrated in a new book, Taking Flight: Lores Bonney's Extraordinary Flying Career by Kristen Alexander (NLA Publishing), to be launched by Gaby Kennard OAM at the National Library of Australia on International Women's Day, 8 March 2016. This coincides with Women of Aviation World Wide Week, 7-13 March 2016.
Women Of Aviation Worldwide Week is a global outreach initiative that takes place annually during the week of March 8, anniversary date of the world's first female pilot license earned by Raymonde de Laroche on March 8, 1910.*
Taking Flight draws on a broad range of sources—many of which are in the National Library of Australia's collection—including interviews, published recollections, contemporary newspaper accounts and official documents. The most noteworthy documents are Lores' 1933 and 1937 diaries and, through these, Kristen Alexander tells the airwoman's incredible story with warmth and understanding.
Benefitting from the honesty associated with a private record, Lores' diaries expose the woman behind the pilot. She did not conceal her disappoints and fears, her strengths, weaknesses, virtues and vices. Kristen Alexander shares these first-hand accounts of Lores' emotional and physical states, and of her experiences flying single engine aircraft in the 1930s when there was nothing between the pilot and the elements.
Lores' diaries also show two sides to Lores Bonney's personality: the feminine woman conscious of her appearance, caring for her gowns and appearance, and balancing respectability as Mrs Harry Bonney; and the determined, capable mechanic, describing her brushes with death as she tried to find her place in a man's world.
The Author of this new work, Kristen Alexander, is an established Aviation Biographer whose works are comprehensive, well researched and present those aspects of a subject that ensure readers get more than just a simple historical account. Kristen won the Military Historical Society of Australia's Sabretache Writer's Prize in 2012 and 2013, and won the non-fiction category of the 2015 ACT Writing and Publishing Awards.
We spoke to Kristen this week about this wonderful new book:
In most of the old newspaper items reporting Lores Bonney's feats she is referred to as 'Mrs. H. B. Bonney' and even though she lived until 1994, flew solo around Australia, was first Australian woman to fly to London, breaking records, she is not as well-known as Nancy-Bird Walton, for example—why do you think this is so?
Lores Bonney is well remembered by the Women's Pilots Association of Australia and in the aviation world generally. For example, in 1993, the American society of women flyers, the Ninety-Nines, commemorated her outstanding achievements.
Lores received many other accolades during her life time—including an MBE—and after her death in February 1994, aged 96. Brisbane honoured her by giving her name to Bonney Avenue in the suburb of Clayfield. More recently, Lores Bonney Circuit was included in the Coolangatta airport precinct and Lores Bonney Drive was named at Brisbane's Archerfield airport. In September 2012, she was one of the first inductees to the Australian Aviation Hall of Fame in Wagga Wagga, New South Wales and, in 2013 her portrait was included in the First Ladies: Significant Australian Women 1913–2013 exhibition held at the National Portrait Gallery, Canberra. She was showcased as one of 26 women who have appreciably influenced Australian lives.
Despite this on-going recognition, sadly, Lores has dropped out of popular memory. I think the reason for this is two-fold. For one, she did not die during her flying career; she did not go out in the proverbial blaze of (aviation) glory like Amy Johnson and Amelia Earhart, for instance. Secondly, unlike Nancy-Bird Walton, once she retired from flying, she largely stepped out of the aviation world. When you are not forever in the public eye, the public forgets. I hope Taking Flight will bring Lores' aerial accomplishments to a new readership who will discover her extraordinary career and recognise her as both a formidable pilot and a strong woman of achievement.
You had access to Lore's diaries which illuminate world travels on these solo flights - Did she have a conservative view of the peoples and tribes she encountered or was she forming more multicultural views?
Also did these diaries speak of loneliness—not just as a solo pilot but also as one of few women in her field during 'women stay at home' era?
Lores was one of the privileged social classes moulded by the British Empire experience whose language and outlook reflected the conservative, cultural mores of her time. She wrote of 'niggers', 'coolies' and 'natives' and, on one occasion, portrayed a conversation with a Chinese man in broken English. This, of course, does not sit well with modern readers but there was nothing unusual about it in Lores' day and, as such, I was careful to set her colourful language in context.
Lores embraced the loneliness of long distance flying. Even so, she encountered many dark days during the long separation from her husband, particularly during her Australia–South Africa flight in 1937. She did not reflect on her position as one of the few women pilots, though she was greatly concerned during the preparation phase of her 1933 Australia–England flight that she would be 'pipped at the post' by another female pilot.
Which was her favourite plane and why?
Although Lores enjoyed many of the features of the Klemm monoplane, especially its stability in bad weather, it was quite travel-worn by the time she flew to South Africa in it. Its fragility resulted in many near-death experiences. Despite being exposed to the elements with its open cock pit, she much preferred the Gipsy Moth biplane in which she flew around Australia and to England. During some of her worst flying in the Klemm, she came to loathe it, and yearned for her trusty Gipsy Moth.
Why were you attracted to this lady and subject?
Although my entire writing career has focused on uncovering the stories of Australia's Second World War airmen, I have always wanted to write a biography of a woman. When the National Library of Australia invited me to write about Lores Bonney, I was very excited! As you noted, Alison, Lores has been largely forgotten outside the aviation world and I wanted very much to bring Lores' story to a new readership. She particularly appealed to me not just because she was a woman of achievement but because she revealed so much of herself in her diaries. There was no need to read between lines to discover her emotions and motivations. All were laid bare in her diaries. Such primary source material was a real joy to work with. Such honesty 'makes' a biography and it allowed me to reveal the woman behind the pilot.
This work is being launched on International Women's Day, coinciding with Women of Aviation World Wide Week; do you think Lores would have liked these two days for what they were, or been 'MRS H B Bonney' at such functions if attending?
Lores was very much a woman of her time, and she dutifully deferred to her husband in many ways. She acted as his hostess, managed their home and garden, and bowed to his will—it wasn't until the war years that she rebelled against his objections to her having a driving licence. It really shows a particular strength in that she learned to fly despite believing he would probably forbid her to do it! Happily he supported her, and purchased her two aeroplanes and subsidised much of the expense related to her flying career. Partly to honour him—and because they had no children—she declared that, publicly, she wanted to be known as Mrs H.B. Bonney.
Perhaps surprisingly, despite her own achievements, Lores did not believe women would go far in the aviation world. She even believed that the public would never have the same confidence in a woman at the control of the great airliners as they do a man! She said 'I feel sure that they will be employed as wireless operators, navigators, possibly even as co-pilots, and in an executive capacity, but I do not believe as pilots.' Such a statement sounds incredible, but it was 1950 when she made it! Given her belief then, I am not sure she would have attended an International Women's Day or Women of Aviation World Wide Week function. Four decades later, though, I think it would have been a very different matter. In 1990, for instance, she fully recognised just how far women had come.
You clearly have a passion for this subject matter—did you have a picture of Lores above your desk while working on this—and if so—which one and why? And if not—which is your favourite from this definitive long overdue record?
There is no room above my desk for photos, Alison! I had my writing plan taped to the wall in front of me, and as I completed another chapter, or met a deadline, I ruled through it in red pen!
You are right, Alison, I am passionate about my work and I always draw something from my biographical subjects, and Lores was no exception. If there was room on my wall, I would have put up the photo on page 224. It just so happens to have been Lores' favourite as well. She was often asked to send photos to schoolchildren and particularly favoured this one which was taken during her flight to South Africa. Despite her distress at yet another delay on her journey, she managed to smile for the camera and called it a 'happy picture'. I consider it an inspirational picture because, having read her diaries, I know what she had gone through before—and what she would go through after it had been taken. I could hardly believe that she could still climb back into her cockpit and continue to fly! Many others—including me—would have simply given up. Especially in the face of death. And she came very close to death on so many occasions. Lores had to draw on her incredible strength to get through all the trials of that flight, and all of her flights, for that matter. That she could still smile even in the midst of them demonstrated to me just how strong a woman she was, and what a wonderful role model she is. Every time I look at that photo, I don't just see the 'happy picture', I am reminded of the strong woman and skilled pilot. Lores Bonney is an inspiring woman and someone to look up to.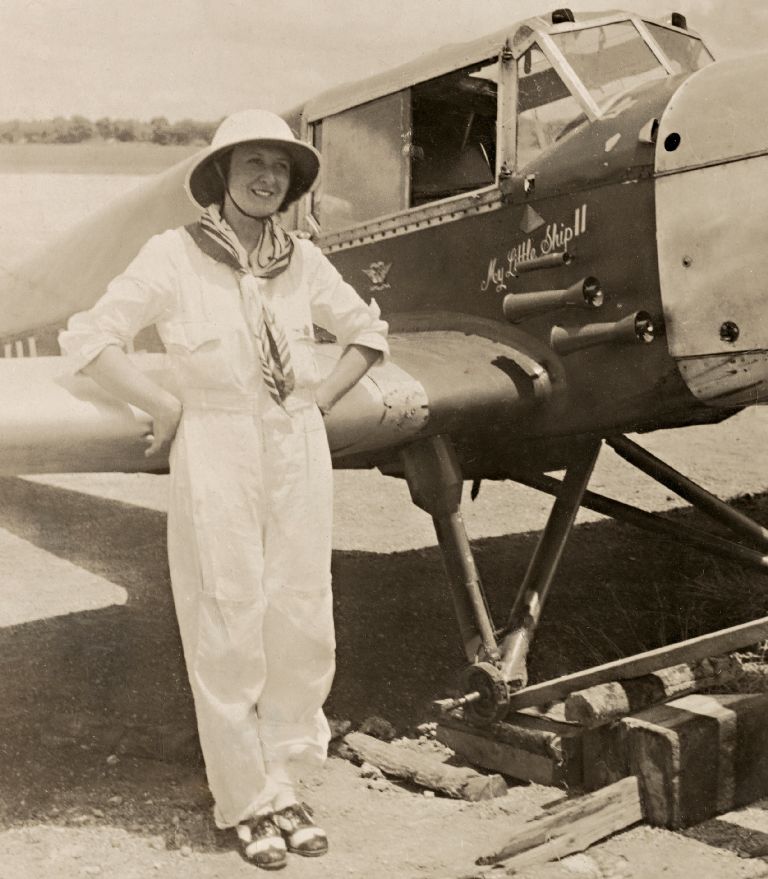 p. 224 Lores and My Little Ship II during the Australia-South Africa Flight - image courtesy of the National Library of Australia
Taking Flight: Lores Bonney's Extraordinary Flying Career enhances understanding of Australia's era of pioneer aviation, and reinforces Lores Bonney's reputation as a significant Australian airwoman.
With a Foreword by John Ulm, incorporating insights into many of Australia's and the world's formative pilots encountered through her flying years, and wonderful images, many never seen before, this book will ignite the passion for flying in some, be a welcome addition to the library of all those who are enamoured of all aviation history or anyone who once flew or flies still.
A wonderful and a great book about an Australian lady written by an Australian lady - perfect for all as a celebration of women for women and men everywhere.
* The 2016 theme for International Women's Day is "Planet 50-50 by 2030: Step It Up for Gender Equality". The United Nations observance on 8 March will reflect on how to accelerate the 2030 Agenda, building momentum for the effective implementation of the new Sustainable Development Goals. It will equally focus on new commitments under UN Women's Step It Up initiative, and other existing commitments on gender equality, women's empowerment and women's human rights.
Women Of Aviation Worldwide Week
In late 2009, Mireille Goyer, an airline pilot and aviation educator, conducted a search for planned events to celebrate the 100th anniversary of the first female pilot license worldwide earned by Raymonde de Laroche on March 8, 1910. To her dismay, she found none. Raymonde de Laroche held pilot license #36. Four more women joined the ranks by the end of 1910.
Determined to not let this important milestone for female pilots go unnoticed and uncelebrated, Goyer launched a worldwide campaign. Her goal was to honor the female aviation pioneers of 1910 by fulfilling their dream to see more women involved.
106 years later, out of approximately 1 million pilots worldwide, less than 50,000 are women. Other high paying technical aviation activities do not fare very well either when it comes to gender balance. WOAW is about encouraging all girls and women to become involved in the wonderful world of flight or consider a place in associated industries or even the space industry. After all, the skies the limit girls!
Women Of Aviation Worldwide Week in numbers: More than 96,000 participants, 21,656 Fly It Forward® flights, 249 locations in 36 countries on All continents: Africa, Asia, Americas, Europe, Oceania
Australian women and men pilots are involved in the Women of Aviation Week and have been for a few years - the 2016 'Fly It Forward events at Bathurst and Orange are FULL - there is one at Moruya with some places till available. A Girl Guides event is taking place at Camden Airport: The Scout Air Activity Centre is holding a "Women of Aviation Week" Event for Girl Guides Australia on Sunday March 13th 2016. During the day, girls will have the opportunity to experience a flight in a light aircraft (#Fly It Forward) and learn all about aviation.
In 2015 the Relay Around Australia commenced from Avalon Air show on the 2nd March, involved over 60 female pilots participating in the relay, with the support of military and civilian participants, many of them members of the Australian Women Pilots' Association, who travelled over 26,000 km around the country in an anti clockwise direction, in various aircraft including small fixed wing and helicopters, military aircraft, airliners, gliders, and a hot air balloon!
The 2016 Theme is one many Australians would relate to: "It's a jungle out there. 60 years of female bush pilots."
Ada Rogato (1910-1986) was the 3rd woman in Brazil to earn a pilot license. In 1956, Rogato boarded her Cessna 140 to fly throughout the Amazon Jungle landing at newly opened forest clearings and visiting Indian villages. She was the first human being to do so. The epic trip took 163 hours of flight time.
Rogato was also the world's first agricultural female pilot and the first woman to fly in all 3 sections (South, Central, North) of the American continent.
"Too many women are not aware of women's long and rich history of contributions to the industry," says Mireille Goyer, iWOAW's Founder and President. "By annually selecting a theme based on women's notable breakthroughs, we are aiming to restore women's roots and rebuild their aviation identity."
Find out more:
www.womenofaviationweek.org or keep up to date on Facebook page: www.facebook.com/WomenOfAviationWeek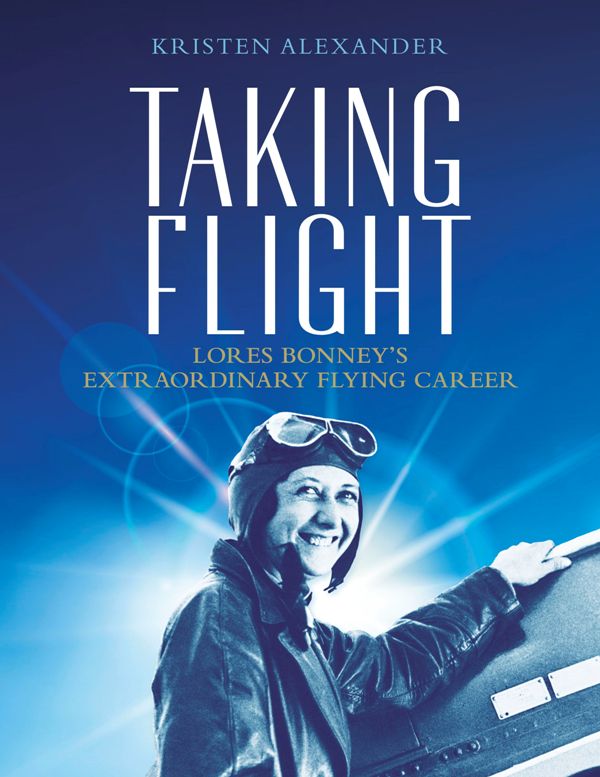 Taking Flight: Lores Bonney's Extraordinary Flying Career
by Kristen Alexander
Publisher: National Library of Australia - Edition: 1st Edition, Pages: 280, Publication Date: 01 March 2016 Price $39.99
Taking Flight: Lores Bonney's Extraordinary Flying Career by Kristen Alexander, NLA Publishing, paperback, RRP $39.99. Distributed by New South Books.
Available at all good book stores and online
From her first taste of the air when she joined Bert Hinkler in the cockpit for a joy ride in 1928, Lores Bonney was hooked. With her aviation licence and the support of her husband, she took to Australian and international skies and braved the challenge of long-distance flying. Taking Flight draws from the National Library of Australia's rich archives and manuscript collection to present the tale of Lores Bonney, the first woman to circumnavigate the Australian continent by air, the first woman acknowledged to fly from Australia to England, and the first solo pilot to fly from Australia to Cape Town, South Africa. Aviation writer Kristen Alexander intimately illuminates the woman behind the audacious pilot, exploring her highs and lows and struggle to gain and maintain her place as one of Australia's great aviation pioneers.
ABOUT THE AUTHOR KRISTEN ALEXANDER
Taking Flight: Lores Bonney's Extraordinary Flying Career is Kristen Alexander's fifth book. She won the Military Historical Society of Australia's Sabretache Writer's Prize in 2012 and 2013, and won the non-fiction category of the 2015 ACT Writing and Publishing Awards. She loves afternoon tea served on fine china, cats, leaf tea, old movies, Canberra and her husband David (not necessarily in that order). Above all, Kristen is a passionate reader and loves writing about Australia's aviation history.
Find out more about Kristen Alexander's books at - www.kristenalexander.com.au
Papers of Maude Bonney, circa 1920-circa 1990 [manuscript].
Collection number: MS 10127 - Comprising:
Bonney, Lores, 1897-1994.. Notebook of Maude Bonney, approximately 1933.
Notebook comprising research and planning for Bonney's pioneering flight between Australia and England in 1933. - nla.ms-ms10127-2x
Bonney, Lores, 1897-1994.. Diary of Maude Bonney, 1937.
Diary recording Bonney's participation in the search for a crashed Stinson aircraft in Queensland in 1937. - nla.ms-ms10127-3x
Bonney, Lores, 1897-1994.. Diary of Maude Bonney, 1933.
Diary kept by Maude Bonney which includes an account of her crash on a Malaysian island in 1933.
Digitised at: www.nla.gov.au/apps/cdview/?pi=nla.ms-ms10127&mode=list&title=Item+descriptions