December 1 - 7, 2013: Issue 139
Swapping Business Suits for Gardening Gloves
by Lynleigh Greig
Global Professional Services giant, EY (formerly Ernst & Young) sent a team of professionals to the wilds of "Waratah Park" to get their hands/faces/reputations dirty in a bid to help our beautiful Australian native wildlife.
40+ members of staff (many from the Advisory sector of EY) ditched their business suits, cappuccinos and lap-tops for tick-spray, gardening gloves and sensible foot-wear! They arrived by bus from the city at 9am, ready for action!
Waratah Park - home of the "Skippy the Bush Kangaroo" TV series, represents an important part of Australian history. It comprises 13 hectares of bushland, environment culture and rare flora and fauna. It's currently closed to the public and is in the process of being regenerated for the purposes of rehabilitating injured or orphaned native wildlife - many of which come into care via Sydney Wildlife rescuers.
Duffy's Forest Residents Association (DFRA) members normally go into the park one Sunday a month to clean up, remove noxious weeds, regenerate the bush and remove green waste. The staff at Dell are also very active in volunteering regularly in the Park. However, it's a daunting task and having some extra help was very exciting.
Sydney Wildlife rescuers Joan Reid, Lynleigh Greig, Tiere Thorpe and Peter Thorpe and Jenny from DFRA met the bus-load of EY volunteers on-site and everyone headed to the Ranger Headquarters for a quick briefing before dividing into 3 groups: the cage-building team, the animal enclosure clean-up team and the general site-clearing team. Many attempted to avoid clearing the renowned "snake-pit", but to no avail...!
Weeds were eradicated, dead trees were cut into manageable pieces and a cage was built! By lunch-time, everyone was ready for a swim in the dam!
After lunch, the volunteers were treated to a Wildlife Presentation by members of Sydney Wildlife. Many educational animals such as blue-tongue lizards, bearded dragons, carpet pythons and other snakes came out to play.
Some of the rescuers had baby animals in care that had to accompany them to the Working Bee for regular feeds. The volunteers were lucky enough to see them, too. Flying Fox pups, wallaby joeys and a tawny frogmouth chick were among the babies accompanying their carers.
Some of the EY volunteers worked up the courage to pet a python or kiss a blue-tongue lizard! Seeing these wonderful little creatures up close reinforced how important their contribution to the park was.
All in all, a very successful and enjoyable day! One enthusiastic worker was overheard saying: "I'm definitely coming back here again to help. And I'm bringing the whole family! It's so nice to be able to make a measurable contribution."
Well done to everyone who has been involved in restoring Waratah Park to its former glory. It'll take some time but it will all be worth it!
For the wild ones!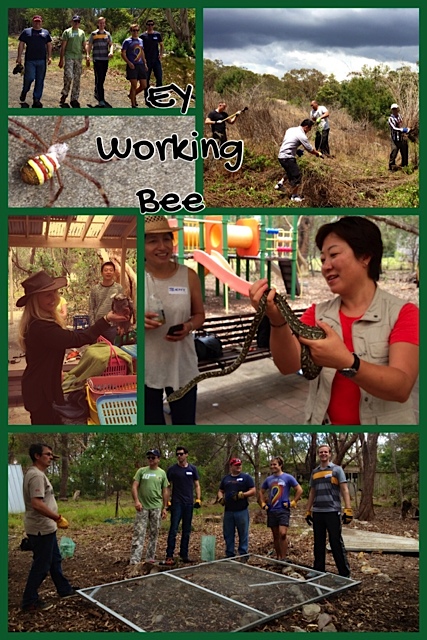 Story and Pictures by Lynleigh Greig, 2013.