May 8 – 14, 2011: Issue 5
Sumba Foundation Australia
by Dr. Stephen Nolan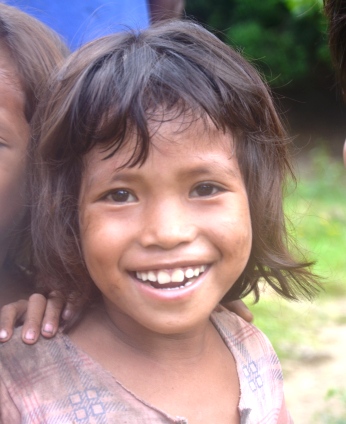 Sumba is a small Island in East Indonesia and a close neighbour of Australia. It is less than a two-hour flight from Darwin. I first went to Sumba in 2008 with my family on a surfing trip where I was not only exposed to its beauty but also the plight of the Sumbanese people.
The Sumbanese people live in a subsistence culture with the majority of the people suffering from extreme poverty. In some areas up to 75% of children are malnourished and up to 30% of children either die or have severe cognitive impairment from cerebral malaria. In addition death from gastro-intestinal disease as a result of drinking unhealthy water is common in children and the old, frail population.
On my first trip to Sumba I met my now close friend Dr Claus Bogh a world expert on malaria. By the end of this life-changing trip I returned with the goal of starting up the Sumba Foundation Australia (SFA) to help the people of Sumba. I believe as a result of my medical training I felt that the areas of fresh water provision and malaria prevention would bring the greatest benefit.
Since then SFA has concentrated on water and malaria prevention in our aid and development program. In addition to these projects we have also supported Interplast and Eye missions in Sumba and run a malnutrition program for severely underweight children.
At present Sumba Foundation Australia fully supports a Malaria Training Centre in Waikabubak. This facility trains local health care workers to make an accurate diagnosis of malaria to a standard recognised by the World Health Organisation (WHO). It is the only facility of its type in East Indonesia. Approximately 100 graduates finished the 5-week last year course and in the next 12 months they will diagnose over 90000 cases of malaria!! In areas where we have screened and treated malaria and then distributed nets to families the incidence of malaria in the local population has decreased from 43% to less than 10%.
Currently we are supporting 4 major well/water reticulation projects that will bring fresh water to over 5000 people for the first time this year. This invaluable work has been possible by the support given to us by the people of the Northern Beaches over the past 2 years and I thank you all for this.
Sumba Foundation Australia seeks to alleviate suffering through health projects that enhance local capacities and promote community-based, self-help solutions guided by the aspirations of it beneficiaries. We also believe that development should be sustainable and embraces the social, cultural and economic wellbeing of the Sumbanese people.
At present Sumba Foundation Australia is working towards tax deductibility which should be recognised by the end of this year. I will leave you with some images of this fascinating Island and its people. If you would like to know more about the activities of Sumba Foundation Australia or Sumba please go to our website at www.sumbafoundation.org.au or click on logo below.
Stephen Nolan
CEO
Sumba Foundation Australia

Stephen Nolan Biography
I grew up in Wagga Wagga and studied in Canberra and Adelaide finishing my medical degree in 1994. I moved to Palm Beach in late 1994 with my wife Kathryn and children. I have lived on the Northern Beaches since and at present live in Bilgola. I trained in Respiratory and Intensive Care Medicine. At present I currently work as an Intensive Care Specialist at Mona Vale, Manly, Hornsby and Mater Hospitals. I also work as a General Physician at Mona Vale.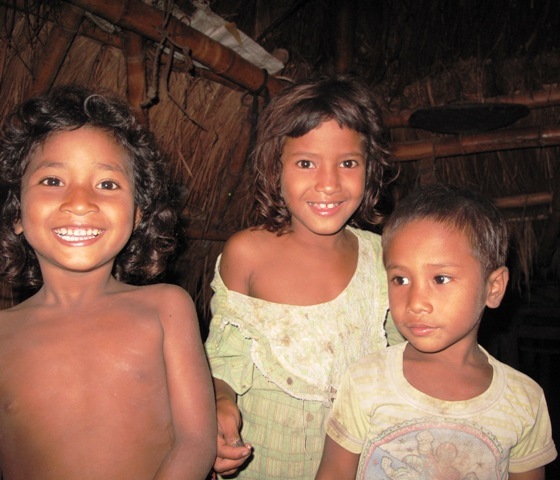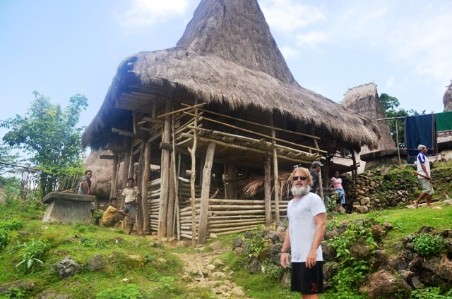 Above: Dr Stephen Nolan outside a traditional house in Welajung village, Sumba
Below: Dr Claus Bogh (far left) and the first graduates from the Malaria Training Centre, Waikabubak Sumba.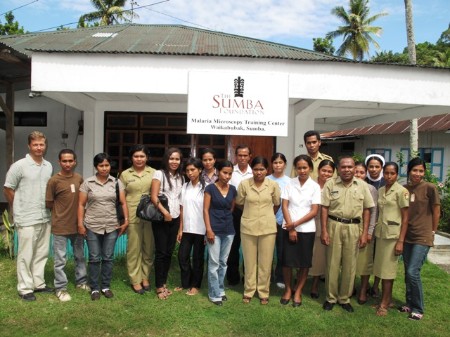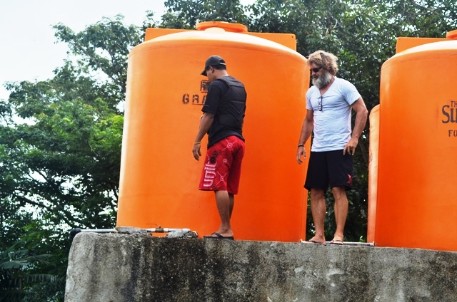 Above: Dr Stephen Nolan inspecting the main water station in Patiala Dete with water team leader (Rudy Weru).
Below: Rainy Octora (Malnutrition co-ordinator) distributing high protein cereals and eggs in a Sumba village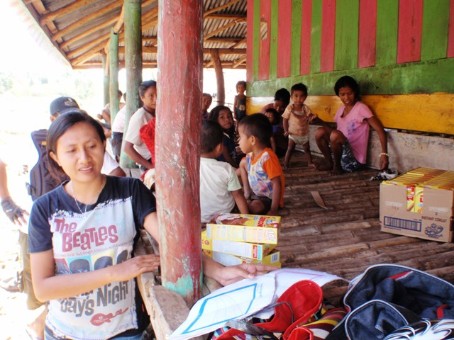 Left: Young family who will benefit from the supply of mosquito nets and fresh water through Sumba Foundation Australia programmes.
Below: Children benefiting from the supply of fresh clean water in Sumba village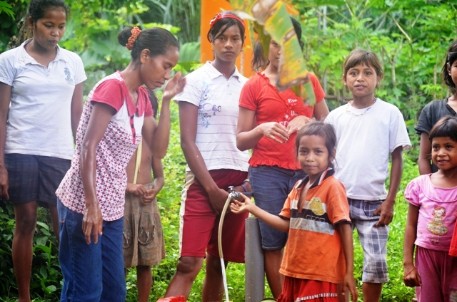 All Images Copyright Kathryn Nolan 2011.