February 28 - March 5, 2016: Issue 253
Sailability NSW stages Presidents Cup regatta to mark 20th Anniversary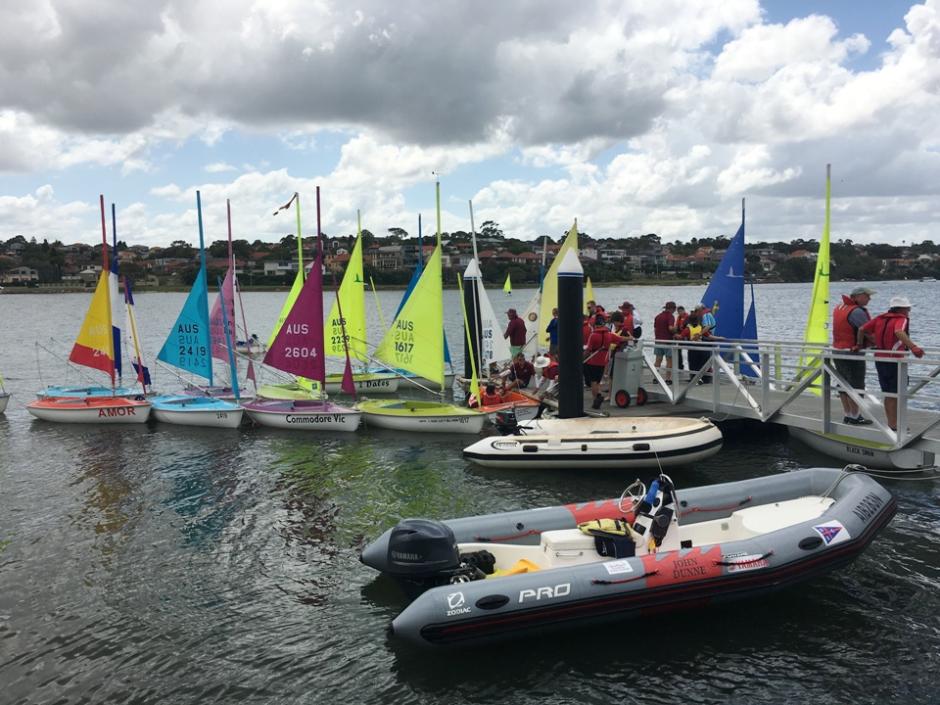 Action stations: Hansa dinghies, being prepared for the Presidents Cup
26th February 2016
On Saturday, Sailability NSW celebrated its 20th anniversary with an Anniversary President's Cup regatta. The event was staged jointly by Dobroyd Aquatic Club and Sailability Dobroyd, on Sydney Harbour. There were some to 40 competitors over the two races, sailing in 20 Hansa dinghies. Sailors covered a wide range of disabilities including physical, intellectual and vision-impaired. Entrants came from around Sydney, including Pittwater area, and regional NSW.
Sailability Crystal Bay, on Pittwater, was represented at the event by Alan Jones OAM, who was involved, back in 1996, in the setting up of Sailability Pittwater. Even after 20 years of dedicating his time to fostering sailing for folk with a range of abilities and disabilities, Alan continues to provide assistance. Last year he helped local lass Alyse Saxby compete in the Special Olympics World Games sailing in Los Angeles, in which she won a Gold Medal.
Sailability NSW boasts a proud tradition of bringing the joy of sailing to everyone, regardless of ability.
Sailability NSW started as a committee of Yachting NSW chaired by yachtie/wheelie Denis Critchley. Sailing commenced in early 1995 at Gosford. In May 1995, Dr Phil Vardy, Neil Anderson, Paul Tayler and Chris Mitchell organised a 'Come & Try' day at Dobroyd Aquatic Club in Sydney. Jackie Kay brought a group from her work at North Ryde Rehabilitation centre.
On December 21, 1995, Sailability NSW was incorporated as an association with Sailability Gosford and Dobroyd the first branches.
In 1996, Neil Anderson became the second Sailability NSW President. (Neil today is Chair of the National Sailability Committee of Yachting Australia). By end of 1996, Sailability NSW had spread to North Sydney (now Manly), Pittwater, Illawarra, Narooma, Belmont, Albury, Northern Rivers and Middle Harbour. There are now 27 Sailability programs in the state, making NSW the largest Sailability organization in Australia.
In 1995, global solo sailor and Pittwater resident David Adams became Patron (now Paralympic sailor Liesel Tesch). In 2000, Nava George was the first ventilated quad in the world to sail solo (in an Access 303) on Sydney Harbour.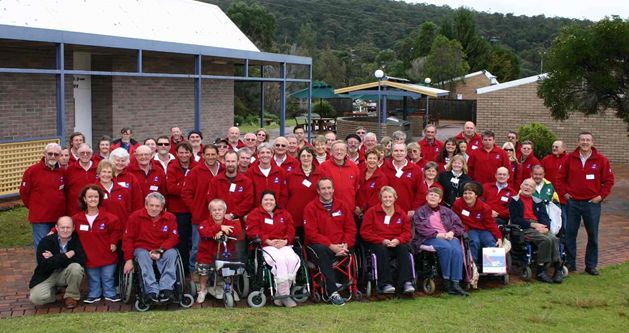 2007 marked the first Sailability NSW conference. In the crowd of volunteers and sailors at NSW Academy of Sport were John Price (top left rear) now NSW president, Grahme Rayner (red wheelchair), then NSW president, with Kelly-Anne Oriel to his right and Sailability World secretary Jackie Kay to his left with veteran sailors Maria Dalmon, Wendy Evans and Lindsay Dalmon. SNSW "legends" Paul Tayler, Elizabeth Atkin, Allan Jones and Neil Anderson are behind Grahme. Dr Phil Vardy is front, third from right. Hansa founder Chris Mitchell far left, Graeme Adam, Sailability Australia committee member far right.
Other highlights: Sailability wheelie Lindsay Dalmon being awarded YA's Disabled Sailor of the Year and the launch of the Access (now Hansa) Liberty at Royal Prince Alfred Yacht Club in 2004, in the presence of then Governor Dame Marie Bashir. In 2011 Ame Barnbrook received the Sir Roden Cutler Award for outstanding sporting ability.
But, according to John Price, President of Sailability NSW, the most meaningful developments have not been the ones that made news, but the steady improvements at the grass roots.
"We have gone through a period of rapid growth, which has caused some problems with issues of governance, so we have tightened up our conditions of entry into the Sailability family.
"Growth has been solid in regional NSW and over recent years, we have achieved a good balance between physically and intellectually disabled sailors. Sailability is for everyone!"
Graeme Adam, Sailability Australia
Sailability NSW is part of Sailability Australia, comprising seven state or territory Sailability Associations and some 76 programs. Australian sailors with disabilities are represented nationally by delegates on Yachting Australia's National Sailability Committee (nominated by State yachting Associations). Sailability Australia is part of Sailability World.
The final State Championships for the 2015/16 season - the NSW States - were completed last week at Nowra Community Sailing Club February 20-21, 2016, with the result that Pittwater's Alyse Saxby and sailing partner Melissa Nelson(Port Stephens)are now the NSW HANSA 303 Doubles champions.
The girls were also jointly awarded the Trevor Evans award for "excellence in sailing".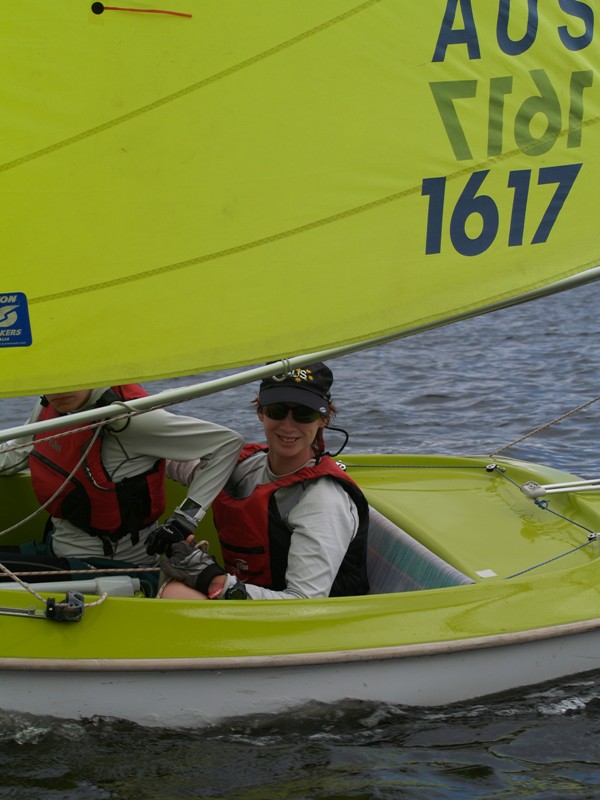 Photo with thanks to David Turner from Nowra Community Sailing Club who was on the start boat and took hundreds of photos across the weekend.
Alyse Saxby and Melissa Nelson
Alyse Saxby and Melissa Nelson won gold at the Special Olympic World Summer Games in July 2015. After winning gold in 2011 in Level 2, Alyse bought a spiral sailing dinghy to gain selection in Level 3. She teamed up with Melissa from Port Stephens Sailability and they first travelled to Japan to sail the 303 doubles in the Hiroshima Peace Regatta. In the selection trials in Melbourne the pair won and gained selection for the World Games in Los Angeles and were chosen to contest Level 3 with instructor Chris Ruston on board as coach.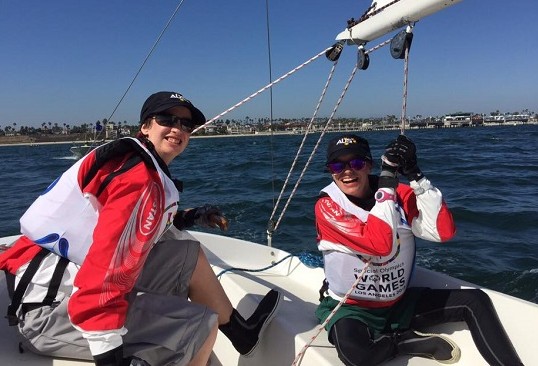 Photo Credit: Peter Muhlblock/Special Olympics Australia