December 20, 2015 - January 9, 2016: Issue 245
Sail Sydney 2015: Pittwater Sailors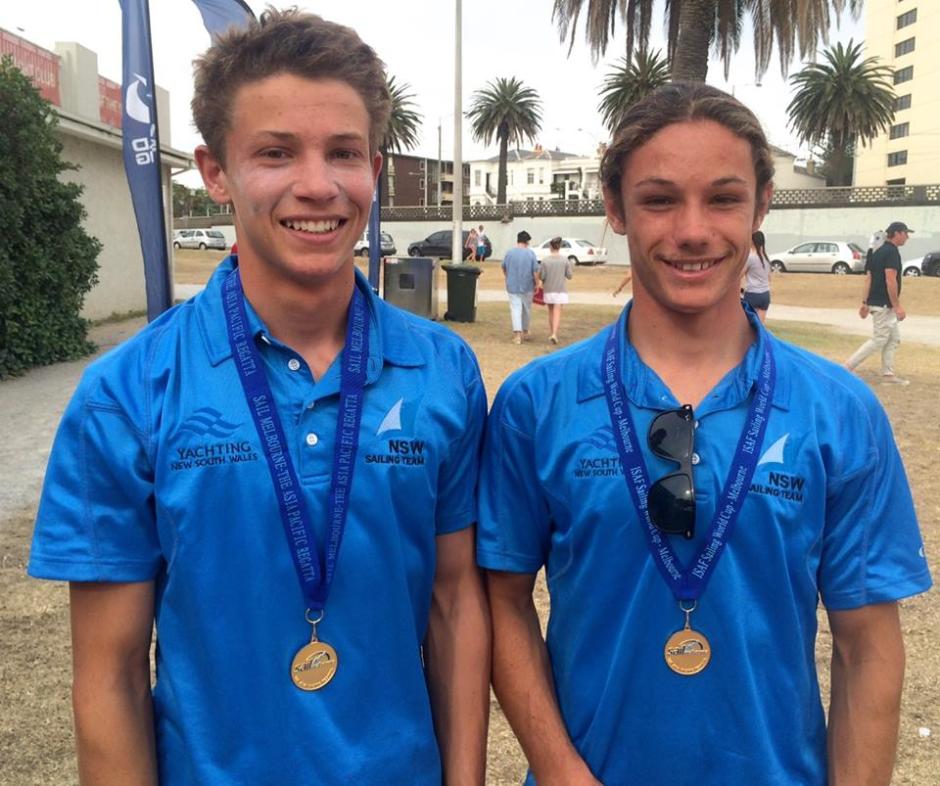 Pittwater sailors, RPAYC Members and Australian Sailing Youth Team crew of Kurt Hansen (NSW) and Jim Colley (NSW) won the 29er at Sailing World Cup Melbourne (9-13 December 2015), secured Silver in same division in Sail Sydney 2015, and will be representing Australia at Langkawi, Malaysia in ISAF Youth Sailing World Championships (December 27, 2015 - January 3, 2016) - picture by AST.
Sail Sydney Rolls the Welcome Mat Out for International Fleet
17 December 2015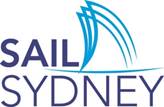 Woollahra Sailing Club has rolled the welcome mat out for more than 400 competitors representing 11 nations at the annual Sail Sydney regatta, Thursday 17 to Sunday 20 December, 2015.
Australian sailors are competing alongside a raft of internationals from Hong Kong, Republic of Korea, New Zealand, Canada, Malaysia, Singapore, Finland, Switzerland, Italy and India across 17 classes on various Sydney Harbour courses over four days.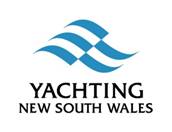 Korea's youth team of 13 sailors are spread over the Laser Men's, Laser Radial and RS:X windsurfer fleets. Youth national team coach Song Myungkeun has been in Sydney for two weeks and says in his best English, "I come 14 days ago we look at Opera House and city…very beautiful. Everyday good wind. We are youth team; Korean sailing team is back home training for Olympics."
Scott Sydney, representing the host club, has taken command of the outstanding Laser Standard men's fleet and Italy's Giovanni Coccoluto is second with the same points as the early local leader. Given home is in the depths of winter the Italian is pretty happy with himself for arranging a summer "down under tour", including the Sailing World Cup Melbourne and Sail Sydney, as he chases an outside opening for 2016 Rio Olympics selection.
"The Olympics are still open but another guy sailing for Italy is at the Rio test event and if he's top in that regatta they will stop the selection," Coccoluto said after racing. "If not there are Europeans and worlds to come; there is still a chance. It's my first time in Australia; I'm really enjoying it."
West Australian 29er pair of Annabelle Davies and Hayley Clark are familiarising themselves with Sydney Harbour prior to the Australian Youth Championships WSC is hosting January 10-14, 2016.
"It's much choppier here compared to where we sail out of Royal Freshwater Bay Yacht Club in Perth," said Clark. "We aren't used to cruise ships or Manly Ferries and there's much more land everywhere, which influences the breeze."
"We learnt a lot today and will come back tomorrow with a new head space," Davies added.
Sail Sydney's opening day was blessed with classic Sydney summer conditions of variable morning winds becoming NE - ENE at an average nine knots.
The rest of the annual series that was established in 1994 to serve as a training regatta for the 2000 Sydney Olympic Games is expected to be under the influence of a lingering high pressure system over the Tasman Sea which is extending a ridge towards the NSW coast. Stronger winds, 15 knots possibly as high as 25 are forecast for tomorrow when the Optimist fleets join the on-water program.
A number of high profile Sydney Hobart line honours contenders were out training on the harbour today, the likes of Comanche, Ragamuffin 100 and Maserati dwarfing the tiny one and two person dinghies and skiffs.
Progressive pointscores for all divisions racing at Sail Sydney are available here.
This evening Kurt Hansen and Jim Colley (NSW) lead the 29er fleet, Nia Jerwood and Lisa Smith (WA) lead the 420s after four races, Joel Turner and Tom Siganto (QLD) are the leading 49er duo, Rob McMillan (NSW) is the early Finn top scorer, Finn O'Dea (WA) the best placed Laser 4.7 sailor after day one and Finn Alexander (NSW) the leading Laser Radial sailor.
Sydney's waterfront suburb of Rose Bay was slammed by yesterday's freak tornado that hit the city's southern parts and WSC club staff and officials worked late into the evening to have the premises ready for the early morning arrival of cars, trailers and competitors.

The NSW Government through Transport for NSW is Sail Sydney's safety partner and supporters Nautilus Marine, Gill Lejen Marine and NBsailsports have made generous contributions to the successful staging of the Yachting NSW event.
On Facebook
@sailsydney2015
#sailsydney
by Lisa Ratcliff, Sail Sydney media
Sail Sydney 2015 29er Harbour Bridge & Manly ferry - photo by Robin Evans
Pittwater and Northern Beaches Sailors - Sail Sydney 2015
29er
Jim Colley Kurt Hansen AUS 2126 Objective RPAYC
Clare Costanzo Juliet Costanzo 1941 Salty RPAYC
Bryant Natasha Annie Wilmot 2238 TBA RPAYC
Niall Powers Daniel Bromelow AUS1943 AUS 1943 RPAYC/M16'SSC
49er FX
Nina Curtis Haylee Outteridge AUS14 Bubba Gump Shrimp MHYC/WSC
Flying 11
Zac Barnabas Jake Barnabas 1404 Schmick Manly
Jesse Lilley Tyler Dransfield 1366 Protagonist Manly 16SSC
Grace Powers Taylor Springett 1353 Flying Hellfish Manly 16'SSC
Alistair Read Liam Rodgers 1391 Bolt ASC
Kate Richardson James Hopkins 1265 Tom Manly 16 SC
Laser
William Dargaville 199110 NA Royal Prince Alfred Yacht Club
Harry Hall 202972 Roscoe RPAYC
Stuart Holdsworth 198091 SILKY RPAYC
Malcolm Parker 202584 This Way up RPAYC
Laser 4.7
Nathan Bryant 196435 Speedy RPAYC
Boston Cortis 208818 FUSION RPAYC/RPEYC
Logan Cortis 190354 SKIRMISH RPAYC
Antony Hawke 185799 Nemesis RPAYC
Reece Johnston 191636 Zadok Narrabeen Lakes Sailing Club
Jarrah Sheppard 193385 ? RPAYC
Jake Sweeney 202787 Silver Bullet RPAYC
Charley Wells 202852 Dream RPAYC
Cameron Whiteside 207834 On the Gas RPAYC
Laser Radial
Lauren Crossman 185407 Aero RPAYC
Alice Tarnawski 196869 Whisper The Royal Prince Alfred Yacht Club
Optimist Green
Isabella Holdsworth 1436 Ballistic Bell RPAYC
Walter Tuite 872 Where's Wally RPAYC
Oscar Verity 1092 Gas Monkey RPAYC
Kye Williams AUS1466 Commando RPAYC
Optimist Intermediate Fleet
Bayley Taylor AUS1026 On Fire RPAYC
Olivia Williams AUD1604 Blossom RPAYC
Optimist Open Fleet
Alexander Bijkerk AUS 1594 Whooshka RPAYC
Bella Green AUS1390 Snowflake RPAYC
Daniel Links AUS1575 The Mighty Muppet RPAYC
Jonathan Tuite AUS1606 Better Knot RPAYC
Fletcher Walters N/A AUS 1551 Sketchy RPAYC
Morgan Wells AUS1296 Optimized RPAYC
Brooke Wilson AUS1204 Ripple II BYRA
Sabot
Kai Johnston 1519 Pacman Narrabeen Lakes Sailing Club
Akito Koike 1334 Blade Runner Narrabeen Lakes Sailing Club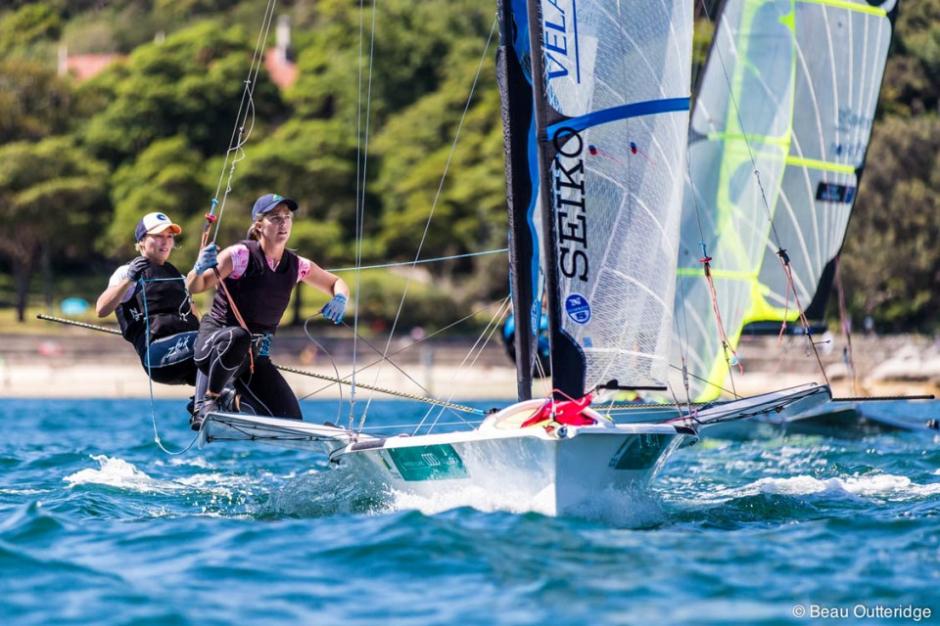 Hayley Outteridge & Nina Curtis (forward) 49erFX photo by Beau Outteridge
Prominent 49erFX combination reunites at Sail Sydney
18 December 2015
With an international Sail Sydney fleet of more than 400 competitors racing out of Rose Bay there are a multitude of stories worth telling. One of the more high profile is the reunion of 49erFX combination Haylee Outteridge and 2012 London Games silver medallist Nina Curtis fresh from her Nacra 17 Olympic qualification tilt with Darren Bundock.
Team selection for Australia's 49erFX position at the 2016 Rio Olympic Games is still up for grabs. Outteridge and Curtis know the status quo, and they are well aware they've left their run late so their immediate focus is on the Australian nationals, North American championships and Sailing World Cup Miami in January, then the skiff class' world championship in February.
When Bundock and Curtis missed out selection to the Australian team she took some time to gather her thoughts before approaching Outteridge, her former sailing partner, who happened to be ready to go with a boat for the worlds. "She was like a coiled spring," Curtis laughed.
It's been two years since the women paired up in the newest women's Olympic skiff class and at Sail Sydney Curtis says her execution is coming back faster than anticipated. "Sail Sydney came at a great time for us; to run-through getting around a race course before the nationals at the same venue but without the pressure. Our main goal is a good result at the world championship next February.
"I've learnt a lot sailing with Darren [Bundock] and I feel really lucky that while I'll be behind on a lot of the FX aspects, being quite raw in the boat, maybe I can bring some new knowledge. I feel like I've learnt so much and am excited to transfer this to the new boat."
"We are just trying to learn together as fast as possible," Outteridge added. "We feel no pressure because we've come together so late. We are going to enjoy the process and see how far we can take it."
Current Laser Radial youth world champion Conor Nicholas from West Australia leads the pack and is one of a strong west coast showing at the top of the results sheet. "We get these conditions all the time back home, nice and windy," he said of today's ample sea breeze.
"We have a really strong training group and we are coached by some of the best in the world in Arthur Brett and Tristan Brown. Having good depth in the squad is showing in our development, and the results reflect across all classes, not just in the Lasers."
Third from a sizeable Radial fleet of 42 is WA teammate Alistair Young who is on his way to World Sailing's Youth World Championships in Malaysia at the end of this month.
"Doing these regattas gets your mind-set into gear," Young says. "Normal training isn't enough; you need to get your head switched on for starts and playing the fleet. The field is super tough here, if you miss one little wind shift or make a mistake you can lose heaps of places."
Laser Radial fleet in front of South Head - photo by Robin Evans
Royal Prince Alfred Yacht Club Intermediate Optimist sailor Olivia Williams had a great opening day and sits second among a hefty starting list of 42 of the popular one design dinghies. On handling the afternoon's gusty winds she said: "I managed OK…. I like the big winds. This regatta last year was my first. Sailing in Pittwater it's really flat; here you get a chance to get on the waves!" Next for Williams is the AIODA Optimist Australian Championships at Georges River in January where she says a top three placing is not out of the question.
Forecast winds eventuated on day two of the four-day Sail Sydney series; 10kts NNE to kick-off the morning session and up over 20 knots for the afternoon's closing races. There was plenty of wave action for the Laser fleets on their track between Sydney Heads, where the swell is often punishing. The consolation was surfing downwind with pace and getting up close to the gigantic Rolex Sydney Hobart big boats leaving the harbour for offshore training.
Leading scorers in each division are: Joel Turner and Tom Siganto (QLD) in the 49er skiff, Hong Kong 29er team of Yann D'Argenlieu and Nathan Bradley, Rome Featherstone (WA) in the Laser 4.7s, Nia Jerwood and Lisa Smith (WA) in the 420s, Giovanni Coccoluto (ITA) in the Laser Standard, Rob McMillan (NSW) in the Finns, Nate Brown (NSW) in the Optimist Intermediate fleet and Ryan Littlechild (NSW) in the Optimist Open fleet.
Tomorrow's forecast is for more of the same - nor'easters 15-25 knots. Sunday, December 20, could bring 30 knots to the racetrack. Joining the action tomorrow are the RS:Xs, Formula boards, Sabots, Tasars and Vipers.
The progressive pointscores for all divisions racing at Sail Sydney are available here.
The NSW Government is Sail Sydney's safety partner. Supporters Nautilus Marine, Gill, Lejen Marine, Tohatsu Motors and NBsailsports have also generously contributed to the annual multi-class event hosted by Woollahra Sailing Club December 17-20.
By Lisa Ratcliff, Sail Sydney media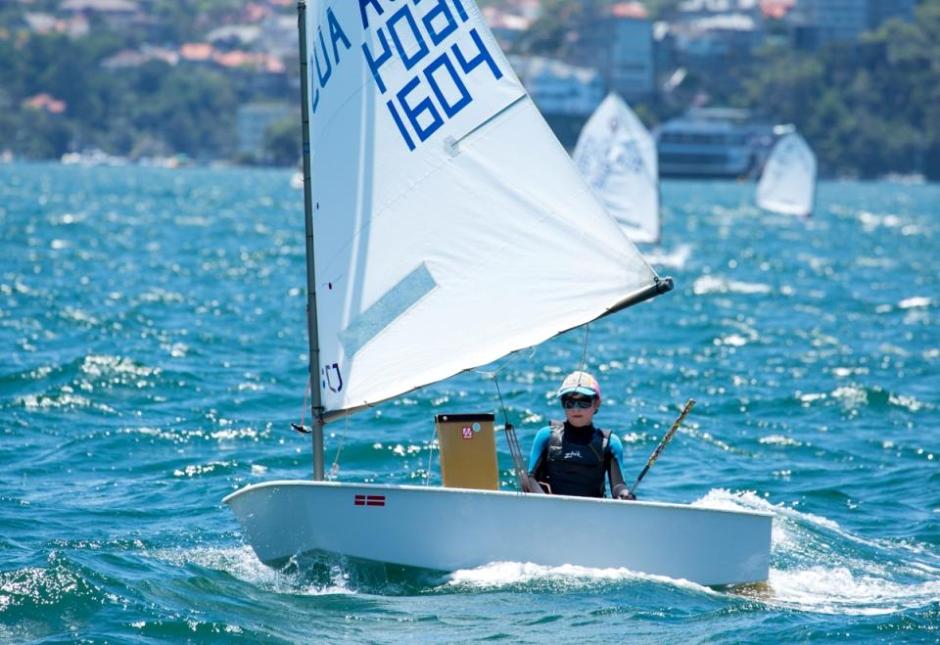 Olivia Williams Opti Interm - photo by Robin Evans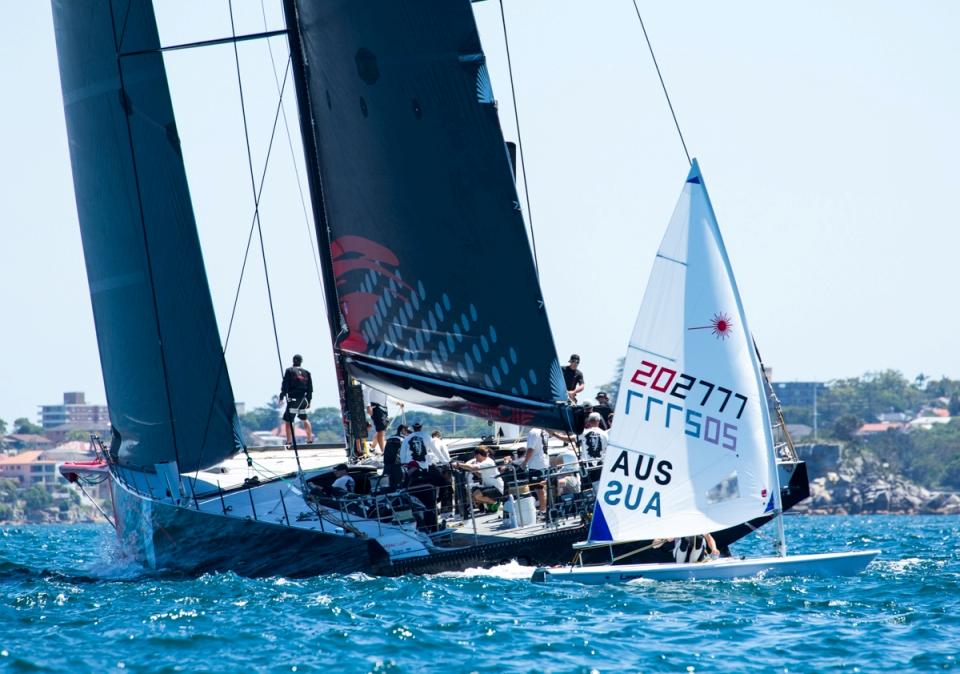 Conor Nicholas & Comanche photo by Robin Evans
The best from the west tower at Sail Sydney
19 December 2015
Yachting NSW's Sail Sydney organisers staged the biggest day of the series with all 17 classes competing on a busy Sydney Harbour on Saturday December 19, 2015.
Full resources were deployed to run three staggered start times for the 359 boat fleet representing 11 nations on five different course areas. In addition to the Sail Sydney fleet the harbour hosted the arrival of a mammoth super tanker, regular Saturday club racing, puffed up Sydney Hobart supermaxis in training and plenty of recreational boaties out enjoying the warm summer sunshine.
The majority of classes wound up their final results on Super Saturday and Western Australia's squad of Laser and 420 sailors occupied more than their fair share of the medal positions.
The very best competitors continue to march towards the Rio Games while others head to the Youth Sailing World Championships in Malaysia at the end of the month. For the next tier there's the Australian Youth Championships Woollahra Sailing Club is hosting in a few weeks, and for those just starting out and those who aspired to finish higher up on the scoresheet, it's back home to practice practice practice.
Light morning easterlies at Fort Denison slowly clocked from light E-NE to NNE 15 knots then consistently over 20 knots by late afternoon, lighting up the 49er and 29er afternoon session and causing congestion at Woollahra Sailing Club's (WSC) boat ramp where the 'red shirts', the precious volunteers, were moving hundreds of craft and sailors ashore in the gusty onshore breeze.
Laser Standard
The men's Laser Standard fleet was loaded with international talent. Giovanni Coccoluto (ITA) scored consistent top three results to beat Singapore's Colin Cheng, winner of last week's Sailing World Cup Melbourne.
"It's been three really nice days of racing in all different conditions," Coccoluto said once final results were decided. "I sailed really solid; I was there in the front playing with the guys. Ten races in three days is a lot, the organisation did a great job on the water. I'm really happy; this is one of my biggest results of the year."
He and Cheng are part of a multi-national squad currently in Australia training and competing under the tutelage of gun Olympic coach Brett Bayer, a nine time Laser Masters world champion. In the immediate future they are hoping to secure Olympic selection for their respective countries.
Video chat with Giovanni Coccoluto
South Africa's Stefano Marcia, who finished 11th at Sail Sydney, made selection for Rio at the Laser World Championship. On his goal for the 2016 Olympic Games he said today: "Top 15 will be a good step towards 2020 where hopefully I'll medal." Marcia has only campaigned full time in the standard rig for two years.
Third at Sail Sydney was Luke Elliott from Perth's Fremantle Sailing Club.
Laser Radial & 4.7
Current youth world champion and recent high school graduate Conor Nicholas prevailed in the Laser Radials thanks to three first and four seconds while in the 4.7s Rome Featherstone also proved himself the best from the west, beating Finn O'Dea, also from Western Australia.
420
Interstate teams gave the locals a whooping, West Australian crew of Nia Jerwood and Lisa Smith easily beating two Victorian boys teams with a huge 19 point gap back to second place occupied by Victorian Institute of Sport sailors Nicholas Sharman and James Grogan. Third was the Victorian Sailing Team's Nick Joel and Hugo Llewelyn.
"Back home we have a lot of great coaches," Jerwood said of the fact WA medalled more than any other Australian state. On Sydney Harbour her crew Lisa Smith commented, "It was really different to what we have at home, there were so many boats especially being Saturday…. everyone seemed to be out! It gave us some challenging conditions, something new which was good practice coming up to the Youth Worlds in Malaysia."
Video interview with Nia and Lisa
Bronze medal skipper Joel said: "We just came from the Melbourne World Cup with a day off in between then went into a training camp then straight into this regatta. We go home for Christmas then back up for nationals and youths championships; it's a pretty full on summer of sailing."
Joel already has his sailing future mapped out. "Ultimately I'd like to end up in the America's Cup. It's my dream to get to that level."
49er
Joel Turner and Tom Siganto led the 49er fleet from the outset, Harry Price and Harry Morton from NSW hot on their wake but not quick enough to rein back the super-quick Queenslanders. Sail Sydney is only the second event for the new combination, Siganto coming to the bigger skiff class from the 29er where he reached the dizzy height of world champ.
"Today was plenty of fun, the sea breeze was well and truly blowing," Turner said. "We are a brand new team, Tom's only been sailing the 49er for three weeks now. Since the selection for Rio is over we have started to plan ahead towards the Tokyo Games. Obviously it's a very long term plan but we can get cracking."
Third was Sam Gilmour and Cameron Seagreen from WA.
29er
Yann D'Argenlieu and Nathan Bradley (HKG) came to Sydney as a warm up for the Youth Worlds and were the strongest combination at the windy regatta. "We weren't expecting to win," Bradley admitted. "Sydney is awesome, this is our first time here and it was quite a big surprise with all the traffic."
The pair has three years of history sailing together and they know each other well. Bradley says the most annoying thing about D'Argenlieu is "he goes quiet sometimes; he's not a big talker". Funnily enough for the skipper, it's the opposite trait in Bradley that irks him the most. They agree they balance each other.
The Sail Sydney gold medallists have looked at the Youth Worlds 29er field and though the line-up makes them nervous, they say they know who they are up against.
Second 29er was Kurt Hansen and Jim Colley and third was Tom Crockett and Tom Grimes, both NSW teams.
Finn
Regatta sponsor Rob McMillan through NBsailsports was also the gold medallist in the man size Finn class, beating WSC clubmates Rod Tanks and Nicholas Kennedy.
Woollahra Sailing Club's general manager Adam South said, "With a day to go I'm very pleased with the outcomes so far and congratulations to the medal winners. Sail Sydney is the perfect benchmark for the Australian Youth Championships we are hosting in three weeks."
The progressive pointscores for all divisions racing at Sail Sydney are available here.
Bytes, Flying 11s, Optimists, RS:Xs and Formula boards, Sabots, Tasars and Vipers racing tomorrow, Sunday December 20, will bring Sail Sydney 2015 to a close.
The NSW government's Transport for NSW is Sail Sydney's safety partner with the important 'WEAR A LIFE JACKET: don't risk your life' message. Supporters Nautilus Marine, Gill, Lejen Marine, Tohatsu Motors and NBsailsports have also generously contributed to the long running multi-class event.
By Lisa Ratcliff, Sail Sydney media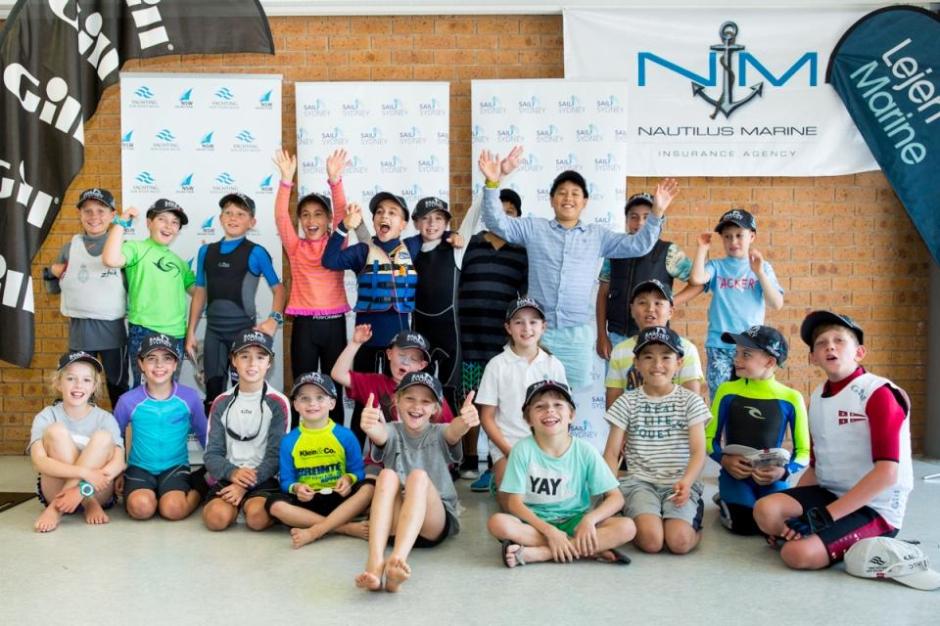 Sail Sydney 2015 Opti Green fleet - photo by Robin Evans
Fantastic Sail Sydney finale
20 December 2015
Sail Sydney's fourth and final day of racing came with the same side order of blue skies and wind, a result of the high pressure system sitting over the Tasman and associated trough pushing cooling sea breezes onto the New South Wales coastline.
There was a bit too much in it for some in the fledgling Optimist Green fleet. For the RS:X boards, or 'wind whackers' as they are affectionately known, Christmas came early for the large Korean contingent whizzing around Rose Bay in perfect board conditions, 20 knots of NNE breeze.
All the Olympic classes bar the RS:X completed their schedule yesterday, Saturday December 19, 2015. The remaining youth and invited classes closed out the final multi-class regatta prior to Christmas and the New Year, and important nationals and world championships on in January.
Sail Sydney PRO Colin Chidgey had these last words: "Fantastic four days with the nor'easters and a great line of courses from Rushcutters Bay to North Head, and the sailors all enjoyed themselves."
Final pointscores for all divisions at Yachting NSW's Sail Sydney are available here.
Optimists
Olivia Williams from the Royal Prince Alfred Yacht Club plans to take confidence from her first place in the Intermediate fleet going into next month's Optimist Australian title at Georges River Sailing Club, where she'll be up against a much bigger national fleet.
After the medal presentation at the host Woollahra Sailing Club, the spirited 10 year-old from Sydney's northern beaches commented: "I felt comfortable out there today, it was really windy but I've been in stronger. Sail Sydney was great and we didn't have to wait around for races because there was wind."
Second in the Intermediate fleet was Joshua Whitten and third was Alexander Whitnall
Ryan Littlechild took out the Open division from Archie Cropley.
RS:X
Dongwoo Seo was unbeaten in the board class where the Koreans retained the top four places. The Australian Sailing Squad's Joanna Sterling (QLD) was the first woman and Australian, coming in fifth after eight races.
Tasmania's Jock Calvert and Queensland's Emma Baillie are both part of Australia's team competing at the Youth World Championships in Langkawi, Malaysia, starting in a week. Sail Sydney wasn't one of Baillie's best results-wise, but there were plenty of takeaways. "I learnt a lot about how the winds work here, and how the gusts fill in and this will be helpful for Malaysia…for seeing the pressure and getting to it, plus board handling. Racing is the best practice."
Calvert is a full Tasmanian Institute of Sport scholarship holder. The bridge to this level is the state's Emerging Talent Squad, a program that identifies talent in junior development classes and moves those sailors across to youth classes, such as 29ers and Laser Radials, and the path to potential youth team selection. State high performance coach Richard Scarr sees the state's future success stories coming from the ETS program that offers athletes nutrition, psychology and strength conditioning advice complementary to specialist on-water coaching.
There is one issue for both Baillie and Calvert. They have grown too big for the RS:X. At 195cm and 85kg Calvert has the Olympic dream but needs to move to a new class, most likely a Finn, to have any chance of reaching the sport's pinnacle. At 175cm, Baillie has the same challenge. She'll hang in for another six months then consider a move, probably to a 49erFX.
Other results
Thomas Larkings' consistent top three results in the Sabots clinched the gold medal while in the Tasars Darryl Bentley and Rick Longbottom won from Bradley Stephens and Jennifer Overton.
Viper winners Jack Felsenthal and Brett Goodall out-sailed Lachlan and Ethan White on their boat, Not Related, and in the Byte fleet local boy Fletcher Duff took a narrow one point win from clubmate Hugo Stoner.
Flying 11 siblings finished in the gold and silver medal positions, Jesse and Zoe Dransfield pipping the Barnabas brothers, Zac and Jake.
The NSW government, Nautilus Marine, Gill, Lejen Marine, Tohatsu Motors and NBsailsports all generously contributed to success of Sail Sydney 2015 which attracted an international fleet racing across 17 divisions over four days. Twelve countries fielded 359 boat and board crews representing Australia, Denmark, Hong Kong, Republic of Korea, New Zealand, Canada, Malaysia, Singapore, Finland, Switzerland, Italy and India.
By Lisa Ratcliff, Sail Sydney media
2015 Australian Sailing Youth Team
Feat. Belinda Stowell (head coach), Tristan Brown (coach), Alistair Young, Jacinta Ainsworth, Xavier Winston-Smith, Lisa Smith, Emma Bailie, Nia Jerwood, Shaun Connor, Pia Doyle, Jock Calvert, Alec Brodie, Kurt Hansen, Sophie Renouf, Jim Colley, Amelia Stabback, Larry Cargill (coach) - picture courtesy Australian Sailing Team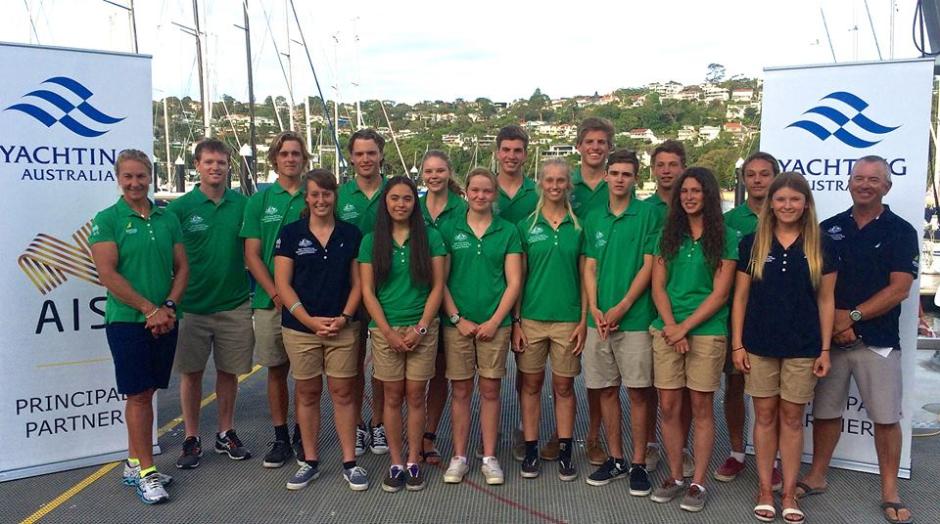 New wave of Australian Sailing talent and Rio hopefuls on the podium at Sailing World Cup Melbourne
(9-13 December 2015)
By AST Comms, December 13, 2015
Melbourne saw the Australian Sailing Youth Team compete in the Invited Classes as the team prepares for the Youth World Sailing Championships in Malaysia at the end of December (27 December – 3 January).
Youth Team Sailors Nia Jerwood (WA) and Lisa Smith (WA) took home the win in the International 420, while 29er crew of Kurt Hansen (NSW) and Jim Colley (NSW) won the 29er.
Men's Laser Radial sailor Alistair Young (WA) finished second, while women's Laser Radial sailor Jacinta Ainsworth sailed in the open Women's Laser Radial fleet and qualified for the top ten Medal Race to finish overall seventh.
While the Sailing World Cup Melbourne conditions are much cooler and the wind stronger than what is expected in Langkawi, just being out on the water has helped Australia's Youth sailors to focus areas for improvement prior to heading to Malaysia.
"This has been a really good opportunity to gather where I am at," Laser Radial sailor Ainsworth said.
The Youth Team will compete at Sail Sydney before the team departs for Malaysia after the holidays.
For full results for the Invited Classes see: www.sailingresults.net/site/event/143
LANGKAWI, MALAYSIA: 27 DECEMBER 2015 - 3 JANUARY 2016
ISAF Youth Worlds
Langkawi, Malaysia is hosting the 45th edition of the ISAF Youth Sailing World Championships from 27 December to 3 January 2016. More than 380 sailors from 80 sailing in more than 300 boats across nine disciplines will compete in Malaysia.
Website - www.isafyouthworlds.com/home.php
Queensland Youth Week decides 2015 Australian Sailing Youth Team
July 2015: AST Communications
29er Double Handed Skiff
Going into the final selection event New South Welshmen Kurt Hansen and Jim Colley and Queenslanders Kyle O'Connell with Tom Siganto were tied on points after O'Connell and Siganto had won the 2015 Australian Youth Championships, while Hansen and Colley had won the 29er class nationals.
Kurt Hansen is the 2014 29er Open World Champion and has formed a successful partnership with new crew, 2014 Australian Sailing Youth Team skipper Jim Colley. The pair had one of the tightest battles at the Youth Champs in January with O'Connell/Siganto coming out on top, but from the start of racing in Queensland Kurt Hansen and Jim Colley made it clear they wanted the Youth Team spot and posted a series of convincing results. They won five and finished second in four of the eleven races, securing them the Queensland Youth Week win as well as the Youth Team spot.
"We're pretty stoked to win this regatta and the Youth Team spot. Of course there was a little bit of that extra selection pressure, but our goal here was to get top threes and apart from one race we managed to do that and slowly managed to get a bit of a lead in the regatta," Jim Colley said.
It will be the first Youth Worlds for Kurt Hansen and the second for Jim Colley. Their training partners Amelia Stabback and Pia Doyle, who finished fifth overall in the mixed-fleet, will join them.
"It's great the girls from New South Wales are going to Malaysia as well. We've been training with them for the past year or so and it will be great to head over there together," Kurt Hansen said.
Amelia Stabback and Pia Doyle from Middle Harbour Yacht Club in Sydney will be the first female 29er crew to contest the Youth World Championship with the category being added for the first time this year and they are very excited to do so.
"We're pretty excited. We'll be the first all girl team to race at the Youth Worlds, which will be great. Our goal was to go out there and beat everyone and that's always our goal. And we want to do the same at the Youth Worlds," Amelia Stabback said about the goals ahead.
"We are all training partners and that really helps. Kurt and Jim are really good, which gives us a good goal to aspire to and to train against, so that's really helpful, good for starting practice and all that.
Hobie16 Multihull
The Hobie 16 multihull fleet team spot goes to Shaun Connor and crew Sophie Renouf (NSW). It will be the second ISAF Youth World Championship for Shaun Connor after he was part of the team in the 29er with Jim Colley in 2014.
"It's been tight racing for the Hobie 16s this week and we just squeezed into the spot for the Youth Team, which is pretty awesome and we are really stoked about that. It's been a long twelve months working hard, but it really paid off. And we just got a text from Jason Waterhouse (Australian Sailing Team) congratulating us. He's always been there to help out, which is great."
Pittwater Sailors, RPAYC Member Shaun Connor and Palm Beach Sailing Club Member Sophie Renouf during the Beware the Bullets Regatta 2015 held on Pittwater - A J Guesdon pictures