June 14 - 20, 2015: Issue 218
RPAYC members excel at Australasian Etchells Championships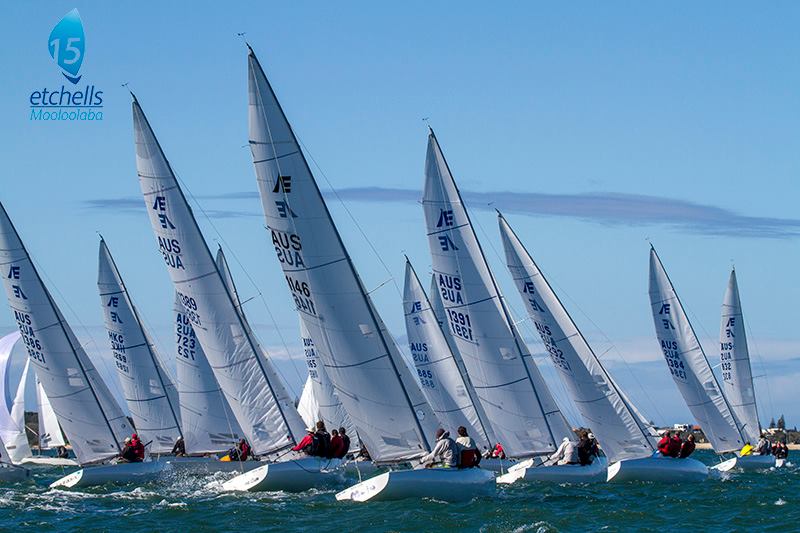 The Fleet. Image: Teri Dodds
RPAYC members excel at Australasian Etchells Championships
Forty four Etchells competed in the Marinepool Australasian Etchells Championship held at Mooloolaba over the June long weekend.
The first day, Friday, was sunny with light to moderate breeze and mild sea conditions. This changed with fresh breezes on Saturday and Sunday which caused the seas to build with a two plus metre swell on Sunday – in addition to the chop created by 44 boats racing in close proximity.
The racing was intensive with many of Australia's top Etchells competing, plus two teams from Hong Kong. The event included America's Cup sailors, Volvo Ocean Race sailors, Olympians, Etchells World Champions, as well as some keen club sailors.
Yandoo XX won the overall regatta with Jean Claude Strong becoming the first female skipper to win a major Etchells campionship.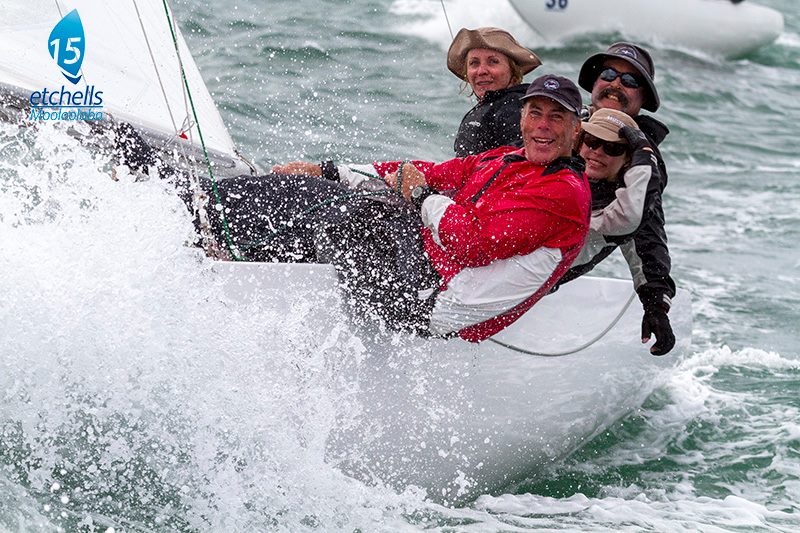 Winners-Yandoo xx Image:Teri Dodds
RPAYC club member Cameron Miles and his team came a very close second, and also won the Corinthian trophy sailing on The Hole Way.
"Another exciting Mid-Winter Nationals on the tricky waters off Mooloolaba. This year we made the trek north with Grant Crowle and James Mayo. James was my middle man when we won the Pittwater Worlds in Jan 2000. As it was James' first time on the bow of the Etchells, it was bound to make the crew dynamics all the more……interesting. Particularly when it started to blow.... Many thanks to Grant and James for a great first Regatta together. We are destined for more success for sure!" said Cameron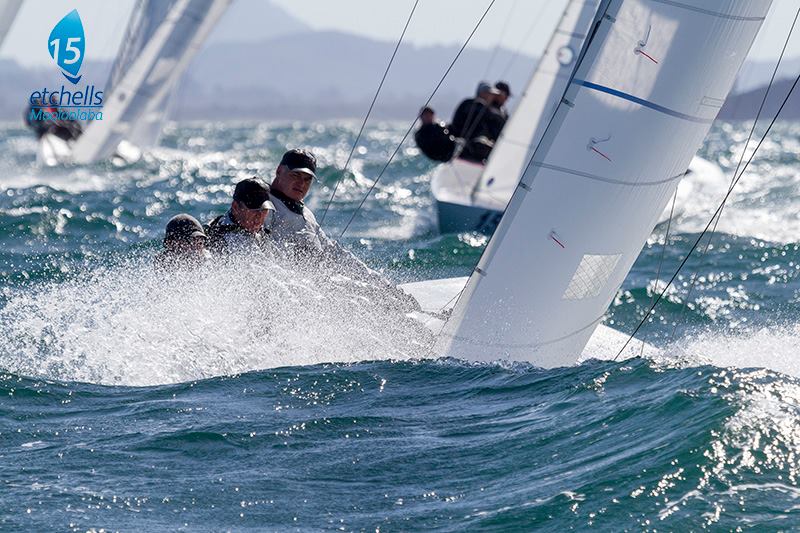 The Hole Way- Image Teri Dodds
Geoff Bonouvrie, Peter Merrington and Ian McKillop sailed Top 40 to achieve 9th place overall. Top 40 competed strongly in the top 10 boats achieving two 4ths, a sixth and 8th.
"Odyssey" helmed by club member Jill Connell achieved 19th place. Jill was sailing with top professional sailors Wade (Bubs) Morgan and Ben Lamb.
"I'm very happy with the progress we've made. We've jumped from 84% in our first regatta at Mooloolaba last year to a 42% position this year. This was particularly challenging given that I'd not raced before in the tougher sea conditions we experienced on Saturday and Sunday" commented Jill. "And great fun sailing with Wade and Ben."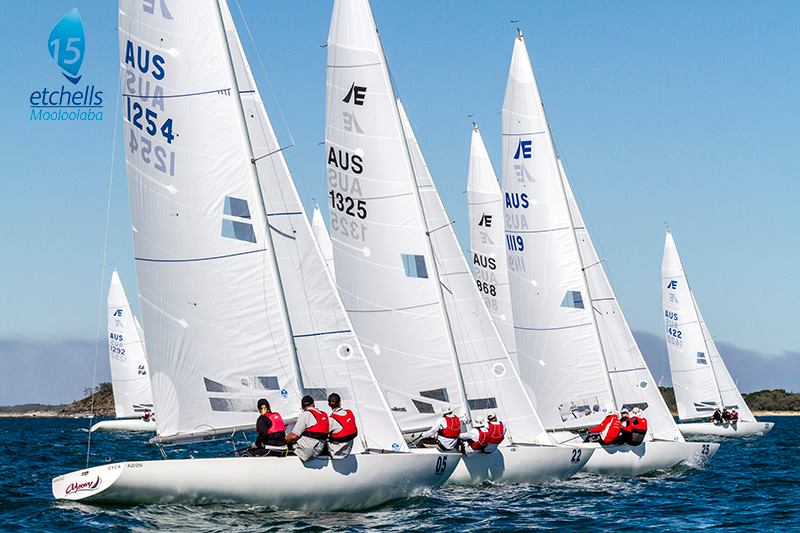 Jill Connell's Odyssey. Image Teri Dodds
In May 2015 RPAYC's Odyssey (AUS1254) represented the Pittwater Etchells' Fleet and RPAYC at the Brisbane Etchells Fleet Championship and gained a spot on the podium. Racing on Morton Bay in sunny, light conditions was a distinct contrast to the very wet days of racing caused by the intense east coast low.
The Fleet was highly competitive with 19 Etchells from Queensland, NSW and Victoria competing on what is planned to be the race-track for the Etchells World Championship in 2018. GenXY AUS864 (from the Brisbane fleet and multiple event winners) won overall, with Tango AUS1391 (from Melbourne) placing second and Odyssey placing third. Many other top Etchells competed including Land Rat, Fifteen, Bart, Waterloo Bay and Trekka.
"We were thrilled to win a race and place second in another of the regatta's six races and we were delighted to place third for the overall Championship" said skipper Jill Connell.
"This is my first time on the podium in a very significant Etchells regatta. It represents terrific improvement since Wade (Bubs) Morgan started coaching and sailing with me just a year ago. We were delighted to have Peter (Billy) Merrington sailing with us again – we had last sailed as a team in October at the Queensland State Championships where we placed 5th overall."
Kalika III helmed by RPAYC Commodore Ian Audsley, placed 38th in this year's Mooloolaba Marinepool Australasian Etchells Championship. The Commodore was sailing with regular team member Gordon Otten, as well as with Bruce Dey who skippers Black Knight in RPAYC races and who is Captain of the Pittwater Etchells Fleet. Ian summed up the regatta as "tough racing!"
Ian Audsley's Kalika III IMage: Teri Dodds
The Odyssey team also competed in and won the Rum Runner Championship which was held on the Thursday before the main Etchells regatta. Intended as a fun prelude, this quickly turned into a no rules, round robin stadium style series in Elliot 6s with spectators cheering from the dock.
Thanks from all the RPAYC sailors go to club member David Ritchard who is Treasurer of the International Etchells Class Association of Australia, and who volunteered at Mooloolaba to help the regatta be so successful.
Next year is the 20th Anniversary of the Australasian Midwinter Championship, and it's bound to be an even bigger and more exciting event – if that's possible!
So get involved in Etchells and start training now for the RPAYC midwinters this July, the Nationals at Royal Brighton in January, the NSW States at Lake Macquarie in February, and the Midwinters at Mooloolaba in June.
For more information see www.etchells.org.au
RPAYC hosts the Pittwater Etchells Fleet which welcomes sailors to participate in the best class of one-design keel boat racing in Australia. The Fleet even has an Etchells which can be made available to experienced sailors wanting to try sailing Etchells.
The quality of regattas and the friendly, supportive aspects of this one-design class are second to none. To find out more contact the RPAYC Sailing Office.
Photos courtesy and by Teri Dodds Photography
Report by J. Connell, photos courtesy and by Teri Dodds Photography, 2015.