June 15 - 21, 2014: Issue 167
RMYC Multihull Division Celebrates its 21st Year at Annual 2013-14 Prize-giving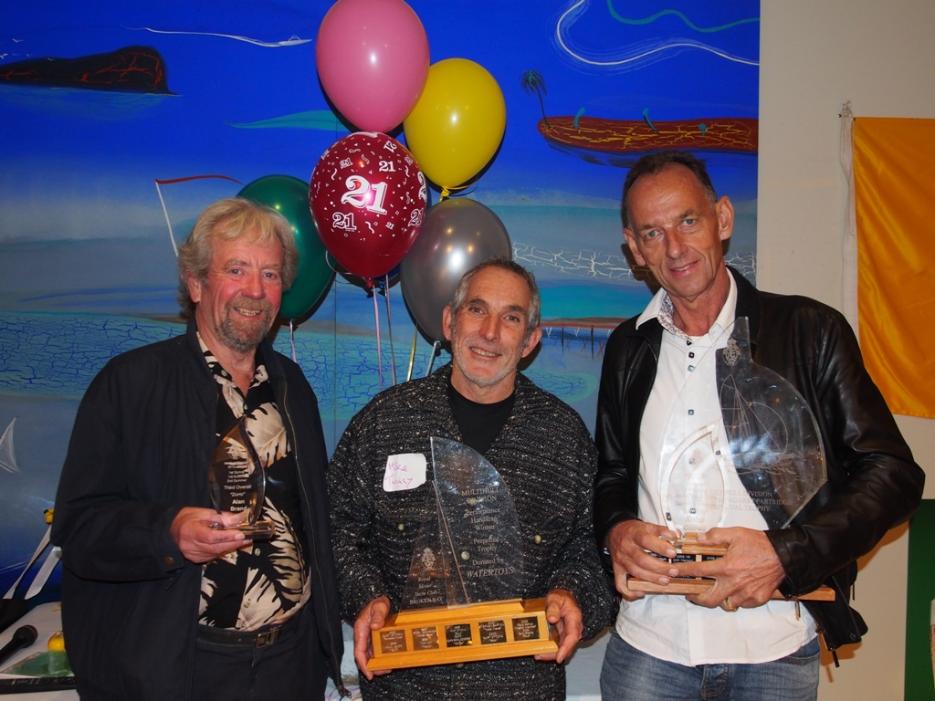 Third Alan Brand (left) , second Robin Ottowa(right), first Michael Finch(center).
RMYC Multihull Division Celebrates its 21st Year at Annual 2013-14 Prize-giving
By Alan Brand
RMYC Multihull Division held its end of 2013-14 sailing season awards presentation last night, Saturday 14th June, in front of 50 guests enjoying a buffet style dinner and drinks by the club pool.
The division was formed in February 1994, so the opportunity was taken to start partying now in celebration of our 21st birthday year - hence the balloon decorations.
The underlying theme of the evening was to have fun. So prize giving included a bunch of "special" prizes as well as the "legitimate" ones - thereby ensuring that every boat represented on the night received due recognition in a "suitable" award category specially devised to suit the circumstances.
So, for example, the award for the boat with the sexiest name went to, who else, but "Ménage à Trois" ? Jim Geddes' "Te Arawa" was judged to have the most exotic name and the Prince William and Kate Middleton award for the boat closest to royalty went to "The Countess".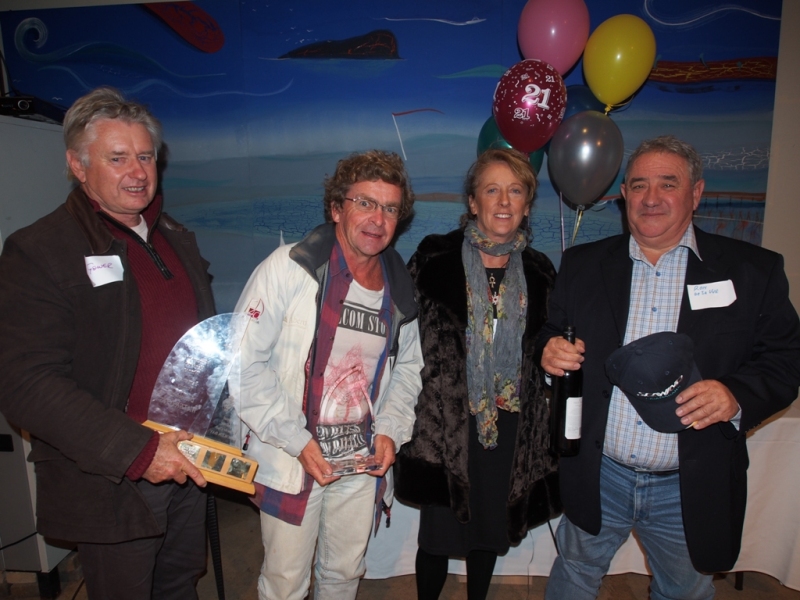 The Homer Simpson award for the biggest stuff up of the season went to David Bishop for capsizing his 30foot catamaran, "Rapid Ride" near Palm Beach in August 2013– admittedly in very blustery conditions, but Homer could not be appeased!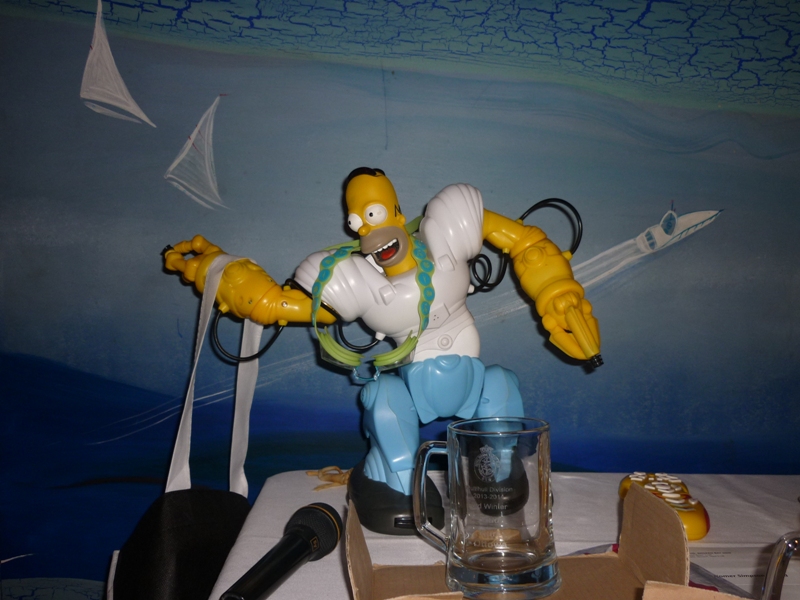 Multihull Captain Robin Ottowa's "Lukim Yu" was most prominent in the winner's circle with successes in 3 award categories as well as achieving second place overall in the annual pointscore races.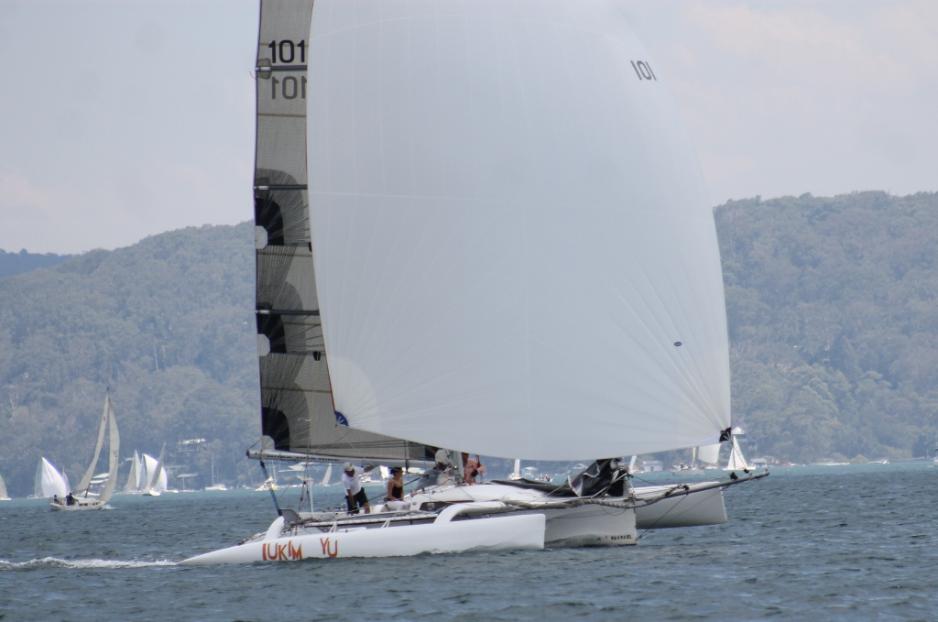 Third overall was Alan Brand's "Zorro" while the winner overall and Multihull Club Champion for 2013-14 was Michael Finch's "Twiggy".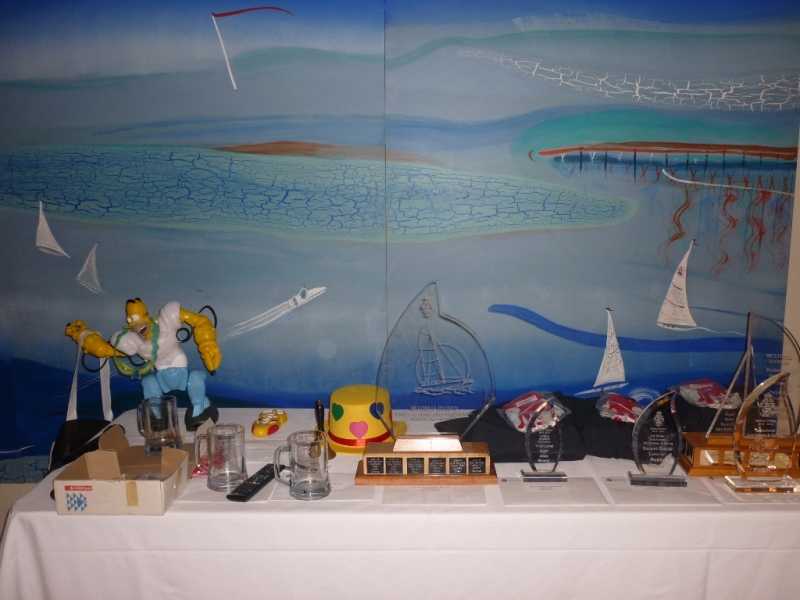 _____________________________________________
About the RMYC Multihull Division
Following representations from a small group of multihull owners/enthusiasts, in February 1994, the Board of the Royal Motor Yacht Club Broken Bay approved the formation of a Multihull Division operating under the normal Club requirements.
Now in its 21st year of operation, the Multihull Division has a regular racing program and invites membership from all people with an interest in the multihull class – whether that interest is in racing, cruising or the social camaraderie associated with the Division's activities.
We are a group of multihull enthusiasts sailing most Saturdays throughout the year on the magnificent waters of Pittwater and Broken Bay NSW, Australia. Our current sailing program focuses mainly on round-the-buoys racing. However, we are actively looking at broadening our program to include both cruising and social sailing activities to accommodate a wider range of interests. We are always happy to share our knowledge and experience with newcomers to multihull sailing. You are welcome to join us for a sail at any time, register for a crewing position or just turn up for a chat.
The Monday evening twilight racing series hosted by the RMYC Sailing Division during daylight saving is especially popular with multihullers and represents a very relaxed and enjoyable introduction to the pleasures of multihull sailing.
Our current Saturday racing fleet comprises both catamarans and trimarans ranging from 24 to around 45 feet and includes designs from the boards of Ian Farrier, Tony Grainger and Lock Crowther.
A major activity in our racing calendar is the organisation and running of the annual Lock Crowther Multihull Regatta (LCMR) over the October long weekend. This Regatta typically attracts many of Australia's fastest multihulls, as well as cruisers, for two days of fabulous fun both on and off the water. Sponsors' prizes are awarded at a sumptuous Regatta dinner for places in Racing, Cruising and OMR divisions. Find out more about the Lock Crowther Regatta here.
A range of sponsorship opportunities is available. Please contact the Club or the Regatta Co-ordinator for further details on how your organisation can benefit from an association with this prestige sailing event.
Sponsorship packages can also be tailored to your specific needs around one or more of our regular race series or around support for our weekly prize giving (currently wine based). Please visit our Sponsorship Opportunities page or contact our Public Relations Officer for further details.
As RMYC members, we have access to all of the club's extensive facilities including dining room and bistro, meeting rooms and bar, swimming pool and BBQ area, as well as the full range of modern marina facilities.
Contact us through the Club or any of the Committee members...many of whom can be found in the bistro bar at the conclusion of racing most Saturdays!
Website: www.royalmotor.com.au/multihulls