June 9 - 15, 2013: Issue 114
2013 Royal Motor Yacht Club Broken Bay Marine Art Exhibition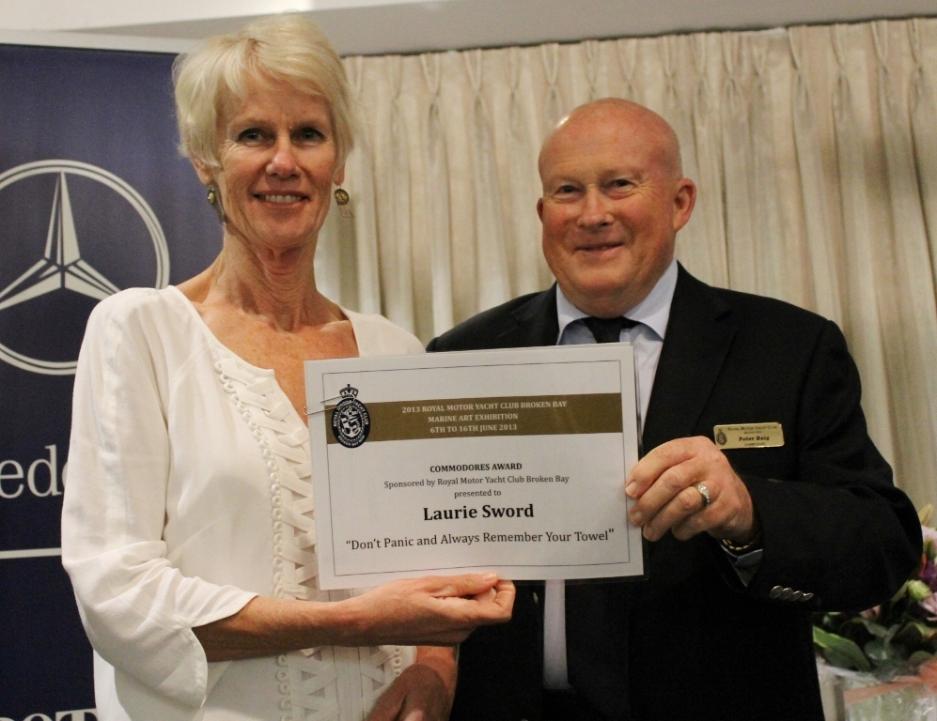 North Narrabeen lady Laurie Sword with the Commodore of the RMYC Peter Haig who won this year's Commodores Award for her painting 'Dont Panic and Always Remember Your Towel' which the Commodore loved so much he purchased it on Friday evening. Picture by A J Guesdon
Royal Motor Yacht Club - Broken Bay - Ninth Annual Marine Art Exhibition - June 2013
Whenever you see the letters 'NFS' beside an artwork that forms part of a showing of works it means it's Not For Sale, that the creator is displaying their work purely for an audience to appreciate their talent and finesse. This is one of the great aspects of the Royal Motor Yacht Club's Marine art Exhibition, that it is so esteemed, and easily the largest Marine Art Exhibition in Australia, that artists will send in their best for all those who love these kinds of works on a marine theme and for those who are new to viewing such wonders to appreciate the wide scope of inspirational material and mediums they may be created in.
Luckily some artists are willing to put a price tag to their works, definitely not high enough in some cases from what we saw on Friday evening, as not only are those works that are available for sale from a few hundred dollars beautiful, the varying aspects of boats, harbours or people engaged in getting in and on the water make you want to cover your walls with every single one of them. The most expensive we saw was a mere few thousand and each would enrich their owners with a lifetime of pleasure.
One of the best parts of this years exhibition is the student section where 48 talented young people have submitted works in pencil, aints, photos, ink, mixed media and traditional painting. We were lucky to speak to some of these about their works or get pictures of them beside their creations as detailed in the pictures below.
Beside these youngsters are Pittwater resident masters of art and artists from further afield. Michelle Ball, Robert Carter OAM, FASMA, Eric Martel, Bruce Harkness, who this year won the First Prize for his 'Timber Dinghy Clareville Beach' are but a few we list here.
This annual Marine Art exhibition is a celebration of how every individual can express their essence and their visions so others may visit or dwell where mere words cannot take them. To see aspects of Pittwater through other's eyes, to feel how it may be in places far from Pittwater is exhilarating.
Visiting the RMYC at Newport is always a pleasure. The food is great should be lunching or dining, the view is spectacular and the service always of the highest and friendliest standard. Should you choose to see the exhibition on its final day, Sunday the 16th of June, you can then wander downstairs where the RMYC's annual Food and Beer Fair is taking place on the same day.
If you love the ocean, the bays and all to do with the sea, or even if you just love art, don't miss this year's Marine Art Exhibition. You will come away feeling as though you've spent hours in the best places here and around the world, perhaps with your personal choice of what you could not leave behind tucked under your arm to have as part of your life ever after.
More photos as part of this weeks A Week in Pittwater pictorial
Prize Winners 2013:
Student Prize (aged 10-13 years) - Nika Mikhan for 'Magical Wave'
Student Prize (aged 14-18 years) - Harrison Power for 'Australian Life Saver'
Encouragement Award
Sophie Hambling for 'Coming Home'
Grace Fisher for 'The Sunlit Wharf'
Commodores Award – Laurie Sword for 'Don't Panic, and Always Remember Your Towel'
Seniors Encouragement Award – Kathy Field for 'Little Bay'
Highly Commended – Traditional Representation
Ron Stannard for 'Boatyard in Cornwall'
3rd Prize - Traditional Representation
Murray Bird for 'James craig'
2nd Price - Traditional Representation
Jan Harrington-Johnson for 'Red Beret'
1st Prize - Traditional Representation
Bruce Harkness for 'Timber Dinghy Clareville Beach
Highly Commended – Modern/Contemporary Representation
Paul Brocklebank for 'Careel Bay'
3rd Prize - Modern/Contemporary Representation
Ian Thwaites for 'Leaving Newport'
2nd Prize - Modern/Contemporary Representation
Geoff Belshaw for 'Trim'
1st Prize - Modern/Contemporary Representation
Stewart Hambrett for 'Across the Bay'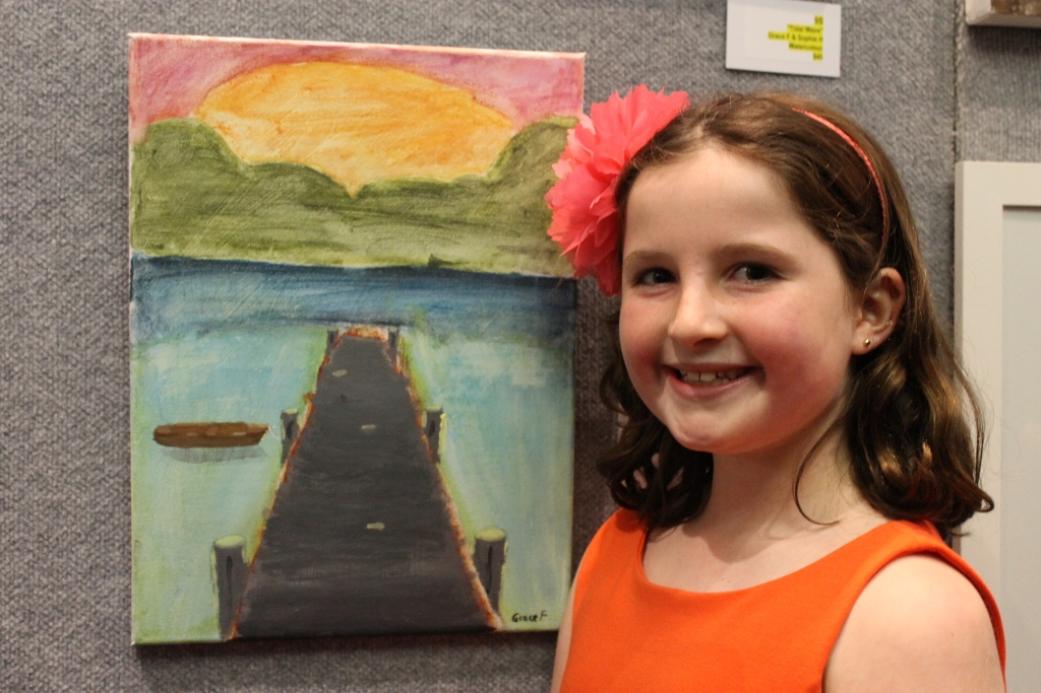 Newport student Grace Fisher won a Meredith Rasdall Visual Art Encouragement Award on Friday evening with her painting 'The Sunlit Wharf' and will one term of Children's Art Classes from this renowned Pittwater artist. Grace told us her inspiration is from a beach near her home. She began with the wharf and then added the other parts of her painting, working step by step until she was happy with it.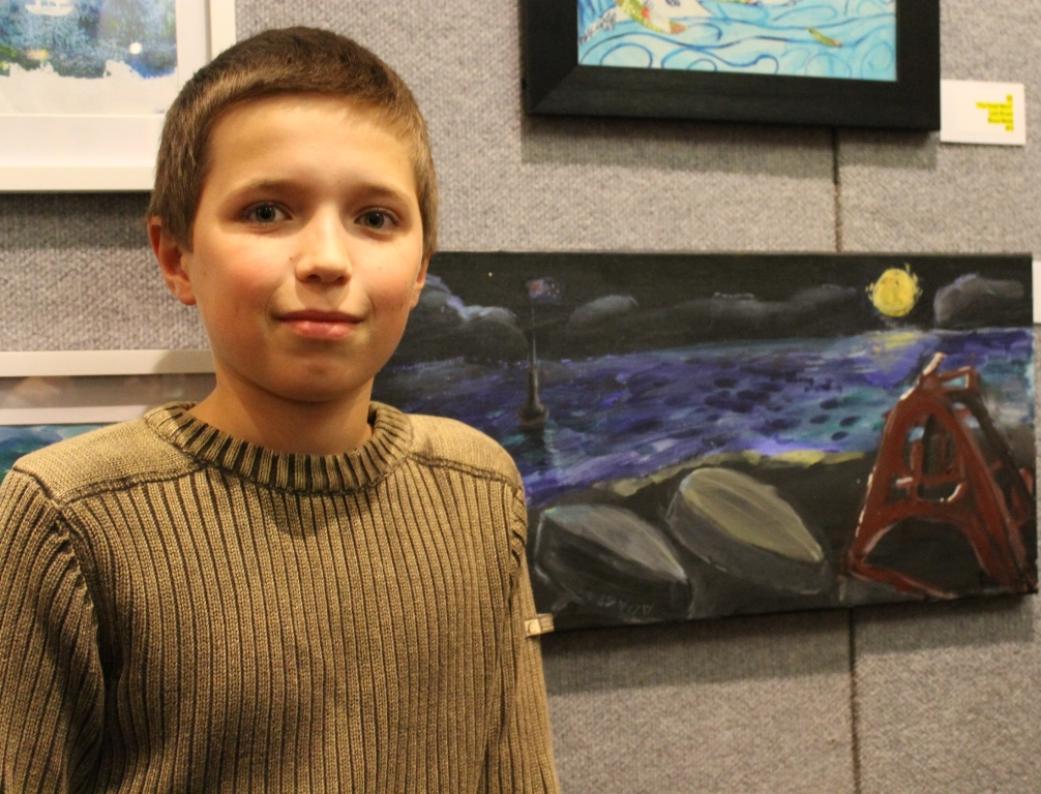 Felix Canning beside his acrylic work 'Moonlight Sentinel'. Felix explained he took photographs at Long Reef for ideas on how to get his painting as he wanted it.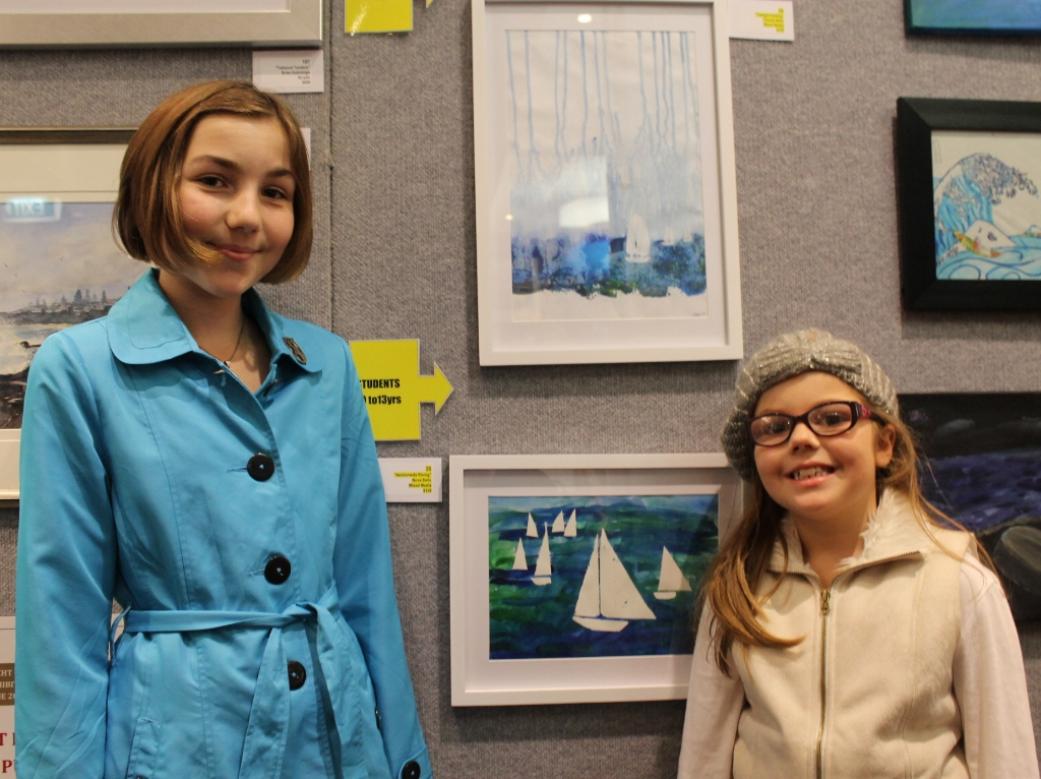 Sisters Nova and Charlie Belic beside their works.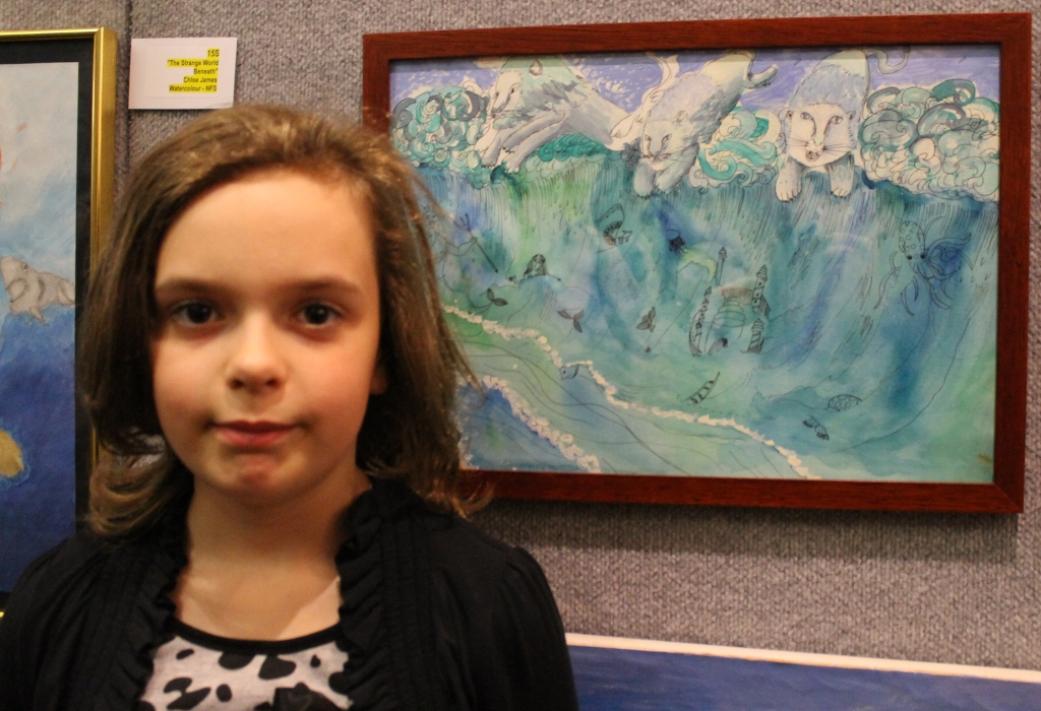 Terrey Hills student Nika Mikhan beside her 'Magical Wave'. Nika won the stduent Prize this year (aged 10-13 years). This is her first year in the Marine Art Exhibition. Nika explained to us that she started with just the wave and then added in the lions - clever!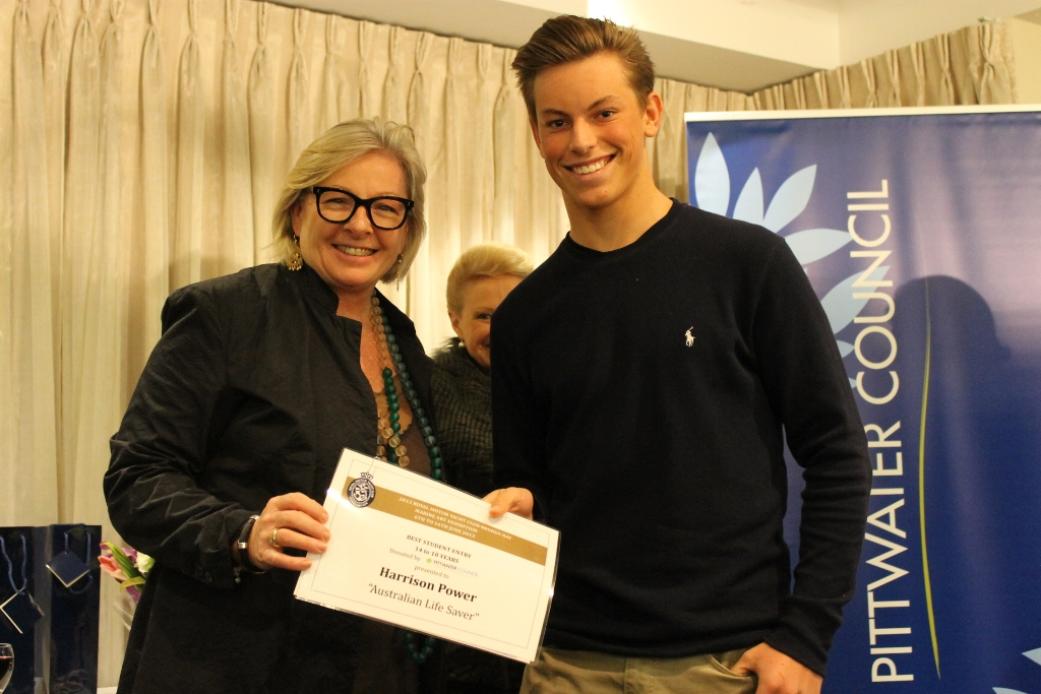 Cr. Jacqui Townsend, Mayor of Pittwater, presenting the Award for Student Prize (years 14-18) to Harrison Power on Friday night for his artwork ' Australian Life Saver'. Harrison is a Life Saver at Avalon Beach SLSC.
Report and pictures by A J Guesdon, 2013.