June 28 - July 4, 2015: Issue 220
RMYC MULTIHULL DIVISION
ANNUAL PRESENTATION EVENING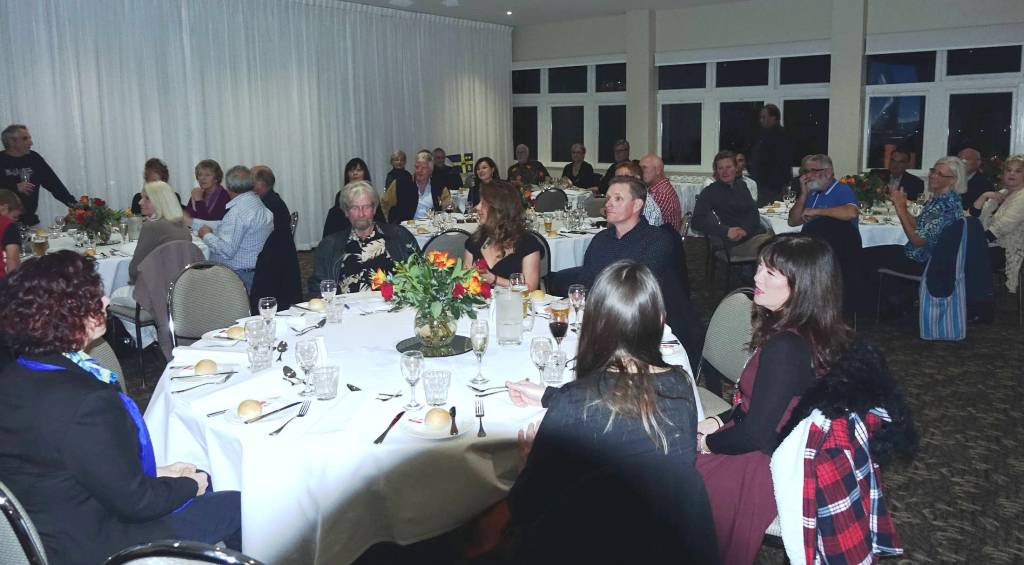 RMYC MULTIHULL DIVISION
ANNUAL PRESENTATION EVENING
20 JUNE 2015

Forty two guests enjoyed good food, good fun, a chance to socialise with friends, applaud and congratulate winners and place getters at last Saturday night's RMYC Multihull Division annual prizegiving. And apart from the serious stuff, there were plenty of smiles and laughs to be had as "special" awards were made for those not quite making a podium finish during the year but who deserved recognition in other ways.
For example, the "Build the Fleet" special award was won by co-compere Stephen Barton, currently the proud owner of three multihulls!
The "Ladies Choice Colour" award for the least boring looking boat, went to David Bishop for his all pink catamaran Rapid Ride, while Paul Nudd, a regular visitor from Lake Macquarie, picked up the "Most Frequently Visiting Boat" award.
All prizes for these special awards were provided by long-term division sponsor Inglewood Two Rivers wines and presented by Jackie Osborne joining us for the occasion.
In the following pics Jackie is presenting the "good stuff" to Paul Nudd, Jim Geddes, Ron Bickerstaff, Linda Renouf, David Bishop, and Paul Pascall all worthy special award winners as you can see below.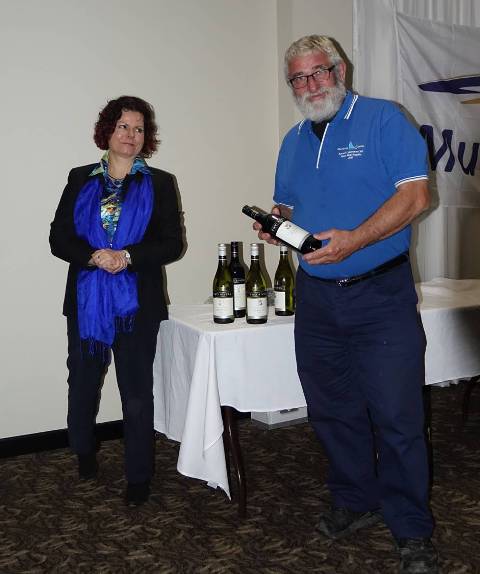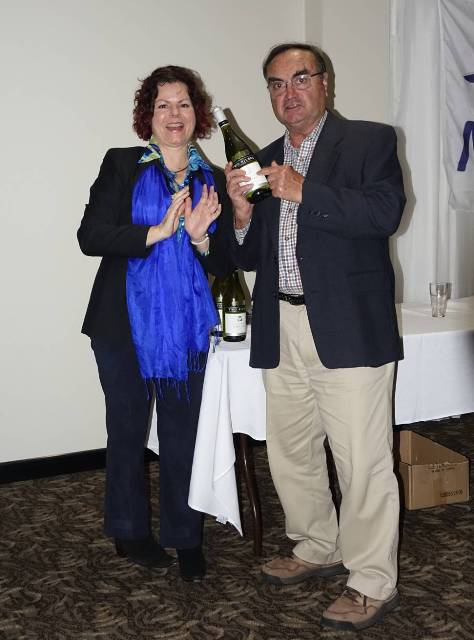 Paul Nudd, winner of the "Most Frequently Visiting Boat" award Jim Geddes, winner of the "Over 38 and still Afloat" award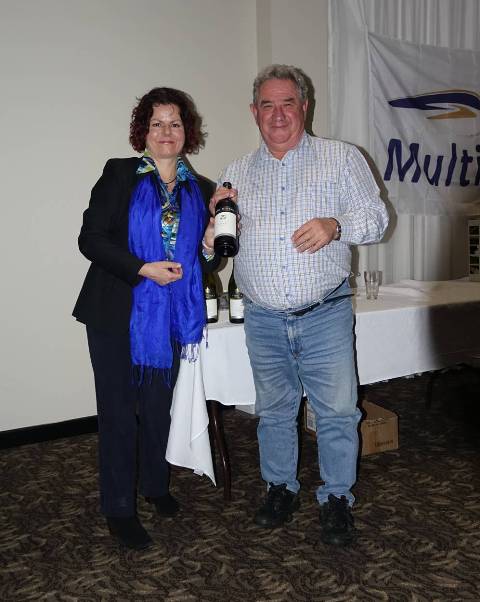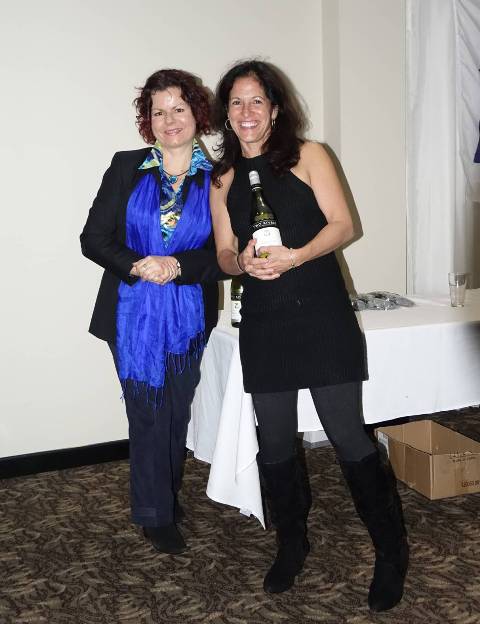 Ron Bickerstaff, winner of the "
I Love Sailing More Than Anyone Else
" award Linda Renouf accepting award for "
I Can Easily Rig While Rushing to the Start Line"
David Bishop, winner of the "
Ladies Choice Colour award
" Paul Pascall for
starting, finishing, results and photographic services
Turning now to some of the serious stuff, podium finishes during the year were won by Kurt Ottowa, Neville McElroy, Jason Geddes, Barry Allertz, Alan Brand, Robin Ottowa and Michael Finch – Michael winning the overall Club Championship for the second year in a row – this time by the slimmest of margins, one point!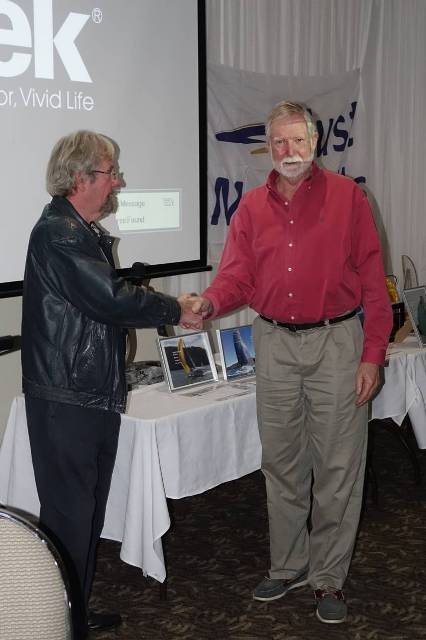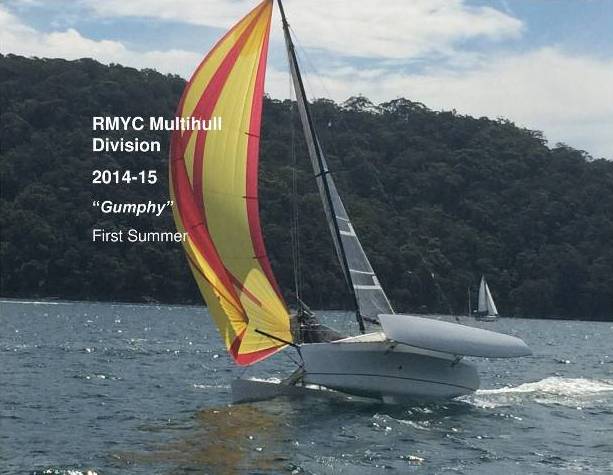 Neville McElroy, "
Gumphy
"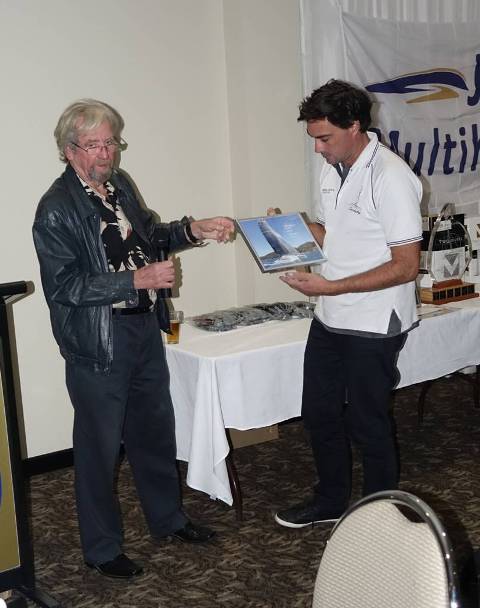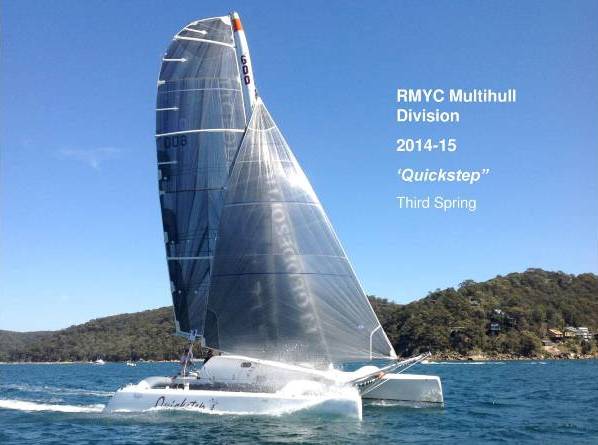 Jason Geddes "
Quickstep
"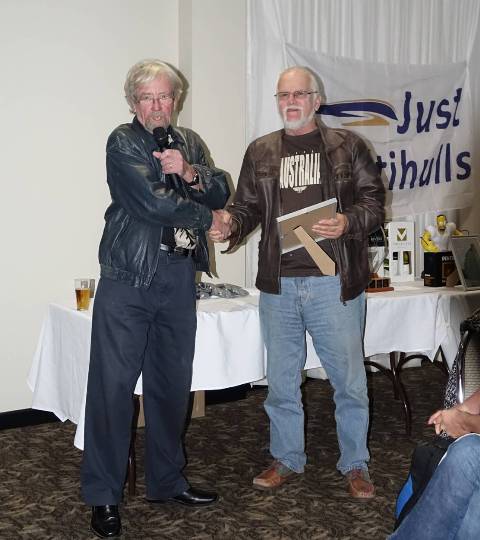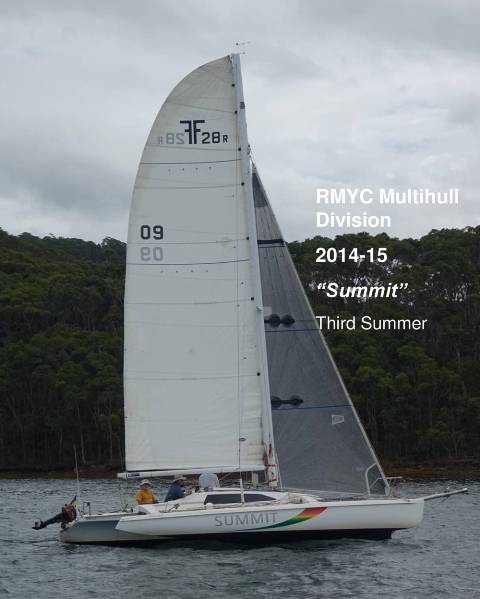 Barry Allertz "
Summit
"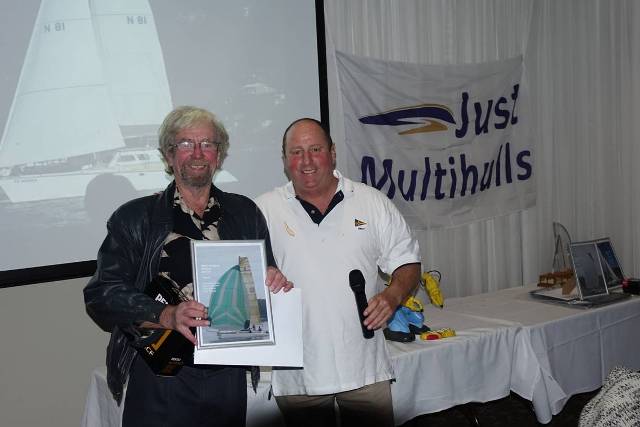 Third overall, Alan Brand "
Xena
"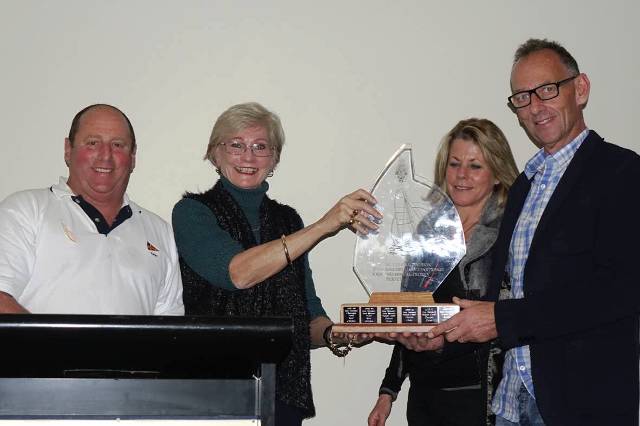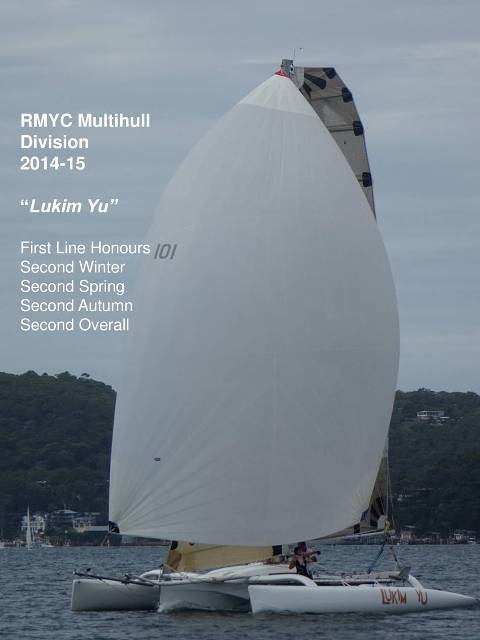 Second overall, Robin Ottowa "Lukim Yu" with L-R, Stephen Barton, Margaret Rogers and Mary-Jane Partridge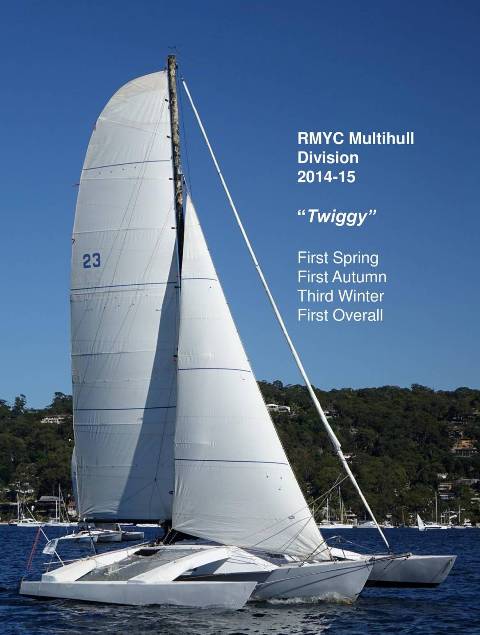 First overall, Michael Finch "Twiggy" (centre) 2015 Multihull Division Club Champion with Robin Ottowa, RMYC Rear Commodore David Dickson and Stephen Barton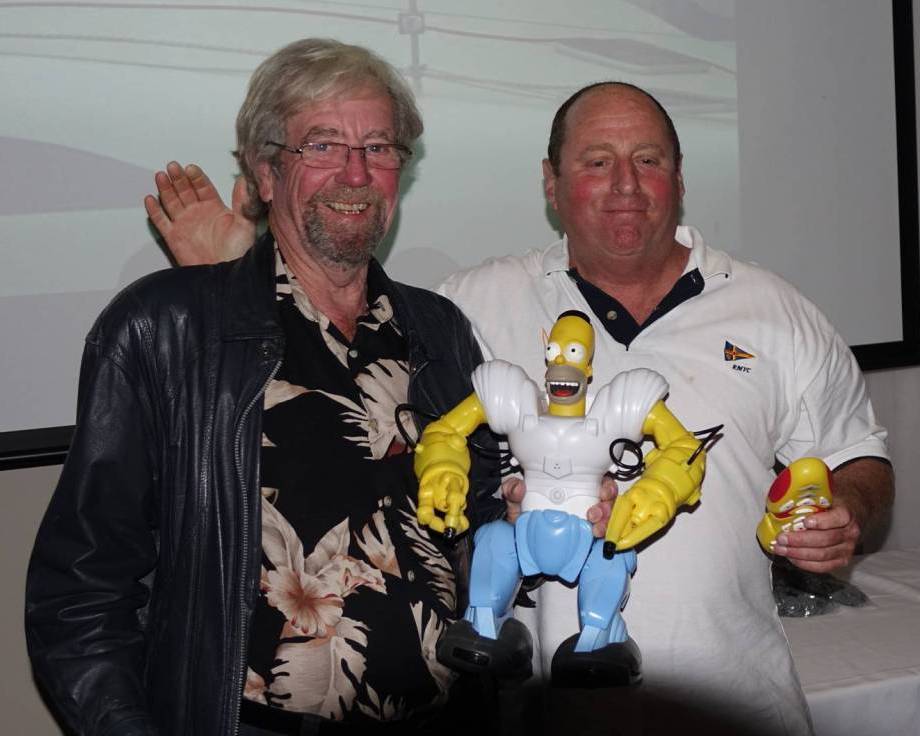 In my own defence, a great miscarriage of justice has definitely occurred here as everyone in the Division who knows about these things will surely testify!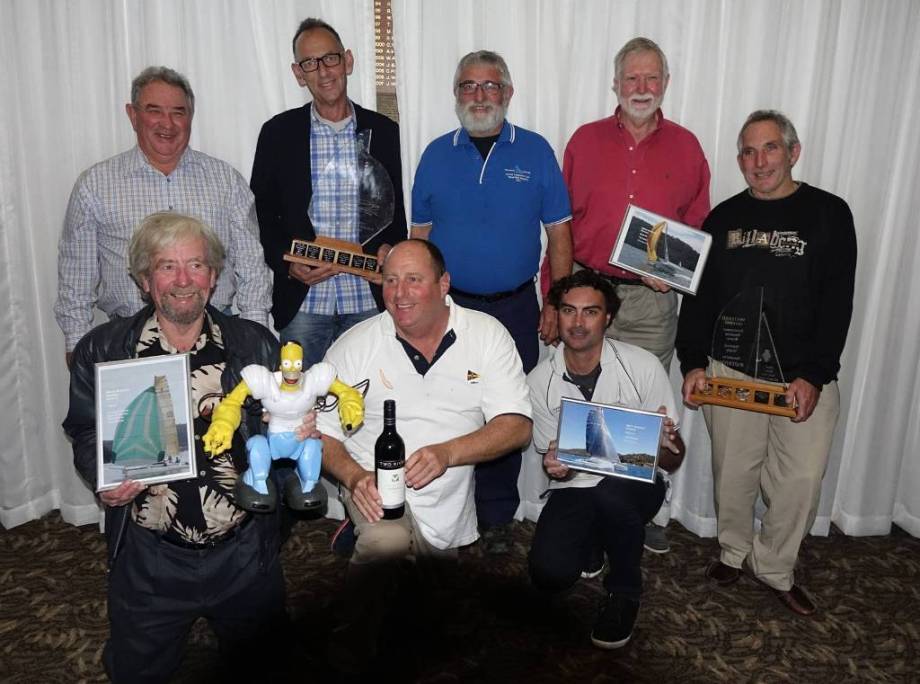 And most of the happy winners posing here!
Finally, we wish to warmly thank our special guests, all contributing greatly to the success of the evening. Margaret (Partridge) Rogers, friend and foundation supporter of the Division all the way back to its formation in 1994, husband John Rogers, Mary-Jane Partridge, RMYC Rear Commodore David Dickson, 316 Shop sponsors Andrew and Rebecca Montague, Inglewood Wines Jackie Osborne, Linda Renouf DBY Yacht Sales and Gill Clothing.
Alan Brand
RMYC Multihulls Race Secretary
Report by Alan Brand, photos by Paul Pascall, 2015.