July 19 - 25, 2015: Issue 223
RMarine Riley Hosts Pre Sydney International Boat Show on Pittwater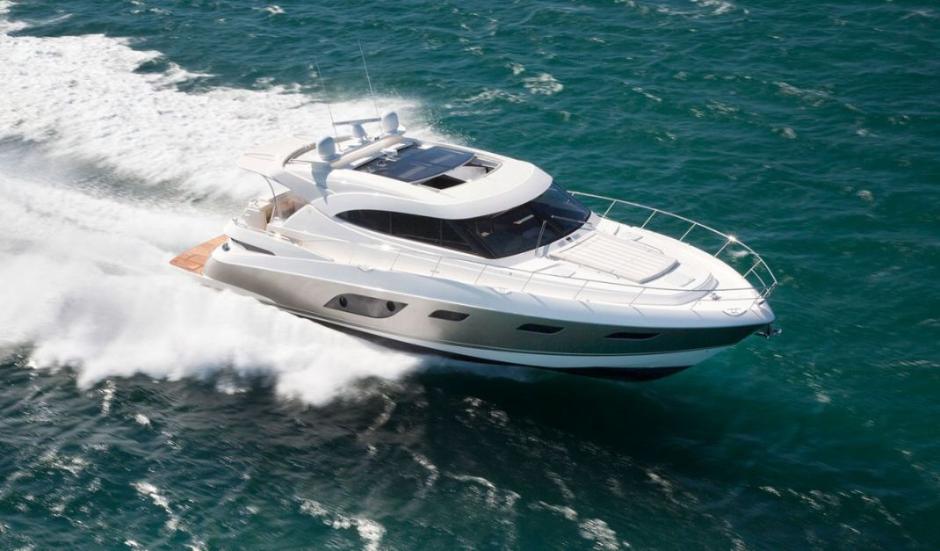 RMarine Riley Hosts Pre Sydney International Boat Show on Pittwater

Event: THE QUAYS MARINA CHURCH POINT - SATURDAY 25TH JULY 2015: 9am - TIL LATE
Those dynamic Bayview based motor yacht brokers RMarine Riley, who have supported the relaunch of the Pittwater Festival, recently shared great news regarding this forthcoming Summer's Tasmanian Experience.
This week Mark Riley and his team shared an announcement that Pittwater and surrounds may have been hoping to hear for a long time – for those of you who don't wish to travel all the way into town, R-Marine Riley are hosting a Pre Sydney International Boat Show on Pittwater next Saturday, July 25th, from 9am until 9pm.
RMarine Riley have collaborated with local fine wine and food producers, and will be showcasing their 2015 new range of motor yachts. Range Rover, Jaguar and a Mastercraft Wakeboard boat will be also be on site and displaying their top range.
Below is a little about what you will be able to see next weekend.
RMarine Riley - Sydney's Premier Riviera Dealership and Boat Brokerage
At RMarine Riley we believe the initial purchase of your boat should mark the beginning of a rewarding lifelong journey. Experience the excellence that has always been the signature of RMarine Riley and Riviera at The Quays.
R Marine Riley Tasmania Experience
: leaves Sydney (NSW) on December 27th, 2015
Riviera
Riviera is the largest and most respected luxury boat building company in Australia and a major player in the global marine industry. Today, the company builds luxury boats from 36 to 85 feet in length across five lines: Open and Enclosed Flybridge, Sport Yachts, Offshore Express and Motor Yacht models.
Belize Motoryachts
Targeted at the discerning international boating enthusiast who values timeless character, exclusivity and repeatable quality, Belize Motoryachts are designed and manufactured according to the unofficial luxury industry principles of 'no shortcuts; no compromises', offering the highest level of comfort, individuality and performance.
Find out more at:
www.rmarineriley.com.au

Mastercraft Wakeboard boats
MasterCraft has been shaping the boating industry since 1968. More than four decades after the original MasterCraft made its debut, our goal remains the same - to continue building the world's best ski, wakeboard and luxury performance powerboats, year after year.
Wakeboarding is a surface water sport which involves riding a wakeboard over the surface of a body of water. It was developed from a combination of water skiing, snowboarding, and surfing techniques.
The rider is usually towed behind a motorboat, typically at speeds of 30–40 km/h (18-25 mph), depending on the board size, rider's weight, type of tricks, and rider's comfort. This speed could also depend on the year, make, and model of the boat because some boats, which are not designed for wakeboarding, create a different size wake which the rider may not feel comfortable with. But a wakeboarder can also be towed by other means, including closed-course cable systems, winches, and personal water craft.
Wakeboarding is organized by the International Waterski and founded in 1946 (renamed from International Waterski Federation inВћ 2009) and the World Skiboard Association founded in 1989 and then renamed World Wakeboard Association (WWA) founded in 1993. The IWWF has been recognized by the International Olympic Committee as an official partner since 1967. Wakeboarding has been part of the World Games since 2005, in the trend sports category. The WWA is the global leader in wake sport sanctioning; this non-profit organization focuses on the progression and advancement of wake sports world wide. (1)
The WWA sanctions over 400 days of wakeboarding, wakeskating and wakesurfing events each year and in April Renmark hosted Australia's best Wakeboarders in South Australia's part of the Murray River for the 2015 Nationals. Renmark has hosted the Wakeboard Australia Nationals twice in the last 10 years and with the course right in front of Club Renmark, this luxurious location for the 2015 Wakeboard Australia Nationals gains in popularity each year.
The last few years have cemented Australia as the home for the best wakeboarding talent in the world and MasterCraft team riders Harley Clifford and Tony Iacconi dominate the world's best behind a mighty MasterCraft XSTAR.
For more information see:
www.mastercraft.com
,
www.awwf.com.au
and
www.wakeboardaustralia.com.au
1. Wakeboarding. (2015, June 30). In Wikipedia, The Free Encyclopedia. Retrieved from
https://en.wikipedia.org/w/index.php?title=Wakeboarding&oldid=669394143
Northern Beaches Land Rover
When dealing with Northern Beaches Land Rover you're dealing with a real person, not a faceless corporation, and with the backing of AP Eagers - a publicly-listed automotive retail group - you can be assured that we'll be here today and tomorrow.
Our relationship with our customers extends beyond the sales process and into the ownership experience where we provide service, parts and advice as necessary.
Land Rover was conceived on a beach in 1947, and 66 years on, here on the Northern Beaches of Sydney we are following their heritage.
NB:
Range Rover hybrids
to hit showrooms in August
Find out more at: northernbeacheslandrover.com.au Northern Beaches Jaguar
Northern Beaches Jaguar, Sydney offer a full range of New Jaguar models including the award winning XF, flagship XJ, luxurious XK, as well as the new addition to the range; the F-TYPE. We also hold an extensive range of approved used Jaguar cars including the X-TYPE and S-TYPE models.
Our Aftersales facility provides factory trained technicians to attend to your car using the very latest Jaguar Diagnostic equipment to keep your Jaguar tuned to perfection and in showroom condition, and our commitment to use Jaguar genuine parts and accessories mean there is no better way to protect the integrity of your vehicle and its resale value.
As one of our valued customers you are always welcome to drop by. Alternatively, if you would prefer to pick up the phone we would be happy to speak to you. Either way we look forward to welcoming you soon.
Find out more at: northernbeachesjaguar.com.au

JAGUAR F-TYPE COUPE R
RAISE your hackles, cat people. Jaguar's ruthless F-Type Coupe has arrived, completing the mainstream F range with an emphatic note.
Macquariedale Organic Wines
"
Our passion is making beautiful wine grown Biodynamically to harvest the unique flavours of the Hunter Valley
."

We started Macquariedale back in the early 1990's as an escape out of the Sydney corporate world. Derice and I (Ross McDonald) started the dream with an acre or so of Shiraz and Chardonnay close to the Hunter River at Branxton. From those early steps a fully Certified Organic/Biodynamic vineyard has evolved at Sweetwater Rd, Rothbury, being in the Lower Hunter winegrowing region.
The vineyards now comprise of approximately 15ha which are home to outstanding Shiraz, Cabernet Sauvignon, Merlot, Semillon, Chardonnay and Verdelho. We also have a small plot of Pinot Noir which is just coming into maturity. Derice, our children and I have immersed ourselves in country life and live sustainably producing garlic, olives and olive oil and beef cattle, as well as growing vegetables and many varieties of fruit.
Following our natural winemaking passion, our small sustainable winery specialises in converting small parcels of grapes into the most delicious natural wines available in Australia.
We developed a Wine Club – Savour Life Club – to be able to share our wines with Members who also love beautiful wine and appreciate sustainble life. Our wines can also be sourced through independent speciality bottleshops and fine local restaurants.
Background on our Vineyards and Winery
As the organic/biodynamic approach has taken hold we have found that our adjacent neighbours in Sweetwater Rd have taken the plunge and joined into our Biodynamic Certification. This evolution has enabled Macquariedale to expand our range of varieties and to be more self sufficient with our grape supply. We anticipate that this cooperation will extend to other local vineyards who wish to follow this sustainable path. The grape varieties that we have in our vineyards were first planted in 1999 are the most successful varieties grown in this region and have a long history of producing outstanding wines in the Hunter regional style.
Find out more at: www.macquariedale.com.au
The Quays Marina, Church Point, the venue for the Pre Sydney International Boat Show, recently won a Clean Marina Award. The Quays Marina is a modern, friendly marina in the heart of Pittwater on Sydney's Northern Beaches and has everything you will need for your vessel as well as a host of services and the Marina Café.
The Pre Sydney International Boat Show will run all day of the 25th of July until around 9pm in the evening. There will live music, cheese and some of those wonderful wines to taste and you will see the 2015 range of new motor yachts, Range Rover, Jaguar and be able to see first hand what makes a MasterCraft wakeboard boat stand out from others.
One not to miss!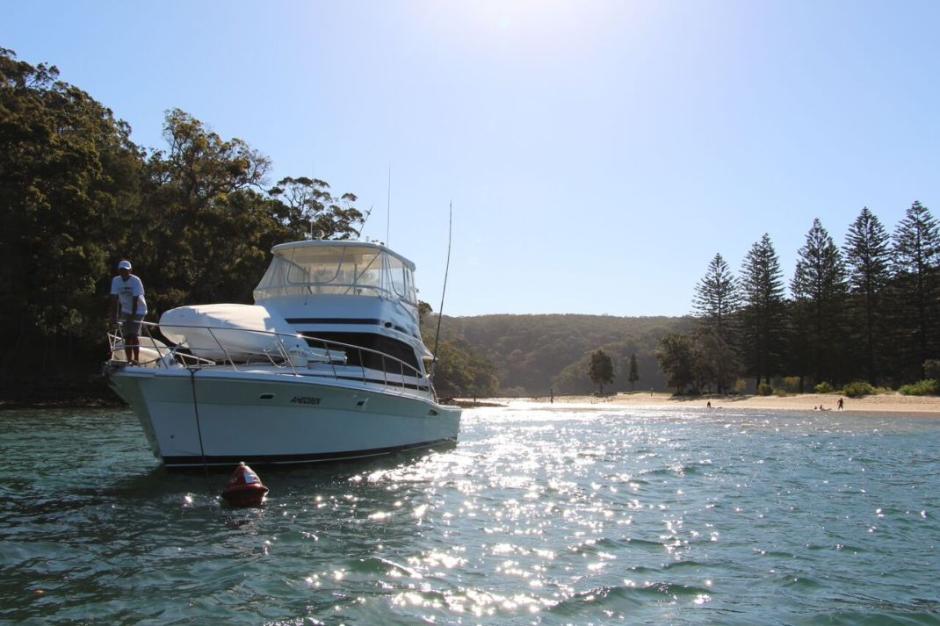 Above: At The Basin, Pittwater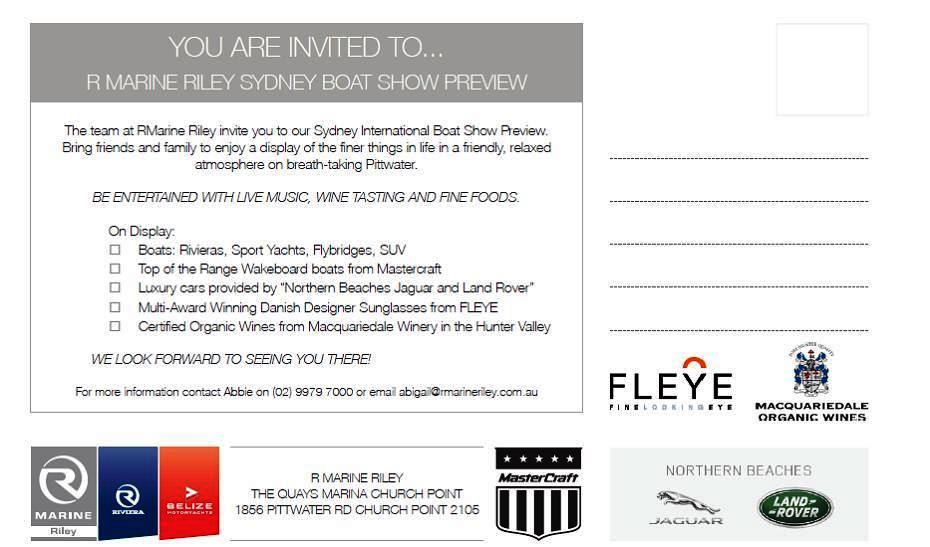 Report by A J Guesdon, Images supplied, 2015.