September 15 - 21, 2013: Issue 128
Put Your Foot Down for the Avner Nahmani Foundation for Pancreatic Cancer
Palm Beach – 8th of September, 2013
By Michael Mannington
They came from different parts of the state to be in Palm Beach on Sunday. Some bringing very personal family stories others just to support a good cause. For the fifth year the Put Your Foot Down Sydney Walk organised by the Avner Foundation assembled in Governor Phillip Park. Current Pittwater Woman of the Year and Avner Nahmani Foundation co-founder Caroline Kelly said the interest and awareness is growing each year.
A large number of participants took part in the 3.5km leisurely beach walk along Palm Beach with purple being the predominant colour and some in fancy dress which would be their entry to the fancy dress competition. Others had their own shirts with messages of their own personal stories of loved family members who had been taken by pancreatic cancer. The Avner Foundation is the only foundation solely supporting pancreatic cancer research. Foundation director and Woolworth's CEO Grant O'Brien explained that funds to support the programs is important.
"However the need of awareness of the need is also extremely important" said Grant.
Local member Rob Stokes welcomed everybody to Pittwater and Anne Sargeant, netball legend was on hand to make sure the walkers undertook the appropriate stretching exercises before starting their walk.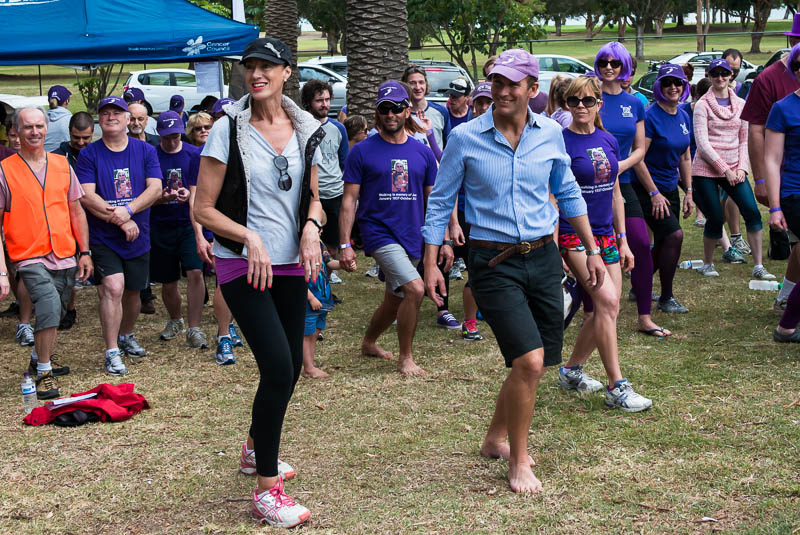 Anne Sargeant with Rob Stokes leading the stretching exercises before the start.
The MC for this year's event was foundation board member Peter Hosking: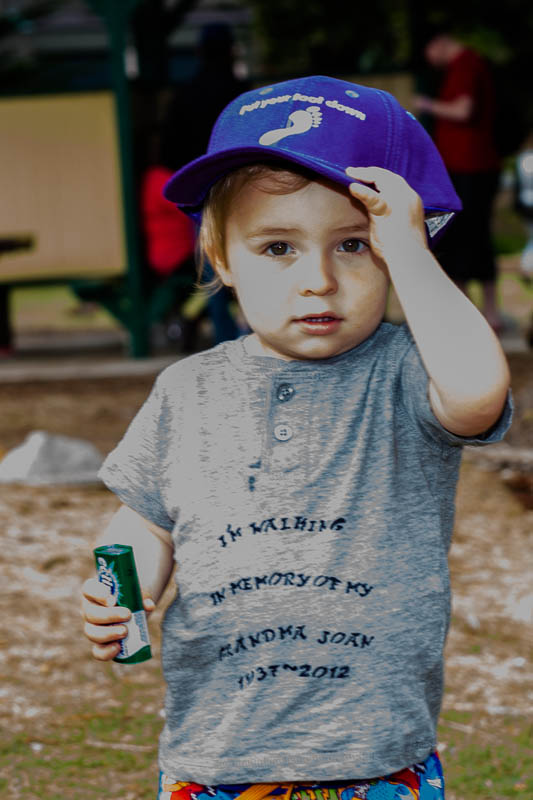 The Palm Beach walks have generated in excess of $150,000 for pancreatic cancer research and the work the Avner Foundation is doing. It started just from a single walk around Palm Beach which we think is a fantastic result so thank you for your support. Each year this is certainly an event that is gaining momentum and has acted as a bit of a catalyst to fundraising activities around the country. We now have walks in Brisbane, Melbourne, Hobart and Adelaide and we have planned walks in Canberra and Western Australia.
As we look at some of the people we get in contact with through the course of the year that through individuals, families and communities more and more people are coming to help with the program of making a change with pancreatic cancer to give you a couple of quick examples recently we had a call from a guy in the Northern Territory his best mate was diagnosed with pancreatic cancer in his early 40s. He wanted to something about that and he is running the Melbourne Marathon and in the space of a couple of weeks has raised in excess of $7000 so an individual effort and a great result.
Right: Jesse Webster walking in memory of his Grandma.
Separately some people with Caroline and the work she has been doing in Queensland prompted a group of solicitors to band together and have function and they wanted to donate all their proceeds to the Avner Foundation and at one luncheon, must have been a great luncheon, raised in excess of $17,000 so I mention these things because whilst you are all here at the start of the Avner Foundation fund raising activities in Palm Beach you can see the ripple effect this is now having with individuals and communities around the country and that is a great result.
You don't need me to explain to you the importance of changing the odds with pancreatic cancer. We often refer to pancreatic cancer as the underdog of cancers, it is definitely under the radar, it's under funded and under researched and that's what we are all here to make a difference on. We should take heart though medical research and a lot of the work that is being done with other cancers great progress is being made and with these other cancers survival rates beyond five years is well above sixty percent these days and that's a figure that seen a thirty percent improvement in just two decades.
So with the right research, the right minds and the right focus some other illnesses are seeing some terrific progress. Clearly we are all here today to replicate that for pancreatic cancer which is currently sitting at five percent survival over five years as everyone here I am sure knows. Now one of the things we did want to say is that the Foundation has decided this year to hold a national summit which is going to be bringing thirty to forty of the top minds in medical research and scientists together in December and the purpose of that summit very simply to get a clear national strategy to where the funds that you are helping raise today should be directed to get the best and fasted result for pancreatic cancer so it's a sign that the conference that we are holding in beginning December and we'll be sure to keep you up to date with how that progresses we're really excited about the prospect for the first time having a national agenda and a national framework for how pancreatic cancer research can proceed from here. Now what I would like to de is to introduce Rob Stokes to say a few words before we hand over to Anne for her strenuous activities before we actually get into the walk itself. But Rob would you like to say a few words.
Hon. Rob Stokes.
Thanks Peter well I would like to in my role as local member for Pittwater welcome any of you who aren't lucky enough to live up here in the best bit of the best country on earth where we can share together the beauty of this part of the world in support of a very important cause. As Peter has already mentioned pancreatic cancer is one of the most difficult to treat owing obviously to its very late diagnosis and so it is a really important effort to which we are directed. I would like to pay particular tribute to Caroline Kelly the Pittwater Woman of the Year for 2013 for her efforts and her visions in setting up this foundation in memory of Avner. It's an incredible tribute to your love for Avner that we are here today and for all of you who are here in memory of someone in your lives who has been very special thank you for honoring their memory in this way by participating in this really important work to raise funds for an absolutely crucial cause. I would also like to thank everyone from the Garvin Institute who is involved in research into an earlier diagnosis and also a cure for pancreatic cancer. It is a notoriously difficult area of medical research form what I understand from medicos I have spoken to you are engaged in one of the most difficult areas and we are so lucky to have a research institute of world renown like the Garvin here in Sydney.
I would also like to thank all of the sponsors who have so generously supported today and also supported the Avner Nahmani Foundation over the past five years and I would just like to conclude before handing over to Peter because I have to blow off a few cobwebs after last night particularly in my line of work last night was quite an exciting time but before handing over I just wanted to leave you with a final thought which is that the wealth of an individual is not measure by what they have but by what they give and the health of a community is not by what it acquires but what it shares and that is the effort that we are engaged in today so please walk well, give generously and thank you for supporting the Avner Nahmani Pancreatic Cancer Foundation. Thank you.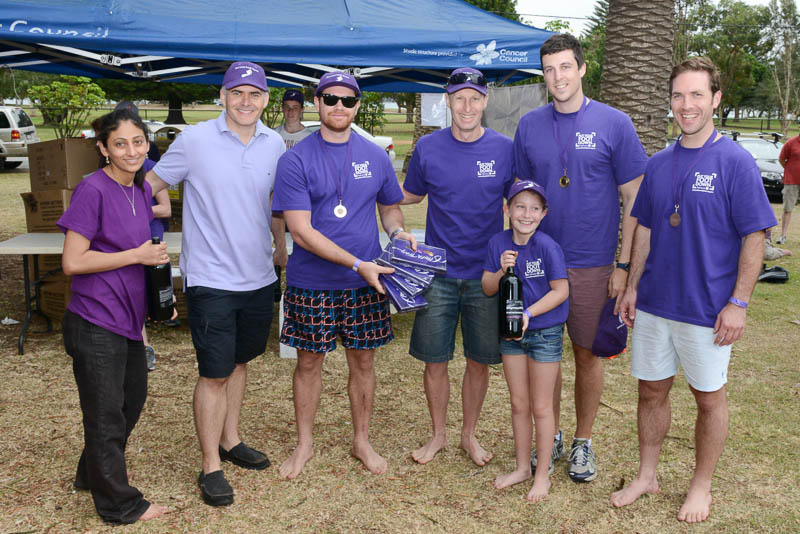 Maysoon El-Ahmad, Woolworth's Tjeerd Jegen with the relay winning team "Strategy First"
The final words from Pittwater Woman of the Year Caroline Kelly.
I just want to thank you for coming here today and for supporting this walk and to the many volunteers because many of them have been volunteering every year and this is our fifth year and so we couldn't do it without them and I am very grateful for that support. I also just want to thank all who have supported us from the start and I am very grateful for that and I want to give you an update in terms of money we have actually raised $21763 which is actual quite a few ahead of last year so that shows that momentum is building and I hope you can fit in more sausages, eggs and bacon and we will see you again next year.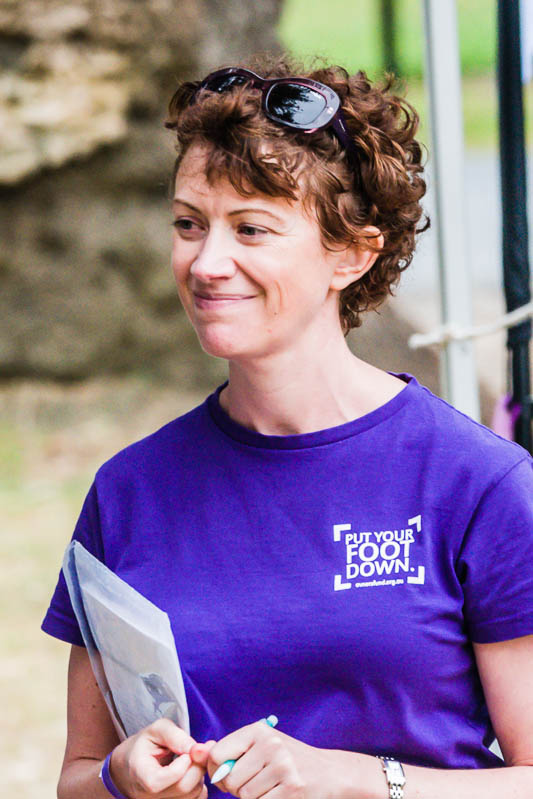 Caroline Kelly
More information: www.avnersfoundation.org.au
Michael Mannington Volunteer Photography gallery here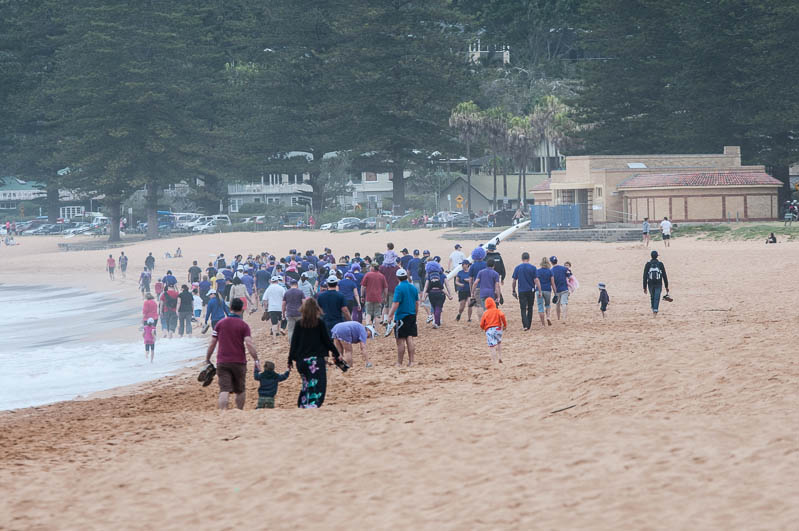 Report and Images by Michael Mannington, 2013.