November 6 - 12, 2011: Issue 31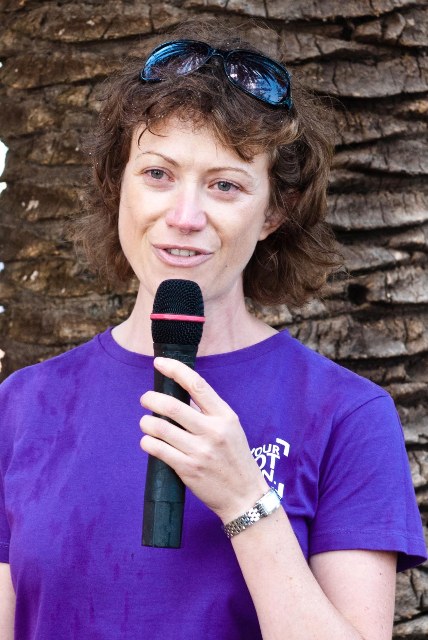 Above: Caroline Kelly. Below (l to r) Hon. Rob Stokes, Cate Pippia, Warwick White CEO of Coca-cola Amatil.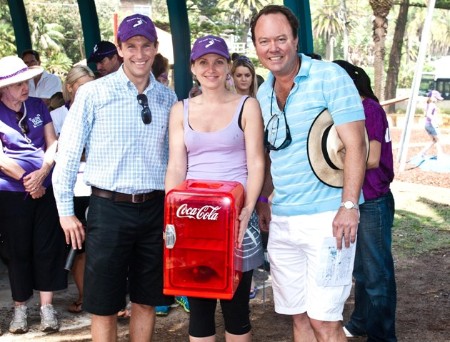 Third annual 'Put your foot down' walk for pancreatic cancer a great success
from Caroline Kelly
Avalon charity, the Avner Nahmani Pancreatic Cancer Foundation held their third annual walk for pancreatic cancer on October 30th at Palm Beach.
A record 198 people registered for the event and almost $17,000 was raised for pancreatic cancer research to be carried out by renowned researchers from the Garvan Institute.
Pancreatic cancer is one of the most lethal adult cancers with median survival of between 3 and 6 months and only 5% of patients surviving beyond 5 years. Avner and his wife Caroline Kelly, co-founded the charity three years ago with an aim of getting this disease out of the too hard basket. Sadly the disease claimed Avner's life thirteen months after his diagnosis. The Foundation lives on fulfilling his dreams of making a difference and has raised more than $1.8m for research and support services.
The charity has achieved such significant success through three C's corporate, colleague and community support. Avner's employer Woolworths have been a driving force behind its success and Coca-Cola Amatil have helped bring awareness to the masses through it's specially market Deep Spring water on sale at Woolworths Supermarkets. Coca-Cola Amatil donates 10c from the sale of each specially marked bottle of water and has contributed $170,000 in a year towards research.
Of the funds raised, $1m dollars is funding a trial by the Australasian Gastro-Intestinal Trials Group, more than $340,000 has been contributed towards the Garvan Institute's research, and in excess of $400,000 has been raised towards the foundation's first foray into support services a night nursing pilot. Under the pilot nurses will be provided overnight in a pancreatic cancer patient's home in their final nights to administer medication, liaise with doctors and hospitals and provide support in the most difficult hours of the most difficult days. In principle government support has been given to this worthy initiative with meetings held with Treasurer, Mike Baird and Health Minister, Gillian Skinner.
In an effort to bring awareness to other locations and to show those that have been affected by this lethal disease that they are not alone, walks have been established in Melbourne and Hobart. Plans are underway for Adelaide to join this list in 2012.
Organisation: Avner Nahmani Pancreatic Cancer Foundation. Email: avandcaro@mac.com Website: www.avnersfund.org.au
Our local MP. Hon Rob Stokes attended and was seen helping clean up afterwards. We contacted his office during the week for a comment.
"There's no greater challenge than fighting cancer - so to see such strong community support for this event was fantastic."
More images of those who put their feet down on sunday are on our Pictures Page. All images by Michael Mannington.