April 26 - May 2, 2015: Issue 211
Poems About Gallipoli
Published in Australian Periodicals and Newspapers – 1915
By those who were there...and those left here to wait...

GALLIPOLI.
[FOR THE BULLETIN.]
The sun it laughs in my face.
The world makes mock at me ;
I gave my man; and now he lies
Dead, at Gallipoli.
It's only six months since we were wed,
My splendid man and me,
And now he lies, with bloodied lips,
Dead, at Gallipoli.
And life goes on and on and on,
Flaunting and gay and free,
How can the Spring come here, with him
Dead, at Gallipoli ?
KISMET. GALLIPOLI. (
1915, December 7
).
The Grenfell Record and Lachlan District Advertiser
(NSW : 1876 - 1951), p. 2. Retrieved from
http://nla.gov.au/nla.news-article11756948
GALLIPOLI
How far is it to Gallipoli?
It is very far away to Mothers
And to womenfolk who feel as only women can.
To them it is as another and a far-off world
Impatiently they wait for news and tidings,
And those they love seem somehow out of touch,
And to have passed to a land unreachable.
A message in type is so cold and formal
As to have no soul, no real soul within it.
Oh! Gallipoli is very far away indeed.
How far is it to Gallipoli?
It is a long way off to the valiant of soul,
Who either chafe because they may not go
Or else who weary of the long training of the mimic war
That is preparing them for the real and awful thing.
When the soul is stirred they fain would strike at once:
Even to-morrow seems a far way off.
The things that need doing are urgent,
The sacrifice is ready for the altar,
And Gallipoli is many leagues away.
How far is it to Gallipoli?
Or is there any Gallipoli at all
To those care-free and soulless ones
Who have not heard the voices calling,
To whom the love of righteousness and deep resentment of injustices
Are nothing else but words, but words?
They laugh whilst others weep,
They have thinned their soul's blood until there is no warmth in them.
A man's hard work out on the rough hlllside
Has no challenge, no zest for them
Gallipoli is too cold and far away for them
Gallipoli is so far away, and yet it seems so near
That Australia never can forget it.
Those hard hills have become sacred soil to us,
For there our dead lie buried,
And there our brothers heard the call of duty -
To many it was the call of death.
When the cruel days of war are over,
Our land will surely raise upon Gallipoli
A monument of love to our colony of the dead
Who have brought the far-off Gallipoli so near to us,
ALEXANDER McCALLUM.
Wesley Church Melbourne.
GALLIPOLI. (
1915, June 16
).
The Argu
s (Melbourne, Vic. : 1848 - 1957), p. 8. Retrieved from
http://nla.gov.au/nla.news-article1524509
Gallipoli
The following verses were written by Sergeant Sydney Balitho, brother of Mrs. E. Collier, of Carlachy, from Gaba Tepe, after the first famous landing. Sergeant Balitho has since been severely wounded.
The new dawn lights the eastern sky;
Night shades are lifted from the sea;
The Third Brigade, with courage, storm
Thy wooded heights, Gallipoli.
Gallipoli! Gallipoli!
Australians tread Gallipoli!
Thunderous bursts from iron mouths—
Myriad messengers of death,
Warships ply their deadly fire,
Watching comrades hold their breath.
Gallipoli! Gallipoli!
There's hell upon Gallipoli.
Serried ranks upon the beach,
Courage beams in every eye;
These Australian lads can face
Giant Death, though e'er so nigh,
Gallipoli! Gallipoli!
There's death upon Gallipoli.
On they press in endless stream,
Up its heights they shouting go;
Comrades fall; but on, still on
They press the now retreating foe.
Gallipoli! Gallipoli!
The Turks flee on Gallipoli.
One by one the brave lie low,
Machine-guns, shrapnel do their work;
Brave Australians know no fear,
Never have been known to shirk.
Gallipoli! Gallipoli!
Their names carved on Gallipoli,
Reduced, cut up, their numbers show;
The murderous fire that swept thy field;
But still victorious they stand,
Who never have been known to yield.
Gallipoli! Gallipoli!
Thick dead lie on Gallipoli.
For days they hold, with grim-set grip,
Their feet firm-planted on thy shore,
Repelling every fierce attack,
And cheerfully they seek for mote.
Gallipoli! Gallipoli!
Their trenched line Gallipoli.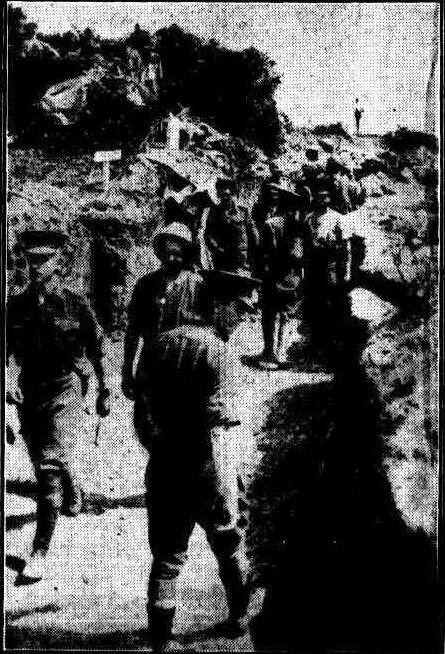 For thirty weary days they fight,
For-Britain's sake they give their best;
With uncomplaining voice, they stand,
And neither look nor ask for rest.
Gallipoli! Gallipoli!
They've conquered thee, Gallipoli.
The waves break on thy wave-swept shores,
The breeze still blows across thy hills;
But crosses,-near and far, abound,
A sight that deepest grief instils.
Gallipoli! Gallipoli!
Their graves lie on Gallipoli.
For those brave hearts that died to show
Australia's worth in this dread war,
The far-off tears and sighs for those
Who sleep beneath the cannon's roar.
Gallipoli! Gallipoli!
Thou still shalt pay, Gallipoli.
The few that valiant, still remain,
War-worn, but grim and eager yet
To hurl full vengeance on the foe,
Because they never can forget.
Gallipoli! Gallipoli!
They ask the price, Gallipoli.
Gallipoli, I warn you now,
Australia's sons and Turks shall meet
Once more, and then our onslaught yet
Shall sweep the ground beneath your feet.
Gallipoli! Gallipoli!
Thy end's in sight, Gallipoli.
Upon the graves of those that sleep,
Upon thy wooded slope and vale,
We shall avenge. Remember, then,
Australians cannot, will not fail.
Gallipoli! Gallipoli!
Thy doom is called, Gallipoli.
GALLIPOLI. (
1915, September 9
).
Western Champion
(Parkes, NSW : 1898 - 1934), p. 9. Retrieved from
http://nla.gov.au/nla.news-article112308844
Gallipoli
Under the lee of a little wood
I'm sitting in the sun.
What will be done in Gallipoli
Before the day be done?
Under my feet the springing blades
A green as green can be
It's the bloody clay of Gallipoli
That keeps them green for me.
Above, beyond the larches,
The sky is very blue;
It's the smoke of hell[?] in Gallipoli
That leaves the sun for you !
ANON. GALLIPOLI. (
1915, November 22
).
The Ballarat Courier
(Vic. : 1869 - 1875; 1914 - 1918), p. 4 Edition: DAILY.. Retrieved from
http://nla.gov.au/nla.news-article75158320