September 21 - 27, 2014: Issue 181
Pittwater YHA Celebrates 75th Anniversary of Youth Hostels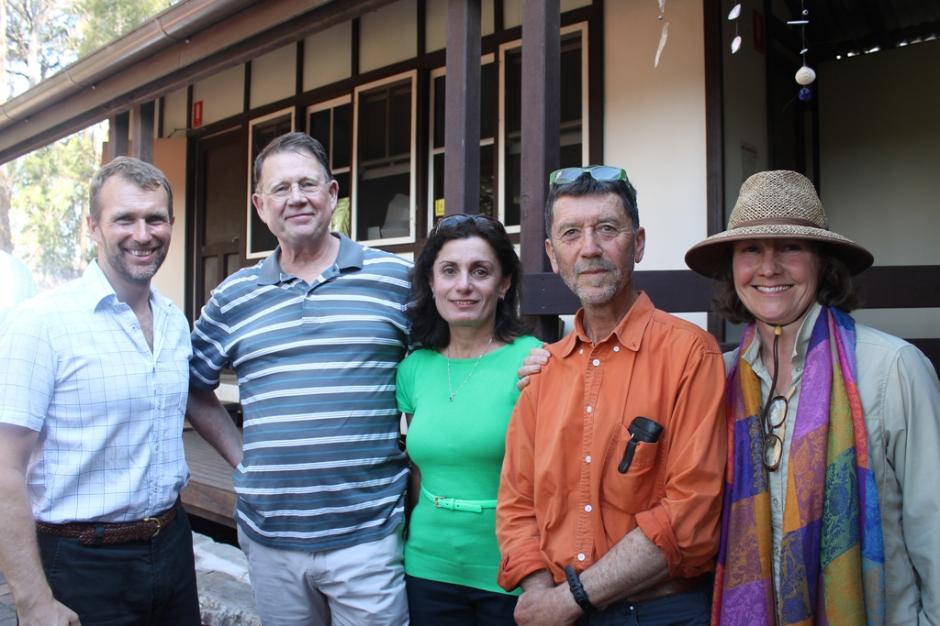 NSW Environment Minister The Hon Rob Stokes, MP for Pittwater with YHA Operations Manager Robert Henke, YHA Ltd Director Dana Ghinzel, and Pittwater YHA Managers, Michael Doherty and Sarah Polomka.
Pittwater YHA Celebrates 75th Anniversary of Youth Hostels in Australia
By Silke Kerwick
On a sparkling, sunny day, the NSW Environment Minister kayaked to Pittwater YHA to join in the celebrations for the 75th Anniversary of Youth Hostels in Australia. It's not every day that a Minister for the Environment drops by, and it was certainly a world first when the Hon Rob Stokes, MP for Pittwater arrived at Pittwater YHA by kayak!
Paddling himself from Church Point to Halls Wharf in beautiful Morning Bay, he must have thought he'd landed in paradise when he arrived at Pittwater YHA.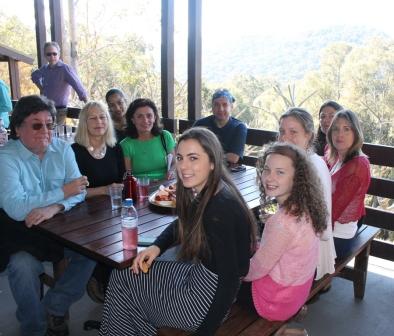 Just one hour north of Sydney, this historic property was donated to YHA in 1967 by a member named Ebena Isles, and has a unique bush charm. Wallabies and brush turkeys roam around, billy tea was on the boil, and cake, fruit and ice-cream kept the little ones happy.
Sunday 14th of September was the end of a 2 day bush regeneration weekend, involving over 25 volunteers helping to remove weeds from the area, including from nearby Ku-ring-gai Chase National Park. The Environment Minister was very impressed and gave thanks to all the volunteers, and to the hostel managers, Michael Doherty and Sarah Polomka.
YHA Ltd Director Dana Ghinzel also said some personal words about how special Pittwater YHA is to her, and Operations Manager Rob Henke surprised everyone with a ceremonial signing of the lease for the hostel, assuring Michael and Sarah of many more years as hostel managers.
"For 75 years, the YHA has provided affordable accommodation across Australia for families and travellers of all ages to see some of the world's most amazing locations. Mr Stokes said.
"Pittwater YHA, in Ku-ring-gai Chase National Park at Morning Bay, is one of those locations. Alongside YHAs in the Blue Mountains and in Kosciuszko National Park, they provide access to our beautiful environment in NSW."
Mr Stokes said the YHA had provided a valuable partnership with the National Parks and Wildlife Service (NPWS), asking guests to volunteer two mornings a week for bush regeneration work this weekend in the Morning Bay area.
To celebrate the 75th anniversary, participating volunteers received free accommodation, food and kayaks – culminating in an open day at the hostel with afternoon tea, music, art and a birthday cake.
The project is a collaboration with National Parks, Pittwater Council and the Pittwater Natural Heritage Association (PNHA). Volunteers are guests of the Morning Bay Bush Regeneration Group as part of the NPWS National Parks volunteer bush regeneration programme.
"In the seven years the Morning Bay bush regeneration weekend has been running, YHA volunteers have cleared significant areas at Morning Bay of introduced Asparagus fern, which is a major achievement," Mr Stokes said.
"Escaped garden weeds such as asparagus fern, agapanthus, lantana and morning glory are among the biggest threats to Sydney's bushland and national parks.
"Without the thousands of hours provided by volunteer bush regenerators, working through councils and the NPWS, it is a battle we simply could not fight."
"On behalf of the NSW Government I am delighted to congratulation YHA Australia on their 75 years and on their work in caring for our local bushland."
___________________________________
If you haven't visited this pristine part of Australia, Spring and Summer are fantastic times to get out on the water and experience it all, and get up close to nature. Learn more about the Pittwater YHA at www.yha.com.au/Hostels/NSW/Sydney-Surrounds/Pittwater/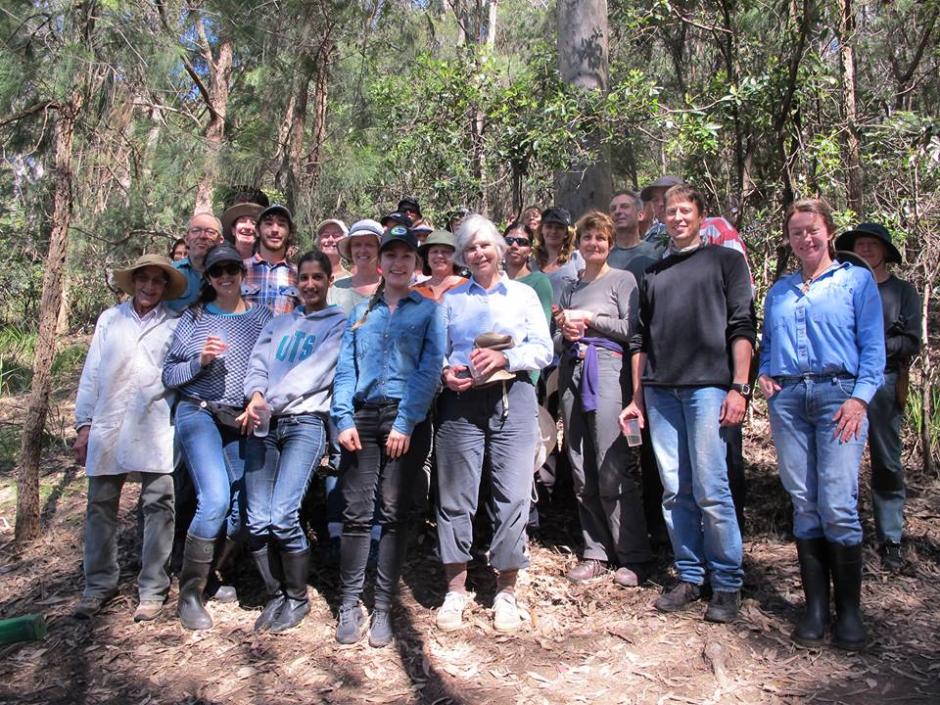 Bushcare Volunteers at Pittwater YHA for September 2014. Photo by Michael Doherty.