November 29 - December 5, 2015: Issue 242
The latest news from Pittwater's Sister Village, Soibada - Timor Leste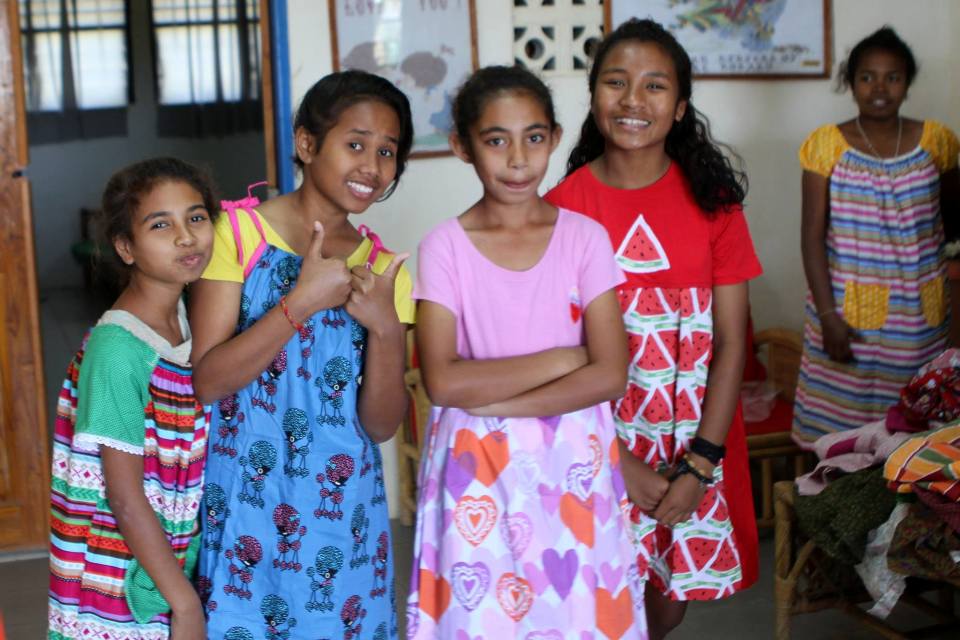 The latest news from Pittwater's Sister Village, Soibada, Timor Leste
Last month our small team of volunteers from Pittwater returned from visiting our sister village, Soibada. The focus of this visit was primarily on Women's Health Issues, the Training Centre and Guesthouse Project and small craft industries. We also represented Pittwater Community in the Annual Pilgrimage of Our Lady of Aitara that is celebrated in Soibada at the National Sanctuary.
Where is your money going?
Firstly though, I'd like to let you know where your donations are going. The "Buy a Brick Build my Future" fundraising campaign is quite successful. Your generosity is evident in the amount of work that has taken place in the construction since we were last there in July. A primary aim of our partnership with Soibada is to assist the community in becoming self-sufficient. They have resources and locally based tradesmen. We are employing them on the building site, assisting in stimulating the local economy, providing jobs and giving them the means to help themselves. This helps restore their dignity and gives the people a sense of ownership of the facilities that we fund. A much better way to do it rather than sending Australian builders over!
The establishment of the Training Centre and Guest House Accommodation in central Soibada aims to provide a training venue and facility to run educational programs for the community of Soibada. There will be accommodation for volunteer instructors from both Timor Leste and Australia and for Timor based NGOs running aid programs in the village. There is potential for eco-tourism in Soibada as an industry that could be beneficial to many families in the village. It would provide jobs and income – a way of keeping the youth in the village and employed on completion of their schooling.
98% of the population of Timor Leste is Catholic. As a result, the clergy are very highly respected, considered to be community leaders and members of the decision making team in each village. This is in part due to the heroic role they played during the 25 year struggle for independence. Many risked their lives hiding people from the militia and Indonesian military in churches and convents. They are also highly educated and usually speak at least four languages.
In Soibada, Father Tiago, the Parish Priest, is the very proactive "local project manager" for our Training Centre and Guesthouse. He is extremely "hands on" and is the driving force behind the pace of construction. If he isn't at the Church it can be guaranteed he will be on site! We are blessed that our very own Robert Johnson of Avalon has taken on the role as the Pittwater Friends of Soibada Building Project Manager. Together they make an energetic team! The general community of Soibada is also very involved in this project. Many people in the village volunteer daily as labourers and there is a tremendous sense of community spirit and strong partnership with us!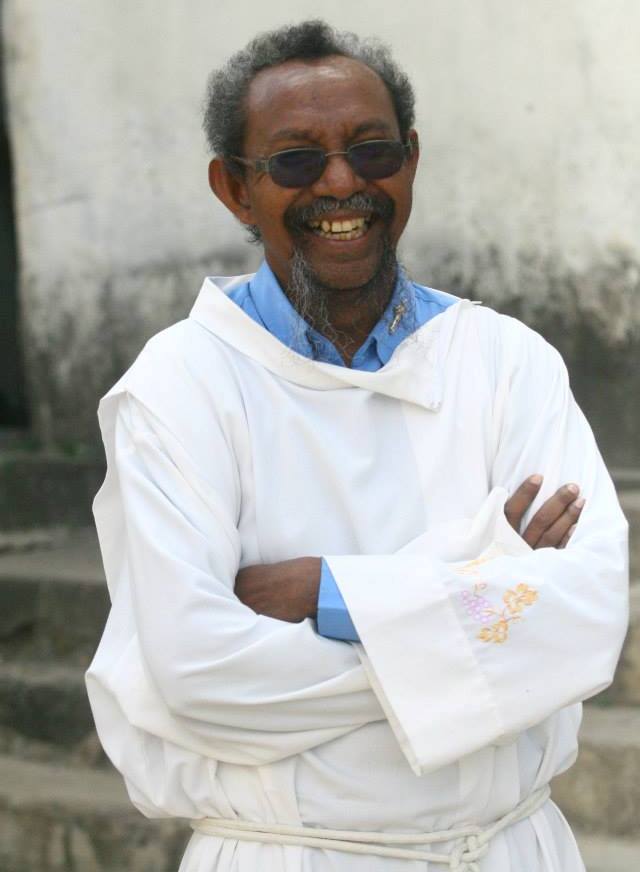 I still find it strange that in a village without running water communication has improved so markedly in the last few years. Thanks to the wonders of social media, the people of Soibada keep up to date with our fundraising efforts here in Pittwater. They read our local news, websites and Facebook posts. They really appreciate the work that goes into resourcing the projects we have undertaken. The ease of communication has done a great deal to enhance the sense of partnership and friendship between our two communities.
We can give girls in Soibada better access to education.
Education is a primary focus for us in all our projects in Soibada and ensuring access to this for all the youth in Soibada is very important. The future development of the country depends on educating today's young people. For girls, even attendance at school is a great challenge for a variety of reasons. They can miss up to 2 months of school each year because they don't have sanitary supplies. Combating this issue is a crucial key to social change for women all over the world. The poverty cycle can be broken when girls stay in school.

To assist the women and girls in Soibada tackle this issue we have partnered with an organisation called Days for Girls. Every girl in the world deserves education, safety, and dignity. They help girls gain access to quality sustainable feminine hygiene necessities, by direct distribution of feminine hygiene kits, by partnering with nonprofits, groups and organizations, by raising awareness, and by helping communities around the world start their own programs. Their mission is to create a free, dignified, and educated world through access to lasting feminine hygiene solutions and community-based health leadership programs.

Days for Girls International is a grassroots 501(c)3 non-profit. Women, and girls discover their potential and self-value, are equal participants and agents of social change and are given opportunities to thrive, grow and contribute to their community's betterment while ensuring quality sustainable feminine hygiene.

Last year we distributed kits to the girls in Soibada orphanage as a trial. It was so successful, that last month, in partnership with local doctor, Dr Nidia and her clinic staff, we launched the program in the village. The multi skilled Peta Wise, from Avalon who is a mother, nurse and professional photographer, has taken on the role of "Days for Girls Project Manager". Assisted by the very mature and caring volunteer translator Amin, (a university student from Dili) Peta distributed the feminine hygiene kits to a selection of women and girls.
Peta recently visited year 5/6 girls at Maria Regina to tell them about her experience in Soibada and the difference something this simple can make to the education of girls in the village. Once again the impact of the difference in our lives here in Pittwater and that of girls in Timor was evident on the children's faces. It is really important that the youth of our community appreciate the good things in their lives, things we take for granted, and understand the challenges faced by our neighbours.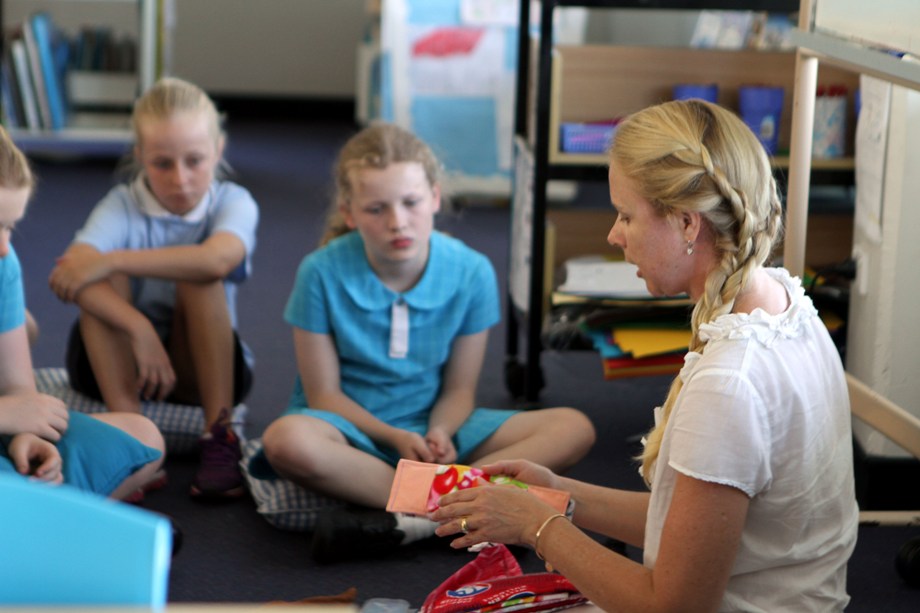 Peta Wise at Maria Regina Primary School - Avalon Beach
This is only the beginning. Our aim is to enable the local women to produce these kits themselves. That is where your assistance is so important. Once the training centre and guesthouse construction is complete we will run sewing courses and teach the women to manufacture the kits themselves. The sooner we finish the building the sooner the courses will commence! So please "Buy a Brick" – you can do this online at
www.pittwaterfriendsofsoibada.org.au/buy-a-brick.html
Some of the Australian university students who have already visited Soibada are attending Days for Girls sewing lessons in the holidays. They can then teach the girls in Soibada to make the kits next July
The value of partnerships (and the internet)!

The momentum and success of all the projects in Soibada, is due to the hard work of our wonderful volunteers and also to our partner organisations. Not everyone can make the trip to Soibada and often the best help you can offer is here at home! Of course fundraising to build facilities is of prime importance. However, some people prefer to get hands on and physically do something. Although we are encouraging sustainable development and plan to teach the community how to do things for themselves, and carrying lots of donations from here is often not cost effective, until we get the training programs up and running we still have a short term need to fulfil. That's where you can help.
We delivered some gorgeous handmade dresses and shorts to the children that live in the orphanage and the presbytery last month. These were lovingly made by volunteers with the "Dress a Girl Around the World" organisation. Once again, the long term plan is to enable the women in Soibada to make these items themselves. In the meantime however, the children are clothed and the seed of inspiration is sewn!
Dress a Girl Around the World is an organisation comprised of volunteers from America, Canada, the UK, Australia, Philippines, Sweden, Costa Rica, South Africa, Germany, Norway, Japan and China. So far they have delivered over 300,000 items of children's clothing worldwide.
Once again the positives of social media have helped Soibada! I met the Australian organiser Gigi, when she looked at our Soibada Facebook page! We have never met in "real life". She coordinates all the volunteer seamstresses and then provides us with the children's clothing. She also runs a program of dress sponsorship – non sewers (or anyone) can pay $10 to sponsor a dress, not just for Soibada but countries all over the world. That $10 then goes towards the Soibada "Buy a Brick" Project. Read all about it at
http://dressagirlaustralia.blogspot.com.au
Next year we plan not only to teach the girls in Soibada to sew but also to run a group here in Pittwater sewing the Days for Girls Kits and the dresses.
You can read more about "Days for Girls" and "Dress a Girl Around the World" at the links below:
www.dressagirlaroundtheworld.com/
www.daysforgirls.org/
If you are interested in volunteering as a sewing instructor or joining a sewing group here in Pittwater, please get in touch with me.
tamara.harding@bigpond.com
or 0403 226 699
I have plenty of donated fabric to start us off!
Don't forget to "Buy a Brick" and help get the facilities in the village built so we can teach all these skills in Soibada! You can do it online at
www.pittwaterfriendsofsoibada.org.au/buy-a-brick.html
Tamara Sloper Harding
Chairperson, Pittwater Friends of Soibada Inc