March 30 - April 5, 2014: Issue 156
Tall Tales and True – An Evening with Yachting Legends - Pittwater Festival 2014's Classic Yacht Regatta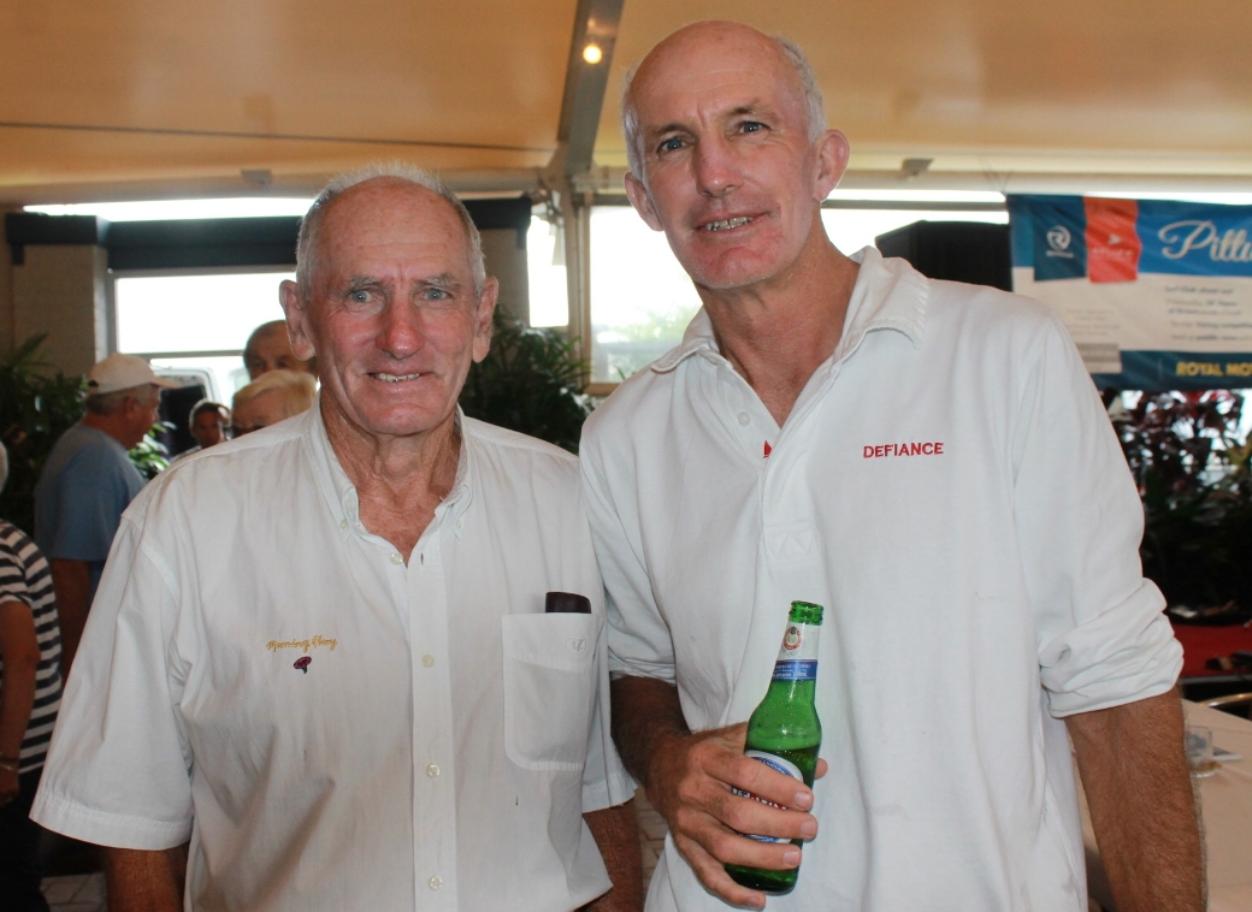 The Royal Motor Yacht Club – Broken Bay at Newport schedules an annual calendar of events which encompasses the dynamic in its participation in Navigational Trials, Twilight sails, Ladies Luncheons, Children's Swimming Classes and the Classic in events such as the largest annual Marine Art Show and the wonderful Timber Boat Festival.
This year the inaugural Pittwater Festival has brought a convergence of the dynamic with the classical to the fore all March. The sponsors, host club and its staff and the energetic organisation of Rob Brown OAM are to be congratulated in throwing open the doors to a supreme programme of aquatic adventures ranging from a Surf Boat Shoot Out to the Scotland Island Stand Up Paddle Race. Today a Pittwater Paper Chase will send participants from one side of the estuary to the other while Mark Riley of R-Marine Riley will be conducting a Docking Competition – closing this first return to 'Celebrating Pittwater and all that it offers' in the way that the Pittwater Festival opened – with good cheer, a few laughs and many smiles.
Last weekend's Classic Yacht Regatta epitomised 'classic' – it was classic in the vessels involved and those sailing them. This was a who's who of Pittwater, Australian and International sailing excellence. The Regatta was classic in its choice of courses for these races too – from Taylors to Longnose, skim around Scotland Island for some classes of vessels, over to Soldier's, to Towlers – so many echoes of who and how enriching our local maritime heritage is crammed into two resplendent days.
The spirit in last weekend's Classic Yacht Regatta was epitomised best by Tiare Tomaszewski, skipper and co-owner of the glorious Maris (and grand daughter of original owner Jack Earl) as part of 'Tall Tales and True – An Evening with Sailing Legends';
"I hope that the spirit (of camaraderie) within our community and the yachting world can overcome a little bit of the bureaucracy and enable us to move around and share our experiences more. I hope that everybody uses these opportunities to come up and down the coast (to Pittwater), to remember that, actually, it's not that far, and, actually, boats are meant to go places, and, actually, there are a lot of places around." Tiare said.
A few extracts, for the record, from those who spoke:
Rob Brown OAM Introduction;
A very warm Northern Beaches welcome to all of you – thank you very much for attending, we know a lot of effort has gone into getting up here, we know what it's like moving boats, organising crew and this has been a fantastic effort. I was out there earlier watching you guys sail today and it was absolutely magnificent to see. You're all great mates and it's wonderful to see you enjoying yourselves. A big thank you once again to all the effort you have put in to attend.
These events don't take place without a lot of work and a lot of effort and clearly the dollar factor is part of this. I'd like to really thank Mark Riley of R-Marine Riley, our local Riviera and Belize dealer – we've had a fantastic four weeks of the Pittwater Festival so far and without not only the financial support that Mark has provided but also the energy and ideas he has put into the events we and he has staged over the last four weeks it wouldn't have happened.
We also have a lot of others supporters in Brooks and Gatehouse, who have provided prizes for this event. We'd like to thank Simrad for their input. Also Robert Oatley wines – we've all been drinking Bob's fine wines as well as having these as prizes and thank you's for all those who have been on the various racing committees throughout these events. We'd also like to thank Carlton United Breweries and Ocean Media for their supply of subscription prizes.
If you haven't checked the results from today – they're on the table there – if you have any complaints you must walk down to Dee Why Police Station and submit your complaint there (laughter).
The whole of this month we're raising funds for the Westpac Rescue Helicopter through a series of raffles for hampers provided by Blackmore's. We'd like everyone to buy as many as possible each weekend.
Now, Tall Tales and True – A Night With the Sailing Legends – a few stories, a few outright lies – and what better person to conduct this historical event on the Northern Beaches than Sir Patrick Bollen. (aka 'Ten Pin Bollen').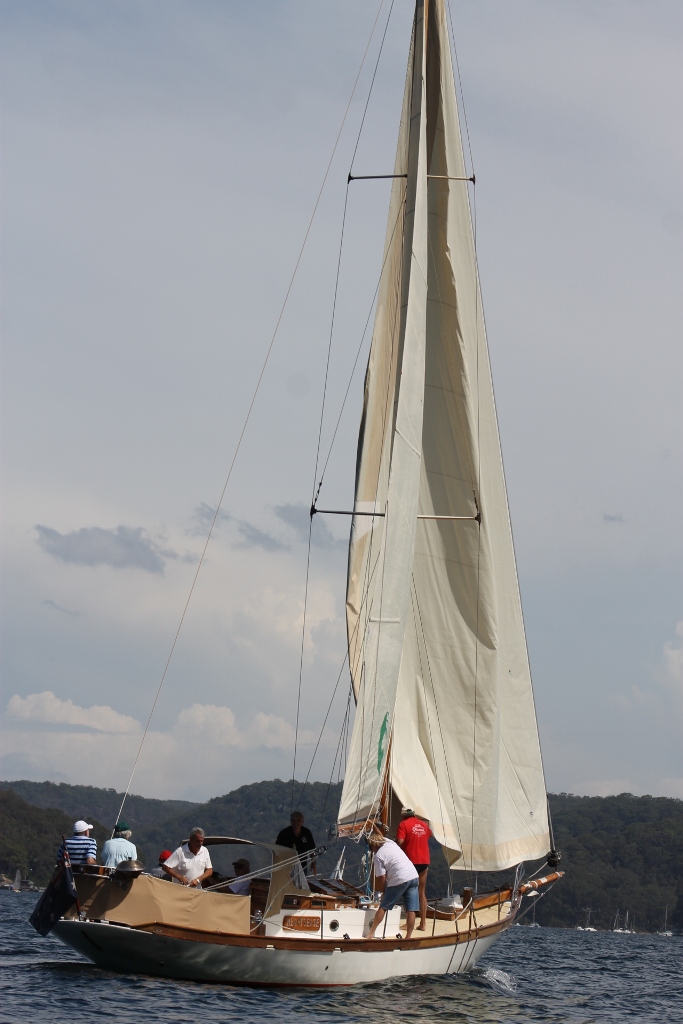 Patrick:
Firstly I'd like to congratulate you Rob Brown, you've done an excellent job, as you always do. The Royal Motor Yacht Club, in my opinion, is the most progressive yacht club in the entire city of Sydney.
(Applause) - right; Heartsease
Sailing is the most wonderful sport and today I was fortunate to sail on that great boat Love & War, that timber-hulled Sparkman & Stephens-designed 47-footer which twice took overall honours in the Sydney to Hobart (1974 and 1978) and represented Australia at the Admiral's Cup in the 1970s.
There were so many stunning boats out there today – Mother Goose, Defiance – I had the pleasure of being part of Defiance shortly after Nicole Shrimpton bought the boat when she was down in the CYC – to the Beashel family; what an exquisite job you have done restoring that magnificent 8 metre.
(Applause)
It was terrific to see the Couta boats out there today – I understand Tenacity for Don Telford had two wins and a third. And so, I would like to invite Don Telford to the dais to tell me something about Tenacity. The Couta Boat is a product of Port Phillip Bay, a legendary boat that dates back decades. There is a revival movement going on in Sydney now, particularly here in Pittwater. Don Telford, a former Director of the Cruising Yacht Club of Australia, who found his way up here to Pittwater after realising that Sydney (Harbour) was not his place, (laughter) – has moved north of the Narrabeen bridge. Don, tell us about Tenacity:
Don Telford:
Tenacity came to me by an unfortunate situation as the previous owner, Justus Veeneklaas passed away.
I'd always wanted a Couta boat – I kept looking at them having no idea how difficult they are to sail. So when I was told about the Tenacity I thought 'just do it' and that's what I have done.
Tenacity, built by Dutchman Justus Veeneklaas, was constructed just a little bit different to regular Couta boats – it's 26.6 foot long, it's probably the heaviest of the Coutas up here – it has an extra plank so it has a little bit more on the topside, and she has a little bit bigger motor as Justus like to take his grandchildren out sailing and motoring around Pittwater. This has made her go relatively quickly in my belief.
I have a lovely crew – Peter Henry, whom you all know, was our tactician today, with our two wins and a third, we were lucky to finish where we did.
Our boat was built in 2004. Other boats in this class were built as far back as the early 1900's and are all very competitive.
Patrick: Don, is there a future for the Couta Boats up here in Pittwater and the Harbour?
Don: I'd love to think so. If I had a little bit of extra money and more time I'd buy another one as there's one for sale at the moment called the Matilda which I think is an absolute bargain. At the end of the day we're trying to build a Pittwater fleet as we think the estuary here is an ideal place to sail them.
Patrick: You mentioned that they're a difficult boat to sail – what makes them so difficult?
Don: There are no winches – you should not put any fine tunings on them, you cannot change the traditional boat specifications. Up here the only change that has occurred is folding props – in Melbourne they don't have folding props. That has been part of the development of our fleet.
Patrick: They certainly are a beautiful boat – ladies and gentlemen – Don Telford.
Sailing on Pittwater, and I have done it for some 40 years, is always a difficult north-south. Those who know it best are the legendary family from Elvina Bay, the Beashel family; Ken, Colin, Adam and even the cousin Shane.
Ken, please come and tell us about Mother Goose, that beautiful Derecktor built boat, that was sailing today in a difficult sail, particularly that notorious giant hole going to Soldiers Point and back. Ken, tell me about the race today and particularly that giant hole at the top mark
Ken Beashel: Yes, I guess that's been there for a long while. (Laughter) I seem to find it every time I race on Pittwater. I didn't realise it was so big. (More laughter) But that's what happens with holes, isn't it.
I like sailing on Pittwater, it's a challenge – you may have noticed there's a lot of hills around so you've got to get a hole somewhere. There's lots of things you can do on Pittwater other then race – you can come to a club like this and have a good time, or take your family to Mackerel Beach and have a great swim, but I did enjoy racing today. I thought it was pretty good out there with a lot of good boats nearly as old as I am. (Laughter) Thank you.
Patrick: No Ken, Hurrica is much older than you.
Ken: It's strange that you say that. We had Hurrica on our moorings for a long long while about 50 years ago and a very good mate of mine Trevor Gowan, made a great new mast for her – I thought Hurrica was owned by a couple of old bushrangers up here – those who had a horse and cart on the road going out of here at Mona Vale – Shaw Brothers. They were real characters.
When we got a call to go to America for a couple of years I was about to build a house on a block of land over at Elvina Bay and I asked the owner of Hurrica to come in and do a bit of clearing and put a driveway in – I was thinking the road might come in one day - he did this, it was a good job, and then I went to America and got a message from my accountant Lindsay Allsop which said "They cant get that bulldozer out", to which I said 'don't worry about it Eddie Shaw will get it out.' (Edwin Shaw) And he did. Then he wanted to buy a block of land next door to me and build a slipway to put Hurrica up, and that's how I know Hurrica. It's just great to see a very stately boat sailing in very light air on Pittwater – it was a credit to the owners of Hurrica today.
(Applause)
Patrick: It really is a remarkable restoration – is it not?
Ken: It really is. The last time I saw it was in Mitchell's boatshed – the bloke from Queensland had a mast on her that could get under the Storey Bridge – it was something else.
Patrick: While we're talking about restoration, Bobby Joy – welcome back – famous Middle Harbour Yacht Club skiff and yachtsman, Robert Joy and his wife, lovely to see you. You've sailed with that bloke, haven't you?
Ken: Bobby Joy? Yes – I was going up the coast one day and could hear some people talking – I was in a little half tonner or one tonner called Edelweiss – anyway, Bobby Joy and Hughie Treharne were talking – they were only about three feet away – it's funny because I recognised the voices but didn't know what boat they were on, it was a strange night.
Patrick: A lot of people know of Mother Goose but don't know the history of Mother Goose – please tell us about her.
Ken: The history of Mother Goose is related to a lot of other business. Mother Goose was called Mother Goose I guess because she is a ruddy big mother compared to a lot of other boats. Today, with 14 people on board, I felt a little like the hooker in a rugby league scrum, but nevertheless it was good.
Mother Goose happened to be put together on an old rule called the CCA, the Cruising Club of America rule – that rule encouraged 'beaming not displaced – challegraph base' and was where the OROC rule for which a lot of boats were designed for that wanted narrow big boats – so there's the difference.
Mother Goose had one season of sailing and I believe Ron Swanson actually worked with the builder over there at the time and quite often sailed with her – he sent a photo back to Sea Craft saying 'this is the American yawl…' and showed the boat sailing with a 48 foot mizzen, two rudders out the back – port and starboard rudders, and 18 foot gybe and centreboard and out the back two runners to take the mizzen mast – so she was a bit of a monster.
I happened to arrive in a place called Mamaroneck looking for a job because I had to fill in a bit of time between the half tonner world and the Soling world (while there Ken sailed in the world Soling championship on Long Island Sound, New York with Lindsay Allsop and Jim Gannon) so I asked this guy for a job.
He said "No, I can't give you a job – Ron Swanson just left me last week – I can't go giving jobs to people who just arrive at the front door."
I said, that's ok, see you later and we walked past Mother Goose. I said, you know, I know a bloke in Australia who once built a Moth and he put rudders on the sides of his topside and extended the length of the Moth to about 15 feet and everybody thought he was pretty smart. We got talking some more and I left and then he rang and said he had a job – we ended up buying the boat and sailing her back here.
(Applause)
(Ken is clearly a master of the understatement too - the 'builder' he actually went and worked with was legendary craftsman Robert E. Derecktor. See: www.derecktor.com/history/ and www.thedancingspirit.com/RED/RED_Index.htm)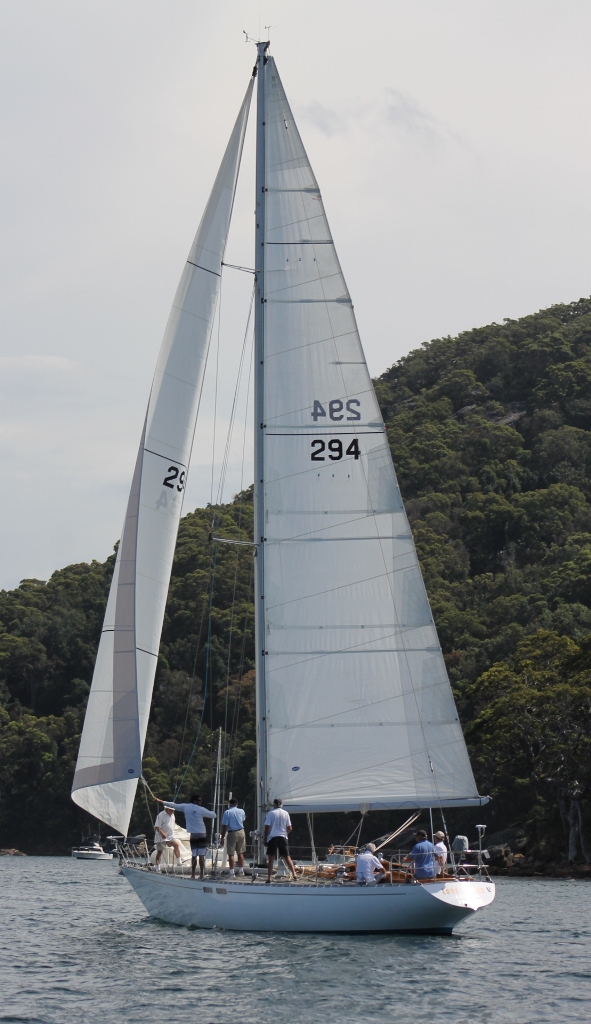 Patrick: Thank you Ken. While you're here Simon Kurts, of Love&War, let me ask you a question – your father Peter, a very famous Australian ocean racing sailor, who commissioned Spark an and Stevens to build one of the most outstanding boats in ocean racing this country has ever seen – this boat is now yours – how proud of your father and of Love&War are you?
Simon: That's a big question Patrick. I'm very proud and really, how do I answer that?
Patrick: Tell us about Love&War.
Simon: She's an old boat, built in 1973 – she has won a couple of Sydney to Hobart races. We're doing her up at the moment - and we hope to win another Hobart race.
Patrick: When do you intend to race Love&War in the Sydney-Hobart?
Simon: This year.
(Applause).
Patrick: So you will be looking for a fourth win?
Simon: We're trying for a fourth win.
Patrick: Well, you do have Lindsay May as navigator – you can't do any better than that.
Simon: Would you like to come with us?
Patrick: I'd love to do it – again – what am I, stupid!? Ladies and gentlemen – Simon Kurts.
Doug Sturrock – please come up here and tell us about Windflyt – she looked stunning today. Doug you have owned her for some time – you bought her in New Zealand?
Doug Sturrock: That's correct Patrick. Firstly can I say thank you to Rob Brown and the RMYC for putting on this day...
I'm very fortunate to have bought Windflyt. She is a Des Townson design from the 1970's, her 54 foot sister ship Stormy Petrel sailed in the 1971 One Ton Cup in New Zealand. The guy who owned Moonlight – another New Zealand Townson yacht, rang Des up and said, 'look we're going for this One Ton Cup, what can you tell me about the boat?"
Des said 'look my boat is a picnic boat – what do you want to go and race it for?' at any rate, she just missed out beating Stormy Petrel the 37 footer.
(Famous New York naval architects Sparkman & Stephens designed Stormy Petrel, to win the One Ton Cup level rating world championship, and Syd Fischer and his crew sailed her to victory in the 1971 Cup in New Zealand)
Today I had a great sail with my great crew – thank you crew – and we were given a lesson by the Beashel family – bloody Colin went deep towards bloody Portuguese beach when there was no wind – Ken went high over to one side, and Sturrock went up the middle to be totally dorked and ended up going into Careel Bay.
It's taken me four and a half hours to get over that Ken – thank you.
(Laughter)
Patrick: Is that why you were late for dinner tonight?
Doug: Yes, I just had to calm down a bit. But I'll be right for next year – so I hope the Goose comes next year because I never saw the Goose – she was doing another 10% faster than me upwind and it's a credit to you Ken - I didn't think the Goose could go that quickly but she was quick and congratulations to Nicole and the team on Defiance as she gave me a licking too, just unbelievable. Anyway, I've calmed down now –so thank you.
Patrick: Another exceptional restoration of a classic boat in this country is the 8 metre Defiance – she has a history unparalleled. Gordon, I'd like you to come up here and speak on behalf of Nicole. The Beashel family have restored this boat to pristine condition and everybody was gawking at her today. Gordon and Nicole Shrimpton and the Beashel family have put together an exquisite restoration in Defiance.
Gordon: It's quite a long story so I'll try and keep it short. There's two great things that happened with this yacht – the first being the genius of Digby, who is an uncelebrated person in the history of yachting in Australia, designed, built her in his backyard in Williamstown in 1934-35. He campaigned the boat successfully – he was a very good sailor.
The next great thing that happened was that Nicole Shrimpton fell in love with the boat. Nicole has lavished her attention on the boat and with the support of Colin Beashel and his yard over there, has turned this beautiful yacht into something quite extraordinary which I'm very proud of.
I'm proud because my family owned the boat for 53 years, so I was very fortunate as a baby to grow up in the boat, asleep in its cockpit amongst the rope and then, slowly and surely entice women on to her when I was a teenager.
(Laughter and Applause.)
Subsequently this spurred on my own love of sailing too. The boat has an enormous heritage and has an owner now who has beautifully restored the boat and she deserves congratulations for her gorgeous restoration of the boat, and Colin has in turn done the same thing.
Digby was the senior Port Authority as a shipwright and in his spare time built boats in his back yard. He was also Commodore of the Hobson's Bay Yacht Club, campaigned in the Sayonara Cup four times and won three times.
He built another 8 metre – as you do – but Defiance is the first Australian designed and built 8 metre. The second was another Digby built boat, the Frances (1947). Defiance has done five Sydney to Hobart races – an incredible achievement for any yacht.
Ernest Olney Digby Born in Port Fairy, Victoria, Australia on 1882 to Joseph William Digby and Sarah Lincoln. Ernest Olney married Mary Ann Robinson and had 8 children. He passed away on 12 Nov 1960 in Williamstown, Victoria, Australia. - Frances with E.O. Digby at the helm circa 1950. Frances was an 8 metre class yacht and is still on the register of the RYCV. She was recently fully restored by now the late Michael Wood a long time member of the RYCV (Royal Yacht Club of Victoria).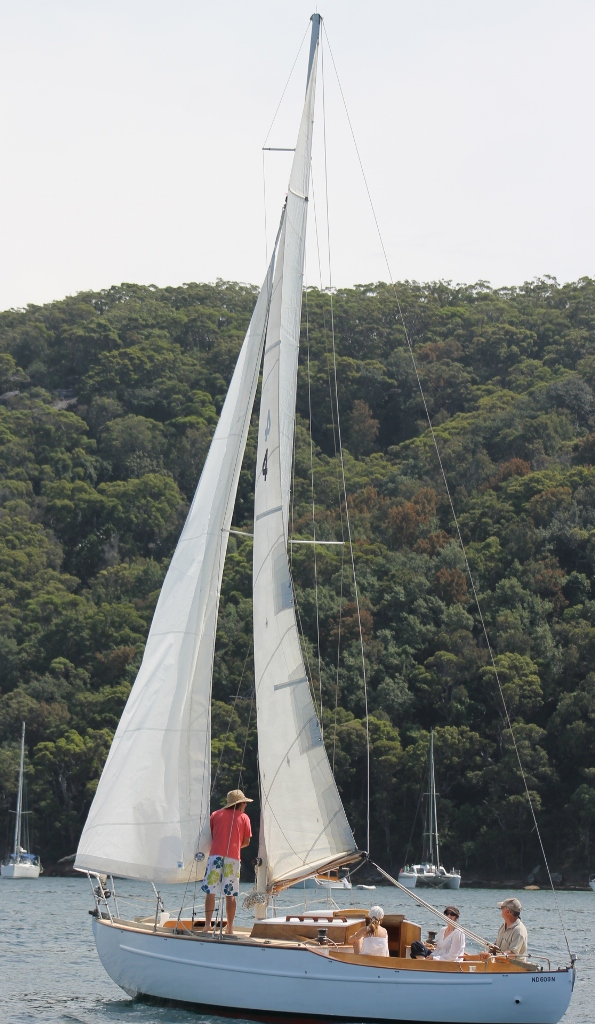 Patrick: Thank you very much Gordon. Now Michael Maxwell has spent a fortune restoring the Gretel II, the most beautiful 12 metre yacht ever built. Peter McCordquodale, please tell us about the Gretel II.
Peter McCordquodale : Anthony Rose who owns a boat called Tanami, a 40ft Cole design built in 1966, possibly the most beautiful boat on Sydney Harbour, other than Gretel II of course, spotted her. I believe Michael's grandfather was the original sailing captain who was somehow involved in her being built when she went up for the Challenge ( America's Cup challenge series in 1970). Most of you here would know that in 1970 she actually won a couple of races.
Gordon Ingate owned her for many many years and donated her to the Australian Maritime Museum but the Maritime Museum didn't have the funds to do anything with her. Michael had the experience of rebuilding the six metre Fife designed Carina and set about doing the same thing with Gretel II.
She is not now, certainly, a 12 metre to the rule anymore – if you see her down on the pontoon there you'll notice she has had an internal fit out, now has a retractable drive pod because the bustle under the keel was so much that there was no way of putting a shaft or sail drive in – so when she's sailing you've still got the beautiful hull shape.
Right: Janaway
There's been no great change to the hull, keel or rudder. Her deck is now teak. She now has those awful electronic winches – awful because you don't have to grind. She's an absolutely gorgeous boat to sail and I'm very lucky to get the chance to skipper her this weekend.
Michael is overseas a lot of the time and as you know, if you don't use a boat they decay quite quickly, particularly if you don't get salt water over the decks.
Patrick: That is absolutely correct – if you own a classic yacht, for God's sake get it out there on the water.
This Inaugural Royal Motor Yacht Club Pittwater Festival Classic Yacht Regatta underlines that there is nothing we achieve in sailing without all yacht clubs combining and working together and congratulations must go to the Royal Prince Alfred Yacht Club who put in such a great effort today.
(Applause)
There was another boat sailing out there today that takes my breath away, and I was fortunate to work on it for Mr Clean Up Your Own Backyard – Ian Kiernan –with whom I now work on Friends of Sydney Harbour. Could I ask co-owner Tiare to come up and tell us about that exquisite little boat – the Seabird called Maris.
Tiare Tomaszewski: well, everybody, what a pleasure to be on beautiful Pittwater. What an amazing job you have all done today. We're all very lucky to be here and it has been an amazing day – perfect weather, you can do anything in this sort of weather, it's very forgiving.
I'm here to talk about a boat that's very close to my heart and would like to also speak about the lifestyle that we're all lucky enough to have an opportunity to enjoy.
My grandfather was lucky to sail – I have logs of his from the 1920's and 1930's. You realise in reading these that people went out sailing, enjoying the boats, enjoying the water – there are fantastic images and snapshots of people waking up one morning, seeing another boat, going over and greeting each other. This is the camaraderie we all really need to remember. Everybody here loves being on the water and I hope we all continue to have that opportunity.
Maris was built in 1958 by Jock Muir in Hobart for marine artist Jack Earl. There are quite a lot of boats of that era around here now. A 37ft yawl, she's Huon Pine over Spotted Gum. Maris was designed by Alan Payne, the same man who designed Gretel II. This emphasises how lucky we are to have people who are designers who build boats, fabulous boats, that are a delight to sail. Gretel II looked so beautiful out there today.
Maris is amazing to sail. Every time I go to Lord Howe on my own I think how lucky I am to be on a boat that just slips through the water – and I hope that we always get to slip through the water.
Seeing Defiance out there – wow! Didn't she look beautiful?
We're all here because we have boats that we want to go out and enjoy sailing in. I hope that keeping the heritage for these boats going is what we manage to do.
Patrick mentioned Mr Clean Up Australia, Ian Kiernan – what a legend, what a character. I think Kiernan will go down in Australian history as one of the most amazing environmentalists this country has ever seen. We're really lucky to have had his inspiration.
(Applause)
You know we all look back and say how beautiful Sydney Harbour is and how beautiful Pittwater is – we all use to crack our bottles on the sides of our boats in launching them and throw the bits of the bottle into the water after them – thank God we've stopped that!
Being up here has been beautiful – I've been welcomed extraordinarily by the yacht clubs – thank you very much for making Maris welcome here. I love coming up here and often come and stay on the Treharne's dock and feel very fortunate to be able to do that.
I hope that the spirit within our community and the yachting world can overcome a little bit of the bureaucracy and enable us to move around and share our experiences more. I hope that everybody uses these opportunities to come up and down the coast, to remember that, actually, it's not that far, and, actually, boats are meant to go places, and, actually, there are a lot of places around.
So please, everybody, get out, enjoy the beautiful weather, enjoy your beautiful boats. We've got a great opportunity here and I hope that next year we are all back here at the second Classic Yacht Regatta because this is a really nice event and I really hope that we're all here more often. Thanks.
Patrick: I'd like to invite a man here who is the owner of one of the greatest yachts that has raced on Sydney Harbour, and sometimes here on Pittwater –as well as Auckland, San Francisco as well as other great cities around the world – the man I'm talking about is John "Steamer" Stanley.
John, you are instrumental in the resurrection of the classic 18 footer – you're a shipwright, you're a sailor – you sail with Beasho, still sail out of the Flying Squadron in Careening Cove...
John Stanley: Camaraderie is what sailing is all about and it's memories – it's all these people we see here tonight who have had an association with each other over all these years in different class sizes. I believe sailing is about just having fun – winning is one thing but going out there and doing it is what it's all about. It's about meeting people.
Today with the Beashel family was pretty special. They're my second parents – I grew up with Colin and Joanne, so coming back here for me today, it's very special.
For other people to return and enjoy the same camaraderie is something that will grow. People have to get together and create things like this Regatta.
On another note, with the 18footers – that's a beautiful history. The next boat that I would love to see rebuilt is the Golding – the Golding was Ken Beashel's grandfather's boat 1913 to 1924 – if we can pull that off it would be brilliant because the history of that boat and that family is very special.
It's been wonderful to see you all here today with your beautiful boats. Thank you.
Pittwater Online News Pittwater Festival 2014 Classic Yacht Regatta - Days One and Two in Public Gallery HERE
Pittwater Festival 2014 - Classic Yacht Regatta Results
SPINNAKER
8484 Windflyt (Doug Sturrock)1, 2580 Mother Goose (Ken Beashel) 2, 12KA3 Gretel II (Peter McCorquodale) 3, 11 Defiance (Nicole Shrimpton) 4, 780 Maris (Tiare Tomaszewski) 5, 53 Camille (Peter Moran) 6, 33 Utiekah II (Peter Kershaw) 7, A156 Lolita (Nick Cassim)8
NON SPINNAKER
SS Heartsease (Peter Rapaja) 1, 1964 Fare Thee Well (Clive Gregory) 2, N81 Te Arawa (Jim Geddes) 3 , 1940 Salacia (David Lovell) 4, 4 Janaway (John Adameitis) 5, 1924 Hurrica V (Steve Gunns) 6, Fairie (Mark Riley) 7 , 2127 Response (Andrew Terrey) 8, 294 Love & War (Simon Kurts) 9, A70 Malohi (Maurie Evans) 10
GAFF RIG
K Killala (Les Galbraith) 1, A143 Reverie (John Barclay) 2, DA Delphin (Jerry Bengtsson) 3
COUTAS & RANGERS
C2008 Southerly (Terry Moran) 1, C04 Tenacity (Don Telford) 2, R558 Emily (Clive Knott) 3, A100 Hoana (Marti Van Der Wal) 4, CBB0 Sylvia (Eastwood/Didsb/Durre) 5, C117 Cariad (Mick Morris) 6, C47S Pamela B (Mark Bayfield) 7, A4 Cherub 8, A2 Vanity 9
JUBILEES
J81 Le Marin ( John Easton) 1, J126 Tawarri (Robert Hawke) 2, J134 Rojak (John Easton) 3, J121 Wataworrie (David Bray) 4, J64 Corella (Ian Ritchie) 5, J55 C-Charm (John Bryson) 6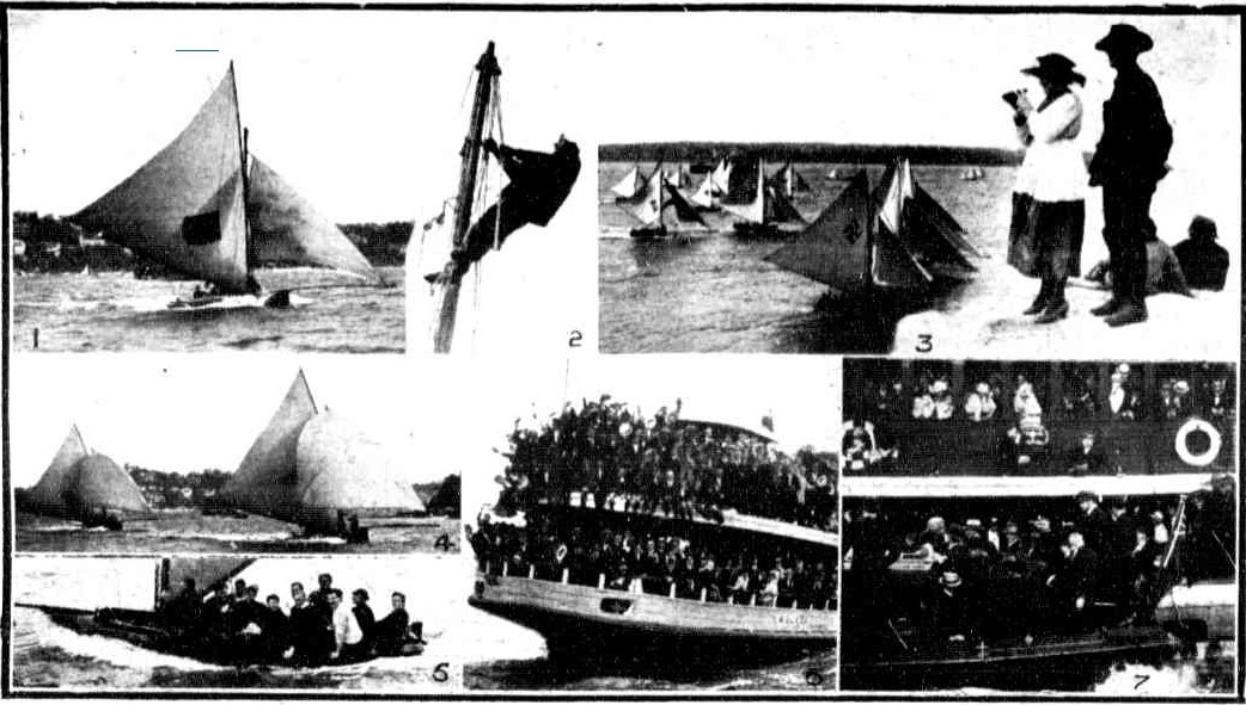 SNAPSHOT'S OF SAILING CHAMPIONSHIP
These snapshots were taken by the Mirror Photographer last Saturday, when the Championship Race for 18ft sailing boats took place in Sydney Harbor. (1) Scott, the winning boat sailed by J. Smith. 2. Something wrong aloft. (3) The start of the race. (4) The second boat, Arline, sailed by W. Edney and the third boat, Golding, sailed by R. Beashel (5) The crew of the winning boat Scott. (6). On the ferry boat following the race. (7) One of the ferry boats raided by the police. Inspector Fullerton is seen in the picture with private detectives. INTERESTING SNAPSHOTS OF SAILING CHAMPIONSHIP. (1917, November 24). The Mirror (Sydney, NSW : 1917 - 1919), p. 16. Retrieved from http://nla.gov.au/nla.news-article116968227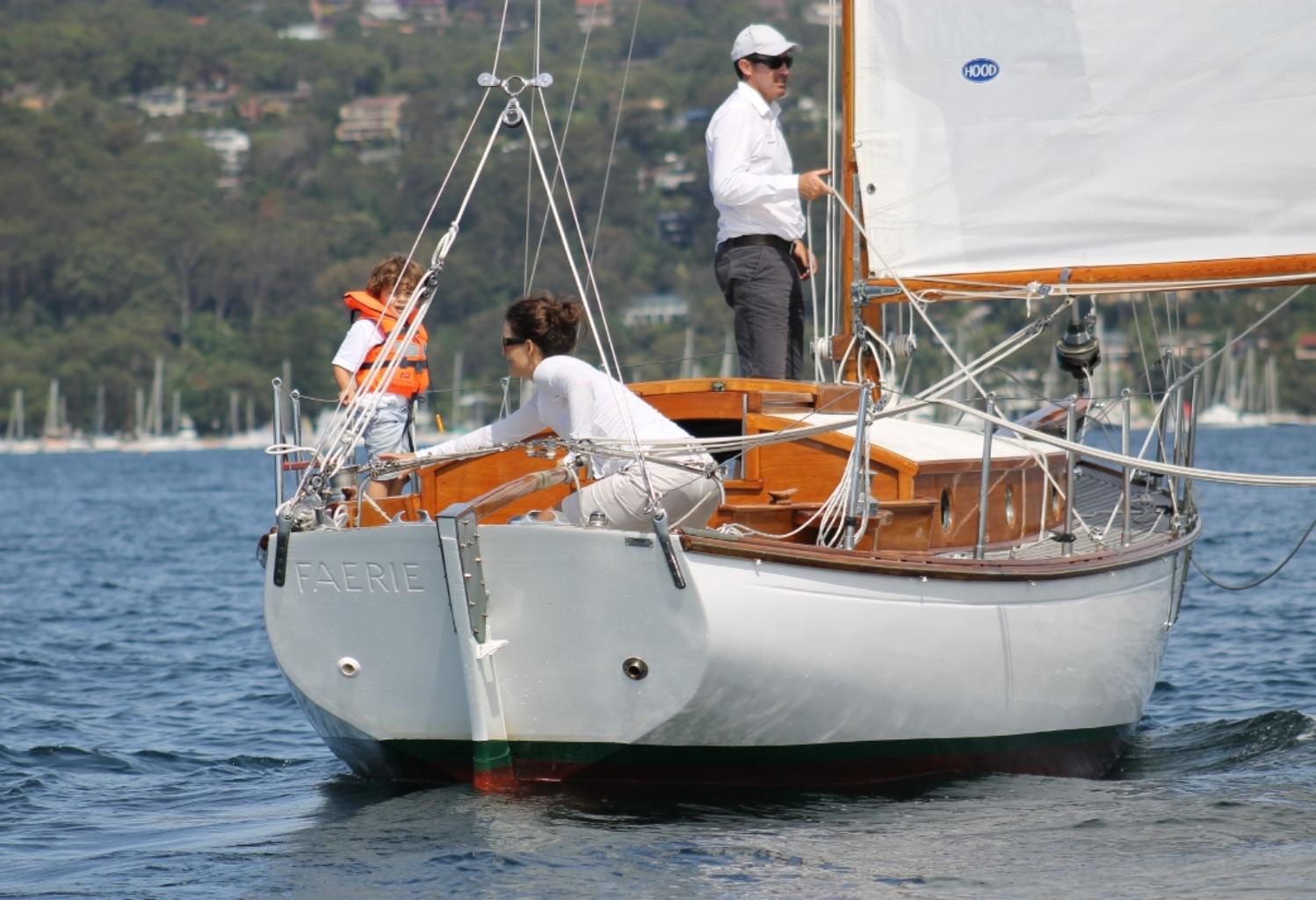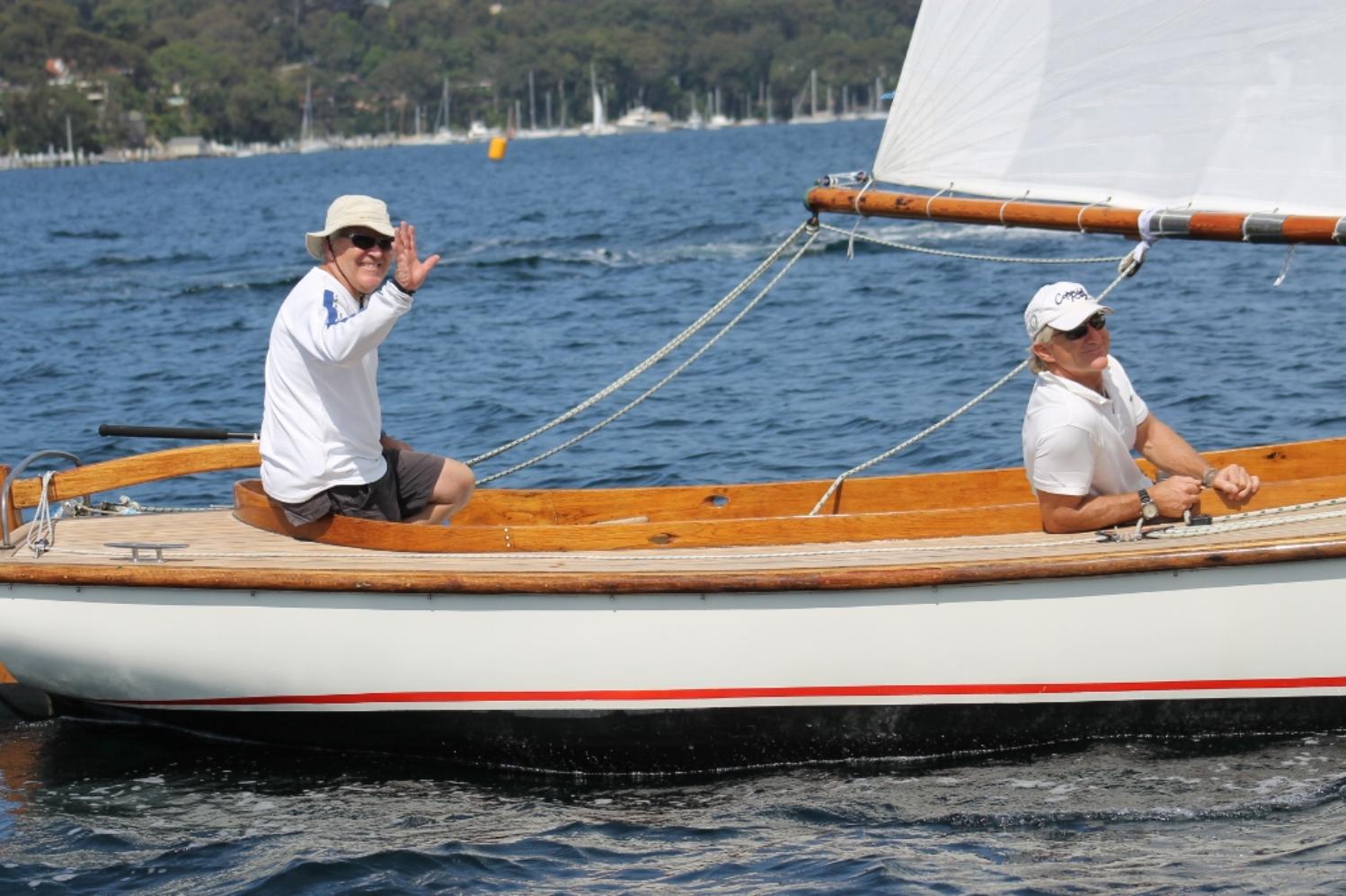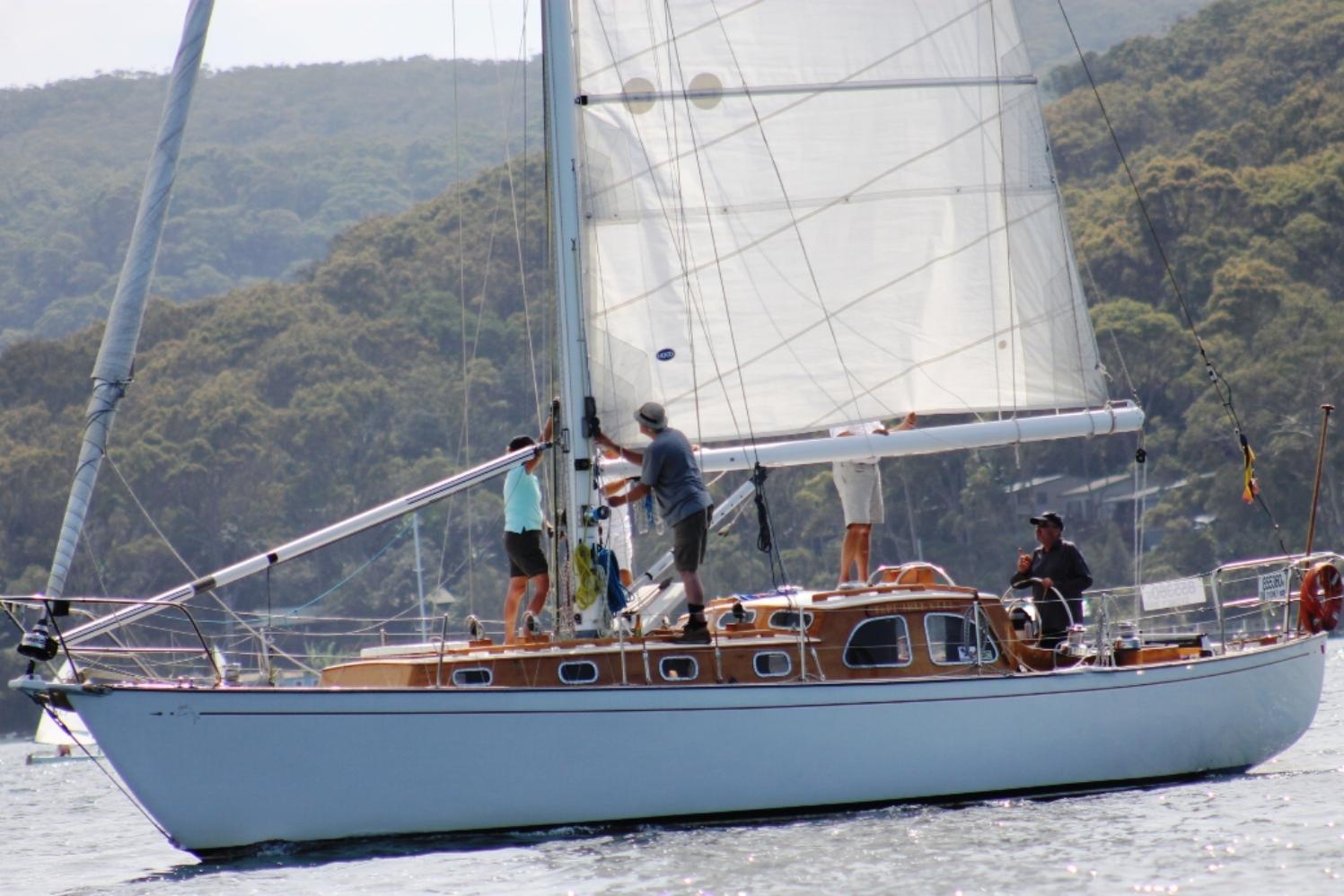 Report and Pictures by A J Guesdon, 2014.