August 30 - September 5, 2015: Issue 229
Spring into Art this September on the Pittwater Artists Trail Spring Weekend: Meet the Makers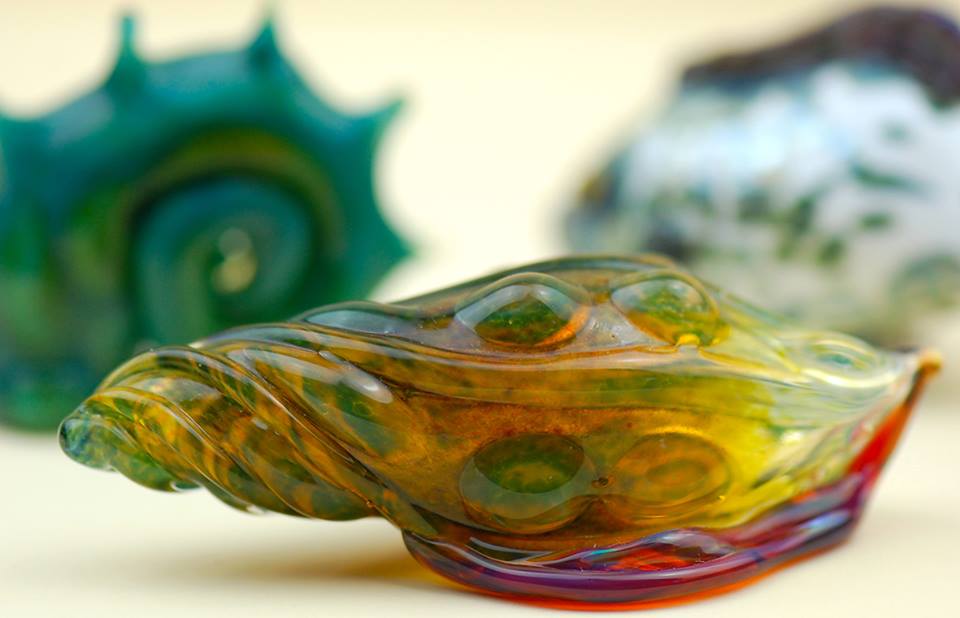 Elanora - Penel Bigg - Glass
Spring into Art this September on the Pittwater Artists Trail Spring Weekend: Meet the Makers
Spring Weekend - September 5th & 6th: Studios open from 10am until 5pm
Spring is upon us and the beautiful Sydney sunshine is beckoning us out of our Winter hibernation - this is the perfect time to venture out and explore the Pittwater Artists Trail!
After our fabulous Winter Exhibition at Avalon Beach Surf Club in June, you now have the opportunity to "meet the makers" as Trail artists invite you into their creative sanctuaries where their home studios give you an insight into how they work, what inspires them and ignites their passion.
You may even be inspired to make art yourself as a number of artists on the Trail hold classes in their chosen medium.
The Trail artists have been in a creative flurry over the last couple of months producing new works in oils, watercolour, encaustic, sculpture, ceramics, print, silk, glass, jewellery, mosaics and objects in wood, seed pods, bone, antler and feathers.
Take advantage of this opportunity, while Pittwater is at her most radiant, fresh and shining with renewed energy, to hit the Trail, meet the makers, maybe enrol to learn a new skill or buy some beautiful art on the Pittwater Artists Trail.
The Trail is a collection of open home studios visited in a 'trail' or sequence.
The Trail has evolved as it has grown and this year's Trail consists of 20 accomplished artists and artisans opening their studios from 10am until 5pm on the Saturday and Sunday of the first weekend in September.
The Winter Exhibition at Avalon Beach Surf Club, held over the June long weekend, had over a thousand visitors during the 3 days and a flourish of red sales dots showed there were many satisfied art lovers. The response to the exhibition was so positive that visitor numbers for the Pittwater Artists Trail Spring Weekend promise to exceed all previous Trails.
So pick up your Trail guide in local councils or cafes and start plotting a Trail course for the Spring Weekend soon…
Studios by location
Elanora Heights - Karen Pike, Penel Bigg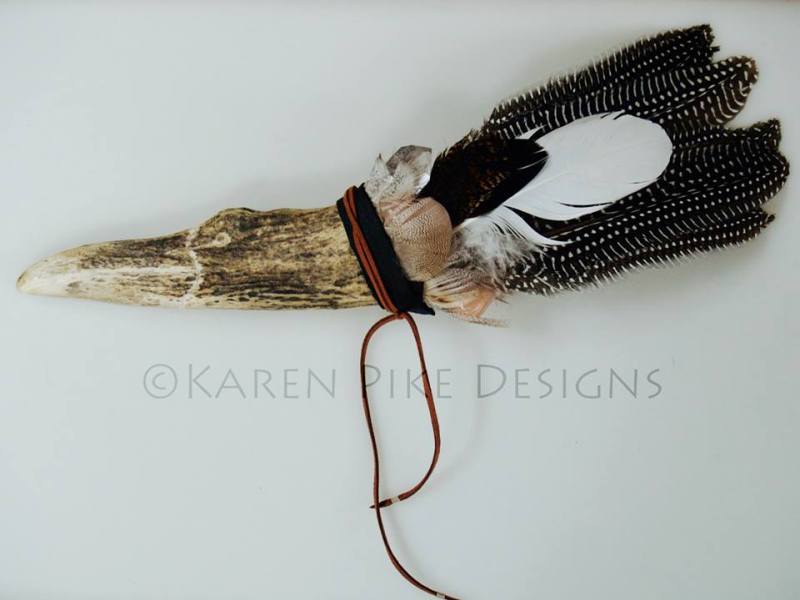 Karen Pike: Hand carved Deer Antler with Rose and Clear Quartz, Guinea Fowl, Cockatoo and Duck feathers, bound in leather.
Mona Vale/Newport - Meredith Scott, Vicki Ratcliff, Julie Hickson, Wendy Grainger
Bilgola/Avalon/Whale Beach - Peter Cameron, Robyn Park, Elfriede Bartnitzky, Katarina Wells, Nada Herman, Diezel, Coco Elder, Helen Mackay, Sylke Claridge, Geoff Searl, Marian Purvis
Church Point/Bayview - Willi Michalski, Allen Goodman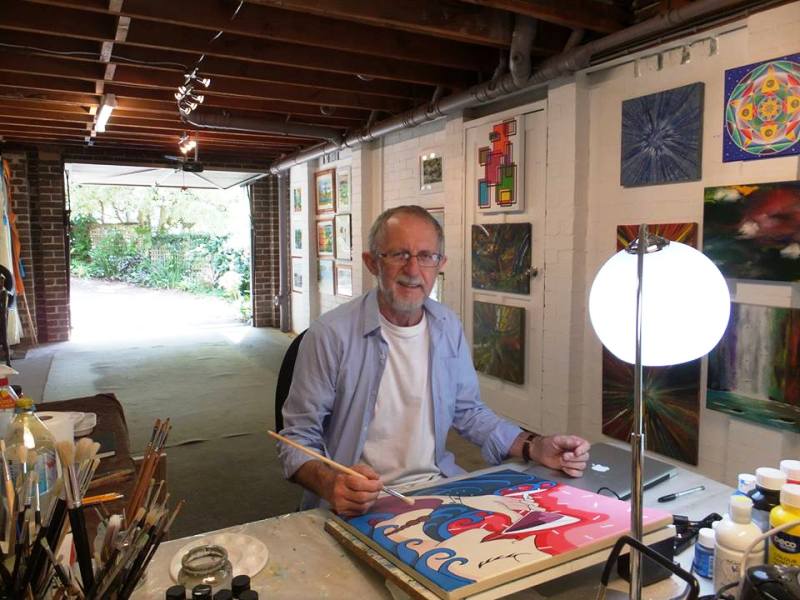 You can find Allen Goodman in his Bayview studio filled with paintings on the 5th and 6th September.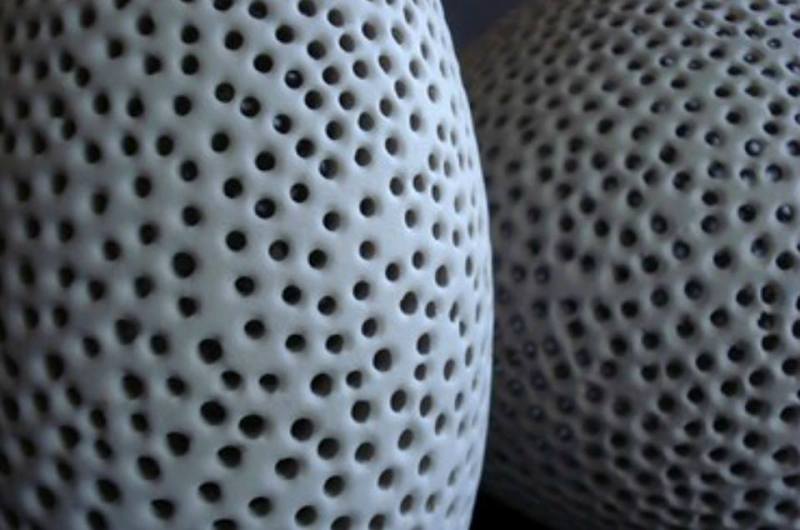 See Willi Michalski's masterful ceramics at his open studio in September.
Artists by medium
Ceramics - Willi Michalski, Coco Elder, Katarina Wells
Glass - Penel Bigg, Meredith Scott
Hand painted Silk - Robyn Park
Jewellery - Karen Pike, Penel Bigg, Meredith Scott, Geoff Searl, Robyn Park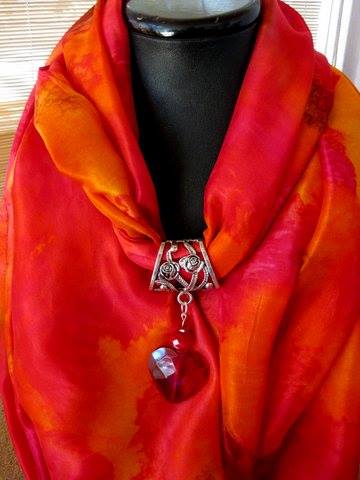 While in Clareville you can find beautiful silk scarves and other goodies at Robyn Park's sunny studio.
Paintings - Karen Pike, Vicki Ratcliff, Allen Goodman, Julie Hickson, Wendy Grainger, Peter Cameron, Helen Mackay, Coco Elder, Nada Herman, Diezel, Elfriede Bartnitzky, Sylke Claridge, Marian Purvis
Ritual Objects - Karen Pike
Sculpture - Penel Bigg, Geoff Searl, Katarina Wells
Find out more and see maps for the Pittwater Artists Trail at: www.pittwaterartiststrail.com.au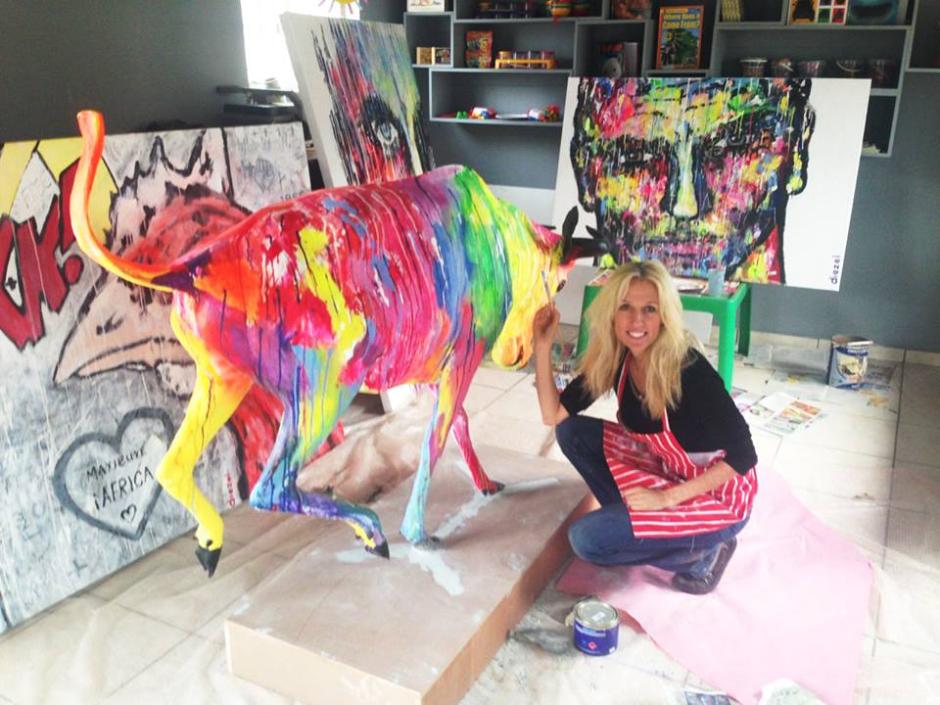 Avalon - Diezel - Paintings