January 4 - 10, 2015: Issue 196
Club Marine Pittwater to Coffs Harbour Ocean Race 2015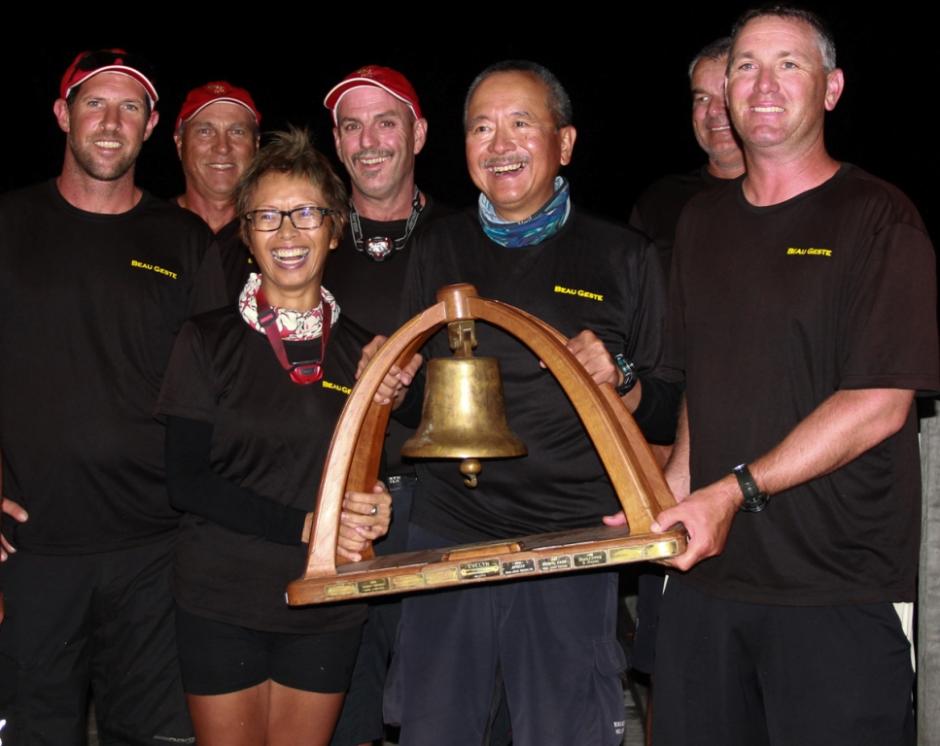 Winning Beau Geste crew - photo by RPAYC
Geste about to get moving in the Club Marine Pittwater to Coffs Yacht Race
2 January 2015
Karl Kwok's 80-foot Beau Geste has opened its 2015 Australian season as the leading monohull in the 34th Club Marine Pittwater Coffs Harbour Yacht Race. It is side-by-side with Sean Langman's 60-foot trimaran Team Australia in light easterly winds south off Newcastle.
"We have Beau Geste right off our starboard side about 500 metres away," said Team Australia's navigator Josh Alexander at 1821hrs. "We've had south-west winds, now it's starting to back to the east. We've been struggling for the last two hours doing 5 knots of speed, but we are coming back into the good stuff now. Hopefully we can get going in the next two to three hours. Jimmy [Spithill] had a drive for a while."
Team Australia began its dash north at 1315hrs, 15 minutes after the main fleet, and quickly wound up to be flying on one hull for the reach across the mouth of Broken Bay and out into open waters in the puffy 12 knot sou'east breeze. Conditions were hazy for the two starts and the sea churned up by a sizeable flotilla of spectator craft fare welling race-goers.
Light winds are likely during the transition period then further north and out to sea the fleet can expect to run into the dominant north-easterly sea breeze. And that's the pattern for the remainder of the 226 nautical mile race – an upwinder in t-shirts and shorts all the way to Coffs Harbour.
With little background swell and current, the degree of strength and how north of NE the pressure swings are the questions navigators can ponder for the first race of the Australian yachting calendar's new year.
"There are no records on offer," said Sean Langman, skipper of the ORMA 60 Team Australia that has one of the most famous names in yachting, James Spithill, on board.
"Still, it requires the same discipline, you can't treat it like a cruise," Langman added.
Team Australia started 15 mins after the monohull fleet and Langman's aim is to catch then cover Beau Geste, Karl Kwok's Botin 80, the largest yacht in the fleet. Sean and son Peter Langman's ride south on Boxing Day then north is equally juxtaposed. Their smallest and oldest Hobart entrant, Maluka of Kermandie, came close to stealing the Rolex Sydney to Hobart show on corrected time.
In the country for Christmas with his family, Spithill is on a break from his Oracle Team USA helmsman duties and "keeping his hand in". He joined Jim Clark's USA supermaxi Comanche that placed second over the line to Wild Oats XI in the Rolex Sydney Hobart and on Friday the Pittwater sailing prodigy returned to the discipline of multihull racing that has made him a household name.
"I've been a fan of Sean's for a long time… I love it that he takes it on," said RPAYC member James Spithill prior to the race. "He's going from one extreme to the other, going south on the smallest boat then jumping on the quickest boat in Australia. I've done a fair bit of sailing on the ORMA 60s off the coast of Brittany. I'm pumped to come off Comanche, the latest and greatest monohull design, and step on an ORMA racing out of my home club.
"It's cool to see the Royal Prince Alfred Yacht Club leading the drive to include multihulls. It's only a matter of time before I think there will be a multihull division in a lot more races, including the Sydney to Hobart," the champion yachtsman added.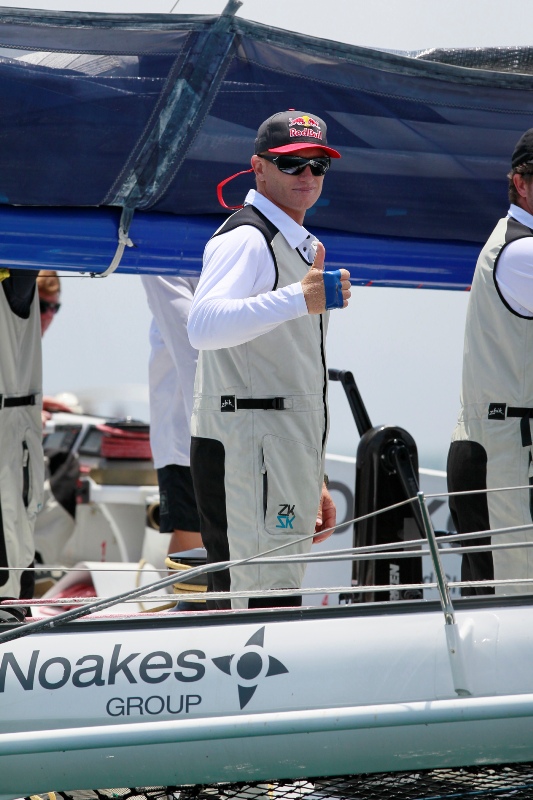 Left: James Spithill on Team Australia - photo by Howard Wright
For David Williams from the local RPAYC Farr 40 Harlequin, "light is good" according to the helmsman.
The monohull course benchmark of 18hr 29min 14sec was set in 2003 by Bob Oatley/Mark Richards with Wild Oats IX.
The international crew of Beau Geste headed up by skipper Kwok, a well-known Hong Kong businessman, and New Zealand boat captain Gavin Brady also powered off the start line north of Barrenjoey Headland, the behemoth of the monohull fleet.
Nearest to the frontrunners are the two TP52s, Syd Fischer's Ragamuffin with Brenton Fischer as skipper close to the coast and Rob Hanna's Geelong based Shogun, sporting another Kiwi sailing luminary Stu Bannatyne, further out to sea.
Steven Proud's Swish is next in line and Camille and Out of Sight are guarding the rear off the NSW Central Coast.
Some five minutes after the first gun blasted at 1300hrs today, Friday January 2, 2015 Hussy, Jem and Wave Sweeper were recalled by the race committee for jumping the start line.
At this point there's been no mention of race records falling and organiser the Royal Prince Alfred Yacht Club says it's unlikely given the fickle first afternoon and forecast headwinds, which means a series of tacks over the 226 nautical race up the NSW coast from Broken Bay to Coffs Harbour, the popular tourist destination once known as the banana capital of Australia.
Margaret Rintoul's navigator Julie Hodder provided this report at 1648hrs this afternoon:
"We have been waiting for the NE's all day – a good wind angle and strength for Margaret Rintoul. Instead it keeps going right, so now the wind is 225 to 230, which is dead opposite to the forecast.
"We have gybed along with the boats around us to take us closer to the next mark – Port Stephens. It is quite frustrating."
Still there is plenty for Hodder to celebrate as she explains, "sailing on Margaret Rintoul is sheer pleasure compared with most of the boats I have raced on. I was showed to my own bed(!), well the lounge. The boat's chef has given us a run down on the menu including the wines. The toilet actually WORKS! AND it has a shower! I could live here."
The monohull course benchmark of 18hr 29min 14sec was set in 2003 by Bob Oatley/Mark Richards with Wild Oats IX.
Last January Team Australia set the multihull record of 17hrs 3min 5sec.
Club Marine, Australia's largest provider of pleasure craft insurance, is proud to be the naming rights sponsor of the 2015 Pittwater to Coffs Harbour Yacht Race.
____________________________________________
Mental aptitude and patience tested in Club Marine Pittwater to Coffs Yacht Race
0800hrs, 3 January 2015:
Promised nor'east winds have so far failed to materialise and line honours in one of the slower Club Marine Pittwater to Coffs Yacht Races in history will be decided sometime late this afternoon or evening.
Sean Langman's giant trimaran Team Australia has 96 nautical miles to go and based on its current 3 knots of speed won't complete the 226 nautical mile course that began from Broken Bay yesterday afternoon until late tonight, Saturday January 3, 2015.
The multihull's crew has fingers crossed that the promised strong sea breezes will finally replace the glassy conditions apparent in morning images sent by the fleet Facebook page.
Hearing reports from on water and looking out at the finish line at Coffs Harbour it's hard to fathom there's a strong wind warning in place for the south Macquarie Coast. North-easterly winds 15-25 knots reaching up to 30 knots during the afternoon and evening are forecast.
It's not quite food rations but flight bookings home may be an issue and the jokes are wearing a little thin on board a few in the now 27 boat fleet following the retirement of Patrice Six due to time constraints. This is the time when mental aptitude and patience levels produce eventual trophy winners.
Team Australia navigator Josh Alexander says "most of the crew are asleep on the nets or bored. It's looking like a long morning till the wind, at maybe midday me thinks."
Rob Hanna's TP52 Shogun V crew, who were third on handicap under the IRC and ORCi rating systems earlier this morning, are also well rested and ready to take on the day says navigator Ross Vickers.
When a modern tricked-up 80-footer like Karl Kwok's Beau Geste slows to 5 knots, things are grim.
"It's midnight and we are still struggling to find breeze and get any real pace on - and we aren't alone with this problem either," posted a crewman overnight.
At 0400hrs this morning Team Australia and the leading monohull yacht, Beau Geste, picked up the pace to 12 knots then ran out of wind and momentum once again in what has been dubbed "a drifter" of a race.
Fleet back marker Out of Sight is yet to pass Newcastle and has 181 odd nautical miles to go, inching along at 2.1 knots this morning at 0700hrs.
The first race retirement, at 0817hrs this morning, came from Shaun Lane's X-Yacht 41 Patrice Six due to time constraints. "We are sailing from one hole into another," said Lane, now motoring with the crew back to Pittwater.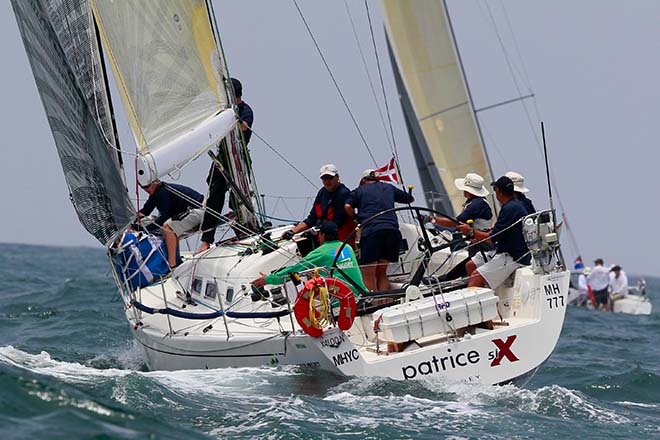 Patrice Six retired this morning - photo by Howard Wright
At 0800hrs Julien Farren-Price's Cookson 12 About Time was leading on IRC and ORCi handicap. Sandor Tornai's Farr 55 Espresso Forte was lead PHS boat, the crew's performance motivated after being forced to drink black coffee given 'someone' forgot to pack the milk. Full current standings.
Light conditions are the result of a strengthening high pressure system over the Tasman Sea extending a ridge towards the northern New South Wales coast, while a trough over central parts of the coast is weakening.
______________________________________________________
Team Australia dismasted in Club Marine Pittwater to Coffs Yacht Race
1245hrs, 3 January 2015
In a sudden disappointing turn of events in the Club Marine Pittwater to Coffs Yacht Race, race leader and multihull record holder Team Australia's 100-foot mast came down late this morning when the trimaran was 10 miles out to sea south of Port Macquarie.
The crew of eight men on board the Sydney based 60-footer are all OK.
"It's a shock given we had we weren't doing anything unusual, we were just starting to get going properly," said Langman via mobile phone at 1300hrs. "It's disappointing and not over yet, we still have to get in. We are heading back south as it's too difficult to motor straight up wind.
"The carbon fibre made a hell of a noise when it cracked. It ended up in three bits so it's not really repairable. Jimmy [Spithill] was steering at the time, he was telling everyone to stay down below. It would have been a much worse situation if any of the guys were hurt. We are all good and now playing with jury rigs so we can get going."
Team Australia's crew spent a significant amount of time trying to retrieve the mast and sails and bring all the lines in before starting their engine however this proved too difficult. Instead they made the difficult decision to jettison the broken mast, marking its location with a Dan buoy, flashing light and flag and a spare Yellowbrick tracking device.
Right: Team Australia's mast cut away & floating - photo by TA crew
Team Australia is about to motor away under jury rig to Port Stephens where skipper Sean Langman has a boatyard at Nelson Bay. The race committee will continue to monitor the situation and keep track of Team Australia's position until they are safe at port. Maritime authorities have been alerted should the crew require assistance to reach port safely.
The rest of the racing fleet heading north has been alerted to the large obstacle drifting on the surface potentially in their path via a sécurité radio message from Water Police Area Command.
Langman notified the organising authority the Royal Prince Alfred Yacht Club just before 1100hs they had been dismasted around 10 miles out to sea off Diamond Head, south of Port Macquarie. Winds at the time were 17 knots from the NE.
At this time there's no known reason for the dismasting.
The crew of eight on board includes Sean's son Peter and America's Cup skipper James Spithill along with Spithill's brother in law Grantley Pellew from Harken. The Langmans are not long back from this year's Rolex Sydney Hobart where they competed on Sean's other sailing love, his 83 year-old 30-foot Maluka of Kermandie, the smallest boat in the fleet.
It's been a tough New Year coastal classic so far, light winds plaguing the fleet for the first 20 hours and just when Team Australia was finally up and moving its race abruptly ended.
Karl Kwok's Botin 80 Beau Geste sailing for the Royal Hong Kong Yacht Club is the new leader, with 86 nautical miles to the finish and currently travelling at 11 knots of speed in nor 'east winds.
_______________________________________________
Line honours to Beau Geste in the Club Marine Pittwater to Coffs Yacht Race
2200hrs, 3 January 2015
Guided by a full moon and making the most of the warm NE breeze the international crew of 17 on Karl Kwok's 80-foot maxi Beau Geste took line honours tonight in the protracted Club Marine Pittwater to Coffs Harbour Yacht Race.
Their official finish time recorded at the base of Muttonbird Island just inside the harbour was 21:16:45 this evening, Saturday January 3, 2015 giving them an elapsed time of 1 day 8 hours 16 minutes 45 seconds and an average speed of just 7 knots over the 226 nautical mile course.
The Botin design launched at the end of 2013 is capable of speeds in excess of 30 knots. For the boat's debut Coffs race the promised fresh nor'easters only teased, turning the usual dash into more of an amble. The most wind Beau Geste encountered was an 18 knot sea breeze this afternoon.
Despite the slow pace "It was a very interesting race," said Kwok on the dock at Coffs Harbour tonight. "The start was agonising, last night we had a full moon…it was real champagne sailing… then the last 12 hours were really good. We were not happy to hear Team Australia had a problem but accidents are part of the game, unfortunately. We had enough food and drinks to last us to the finish," he assured.
At close to 30 feet bigger than the nearest in size, the TP52s, essentially Beau Geste was racing by themselves, "but knowing Shogun is a formidable competitor we tried to make sure we gained speed all the time," Kwok explained. "We knew from day one we wouldn't break the record so there was no pressure."
Kwok's sailing master Gavin Brady commented, "It was one of those nice short offshore races, shorts and t-shirts all the way. A lot of us haven't sailed this coastline before, we used a little bit of what we thought was right and some local knowledge, and then we did the opposite and went offshore.
"Contrasting to the Hobart race I did last week on Rio they were polar events. Turning left at Sydney on Saturday it just got warmer and warmer, and the ocean was so flat. I didn't realise there was so much to see on the coastline, you can get in quite close. It's an enjoyable challenge and we can see why crews take it on."
Due to the depth of Beau Geste's keel and the roll in Coffs Harbour it can't moor securely so tonight the winning maxi is being delivered back to Sydney to dry storage. The rest of the crew were ferried ashore where RPAYC Commodore Ian Audsley, CHYC Commodore John Wait and Corey Yeung, Club Marine NSW state manager, officially welcomed Kwok and his team, and presented the line honours trophy.
The next boat to finish will be Rob Hanna's TP52 Shogun, which today cleared out from sistership Ragamuffin, last year's line honours and multiple handicap winner skippered by Brenton Fischer. At 2330hrs the pair was 20 nautical miles apart.
Today's headlines were all about Team Australia's dismasting and the line honours victory. Tomorrow's will be about chasing handicap honours across the various categories, and the poor buggers bringing up the rear including Wave Sweeper which is off Taree and not due to finish until Monday.
Camille, the beautiful Gosford based Swanson making its offshore racing comeback under newish owner Peter Moran retired this evening at 1923hrs. It's now tucked up Port Stephens soon to be joined by Sean Langman's trimaran at the end of a long day of motoring with a jury rig having been forced to cut their broken mast away.
A fleet of 24 is still racing north in the Royal Prince Alfred Yacht Club's premier offshore event.
Tonight's forecast for the Coffs Coast is north-easterly winds 10-15 knots, reaching up to 20 knots south of Coffs Harbour in the evening.
Event website www.pittwatertocoffs.com.au/
By Lisa Ratcliff /RPAYC media
Pittwater to Coffs Harbour Ocean Race 2015 In Pictures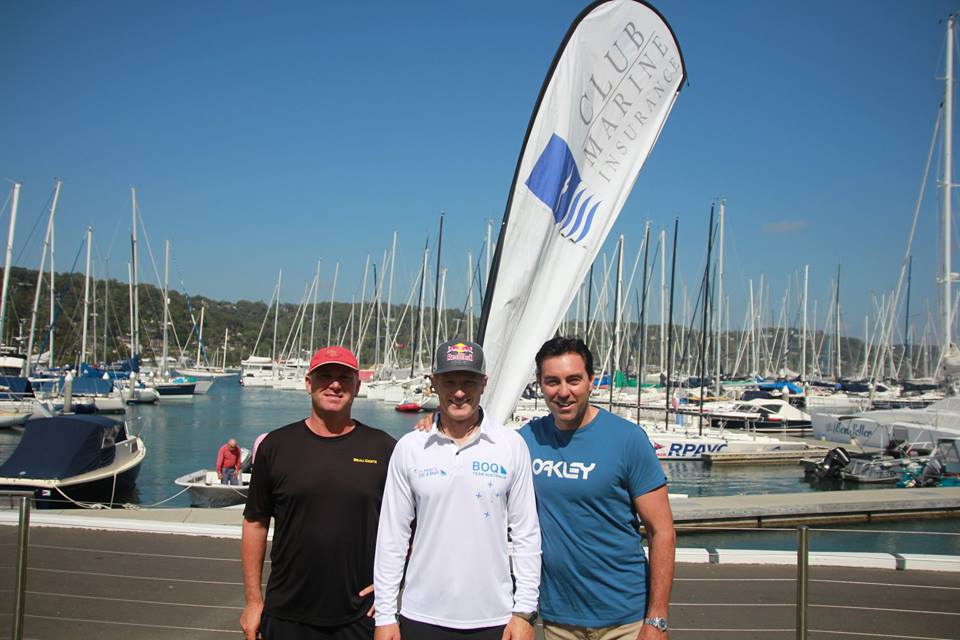 Famous faces at RPAYC Gavin Brady, James Spithill and Mark Richards -photo by RPAYC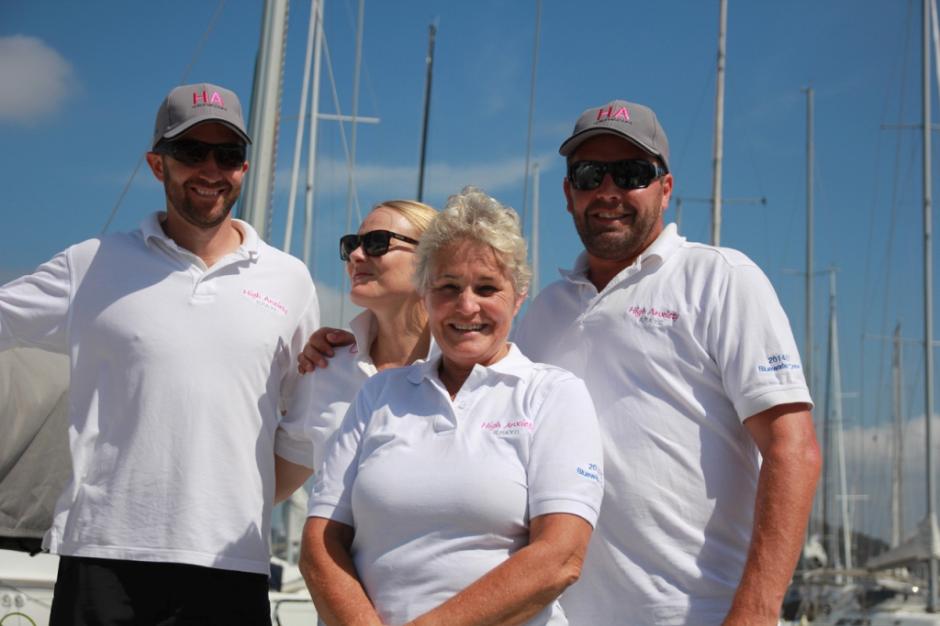 Crew of High Anxiety looking relaxed after race briefing at RPAYC - Photo by RPAYC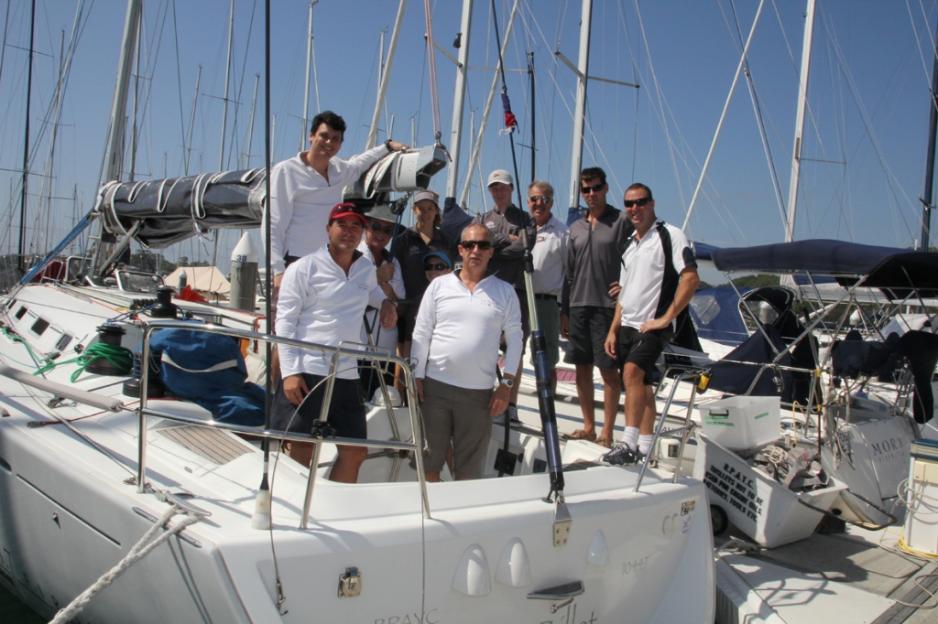 Crew of Le Billet at RPAYC prior to start - photo by RPAYC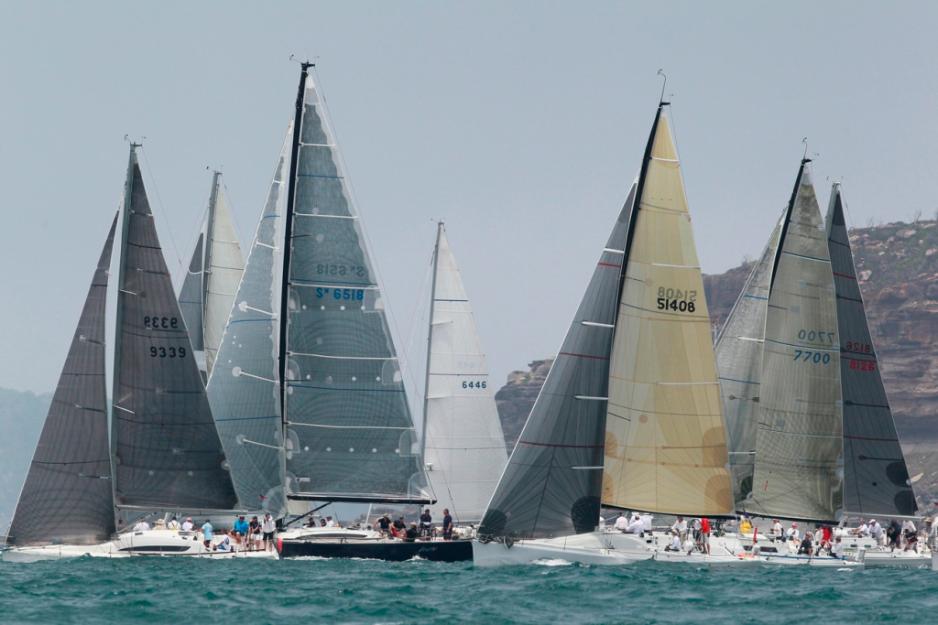 Club Marine Pittwater to Coffs Harbour 2015 start photo by Howard Wright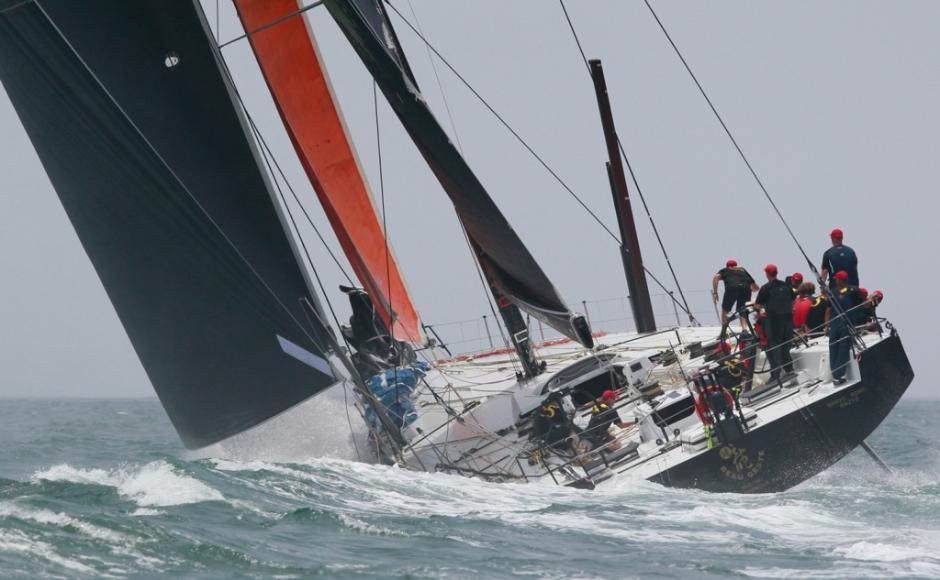 Beau Geste leading monohull photo by Howard Wright IPP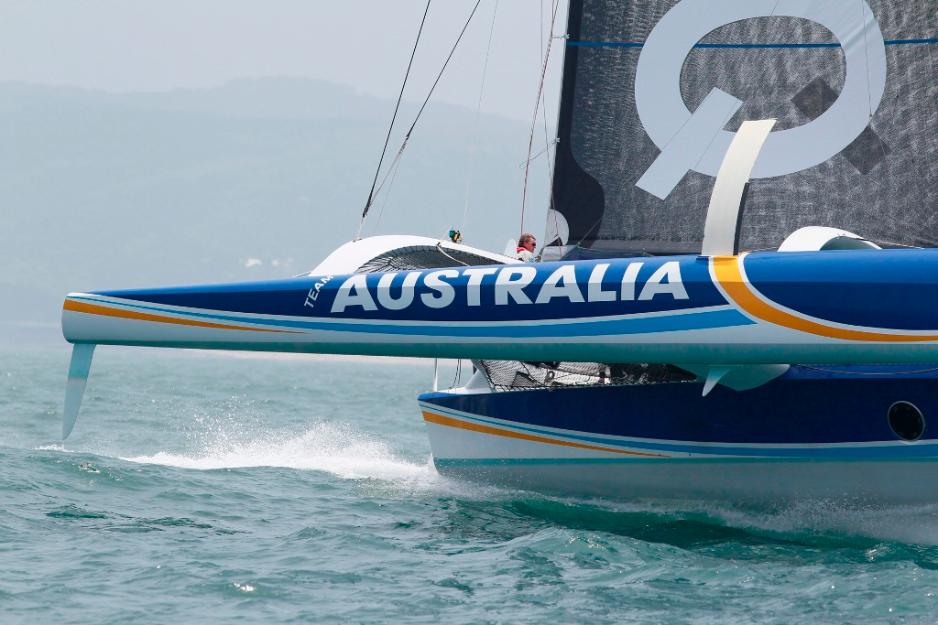 Team Australia wind at the start photo by Howard Wright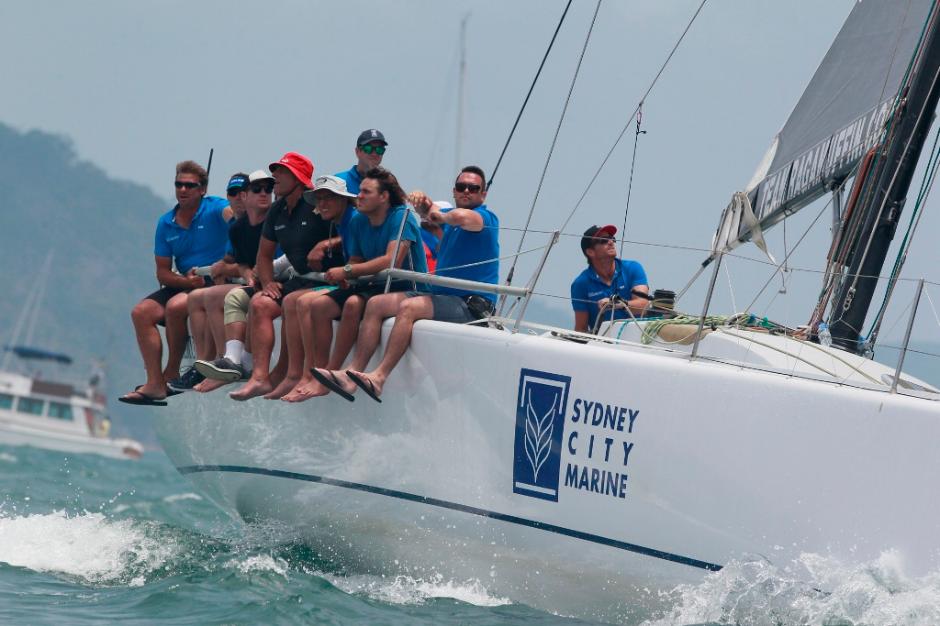 Ragamuffin 2014 line honours winner - photo by Howard Wright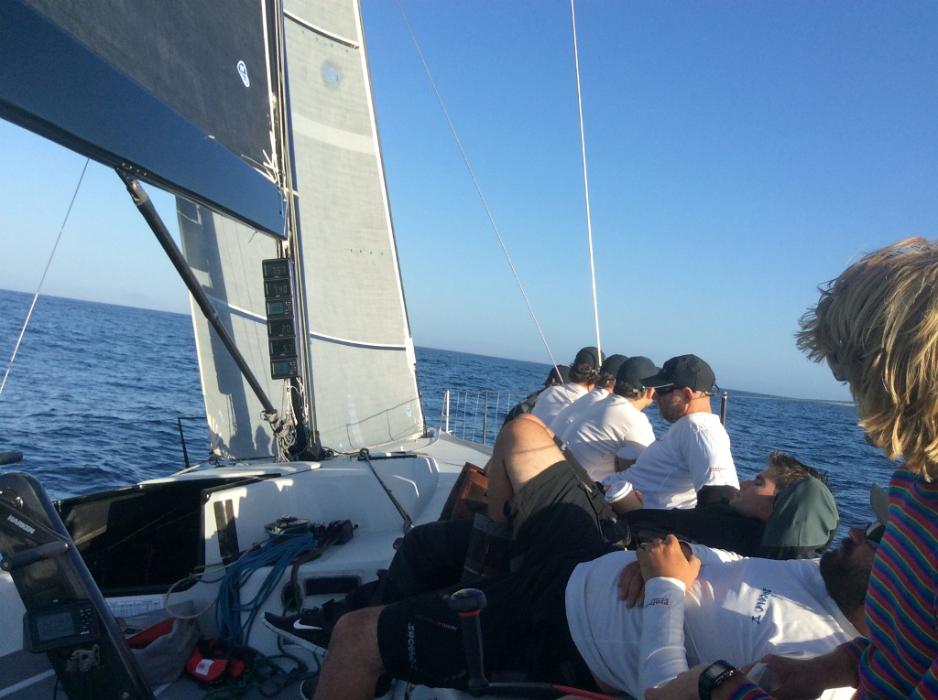 Day 2 morning on Shogun V - Picture courtesy Shogun V crew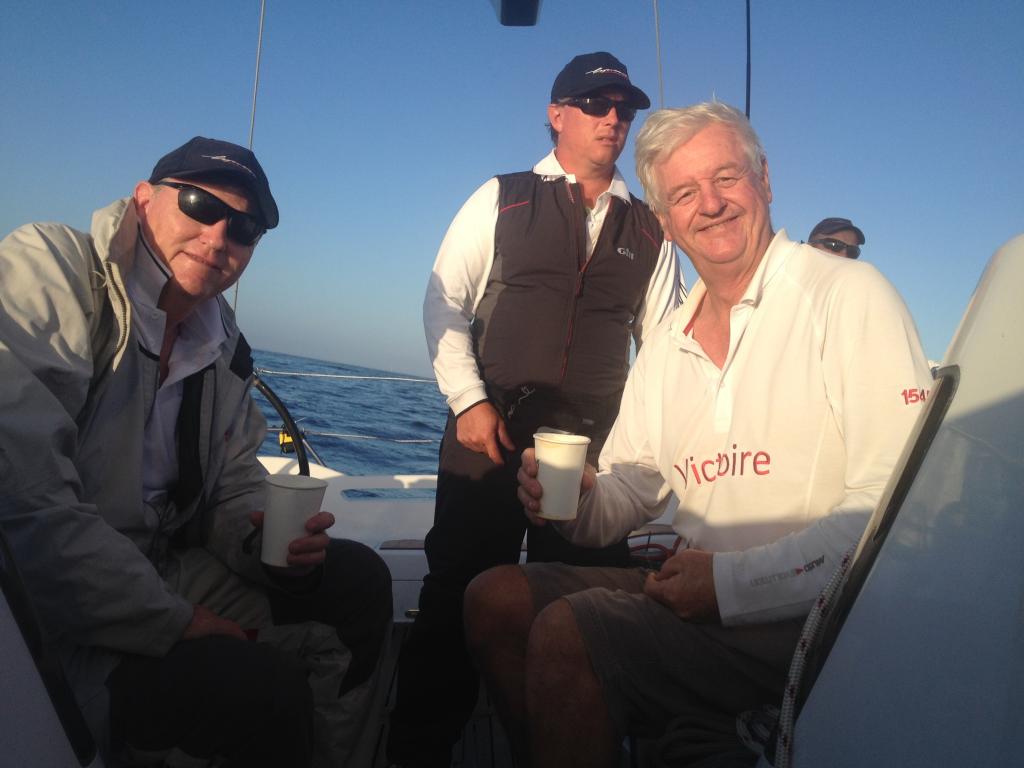 Morning coffee on Espresso sans milk - Picture courtesy Espresso crew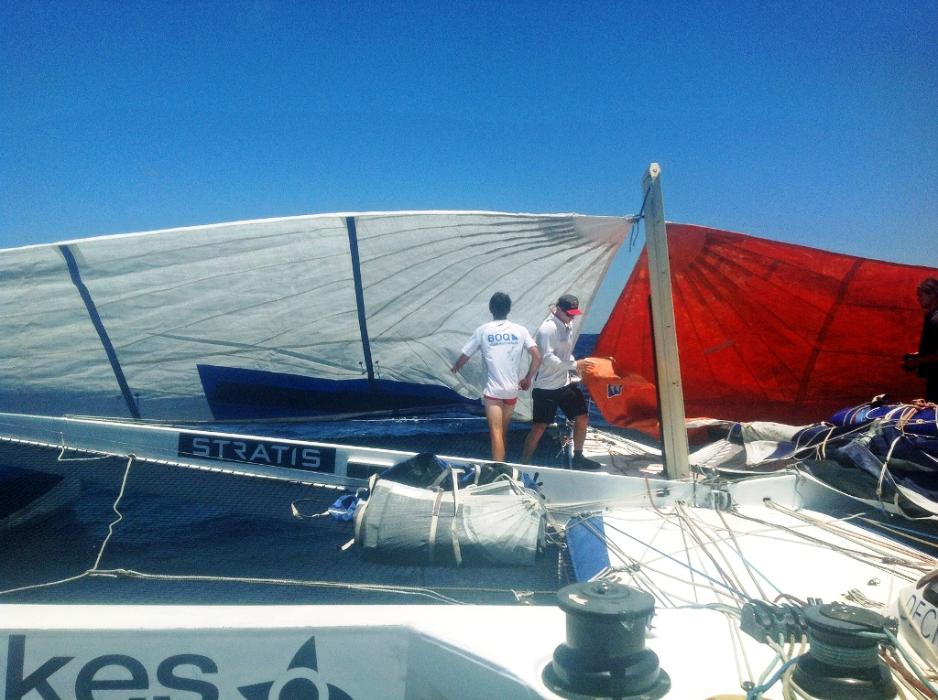 Rig down on Team Australia, James Spithill setting up a jury rig photo by Josh Alexander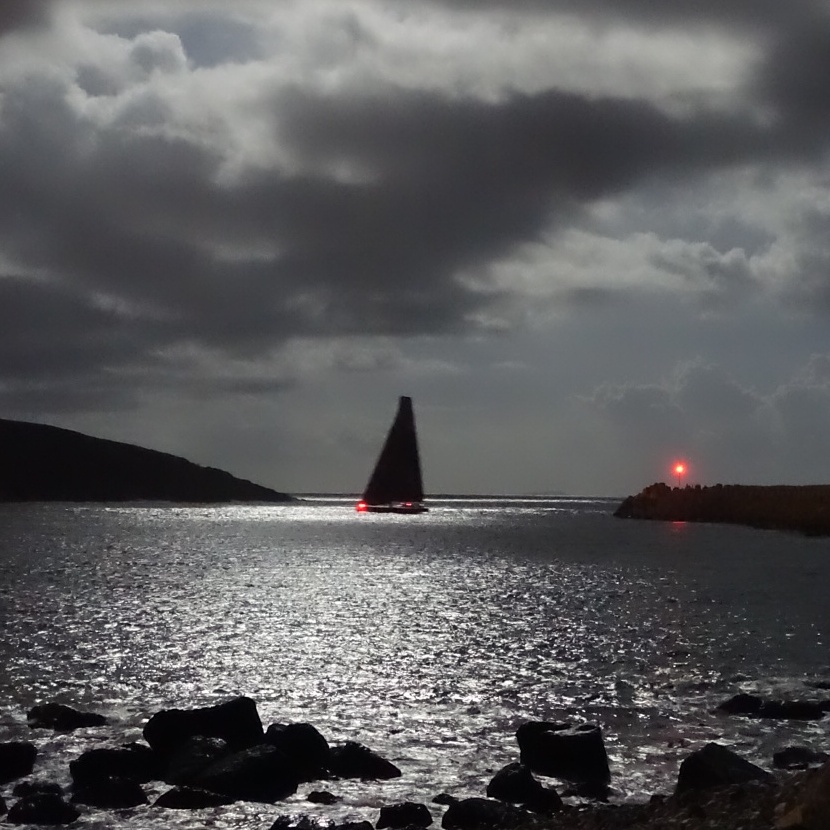 Nighttime finish at Coffs for Beau Geste - photo by Marias Coomans
Reports by Lisa Ratcliff, 2015. Photos by Howard Wright - IMAGE Professional Photography , Shogun V crew, Espresso crew, Team Australia crew, Josh Alexander, Marias Coomans and Stephen Collopy - RPAYC Media, 2015.