July 12 - 18, 2015: Issue 222
Pittwater Sailors in Queensland Youth Week: Decides 2015 Australian Sailing Youth Team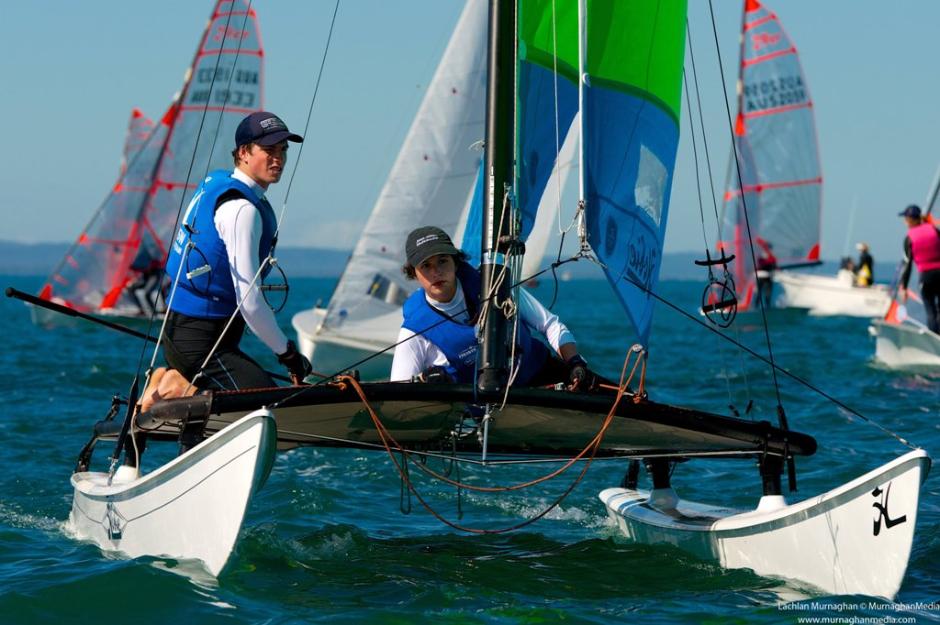 Shaun Connor and Sophie Renouf in action on Brisbane's Waterloo Bay this week.
Pittwater Youth Sailors from the Palm Beach Sailing Club and Royal Prince Alfred Yacht Club have been working hard this past year to qualify for the 2015 Australian Sailing Youth Team and four of our local athletes, the team of Shaun Connor and Sophie Renouf, as well as the team of Kurt Hansen and Jim Colley, have done exceptionally well and will be nominated to the Yachting Australia Board for final selection to contest the 45th ISAF Youth Sailing World Championship in Malaysia in December.
We contacted them yesterday to congratulate them, see how they got there and what's next...
"After teaming up with Sophie in September 2014, our goal was to qualify for the ISAF Youth Worlds in Malaysia. After competing in this event last year I wanted to go again as it is such a high caliber, there is no other regatta like it, the best of the best. We have come a long way since then, training 2 to 3 times a week and competing in all possible regattas on the east coast of Australia, " Shaun Connor said.
"Our training now steps up to sailing a boat with a spinnaker, and developing new skill set for this as we will be racing a SL16 in preparation of the Youth Worlds in December."
"Which we are both really excited to participate in." Sophie added.
A full report from AST runs below:
Queensland Youth Week decides 2015 Australian Sailing Youth Team
By Australian Sailing Team Comms, July 8, 2015
The 2015 Queensland Youth Week came to a close on Tuesday, 7 July 2015 at Royal Queensland Yacht Squadron with the final points awarded to select the 2015 Australian Sailing Youth Team. The team will represent Australia at the 2015 ISAF Youth World Championship in Malaysia at the end of the year (27 December to 3 January).
At the conclusion of Queensland Youth Week, fourteen young Australian sailors across nine classes will be nominated to the Yachting Australia Board for final selection to contest the 45th ISAF Youth Sailing World Championship in Malaysia in December.
Queensland Youth Week was the final regatta in a series of three selection events (Class Nationals, Australian Youth Championships, Queensland Youth Week) to select the 2015 Australian Sailing Youth Team with sailors competing across four days of racing.
The competition for the much coveted selection points was tight and Brisbane's Waterloo Bay offered conditions similar to those expected in Malaysia to make up to ten races across the fleets.
"We've seen some great racing over the last few days and it's exciting to see the level our young sailors are at. It's especially great to see some of our young female sailors setting the standard and leading in the mixed-fleets. We still six months to go to the World Championships and will have the chance to continue to build on these performances before the team represent Australia in Malaysia." said Yachting Australia's Performance Director Peter Conde. "It is pleasing to see a good mix of athletes who have represented at past Youth Worlds and those who are representing for the first time.."
Eight athletes will make their Youth Worlds debut for Australia, while six will be returning to the team for another Youth World Championship.
Bic Techno 293 Windsurfer
Tasmanian and Australian Youth Champion Jock Calvert is one of the returning athletes to the team and will be contesting his third Youth World Championship in the windsurfing class after stand-out performances across all selection events including winning the Youth Championships in January for the third consecutive time as well as the Queensland Youth Week.
"It's great to have won Queensland Youth Week and making the team for my third time. Malaysia should be quite light so I'll have to work on my fitness a bit, but I'm really looking forward to it as it's another chance to prove myself. The last couple of years didn't go too well for me, so this year I'll be pushing extra hard as it's my last Youth year. I want to get a good result and will work hard to get there", he said at the conclusion of the regatta.
Emma Bailie will be the female windsurfer on the Team and it will be the first Youth Worlds for the Queenslander and sister of Australian representative Luke Baillie, who is excited to follow her brother's footsteps:
"This has been a goal of mine for a long, long time and I'm really excited to go," she said. "My brother, when he was my age, went to Brazil to the Youth Worlds and he loved it. It sounded like an amazing experience and I've always wanted to do the same."
420 Double Handed Dinghy
2015 Australian Youth Champions from New South Wales Alec Brodie and Xavier Winston Smith had another excellent regatta in Queensland and came out on top of the selection series and thus winning the Youth Team spot.
On the nomination point score they were only one point ahead of James Grogan and Nicholas Sharman from Victoria going into the final selection event, but managed to lock it all in on the final day of the regatta.
We had a couple of nerve-wrecking races but we managed to get the job done in the last race, we did what we had to do and are pretty happy. We beat the others to the Youth spot and we'll be off to Malaysia at the end of the year. It's exciting and we'll have to start training for that now," said Xavier Winston-Smith.
Four out of the nine crews who have qualified for the Youth World are from New South Wales, underlying the strength of the Youth program as he adds:
"It's great to have so many of our NSW program going to the Worlds. We all train together; work hard in the gym together and it's really good to see the whole team do well. Everyone is encouraging each other and it's a really great atmosphere."
Western Australians, 420 National Female champions and 2015 Australian Youth Team Champions Nia Jerwood and Lisa Smith also sealed the deal in Queensland.
The pair had continuously moved up the ranks and finished the regatta as the top female boat and in a strong second overall in the mixed-fleet behind regatta winners Laura and Hayden Harding (VIC).
"Coming overall second was really good for us, but most importantly we beat all the girls teams, meaning we qualified for the Youth Worlds, which we are very happy about. I like sailing against the boys and that's what is great about sailing. You get to race the boys as well as the different age groups at other events. This was a light wind regatta and it's just better to be a girl in light wind,"Nia Jerwood laughed.
They earn their place in the Australian Sailing Youth Team for the second time and are looking forward to build on their performances as crew Lisa Smith adds:
"This will be our second time at the ISAF Youth Worlds. We came ninth in Portugal last year, which was really good, but we want to improve on that and hopefully we'll do better this year.
We'll be going to the 420 Class World's next, which should be a good experience, especially ahead of Youth Worlds and giving us that big fleet racing against all the other countries. After that we'll just have to train hard until Youth Worlds come around."
29er Double Handed Skiff
Going into the final selection event New South Welshmen Kurt Hansen and Jim Colley and Queenslanders Kyle O'Connell with Tom Siganto were tied on points after O'Connell and Siganto had won the 2015 Australian Youth Championships, while Hansen and Colley had won the 29er class nationals.
Kurt Hansen is the 2014 29er Open World Champion and has formed a successful partnership with new crew, 2014 Australian Sailing Youth Team skipper Jim Colley. The pair had one of the tightest battles at the Youth Champs in January with O'Connell/Siganto coming out on top, but from the start of racing in Queensland Kurt Hansen and Jim Colley made it clear they wanted the Youth Team spot and posted a series of convincing results. They won five and finished second in four of the eleven races, securing them the Queensland Youth Week win as well as the Youth Team spot.
"We're pretty stoked to win this regatta and the Youth Team spot. Of course there was a little bit of that extra selection pressure, but our goal here was to get top threes and apart from one race we managed to do that and slowly managed to get a bit of a lead in the regatta," Jim Colley said.
It will be the first Youth Worlds for Kurt Hansen and the second for Jim Colley. Their training partners Amelia Stabback and Pia Doyle, who finished fifth overall in the mixed-fleet, will join them.
"It's great the girls from New South Wales are going to Malaysia as well. We've been training with them for the past year or so and it will be great to head over there together," Kurt Hansen said.
Amelia Stabback and Pia Doyle from Middle Harbour Yacht Club in Sydney will be the first female 29er crew to contest the Youth World Championship with the category being added for the first time this year and they are very excited to do so.
"We're pretty excited. We'll be the first all girl team to race at the Youth Worlds, which will be great. Our goal was to go out there and beat everyone and that's always our goal. And we want to do the same at the Youth Worlds," Amelia Stabback said about the goals ahead.
"We are all training partners and that really helps. Kurt and Jim are really good, which gives us a good goal to aspire to and to train against, so that's really helpful, good for starting practice and all that.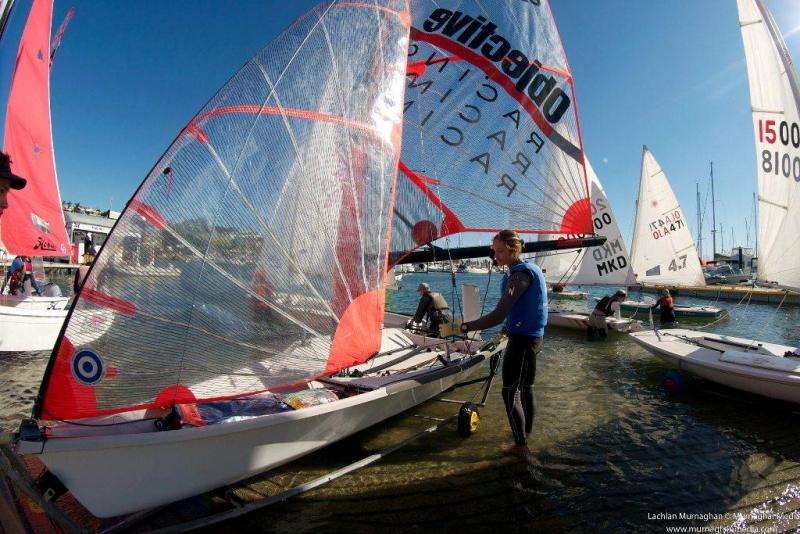 Laser Radial Single Handed
In the Laser Radial 2015 national champion and Australian Youth Champion Alistair Young secured his second consecutive Australian Sailing Youth Team spot by finishing third at the Queensland Youth Week and is confident he can better last year's ISAF Youth Worlds result this year:
"This will be my second ISAF Youth Worlds and I hope to better my position from last year. Laser year in Portugal I finished fifth and hopefully this year I can sail for gold," he said.
Once again it came down to a battle with fellow Fremantle Sailing Club sailor Conor Nicholas to secure the spot. Alistair values the strong competition within his own club team, which underlines the strength of the Western Australian Laser Radial squad coached by dual world champion Tristan Brown, as he explains:
"It was quite close. Connor had the spot after the first couple days of the regatta and it did come down to the last race. It's really good to have a strong team. Every afternoon at training there's a strong team, so you know exactly where you are in the fleet because you are training against the best in Australia, which is really handy. We've a great team and coaches over in Western Australia, which will be good with six months solid training ahead before the World's."
In the female Laser Radial fleet fellow Western Australian Jacinta Ainsworth, the 2015 Australian Youth Champion was leading the point score by comfortable seven points over her younger sister and 2014 Youth Olympic Games representative Elyse Ainsworth going into the final selection event. She secured the deal for her first Australian Sailing Youth Team and finished Queensland Youth Week in top female position and fifth overall in the mixed-fleet.
"I'm absolutely stoked to have made the team and I think it's a great opportunity for me as a young sailor. I came into the competition with a pretty comfortable lead and this regatta was about consolidating the spot for the Youth Team," Jacinta Ainsworth said
"I have a great team behind me and I reckon top five at the ISAF Youth Worlds should be doable. It's great to train with the best in Western Australia. If you train with the best you will improve with them as well and it's been a phenomenal aspect of my development and I couldn't be more grateful," she added about the strong training environment in WA.
Hobie16 Multihull
The Hobie 16 multihull fleet team spot goes to Shaun Connor and crew Sophie Renouf (NSW). It will be the second ISAF Youth World Championship for Shaun Connor after he was part of the team in the 29er with Jim Colley in 2014.
"It's been tight racing for the Hobie 16s this week and we just squeezed into the spot for the Youth Team, which is pretty awesome and we are really stoked about that. It's been a long twelve months working hard, but it really paid off. And we just got a text from Jason Waterhouse (Australian Sailing Team) congratulating us. He's always been there to help out, which is great."
Before the ISAF Youth World Championships the Laser Radial and 420 team members will be the guests of the Japan Sailing Federation at the annual Australia/Japan Youth Sailing Exchange in September. This will be the fourth year of this exchange and is highly valued by both countries.
For all results on the Queensland Youth Week see here
For further information on the ISAF Youth World Championships see here: www.isafyouthworlds.com
2015 Australian Sailing Youth Team (pending confirmation by YA Board)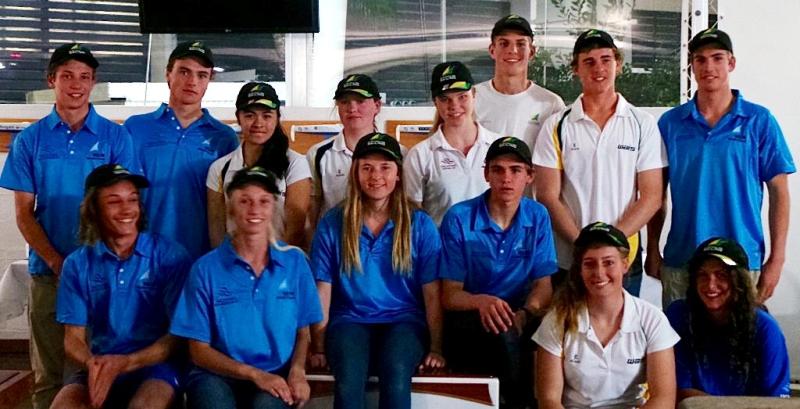 Boat Class Name State - Club
Laser Radial – Boys Alistair Young WA – FSC
Laser Radial – Girls Jacinta Ainsworth WA – FSC/SoPYC
420 – Male Alec Brodie/Xavier Winston-Smith NSW – MHYC
420 – Female Nia Jerwood/Lisa Smith WA – FSC/SoPYC
Techno 293 (Windsurfer) – Male Jock Calvert TAS – RYCT
Techno 293 (Windsurfer) – Female Emma Bailie QLD – RQYS
29er – Open Male Kurt Hansen/Jim Colley NSW – RPAYC/MH16SSC
29er – Open Female Amelia Stabback/Pia Doyle NSW – MH16SSC
Hobie 16 – Open Shaun Connor/Sophie Renouf NSW – RPAYC/PBSC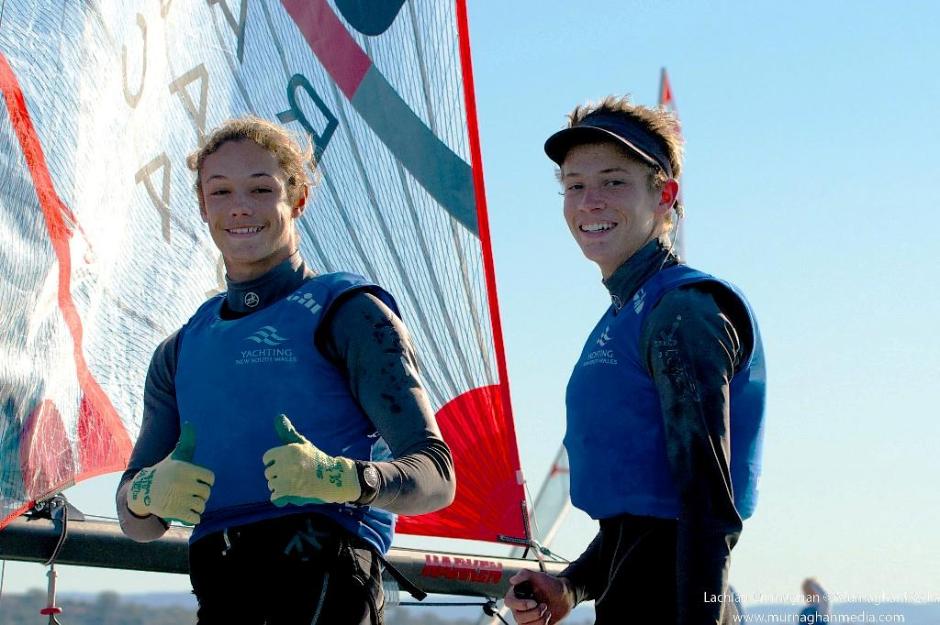 Kurt Hansen and Jim Colley
Report by Australian Sailing Team Communications, Photos © Lachlan Murnaghan, 2015 see: Murnaghan Media