June 7 - 13, 2015: Issue 217
Pittwater Artists Trail Winter Exhibition 2015 at Avalon Beach SLSC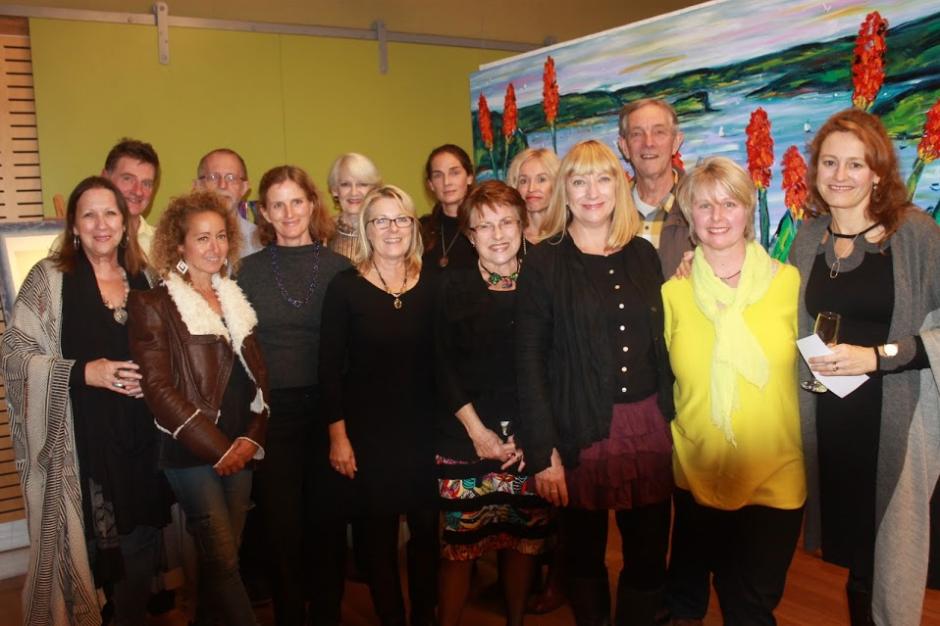 Artists present at the official opening
Pittwater Artists Trail Winter Exhibition 2015 at Avalon Beach Surf Life Saving Club
7th June 2015
The members of the Pittwater Artists Trail are currently running their Winter Exhibition at the wonderful new Avalon Beach Surf Club.
The show features the best of the year's work by Trail artists offering painting, ceramics, flamework glass, lithographs, jewellery, encaustic painting, sculpture, and ritual objects.

The 2015 members are quite a contemporary group bringing the show an appropriate synergy with the modern architecture of the building. Recently rebuilt, the club features a beautiful exhibition space neatly positioned between its bar and restaurant which all take advantage of the spectacular 180 degree ocean views.
The exhibition began at 10am on Saturday June 6th with the official opening at 5.30pm on Saturday night. Nibbles and drinks were served with live music from Chris Raggett, and an inspiring Address by Avalon Beach Surf Life Saving Club's architect Richard Cole.
Trail artists have donated work and goodies for a multi-prize raffle in support of the Surf Club and Pittwater Artists Trail.
All work exhibited is for sale. Entry throughout the show is free and will remain open today, Sunday, and Monday for the long weekend from 10 a.m. to 2 p.m.
Avalon Beach Historian, Artist and Surf Club member Geoff Searl welcomed guests and artists and introduced Richard Cole, with a few insights into one of Pittwater's and Australia's finest Architect:
Geoff:
I'd like to extend a warm welcome to you all and thank you for coming along tonight to this fantastic Exhibition, we hope you enjoy it immensely. We had a great crew on Friday helping set the whole up and had Elfriede overseeing the set-up and she did a great job – thank you very much Elfriede.

We have a few special welcomes – Lorrie Morgan, president of Pittwater Community Arts, who does a great job furthering arts in our community. Welcome also to Kylie Ferguson, Deputy- Mayor of Pittwater, and also Councillors Ian White and Kay Millar and Mark Ferguson General Manager of Pittwater Council – welcome and thank you for attending.

I was delighted to be asked by the Committee to be asked to introduce our Guest Speaker tonight who will open the Exhibition, and that I Richard Cole, the Architect of this amazing and very appropriate building.

Richard is well and truly an Avalon local, and has a busy professional Architectural Practice and an active Patrolling Member of Avalon Beach SLSC and an Age Manager for one of our junior Nippers Divisions. There's a great group of people you will see on the beach on Sunday's teaching these children and bringing them into the Senior Club.
Richard is also a Tutor in the Faculty of Architecture at the University of Sydney. Mr. Cole has achieved Regional and National Awards from the Timber Design Group, while his Angophora House was highly commended in the 2013 New South Wales Architecture Awards. You will find lots of his houses featured in the magazines
Belle
and
Domain
.
One of my favourites is a big country house,
Bluff Farm
, in the upper Hunter Valley which is a wonderful sight for a great client apparently.
This home has been chosen as one of 60 houses worldwide to be published in a book published by a Swiss Company called '
Masterpieces of Country House Architecture
', so we really have got quite an Architect on our hands.
Not content with Architecture, Richard also has an interest in fine furniture, not just using it but making it also.

I would like to give a big thank you to Chris Hopton, our eight year President of Avalon Beach SLSC, a fabulous president of the this Surf Club, for her help in making this facility available, and also to our administrator Leanne who has also facilitated the availability of the building.
I'd like now to introduce you to Richard Cole.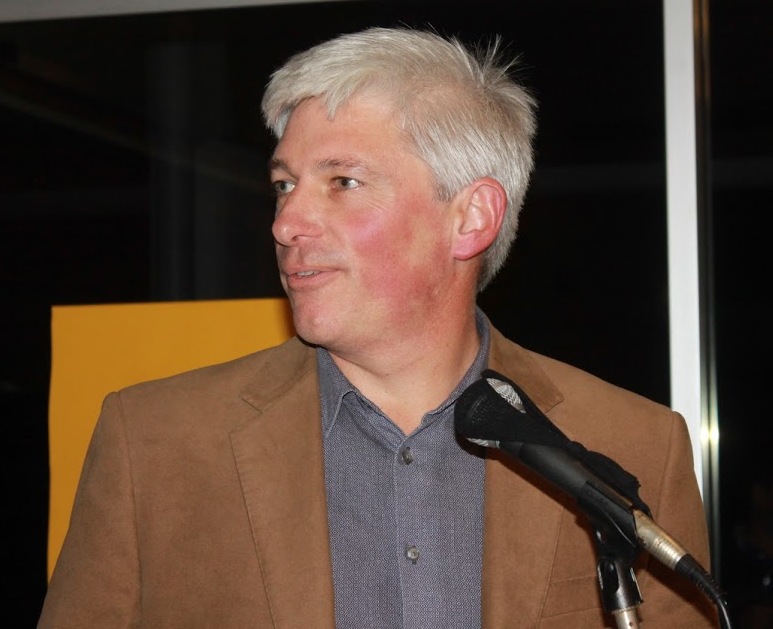 Richard Cole
We thank Mr. Cole for allowing us to share his inspirational Address:
Richard Cole:
Degas said "
Painting is easy when you don't know how, but very difficult when you do
." I think I know just enough about painting and art to know how difficult it is, and I have to say that it is a pleasure to walk around the room and see how many of these talented artists make it look easy.
Thank you to the Pittwater Artists and particularly Geoff Searl for asking me to open this event. It is a great honour, and it is particularly gratifying that this event is being held at the new surf club. From the very beginning of the design process, we were determined to make this more than just a surf club, and make it a place that engages, welcomes and is embraced by the community. Some surf clubs feel a bit exclusive, a bit members only. We did not want that to be the case here, and we hope that when the restaurant opens and functions and events like this are held, it will make this very much a community building. This is exactly the type of event that we hoped would be held at the club, so thank you to all the organisers and I hope it is a great success.
The works around us are a proof of a very healthy culture and the strong community in the Pittwater area. I love art, and believe it is a very important aspect of our cults. re. A community bereft of art is poor indeed. Art enriches us. As Picasso said, "
the purpose of art is to wash the dust of daily life off our souls
."
It strikes me looking around the room that when looked at as a whole, this exhibition could not be taking place anywhere else but Pittwater. Looking at the subjects of the works, and there is a diverse range, I believe there are some recurrent themes:
o The first is Landscape. Given that we live in one of the beautiful places in the world; it is not surprising that our artists look there for inspiration. From Coco Elders dissected bush landscapes, to Elfriede Bartnitzky's abstracted landforms, Julie Hickson's floral mad3 and Sylke Claridge's plein air impressions, the strong headland forms, embracing beaches and familiar bush of the Pittwater landscape is evident in many of these works.

o The second is Culture. From Vicki Radcliff's ocean bather inspired works to Diezel's optimistic pop paintings, aspects of our beach and village culture are strongly represented.

o The third is Environment. From Penel Bigg's sea inspired glass and jewellery to Geoff Searl's botanical sculptures, the importance and fragility of our environment is made obvious.
o The fourth is Craftsmanship. From Peter Cameron's delicate textured works Jill Ferrall's evocative encaustic painting and Katarina Wells sublime ceramic forms, a focus on technique and craftsmanship makes us marvel at their skill and enables a clear concept to be communicated.
Which brings us to Architecture. Architecture is a difficult art, but like the works around us it can embody and make evident themes such as Landscape, Culture, Environment and Craftsmanship.
o It is by necessity pragmatic and subject to the realities of budget, the vagaries of council development controls which at times appear to be written and enforced in order to suck the creativity from any project. Unlike the output of most artists who make their own works, it is produced by a team of builders who do not necessarily share the views and aspirations of the designer.
o The theme of the recent National Architecture Conference was 'risk'. By its nature any good work of art challenges the status quo, is innovative and embraces an element of risk. But what client, particularly a client like a local government wants risk, especially in something as expensive and necessarily practical as a building?
o The vast majority of buildings are not works of art, but I think the best buildings are transformative, and do enable the users of those buildings to experience an enhanced means of dwelling or being in the world. Like all the best works of art, they enable us to see things in a different light. They reveal.
We are very lucky in Pittwater to have some of the best architect's work in the country around us and a great architectural heritage. From Alexander Jolly, Walter Burley Griffin, Harry Seidler, Bruce Rickard, Glenn Murcutt and Peter Muller to Richard Le Plastrier and Peter Stutchbury, their buildings are all around us and together create an inspiring legacy.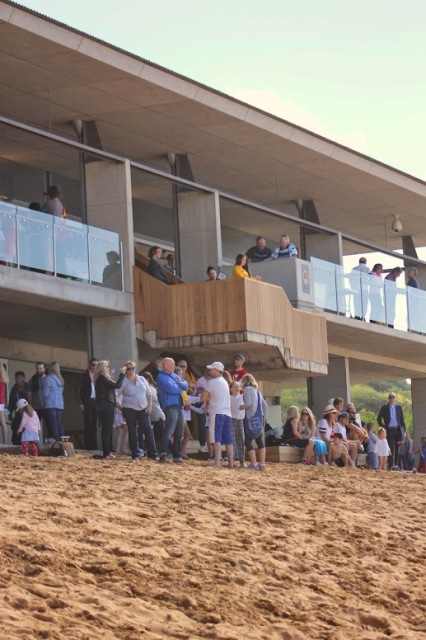 So what did we try and achieve with the design of the surf club?
The first structure to house the Avalon Surf Life Saving Clubhouse was built by Warringah Council in 1934. The second major renovation occurred in 1950, with the third and last major renovations in 1961. For the past decade it was literally falling down around our ears, and something had to be done.

Robert and Chris Hopton started the ball rolling and approached Pittwater Council with the idea of a new building, and I was fortuitous enough to be on Robert's surf patrol. The rebuilding of the surf club was initiated in 2006 and will be completed in a couple of weeks with the fitout of the restaurant. It has been a long and difficult road from there to here, with funding challenges, planning hurdles, political intervention, arson attacks, AVO's, incompetent builders, litigation, critiques by media personalities and a surf club to keep operating in the meantime. I can assure you I am looking forward to that first meal and glass of wine in the restaurant.

The design of the surf club was necessarily pragmatic. We had to work to the existing footprint and we had to store a lot of equipment. The structural setout followed the lateral walls of the old club. Money was very tight and we had to create a very robust building that would withstand both coastal processes and enthusiastic clubbies. The choice of materials was limited, but that can work for you. I think the themes that are evident in the works around us today were also important to the design of this building:

The first is the Response to Landscape
• We took the approach of trying to enhance and complement the landscape. Limited means necessitated a big poetic gesture creating a strong sense of place. The roof with its low pitched leading edge to the east and steeper pitch to the west echoes the dune that runs right along the beach. The big horizontal plane of the ceiling and eave reflects the plane of the ocean extending out towards the horizon. People often say that buildings should blend in with their environment. I don't necessarily agree.
Some of the best buildings throughout history and in a contemporary context make no attempt to disguise themselves or disappear into the natural setting. That doesn't mean they should stand out like a sore thumb. I think buildings should complement the landscape. An architect needs to analyse, understand and draw inspiration from the landscape, and produce a building that responds in an appropriate way.

• Achieving beauty and clarity is difficult but important. Like all the other artworks here, architects aspire to beauty in their works. The more buildings I design the more important are things like proportion, scale, composition, texture, line and materiality. With every building I try to use a limited palette of materials in order to establish a particular character. Like different people and places, every building has a different character, and it was important to create a character that suited this place and the people who used it.

The second theme is The Surf Club Culture

• Buildings don't exist in a vacuum, they are necessarily useful and exist within a cultural context. I love the culture of Pittwater and Avalon and the Surf Club in particular.
The fact that everyone here is a volunteer, and the person next to you could be a brickie or a CEO. It is a culture of striving for the best, yet no one is allowed to be a tall poppy. It's about learning new skills, keeping active, teaching kids, saving lives and having a beer together at the end of the day. What could be more Australian than that.
The building had to reflect these values and as I have mentioned, introduce a new public accessibility. So we introduced a new circulation through the building from the entrance to the beach, and used this space to both connect and separate the two main function spaces. This enabled us the flexibility to hold one huge function or two concurrent large functions.
The restaurant was also an important part of the project. Not only did it enable the capital funding of the building, it will provide important recurrent funding both to the club and the Council for the continued maintenance and upgrading of the Avalon Beach Reserve. Most importantly it will bring the general public up to this level, and through the club, so that any separation is broken down. In this way we hope this will truly be a public building.

The third theme is the Response to the environment. We kept all environmental systems low tech.
• A big sheltering canopy roof like a beach umbrella
• Cooling; there is no air conditioning – just these Big ass fans you see here
• Heating — infra red heaters that heat bodies not air.
• Timber screening was installed on the west facing wall to shield the western sun.
• LED lighting has been installed
• Cross ventilation and lots of insulation.
• Collect solar energy and recycle water to wash the surf equipment after use.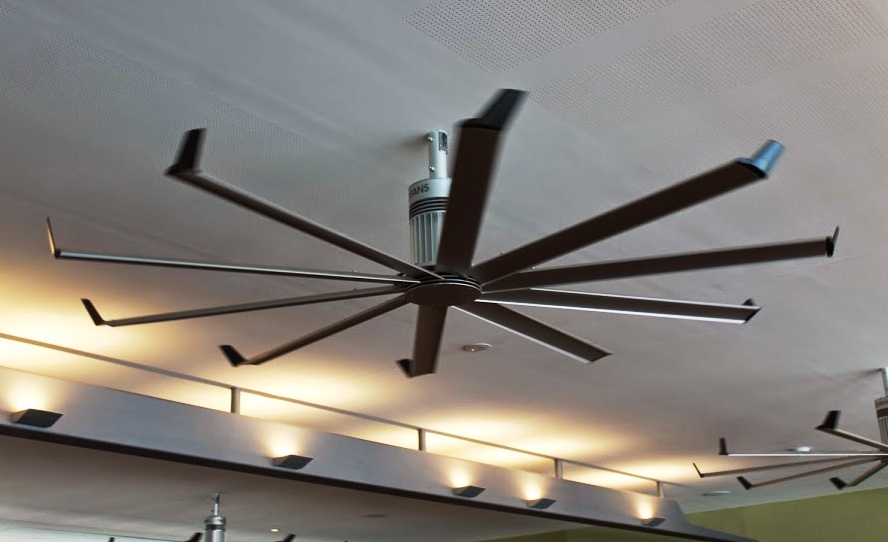 The fourth theme was Craftsmanship
• Unfortunately the builders we had were the worst in the world, so the quest for craftsmanship was a frustrating one, but we did find some tradies, such as the carpenters and steel fabricators who did embrace the project. It was a battle, but it is rare that when you are striving to achieve something worthwhile that you do not have to fight for it.
To conclude I would like to thank all of the artists who have contributed to this exhibition. Keep up the great work. Keep inspiring us and revealing those aspects of Pittwater that remain unseen.
It has been said that Art isn't art until it's sold, until then it's an obsession and a storage problem. So I'd encourage all of those who are not artists to take out your wallets and take home one of these great works.
Elfriede also asked me to encourage any interior designers or decorators who may be here that all of the artists are available for commissions and are ready and waiting to assist you with your next project. Thank you again for asking me to speak and it gives me great pleasure to declare this exhibition open.
______________________________
The 18 artists participating in the winter exhibition are:
Julie Hickson, Nada Herman, Diezel, Jill Ferrall, Peter Cameron, Elfriede Bartintsky Helen Mackay, Karen Pike, Coco Elder, Penel Bigg, Vicki Ratcliff, Wendy Grainger, Allen Goodman, Katarina Wells, Geoff Searl, Robyn Park, Sylke Claridge and Marian Purvis.
Website
www.pittwaterartiststrail.com.au
_______________________________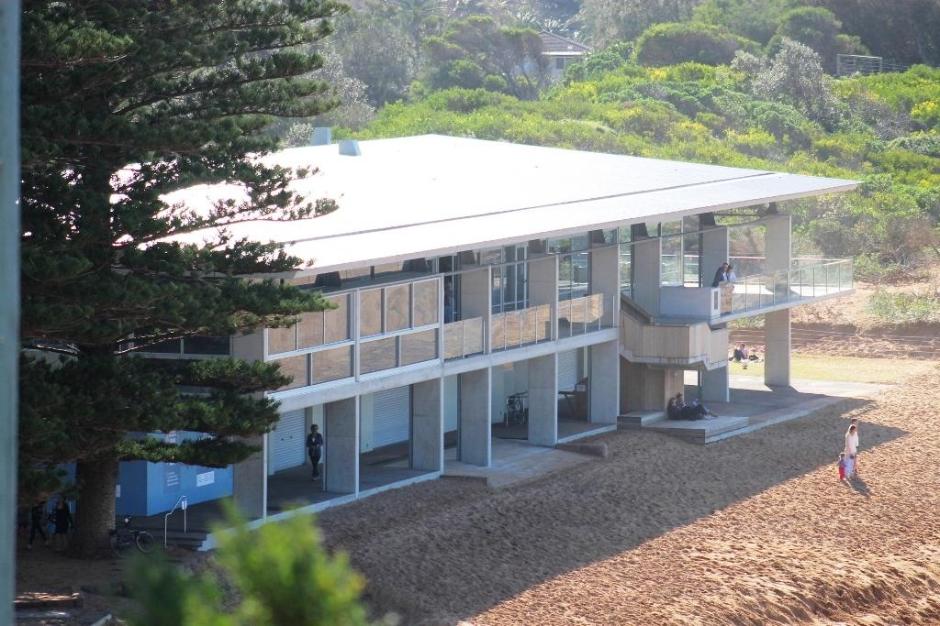 Avalon Beach SLSC Clubhouse - 6.6.2015 - A J Guesdon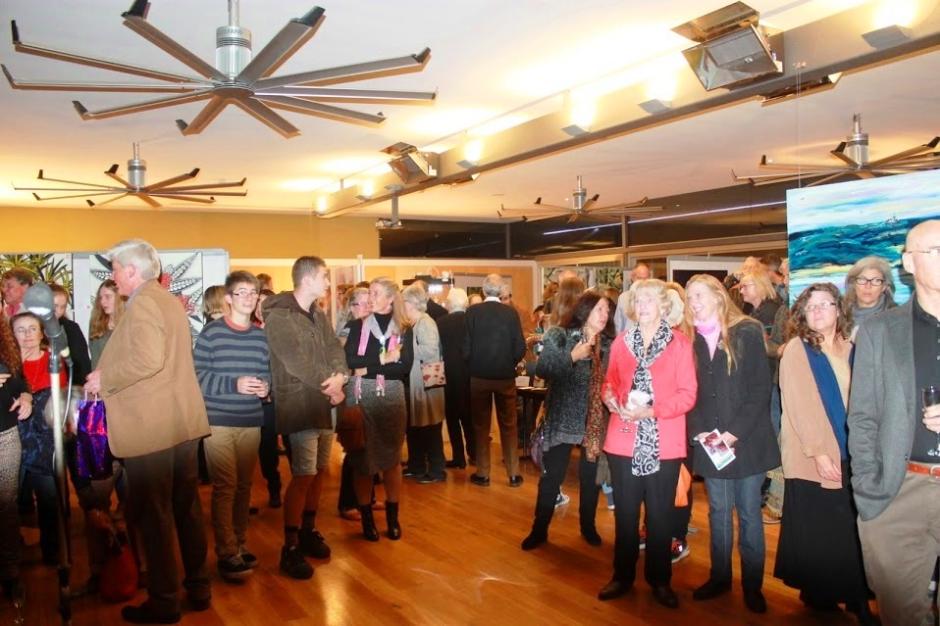 Pittwater Artists Trail Winter Exhibition 2015 - At Avalon Beach SLSC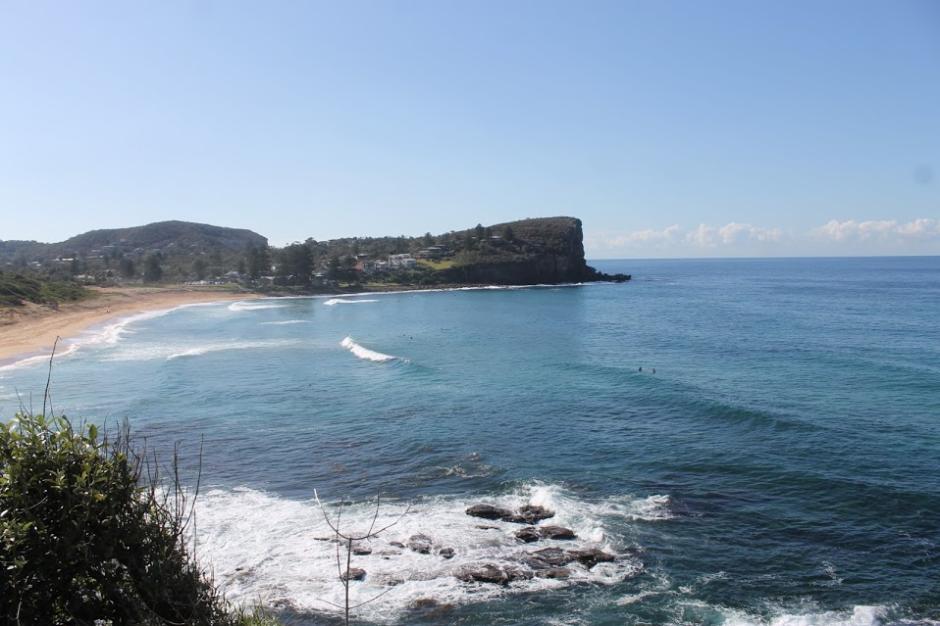 Pittwater Artists Trail Winter Exhibition Opening Address Copyright Richard Cole, 2015 - Pictures A J Guesdon.