October 21 -27, 2012: Issue 81
Paul Webb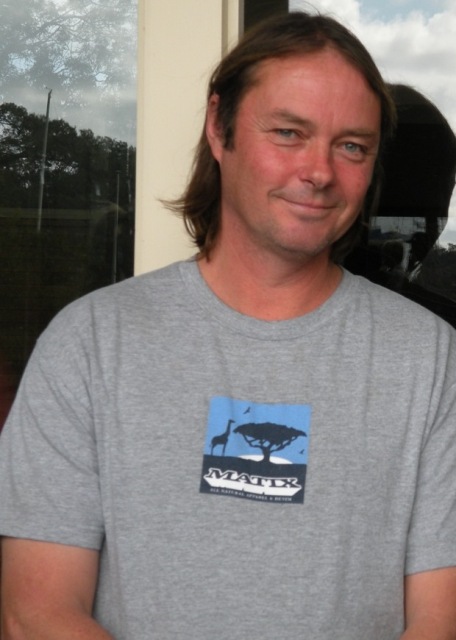 Paul Webb, local Bush Regenerator and Walks Guide wants to raise awareness of 'connecting to country'; of seeing our Bush and its attributes as a historical account of peoples, a supermarket of Native Foods and a feast of coastal knowledge, stunning views, old paths and the creatures who inhabit them.
Where were you born?
Cobar. I was at Cobar until I was about two, the Great Western Hotel. I tell my friends I was 'born in a pub'. Then we went to Bathurst, to another hotel. Then in a big lifestyle change, when I was about five or six we came here, to Darley Street in Mona Vale, right on the beach. We moved to Gladstone street at Newport when I was 10.
What was Newport and Mona Vale like then?
We lived right on the beach. I do remember the big massive storms that came through (1974) all the erosion to the back of the houses. Then they put all the big boulder to stop this.
Which school did you go to?
Mona Vale and then Pittwater High school. My son followed in the same footsteps.
What were your favourite subjects at school?
Biology and Science.
You've always had a great love of Nature?
Yes. I used to go bushwalking even then. My early days, at school, because a lot of my friends had parents with boats and tinnies, we were always over at Refuge Bay for the weeks of the school holidays. I've been banned from The Basin twice.
What for?
Just teenagers being teenagers; I met this guy years later, he was a removalist living in my street; he said: "You were that guy with all his friends that got banned causing chaos." We used to moor the boats off the Basin and one of my friends was an auto-electrician who had this kick-ass stereo with huge speakers. You can imagine, due to the hills all around us, how loud that was. Now, in later years, I just shake my head at how we were.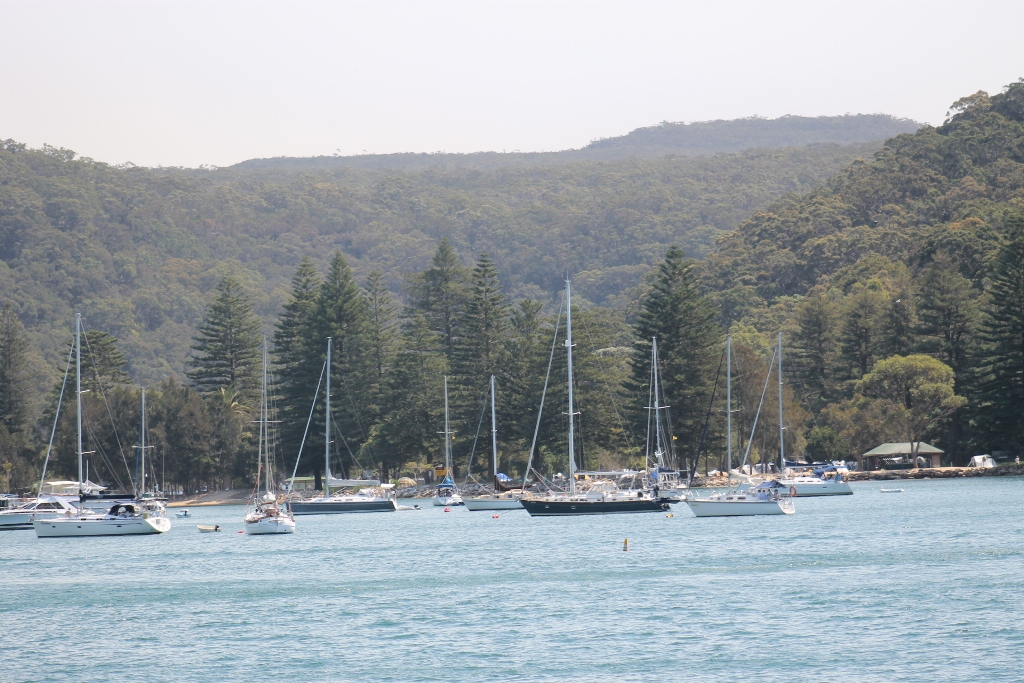 The Basin October 2012
Where was your favourite place to go then?
Refuge Bay; because it's so pristine. It hasn't been wrecked. It reminds me of how it must have been pre-European settlement.
What did you do after finishing school?
Partied a lot and then when I was 19 hitched around Australia. I ended up meeting these two girls the same age and had their parents four wheel drive and their dogs. I hung with them and then we went in different directions and I met up again with them just after the dirt track from Cairns to Cooktown had gone through. This wrecked the rainforest. Then I took to the road across to the Northern Territory.
What was memorable about that experience?
Flinders Ranges was pretty cool. I ended up on a 350 square kilometre sheep property up in the hills with this couple and stayed there for a couple of months working, helping out on the farm in exchange for board and food. They had a little aeroplane to fly and see where the sheep were and check out how the farm was doing.
There was a ghost town called Blinman with an old pub, it was an old mining town. I stayed there over New Year's as it was close by the station and met the handful of locals.
I came home saved more money then went to Western Australia, to a place called 'Red Bluff' which is about two hours north of Carnarvon, which is right on the coast. I was surfing and fishing there in 1985 for six or eight weeks. I went back in 1987 with my son's mum. We spent five months there; the Bluff is an isolated place. You had to go back into town to get water and food. It was a paradise, lots of fish.
I came back to Sydney and started doing a Bachelor of Ecology at Sydney University.
You started a Nursery?
Yes. Berkana Nursery; it means 'fertility, growth and new beginnings', from a Rune. I'm not into runes but had a little book a friend gave me and was starting it up and trying to find a name and this came up. This was in Warriewood and it was Native tube-stock. Sally Fisher in Powderworks road had the first one (Native Plants Nursery); she was a pretty good inspiration. She moved to the Hunter Valley I think. Total Earth Care had a nursery there as well. I helped them a bit.
My knowledge stemmed solely from a couple of little books I had at this stage; these told you how to collect and how to germinate. Most of it was trial and error. You had to learn through actually doing it.
In 2002 the bulldozers moved into Warriewood. I was renting the land and place, which I shared with a friend. He grew palms, lavender etc. He and his wife moved back to Tassie and so I had a lot of land I was looking after. It was the end of an era in a way as well; I didn't want to be surrounded by houses. I did contemplate moving up the hill where everyone else was going who was losing their place in the valley (to Powderworks and Ingleside) but the land up there, the people knew that this was the case. So the rents were huge all of a sudden.
I learned a lot of Bush Tucker and uses of plants while gathering it. You don't stay on the tracks when you're doing this. You're off the tracks in total bush.
Did you have anyone helping you, teaching you?
No, people were pretty cagey then. I remember one of the commercial nurseries up at Terrey Hills; I was asking them how to grow Themeda (Kangaroo Grass) plants and they wouldn't share the knowledge. They were trying to keep it their niche market. I did work out how to do it, which is kind of cool; you don't cover them over. You just lay the seeds on the surface. When you water them they have this long tail and they burrow themselves in.
When was the first time you really noticed your affinity with the plant world and the natural landscape?
I don't really know; I just really felt I had to do this, study this. I didn't finish my degree as my son was born the same year and I had to become a provider. I went from full-time to part-time to external and it still wasn't enough to pay the bills and do the study at the same time. So I was short on my degree. Not long after that, as I was doing gardening and landscaping to support us, I got into the Bush Regeneration. This would have been 1992-1993.
Were you doing a course to support that?
No. This friend of mine was doing it and I didn't realise you could get paid for working in the bush. As soon as I found that out I was 'Yeah!' (that's for me).
I was working for Total Earth Care then; everyone who has done Bush Regeneration around here has worked for them at some stage. They were one of the founding Bush Regeneration companies; as were Sydney Bush Regeneration.
So you have seen Bush Regeneration grow from a founding Industry to a thriving industry. To you, what has the notion and practice of Bush Regeneration brought to everyone?
I'm a bit disillusioned with the whole concept at present. I feel it's just a token gesture with too much red tape strangling actual work getting done or that work done is badly planned and done to 'make things look good'. As an example; up at McKay Reserve we were told to weed the lantana etc. alongside the road, an edge where it may be seen. The brief would be to do a five metre strip from the edge. But past that edge there's another ten metres or fifteen metres of rubbish going down the hill into pure bush.
The essence of Bush Regeneration practice is you work from the good to the bad; you weed from where the bush is still pristine, or close to its natural state, back towards the areas where there are weed infestations. What seemed to be happening was we were weeding where it could be seen; to make it 'appear something is being done' this didn't touch the band of bush between that point and where the bush is pristine again, leaving various infestations between to once again grow over and up to the verge we'd cleared. The mindset seems to have shifted, particularly with weeds such as lantana, to try and 'maintain or try to control' rather then eradicate.
Do you think we are going to save our bush through Programs such as these?
No. It needs to be a bit more on the priority list for everyone, not just Bush Regenerators or Volunteers. If you attend a Bush Regeneration morning in a place you find it's the same crew turning up over and over and no one else, the same people looking after the whole place.
How would you get people enthusiastic about turning up to help?
It's a pretty hard call. People get bitten by ticks, plants can be spiky, you get hot, scratched. People may show up and then they go 'Phaw!'; it helps if they're going to get paid.
Do you think people are unaware how beautiful the natural Australian landscape is?
I think people are scared a bit of the bush. As soon as we got off the ships we started cutting everything down, clearing space around ourselves. This is how my walking tours idea came about; to share knowledge of the bush. Also being able to point out it's not just greenery; it was home for thousands of years to our indigenous people who had an awesome lifestyle by all reports. In the Summer months work was a couple of hours a day and the rest was sharing stories and enjoying where you are. I think, along with the Bush Regeneration too, if you can show people what it's about then they'll maybe have some appreciation and maybe want to look after it better.
So what drew you into Bush Regeneration?
I was trying to make a difference. I'd do a job and at the end of the day I knew I'd done something, invested something towards the long-term state of our Bush.
Unfortunately, on many sites, it's not the Companies employed but the high ups, playing with the funding. On some sites that we'd been working on for years, literally, all of a sudden they say there's no money anymore. In some places you realise that's it, it's not going to be sustainable where in other places it can get to a point where you only need to spend a day a month if that to maintain them. It's upsetting when you realise all those years work may be for nothing, that it will not be maintained.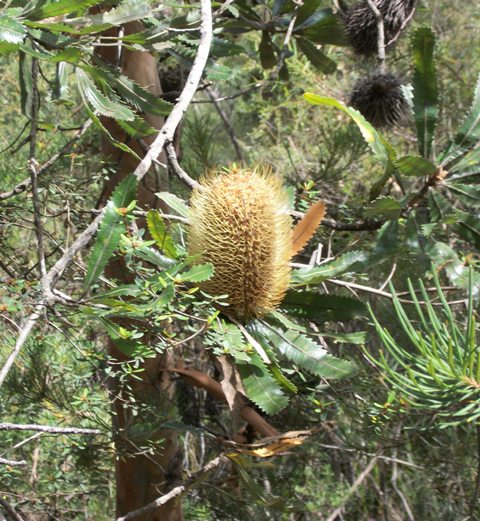 There's also an attitude that believes people want to use Parks and Gardens, not Bush Reserves so money is directed to maintaining these rather then protecting what we've got. Most people are unaware of how money is allocated and how hard it is to get grants through. The essence of Pittwater is our beautiful bush. To lose this would be a tragedy.
What are your favourite plants?
Eucalypts; peppermint gums, simply because they have a real bush essence; their smell. And I like the Old Man Banksias, the serratas; perhaps because my son likes them.
You have progressed in your Bushcare and people are now asking you to come along on walks and tours. Do you see that as a future direction for you?
Yes.
What is your role on these walks?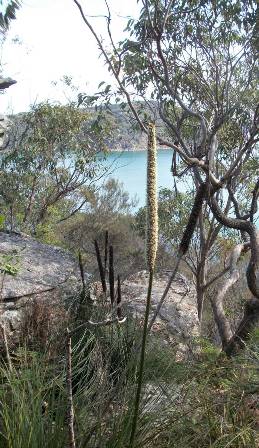 I work as a guide. This began in 2006 working with the Walking Volunteers, whose members I met at Palm Beach.
The idea is to immerse people into the bush, to take them back to the aboriginal times. You look at the different plants, such as the grass tree, and their uses. With the grass tree you had the resin and also the flower, and spikes that were used for spears.
The last one I did was only for two hours and focused on a particular part of the bush so there's only a certain amount that you can share. I try to communicate that the bush, in essence, if you were to live here as it was then, even with the settlers, the different places you go to, is like a supermarket. For example; you don't go to the meat aisle to get your dishwashing stuff.
There's one I'd like to do, and perhaps call it the 'Avalon Food Loop'; basically you've got wetlands here, or along the coast, there's different food in different places.
'Connect to Country' as a basis for these tours was my initial idea; this may be a bit misleading as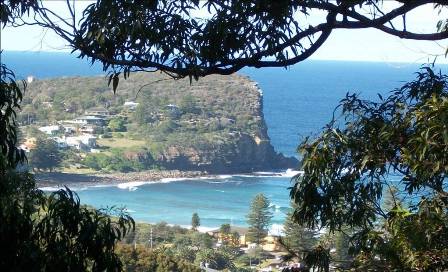 people think 'this isn't country, it's coastal'; but then I could include past, present and future in people, plants and animals. It wouldn't be just bush tours; how European people started off in Pittwater is just awesome; there were convicts escaping to here, the hard life here; people starved for the first few years.
The first contact with blackfellas was here, six weeks into being here, when Governor Phillip came up here and he and his boat crew met an old man and young boy near Resolute Beach. And Careel Bay, just here, he pulled up on the beach here on a separate voyage and there were two women and children collecting shells just here; I think it was near Dark Gully.
Dark Gully is one of the Bush Regeneration sites; it has that permanent water flow that comes from up in McKay Reserve. It's always flowing. There's a cave up in McKay where there's aboriginal paintings.
What would your Bush Tours incorporate then?
Swimming, walking on the beaches, gourmet lunches…past, present and future aspects of the Pittwater environments. I was thinking the other day about the Coastal ones and how much of these would be luck and timing. I was having a coffee up on South Avalon headland, which I call my office, and there was fifty plus dolphins and they weren't just meandering around; they were fully jumping out of the waves and just behind them this whale was doing the big leap (breach) up. Just imagine if people were on a tour with me then; they'd always remember that, never forget it.
Which is your favourite Bush Regeneration site out of all those you've worked on?
Warriewood Escarpment. And Barrenjoey Headland; that was awesome fun, all the cliffs, it's beautiful. Most of the crew didn't like it; some found it formidable with the big cliffs and big swell coming right onto them. Myself and one of the other girls had a great time working there.
What is your favourite place in Pittwater and why?
Top of Ingleside. Because it's a place I came across years ago with my mates and myself, back in the silly days. I remember later on, when I was going to Uni, I'd go there as my 'time out' place. It's off the road and up into the bush; there's this huge rock platform that's like a turtle's back and it's pure bush all around you. It's really a nice place; you can see up to Pittwater. There's an aboriginal axe grinding groove there. It just has a very good vibe there.
I think it was used a lot. If you look on a map you realise people would have had to move from A to B on foot; from what I've read the elderly and the young didn't go across the water, they had to walk, and this, it's bound by McCarr's creek and huge gorges; it's the way I reckon people would have gone in traditional days from A to B.
We used to call it 'Moon Hill' as when my mates and I were up there it always seemed to be a full moon. I'm going up there today. There's a great track there through awesome bush that leads down to the Duck Ponds.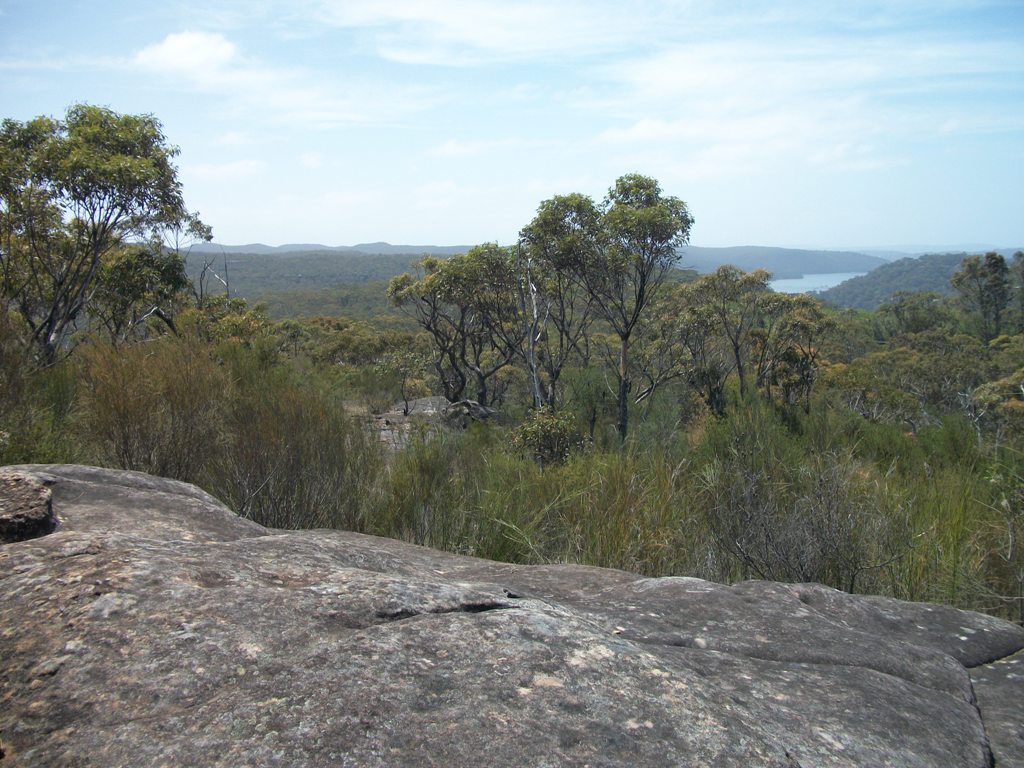 Paul's Favourite place, photo by Paul Webb
What is your 'motto for life' or a favourite phrase you try to live by?
Tread lightly on your journey through life; this stems from my environmental interests. Or 'man didn't create the web of life, we're just a part of it' and in that, what we do the web we do to ourselves.
Copyright Paul Webb, 2012. Photograph of Paul Webb by Lesley Stevens, 2012. All Rights Reserved.