February 28 - March 5, 2016: Issue 253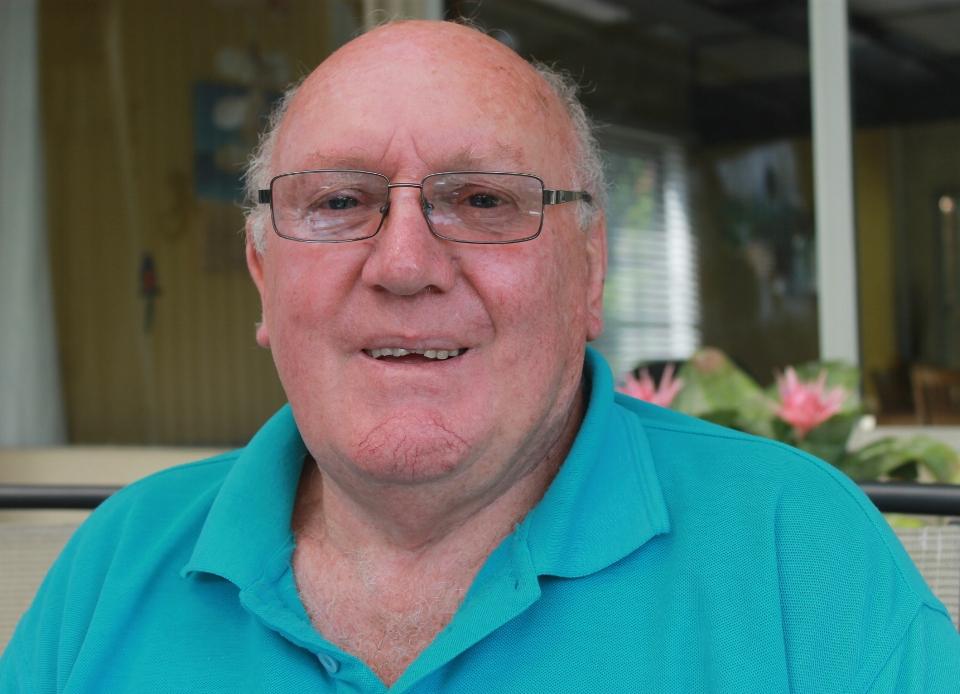 In December 2015 Paul Collins, 'PC' to his mates, was awarded the first ever Avalon Bulldogs Life Membership with Honours. The nomination was put forward by Brian Friend OAM, a gentleman who has witnessed decades of Paul's dedication to the Avalon Bulldogs Junior Rugby League Football Club.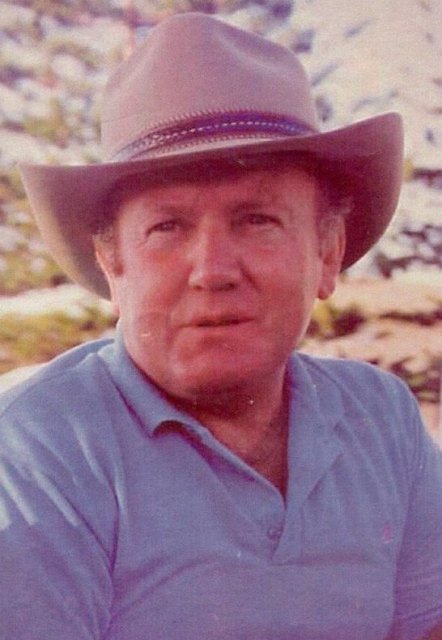 Paul has put over 40 years into this club, and was a player prior to then. During these decades he has been the volunteer who took on the duties of Secretary from 1977 to 1985. He also held the position of President from 1986 to 1989. He was also the Avalon JRLFC Delegate at Manly JRLFC meetings for several years when Tom Gilbert was President.
Right: Paul Collins, President No.6 at Avalon - Picture courtesy Brian Friend
Paul also accepted the roll as Club Registrar, a position held from 1995 to 2010. He has carried out the duties as Senior Vice President from 2008 until 2015. At the present moment, Paul is the Grounds Manager (2012-2015) looking after and marking Hitchcock Park.
Paul was made Life Member in 1984 and Club Person of the Year in 1982. He was also presented with 'Volunteer of the Year' for the Avalon Club by the Men of League in 2013.
Avalon JRLFC has a great culture which it continues to foster through Touch Footy during the warmer months and maintaining ties with the Sea Eagles, whose players regularly attend at least one training session for junior members throughout the season, giving the youngsters an opportunity to meet and be further inspired by their heroes.
Avalon is holding two Come and Try Clinics during the next fortnight, one on Wednesday 2nd and another on Wednesday 9th of March (4pm to 5pm – ages 5 to 15 years).
Next Saturday, March 5th, Avalon are part of the so called 'inter-code rivalry' match between themselves and Newport's rugby union team, the Breakers. This will be a Hybrid Match raising dollars for the Starlight Foundation, at Rat Park, with tickets for adults a mere $5.00.
This week we share a small insight into what's inside one of Pittwater's quiet community legends who clearly has a lifelong commitment to footy and what it can do for those from knee high through to those who turn into giants themselves.
As Mr. Collins has often told parents, supports and members of Avalon JRLFC, 'we're not here for personal gain, we're here for the kids'.
Where and when were you born?
I was born in Drummoyne in 1943. We moved to Collaroy Plateau when I was 3 and I moved to Avalon when I was 22, just after getting married.
What changes did you see in Collaroy while growing up there?
Big changes in Collaroy Plateau. The roads were nearly all dirt, there was no kerb and guttering or footpaths. The Salvation Army owned most of the property in that area. My parents sold their house and bought a block of land from the Salvos in Suffolk Avenue.
I went to primary school at Narrabeen, at St. Joseph's, and then to high school at Christian Brothers in Manly, which is now St Paul's. It was great, a good school.
In those days we had Cadets at school and would go to Singleton every year. We would sleep six to a tent on a palliasse, which is a bed made from straw.
How did you meet Maureen?
We met through Catholic Youth Organisation (CYO) Football at Narrabeen. I was a member of that after going to work. I was coached by a fellow who lived in Avalon, Dick Cafe and met Maureen through that.
Maureen: I fell in love with his car before him.
What sort of car was it?
An FJ Holden, a 1956 model. I used to take Maureen and most of her girlfriends as you pile everyone in the car without getting fines. Because it was CYO we'd go over most of Sydney for football matches.
After every football game we'd come back to someone's house and have a barbecue and that's how we got to meet.
What year did you move to Avalon?
Maureen: I moved here first with mum and dad in 1964, two years before we were married in 1966, we actually have 50 years coming up this year, in April. This is our second house in Avalon.
Paul: our first home was in Burrawong road.
Maureen: There were already a lot of homes here then, but not the big elaborate homes of today, they were little places.
Paul: we bought a home for five and a half thousand pounds, which was still a fair amount of money then.
Maureen: we were fortunate to move straight into our house, we did have a big mortgage but didn't have to pay rent.
When did you begin being part of local football again?
Once we were married I didn't carry on with that and the team disbanded in any case. Everyone was getting married and having children at that stage and had other priorities.
I liked football, always had. When our eldest son came along he started with the Bulldogs at age four.
Maureen: which was only five years after we were married.
Paul: at that stage we were just being parents, turning up and cheering him on.
When Tommy Gilbert went in as President I went in as Secretary and was Secretary for 14 years. I then took on the role of President for five years, I've been Registrar at the club for six years. I used to do a chook raffle at Avalon RSL on a Friday night for 14 years.
So you recall Hitchcock Park when it was still used as a tip?
Yes, with Mary Gibson, and seeing those changes and the development of the fields. I used to go down and help Mary Gibson and in return could take anything I wanted. I would take children's toys and fix them all, I even got a complete set of brand new tyres once that someone had thrown out.
What was the first clubhouse like?
The first clubhouse wasn't really a clubhouse, it was a canteen in an existing toilet block near the car park, it's still there now but the face of it has been changed. Originally a wall went along and there was a door. There was a narrow room off this and that was our canteen.
From there we went to a tent and from a tent to a caravan with a tent canteen, which we'd set up every Saturday. We'd go to Teddy Allen, the local fisherman, to get ice as we didn't have refrigeration and would ice all the drinks down with that. I'd go to work and then come back in the afternoon and pull the tent down; if it had been raining I'd try and dry it out at home so it wouldn't rot.
We then extended the toilet block at the car park, extending it out, adding the awning which you can still see now, and the roller shutter, which then became the canteen.
We then decided to build the clubhouse.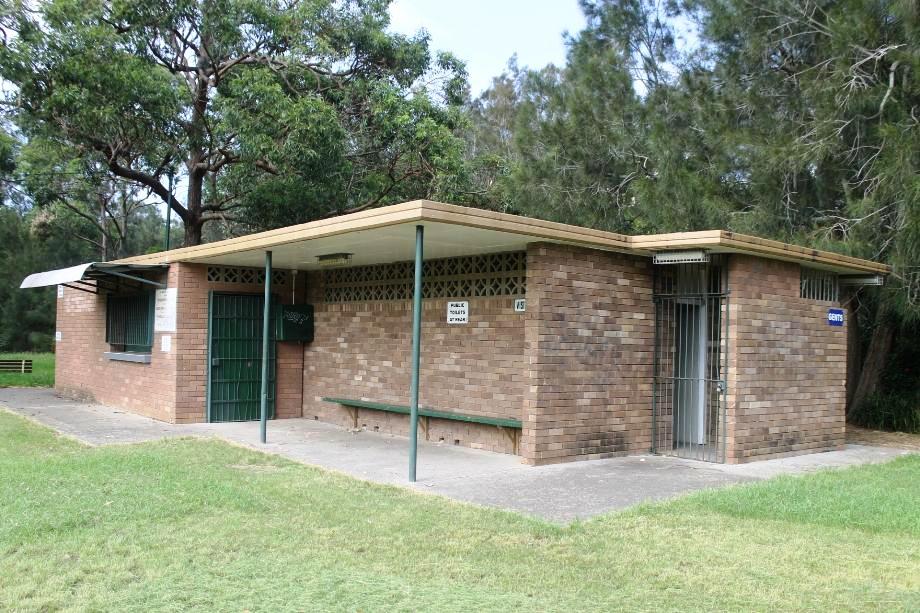 Did Council help you with the clubhouse?
To a point. In around 2004 we started out with 70 thousand dollars. Before we could begin to build the clubhouse we had to do a lot of work. The first thing was to move the cricket nets, which were near the toilet block originally, they were moved from that side of the field to the other side of the field. The club had to pay for all of that. We had to dig up the cricket pitch was in the middle of the field and pay to reinstall it when it needed to be used during the Summer season.
We got a government grant and Council also contributed towards this too. We had a lot of materials and other support donated to us, such as all the gyprock for the ceilings.
Who did the building?
The members. It took two years every Saturday – the main person behind this was our President at that time, Brian Iliffe, Shane Dunn had a builder's licence to ensure it was all done as it should be and could be signed off correctly.
This local builder, Shane, did a lot of the negotiating between Council for us before it got off the ground.
For two years the members would come down and build and sit down late Saturday afternoon and have a beer afterwards. Brian Iliffe would go over to the cake shop at Careel Bay and he'd buy pies and sausage rolls to keep us going. It was all done by members, every brick, and it was only a handful; of members that did this.
Did you have an opening party once done?
Oh yes, we had an official opening, the Mayor of Pittwater at that time, Patricia Giles, came down and a couple of state MP's attended as well. That was 10 or 12 years ago now.
You're still down there now too though?
Yes, I'm still involved. At present I'm a Life Member, an with Honours Life Member, which has only just started. I'm a handyman there, do some setting up prior and after games, I mow all the lines and mark those, with help of course.
I'm in helping with the Touch Football, which is Summer, and in Winter too, which is the football season.
I do all the trophies at the end of each season, I've been doing these for 22 years.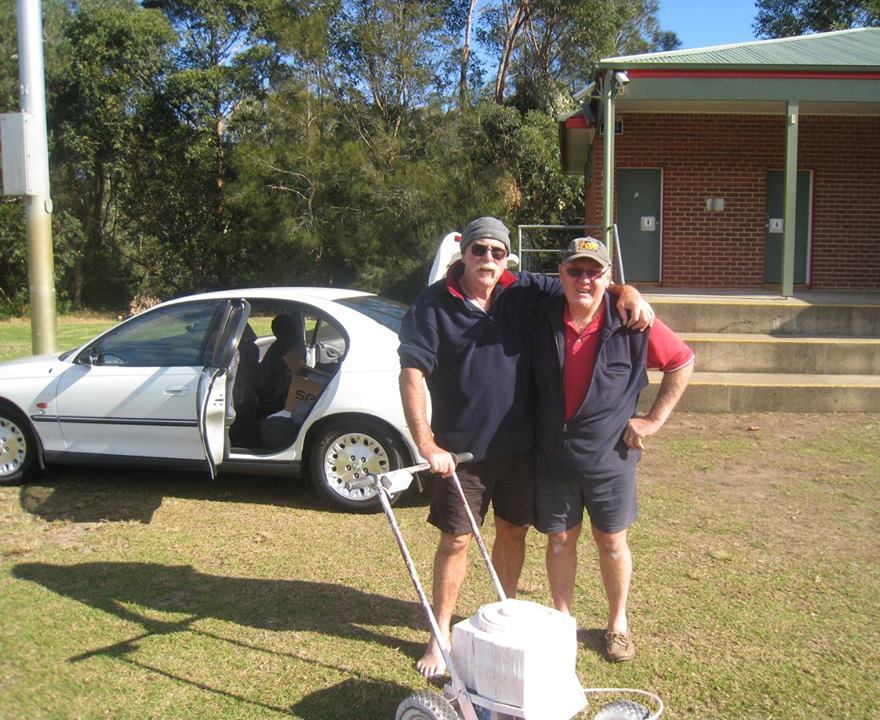 'Line Marking Kings': Brian Friend and Paul Collins - December 2015
Trophies Man
What, in your experience, are the best attributes of having a local football club – what does it give the community, what does it give the members?
The enjoyment, the enjoyment of meeting people and seeing what the kids get out of it. What I say to everybody is 'we're not here for personal gain, we're here for the kids'. At the end of the day that's our main focus, to look after the children. The club really brings the community together as well.
If there's a sadness in the club, such as there was last year when we lost one of our members, the club rallies together as one, which is something that's still on going now. You care about each other, do your best to look after each other.
The club can also support other things that occur in or for the community, or even be where they start from. An example of this would be the Undie 500 – this was where a group of people got together and called themselves the 'Undies' and put on the Undie 500. This was a run from the clubhouse to Bilgola Surf Club.
What, in their undies?
Sort of. It was more Superman style, with the undies over their shorts. This was to raise money for Prostate Cancer Research. They only did it the one year because they had to get permission from the Police to cross the main road at Kamikaze Corner and organise for that to occur.
Over a period of time there have been a few events to raise funds for others – Sunnyfield has been one we've helped.
There seems to be something every season, some big match or event where the club is raising funds for worthwhile organisations.
The Hybrid Match is coming up next weekend, and that's for the Starlight Foundation.
We also have a lot of support from local businesses in what we do as well, particularly the Johnson Brothers – Mitre 10.
They've done a phenomenal amount for the club, and other local clubs and groups too for that matter. Haven't they also supplied the Bulldogs with a team or two through the generations as well, just from the one family?
Yes, but from two families. Maureen, my wife, is a Johnson.
Maureen: yes, I'm the sister.
Paul: there are two brothers and two sisters.
So, how many Johnsons have actually played for the Bulldogs, including the Collins children?
Maureen: I don't think anyone has done a whole tally.
Paul: well, there's Bobby's boys; four of those played…
Maureen: John's boys, I think all six played from there…
Paul: then Robert's boys, they all played
Maureen: some of them are playing now
Paul: Robert's got five boys
Maureen; ours, we had our two boys in – there could be one or two more. So around 20 by that count to those generations. Now there's the grandchildren too. Our grandchildren are coming of age, our youngest grandchild starts this year under Friendly. He's turning five this year.
Paul: Both of our boys went right through from Under 6's to A Grade.
What have been the changes you have seen in the club – the jerseys, the skill levels, the game itself?
There have been a few changes. Last year a fellow, Gaven Sheehan, came in who had played A Grade Rugby League at a top level. He started as a coach but also as a coaching coordinator, which he does of a Tuesday with the Under 12's on to the A Grade. He does a skills clinic with them which I think has really boosted the club.
Last year we had all the seniors team get through to the Finals and many won their Grand Final and I think a lot of that can be attributed back to him. So that is a definite change.
The jerseys have gone from being very ordinary and very thick to these latest t-shirt variations. We've had about five or six changes through the years, they've all been the red and green, but the styles have changed. The red and green colour goes back many many years. Ever since I've been a part of the club, which is 40 odd years, it's been red and green.
The soccer is red and green, the surf club is red and green, the school is red and green.
What do you hope to achieve this Season?
(Laughs) That we can beat Newport Breakers in the Hybrid Game!
How do you understand that game?
It's alright, the players know what's going on. They enjoyed it, had a great time at the first one, both teams. You can read the rules at:hybridrugby.com/rules-of-hybrid-rugby
And for the rest of the Season?
Well, hopefully all the teams do well again this year. You do find in a lot of clubs that do extremely well in one year that it falls away the following year, so hopefully this doesn't happen with the Bulldogs.
This year will also be their 5th or 6th year that the Under 15's go to New Zealand, that's a great trip for them. They have a cultural side to this which is great too, they go over there and get to see how the Maori people live and learn about their customs.
Last year the Under 17's went to Samoa, which was an eye opener for the boys. We saw some of the photos where the boys there are going to church neatly groomed and in their white shirts, so I think those kinds of trips are great for them, to experience how other people live.
For a child who is 5 years old, who hasn't tried rugby before, might be a bit shy, not a real sports orientated youngster – what does it give them?
Well, if they're shy it will help bring them out of their shell. If they're a youngster who doesn't really mix with other kids, maybe shy or a bit hesitant it will give them that opportunity to meet other kids and get a bit of confidence doing something. This is where a really great coach comes in. If they're with someone like Friendly for instance, where he builds them, he gets round them and sticks with them, he brings them out.
Some friends of ours, the son went because dad wanted him to go but he was very standoffish to begin with. At the end of the day he got a trophy for being one of the best players in his team and by season end, he's got mates he didn't have before, often they're all mates for life.
Friendly bonds them, they're all equal – that one's not better than that one, 'you're all the same', they all congregate together around him. A lot of the kids we have now, even a couple of the players in A Grade, began with Friendly in Under 6's, so they've gone right through, are playing in A Grade but are also now coaching, which is a wonderful thing.
It all starts at the bottom though, and progresses through from there.
The parents play a huge part in it all too. For them it also serves as a get together while their children are being coached of an afternoon, so this too is good for them as individuals and great for the community.
One thing we did bring in 20 years ago, for the youngest members, is that every child gets a trophy. We do this because prior to then there was only 6 trophies given per team and some kids, as long as they played football, they would never ever win a trophy.
Ray Connolly, who was out President at the time, had contacts with trophy people and could get a good deal, we're still with the people we started with actually, after 20 years.
The A Grade and Under 19's and Under 17's don't want a trophy for every player, but for the younger members, the coaches want their efforts over the season to be acknowledged.
What does it give a teenager?
I think it gives them an outlet, a place where they can do something else for a while and also obviously gives them fitness, mateship and like any sport, an experience of discipline, of what you can do to bolster yourself by following through – by turning up, by working as a team member, by giving yourself an opportunity to do this – that's a discipline.
We also find we can stamp on things that aren't part of what we do, that shouldn't be part of anywhere a kid is at – this bullying that can go on at school for instance. To be honest with you we had a bit of that popping up in a couple of teams the last few years and this was nipped in the bud – it's inappropriate, particularly when you're all part of one team in the first place, unacceptable as a way to conduct yourself anywhere at anytime, and needs to be sorted out if it is happening. Once you nip it in the bud it sorts itself out – we read the riot act to them, our President was particularly strong on this. The first incident we had three Life Members, Brain Friend, Dick Harris and myself, who got the whole team in and sat down with the President, the parents weren't allowed in the meeting, they had to wait outside while we talked with them. We then let the parents in and told them what we'd done and we didn't have any problems from that point on.
We had a problem the following year with another couple of teams, they were promptly pulled up and told they'd be out of the club and it ceased – there will be no mucking about with that kind of thing and the kids know it, it's not part of the culture and unacceptable within the club and hopefully that carries through to outside of it.
They need to remember they're one whole tribe, one generation, whichever generation or year they're part of – hopefully they realise that a little bit and that they could instead support each other, celebrate each other, lift each other up – just because you're not the biggest or loudest doesn't mean you're not making a sound worth hearing, part of what is.
That's what they need to remember, and this is how it works in football too – one or two people can't win a game, it takes everyone, the whole team – it takes all the players on that team to win a game.
Eventually they grow to where they've done all grades and will leave the club – what skills for life do you think they may leave with?
I think they leave with mateship, and keep that. I think they have good skills in fitness, in thinking – if you have a very good coach, at the end of the day you can be very good, unbeknownst to yourself how this has happened, but it has.
Obviously, as you go through life, skills like that and what comes from them are embedded and can be applied to anything else. It's not just physical fitness, it's mental resilience, the knowing they can work out a problem or deal with it in the way they choose. Mostly I think they gain mateship though, this is what sticks out, having a mate.
My boys, married now and with children of their own, they can still catch up with their mates from when they were in A Grade.
It has given you mates for life too Paul – Tom Gilbert, Friendly, you gentlemen have been a backbone for that club for decades…
Yes, we've been mates for a while now. When Tommy Gilbert took over the Presidency the club wasn't travelling too well – the guys who were there had been there a long time and put in many years of work and I think they'd had enough. Tom brought a new lease of life into the club. We used to go to Lake Munmorah caravan park for around 8 years and took all the kids…
What are you shaking your head about Maureen?
Maureen: there was a lot of work involved in these trips away. They were great fun, great for the kids and the families, but a lot of work organising the food and the sites.
Paul: everybody enjoyed it though. The players went for free, each family had their own cabin up there and when they walked into the cabin there was milk and cereal, toast and jam and vegemite, all those provisions – so it was a lot of work, but worth it.
The kids used to have a great time; there were tennis courts, canoeing, a swimming pool a great big barn we could organise games in.
Friendly organised the four-wheel drive club for the men, the fathers and such, and we'd go up to Catherine Hill Bay where we'd go into one of the old coal pits and do a four-wheel drive course. They'd give us a Certificate at the end of that at a presentation at the pub with the ladies having a champagne afternoon.
So there were a lot of social sides to the club as well.
We may not be the biggest club in the junior league but I think the way the club is run deserves some recognition – the junior league through Brian Friend is one of the best starts for youngsters and the club itself, through Michael Birtwhistle, current President, and his wife Donna, have brought the club along in leaps and bounds, they've done an amazing job and put in so much work.
Everybody puts their hand up to come along and help – even those that don't attend meetings will be there of a weekend on canteen duty or working on the barbecue or behind the drinks counter.
What are your favourite places in Pittwater and why?
In Pittwater – the Pittwater, because I love it.
There used to be a boat place at Collaroy called 'Mr. Boats' – I was there 19 years.
Hold on a moment – you were in boats?
I'm a bookbinder and guillotine operator by trade, the fourth generation in a family business. My dad unfortunately passed away at a very young age, 49, and three years after that my mum said she'd had enough and I said I had too and had been offered another job, she told me to take it.
It was Walden's Marine then so I started with them. They sold out to a fellow called Peter Jenkins, I was with him for 9 years, and then two other people took it over after that.
So once I'd sold someone a boat I used to take them out for a run on it and make sure it was working well for them. I'd sit there and drink beer and have nibblies, it was terrible work.
I used to deliver the boats too, took a 25 foot boat to Batemans Bay for a guy that lived at Canberra. I delivered another to Port Welshpool in Victoria, took it down on a trailer, put it in the water, he was from King Island and then he island hopped it back.
The deal was that we had to deliver the boat to Port Welshpool, which took me three days there and back.
Did you go out on the boats Maureen?
Maureen: On Pittwater, yes. I loved the boats – we'd go up the Hawkesbury, as far as Wiseman's Ferry. We'd go all around Brisbane Water and all around here too. It's a beautiful waterway we have, you can't get any better than around here.
Paul: we were very fortunate that the company I worked for was associated with Allmarine at Mona Vale, he had a 40 foot cruiser. His family grew up and didn't go out on the water anymore, so he said to myself and our manager, 'I want you to use the boat as much as you can because it's not good for it just sitting there'. This was a beautiful boat, had everything you needed on board and we loved getting out on the water.
We'd go over to Towler's Bay places like that. The Basin during the week when there's not too many people there is beautiful. Maureen and I love Lovett Bay. We'd go over there when this guy called Michael and his sons owned the slipway there and anchor off one of his moorings and dive off the back there. Beautiful.
We've had friends form interstate here and they just love it, love getting out on the water here.
Even now when we go down to Clareville along Hudson parade, you look out and it's just beautiful. All up along West Head, and look back down the estuary or over to Barrenjoey, it's just a beautiful place, you never take it for granted. And it's deep water. If you go up to the Gold Coast or places like that, the waterways are so narrow and full of sandbars.
Here, it doesn't matter where you go, it's deep water, right up the Hawkesbury. You can dive in and have a swim. It's easily one of the most beautiful waterways in the world to go out on.
What is your 'motto for life' or a favourite phrase you try to live by?
Live for today for tomorrow may never come.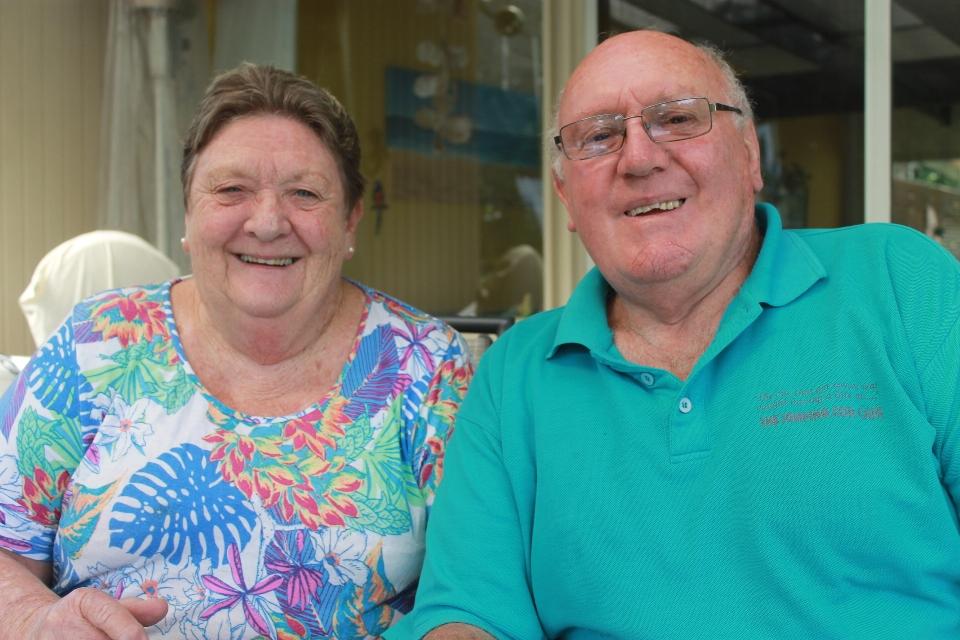 Maureen and Paul Collins.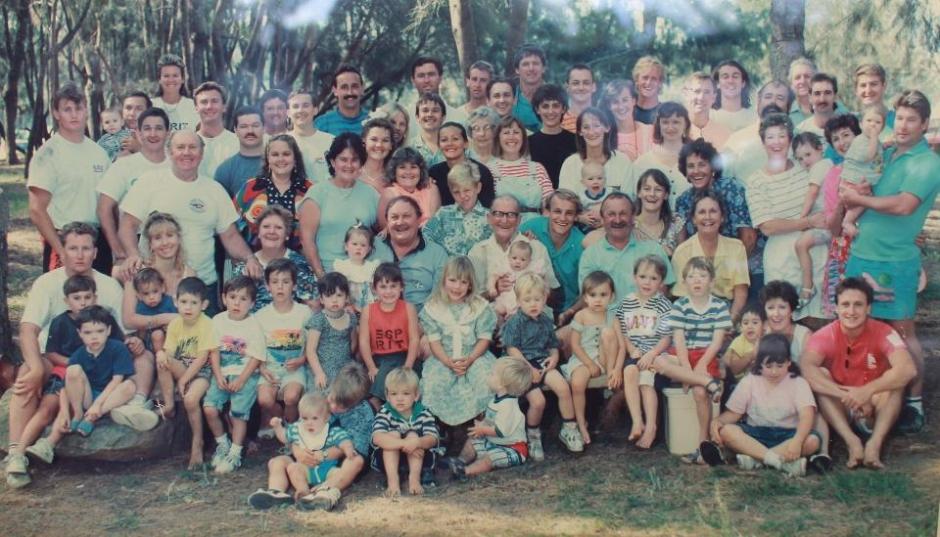 A Johnson Family Gathering - circa 2000
Copyright Paul Collins, 2016.