December 6 - 12, 2015: Issue 243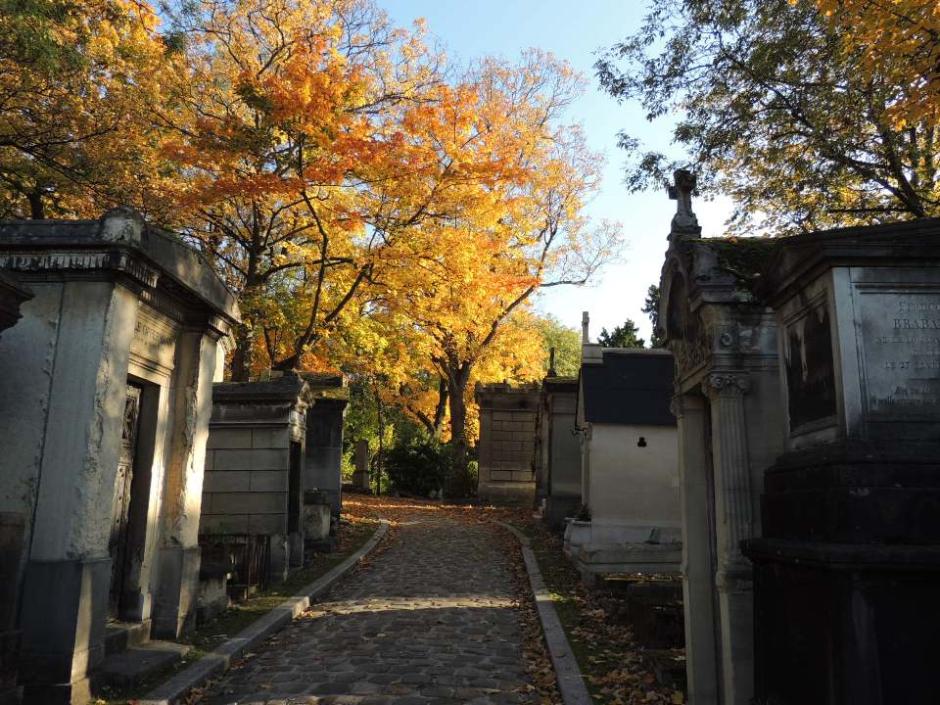 Autumn leaves on pathways between crypts
Paris Interred
by Robyn McWilliam
Glorification of the dead is a major pastime in Paris. Writers, artists and musicians who have given this city its seductive soul live on in the minds of many.
Autumn leaves zigzag to the grass as I wait in the two-hour long queue. Tiny sparrows skitter for food. A wedge-shaped apartment building opposite with its steely slate roof displays rows of chimney pots. Bands of wrought-iron balconies wrap the building like a gift. Pink and red geraniums add colour. The park and Parisian architecture is a pleasant distraction.
Descent into the Catacombs is via a stone spiral staircase. Only 200 people at a time are allowed in this mile-long underground walk. Here the skeletons of six million former inhabitants are on display. The ossuary resulted from a decree in 1785. Bones from 150 monastery, convent and church graveyards continued to arrive until 1859.
These byways deep beneath the city have been cut from the same Lutetian limestone used in the building of Notre Dame Cathedral. Places on this walk are dank and dripping with stalactite pimples. Several sculptures appear before the artistic arrangements of bones begin.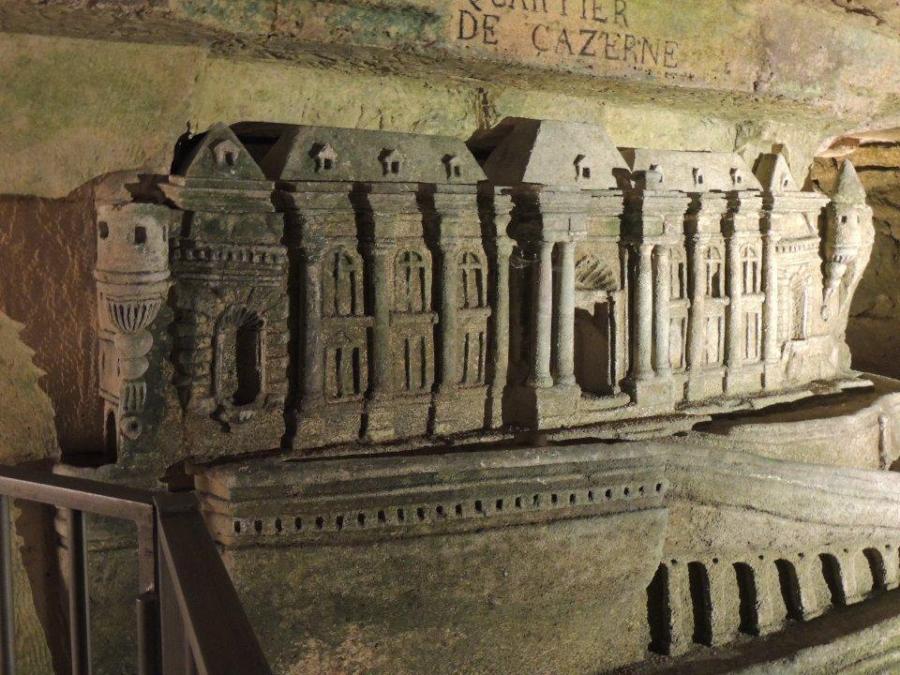 Sculptured limestone in the Catacombs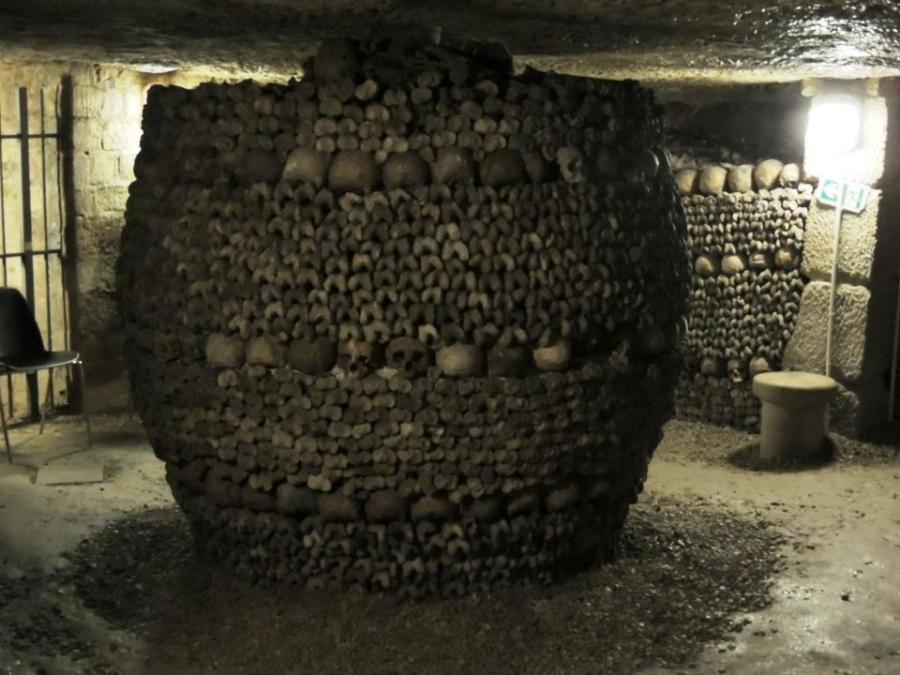 Barrel of bones
Femurs are stacked 1.5 metres high interspersed with rows of curved craniums. Occasionally skulls face outward, eerie empty eye sockets seem to peer. A heart shape or a barrel of bones, show off the stackers' flair. In one section, movement has created an outward surge, almost a glacier of bones. Viewing the Catacombs is not recommended for the squeamish or those with heart ailments.
New cemeteries such as Père Lachaise, Passy and Montparnasse are less gruesome for visiting the dead. At Père Lachaise the resting places are brighter and offer more creativity. Stone angels and polished granite adorned with floral tributes abound. Fallen leaves, from yellow to rust, soften one's tread on the cobblestones.
A wall encloses this city of 70,000 dead. Rick Steves' Paris 2015 guide provides a map and directions to help locate celebrities. Oscar Wile, the Irish dramatist, died in Paris in 1900. His sculpted edifice is now surrounded by glass to deter lipsticked kisses. Known for her intellectually stimulating dinners held for the likes of Picasso and Hemingway, American writer, Gertrude Stein, lies beneath a plain granitic slab marking her passing in 1946.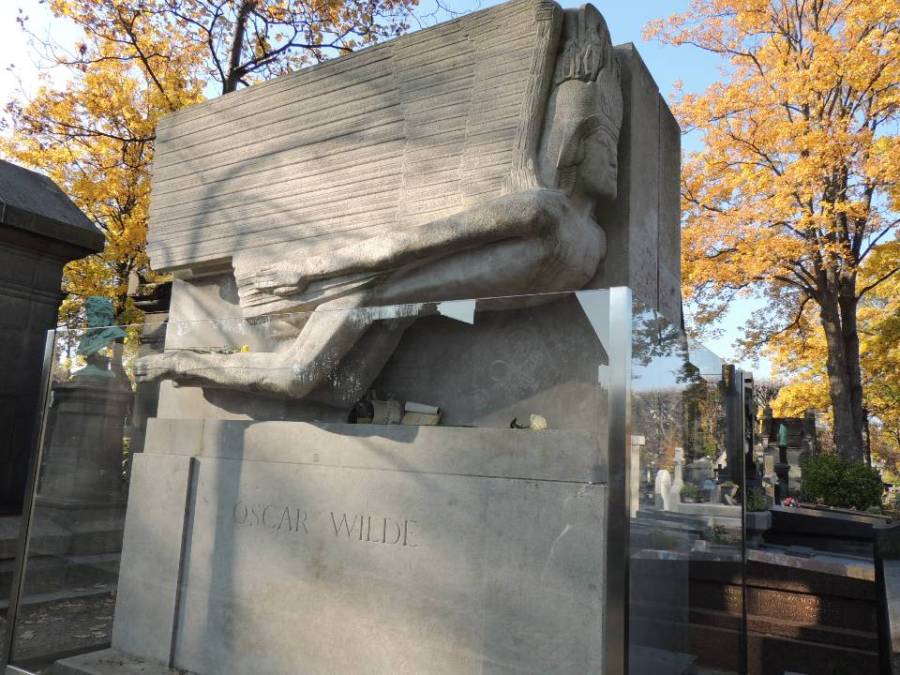 Oscar Wilde's grave
Edith Piaf, a child of Parisian streets, departed in 1963. Her song 'La Vie en Rose' captured post war joy. Frédéric Chopin's grave is a plethora of pot plants and red roses. A carved relief of his profile gives some sense of this Polish pianist who came to Paris at 21 and played at private parties for the elite. His music connects souls across centuries. Sadly, he died young and broken hearted in 1849 two years after his tempestuous relationship with novelist, George Sand ended.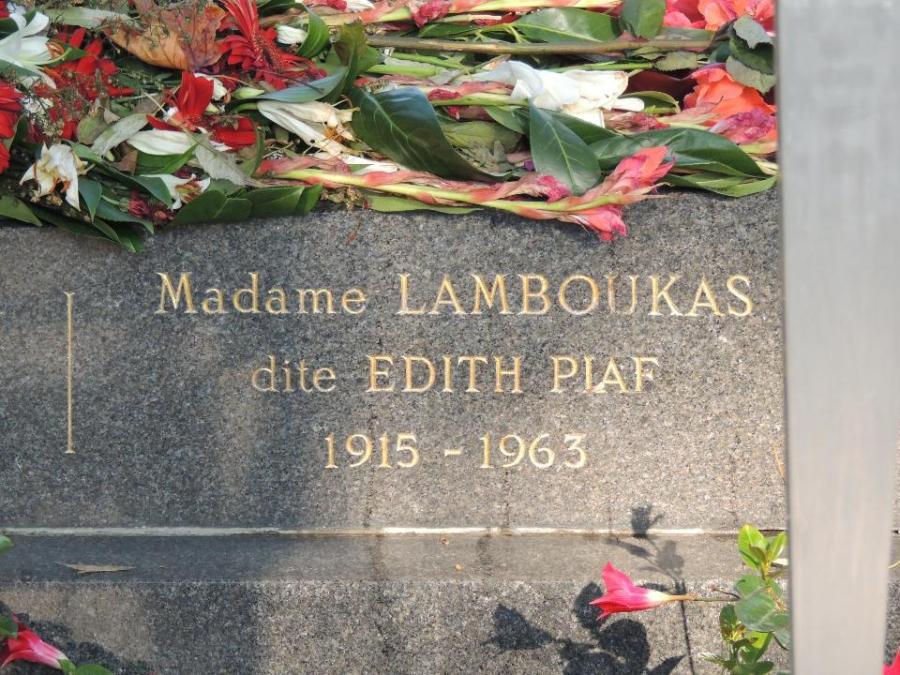 Edith Piaf's grave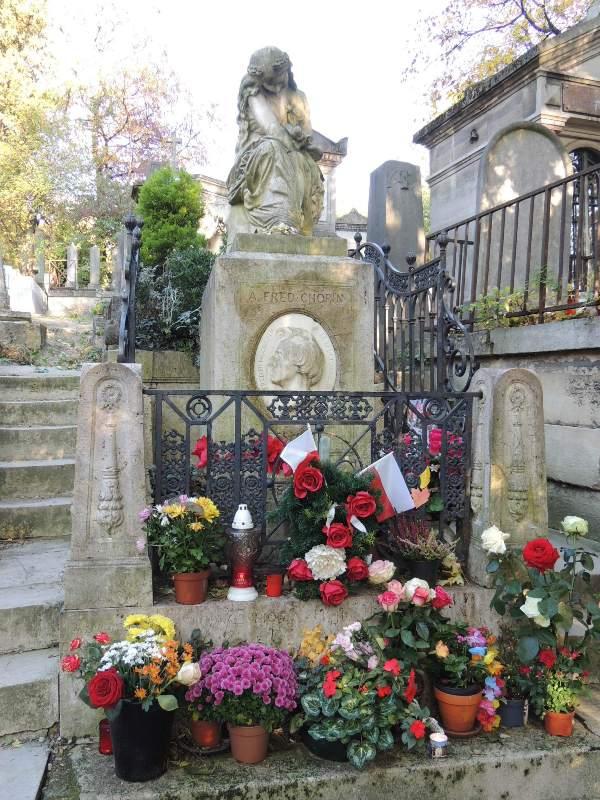 Frédéric Chopin's grave
The most visited grave in Père Lachaise is that of Jim Morrison, the American lead singer of the rock band The Doors. Messages from fans are written on bamboo sticks tied to a nearby tree. Born in 1943, his early death in 1971 is still a mystery. He'd come to Paris to get serious as a writer.
Paris' most prestigious cemetery also houses two famous French writers, Honoré de Balzac and Marcel Proust. But if you're finding this walking among the dead too lugubrious you can move on to where famous artists, writers and musicians resided while above ground.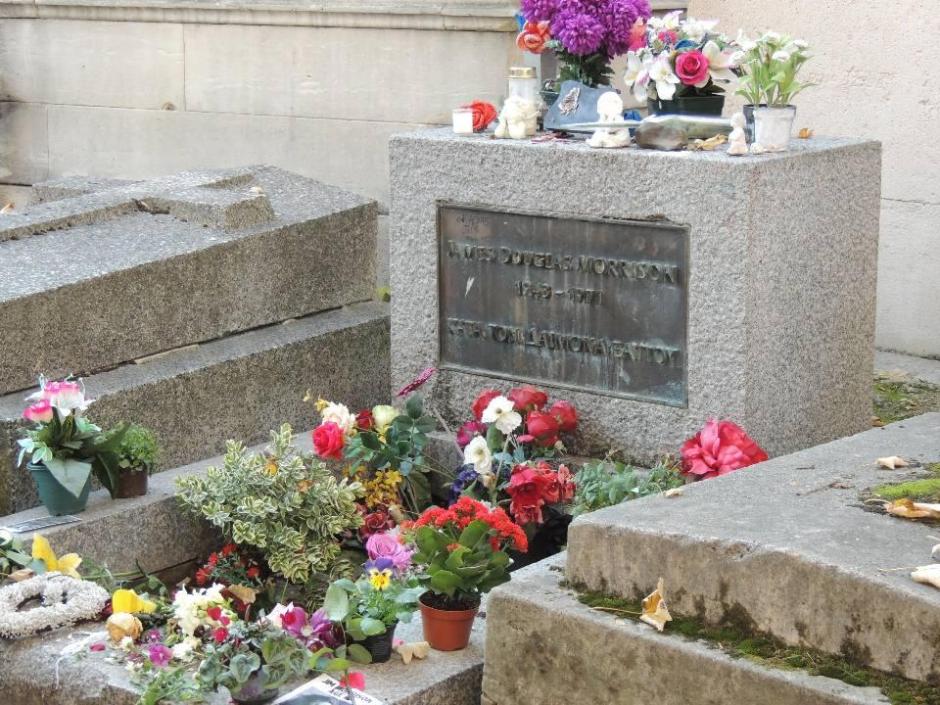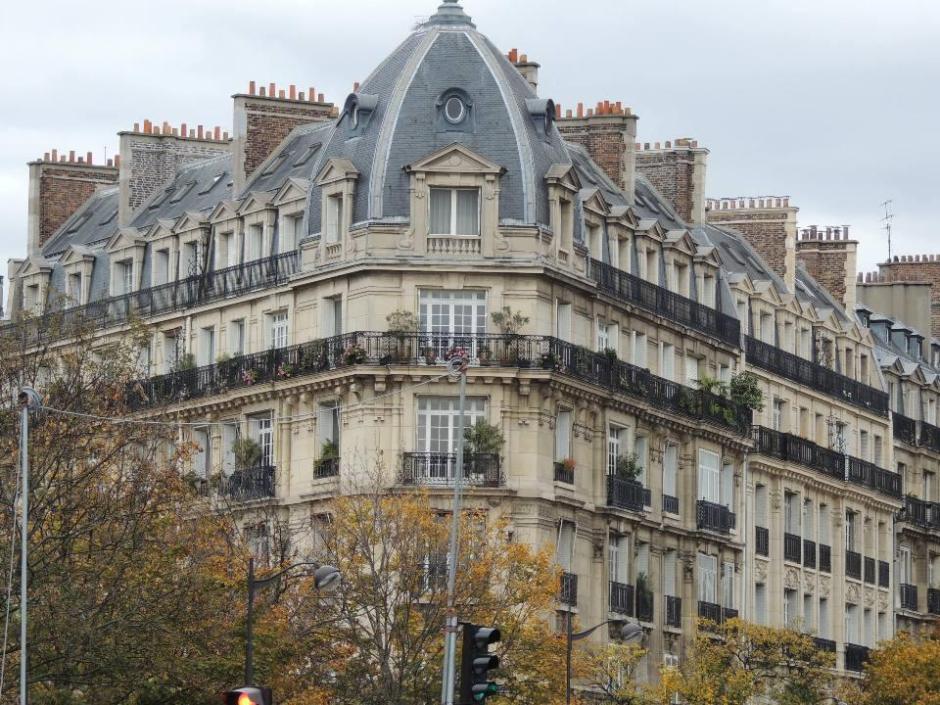 Wedge-shaped apartment building
Article and Photographs by Robyn McWilliam, 2015