May 22 - 28 2016: Issue 264
Palm Beach SLSC Out of Season Outward Bound Australia Pursuit of Mount Tennent Elevations
In Outward Bound Australia's 60th Anniversary Year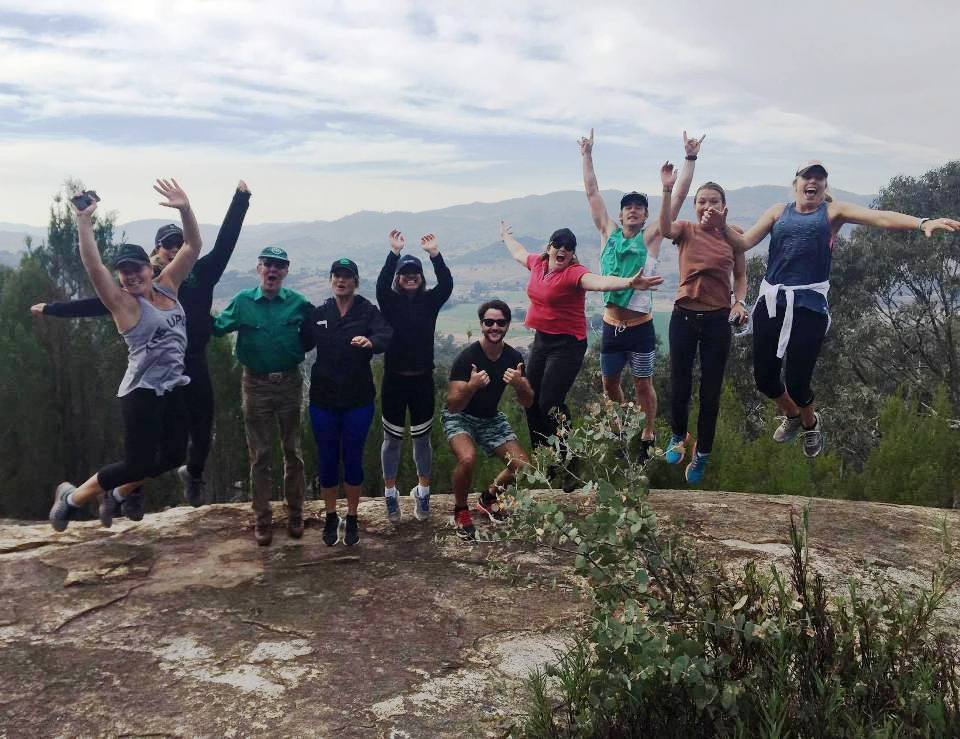 Palm Beach SLSC Out of Season Outward Bound Australia Pursuit of Mount Tennent Elevations
During Outward Bound Australia's 60th Anniversary Year
It is said that the teams that play together stay together – bonding over chocolate and champagne is good, a nice movie, a meal out together, a concert, a show, a weekend fishing trip of yarning over a campfire and taking it easy are all going to create good vibes and good memories, boost team spirit and promote caring about each other, something that is good for the health of an individual, good for the community and everything in a community.
There are other ways to make things better too, make you a much nicer and happier you, as sometimes the best way to grow together is to choose to do just that - grow together!
Although the Patrol season has finished Palm Beach SLSC members are still striving, still having fun and still finding better ways to do for others and with others.
President of Palm Beach SLSC Kate MacDonald messaged via Facebook yesterday, Saturday May 21st, 2016:
"About to set off on our trek up Mount Tennent (ACT)with Outward Bound Australia." with a 'before' hike photo.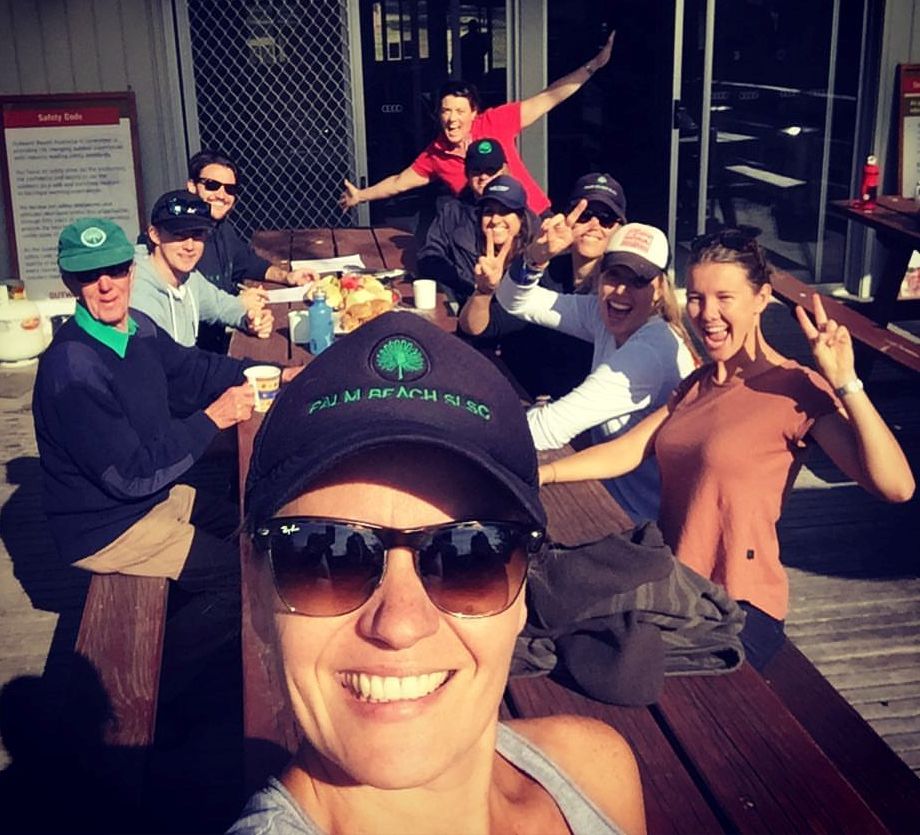 The 'Before' picture
Palm Beach SLSC members with Palmy Life Member Ian Curlewis, who has been involved Outward Bound Australia from 1960 to today were doing 'a little walk'.
Mount Tennent is a mountain with an elevation of 1,375 metres (4,511 ft) AHD  in the southern part of the Australian Capital Territory. The Gudgenby River flows at the base of the mountain. It is named after a local bushranger, John Tennant who had a hideout on the slopes of the mountain in 1827. Previously called Mount Currie by Allan Cunningham after Captain Mark Currie, who led the first European expedition nearby (Fraser and McJannett) in 1823, Indigenous Australians refer to the mountain as Tharwa, also the name of the village at the northern foot of the mountain.
A few hours later Kate messaged "#Summit!" and sent us through these wonderful pictures of Palmy Members atop the Mountain with that great view in the background. Ian, at 86, is smiling and jumping too as he enjoys his 56th year of sharing what this great organisation is all about.
In 1956 Ian's father (Sir) Adrian Curlewis helped establish Outward Bound in Australia with retired Australian Rear Admiral, Admiral Buchanan.
"Outward Bound" is the nautical term employed to describe a ship leaving the safety of its harbor to head for the open seas. The current program to instill life values, fitness and leadership skills began in Scotland with Kurt Hahn, an exile from Hitler's Germany. Kurt Hahn 'found that people who were put in challenging, adventurous outdoor situations gained confidence, redefined their own perceptions of their personal possibilities, demonstrated compassion, and developed a spirit of camaraderie with their peers.' (Dr. Tony Richards, The Genesis of Outward Bound 2004).
As a Board Member for many years, Chairman 1988 to 1994, Foundation Life Member and Trustee and Foundation Member of Young Endeavour Youth Scheme 1988 – 1994, Ian Curlewis has supported and promoted Outward Bound Australia and all it gives to those who participate in its Programs and projects.
"There is more in us than we know. If we can be made to see it, we will be unwilling to settle for less." Kurt Hahn
Outward Bound Australia is an independent not-for-profit educational organisation that helps people discover, develop and achieve their potential.
There are programs for Schools, Youth, Corporate, Community and Adults. Outward Bound Australia can deliver the "Adventurous Journey" component of the Bronze, Silver and Gold Duke of Edinburgh's International Award – Australia.
Whether you're a school looking to outsource your Duke of Edinburgh's International Award – Australia "Adventurous Journey" or an individual looking to join a group to complete that component of your Award, Outward Bound Australia will strive to meet your requirements.
If you're aged 15-17 you might be able to obtain your "Adventurous Journey" by completing our flagship youth program 'Navigator'. 18 or over? Enquire about Discover or Pinnacle. Got your own group together? Enquire about an Outward Bound supervisor/assessor for your very own "Adventurous Journey."
As the Duke of Edinburgh's International Award – Australia handbook states "At the heart of the Adventurous Journey, is the opportunity for a young person to engage in activities that require determination, physical effort, perseverance, problem solving and cooperation." Outward Bound Australia enables this to be achieved in a safe and supported environment while being mindful that the "Adventurous Journey" belongs to the participants.
Outward Bound's Mission Statement:
To provide challenging experiences that help people to discover, develop and achieve their potential.
In 2016 Outward Bound Australia celebrates its 60th anniversary of operations.
From their website:
Founded in 1941 in the UK, Outward Bound has since spread to 30 schools in 6 continents with nearly 2 million people worldwide having completed an Outward Bound course. Outward Bounds outdoor education courses are based on the principles learnt from training young British seamen to survive in the North Atlantic Ocean during the Second World War.
In 1941, the Blue Funnel Line was regularly losing merchant ships to German U-Boat torpedoes. The loss of life among thousands of seamen who went down with their ships was horrific. But there were also hundreds of preventable deaths among survivors in lifeboats.
Surprisingly it was discovered that the survival rate of young sailors in lifeboats was dramatically worse than that of the older and presumably less fit men. Lawrence Holt, Chairman of the Blue Funnel Line sought help from Kurt Hahn, a noted academic and educationalist and founder of Gordonstoun School. Hahn recognised that the young men had not yet developed an understanding of their own physical, emotional and psychological resources.
The older men were able to draw on their life experiences and inner resources to survive the hardships of the Atlantic in an open lifeboat.
To address this tragic problem Hahn founded the first Outward Bound School to educate the young sailors of the Blue Funnel Line to better handle the hardships they might face.
His program of experiential outdoor education raised the self-confidence of participants who later, when put to the test, were successful in saving their own lives and those of others.
From these unique beginnings, Outward Bound has spread to 30 countries throughout the world. Outward Bound Australia was founded in 1956 and since then over 250,000 Australians aged between 13-75 have completed one of our many courses.
Outward Bound Australia provides the opportunity for all Australians to build self-confidence, self-awareness and resilience, not just physical fitness. It uses the outdoors as the classroom to allow each participant to reach their potential in a safe and managed environment.
Our mission is to provide challenging experiences that help people to discover, develop and achieve their potential. Outdoor education is undergoing a renaissance in the education system in Australia and Outward Bound Australia is proud to be at the forefront in the development of inspirational, safe and educational experiences for our participants.
Above all we hold true to our core values established in 1956. We promote the development of essential components in successful individuals intent on changing and shaping their future for the benefit of all.
Design Principles
Experiential Learning
Learning by doing. Providing diverse stimulating activities involving teamwork.
Safe and Supporting Environment
Providing the right support, guidance and belief in your potential so that you can challenge yourself and celebrate your success.
Adventure and Challenge
Stepping out of your comfort zone to face mental, physical, social and emotional challenges with sense of fun and adventure.
Self-discipline
Allowing you to make decisions, experience consequence, success and failure, being accountable for what you say and do.
Skill & Care
Self-respect, using initiative and being resourceful to achieve to the best of your ability.
Solitude and Reflection
Providing a place apart to appreciate silence, reflect on your values and set goals for your future.
Minimal Impact Practices
Conducting ourselves in environmentally responsible and sustainable ways.
Course Objectives
Personal Development
To enhance self-awareness, self esteem, confidence, discipline and motivation.
Teamwork
To enhance appreciation and awareness of others strengths and skills.
To develop an understanding of the positive attributes of an effective team including leadership, followship, participation, trust and communication.
Leadership Development
To develop social awareness, interpersonal skills and communication skills.
To provide group leadership opportunities in challenging and unfamiliar settings.
Service
To teach the concept of service.
To provide opportunities to model and practise acts of service to others and/or the environment.
To develop a service ethic.
Environment
To develop an appreciation and awareness of the natural environment.
To develop awareness of minimal impact practices.
Find out more at: www.outwardbound.org.au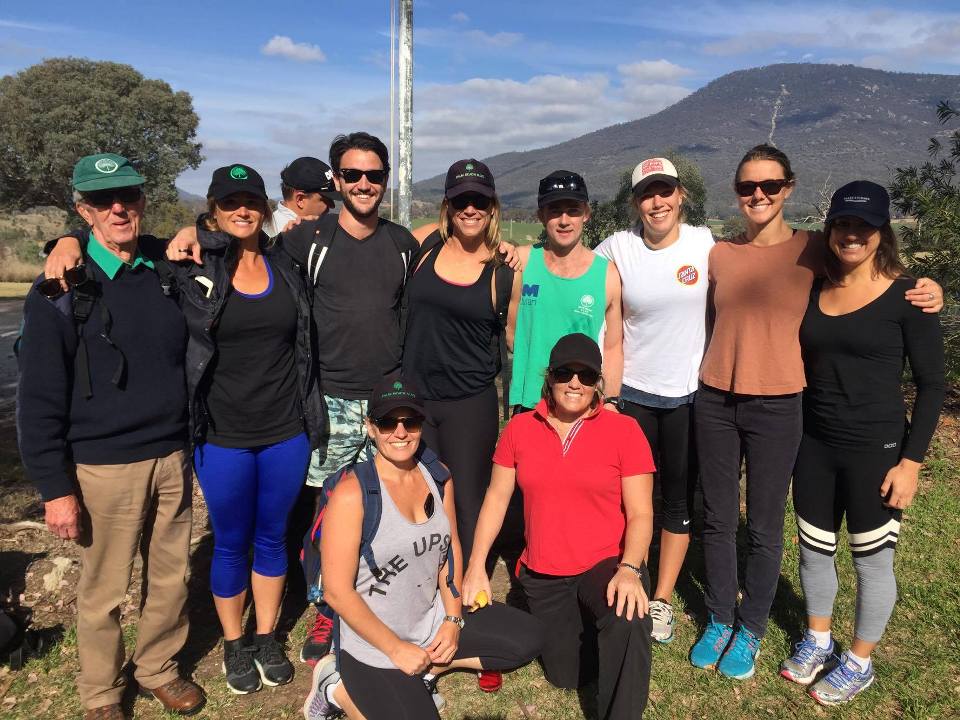 Thank you to Palmy members for being such Inspiring Australians, for spending your off season pursuing ways to be all you can be during the next Patrol Season - the service ethic of this club has backbone, resilience, flexibility and grace.
Thank you Ian Curlewis for 56 years of Inspiring other Australians to become all they could be.
Photos courtesy of Kate MacDonald, President Palm Beach SLSC