December 13 - 19, 2015: Issue 244
Palm Beach Sailing Club's Christmas Sail 2015 Blessed with Great Winds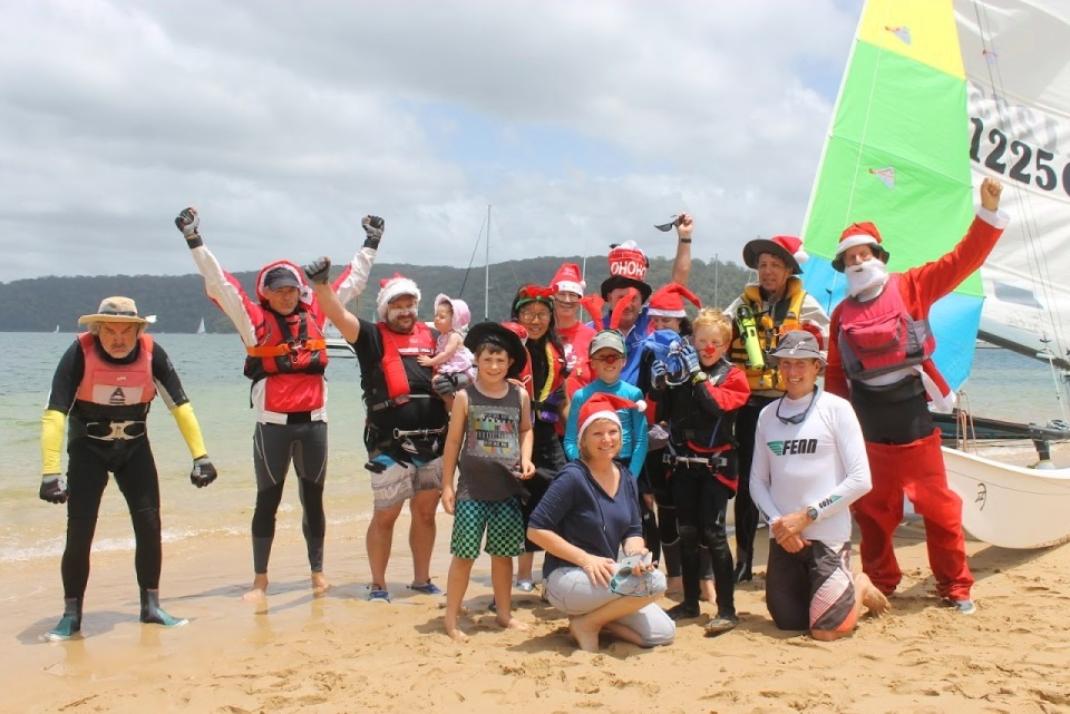 PBSC 2015 Christmas Celebrations Sail + Their 'Bah-Humbug!' Member
Palm Beach Sailing Club held their Christmas Sail and final event for 2015 off Sand Point, Palm Beach yesterday - a fun event for family, sailors young and not so young dress in their best Christmas gear and do a solid lap or two of the estuary.
This year the course was a loop of Scotland Island touching on all points in between and back to the beach: Sand Point, Gonsalves Pole(P), Lion Island(P), Gonsalves Pole(S), Stokes Point YRM(S), Treharne Cove YRM(P), Taylors Point YRM(S), Scotland Island(S), Stokes Point YRM(P), Gonsalves Pole(P), Sand Point.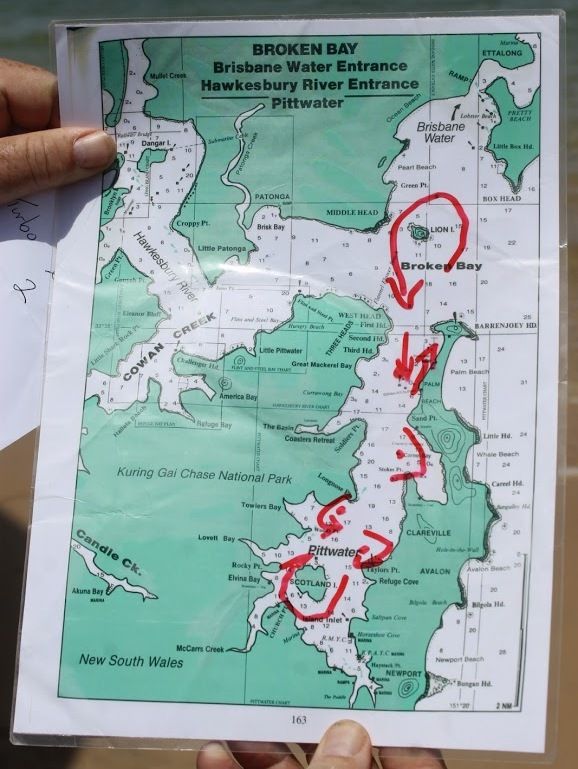 Past Commodore Dick Clarke put on his very best 'Bah Humbug' expression but that only lasted until he hit the water and flew in yesterday's great breezes - which brings us to a bit of other humbugging.
Apart from this now famous phrase being associated with one Scrooge in Dickens A Christmas Carol, who soon sweetens at Christmas time, some state 'humbug' originally was a nautical term;
American author and lawyer Richard Henry Dana, Jr. in his classic Two Years Before the Mast (1840), Chapter XII, refers to "humbugged" as a nautical phrase (three years before Charles Dickens' A Christmas Carol was published).
"When there is danger or necessity, or when he is well used, no one can work faster than he; but the instant he feels that he is kept at work for nothing, or, as the nautical phrase is, 'humbugged,' no sloth could make less headway."
And again, in Chapter XXXIV, Dana writes, "For several days we lay 'humbugging about' in the horse latitudes, ..." (1)
PBSC Mini Marathon December 2015- Results and Race Report
Everyone that took part in this not so "mini" marathon deserves first place this year !!!
After careful consideration by the race committee Dick on his 'A' class has been declared the winner. Dick completed the whole course including going around Scotland Island the wrong ,but more difficult way:-(
Peter Graham and Peter DuRoss took out the minors in their Weta's, with Darren, Barbara and Claudia not far behind on their supersized Hobie 18
1st - Dick Clarke - 'A' Class
2nd - Peter Graham - Weta
3rd - Peter DuRoss - Weta
4th - Darren Schmidt, Claudia Schmidt, Barbara Klampfer - Hobie 18
Report Courtesy Trevor Gourlay
Members met back at the clubhouse for a post-sail barbecue and review of the year. The younger members may have been making more 'sandballs' or practicing their trapezing on land, as they were on the beach a few hours before.
Club sailing now takes its Christmas break until January 16th while some members will be heading off to be part of the Australian Hobie 16 Titles Regatta.
If you want to jump aboard the fun visit the club website and get in touch and get sailing - you will love it!
See: www.pbsc.org.au
1. Two Years Before the Mast. (2015, December 10). In Wikipedia, The Free Encyclopedia. Retrieved from https://en.wikipedia.org/w/index.php?title=Two_Years_Before_the_Mast&oldid=694646596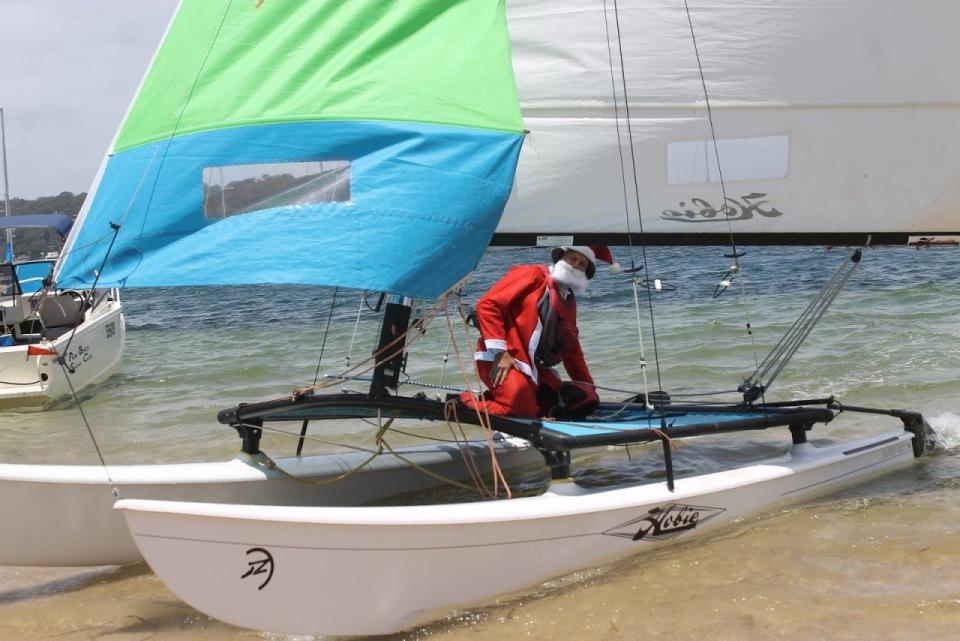 Santa sails into Pittwater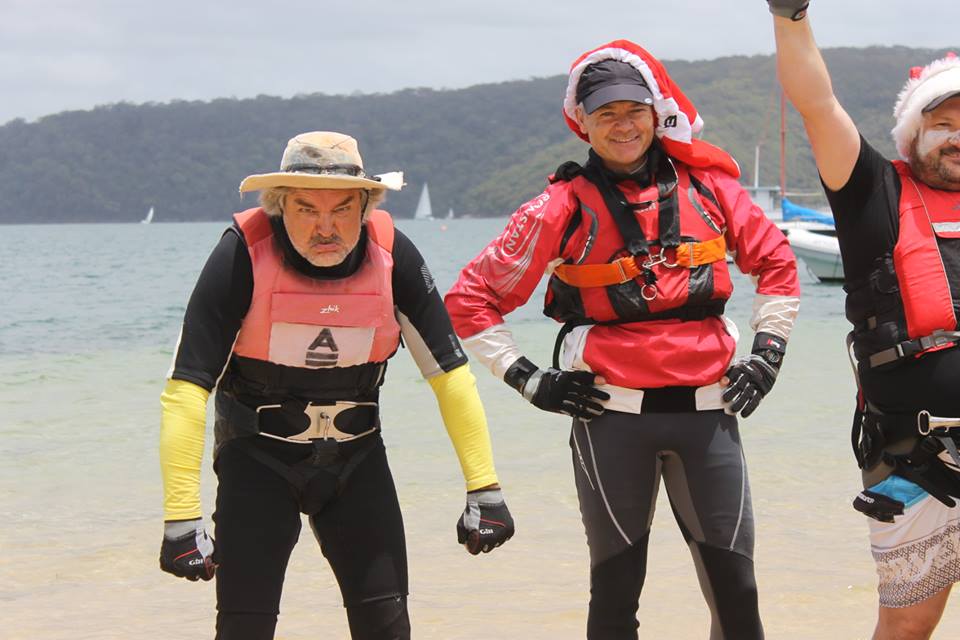 Above: The Bah Humbug man - Below: The Real Face of Dick Clarke - Bah Humbug Indeed!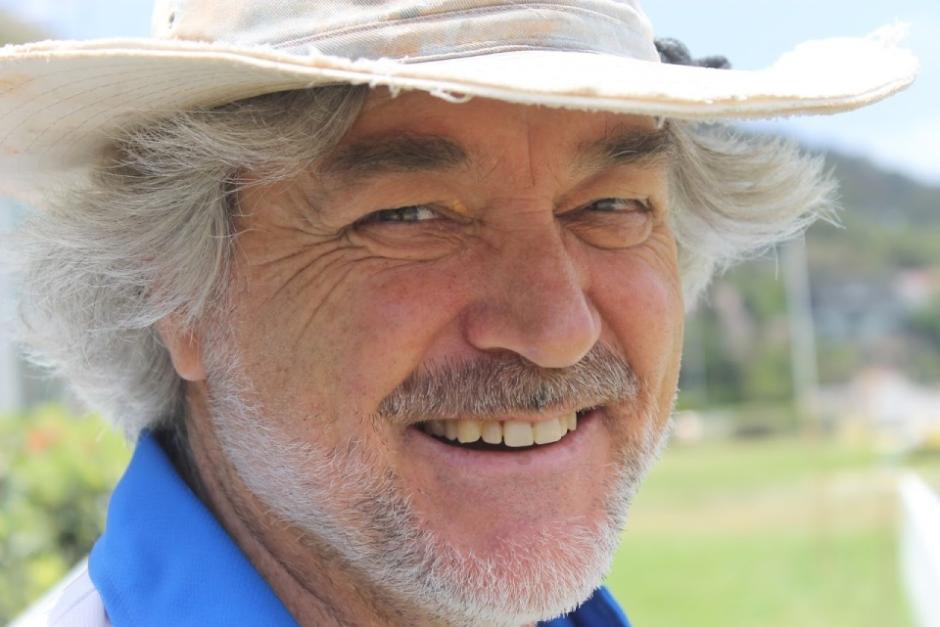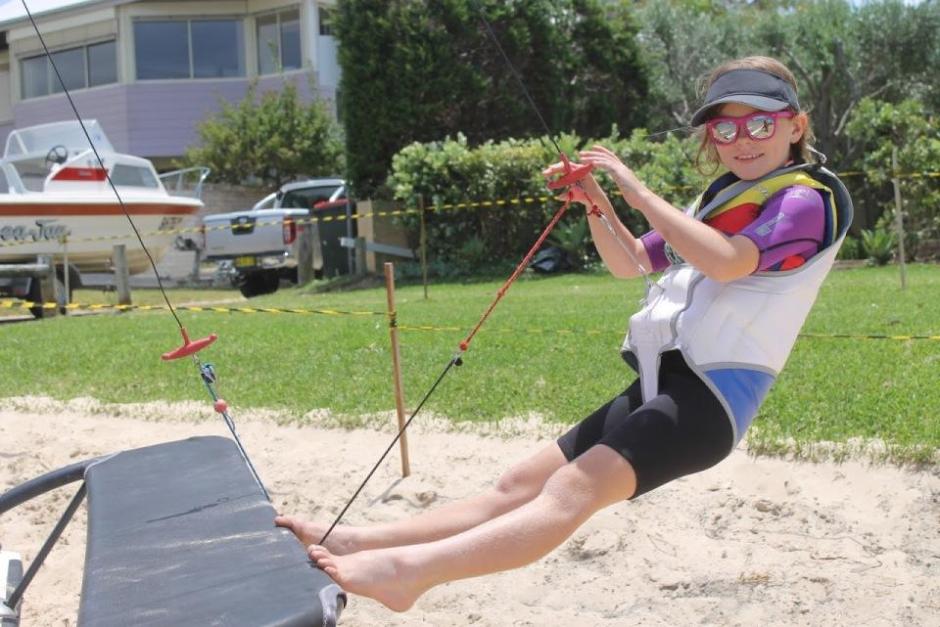 Claudia practices before getting on the water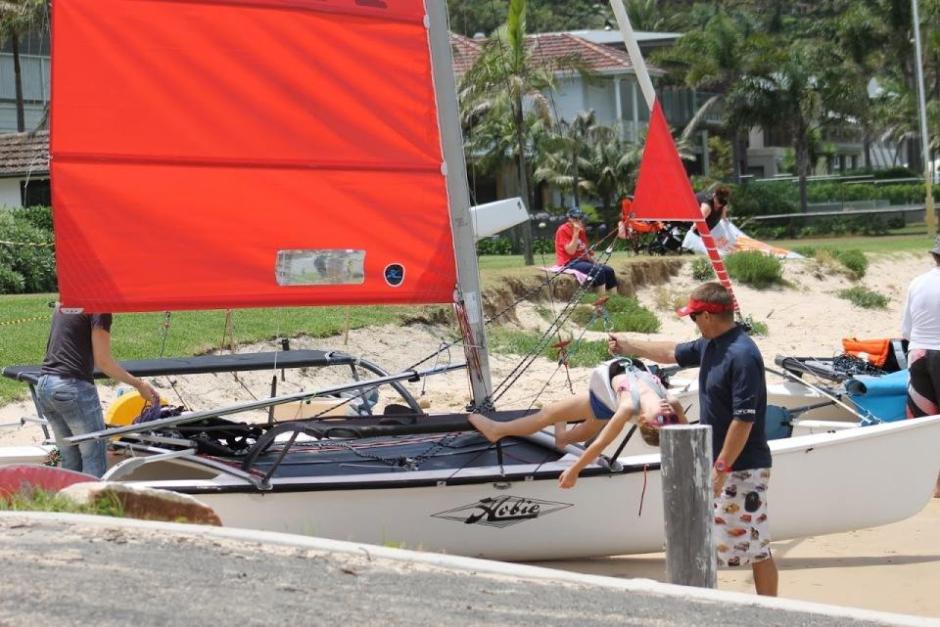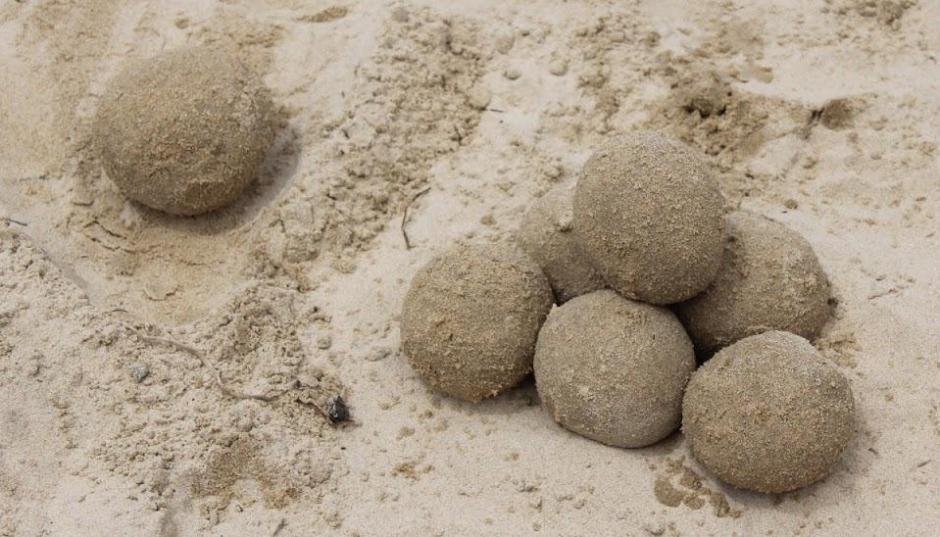 Report and Pictures by A J Guesdon, 2015.