April 22 - 28, 2012: Issue 55
Palliative Care at Mona Vale Hospital – April 2012 Update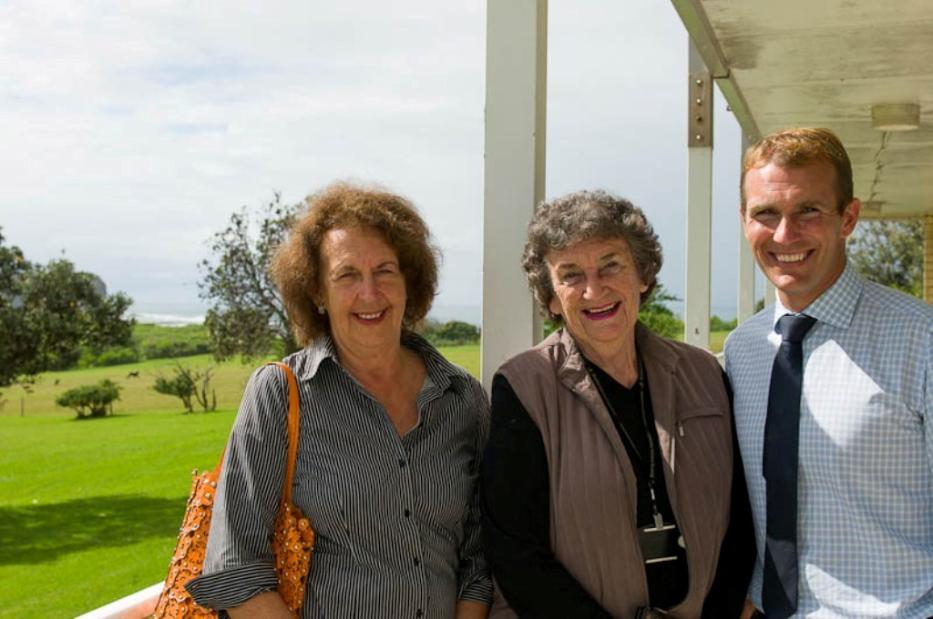 Above (left to right): Gail Carew, Eileen Gordon and Hon. Rob Stokes, MP, photo by Michael Mannington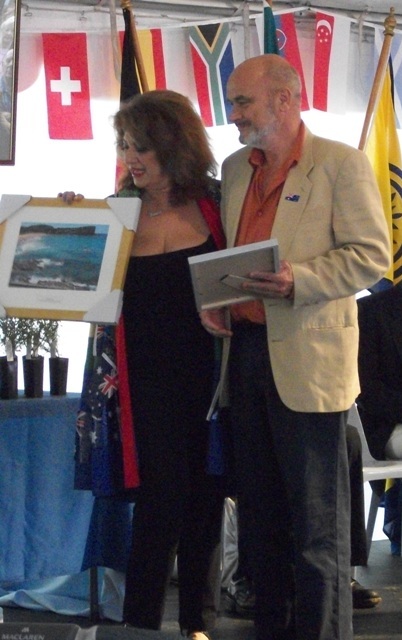 Above: Emile Jansen who received Pittwater's Australia Day Award this year (joint winner with Brian Friend). Pictured here with Maria Venuti, MC for Awards.
Palliative Care at Mona Vale Hospital – April 2012 Update
Eileen Gordon, of the MVH Women's Auxiliary, applied through our local state MP, the Hon Rob Stokes for a grant under the NSW Government's COMMUNITY BUILDING PARTNERSHIP late in 2011. The NSW 2011 Community Building Partnership program seeks 'to deliver improved community infrastructure for the people of NSW and encourage the enhancement of local community based activities that create more vibrant and inclusive communities'. This week this wonderful Pittwater lady let us know that she and Rob have managed to secure 240k towards the upgrade of the Palliative Care facility at Mona Vale Hospital. Now the account for this great project stands at 540k which, with funds raised by the Rotary Club of Pittwater under the equally passionate Project Leader, Gail Carew, should see something beginning to occur later this year.
We spoke to Eileen this week and she emphasised that a large portion of this total, now held in the Trust Account overseen by the MVH Auxiliary and Trustees, has been raised by you, the Pittwater public, and everyone who has bought any item, however small, at one of their countless stalls, or purchased a raffle ticket over the many years it has taken to get to this point. Eileen also wanted to express her heartfelt thanks to Emile Jansen, the Avalon architect who has drawn up the plans for the upgrades pro bono, and Vicki Taylor, the Chief Executive of the Local Health District, who has ensured that the Project Management fee (usually 10%) has been waived. Rob Stokes, who stated almost a year ago he would follow through on this project, and is clearly a man of his word, was a key factor according to Eileen. He has never wavered from aiding her at every point, been constantly supportive of MVH and the Auxiliary and deserves the praise Eileen accords him.
"This is something we need so badly." Eileen said, "People should be able to stay in their homes or where they live for as long as possible."
We contacted Hon. Rob Stokes office this week and can share a Media Release on this great news…
Mona Vale Hospital – The Perfect Site For Palliative Care
Member for Pittwater Rob Stokes today welcomed an injection of funding by the NSW Government to commence an upgrade of Mona Vale Hospital's palliative care unit. $240,000 has been provided by the NSW Government, as part of the Community Building Partnership Program, to undertake essential extensions to the unit to help cater for increasing demand.
This funding will be added to community donations raised by the Mona Vale Hospital Auxiliary and Pittwater Rotary, to ensure the plans for this widely anticipated project are commenced.
"This is a fantastic injection of funding for Mona Vale Hospital," Rob Stokes said today.
"Plans to expand palliative care services at Mona Vale Hospital have existed for years but government funding has never been forthcoming.
"I'm delighted the new government has identified the need for this project and hasn't hesitated in approving funds.
"Whilst our community has done an outstanding job raising over half the necessary funds - this announcement will enable the project to finally get underway.
"Palliative care is amongst the most important services provided at Mona Vale Hospital and our growing community dictates that extensions and improvements are essential.
"This announcement joins a number of welcome improvements for local palliative care services over the past year - including the restoration of over a million dollars to help maintain in-home palliative care services on the northern beaches.
"This project will deliver another vital improvement at Mona Vale Hospital and I look forward to the works getting underway," Rob Stokes said.