October 16 - 22, 2011: Issue 28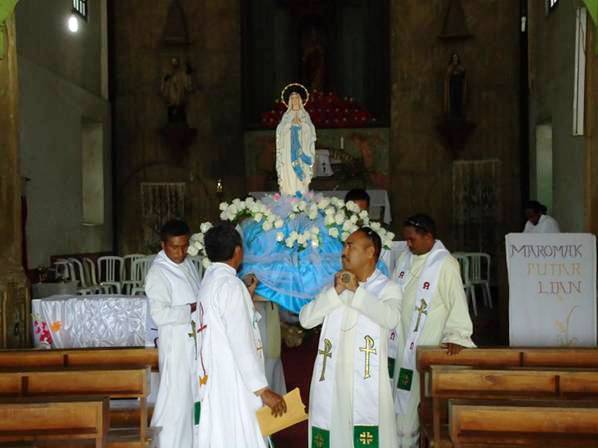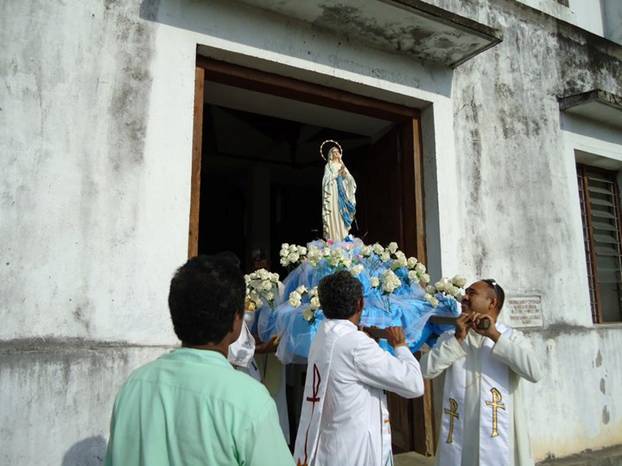 REQUEST FOR DONATION OF RAFFLE PRIZES
We need your help please!
Some amazing Northern Beaches performers have joined with Pittwater Friends of Soibada for a fundraising concert. Cabaret star and actor Tom Burlinson, now better known for his Frank Sinatra and swing shows than for his breakthrough performance in the film version of The Man From Snowy River, will headline Songs For Soibada 2 on Friday Oct 28. Other performers include Girls on Film (Mandy Carnie, Rachael Beck, Danielle Barnes), Dale Burridge (Phantom of the Opera), David Malek (Aspects of love), Dean Macrae (Miss Saigon), Danielle Everett (Phantom of the Opera) and Samantha Shaw (Les Miserables).
Could your business help with a donation of a raffle prize please? There is going to be great deal of publicity surrounding this event as it is the charity's first major function and we have such a fantastic and well known line up. Your logo would be included in the program and your support acknowledged.
Pittwater Friends of Soibada Inc is a community group that joined with Pittwater Council in signing a Friendship Agreement with the people of Soibada, a remote village community in Timor Leste (East Timor). The purpose of this agreement is to provide a basis for the Pittwater Community to support and assist the people of Soibada to improve their daily lives.
The people of Soibada have been rebuilding their small community of 3,000. However, our support is needed to increase the health, well-being and capacity of the village. Lack of sanitation, food, health care and poor education are the major problems. We can provide support for local projects and build skills that will contribute to the long term independence and sustainability of the community. Our fundraising will provide the means to establish small businesses in Soibada and to employ local tradesmen and use local products. This way we assist in stimulating the local economy by providing jobs and giving people the means to help themselves and break the poverty cycle. There is further information on www.pittwaterfriendsofsoibada.org or follow us on Facebook.
Thank you for your involvement,
Tamara Sloper Harding
Pittwater Woman of the Year 2011
Chairperson, Pittwater Friends of Soibada
Ph: 0403 226 699
Contact: tamara.harding@bigpond.com.au
Words Copyright Tamara Sloper Harding, 2011. Images Copyright The People of Soibada, 2011. All Rights Reserved.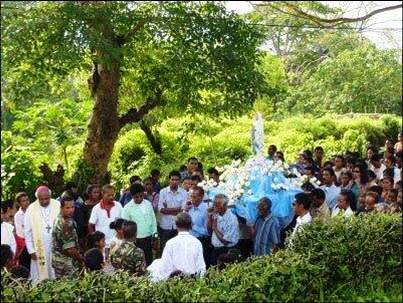 Our Lady of Aitara
The Marian Shrine of the Timorese people.
by Tamara Sloper-Harding
Timor Leste's President, Jose Ramos Horta says that Christianity is the reason that Timor Leste has a strong national identity. He is well known as a deeply religious man and sees it as imperative that the Government develop a strong relationship with the church for the country to move forward. He almost died after being shot by a gang of armed rebels in 2009. He experienced a spiritual epiphany as the blood seeped from his wounds whilst waiting for the ambulance. He feels that God has given him a second chance at life to assist his country and help his people move towards peace. He says that he had an apparition and heard a voice telling him that it was not his time to die.
In many countries a political leader would be criticised for such a public affirmation of faith. Things are different in Timor Leste, he is admired and it has enhanced his ability to do his job. Even before the Portuguese introduced Catholicism, the Timorese were a strongly Spiritual people. They already had a relationship with God. Jorge da Cruz da Silva, a writer from Soibada, says that the establishment of the Catholic mission in the Soibada could be looked upon as an 'alliance' between the Catholic religion and lulik. (Animist religion in Timor-Leste revolves around the spirits of the dead who are both feared and worshipped. These spirits are materialized through stones, animals, wells, streams or objects endowed with mysterious magical powers that can be either good or evil. In Timor these are called 'Luliks', which means sacred and intangible.)
Soibada is a legendary place. It is overlooked by the Aitara hill on which is a large banyan tree. About a mile from the village, this location was, in the past, and still is by some, considered to be lulik. Next to that tree there stands a shrine dedicated to Our Lady of Aitara. Apparently, on the 16th October many many years ago, the Virgin Mary appeared to several women near that Banyan tree on the hill. As a result a shrine, a church, a convent, a college and a town were built over 100 years ago. It is a classic example of the Portuguese art of construction on top of treacherous steep hills in the middle of the dense jungle. A huge set of stairs stretches half way up the hill at the top of which is a more modern looking Chapel resting on the original Portuguese footings.
From the day of the Apparition the site on Aitara Hill has been a place of great religious significance to the Timorese people and the nation. This is the National Shrine of Our Lady of Aitara. Every year there is a festival to celebrate the vision. Soibada is the destination of the yearly pilgrimage during which hundreds of people from all over Timor Leste to come visit the chapel. The devotion of the Timorese people to this site has been likened to that of people towards Fatima.
As people come from all over Timor they bring the crosses with them that will then stand all over the country side. A procession with the statue of Our Lady, from the Parish Church of Sacred Heart in the village to the Shrine on the hill begins at 8 am on 16 October. Mass is celebrated there, with the mountains behind the altar in the background.
President Jose Ramos Horta was educated in Soibada and makes many visits to this spiritual place. He considers one day that "Our Lady of Aitara" Shrine could become a destination of international peregrination. In order to attract foreign pilgrims much work needs to be done on such amenities as; roads, electricity, drinking water, communication networks, health and education. Thus, the Virgin Mary's appearance could have the dual benefit for the village. Not only is it a wonderful spiritual place but the lives of the villagers could be enhanced by visitors to the site.
Although the Vision is not officially endorsed by the Catholic Church, its significance to the people of Timor Leste was acknowledged by Pope John Paul II in his message on the occasion of the declaration of Independence.
He said:
While I extend a cordial Apostolic Blessing to you all, I invoke on the authorities of the Democratic Republic of East Timor and those who will be working for a prosperous and peaceful, divine assistance and intercession of Mary Immaculate, lovingly raised by you under the title the 'Virgin of Aitara'.
Vaticano, 6 de Maio de 2002. Vatican, May 6, 2002.
IOANNES PAULUS II
As we here in Pittwater strive to assist the people of Soibada and to develop a strong friendship with them, it is comforting to know that the Nossa Senhora de Aitara herself is keeping watch over the village.

Timor Leste Facts
"Our Lady of Aitara" is the National Marian Shrine. It is said that the Virgin Mary appeared near a Banyan tree on Aitara hill above Soibada.
It is claimed that this resulted in the establishment of the chapel, church, school and village.
Originally Published: http://www.pittwaterparish.org/index.php?option=com_content&view=article&id=360:our-lady-of-aitara&catid=232:timor&Itemid=177