September 11 - 17, 2011: Issue 23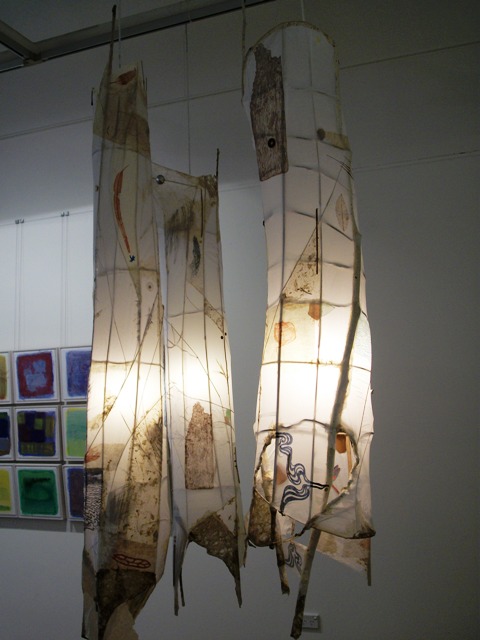 Above: Light sculptures, 2011, series of 3, various dimensions, by Emmie Collins
Below: Take Flight, 2010, porcelain, glaze, oxides, engobes by ROUGE (Renate Hoffman); the sequance and layout of these peices creates their title. The larger peices below those on the shelves are Rockpool.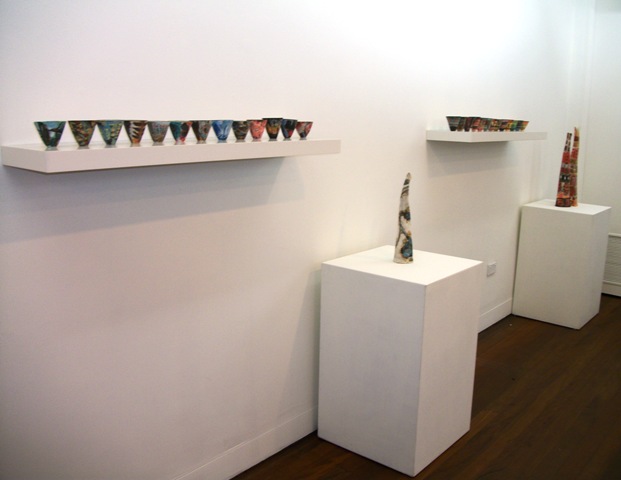 Below: (left) All That Remains series, 2009 by Chuck Bradley, (right) Magnolias I, Magnolias II and Hippeastrum I by Sophie Haythornthwaite.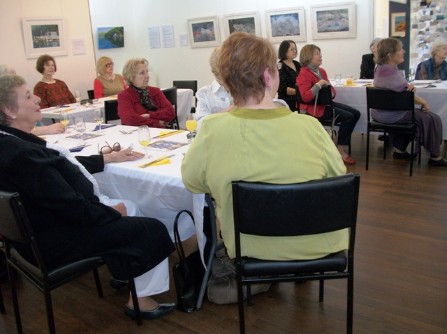 Copyright Pittwater Online News, 2011.
All Rights Reserved.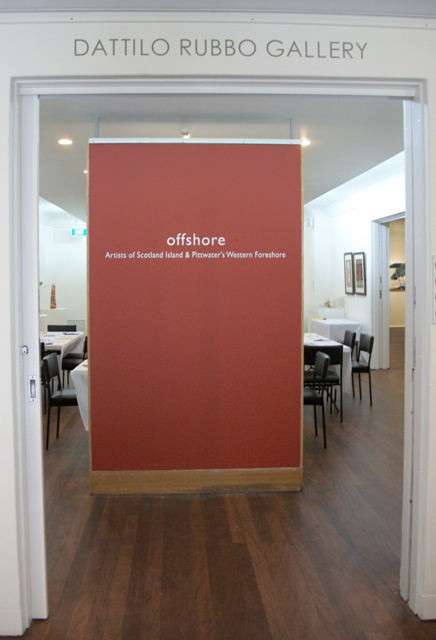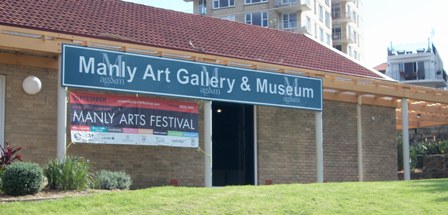 Offshore Artists Exhibition at Manly Art Gallery and Museum.
Monday 5th of September, 2011
'Recording and acknowledging the relationship between artists and the environment brings into focus the unique contribution artists bring to the community. Yet they are united by the visual and spiritual inspiration they derive from a region rich in natural beauty and with a strong sense of place.'
Katherine Roberts
Exhibition curator
Offshore, Artists of Scotland Island & Pittwater's Western Foreshore
The fresh open spaces of Manly Art Gallery and Museum hosted a 'Brunch and View' introduction to the Offshore, Artists of Scotland Island and Pittwater's Western Foreshore Exhibition on Monday morning. This event was a chance to learn about the process of staging an exhibit and about the exhibits and their creators from the lady who has worked for three years to put this together. Katherine Roberts, curator, welcomed guests and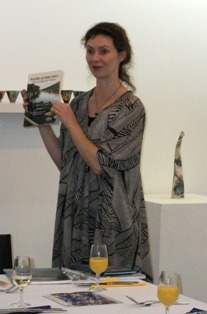 began by describing the places of Pittwater the artists live in and a beautiful morning when she and Tracy Smith, who made the original application to the Manly Art Gallery, were allowed to use the Scotland Island Fire Shed as a place for artists to bring their works. Katherine evoked the day, describing the place and morning; surrounded by tall sunlit gum trees and dogs, the wharves, the smells of bush and bay, the softer drawls of those who live life at a saner pace.
Katherine also explained a little of the history of Offshore Artists and how this exhibit may be contributing towards 'beginning a healing'; in 2006 a fire at Newport Artworks Gallery, caused by thieves attempting to take an ATM, ensured the space and all the irreplaceable art-works in it were lost. Our creative forms of expression are also a chart to map our growth as a people, they are part of the infrastructure woven through and as part of the nuances enthreaded in a person's self that creates our structure, our surface. We need builders, and all that is in them. We need great doctors, loving mothers, and all that is threaded in them to make them so. We also need our artists and all they contribute.
Heartbreaking beyond words for those whose works were lost, this fire also stole what each piece had contributed to what is Pittwater and Australia itself. Fortunately the main qualities in Offshore people and in artists, of determination and endurance, the ability to get back up and 'have another go' is ever the other shoe hitting the floor. Some of the works on show at present have been created for this special exhibition. Others present the creative passages and processes of the people who have made them. The themes in each, whether ceramics, sculpture, photographs, prints, books or paintings, present fresh insights into the people or places of our beautiful bays and coves offshore where some remnant of wild and pure voices still lives.
From the essay by Katherine Roberts for the catalogue: "Offshore: Artists of Scotland Island and Pittwater's Western Foreshore features the work of twenty-five emerging and professional contemporary artists who work across a diversity of media, techniques and styles. This exhibition and catalogue attempt to share the work and stories of some of the artists living and working in this special region of Sydney, known for its natural beauty, the strength of its community, and a concentration of highly creative individuals."
Future exhibitions of artists from this region form part of the Manly Art Gallery and Museum's schedule. Other Events associated with the current theme are listed below. Brunch was quiche Lorraine and Onion, fetta and basil tarts followed by profiteroles. Champagne and orange juice was there to sip on arrival.
The Offshore exhibition runs until November 2nd. Manly Art Gallery and Museum is open from 10am to 5pm every day except Mondays, entry is free. MAG&M is located along the foreshore too at West Esplanade, Manly.
References
Roberts, Katherine. 2011. OFFSHORE: ART & LIFE, Essay for Catalogue of Exhibition Offshore: Artists of Scotland Island & Pittwtaer's Western Foreshores. Manly art Gallery and Museum. Manly. NSW.
Fire at Newport Artworks Gallery http://www.smh.com.au/news/national/printmaker-loses-work-in-gallery-blaze/2006/10/29/1162056855042.htmlw
Artists in the Offshore Exhibition:
Claire Atkins; Michelle Ball; Gloria Bohorquez; Chuck Bradley; Emmie Collins; Carole Corrie; Ingrid Hawke; Sophie Haythornthwaite; Juliet Holmes a Court; June Lahm; Dimitri Lihachov; Nettle Lodge; Eunice Mcallister; Jan Melville; Andrew Mills; Mike Molloy; ROUGE (Renate Hoffmann);Susan Rushforth; Ellie Shore; Jan Sindel-Hand; Paul Smith; Tracy Smith; Marion Van Den Driesschen; David Wardman; Giles Westley.
Offshore Special Events
Offshore Creatives: Books & Writing
Writers and poets from Pittwater read excerpts from their work and discuss how living around Pittwater influences and inspires their writing. Chaired by Jane Morgan and including Susan Duncan, Denise Leith, John Bryson, Paolo Totaro and Jennifer Cover.
When: Sunday 18 September, 11am - 12.30pm
Offshore Creatives; Film & Design
Working from home is common to many creative people living on the Northern Beaches. Designers and filmmakers from Pittwater discuss how this affects their work and how they make it work! Boat builders and designers will also talk about their contribution to life on the water.
When: Sunday 9 October, 2 - 4pm
Artist's Floor Talks
Several artists featured in Offshore talk about their artworks in the exhibition and their diverse art practices. Afternoon tea included
When: Sunday 16 October, 3 - 4pm
Lantern Parade and Family Picnic
Bring yourselves, a picnic, lanterns and/or a Venetian Carnivale mask for a fun outdoor family event, as Manly Art Gallery & Museum on Manly Cove is transformed into a place of celebration and performance. Enjoy live music by Matt Trapnell & Friends, Madagoba and Flip n the Birds jazz trio, then join the twilight procession of light and colour and watch the finale light show on the beach. Gallery open till 8pm to view exhibitions. Coordinated by light sculptor Emmie Collins and Ikara Events. Sausage sizzle run by Rotary Club of Manly Sunrise.
When: Saturday 17 September, 4- 8pm Cost: Free
Afternoon Tea & A Cappella
Join the artists, musicians, writers, designers and members of Pittwater's offshore community
on the last day of the exhibition for an informal gathering, singing by the new a cappella group and afternoon tea prepared by members of the MAG&M Museum Society.
When: Sunday 6 November, 3 - 4.30pm